March 12, 2020 at 5:34 pm EDT | by Scott Stiffler
Presidential hopefuls not showing love to LGBTQ media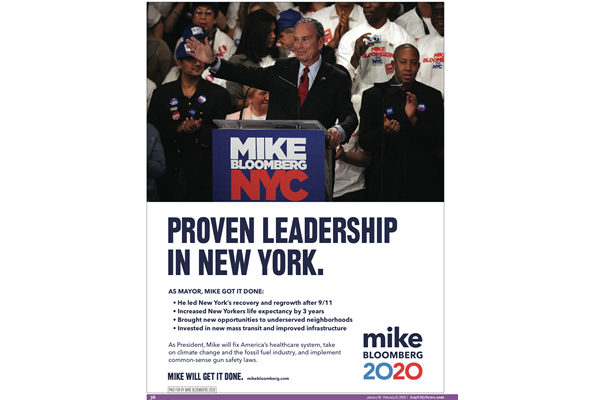 When it comes to covering the concerns of our community, nobody does it better than LGBTQ print and digital media outlets. Readers hungry for in-depth journalism know the value of hearing it from the horse's mouth—so why is that lost on the lion's share of donkeys and elephants?
"I personally have reached out to Buttigieg, Biden, Sanders, Warren, and Bloomberg, with no response from anyone about advertising," said Justin Wyse, sales manager for South Florida Gay News, in a Feb. 23 email (before Buttigieg, the gay former mayor of South Bend, Ind., suspended his campaign). Democratic presidential hopefuls may be rebuffing Wyse's overtures, but PACs sometimes have the paper's back: The Log Cabin Republicans, he notes, planned to advertise in the two issues prior to Florida's March 17 primary.
Still, not a single candidate has advertised with the paper in past presidential election cycles, says Wyse. "They all say they support our community, but do they? They sure don't show it, by their silence."
That silence, if broken, could speak volumes, says Rivendell Media president and CEO Todd Evans. "For a million dollars, you could completely saturate the LGBTQ media market. For $100,000, you will get the back cover in most gay print publications in top U.S. markets," notes Evans, who places advertisements for the National LGBT Media Association—whose 12 members have a combined weekly print and online reach of approximately 500,000. (The Washington Blade and Los Angeles Blade are members.)
Of that niche market, says activist and Philadelphia Gay News publisher Mark Segal, "One of the things we share with the African-American and Latino community is, LGBTQ print is king. When candidates are trying to get to a community, they go in all manners—mailings, targeted social media. So when you go after our votes," says Segal, of LGBTQs, "part of that is advertising."
Over the years, says Evans, "We have compiled campaigns and reach-outs to the DNC. They've asked for it, even. But they've never done anything on a national scale, to my knowledge, ever… Let's go back to the reason companies target LGBTQs: Primarily, for trend-setting. Why wouldn't you want to carry that into getting yourself more visibility within our community?"
In anticipation of Pennsylvania's April 28 primary, Segal notes that despite early outreach to Democrats with designs on the White House, "What they all say is, 'Get back to us on April 1.' " (Sanders and Clinton did advertise with the paper in 2016; the former, with a mainstream ad, and the latter, with one designed for LGBTQ+ readers.)
Using the National LGBT Media Association as his calling card, this reporter requested comment from the RNC, DNC, and Democratic candidates. Only two campaigns responded.
Touting their track record of "locking arms and marching during Pride" as well as attending the National LGBTQ Task Force's Creating Change Conference and RuPaul's Drag Con, "Team Warren knows the importance of meeting LGBTQ+ voters where they are," said Daniel Lander, Elizabeth Warren's National Director for LGBTQ+ Outreach, in a Feb. 24 email.
This article's deadline forced us to call off the search for answers to our reply, in which we asked if the Warren campaign had taken its message directly to the LGBTQ, Hispanic, or African-American press, via paid advertising.
Bloomberg campaign rep Natalie Johnson assured, in a Feb. 20 email, "We have great team members that can speak to this topic." But after a phone call at her behest, "to get a better sense of the interview," it was radio silence after we declined to send a list of questions prior to securing an interview.
Past NYC mayor and present billionaire Michael Bloomberg, who dropped out of the race on March 4 after a dismal Super Tuesday showing, did indeed purchased a presence in the LGBTQ press, albeit a general interest ad that appeared as part of a company-wide buy with Schneps Media, whose properties include NYC's Gay City News (GCN), a member of the National LGBT Media Association.
When we spoke with GCN founding editor-in-chief and associate publisher Paul Schindler, he noted the issue that hit the streets on Jan. 30 had a back page ad from Bloomberg.
"In his mayoral campaigns," recalls Schindler, of Bloomberg, "he blanketed our newspapers and our digital with ads. He so outspent his Democratic rivals, there was no competition."
The Stonewall Democratic Club of NYC and Lambda Independent Democrats of Brooklyn "have endorsed Elizabeth Warren," notes Schindler, "so if Warren remains viable by the time of the [April 28 NY Democratic] primary, I think there's a decent shot those clubs would buy an ad, but not much more than two or three weeks before the primary." (Those clubs, if advertising, won't be bolstering Warren: The Massachusetts senator called it quits on March 5.)
There's good reason, says Schindler, that candidates are absent from the local landscape until their time in the primary sun is at hand. "Unlike other consumer products, they are not 'on sale' everywhere at the same time… I want to make it very clear that I'm stepping aside from my role as editor, when I say I'm glad they're spending their money where they are [in battleground states and pre-primary buys]. That's not something smart for me to say, businesswise, but it's a cold political fact."
Even colder and considerably more calculated, is the quest to bypass ads altogether, by pricking up LGBTQ+ ears with a compelling sound bite.
"Candidates [in 2020] do seem to be a bit more reluctant to tap into niche markets by paying for media," says T.J. Billard, a Ph.D. candidate at the USC Annenberg School for Communication & Journalism. "They tend to focus on the mainstream," or rely on "earned media," i.e., no-cost editorial coverage, as was the case numerous times, notes Billard, when Warren, "just in the course of talking about violence, mentioned transgender women of color. For a general audience, it doesn't do much. But the fact that she said it is going to be news in the LGBTQ press. So by throwing that in, she's able to assure a certain degree of visibility in the LGBTQ community that requires no [financial] investment."
"I've seen the tone shift, now that we're in a post-marriage equality era," says public affairs and media professional Kenn Campbell, who served as a national advance associate on behalf of the Obama White House, the Office of Secretary Hillary Rodham Clinton, and Hillary for America. "Campaigns aren't reaching out as early as they were, and they aren't targeting the LGBT community as aggressively as I think they should be … I would hope DNC Chair Perez has a [general election] plan for that. But at this point, I haven't seen any outreach effort."
Scott Wazlowski, vice president of advertising for San Francisco's Bay Area Reporter, was in talks with a presidential candidate when we spoke, but under "a fairly comprehensive" non-disclosure agreement. Wazlowski notes the paper's "strong voting bloc" garners advertising from the city's Department of Elections "prior to every election in the city and county," as well as advertising from Congresswoman Nancy Pelosi, prior to annual Pride celebrations.
Even for a paper of BAR's visibility, notes Wazlowski, "Reaching the right person who makes the decision on who buys media for anything other than a small local campaign is almost impossible."
Of the LGBTQ press, "We are on the front lines, in terms of our local communities," says Michael Yamashita, president and CEO of BAR Media Inc., and BAR publisher. "I don't think campaigns really appreciate that direct and close relationship we have."