March 17, 2020 at 1:04 pm EDT | by Khelil Bouarrouj
Will the Coronavirus make us better?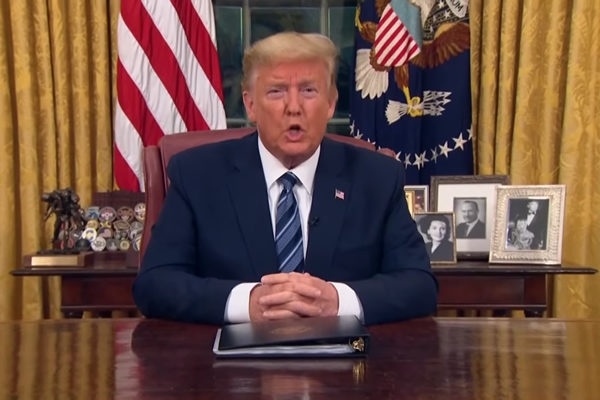 If we were living in biblical times, the coronavirus pandemic would serve as a lesson on greed, ignorance, and cruelty in the age of Trump.
Paid sick leave is essential right now as most Americans have few savings to fall back on, but Trump and the Republicans have forced a compromise on the sick leave mandate that will exempt companies with 500+ employees and give Trump a waiver for employers with less than 50 employees. That leaves only 20% of the workforce with guaranteed coverage. Waivers for small businesses are understandable, but corporate America has massive cash reserves; they also have masses of lobbyists, hence the exemption. This is probably less about short-term profits and more about avoiding a precedent. The conservative Wall Street Journal editorial board worries that the crisis might lead to an expanded "welfare state" with new mandates and urges only temporary relief. That view is probably shared by many company bosses and shareholders. For example, Whole Foods, owned by Amazon, rather than extending the company's paid sick time, has told its employees to share their paid time off. (And this comes after Whole Foods ended health insurance for part-time employees.)
After the coronavirus, will we recognize that we need better protections for workers so that our economy and livelihoods are not severely disrupted whenever we have a public health crisis?
Then there's the pride in ignorance amongst the president's sycophantic base. These people feel no shame about a reality TV host holding the most important office in the country. Instead, they think it's a riot that the president is "owning the libs" by dismissing basic facts, floating absurd theories, and expelling career officers in an institutional brain drain they mistake for "draining the swamp."
Their world is upside-down: Trump's profiting off his properties billing taxpayers, but the real problem is FBI career officers part of a "Deep State" conspiracy to take down their man. Rather than being repulsed, they find Trump's buffoonery endearing. The upheaval from this virus is a small taste of what awaits the world if we don't avert catastrophic climate change. But they mock the science on climate change, and they mocked the concerns over this virus — portraying it as a hoax to harm the president — until denial became too much even for Fox News. To amend Neil deGrasse Tyson's famous axiom, the tragedy of science is that it's true whether or not you believe in it. The bill for ignorance and ineptitude will eventually come due.
After the coronavirus, will we again value competence and knowledge? We will listen to the scientists who are warning us about an even bigger calamity on the horizon?
Trump's ushered in the ugly side of America with a vengeance. The president's first major act was the Muslim ban, which includes war-torn Syria. Trump has expanded the ban to include Myanmar, where hundreds of thousands of Rohingya Muslims have been displaced due to the regime's genocidal actions. There are 65 million refugees around the world today; more than at any time since World War II. But Trump repeatedly halved refugee admittance and capped it at 18,000, the lowest level since Congress created the program in 1980. In October, we admitted zero refugees. The president has attacked desperate migrants seeking asylum on the southern border as an invasion. He has separated children from parents and locked them in cages where some have died from medical neglect, including from the seasonal flu. And he has ended a program to let sick immigrants, including children, to stay in the country.
After the coronavirus, will we have more empathy for people seeking shelter from war, violence, and disease?
Let's hope for good health, but also that this moment might have salutatory effects. More of us might vote for a competent government this November and start demanding that Congress improve employment laws and support asylum and refugee policies that reflect our better selves.
Khelil Bouarrouj is an activist who writes about LGBTQ issues.