March 16, 2020 at 6:36 pm EDT | by Richard J. Rosendall
Showing our best (and worst) in a crisis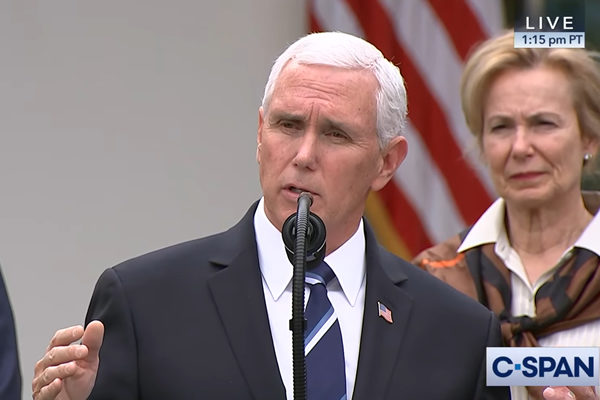 Amid the worldwide health crisis caused by the novel coronavirus, encouraging signs include creative responses to event cancellations.
Broadway star Laura Benanti tweeted on March 13, "If you were meant to perform in your High School musical and it was cancelled please post yourself singing and tag me. I want to be your audience!!" She suggested the hashtag #SunshineSongs. The result was a delightful assortment of kids' performances. In Italy, quarantined tenor Maurizio Marchini serenaded his neighbors in Florence by singing Puccini's "Nessun Dorma" from his balcony.
If our short-fingered vulgarian (to use Graydon Carter's apt phrase) decides to sing from the Truman Balcony to celebrate being virus-free, perhaps he should sing about why we should trust the White House physician.
Trump declared March 15 a National Day of Prayer. In the interest of not overloading the Secret Service, it might be best to keep the particulars of our prayers to ourselves.
I marvel at the obsequiousness of Mike Pence and other administration officials who assuage Trump's fragile ego with endless "Dear Leader" hosannas. If you think bullshitting doesn't get a person anywhere, please tell us how this president got to 1600 Pennsylvania Avenue.
When you read about "dens of discord, with officials with varying portfolios feuding over policy or even simply power and position," (hat tip to The Washington Post), does it describe some banana republic? Maybe so, but specifically it refers to Pence's daily task force meetings. Nor is that the executive mansion's only center of viral activity. Trump son-in-law Jared Kushner, with no relevant expertise, has inserted himself into the #CoronaChaos. And with the prez between chiefs of staff, "People just show up in the Oval and spout off ideas," according to one of the 19 senior administration officials interviewed by the Post.
Trump's inability to admit a mistake, his compulsive lying, and his pathological narcissism are not lapses but character traits. He overpromises, exaggerates, and says, "It's going to be just fine" after Dr. Anthony Fauci says it's going to get worse. His Rose Garden appearances, as the Post observes, display "the sort of behaviors health experts and the Centers for Disease Control and Prevention have advised against."
Many businesses, state and local governments, and individuals are addressing transmission risks more seriously. But too many people echo Trump's denialism. In D.C. on Sunday, the Hill Restaurant Group vowed to defy Mayor Muriel Bowser's directive restricting bar and restaurant operations. A megachurch pastor in South Florida rejected fear of COVID-19 exposure as "a demonic spirit."
It is easy to say we will get through this, but the pain is unevenly distributed. Those on the lower economic rungs, such as restaurant workers, will suffer most. Chinese restaurants were the earliest targets, due not to rational concerns but to fears that anything or anyone Chinese might be deadly simply because the outbreak began in Wuhan. This bigoted, dangerous scapegoating was exploited by Arkansas Sen. Tom Cotton, who added his own cynical conspiracy mongering.
Some politicians do the right thing only when all other options have been exhausted. After weeks of putting his polling numbers ahead of the public health, Trump finally declared a national state of emergency on March 13. He previously refused test kits from the World Health Organization. In 2018, he shut down the National Security Council's pandemic office, for which he denies responsibility.
The Post on Sunday relayed a German newspaper report that Trump was trying to get German biopharmaceutical firm CureVac to develop a vaccine "only for the USA." CureVac responded by affirming its commitment to "help and protect patients worldwide."
A compromise bill to provide coronavirus relief, which Trump agreed to sign, was passed by the House in the wee hours of March 14 under Speaker Nancy Pelosi's leadership, but Senate Majority Leader Mitch McConnell, some of whose Republican colleagues tried to insert anti-choice provisions into the measure, sent senators home for the weekend.
As we rise to this crisis, let us keep one eye on helping those most adversely impacted by it, and the other on the November 3 election, when it will be time to send Donald, Mitch, and their heedless, heartless crew home permanently.
Richard J. Rosendall is a writer and activist at rrosendall@me.com.
Copyright © 2020 by Richard J. Rosendall. All rights reserved.