June 16, 2020 at 4:26 pm EDT | by Peter Rosenstein
Trump screws us; court gives us a win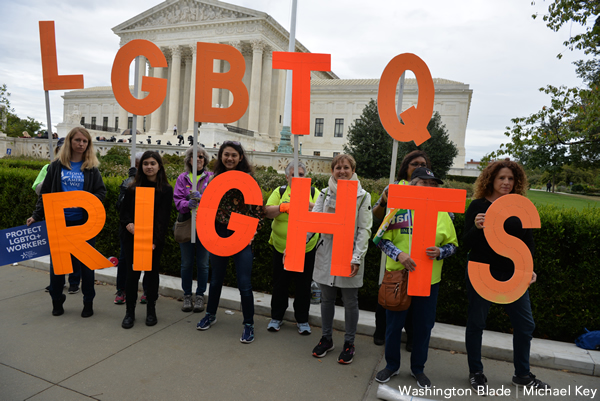 While the Trump administration once again worked to set back the rights of the LGBTQ community on the anniversary of the Pulse nightclub massacre the Supreme Court gave us a huge win with a 6-3 decision ruling the language of the Civil Rights Act of 1964, which prohibits sex discrimination, applies to discrimination based on sexual orientation and gender identity when it comes to employment.
Whether this will impact last Friday's rule finalized by the Department of Health and Human Services (HHS) saying the federal government no longer will recognize gender identity as an avenue for sex discrimination in health care remains to be seen. HHS overturned a decision by the Obama administration. As explained in a column in the Washington Post "The Affordable Care Act, the 2010 law often known as Obamacare, established broad civil rights protections in health care, barring discrimination based on race, color, national origin, sex, age or disability in "any health program or activity" that receives federal financial assistance. The Obama administration interpreted the provision about sex discrimination to include discrimination on the basis of "gender identity." Under the original 2016 rule, health care providers and insurers would have been required to provide and cover medically appropriate treatment for transgender patients."
In 2019 ProPublica listed 31 areas in which the Trump administration took adverse actions against the LGBTQ community including employment, schools and youth, healthcare, public housing, and foster care and adoption among others. We have seen over the past three years the Trump administration systematically roll back the rights of the LGBTQ community agency by agency. They have supported anti-LGBTQ legislation in the Congress and submitted amicus briefs opposing our rights to the courts.
Even worse for the community in the long run is Trump's appointment of far-right judges to the federal judiciary who can keep screwing us for generations to come. Justice Neil Gorsuch voting with the majority on employment rights is welcome but we can't count on him. Brooke Sopelsa of NBC news wrote about a Lambda Legal report saying, "A third of the more than 50 circuit court judges nominated by President Donald Trump since he took office nearly three years ago have a demonstrated history of anti-LGBTQ bias." 
One example of the anti-LGBTQ judges confirmed is Lawrence VanDyke to the 9th Circuit U.S. Court of Appeals in San Francisco who according to Sopelsa, "As recently as 2012, as Montana solicitor general, argued against same-sex marriage in two cases and in favor of allowing photographers to deny wedding services to gay couples." Others with similar backgrounds who have been confirmed are Steven Menashi to the 2nd U.S. Circuit Court of Appeals in New York and Allison Jones Rushing to the 4th U.S. Circuit Court of Appeals in Richmond, Va. Rushing is only 37 and Sopelsa wrote, "She made headlines for becoming one of the youngest and least experienced members of the federal judiciary, but also for her decade-long association with Alliance Defending Freedom, a conservative legal nonprofit with a long record of opposing LGBTQ rights."
Day after day we see the rights of the community trampled by Trump, supported by his sycophants in the administration and Congress. We know the LGBTQ community is not alone in having their rights threatened or taken away. Every minority community is facing the same issues and we need to support each other as we fight the racist, sexist, homophobic, pig in the White House. We as a community need to support the Black Lives Matter protests and stand with them. Those suffering the most in the LGBTQ community today are transgender women of color. Just this past week two more trans women, Riah Milton in Ohio and Dominique "Rem'Mie" Fells in Pennsylvania were killed. Not one word about this from the Trump administration, which surprises no one.
If we are to stop back-sliding on our rights and begin to move forward we must defeat Trump on Nov. 3. To do that we must ensure every voter eligible votes and every vote is counted. There is no perfect candidate. Reality is either Joe Biden or Trump will win the presidency. If Trump and Republicans win, then we all lose. If Biden and Democrats win we have the chance to move toward a better future. 
Peter Rosenstein is a longtime LGBTQ rights and Democratic Party activist. He writes regularly for the Blade.