September 16, 2020 at 7:30 am EDT | by Brian T. Carney
'Ratched' brings back iconic cinematic villain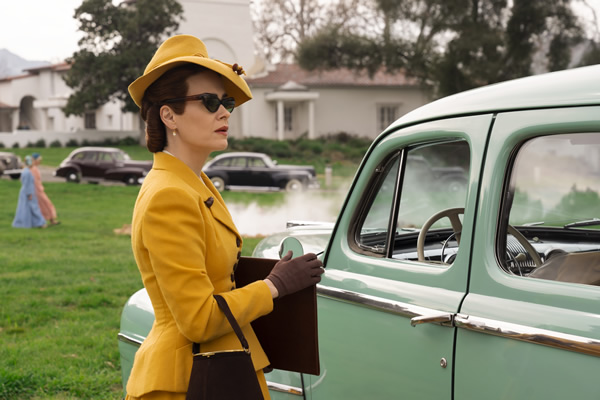 Are monsters born or made?
That's one of the questions Sarah Paulson and Ryan Murphy are tackling in their latest collaboration, "Ratched."
Paulson is playing Nurse Mildred Ratched, one of the most iconic villains in movie history. Louise Fletcher won the Academy Award in 1976 for her chilling work as the sadistic nurse; in a poll by the American Film Institute, Ratched was ranked as the fifth-greatest villain in cinematic history. In preparing to play the twisted character, Paulson studied the novel and the film in detail and even borrowed some gestures from the movie. Ratched's famous keychain is a link between Fletcher and Paulson.
To create a credible (and terrifying) backstory for the sadistic nurse Paulson, Murphy and their talented colleagues also drew on a variety of other sources: the Technicolor melodramas of filmmaker Douglas Sirk; the brutal conditions faced by nurses in front-line field hospitals in World War II; the barbaric history of psychiatric medicine and the forced institutionalization of homosexuals; and, the daily toll of living in a sexist environment.
As the series opens, Nurse Ratched is trying to land a job at California's Lucia State Hospital. The head nurse, Betsy Bucket (Judy Davis), objects to hiring her, but Ratched quickly blackmails Dr. Richard Hanover (Jon Briones) into offering her a position.
Ratched is soon at the center of several intrigues: the imprisonment of serial killer Edmund Tolleson (Finn Wittrock); the reelection campaign of the callous California governor (Vincent D'Onofrio) and the schemes of his clever press secretary (Cynthia Nixon); the arrival of a new patient with multiple personalities (Sophie Okenedo); the investigations of an inquisitive hotel clerk (Amanda Plummer) and a mysterious private gumshoe (Corey Stoll); and, a wealthy widow with revenge on her mind (Sharon Stone).
Paulson found Ratched's core in an unexpected place. She noted, "she's a work in progress. She's had a very traumatic childhood. She has been abandoned at a young age, has lost contact with her brother and the most fundamentally acute quality about her is that she is lonely."
The actress, who also served as executive producer for the series, adds, "It wouldn't be the worst thing if people were to feel sympathetic to her once they understood what she has endured. Even though what she's doing is sometimes very self-serving, and sometimes it's downright menacing, she still has her reasons. I think as an actor your job is simply to be committed to those reasons."
Paulson's castmate Cynthia Nixon adds, "What we see in Sarah's performance is somebody who has had horrific things happen to her. Somebody with less strength may not have made it. Her Nurse Ratched is able to take these terrible traumas that happened to her, compartmentalize them and keep moving forward. She can be ruthless, but she can also be shy and fragile. She can be incredibly sexually aggressive, or she can be very frightened when someone just touches her hand. I think that's what we do if we want to survive."
Paulson also worked closely with the costume team to develop a signature look for Mildred Ratched. Everyone felt strongly that this was a character who didn't possess a lot and who used clothes as camouflage and a form of armor. Designer Lou Eyrich elaborates, "If Mildred needs to be a quiet mouse, she dresses one way, but if she needs to go in for the kill, she might dress another way."
Season One (Episodes 1-8) of "Ratched" binge-drops on Netflix on Sept. 18; season two (Episode2 9-18) is expected to run in 2021.