6 gay candidates competing in crowded field for Council, school board
At least 47 LGBTQ hopefuls competing for ANC seats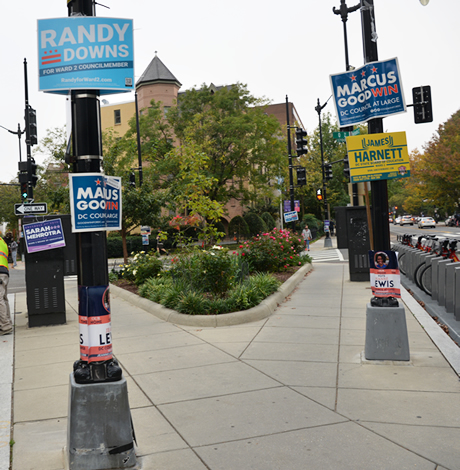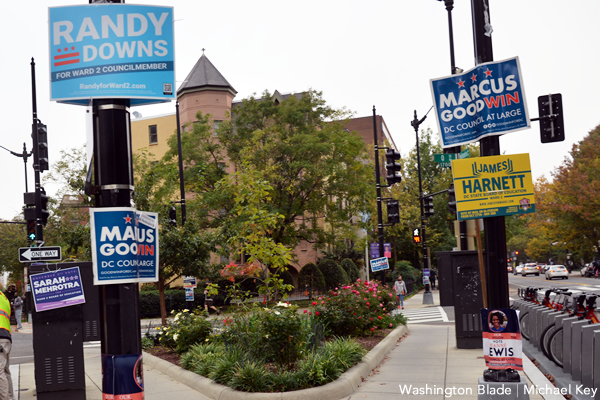 Three openly gay candidates are running for seats on the D.C. Council and another three are running for seats on the city's nine-member State Board of Education in an election on Nov. 3 with a record number of candidates competing for Council and school board seats.
At least 47 out LGBTQ candidates are also running for seats on the city's Advisory Neighborhood Commissions, according to a list compiled by the ANC Rainbow Caucus and separate information obtained by the Washington Blade. That number is about double the number of known LGBTQ ANC candidates who ran in the 2018 election.
Two of the gay D.C. Council candidates – Shaw Advisory Neighborhood Commissioner Alexander "Alex" Padro, who's running as an independent, and Libertarian Party leader Joe Bishop-Henchman – are among 23 candidates running for two at-large D.C. Council seats up for grabs on Nov. 3.
And gay Dupont Circle Advisory Neighborhood Commissioner Randy Downs, who's also running as an independent, is one of three candidates challenging incumbent Ward 2 Council member Brooke Pinto, the Democratic nominee, in a hotly contested race.
Downs and Padro have been endorsed by the LGBTQ Victory Fund, a national group that raises money for LGBTQ candidates nationwide.
In one of the State Board of Education races, gay former teacher and longtime education advocate Mysiki Valentine and gay Howard University Political Science Department Chairman Ravi K. Perry are among six candidates competing for an at-large seat on the nonpartisan education board.
Gay education advocate Allister Chang, who recently served as a visiting researcher at the United Nations Educational, Scientific and Cultural Organization, is one of four candidates running for the Ward 2 seat on the Board of Education. He is running to replace gay Ward 2 Board of Education member Jack Jacobson, who chose not to run for re-election and who has endorsed Chang. Chang also received the LGBTQ Victory Fund's endorsement.
Valentine, Perry, and Chang have said the D.C. Public School System's ability to address the needs and concerns of LGBTQ students would be among their highest priority in carrying out their role as a school board member.
Other races on the ballot this year include the D.C. Congressional Delegate seat currently held by Democrat Eleanor Holmes Norton, a longtime LGBTQ rights supporter who's considered the strong favorite to win re-election; and the so-called "shadow" U.S. House and U.S. Senate seats, which have no powers but serve as advocacy positions for D.C. statehood and D.C.'s interests in Congress.
Democratic incumbent Paul Strauss is considered the front runner against Statehood Green Party Challenger Eleanor Ory and Republican challenger Cornelia Weiss for the shadow Senate seat. Democrat Oye Owolewa is considered the frontrunner against Statehood Green Party candidate Joyce Robinson-Paul and independent candidate Sohaer Rizvi Syed for the shadow House seat.
Also on the ballot are races for D.C. Council seats in Ward 4, in which Democratic nominee Janeese Lewis George is being challenged by Statehood Green Party candidate Perry Redd; the Ward 7 Council seat in which incumbent Democrat Vincent Gray is running unopposed; and the Ward 8 Council seat in which incumbent Democrat Trayon White is being challenged by Republican Nate Derenge and independent candidates Fred Hill and Christopher Cole. George, Trayon White, and Gray are considered the strong favorites to win their respective races.
Similar to past recent D.C. local elections, nearly all candidates running and all those considered to have any chance of winning have expressed support for LGBTQ rights, with most expressing strong support. Local LGBTQ activists have said that means, unlike other cities and states, D.C.'s LGBTQ voters have the luxury of being able to choose who to vote for based on non-LGBTQ issues with the expectation that no serious candidate opposes LGBTQ equality.
However, local LGBTQ activists sometimes disagree over whether an out LGBTQ candidate should be supported on the basis of their sexual orientation or whether other issues should take precedent. Many activists, including members of the Gertrude Stein Democratic Club, D.C.'s largest local LGBTQ political organization, say it's important to have LGBTQ people in elective office, especially on the D.C. Council.
There has not been an LGBTQ member of the D.C. Council since gay Council members Jim Graham, a Democrat, and David Catania, an independent, left the Council in January 2015.
The Stein Club has endorsed incumbent D.C. Council member Robert White for one of the two at-large seats up for election. But the club could not endorse any of the three gay Council candidates under its longstanding rules that prohibit the endorsement of a non-Democrat when a Democrat is running in the same race.
The club endorsed all Democratic Council candidates running in the general election except Pinto in Ward 2 after Democrat Pinto was unable to obtain the 60 percent vote needed under club rules for an endorsement. The no-endorsement vote in the Ward 2 race is considered a clear sign of support among Stein Club members for Downs, whose supporters in the club voted against an endorsement for Pinto.
Observers say Downs, while in an uphill campaign, may have a better shot at winning than Padro and Bishop-Henchman, who are competing with several better known candidates, including former at-large Council member Vincent Orange.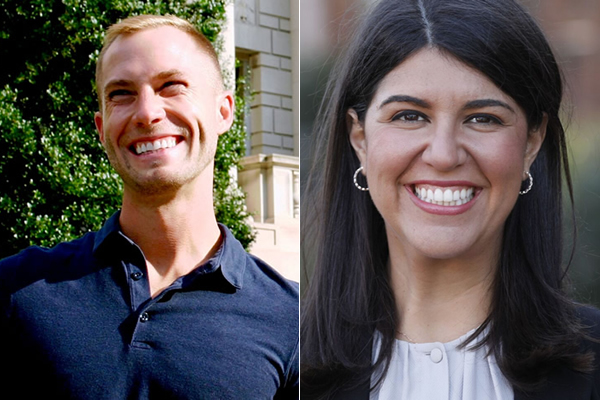 In the Ward 2 race, Pinto, a 28-year-old attorney and political newcomer to D.C., won the Democratic primary with just 28 percent of the vote in an eight-candidate race. Two weeks later she won a special election to fill the Ward 2 seat until January after longtime Ward 2 Council member Jack Evans (D) resigned earlier this year following allegations of violations of ethics rules.
The Democratic nominee for the Ward 2 D.C. Council seat has won the general election in every election since D.C. began its local home rule government in 1974, a development that would normally make Pinto the strong front runner. But some political observers say Downs, who has received numerous endorsements from prominent Ward 2 activists and small businesses as well as from the Washington Teachers Union, say he has a shot at breaking the longstanding trend of the Democrat winning the Ward 2 seat.
Pinto has expressed strong support for LGBTQ rights and has advocated for LGBTQ supportive legislation during her four months in office. She has also received prominent endorsements, including from the Washington Post and some LGBTQ activists, including gay bar owner and ANC commissioner John Guggenmos. Also backing Pinto is gay Logan Circle ANC commissioner John Fanning, who was one of the unsuccessful candidates running against Pinto in the Democratic primary, and gay Democratic activist Austin Naughton, who serves as chair of the Ward 2 Democrats organization.
Other political observers, while agreeing that Downs has waged a strong campaign, point out that two other candidates are running for the seat that are competing for votes that Downs needs to win an upset victory. The two are independent candidate Martin Miguel Fernandez, who is vying to become the Council's first Latino member, and Statehood Green Party candidate Peter Bolton. Both have also expressed strong support for LGBTQ issues and are positioning themselves as left-leaning progressives.
Downs has described himself as a "pragmatic progressive" compared to Pinto, who has positioned herself as a moderate to progressive on some issues, according to D.C. Council observers.
Pinto is ahead in money raised for her campaign, with a cumulative total of $189,243 as of the time of the filing of her Oct. 10 campaign finance report. She has selected to enroll in the city's traditional campaign donor program that allows corporate donations.
Downs's Oct. 10 report shows he is running a respectable second with $140,730 raised. He points out that he has enrolled in the city's public financing program where he receives matching funds from the city with donations limited to a maximum of $50 per donor for a ward candidate and corporate donors are not allowed. Downs says he has far more donors from Ward 2 and from within D.C. than Pinto, who has received a large number of out-of-town campaign contributions.
Bolton's Oct. 10 finance report shows he has raised a total of $2,841 as of Oct. 10. The most recent report that Fernandez has filed, according to Office of Campaign Finance records, is for Aug. 10, which shows he raised $9,446 as of that time. He told the Blade on Tuesday that he applied for an extension for filing his Oct. 10 report but he estimates his total funds raised are about $12,000.
Downs received a +10 rating on LGBTQ issues from the Gay and Lesbian Activists Alliance, the group's highest rating. GLAA gave ratings of +7.5 for Pinto, +7 for Fernandez, and +4 for Bolton. In a statement accompanying its ratings GLAA says each of the four candidates expressed support for all the LGBTQ related issues the group considers important in its candidate questionnaire. The statement says those with the higher ratings gave a greater degree of substance to their questionnaire responses or, like Downs, had a more extensive record of involvement in LGBTQ endeavors.
Downs created a stir in September when he released a statement criticizing Pinto for accepting maximum campaign donations of $500 each from Michigan's Republican former Attorney General Bill Schuette and Schuette's wife. Schuette has been an outspoken opponent of same-sex marriage and civil rights protections for LGBTQ people. Schuette also received the endorsement of President Trump when he ran unsuccessfully for governor of Michigan in 2018.
"These are not our values and we do not accept large donations from politicians who advocate for those values," Downs said in his statement.
The Blade confirmed from Pinto's campaign finance report filed with the Office of Campaign Finance that Schuette and his wife made the contributions to her campaign.
"My support for equal rights and the LGBTQ community is longstanding and unwavering," Pinto told the Blade in a statement. "Views contrary to the rights of our LGBTQ community are abhorrent, and no contributor, politician, or anyone else is going to alter my beliefs, including my steadfast support for same-sex marriage and civil rights protections," she said.
"I do not vet the views and actions of the thousands of supporters and contributors to our campaign, but I do take my responsibility seriously to educate and encourage all in our community to be inclusive and supportive," Pinto said. "Mr. Downs might consider discontinuing spurious attacks on me and start discussing policies he would promote."
Downs told the Blade his campaign website includes information on his numerous policy proposals and his long record of advocacy for Ward 2 residents. He criticized Pinto for not returning the contributions from the Schuettes.
In the at-large Council race, incumbent Democrat Robert White, a longtime advocate for LGBTQ rights, is considered the favorite to win the so-called "Democratic" seat. He received a +10 rating from GLAA. Most political observers say the other seat, which under the city's election law cannot go to a Democrat, is up for grabs among the better known independent candidates.
Under the city's election rules voters are asked to select two candidates in the at-large race. The two candidates with the highest vote counts are declared the winners.
Padro is well known and has support from his home base in the Shaw neighborhood in his role as an ANC commissioner and as co-founder and executive director of Shaw Main Streets, a neighborhood advocacy and development group. But he doesn't have widespread name recognition in other parts of the city, although his campaign signs are appearing in each of the city's eight wards.
Bishop-Henchman, an attorney who lives in the city's Eckington neighborhood, serves as vice president of policy and litigation for the National Taxpayers Union Foundation and as chair of D.C.'s Libertarian Party. He ran as the Libertarian Party candidate two years ago in 2018 for the D.C. Attorney General's position against incumbent Attorney General Karl Racine, a Democrat.
D.C. Board of Election returns show Bishop-Henchman received 14,941 votes, or 6.68 percent, compared to Racine, who won easily with 207,451 votes or 92.77 percent.
Records from the Office of Campaign Finance show that Bishop-Henchman this year applied for and received a waiver from having to file campaign finance reports by committing himself not to raise or spend more than $500 for his campaign. That suggests he may be running as the symbolic standard bearer of the Libertarian Party and not running an active campaign. He has not responded to a call from the Blade for comment as of early this week.
Padro's Oct. 10 finance report shows he has raised $39,010 for his campaign as of Oct. 10. In the school board race, Valentine has raised $14,488 according to his Oct. 10 finance report. Perry's report shows he raised $5,255 for his at-large campaign as of Oct. 10. Chang's report for Oct. 10 shows he raised $2,775 for his campaign as of that date.
GLAA gave Padro a rating of +7, saying he has a strong record on LGBTQ issues and provided "good substance" on his questionnaire responses but lost points for disagreeing with GLAA's position for decriminalizing sex work in the District. Padro instead has called for legalizing sex work with strict regulations to prevent ill effects, a position that GLAA says "creates more barriers and marginalization" for people involved in sex work.
Bishop-Henchman received a +2.5 GLAA rating. GLAA says in its accompanying statement that he agrees with GLAA on all issues but offered "very little substance" and did not provide any record of working on LGBTQ issues.
Among the other LGBTQ supportive candidates against whom Padro and Bishop-Henchman are competing is Christina Henderson, a former staffer to D.C. Council member David Grosso (I-At-Large). Henderson received a +10 GLAA rating. Grosso isn't running for re-election, and his seat is the one the 23 candidates, including Padro, Bishop-Henchman, and Henderson are running for. Grosso, also a longtime LGBTQ community supporter, has endorsed Henderson as his replacement on the Council.
Also running for the at-large Council seat is longtime LGBTQ community ally Monica Palacio who until earlier this year served as director of the D.C. Office of Human Rights. She received a +9.5 rating from GLAA. Former Council member Orange, who some consider one of the frontrunners for the at-large seat, received a +2.5 rating from GLAA on grounds that he did not return the GLAA questionnaire and his positions on various issues couldn't be determined.
Record number of LGBTQ ANC candidates
Among the 47 known LGBTQ Advisory Neighborhood Commission candidates on the Nov. 3 ballot, 19 are incumbent commissioners and 22 are running unopposed. At least one LGBTQ candidate is running in each of the city's eight wards, with most running in Wards 1 and 2.
There are a total of 40 ANCs located throughout the city with each having between two and nine single member districts, with a total of 296 individual commissioners. The commissioners hold unpaid elected positions under the city's Home Rule Charter that are charged with making recommendations to city officials on a wide range of neighborhood issues for which city officials are required to give "great weight."
Among those running unopposed is incumbent Monika Nemeth in Single Member District 3F06 in Ward 3. Nemeth's election to the ANC two years ago marked the first known time a transgender person was elected to public office in D.C. She is a former president of the Stein Club and currently serves as one of the club's two vice presidents.
Another candidate identified by the ANC Rainbow Caucus as LGBTQ is Raymond Chandler who, along with gay candidate Justin Riordan, is challenging ANC 5C05 incumbent Darlene Oliver in the city's Brentwood neighborhood. Chandler, who goes by the name Rayceen Pendarvis, is well known in the LGBTQ community as an entertainer, emcee, and community activist.
Riordan told the Blade that both his and Chandler's campaign signs have been torn down repeatedly while Oliver's signs have been left alone. LGBTQ candidates in the Logan Circle ANC 2F, Rehana Mohammed and Alexandra Bailey, and Dupont Circle ANC 2B09 candidate Kyle Mulhall have also reported having their campaign signs pulled down or damaged.
Following is the list of known LGBTQ ANC candidates and the ANC districts in which they are running as released by the ANC Rainbow Caucus or obtained separately by the Blade:
Judson Wood, 1A06 (Columbia Heights/unopposed)
Kent Boese, 1A08 (Park View/incumbent/unopposed)
Michael Wray, 1A09 (Park View/incumbent/unopposed)
Larry Handerhan, 1B01 (Ledroit Park/unopposed)
Alan Kensek Jr., 1B05 (Meridian Hill Park)
Eric Behna, 1B08 (Columbia Heights)
James Turner, 1B09 (Columbia Heights/incumbent/unopposed)
Rob Hudson, 1B11 (Pleasant Plains/incumbent/unopposed)
Ted Guthrie, 1C03 (Adams Morgan/incumbent)
Japer Bowles, 1C07 (Adams Morgan/incumbent/unopposed)
Chris Jackson, 1D01 (Adams Morgan/incumbent)
Matthew Sampson, 2B01 (Dupont Circle/incumbent)
William Herbig, 2B05 (Dupont Circle/unopposed)
Mike Silverstein, 2B06 (West Dupont/incumbent/unopposed)
Matthew Holden, 2B08 (Dupont Circle/unopposed)
Kyle Mulhall, 2B09 (Dupont East-U Street Corridor)
Michael Shankle, 2C01 (Penn Quarter-Chinatown/incumbent/unopposed)
Will Mascaro, 2C02 (Gallery Place)
Brian Romanowski, 2F01 (Logan Circle/unopposed)
John Guggenmos, 2F02 (Logan Circle/incumbent/unopposed)
John Fanning, 2F04 (Logan Circle/incumbent/unopposed)
Kevin Sylvester, 2F07 (Logan Circle/incumbent)
Rehana Mohammed, 2F07 (Logan Circle)
Alexandra Bailey, 2F08 (Logan Circle)
Lee Brian Reba, 3C01 (Woodley Park/incumbent/unopposed)
Toni Ghazi, 3D02 (Spring Valley)
Christian Damiana, 3D07 (American University Park/unopposed)
Ryan Keefe, 3F05 (North Cleveland Park)
Monika Nemeth, 3F06 (North Cleveland Park/incumbent/unopposed)
Matt Buechner, 3F07 (Forest Hills/unopposed)
Evan Yeats, 4B01 (Takoma/incumbent/unopposed)
Mike Whelan, 4C06 (Petworth)
Ra Amin, 5B04 (Brookland/incumbent/unopposed)
Raymond Chandler, 5C05 (Brentwood)
Justin Riordan, 5C05 (Brentwood)
Salvador Sauceda-Guzman, 5D02 (Trinidad/unopposed)
Michael Lussier, 5D06 (Trinidad)
Rob Dooling, 6A06 (Capitol Hill East)
Drew Courtney, 6C06 (Near Northeast/incumbent/unopposed)
Ronald Collins, 6D03 (Near Southwest/incumbent/unopposed)
Andy Litsky, 6D04 (Southwest Waterfront/incumbent/unopposed)
Edward Daniels, 6D07 (Navy Yard/incumbent)
Michael Eichler, 6E01 (Shaw/unopposed)
Anthony Lorenzo Green, 7C04 (Deanwood/incumbent)
Keith Hasan-Towery, 7E04 (Marshall Heights)
Aiyi'nah Ford, 8A06 (Anacostia)
Isaac Smith, 8A06 (Anacostia)
Following is a list of 24 candidates on the ballot for the at-large D.C. Council seat in the order that they appear on the ballot along with the rating they received on LGBTQ issues from the Gay and Lesbian Activists Alliance.
An asterisk indicates GLAA did not receive a returned questionnaire it says it sent to all candidates asking for their positions on LGBTQ issues from which it bases its rating score. Candidates from whom it doesn't receive a returned questionnaire receive a "0" rating unless GLAA has information about their record on LGBTQ issues.
Christina D. Henderson
Independent
GLAA rating: +10
Vincent Orange*
Independent
GLAA rating: +2.5
Franklin Garcia
GLAA rating: +8
Rick Murphree
Independent
[Withdrew his candidacy too late to be removed from the ballot.]
Marya Pickering
Republican
GLAA rating: -3
Marcus Goodwin*
Independent
GLAA rating: 0
Markus Batchelor*
Independent
GLAA rating: +6
Michangelo 'DoctorMic' Scruggs*
Independent
GLAA rating: 0
Mario Cristaldo
Independent
GLAA rating: +6,5
Calvin H. Gurley*
Independent
GLAA rating: 0
Claudia Barragan*
Independent
GLAA rating: +1
Keith Silver*
Independent
GLAA rating: 0
Alexander M. 'Alex' Padro
Independent
GLAA rating: +7
Robert White
Democrat
GLAA rating: +10
Jeanne Lewis*
Independent
GLAA rating: 0
Monica Palacio
Independent
GLAA rating: +9.5
Ann C. Wilcox*
Statehood Green
GLAA rating: +0.5
Joe Bishop-Henchman
Libertarian
GLAA rating: +2.5
Kathy Henderson*
Independent
GLAA rating: -1
Eric M. Rogers*
Independent
GLAA rating: 0
Chander Jayaraman
Independent
GLAA rating: +5
A'Shia Howard*
Independent
GLAA rating: 0
Ed Lazere
Independent
GLAA rating: +8
Will Merrifield
Independent
GLAA rating: +4.5
Former Ambassador Daniel Baer explains it all on Ukraine crisis
Expert downplays strategic thinking behind Putin's move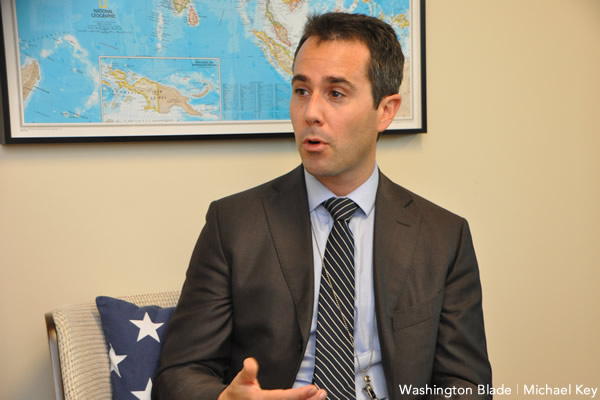 Daniel Baer, who worked on LGBTQ human rights and transatlantic issues as one of several openly gay U.S. ambassadors during the Obama administration, answered questions from the Washington Blade on Ukraine as the international crisis continues to unfold.
Topics during the interview, which took place weeks ago on Jan. 27, included Putin's motivation for Russian incursions, the risk of outright war, predictions for Russia after Putin and how the crisis would affect LGBTQ people in Ukraine.
Baer was deputy assistant Secretary of State for the Bureau of Democracy, Human Rights and Labor and U.S. ambassador to the Organization of Security & Cooperation in Europe.
The full interview follows:
Washington Blade: What's your level of engagement with this affair? Are you doing any consulting work? Is the administration reaching out to you at all?
Daniel Baer: I actually think the White House is doing a pretty good job of recognizing that they need to not only have press conferences, but also talk to other people who are trying to figure out how to be constructive critics, idea generators from the outside.
Blade: OK, so you're being solicited and engaging on this issue. My next question for you is why do you think Putin is doing this at this time?
Baer: So, I guess taking a step back from the whole thing, one of the things about a problem like this is that everybody is searching for the right answer assuming that there is a like comfortable or compelling or intellectually accurate answer, and I actually think we're just in a really hard moment.
I don't know why he's doing it now. And in fact, I think that one of the puzzles that we haven't solved yet is that all the things that he says are the reasons that he's doing it — that he feels encirclement by NATO, … or that the situation in Ukraine is untenable — none of those things have changed. Setting aside the fact that they're spurious, it's not like there's been some new move in the last 12 months that has precipitated [a reaction] on any of those fronts that you can say, "Oh, well, he's responding to the recent meeting where Ukraine was offered membership in NATO, or he's responding to a change in government in Ukraine that it's clearly anti-Russia, or any other move that we've done." The explanation just doesn't hold water, and so I think we need to look for alternative ones.
The best I can come up with is actually just a broad — it doesn't actually explain this particular moment, but I think you could look at the timing of his life. He has, I don't know, 10 years left. And during those 10 years, it's unlikely that Russia is going to grow more powerful; it's much more likely that it's going to become at least relatively and probably nominally less powerful. And so, if you're unhappy with the status quo, and you feel like you're a declining power, and you don't have endless time, there's no time like the present. And you'll make up whatever reasons you need to in order to justify it.
I also think there's a tendency on our part to attribute far more "strategery" to Putin than there necessarily is. I mean, he's a bully and a thug. I think the whole Putin's playing chess and we're playing checkers is actually completely inverted. We're in our own heads that there's some kind of nuanced position that would mollify him. He's just a gangster and he's taking a punch because he has one. And I don't think it gets much more complicated than that. And so, I guess the answer to why he's doing this now, because the international conditions are such that he feels like the United States is focused domestically, the Ukrainians are not moving forward with succeeding to build — they're kind of in stasis on building a European state— and he has, you know, he has the space to take a punch, so he's contemplating doing it, or he's already decided to do it. And he's just extracting as much as possible before he takes it.
Blade: That leads me to my next question: What is your judgement of the risk of out and out war?
Baer: I don't know because I have two hypotheses that cut both ways. One is that I think Putin is vastly underestimating the degree of resistance. On the other hand, I think that nothing short of domination is satisfactory. And so, I don't know. I guess I think there's a 90 percent chance that he does something, and I think there's a 75 percent chance that what he does is not an all out invasion or ground invasion, at least not at first, but rather something that is aimed at confusing us. So some sort of hybrid or staged or false flag kind of attack in tandem with a political coup in Kiev, where he works to install a more Russia-loyal leader.
The thing with the ground invasion is that Russian soldiers' moms are one of the only, like, powerful political forces in civil society in Russia. I just don't see any way that a ground invasion doesn't involve massive Russian casualties, even if they will be dominant. The people who are going to impose the consequences on him will be the Ukrainians, not the rest of us, and he should not invade, and if he does, we should, frankly, work hard to make it as painful and difficult for him as possible.
Blade: What will that look like?
Baer: I think we should at that point continue — we shouldn't pause, we should continue to send the defensive equipment and backfill as much as possible their ability from an equipment basis to resist.
Blade: So if we were to look at a model for past U.S. engagements. I'm thinking Greece under President Truman, which was so successful that nobody really knows about it, I don't think. Is there any model we should be looking toward, or not looking toward?
Baer: No, I guess. I'm not sure there's any good historical model because obviously, any of them you can pick apart. I do think that one thing that has gotten lost in a lot of the analysis — and this goes back to Putin being a gangster thug, and not being such a genius — is there's a moral difference between us. The reason why Putin gets to control the dialogue is because he's willing to do things that we aren't willing to do — as gangsters are, as hostage-takers are — and so yes, they get to set the terms of what we discussed, because we're not holding hostages. We're trying to get hostages released. And the hostage-taker has an upper hand and asymmetry because they are willing to do something that is wrong.
We shouldn't lose the kind of moral difference there. Nor should we lose sight of the fact that Ukraine is being menaced. And I'm not saying it's our obligation [to intervene militarily], certainly not our obligation. They aren't a treaty ally. We have neither a political obligation nor a moral one to necessarily risk our own lives, our own soldiers in defense of Ukraine. But if Ukraine wants to defend themselves, there's a strong moral case to be made that anything, short of risking our own lives, is something that is morally good. We generally believe that self-defense from lethal threat is a reasonable moral cause and assisting others in defending themselves is too — I think there's a lot of back and forth that get glossed over whether that's a provocation or whatever, and I want to say to people stand back, look at this: we've got one party that is attacking another. And the question is, does the other have a right to defend itself? Yes. And if they have a right to defend themselves, and they also have a right to have whatever assistance people will offer them in defending themselves.
That doesn't mean that they get to demand that we show up and fight in the trenches with them, of course, and I don't think there's any serious people who are recommending that but it's a good thing to help them. It's not like a technical thing. It's a good thing to help
Blade: Getting into that moral background, one thing I want to ask you was about the significance of what would happen in this concept of democracy versus autocracy. First of all, how much is Ukraine a functional democracy, in the sense that if we're defending Ukraine, we are defending a democracy, and what signal do you think it would send if that Ukrainian government fell to Russian autocracy?
Baer: I think the institutions of government that the Ukrainian people have are not worthy of the Ukrainian people's own demonstrated commitment …
They are not worthy of the Ukrainian people's own demonstrated commitment to the idea of democratic institutions. So the answer is today's Ukrainian government is a mixed bag and it's very hard to build, on the rot of a Russian fiefdom, a functioning democracy, so I think it's a mixed bag. I don't want to sound like I'm minimizing [the changes], or that they've completely bungled an easy project. It was always going to be a hard project, and it was never going to be linear.
But I think that what we've seen from the Ukrainian people — by which I mean not Ukrainian people, but people of Ukraine — is that there is a broad part of society that a) does not want to live under a Russian thumb and b) sees its future in kind of European style democracy. And so I think that if there was, there's no question that the Russian attack would be in part about subjugating the people of Ukraine and forcing them to live under some sort of new Russian satellite. And I think that there's little space for serious argument that that's something that the people of the country wish to have.
Blade: But I'm just kind of getting at — you're kind of minimizing that this is a strategic move by Putin, but if he were to successfully dominant Ukraine it becomes a Russian satellite isn't that saying like, "Well, ha ha West, you thought the Cold War was over and there's going to be just be a unipolar world in the future but no, we're gonna we have this we're back and we're gonna create a multipolar world for the future."
Baer: Yeah, I mean, my answer to the Russians who always raise the multipolar world to me is, "Fine, it's going to be a multipolar world. What makes you think that Russia is one of the poles?" Poles by definition draw people to them, they are compelling and a pole attracts, magnetically or otherwise, and there is nothing attractive about the model that Russia is pursuing. And if the only way that you can be a pole is by subjugating, to force your neighbors, you are proving that you are not one.
I think the benefits for Russia are far smaller than Putin thinks and I think the consequences for the rest of the world of allowing a violation of international order to go forward are much larger than many people recognize.
Blade: But that was their approach when they were the Soviet Union. They were subjugating the Eastern Bloc through Russian force. They did have, in theory, the concept of their worldview of you know, of socialism, or whatever you want to put it charitably, was going to be the right way to go. Is there really that much of a difference?
Baer: Yeah, however disingenuous it was, they did have an ideology . So you're right, that was a key distinction. The other thing is that the Soviet Union in relative size — its economy and population etc. — was much larger than Russia is today. And Russia is shrinking, and its economy is less diverse than the Communist one was. I think it's a delusion to think that they're going to kind of rebuild an empire, even if yes, because of their willingness to do awful things, they could potentially for a time politically control through violence, their neighbors. I just don't — in a multipolar world, I don't see Russia being one of the poles, at least not on its current path.
Blade: How would you evaluate the U.S. diplomatic approach to this issue?
Baer: There's been very clear over-the-top effort to include the Europeans at every step — meetings with them before each meeting and after each meeting, to force conversations into fora that are more inclusive and stuff like that. And I think that Secretary Blinken is rightly recognizing the need to kind of play a role of kind of keeping everybody on the side while we test whether diplomacy whether there's anything to do, whether there's any promise with diplomacy.
I think there's kind of, sometimes kind of, two camps in U.S. foreign policy circles. One is like: We should give the Russians what they want because it just doesn't matter that much. War is much worse than anything that we would give them. And another is that we can't give them an inch and we have to punch them in the face whenever we can. And I think both of those are kind of knee-jerk positions that have become a bit religious for people and neither of them is paying attention to the practical challenge that's in front of the administration, which is like this guy's threatening to invade and we need to identify whether there's any opportunity for a functional off ramp, and that doesn't mean we do that in a vacuum and ignore the long-term consequences, but our problem is not a religious one, it's a practical one. And I think they're doing a pretty good job of threading the needle on that and being not too far forward and not too far back.
Blade: Do you see any significant daylight between the United States and Europe?
Baer: No, I mean, no more than the minimum that is possible. There's a lot of talk about Germany these days. Look, I think some of the things they say are not particularly helpful, but I don't actually think that in the long run, if Putin invaded, I don't think that they would hold up sanctions or anything like that. So I think they're on our side, even if they're talking out of both sides, in some cases.
Blade: I am wise to the fact that this is a nuclear power. It might be a little old school, but could escalation get that far?
Baer: There can't be war. There can't be war between NATO and Russia. It should be avoided. Obviously, there can be, but it should be avoided.
Blade: How committed do you think President Biden is to protecting Ukraine?
Baer: Reasonably so. I think he's enough of an old school trans-Atlantist that he understands that this isn't just about Ukraine.
Blade: I was wondering because he had those comments from his press conference about "minor incursion" and I'm just wondering if you're reading anything into that or not.
Baer: No, I think that was that was a — I think broadly speaking, everything he says is in line with the kind of view that you would expect. And of course, one sentence can catch [attention]. That wasn't what he meant. What he meant was that he didn't want to draw a "red line" that would prejudge policy in response to something short of the most extreme scenario.
I think it is a good caution to not obsess over a single sentence and to look at the broad considered policy statements.
Blade: What do you think if you were looking for developments, like what would you be looking out for is significant in terms of where we are going to be going in the near future? This is one thing to keep an eye out for but is there anything else that you are kind of looking out for in terms of the near future?
Baer: I guess I would look out for whether or not the United States joins meetings of the so-called Normandy Format, which is the France, Germany, Ukraine and Russia grouping, which has so far been unsuccessful, but I think can only be successful as the United States joins it, but the Russians, I think have misgivings with the idea of our joining it.
Blade: I'm not at all familiar with that. What makes this forum particularly so —
Baer: So it was started in the summer in like June of 2015, on the margins of some meeting between Merkel and Hollande. The French and the Germans are very committed to the idea that they might be able to mediate peace between Ukraine and Russia. It was supposed to implement the Minsk Agreement, and it just hasn't been productive so far. I don't think that the Russians will do anything — I don't think the Ukrainians feel comfortable negotiating anything without the Americans at the table. And I don't think the Russians feel like anything is guaranteed without the Americans at the table. So I just, I'm fine with France and Germany taking the lead, but I think the U.S. has to be there.
And there was a meeting of this group in Paris yesterday, and which the U.S. was supportive of, and so I'm watching to see whether or not the United States gets added in some ad hoc way, whether there are future meetings. I guess the reason I would watch it, if the U.S. were to join future meetings that would signal to me that it's actually there's some diplomacy happening there.
That's meant to be focusing mainly on the existing Russian invasion, the occupation of the Donbas, so that's not about the threat of the new invasion, but it would be interesting to me if there was forward movement on other parts of Ukraine. The announcement of the American ambassador is one. I think that last week movement of troops into Belarus was a game changer for the U.S., because there are all kinds of new implications if you're using a third country as your launchpad for war, and so it complicates things and it also looks more serious if you're starting to deploy to third countries and stuff like that. So I think that was that last week, you noticed a difference in the U.S. tone and tenor in response to that.
So things like that. But in general, like what I would do and I don't think people always catch this is because there's a boiling frog aspect to it. There are statements coming out from the White House or State Department. Almost every day on stuff related to this and like last week, there was a noticeable change in the tenor as the U.S. became less, I think more pessimistic about the prospects of diplomacy and those I don't have anything better to look for in those statements as tea leaves, in terms of what the U.S. assessment is of the prospects of the escalation are, so it's bad.
Blade: Right. That's very sobering.
There's a lot of talk, and I've just been seeing some like about in terms of, there's like comparisons to Afghanistan and making sure that all Americans are able to get out of Ukraine. Is that comparing apples to oranges?
Baer: Yes.
Blade: And could you unpack that a little bit? I mean, I can kind of guess the reasons why. How is that apples to oranges?
Blade: Well, the level of development in Ukraine in terms of infrastructure and transport and stuff like that is not comparable to Afghanistan. I think it would be– if there were a Russian invasion–you would definitely want to, obviously, for safety reasons, it's not safe to be in a war zone, so you would want people to be able to evacuate and you'd have to plan for that.
A major concern [in Afghanistan] was also that there were tens of thousands, if not hundreds of thousands of locals who had worked for the Americans. The Americans that are in Ukraine are not a departing occupying power. There's just not the same footprint there — the Americans are in Ukraine or there as business people or young [people working on] democracy assistance or whatever. And it's just it's a different context.
Blade: Why do you think the Russians put up with Putin? I mean, this is a country that was a world power and I would think has some economic potential just given its sheer size, first of all, and they do have oil to offer people. So why aren't the Russians like angry at him for obstructing their participation in the global order as opposed to just putting up with him for years and years and years.
Baer: Successful instrumentalisation of cynicism. The lack of a belief in an alternative will keep you from fighting for it.
Blade: That's pretty succinct.
Baer: I mean, I don't think there's any question that the people of Russia could be better off or different in terms of kitchen table issues, and ease of navigating the world, prospects for their future for their children's future. The amount of money that Putin has invested into military modernization that Russia can ill afford, while he's cut pensions and social services and health care. It's just it's objectively true that the average Russian person would be better served by a different leader. But he's done a very good job of effectively selling off the country for profit and persuading people through repression and propaganda that there is no alternative.
Blade: And Putin won't be around forever. Once he finally goes, is an alternative going to emerge, or will it be the next guy in Putin's mold?
Baer: I think it's far from clear that what comes after Putin isn't worse and bloody. Regimes like this don't reliably have stable transitions.
Blade: Wow, okay.
Baer: Yeah, we shouldn't… we should be careful about wishing… wishing for his demise.
Blade: That's good to know. It's kind of a frightful note for me to end my questions. But actually before I sign off, there's one more thing too because I do kind of want to talk about the intersection about your old job in democracy and human rights and then a Venn diagram of that with your experience in Eastern Europe in particular. Do you have a sense of what's at stake for LGBTQ people in Ukraine or if they're in more danger right now than they would be otherwise?
Baer: That's a good question. I mean, my knee jerk reaction is yes. That — as mixed of a picture as Ukraine has been in the last seven years, or eight years — there have been meaningful steps forward, and certainly, in terms of visibility.
I guess, in the sense that Ukraine is better than Russia today, if you're gay, if Russia is going to occupy or control Ukraine we can expect that it will get worse because it will become more like Russia.
Trump ribbed Pence for thinking 'it's a crime to be gay,' new book says
Former president openly wanted gay Fox News analyst for Supreme Court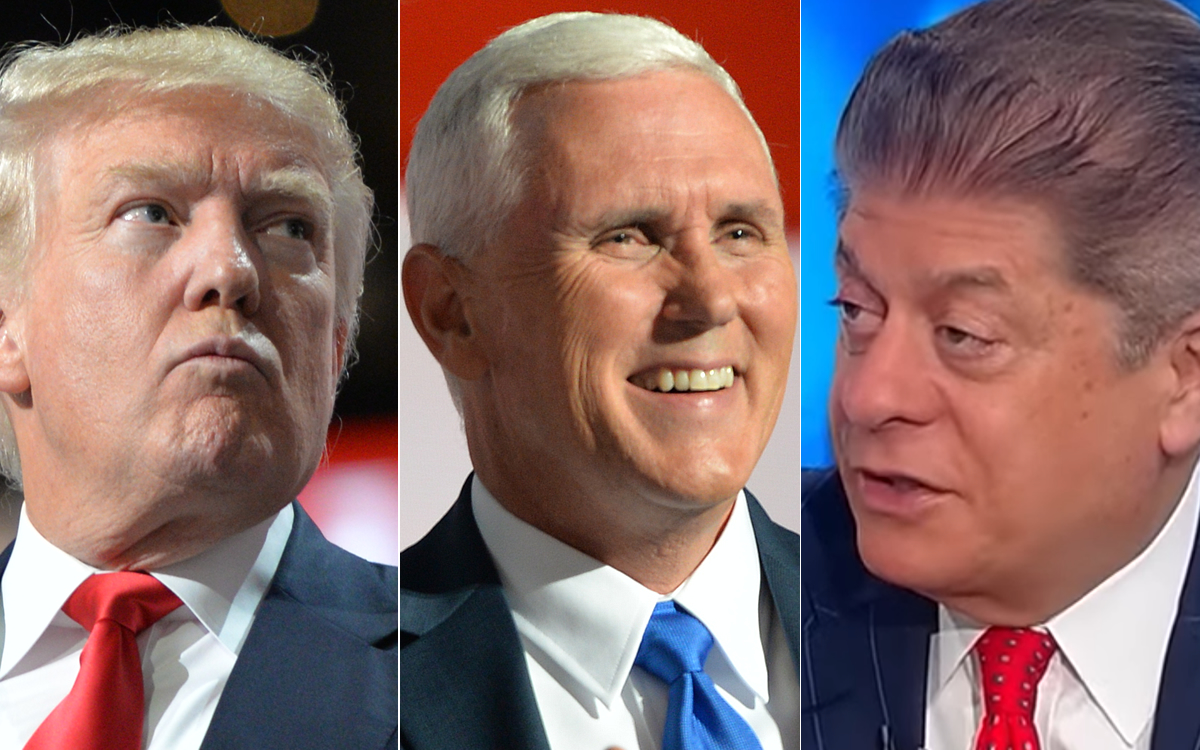 Donald Trump, in the days before he took office after the 2016 election, openly contemplated naming an openly gay Fox News contributor to the U.S. Supreme Court amid concerns from social conservatives about his potential choices and ribbed former Vice President Mike Pence for thinking "it's a crime to be gay," according to the new book "Insurgency" detailing the former president's path to the White House.
The key moment between Trump, Judge Andrew Napolitano and Pence took place during the transition period after the 2016 election when Trump invited the other two for a meeting at Trump Tower. That's when Trump reportedly took the jab at Pence.
"During their meeting, for part of which Mike Pence was present, Trump ribbed Pence for his anti-gay rights views," the book says. "Addressing Napolitano, Trump gestured toward the archconservative vice-president-elect and said, 'You'd better be careful because this guy thinks it's a crime to be gay. Right, Mike?' When Pence didn't answer, Trump repeated himself, 'Right, Mike?' Pence remained silent."
The potential choice of Andrew Napolitano, who was fired last year from Fox News amid recently dropped allegations of sexual harassment from male co-workers, as well as other TV personalities Trump floated for the Supreme Court, as detailed in the book, were among the many reasons conservatives feared he wouldn't be reliable upon taking the presidency. Ironically, Trump would have been responsible for making a historic choice for diversity if he chose a gay man like Napolitano for the Supreme Court, beating President Biden to the punch as the nation awaits his selection of the first-ever Black woman for the bench.
The new book — fully titled "Insurgency: How Republicans Lost Their Party and Got Everything They Ever Wanted" and written by New York Times political reporter Jeremy Peters, who is also gay — identifies Trump's potential picks for the judiciary as a source of significant concern for conservatives as the "Never Trump" movement was beginning to form and expectations were the next president would be able to name as many as four choices for the Supreme Court. Among the wide ranges of possible choices he floated during the campaign were often "not lawyers or judges he admired for their legal philosophies or interpretations of the Constitution," but personalities he saw on TV.
Among this group of TV personalities, the books says, were people like Fox News host Jeanine Pirro, whom Trump "regularly watched and occasionally planned his flight schedule around, directing his personal pilot to adjust the route accordingly so the satellite signal wouldn't fade." Trump told friends Pirro "would make a fine justice," the books says.
Trump potentially making good of his talk about naming Napolitano as one of his choices for the Supreme Court "would have been doubly unacceptable to many on the religious right," the book says. Napolitano, a former New Jersey Superior Court judge, was friendly with Maryanne Trump Barry, Trump's sister and a federal judge with a reputation for liberal views, such as a ruling in favor of partial-birth abortion, and is also gay, both of which are identified in the book as potential concerns by the religious right.
Napolitano and Trump were close, the book claims. Napolitano, as the book describes, had a habit of telling a story to friends about Trump confiding to him the future president's knowledge of the law was based on Napolitano's TV appearances. Trump told Napolitano: "Everything I know about the Constitution I learned from you on Fox & Friends," the book says.
The book says the meeting with Trump, Pence and Napolitano when the former president took a jab at Pence in and of itself suggested Trump "was indeed serious about giving the judge some kind of position in the government." Napolitano, known for making outlandish claims as a Fox News contributor —such as the British government wiretapped Trump Tower — never took a post in the Trump administration.
The new book isn't the only record of Trump ribbing Pence for his anti-LGBTQ reputation. A New Yorker profile in 2017 depicted a similar infamous meeting with Trump and Pence in which the former president joked about his No. 2's conservative views. Per the New Yorker article: "When the conversation turned to gay rights, Trump motioned toward Pence and joked, 'Don't ask that guy— he wants to hang them all!'"The incident described in "Insurgency" was similar to the meeting detailed in the New Yorker profile.
Trump ended up making a list of names he pledged he'd limit himself to in the event he was in the position to make a selection to the Supreme Court and made good on that promise based on his selection. By the end of his presidency, Trump made three picks to the bench who were each confirmed by the U.S. Senate: Neil Gorsuch, Brett Kavanaugh and Amy Coney Barrett.
But Trump limiting his options to the list of potential plans was not a fool proof plan for conservatives. To the surprise of many, Gorsuch ended up in 2020 writing the majority opinion in the case of Bostock v. Clayton County, a major LGBTQ rights decision by the U.S. Supreme Court, which determined anti-LGBTQ discrimination is a form of sex discrimination and illegal under federal civil rights law.
The Washington Blade has placed a request in with Trump's office seeking comment on the meeting with Pence and Napolitano as described in "Insurgency." Napolitano couldn't be reached for comment.
Human Rights Campaign's ex-president sues over termination, alleges racial discrimination
Alphonso David alleges he was terminated unfitly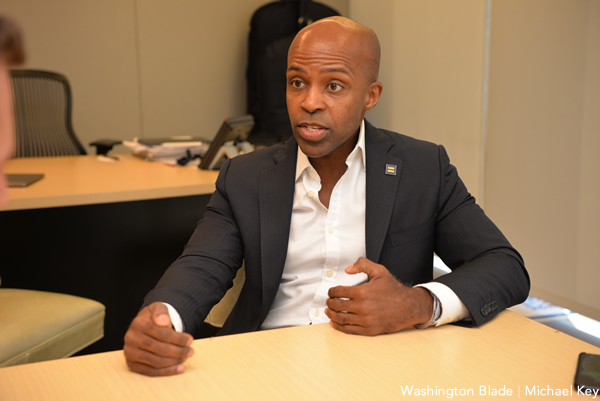 Alphonso David, the former president of the Human Rights Campaign terminated by the board after he was ensnared in the Gov. Andrew Cuomo scandal, sued the nation's leading LGBTQ group on Thursday, arguing he was fired as a result of racial discrimination "amid a deserved reputation for unequal treatment of its non-white employees" and was explicitly told he was paid less because he's Black.
David, speaking with the Washington Blade on Thursday during a phone interview, said he came to the decision to file the lawsuit after practicing civil rights law for 20 years and "never thought that I would be a plaintiff."
"But I'm in this chair, I was put in this position," David said. "And as a civil rights lawyer, I couldn't look the other way. It would be anathema to who I am and it would undermine my integrity and purpose for the work that I do. And so I have to go through and make a very, very difficult personal decision to file this lawsuit."
The lawsuit, filed Thursday in the U.S. District Court for the Eastern District of New York, accuses the Human Rights Campaign of violating new state and federal laws for terminating David, who was the organization's first person of color and Black person to helm the LGBTQ group in its 40-year history. The lawsuit also contends the Human Rights Campaign contravened equal pay law in New York by paying David less than his predecessor, Chad Griffin.
After a public dispute with the board in September amid an independent investigation of his role in the Cuomo affair, the Human Rights Campaign boards unceremoniously fired David and shortly afterward announced a still ongoing search for a new president. David was named nearly a dozen times in the damning report by New York Attorney General Letitia James, suggesting David assisted in efforts by Cuomo's staff to discredit a woman alleging sexual misconduct in Cuomo's office. David has consistently denied wrongdoing.
But the lawsuit is broader than the termination and describes an environment at the Human Rights Campaign, which has faced criticism over the years for being geared toward white gay men, as a workplace where "non-white staffers were marginalized, tokenized, and denied advancement to high-level positions." After a speech David gave on issues of race and indifference in the context of HRC's mission, the lawsuit claims a board member complained about him referring too much to being Black, but faced no penalty from the organization.
Specifically named in the report is Chris Speron, Senior Vice President of Development, who expressed concern about "alienating" white donors and specifically "white gay men" after David issued a statement on the importance of Black Lives Matter after the killing of George Floyd by Minneapolis police officers. The lawsuit claims Speron pushed David to "stop mentioning in his public statements and remove from his bio the fact that he was HRC's first Black President in its history." Speron also was critical of hiring a Black-owned consulting firm and "criticized a Black staff member for attending a meeting with the consulting firm without a white person present," the lawsuit claims. Speron couldn't immediately be reached for comment to respond to the allegations.
In terms of equal pay, the lawsuit says HRC's co-chairs informed David he was underpaid compared to his predecessor because he's Black. But the lawsuit also acknowledges in 2021, just before news broke about the Cuomo report, the Human Rights Campaign in recognition of David's work renewed his contract for five additional years and gave him a 30 percent raise.
David, speaking with the Blade, said he was in "shock" upon experiencing these alleged incidents of racism, maintaining he had kept quiet at the time out of concern for the greater good of the aims of the Human Rights Campaign.
Asked whether as president he considered implementing racial sensitivity trainings for his subordinates, David said "yes," but added many trainings aren't effective and said the power in organizations like the Human Rights Campaign is often spread out.
"There are people within the organization that have a fair amount of board support because they bring in the money because they are responsible for overseeing the money," David added.
Joni Madison, interim president of the Human Rights Campaign, said in a statement after the lawsuit was filed the organization is "disappointed that Alphonso David has chosen to take retaliatory action against the Human Rights Campaign for his termination which resulted from his own actions."
"Mr. David's complaint is riddled with untruths," Madison said. "We are confident through the legal process that it will be apparent that Mr. David's termination was based on clear violations of his contract and HRC's mission, and as president of HRC, he was treated fairly and equally."
Madison adds the individuals accused of racism in the lawsuit "are people of color and champions of racial equity and inclusion who provided support and guidance as Mr. David led the organization," without naming any specific individual. The boards for the Human Rights Campaign and the Human Rights Campaign Foundation who made the decision to terminate David, were comprised of seven independent directors, five of whom were Black.
The racist environment, the lawsuit says, culminated for David in September 2021 amid an independent investigation of his role in the Cuomo affair conducted by the law firm Sidley Austin LLP at the behest of the organization. According to the lawsuit, the board co-chairs contacted David late at night before Labor Day weekend to tell him to resign by 8 a.m. the next morning or be terminated for cause. When David asked whether the Sidley Austin investigation had made any findings against him, or if a report would be issued explaining what he was accused of doing wrong, the board co-chairs refused to say, the lawsuit says.
As is publicly known, David declined to resign and took to Twitter to complain about the board, which subsequently issued a statement disputing his claims. He was then fired "for cause" under his contract.
The termination, the lawsuit says, signified differential treatment of David because he is Black, taking note the Human Rights Campaign under his predecessor had "endured repeated, serious, scandals — many of which involved HRC's mistreatment of Black and other marginalized individuals," but Chad Griffin was never terminated "for cause."
Both the Human Rights Campaign Foundation board and the Human Rights Campaign board voted to terminate David. A source familiar with the vote said no one voted "no" in either case. The campaign board vote was unanimous and there were two abstentions in the foundation board vote, the source said.
The source familiar with the vote said David never told the Human Rights Campaign he was helping Cuomo during his time as HRC president nor did he disclose he was talking to the New York attorney general. The first board members heard about it was when it hit the press, the source said.
Meanwhile, the lawsuit says David "performed extremely well as HRC president, by any measure," navigating the organization through the coronavirus epidemic and boosting fundraising by 60 percent. (The Blade has not yet verified this claim.) It should be noted the Human Rights Campaign cited coronavirus as the reason it laid off 22 employees, as reported at the time by the Blade.
David, asked by the Blade how he sees the alleged racist culture at Human Rights Campaign infused in his termination, said "Black and Brown people are treated differently and have been for years in this organization," citing a "Pipeline Report" leaked to the press in 2015 documenting an environment in which employees of color were unable to thrive.
"And so, the fact that I'm being treated differently now, in the fact that a different standard is being applied to me is just simply consistent with what they've always done," David said. "You know, we go back to the Pipeline Report: Imagine if I was leading the organization at the time, and there was a report that was issued, that said that anti-Semitic remarks were being made within the organization, and that women were being discriminated against within the organization or some other marginalized group and that one of the senior vice presidents used a derogatory remark. Do you think I would still be at the organization or would they have fired me?"
David concluded: "There's a different standard and a double standard that they've applied for decades, and I've just now been one casualty — another in a long series of casualties based on their systemic bias and discrimination."
Among the requests in the prayer for relief in the complaint is a declaration the Human Rights Campaign's actions violated the law; restoration of David to his position as president; an award of the compensation he would have received were he still on the job as well as punitive damages. Asked by the Blade whether any settlement talks have taken place, David said that wasn't the case and pointed out the lawsuit was recently filed.
Legal experts who spoke to the Blade have doubted the validity of a review by Sidley Austin on the basis it was among the legal firms agreeing in 2019 to help with the Human Rights Campaign entering into litigation to advance LGBTQ rights, an agreement David spearheaded upon taking the helm of the organization.
David, in response to a question from the Blade, said the independent investigation into his role in the Cuomo affair "is a sham and I believe it was a sham," citing the lack of transparency of findings.
"One of the first instances that caused me concern," David said, "is I suggested to the organization that we conduct an independent review, and they came back to me and said, 'Here's our press release history,' and the press release never mentioned that I actually suggested that they do this review. And when I challenged them on that, they told me that they thought it would be better for the press to review a complaint or receive a statement that showed that they were bringing this investigation as opposed to I'm recommending and push back even more. And then they said 'Well, we will put in the statement that you are cooperating.' So from the very beginning, they were not honest about what they were actually doing."
Representing David in the lawsuit is the Chicago-based employment law firm Stowell & Friedman, Ltd. and and Chicago-based attorney Matt Singer. The case has been assigned to U.S. District Judge Eric Vitaliano, a George W. Bush appointee, an informed source familiar with the case said.
The lawsuit was filed in New York as opposed to D.C. because David is a New York resident and much of the discriminatory behavior took place in New York, the source said. The pay disparity alleged in the lawsuit is expressed in percentages as oppose to hard numbers pursuant to rules for the judiciary in New York, the source added.