February 18, 2021 at 6:41 am EST | by Kathi Wolfe
Making Reconstructing Judaism work for all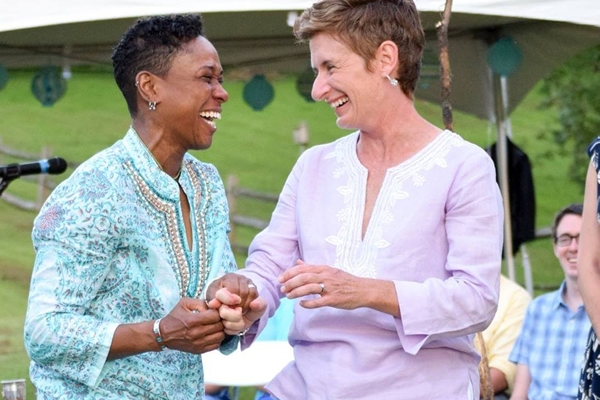 When you're a kid, you often have no idea what shape your life will take.
Growing up in Missouri in a military, Christian, but not religious, family, Rabbi Sandra Lawson wouldn't have thought that she would become a rabbi.
Yet in March, Lawson, who is Black, queer, an activist, social media pioneer, vegan, a veteran, and a musician, will become Reconstructing Judaism's inaugural director of racial diversity, equity and inclusion. (Reconstructing Judaism is the central organization of the Reconstructionist movement of Judaism.)
"Reckoning with racism — both systemic and personal — is one of the moral demands of our time," Rabbi Deborah Waxman, president of Reconstructing Judaism, said in a statement, "Sandra has the substance, the experience, the passion and the compassion to help lead our movement in this challenging and necessary work."
Lawson, 51, has done more in her life than a hundred have done in theirs. In a lengthy telephone interview, she talked to the Blade about her life.
"My Dad was in the military," Lawson said, "he'd grown up dirt poor."
Her family had some rough patches. Her parents' marriage was in trouble. Though they weren't religious, her mother took her to church a few times. "The services were too long! The minister said homophobic things," she said.
Her parents divorced. "For a few years, my brother and I weren't in a good space," Lawson said.
Lawson went to college but she found that she wasn't able to focus. "I dropped out," she said, "I took my 20-year-old self and enlisted in the military."
Lawson didn't know it then but this was the best thing she could have done. "In the military, I learned to plan and accomplish things," she said.
She enlisted in the U.S. Army before "Don't Ask, Don't Tell." An instructor in officer school, who was gay, went through the "Don't Ask, Don't Tell" policy," Lawson said, "We asked questions. It was ridiculous, she had no answers."
Lawson said that she couldn't let people know an important part of herself. "I couldn't trust people except for other gay people," she said. "You developed a code to let other people know that you were queer."
Lawson was out to her father who was supportive. Don't worry about being the only gay person, he told her. "He believed women should do what they want to have relationships and a successful career," Lawson said.
While in the military, Lawson was a Military Police officer. She investigated cases of domestic violence and child abuse. "I was most afraid for the children," Lawson said, "because they are so helpless."
Sometimes Lawson broke up bar fights. Often, she worked to deescalate situations. "I was on bases like Fort Bragg. I was like a small town sheriff," she said.
One case involved a couple and a dildo. A husband was upset because there was a dildo in his wife's drawer. The husband and wife were fighting aggressively. "There was no winning here," Lawson said. "We called in a therapist who saw them by herself. Then I was called in when the couple was fighting again. They knew me by now."
Lawson was called in on another case because a wife set her husband's clothes on fire in the front yard. "I had to explain to them: 'I understand you're mad. But you can't set fire to military property.'"
In the Army, Lawson learned that it's good to be physically fit and how to keep focused. She became interested in becoming a personal trainer. "I was good at it, and I made money from it," she said.
Lawson pursued her education along with her military service and personal training business. She earned a bachelor's in Sociology from Saint Leo University and a master's in Sociology from Clark Atlanta University.
In her personal training business, Lawson had Jewish clients and a Jewish girlfriend. Her girlfriend's family welcomed her to their Shabbat dinners. One of her clients was Rabbi Joshua Lesser. Today, Lawson and Lesser are close friends. After she asked him about Judaism, Lesser invited her to visit his synagogue, Congregation Bet Haverim (CBH).
Lawson worried that CBH might treat her differently because she's Black. But this was far from the case as the Congregation was welcoming.
"There was this prayer called a Prayer for the End of Hiding, which begins, 'We as gay and lesbian Jews…,'" Lawson writes on her website, "and the entire community was saying this prayer, even the straight folks."
Over time, CBH became Lawson's spiritual home. She converted to Judaism in 2004. Yet, Lawson doesn't like the term converted. She sees the term "as a way to separate out people who are different in the Jewish community," she writes on her website.
Her mother told Lawson that the earliest person in her family to come to America was from Ethiopia and a Jew.
"I feel like I didn't so much convert as get in touch with my roots," she said.
Her graduate study gave Lawson a background in sociology and research. "I had a better understanding of race and class," she noted.
Lawson became involved in interfaith community organizing. She wanted to be a bridge between her identities and communities – Black, queer and Jewish. Lawson felt she could do this more effectively if she had the title "rabbi," and she wanted to raise awareness of racial and ethnic diversity in the Jewish community.
Lawson is a 2018 Reconstructionist Rabbinical College graduate and was ordained as a rabbi in the same year. Since 2018, she has served as Associate Chaplain for Jewish Life at Elon University. She lives with her wife Susan Hurrey and their dogs Simon, Bridget, and Izzy in Burlington, N.C.
The Jewish community hasn't come to grips with its white privilege, Lawson said. "My hope is that the Jewish community will acknowledge its racism," she said. "You can't work against racism in your community if you don't acknowledge that it exists."
Jews of color comprise at least 12 to 15 percent of American Jewry, according to a study released in 2019 by the Jews of Color Initiative. Yet, Lawson and other Jews of color experience racial bias in the Jewish community.
Lawson spoke of one example of the racism that she's experienced. Once, after she'd graduated from rabbinical school, she interviewed with a congregation's search committee. "People recommended me," Lawson said, "yet the committee's president called me. He said four people who held the purse strings wouldn't come to my interview. They weren't ready for a Black rabbi."
Of course, there's still homophobia now. But most progressive congregations don't think much, if anything, about it now – if they have a lesbian, gay or bisexual rabbi, Lawson said.
"It's different for transgender rabbis," Lawson added, "they face much more severe discrimination."
But in the 1990s, queer rabbis who applied for jobs encountered homophobia. Training was put in place and queer people were put in leadership positions to combat the homophobia, Lawson said.
Black and brown rabbis need to be put in leadership positions, Lawson said, so that Jews of color who are rabbis don't seem to be a novelty.
Just because you've read an anti-racist book or taken a class doesn't mean that your struggle against racism has ended. One day one of Lawson's friends called her. "She's a white woman – a rabbi in Ferguson, Missouri – an ally. She said people asked her, 'how can we be anti-racist?,'" Lawson said. "She told them, 'Undoing white supremacy is hard work. It's daily – day in and day out.'"
Lawson is creating an inclusive, non-profit, online-only (for now) congregation. Its name is "Kol HaPanim," she told the Blade, "Hebrew for 'all the faces.'"
Judaism is a religion of doing, Lawson said, "believing comes later."