Remembering deaf lesbian pioneer Barbara Kannapell
'A fierce leader decades ahead of her time'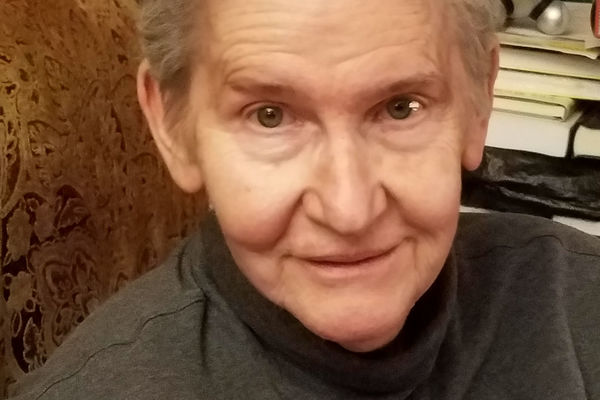 Even as a child Barbara Kannapell, who was deaf, experienced audism — overt and subtle discrimination against deaf people.
Born in 1937, she was nurtured by her parents and other members of her family who were deaf. They taught her American Sign Language, her native language.
Yet, "my experiences with audism started at age 4," Kannapell wrote in a 2011 open letter to the Alexander Graham Bell Association for the Deaf and Hard of Hearing.
A principal at a school for deaf children tried "to make me say 'United States,'" Kannapell said in the open letter.
"I struggled to say it right but I couldn't," Kannapell added, "She was so frustrated with me that she slapped my face."
Kannapell, an internationally renowned linguist, educator and lifelong advocate for the rights of deaf people, died at 83 in a Washington hospital on Aug. 11.
Mary Eileen Paul, her spouse of 50 years, said the cause was complications from hip surgery.
Kannapell, known as "Kanny" to her many friends, championed American Sign Language (ASL), deaf culture and deaf identity.
Kannapell worked tirelessly to challenge the misperceptions of audism. The prejudices of audism include: the belief that ASL isn't a language (just as English is a language); that deaf people should strive to "overcome" being deaf – and that deaf people achieve success "in spite of" their deafness.
Kannapell received a bachelor's degree in deaf education from Gallaudet University in 1961, a master's degree in educational technology from Catholic University in 1970 and a Ph.D. in sociolinguistics from Georgetown University in 1985.
She believed in social justice causes – from the Black civil rights movement to the LGBTQ rights movement.
Paul, who is hearing, met Kannapell at the Washington, D.C. gay bar Pier 9. She told the Blade this story in a telephone interview:
Kannapell and Paul, both white, with Ann Wilson, a Black mother of a deaf child, founded the Washington, D.C. group Deafpride. The now defunct group advocated for the rights of deaf people of all races.
"We brought hearing parents together with deaf adults," Paul said, "so they could meet and learn from deaf people."
At one meeting, Paul recalled, a deaf man spoke.
"His parents didn't know ASL. They didn't know what to do," she said, "because they couldn't communicate with him."
"One day, as a child, he was outside. His dog was roaming freely," Paul said, "but he was tied to a tree. Because his parents didn't know what else to do with him."
Kannapell worked with Gallaudet for four decades, beginning as a research assistant in 1962. From 1987 to 2003, she was an adjunct professor there. She taught at the Community College of Baltimore County as an adjunct professor, and later, as an associate professor, from 1987 until she retired in 2014.
Kannapell advocated for deaf people who struggled with addiction. A member of Alcoholics Anonymous, she had been sober for 50 years at the time of her death.
Often, the words "innovator" or "iconic" are overused, but Kannapell truly was a pioneer.
She "was years, if not decades, ahead of her time in every way," Gallaudet University President Roberta J. Cordano said in a statement to the Washington Post.
"She was a fierce leader," she added, "who saw and valued the essence of our community and who sought to ensure that it is inclusive of everyone."
Cordano said Kannapell was "a strong advocate to the LGBTQIA+ Deaf community."
"Kanny" was out at a time when it was unpopular to be so and lived her life authentically, Drago Renteria, executive director of the Deaf Queer Resource Center, emailed the Blade.
"She was one of our Deaf Lesbian pioneers and role models," he said.
Kannapell and Paul were married in 2013 when same-sex marriage was legalized.
Jennifer Furlano, who is deaf and nonbinary, remembers the commitment ceremony Kannapell and Paul had in 1996.
"It was amazing," Furlano said in a telephone interview with the Blade conducted with an interpreter, "My ex-partner officiated the ceremony. I was an usher. It was small – intimate."
Furlano still recalls the moment in the ceremony when the couple kissed. Then, it was still often, difficult for LGBTQ people to be themselves, Furlano said.
"So they only kissed on the cheek," Furlano added.
Kannapell loved dogs and football, Furlano said, adding, "you didn't dare interrupt her during a game."
R.I.P., Kanny! Thank you for your life and work!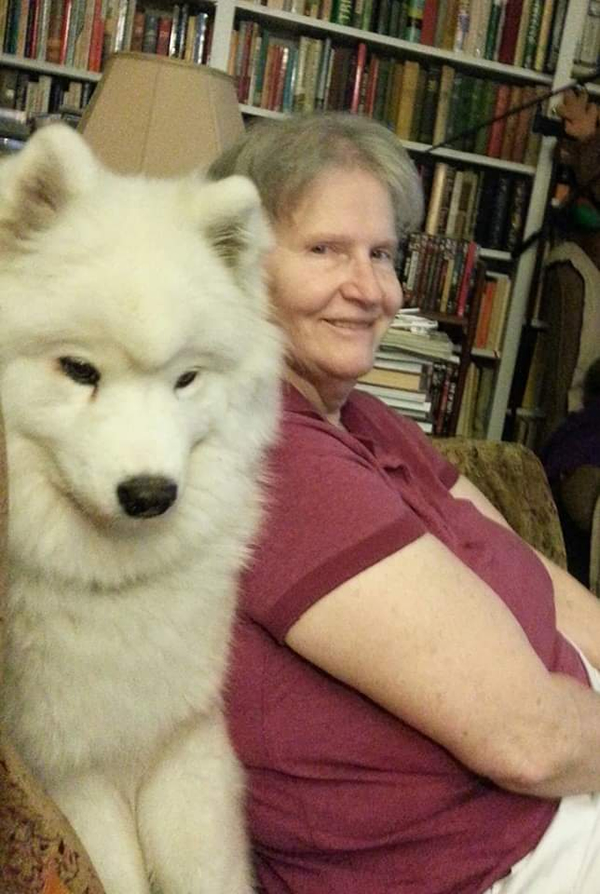 LGBTQ ally Olivia Newton-John has died at 73
Performer had been battling breast cancer for over three decades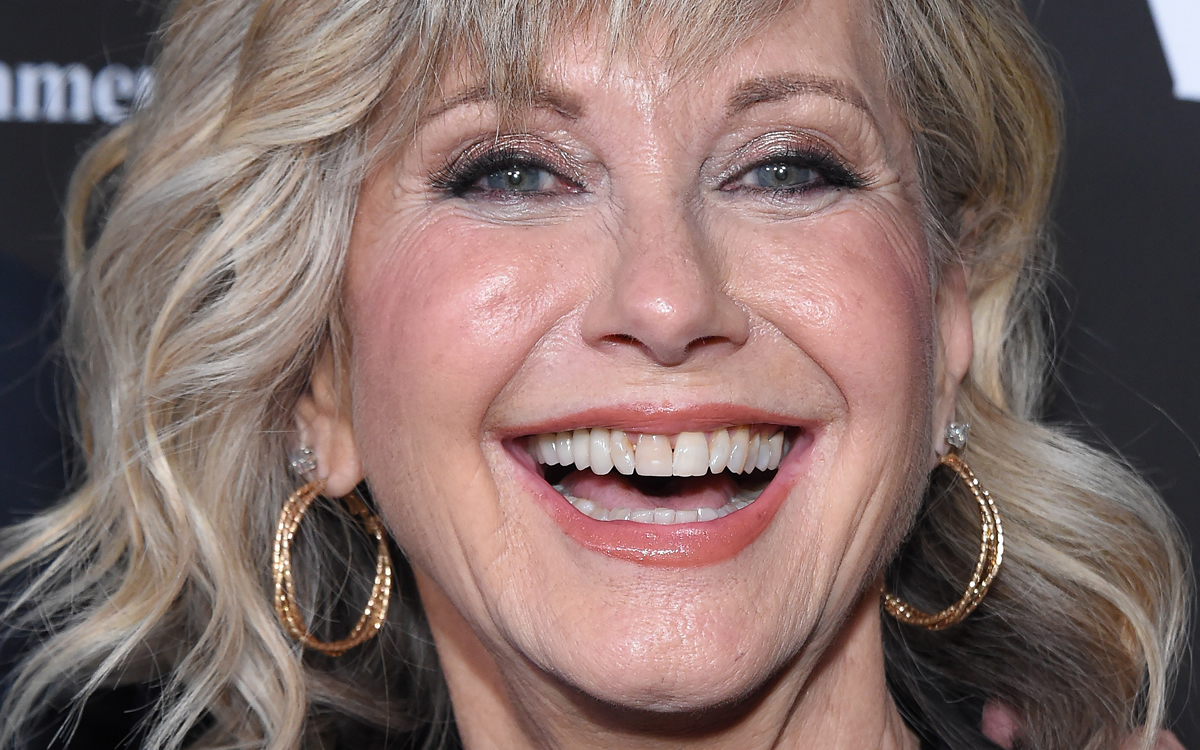 In an announcement on Facebook Monday, John Easterling, the husband of singer and actress Olivia Newton-John relayed the news that she had died at age 73.
Newton-John had been battling breast cancer for over three decades, her first cancer diagnosis in 1992 when she was 44. Although she had previously seen her cancer in remission, in 2017 she was diagnosed again.
In October of 2020 in an interview with The Guardian the pop star and actor spoke about her third diagnosis of cancer. "Three times lucky, right?" she smiles warmly. "I'm going to look at it like that. Listen, I think every day is a blessing. You never know when your time is over; we all have a finite amount of time on this planet, and we just need to be grateful for that." She genuinely sounds as if she means every word.
The cancer's return in 2017 was, she told The Guardian, not unexpected. "It's been a part of my life for so long. I felt something was wrong. It's concerning when it comes back, but I thought: 'I'll get through it again.'"
What of her health problems? "I don't think of myself as sick with cancer," she says firmly. "I choose not to see it as a fight either because I don't like war. I don't like fighting wherever it is – whether it's outside or an actual war inside my body. I choose not to see it that way. I want to get my body healthy and back in balance. Part of that is your mental attitude to it. If you think: 'Poor me,' or 'I'm sick,' then you're going to be sick."
The popstar-singer was arguably best known for her breakout role in Grease, the 1978 American musical romantic comedy film based on the 1971 musical of the same name by Jim Jacobs and Warren Casey, which co-starred Oscar nominated actor John Travolta.
Travolta paid tribute to his co-star in a post on his Insta:
Newton-John was an ally to the LGBTQ community who was appreciative of her LGBTQ fans. In an interview with Logo/MTV she noted: "The gay fans have always been very loyal, they are a really great audience and have always been there for me."
Out actor George Takei tweeted his remembrance:
We have lost a great, iconic artist in Olivia Newton John, gone too soon from us at age 73. I trust she is now in the great Xanadu beyond. Know that we are forever hopelessly devoted to you, Olivia. Rest in song and mirth.

— George Takei (@GeorgeTakei) August 8, 2022
In addition to her husband she is survived by her 36-year-old daughter, Chloe Lattanzi.
The family asked for donations to be made to her cancer organization, the Olivia Newton-John Foundation Fund, in lieu of flowers. 
Priest, Dignity Washington fundraiser David Pichette dies at 81
'Generously shared his time, resources and spiritual gifts'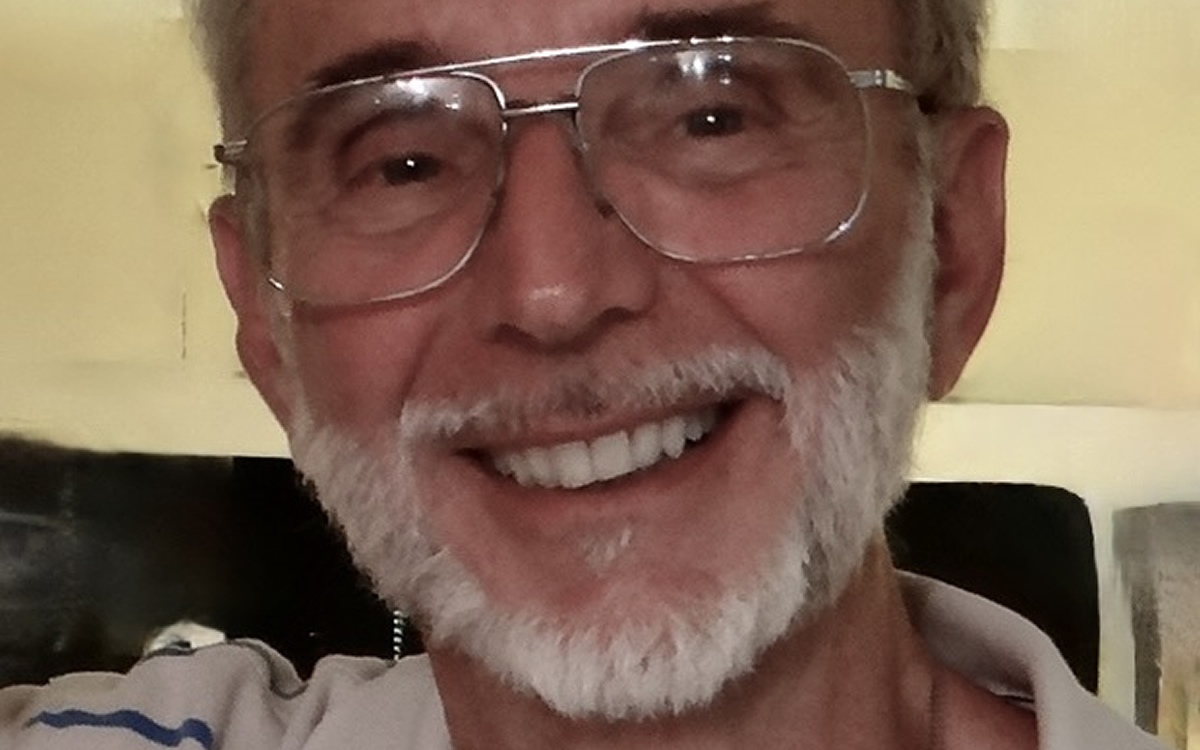 David Pichette, an ordained Roman Catholic priest who friends say transitioned to become a grant writer for nonprofit organizations and who for many years became involved with the LGBTQ Catholic organizations Dignity Washington and Dignity Northern Virginia, died June 27 from complications associated with pancreatic cancer at a hospice in Boynton Beach, Fla. He was 81.
A write-up about Pichette's life published in the Dignity Washington Bulletin and prepared by Dignity Washington Vice President Peter Edwards says that among Pichette's activities related to the two Dignity groups was to celebrate Sunday mass for the groups' members in his role as a priest.
The Dignity Washington write-up says Pichette and his life partner, Gene Vollmer, were also beloved, active members of the D.C.-based Catholic group Communitas.
"Dave generously shared his time, resources and spiritual gifts for nearly twenty years, joining in community liturgies, socials, and retreats," Edwards' write-up says about Pichette's involvement with the Dignity groups and Communitas.
"Workwise, Dave transitioned to being a nonprofit professional specializing in grant writing for nonprofit organizations," according to the write-up. "Over the years, he assisted many smaller nonprofits in obtaining grants to continue their mission. Dave's strong work ethic continued his effort to help several nonprofits right until he entered the hospital," Edwards says in his write-up.
"Dave was instrumental in helping Dignity Washington with several fundraising drives," the write-up says. "The most successful effort raised money to pay off the Dignity Center mortgage and put the overall Dignity Washington finances on a sound footing."
Among those who point to Pichette's support for LGBTQ Catholics and for the LGBTQ community are Sister Jeannine Gramick, co-founder of New Ways Ministry, the Mount Rainier, Md., based national group that advocates for LGBTQ Catholics, and Francis DeBernardo, New Ways Ministry's current executive director.
"I admired Dave's incredible grasp of history, his deep involvement in the life of the church, and his sense of responsibility as a citizen," Gramick said. "Even more, I appreciated his sense of fairness and justice for all," she said. "Of course, he was especially concerned about the rights of LGBT people, and he will be sorely missed by those who knew him," Gramick told the Blade.
DeBernardo called Pichette a "great priest," among other things, because of his friendliness and his understanding of people's pain and suffering from his own experiences.
"He knew that the greatest thing that gay people needed from the church was affirmation of their identities," DeBernardo said. "And he knew that the greatest thing that the church needed from gay people was their forgiveness."
In his write-up on Pichette for the Dignity Washington Bulletin, Edwards says Pichette and his partner Vollmer moved to Miami around the time of Pichette's retirement, but that the two made annual summer visits to the D.C. area and to a cabin the two had bought in West Virginia.
"During their annual trips north, they would frequently travel in from West Virginia to attend Mass at both Dignity Washington and Dignity Northern Virginia," Edwards wrote. "Dave was a radiant and energetic person, with words of cheer and humor and good will toward everyone."
Edwards' write-up says that Pichette's partner Vollmer preceded Pichette in death. The write-up says a funeral Mass for Pichette was held on July 9 at Holy Redeemer Church in the Liberty City section of Miami. A burial was scheduled to take place at a family plot in upstate New York, where Pichette was born and raised, on Aug. 5.
Attorney, LGBTQ activist and author Urvashi Vaid dies
Former National LGBTQ Task Force executive director passed away in New York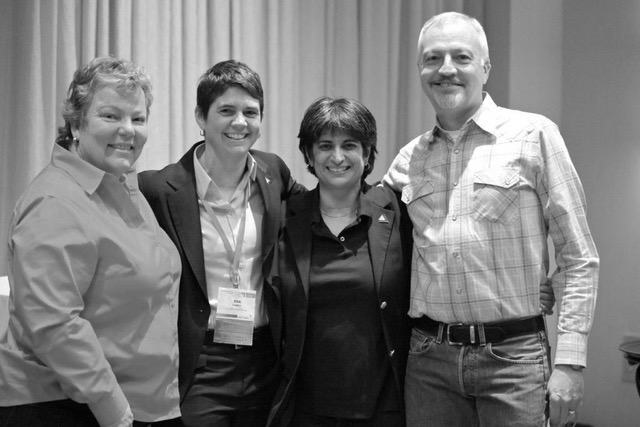 Urvashi Vaid, a powerful longtime influential attorney and LGBTQ activist whose career spanned from the early days of the AIDS pandemic to the contemporary battles over equality and equity for the LGBTQ community died today at her home after a bout with cancer in New York.
Vaid, 63, known for her extensive career as an advocate for LGBTQ rights, women's rights, anti-war efforts, immigration justice and many other social causes, had served as the executive director of the National LGBTQ Task Force from 1989-1992 and served prior to that as the organization's media director.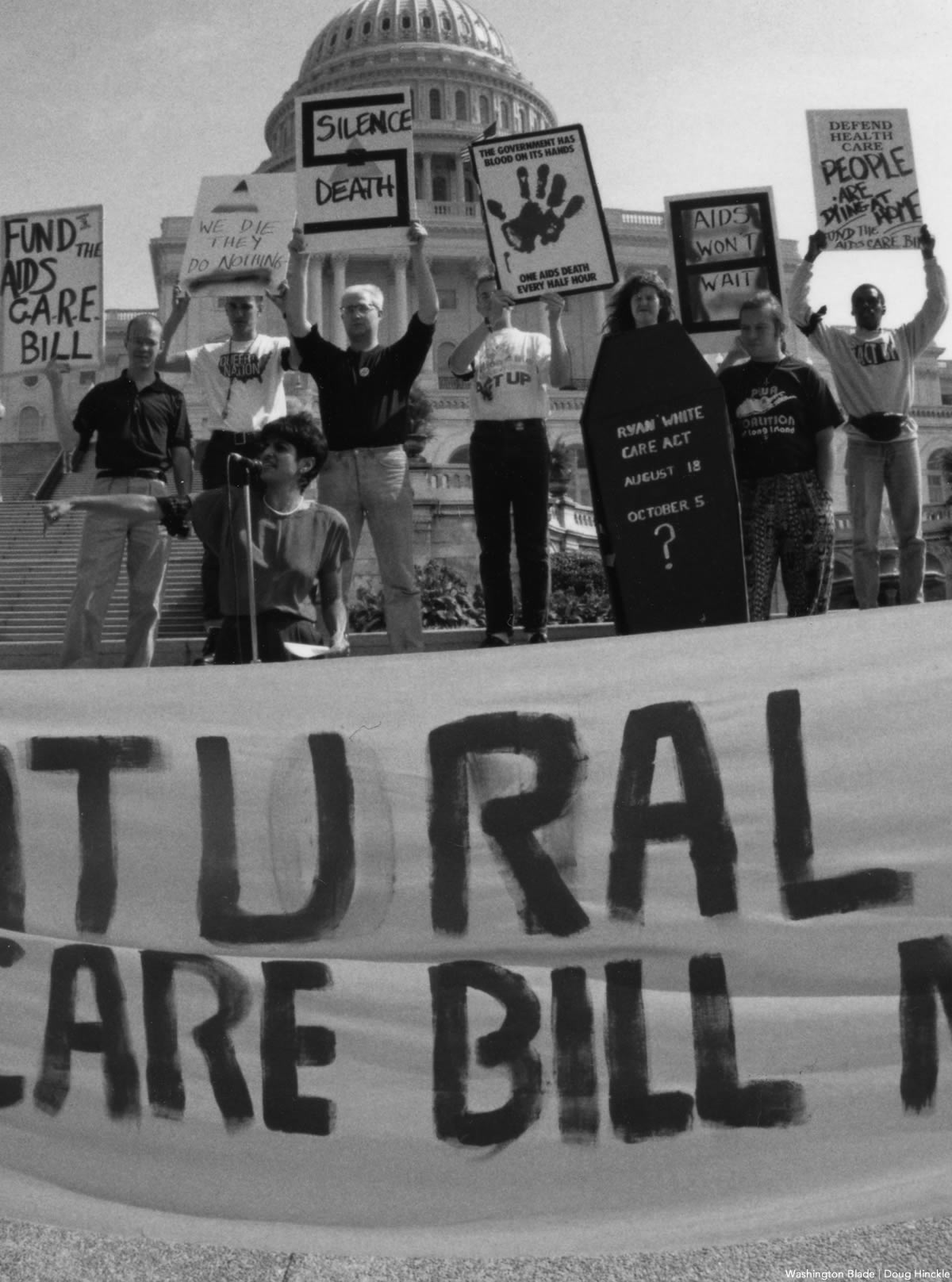 "We are devastated at the loss of one of the most influential progressive activists of our time," said Kierra Johnson, current executive director of the National LGBTQ Task Force. "Urvashi Vaid was a leader, a warrior and a force to be reckoned with," continued Johnson, "She was also a beloved colleague, friend, partner and someone we all looked up to—a brilliant, outspoken and deeply committed activist who wanted full justice and equality for all people."
"Her leadership, vision and writing helped shape not only the Task Force's values and work but our entire queer movement and the larger progressive movement. We will strive every day to live up to her ideals and model the courage she demonstrated every day as an activist and a person. She will be deeply I missed. I miss her already," concluded Johnson.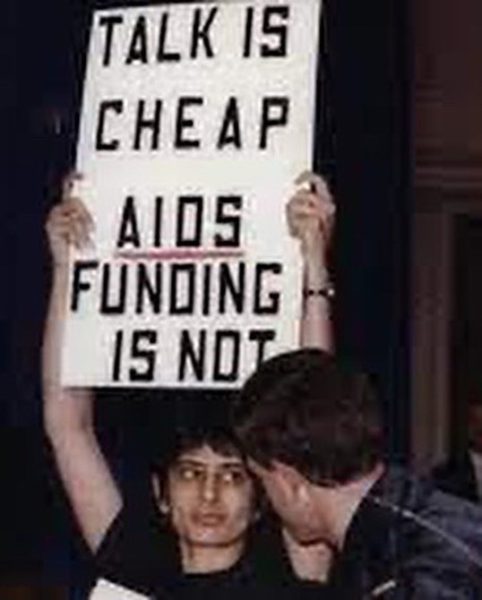 Vaid's impact on the politics of the the AIDS crisis and the battles over full equality was considerable. During former President George H.W. Bush's 1990 address on AIDS, Vaid, then the executive director of the National Gay and Lesbian Task Force, made a statement with her sign: "Talk Is Cheap, AIDS Funding is Not." Her critique made waves, disrupting the press conference, and shedding light on the failures of the Bush administration.
Another former executive director of the National LGBTQ Task Force, Rea Carey noted in her post on Facebook:
"I am deeply sad that Urvashi Vaid has died. My heart is with Kate and all of Urv's beloveds who have been with her these last years, months and days as she dealt with cancer. My activism has been greatly shaped by the fact that Urv took me seriously as a young leader in our movement. She seemed endlessly excited about the ideas and passion for justice that young activists held. She was one of our movement's motivators and north stars.
Whenever Urv called, I'd clear my schedule for the next hour (at least!), pull out a pen and pad of paper and prepare to feverishly write down what were likely to be 10-20 rapid fire ideas of things she thought I should be doing, or doing much better … tomorrow!
Urv pushed me to see connections, dig deeper, and I was a better activist and leader for it. Her impact within the National LGBTQ Task Force carried on long after she left its staff. The sheer intellectual and strategic hole in our movement's drive towards liberation and freedom, left by Urv's death, is hard to grasp.
Up until her last months she was creating projects, mentoring others, pushing for liberation, gathering data through the National LGBTQ+ Women's Community Survey. The only thing I ever saw Urv be more passionate about than her pursuit of freedom and liberation, was her love for Kate, their family, and her energy for her friends.
The best way we can honor Urv is to continue to fight for justice and the full liberation of all people," Carey said.
Her time at the National Gay and Lesbian Task Force, in which she held multiple positions for over 10 years, notably media director, then executive director, saw her bring all aspects of queer life and struggle into the public eye. While at the Task Force, she co-founded the annual Creating Change conference, now in its 33rd year.
"I first met Urv in the early 1980's when we were both young attorneys and lesbian activists in Washington, D.C. As we became friends and, eventually, colleagues, I admired her leadership and all that she accomplished, both within and outside of our movement—for queer people, for women, for people of color and against poverty. She continued her work to advance equity and justice until the very end.

"I'll always be grateful to Urv for being one of the people who encouraged me, back in 1992, to accept the job running the Los Angeles LGBT Center. And when the National LGBTQ Task Force faced severe financial challenges in 2001, she played the key role in recruiting me to step in and help turn things around, lending her support every step of the way.

"Over the years, we spent many an hour laughing and scheming about ways to advance the causes we cared so deeply about. Urvashi was a visionary. But she was so much more: Brilliant, hilarious, charismatic, loving, determined and, above all, courageous. She made life better for all of us. Our community and our nation owe her an enormous debt of gratitude. Our hearts go out to Urvashi's wife, Kate Clinton, and to everyone who loves her. If there's a heaven, Urv is already organizing the angels," said Los Angeles LGBT Center CEO Lorri L. Jean.
Troy Masters, the founder of Gay City News in New York, a longtime LGBTQ advocate and currently the publisher of the Los Angeles Blade noted upon hearing the news; "On a day when millions march to protect our rights and stand up to a right wing SCOTUS, we celebrate the life of one of our greatest social justice LGBTQ and AIDS warriors—keep shining on Urvashi Vaid."
In 1995, after resigning from her position at the Task Force three years prior, she published her first book, "Virtual Equality: The Mainstreaming of Gay and Lesbian Liberation," in which she criticized the idea of "mainstreaming" what was and is, in fact, a civil rights movement. Rather than tolerance, she argued, the objective for the movement should be fundamental, actionable change. It was not an immediately popular notion, as media representation for queer people was just beginning to take shape, though it was, for her, of great moral importance. In 1996 "Virtual Equality" won the Stonewall Book Award.
In her position as president of the Vaid Group, Vaid advised, mentored, and supported the LGBTQ movement.
In 2012, Urvashi Vaid launched LPAC, the first lesbian Super PAC, and it has since invested millions of dollars in candidates who are committed to social justice through legislation.
Prior to that, Vaid held positions on the boards at the Ford Foundation, the Arcus Foundation (where she served as executive director from 2005 to 2010) and the Gill Foundation.
She was a leader in the development of the currently on-going National LGBTQ women's community survey.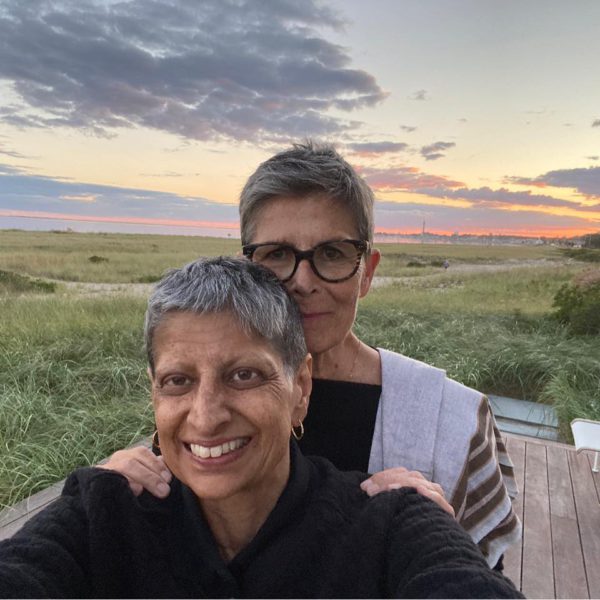 Vaid was the aunt of activist and performance artist Alok Vaid-Menon.
She is survived by Alok Vaid-Menon as well as her longtime partner, political humorist Kate Clinton.