Former PFLAG president Paulette Goodman dies at 88
Beloved LGBTQ community ally grew up in Nazi occupied Paris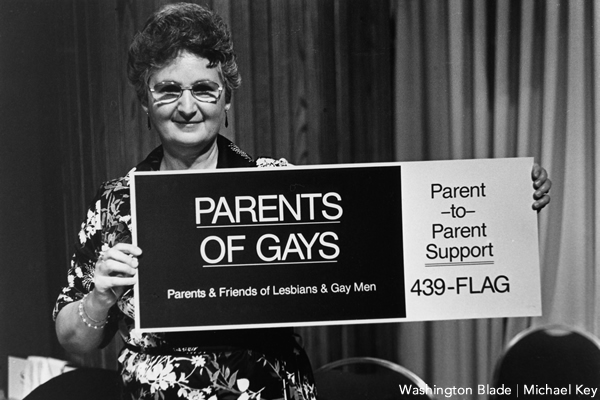 Paulette Goodman, a nationally recognized advocate for LGBTQ people and their families in her role as president of the national group Parents, Friends and Families of Lesbians and Gays (PFLAG) from 1988 to 1992 and her earlier role as the lead founder of PFLAG's Metro DC chapter in 1983, died Aug. 15 of natural causes at her residence at the Riderwood retirement community in Silver Spring, Md. She was 88.
In an Aug. 16 statement, the national PFLAG group said Goodman was born into a Jewish family and grew up in Nazi occupied Paris until the family moved to the United States in 1949. People who knew Goodman have said her experience growing up in an atmosphere of potential danger to her and her family helped shape her response when her daughter came out to her as a lesbian in 1981.
Goodman first became involved with PFLAG in 1981 and helped to found the PFLAG Metro D.C. chapter in 1983, serving as its first president.
During her tenure with the local PFLAG group Goodman counseled families of LGBT people, answered calls on the PFLAG helpline, and led a campaign to display PFLAG ads on D.C. area Metro buses, according to the National PFLAG group.
She later appeared on radio and TV news programs and was the subject of stories in local newspapers, including the Washington Blade, which reported on her efforts to lobby the Maryland General Assembly and the U.S. Congress in support of LGBTQ equality. She also helped to start other PFLAG chapters in Delaware, Maryland, Virginia, and West Virginia.
In its statement on Goodman's passing, the national PFLAG group points to a 2019 interview that Goodman gave to The Atlantic magazine in which she told how her own upbringing in Nazi occupied France shaped her response to her daughter, Cynthia Goodman's, coming out.
"When I found out about my gay child, I realized it was the same situation," The Atlantic quoted her as saying. "You're guarded about who you are, because you don't know who's going to be supportive…I didn't want my child to go through what I went through – being in the closet is stifling."
The PFLAG statement says, "It was her understanding, passion, and success with PFLAG Metro D.C…that led PFLAGers to vote her in as president of the national organization."
The statement notes that in her role as national PFLAG president, Goodman drew national attention to the issues facing LGBTQ people and their families when she wrote to then first lady Barbara Bush to tell of her experience as a parent to a gay child during the peak of the AIDS epidemic. In her letter, she asked Bush to "speak kind words to some 24 million gay Americans and their families, to help heal the wounds and to keep these families in loving relationships."
In a development that created a stir in Republican political circles and the White House, Bush responded with her own letter, which stated, "I firmly believe that we cannot tolerate discrimination against any individuals or groups in our country. Such treatment brings with it pain and perpetuates intolerance."
According to the PFLAG statement, Bush's letter, which was inadvertently given to the Associated Press, caused a "political maelstrom" but was possibly the first gay-positive comment to come from the White House during the administration of President George H.W. Bush.
In her later years, the PFLAG statement says, Paulette Goodman retired but continued her advocacy work by, among other things, starting the first-ever chapter of PFLAG at her retirement home at Riderwood in Silver Spring along with a fellow PFLAG member.
In 2013, Goodman received recognition of her work with PFLAG from officials in Montgomery County, Md., where she lived, and from then Maryland Gov. Martin O'Malley. She received numerous other honors of recognition from organizations that include the Human Rights Campaign, the Association of Gay and Lesbian Psychiatrists, the Greater New York Bar Association for Human Rights, and the LGBTQ Catholic group Dignity Washington.
"Paulette Goodman showed the world what it means to be a loving PFLAG parent and ally," said PFLAG National Executive Director Brian K. Bond. "PFLAGers everywhere can look to her as a role model, for once she went through her experience with her own child and got the support she needed, she used that experience to educate others and then advocate for the wellbeing and equality of all LGBTQ+ people," Bond said.
"She was the embodiment of what we tell PFLAG members," said Bond. "Once you no longer need PFLAG, PFLAG needs you," he said. "PFLAG needed – and was so lucky to have – Paulette Goodman. Our hearts are with her family and all who knew and loved her."
Goodman was predeceased by her husband, Leo Goodman. She is survived by her daughter Cynthia Goodman and son Claude Goodman and his wife Toni Goodman; her grandson Max Goodhart and his wife Laurel Goodhart; her granddaughter Hannah Goodman; her niece Sue Einhorn; and her longtime friends Millie Spector, Tom Bull, David Feltman, and Peter Froehlich.
No immediate plans were announced for a memorial tribute or funeral arrangements.
Trailblazing Maine lawmaker Lois Galgay Reckitt dies at 78
State representative co-founded HRC Fund, fought for domestic violence survivors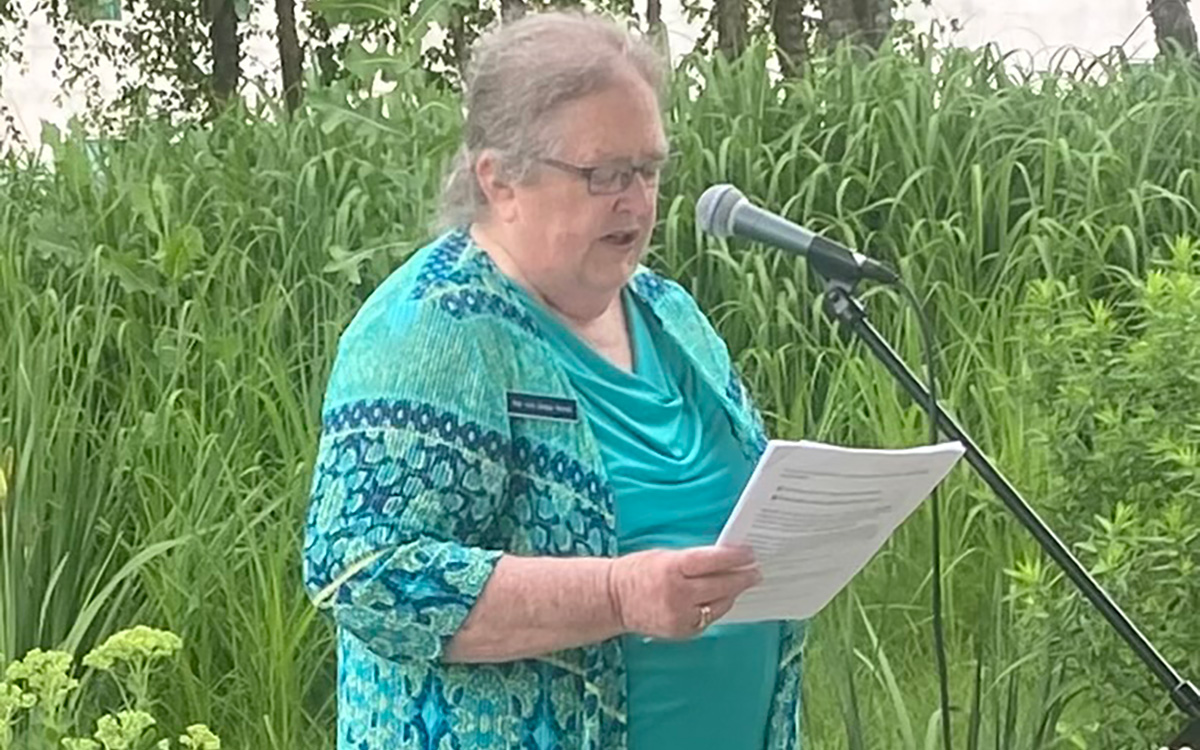 After spending many happy summers at Goose Rocks Beach in Maine, Lois Galgay told her mother when she was 7 that she wanted to move to Maine. Her mother suggested she wait until she grew up.
She waited, but she did end up in Maine in her 20s and became the fiercest advocate for woman and children the state has ever seen, her decades-long advocacy ending only with her death from cancer Oct. 30, 2023, at the age of 78. Maine recognized her achievements by inducting her into the Maine Women's Hall of Fame and the Deborah Morton Society, and by giving her awards for her seminal work on domestic violence. The judicial system, the state bar association and the police chiefs' association all honored her.
But she also was a leader on the national stage. The headline in Ms. Magazine after her death read: "Rest in Power: Lois Galgay Reckitt, Trailblazing Feminist Activist."
Eleanor Smeal, an activist since the 1970s who was once called one of the most influential women in America, wrote these words in the magazine: "Lois Reckitt has not only been an inspirational leader for women and girls in Maine, but also nationwide. Lois was a champion for the Equal Rights Amendment both for the United States Constitution and the Maine Constitution. She was a leader in the National Organization for Women and a national leader in the fight to end violence against women and girls. I had the good fortune to work with her closely when I was president of the National Organization for Women, and she was the executive vice president. She worked for women's rights until the time of her death and was very proud that she had just passed historic legislation in Maine to end sex trafficking."
Reckitt was on NOW's national board for 15 years and from 1984 to 1988 was executive vice president. She was elected to the position, and pursued the work with a vengeance, working 60 to 70 hours a week. She also served for eight years on the national board of the Human Rights Campaign Fund, a political action group she cofounded and replicated in Maine. She was a member of the National Coalition to End Domestic Violence for many years.
She is listed in "Feminists Who changed America '63-'75."
Reckitt grew up in Massachusetts, an only child and the daughter of parents who both were polio survivors. She came to Maine by following her husband, who was stationed in the Coast Guard in South Portland. She said she had no clue she was a lesbian at that time. That truth came to her during two marriages, and in due time she came out and became a champion for gay rights.
She was preceded in death by her father, George A. Galway of Winthrop, Mass., and her mother, Marjorie Lewis Wright of South Portland.
She is survived by Lyn Kjenstad Carter, her loving partner/wife of 20 years; stepdaughter, Barbara M. Carter-Eide, son-in-law, Pala Carter-Eide, stepdaughter, Crystal L. Hartford; five grandchildren; and many cousins in the Galway and Wright families.
She was not only a national leader on domestic violence — she was a true leader in Maine. She founded Family Crisis Shelter, which became Family Crisis Services, now Through These Doors, and headed it for more than three decades, taking time out for her work in Washington, D.C. When she returned to Maine, she was exhausted and said she would do nothing but sleep for six months. But she resumed her work, heading an agency with a $1.4 million budget, a staff of 30, three outreach offices and a battered women's shelter. At the forefront of efforts to stop domestic abuse and help its victims, she lobbied for stronger laws and more aggressive enforcement of them. She raised public awareness of the magnitude of domestic abuse while lobbying successfully for anti-stalking legislation, a domestic violence homicide review panel and gun control measures for abusers.
She worked not just to pass laws but to help police, prosecutors and judges better understand domestic violence and the harm it caused. "Her approach rested on her belief that people want to do what is right and just, and that most people will respond better to a victim's needs if that person has knowledge of the dynamics of domestic violence," said retired Judge Michael Cantara, a longtime friend.
Reckitt led many groups, but sometimes had to create them first. Maine's NOW chapter, the Maine Right to Choose, the Maine Coalition for Human Rights and the Matlovich Society for Gay Rights and AIDS Awareness were among the organizations that were created, in whole or in part, by her. Forty-five years ago, she and eight others, including now-Gov. Janet Mills, founded the Maine Women's Lobby. Destia Hohman Sprague, current Women's Lobby executive director, said Reckitt "set such a profound example of what it is like to work on an issue, to follow your heart and to work on an issue in every possible way. She never gave up working as an activist and then a policy maker, and I just admire that so much."
State leaders lauded her on her passing, calling her a trailblazer, a feminist icon, a hero, a modern pioneer and "a truly remarkable person."
"Lois never stopped trying to make our state better for everyone," said Mills, who went to her home to swear her in for her last legislative term. "She was a dear friend, and I will miss her deeply."
Reckitt knew her work would take endurance, a requirement that may have tested her mettle, but she never gave up. She introduced an Equal Rights Amendment in the Maine Legislature three times and was rebuffed every time. She helped create the coalition that put forward the first gay rights bill in Maine. She and other activists thought it would take 10 years to pass a law. It took 25. She could find only two sponsors. One was Gerald Talbot, the first black man elected to the Maine Legislature. To learn more about gay rights, Talbot went a bookstore to get a book. "They wouldn't take the money out of his hand because they thought he was gay," Reckitt recalled. The incident showed the difficulty they were up against. Reckitt provided the lead testimony on the bill, but even though no one spoke against it, it failed.
She came out at this time, but minimally. She decided to stay closeted until the first campaign was over and came out afterwards at the farmhouse of a straight friend in Newcastle. Gay rights were in her playbook from that moment on. Working with a gay man who was dying of AIDS, she founded a group that provided a safe space for gays and lesbians to gather, a way of lessening their isolation. It began with six or seven people and soon mushroomed to be as many as 150, some driving hours to get there. She would be a pallbearer at the man's funeral.
Despite the intensity of her work to fix things that were broken, she wasn't a rabble rouser — she tended to work behind the scenes — but she was arrested twice, once while protesting apartheid at the South African embassy in Washington. She jumped into the national fray again when the national gay rights movement went to Washington to protest Reagan's inadequate response to the AIDS crisis. In an oral history interview, she was clearly dismayed that Reagan had never spoken the word AIDS. "Reagan was such a ditz," she said.
Outside the White House, she protested in the prosaic way it was done in those days: sitting down and refusing to move. Sixty-seven people were arrested. She was the first, "not because I was particularly outrageous or anything" but because of the way the protest was set up, she said in her oral history interview. She claimed to have "the odd distinction of being the first women in the U.S. arrested by police using those Playtex rubber gloves," which they used to "reach down my pants to see if I was carrying who knows what."
She had widespread interests, including her Irish ancestry. She knitted, quilted and did needlepoint, traveled extensively, taught swimming and biology, played basketball in college. Most importantly, she loved the Boston Red Sox and Celtics.
In seeming contradiction to her life's work, she received college degrees from Brandeis University in biology and from Boston University in marine biology and biological oceanography. But she said her scientific education taught her how to approach things in life.
"She loved the sea, and she loved that she lived only steps from the beach," said longtime friend Lee Umphrey. "She liked to say her legislative district was on the ocean side of South Portland."
She once said the three loves of her life were the women's rights movement, the lesbian rights movement and the movement to end violence women. "I have lived an interesting life," she said.
"Lois came of age when the civil rights movement, the environmental protection movement, the anti-Vietnam movement, the anti-apartheid movement, and the equality for women movement were front and center," said Cantara, the retired judge. "She chose to become a lifelong engaged citizen who advocated for the poor, the marginalized, the forgotten, the dismissed. She took her legislative duties very seriously. She was working on legislative matters up to two days before she died."
She even participated in a national conference from her hospital bed, one that focused on her pioneering Maine work to end sexual exploitation. In appreciation, the National Center on Sexual Exploitation gave her the Dignity Defense Award. "To the very end, Lois was in the saddle championing equality," Umphrey said. "She gave it her all until the end."
But in her 1999 oral history interview, she wondered what her life would add up to. "One of the things I've been concerned about my life is to not have my life disappear," she said. "I figure somebody will remember sometime that I set foot on the planet. I've done a lot of good stuff. I know that, and I figure I'm only half done."
A celebration of her life took place on Nov. 12, at the Maine Irish Heritage Center in Portland. Reckitt had been on the center's board and its treasurer.
In lieu of flowers, donations are suggested to:
Through These Doors at
737-234-6464; OR
The Maine Irish Heritage Center,
34 Gray St.,
Portland, Maine, 04112-7588
207-780-0118
Activist, organizer, author Amber Hollibaugh dies at 77
Calif. native passed away in Brooklyn, N.Y., on Oct. 20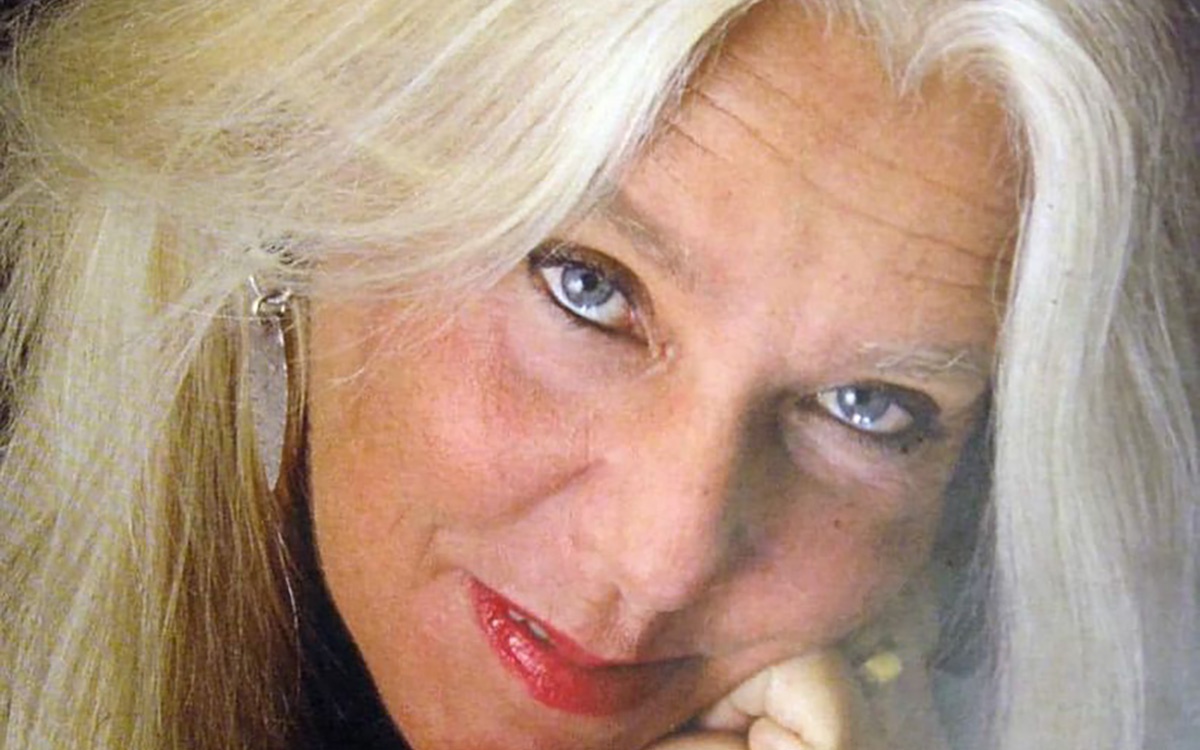 Amber Hollibaugh, an activist, organizer, author of "My Dangerous Desires: A Queer Girl Dreaming Her Way Home" and a self-educated leading public intellectual in the LGBTQ, feminist, sexual liberation and economic justice movements, died suddenly of complications of diabetes in her home in Brooklyn, N.Y., on Oct. 20. She was 77.
Hollibaugh is she is survived by her life partner, award-winning novelist Jenifer Levin, and stepsons Mak Levin and Van De Laurier.
Hollibaugh was born in Bakersfield, Calif., on June 20, 1946. She lived in San Francisco, Las Vegas, Mississippi, Chicago and Canada before she moved to New York in 1981.
"Amber loved life with an embodied passion. She brought that passion to seek justice in the world for us in a way that was unwilling to leave any of our complicated selves behind. Amber's work for lesbians living with HIV, poor and working-class queer folks and older LGBTQ+ members of our community was groundbreaking and sometimes left Amber not appreciated in the very movements that she was trying to move towards more liberation," said Beth Zemsky, a former co-chair of the National LGBTQ+ Task Force and the former director of the University of Minnesota's LGBT Programs Office. "Amber was a fierce friend, somebody you could count on to see you fully and show up for you. I'm grateful to have been able to look into her dazzling blue eyes and see the best of who we could be."
Barbara Satin, a Task Force faith consultant, also mourned Hollibaugh.
"My early activism had focused on trans inclusion plus the affirmation of queer folks within faith settings — then I met Amber who introduced me to the beautiful, old LGBT community — my peer group. These pioneers, on whose shoulders we have built a burgeoning progressive movement, had hopes, expectations, fears and concerns around aging that were seriously overlooked by the broader community," said Stein. "Through her work on LGBTQ aging at the National Gay and Lesbian Task Force, including the publication of 'Outing Age,' the seminal work on the issue, Amber spotlighted the needs and expectations that our elders had and offered practical and appropriate responses to their difficult situations. Amber added an important element to my activism and the applause I have received over the years for my work on aging are directly connected to her influence on my life. As I approach my 90th birthday, Amber Hollibaugh still is my role model for doing activism with grace and style.
Another remembrance notes Hollibaugh's legacy "is an integral part of the history of the modern LGBTQ+ and feminist movements."
"Her contributions were always visionary, as she worked at the intersections of sexual and economic inequality, LGBTQ and women's health disparities," it reads. "Her legacy and long-term impact in progressive movements is inestimable, and her loss will be widely and deeply mourned throughout queer communities and beyond."
2012 interview with Laura Flanders:
Hollibaugh speaks at CLAGS in NYC in 2018:
Retired Smithsonian official John Benton dies at 72
Longtime Arlington resident was supporter of D.C. Gay Men's Chorus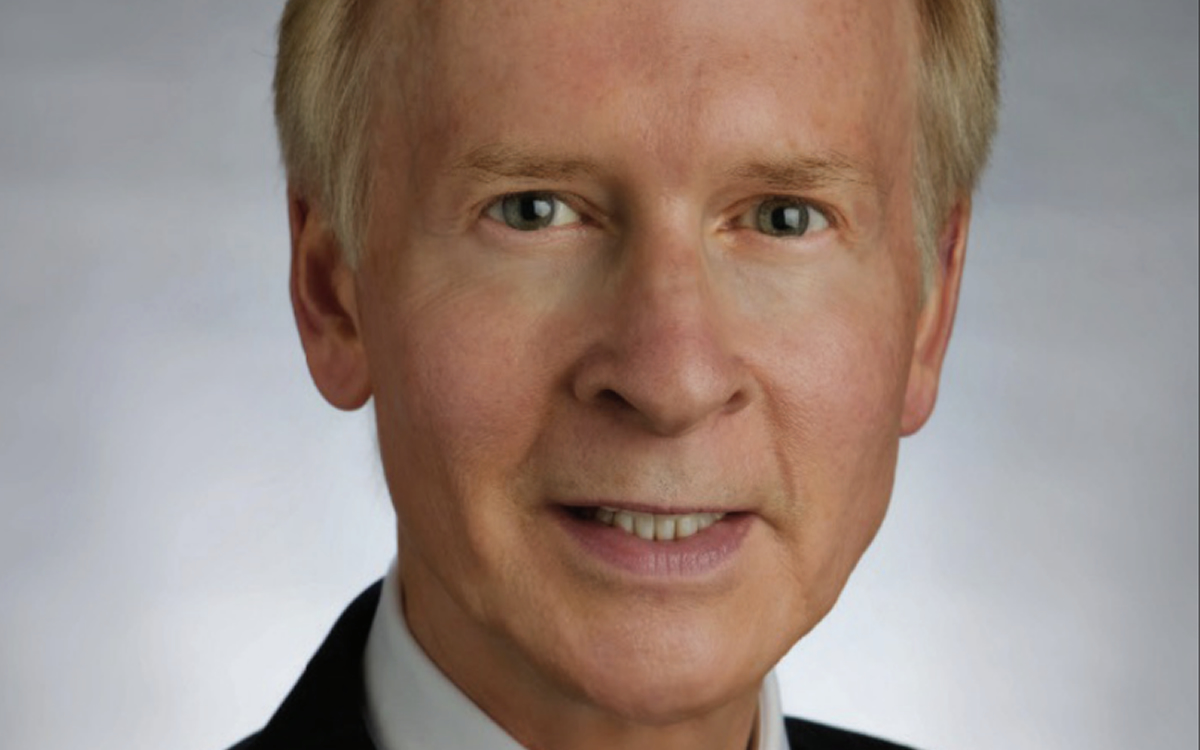 John F. Benton, an Arlington, Va., resident who worked for 45 years in the management, administration, and operations of nonprofit organizations and government agencies, including the Smithsonian Institution's National Air and Space Museum, died Sept. 20 at the Virginia Hospital Center in Arlington after a short illness. He was 72.
According to David Briggs, his partner of 45 years and husband for the past 10 years, Benton combined his distinguished career in Washington with a love for his friends and family and his many and varied interests, including the arts, music, and classic cars.
"Perhaps you knew John as the debonair driver who piloted his imposing, prize-winning 1971 Pontiac Bonneville convertible through the streets of Rehoboth Beach and environs," Briggs wrote in a tribute to his husband published in the Washington Post.
Briggs said Benton was born in Hopewell, Va., and graduated from Dinwiddie High School in Dinwiddie County, Va. He graduated with honors from the University of Richmond's Robins School of Business with a degree in business administration and economics.
"After holding increasingly senior positions in public service in Washington, D.C., he found what he would later describe as his 'dream job' – working for the Smithsonian Institution," Briggs wrote in his tribute.
"In 2001, after a short detail to the Office of the Director, he became Associate Director for Management and Public Programs at the National Air and Space Museum," Briggs states in his tribute. "For 12 years, John performed so admirably that, shortly after he retired in 2013, the Smithsonian asked him to return to active duty in high-level positions four times, including as Deputy Undersecretary for Finance and Administration for the Institution," according to Briggs.
Briggs told the Washington Blade Benton played an early role in the renovation and redevelopment of the Air and Space Museum, which continues at this time, and he served as Interim Deputy Director at the National Zoological Park in Northwest D.C.
The Arlington Community Foundation, where Briggs said Benton provided volunteer support, states on its website that prior to joining the Smithsonian Benton held positions with the U.S. Department of Treasury, the Department of Health and Human Services, with Virginia's state government, as well as in the private sector. It says following his 2018 official retirement, Benton devoted his time to "service on local nonprofit boards, arts and cultural institutions, and his alma mater."
Briggs said that in addition to his involvement with the Arlington Community Foundation, Benton "devoted himself to furthering the work" of the Science Museum of Virginia, the Arlington Free Clinic, the Signature Theatre, the Arlington Commission for the Arts, and the Gay Men's Chorus of Washington, "as well as many more community and arts organizations."
As if all this were not enough, Briggs said Benton enjoyed "both listening to and making choral and organ music" and loved to sing. He became involved with singing groups that traveled to England, Australia, and New Zealand, Briggs said.
"John connected with people, whether over a dinner table, over a board table, or over a cold drink in a theater lobby," Briggs wrote in his tribute to his husband. "Once he made a connection, he kept you in mind and in his life, helping to connect you with others," Briggs wrote.
"With family and friends alike, those connections remained strong across distances and years," Briggs continues. "John treasured his many friends, celebrating their lives generously and with style."
Benton is survived by his husband, David Briggs; his uncle Terry Turner of Dinwiddie, Va.; his niece, Vickie Bright, of Enid, Okla; Brigg's sister, Elaine Briggs, of Bentonville, Ark; Brigg's brother, Corey Briggs, of Quincy, Mass; and many cousins, friends, former colleagues, and community members in Arlington and the metro D.C. area.
Services celebrating Benton's life were scheduled to be held on Oct. 28 at 2 p.m. at First Baptist Church of Washington, D.C., at 1328 16th St., N.W; and on Nov. 11, 2023, at 2 p.m. at River Road (Baptist) Church at 8000 River Rd. in Richmond, Va. Benton said his husband's ashes will be interred in River Road Church's columbarium.
Contributions in lieu of flowers in John Benton's memory can be made to the Benton-Briggs Endowed Fund for the Arts of the Fund for Arlington Arts at the Arlington Community Foundation, according to Briggs. Briggs said he and Benton created the Fund for Arlington Arts "to support and advance the welfare and missions of the nonprofit arts in Arlington." Donations may be made by mail or through the foundation's website at www.arlcf.org.