Roem challenger opposes marriage equality
Christopher Stone is a US Air Force veteran
A Republican who is challenging Virginia state Del. Danica Roem (D-Manassas) stated in a recent interview that she "over-promised and under-delivered" on a core campaign pledge to reduce congestion along Route 28.

Christopher Stone, the Republican nominee who Roem will face in her reelection bid this November, told the Washington Blade the bottom line is Route 28 still isn't "fixed."

"You campaigned for it in 2017, in 2019 and in 2021," he argued. "And you can't say you've done anything other than a study."

Roem defended her infrastructure record, saying while a study had to be conducted, some improvements were already completed, such as reduced traffic signals at key busy intersections. She said these changes have reduced wait times and pollution from idling engines.
"That speeds up the commute without anyone having to lose their business, front property or homes. And we know from the study's data that my plan will make your commute quicker, safer and greener," Roem told the Blade. "Christopher Stone has no plan for fixing Route 28."
Stone, however, challenged "improved light signaling" doesn't necessarily "fix" or widen Route 28 to address commuter concerns. Roem pointed out the widening of Route 28 in Centreville is currently underway.

"I voted last year for authorization for the widening to go forward," she said. "It is happening right before your very eyes in Centreville. You cannot tell me in good faith that we have not done anything to fix 28. It is being done right now."

She added she is currently "chasing down the dollars" to bring further infrastructure to Manassas Park.
Expanded Medicaid, LGBTQ rights among Roem's legislative victories
Roem in 2017 became the first openly transgender person elected and seated in a state legislature in the U.S.
Her four years in office have been busy ones. She has either sponsored or co-sponsored legislation that addressed discrimination, expanded Medicaid and helped make Virginia more inclusive.
LGBTQ Victory Fund Vice President of Political Programs Sean Meloy said Roem's record clearly shows "she's fulfilling her campaign promises and striving to create a more inclusive Virginia." Meloy noted Roem has done considerable work — expanding healthcare and passing numerous LGBTQ-friendly bills — for her constituents since her 2017 election.
"While Del. Roem is hard at work, her opponent has decried mask mandates, supports extremist protesters in Loudoun County and called for an investigation of the 2020 election," Meloy said. "Virginia voters are savvy, and they know when a candidate has their backs — which is why they've elected Del. Roem twice and will reelect her once again this November."
Stone said he's running for office because he felt laws the General Assembly has passed in the last few years benefitted "special interests" and not Virginians as a whole.

Stone and his wife moved to Prince William County from Fairfax County in 2013 because they were planning on having children and a friend said it was a good place to raise them. They now have two children who are 5 and 6-years-old, and the eldest is in his second year in the county's school system.
"And she loves it," Stone said proudly, especially now that she gets to return to in-person classes even though she has to wear a mask.

Stone, a U.S. Air Force veteran and former graduate school professor, said his wife encouraged him to run for office "and stop complaining." He was concerned that LGBTQ laws in particular were too narrowly focused and not written with the interests of most Virginians in mind.

"A lot of people that I talk to are concerned that the way the laws are written you are protecting one group and infringing upon the constitutional freedoms of another," he said, adding that allowing for exemptions for religious beliefs could be one way to make the laws more equitable.

"But you don't just ignore those people," he added. "You accommodate both sides. I don't like laws aimed at a single group or giving protections to one side. That is how a lot of people see LGBTQ laws."

Stone also discussed his opposition to marriage and adoption rights for same-sex couples, stating judges shouldn't legislate from the bench.

He pointed out the U.S. Supreme Court's 1857 decision in the Dred Scott case, which said slaves and their descendants were not American citizens, as an example of the harm judges "legislating from the bench" could do. The 13th and 14th Amendments overturned the ruling. But Roem, a life-long Virginian, pointed out Brown v. Board of Education and Loving v. Virginia were two court cases with Virginia ties that made the state and the country a step more inclusive.

"If you have marriage equality, you can't possibly tell an LGBTQ couple that they can't adopt children," Roem said. "What a horrible thing to tell any loving parent. We already litigated the hell out of this."

For Roem, times have changed and so have the people of Virginia.

"If you are exclusionary like my challenger, then you are going to lose," she said. "The people of the 13th district aren't putting up with this any more."
Bomb threat shuts down Takoma Park holiday drag show
MotorKat evacuated when Tara Hoot was performing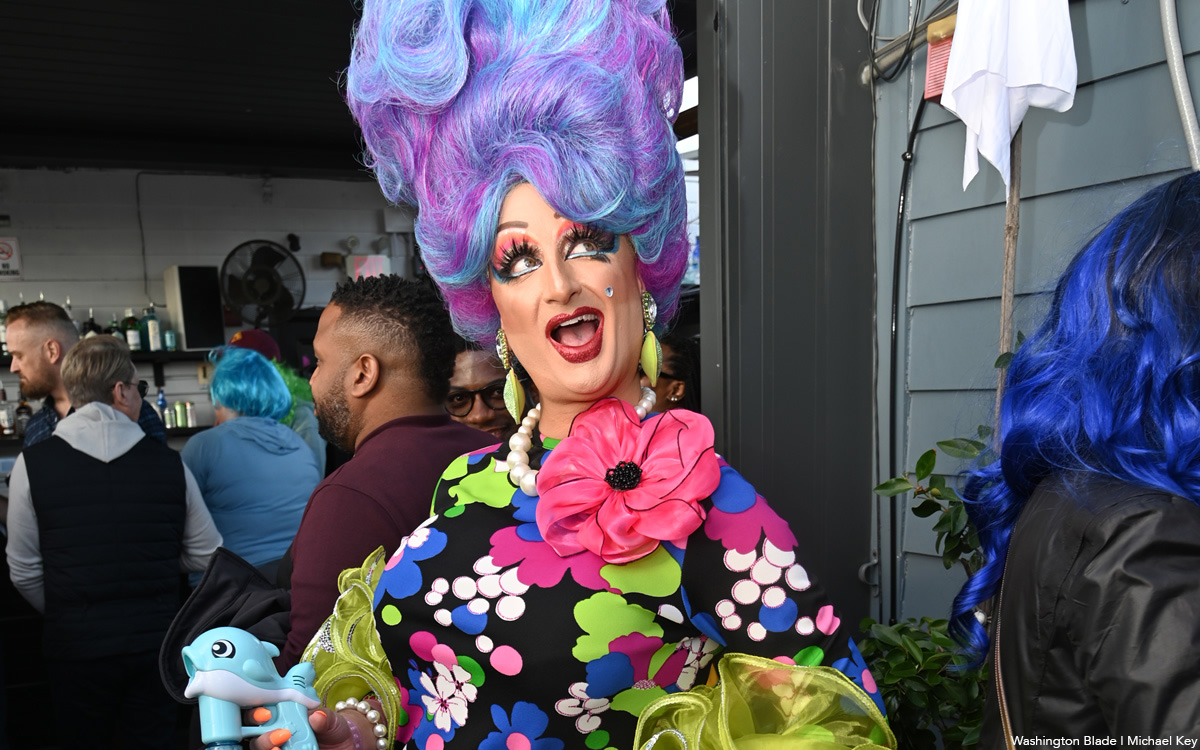 Police cordoned off a popular strip in Takoma Park on Saturday after a bomb threat shut down businesses, including a holiday performance by drag artist Tara Hoot.
MotorKat General Manager Mike Rothman told the Washington Blade that Takoma Park police notified them of a bomb threat to their business around noon.
Tara Hoot was delivering a holiday brunch performance at the MotorKat when the evacuation order came in.
Rothman said they were notified "five minutes into her final performance." Tara Hoot herself told the audience to leave for their safety.
Police proceeded to tape off the area and evacuated all businesses between Eastern and South Carroll Avenues, including TakomaBevCo, which is co-owned by MotorKat Wine Director Seth Cook.
Cook told the Blade that police brought in "bomb-sniffing dogs" to clear the area before allowing businesses to reopen around 2 p.m.
"The timing is unfortunate as this is one of the busiest weekends before the holidays," Cook said.
Rothman was also disappointed by the lost revenue due to what ultimately was a false threat, but he was firm that the Takoma Park LGBTQ community is resilient and would continue to thrive despite this setback.
"Takoma Park is a pretty proud and resilient community," he said. "I don't expect people to lay down and be scared by this."
MotorKat and TakomaBevCo reopened for business around 3 p.m.
Comings & Goings
Jimmy Alexander joins WTOP News as a feature reporter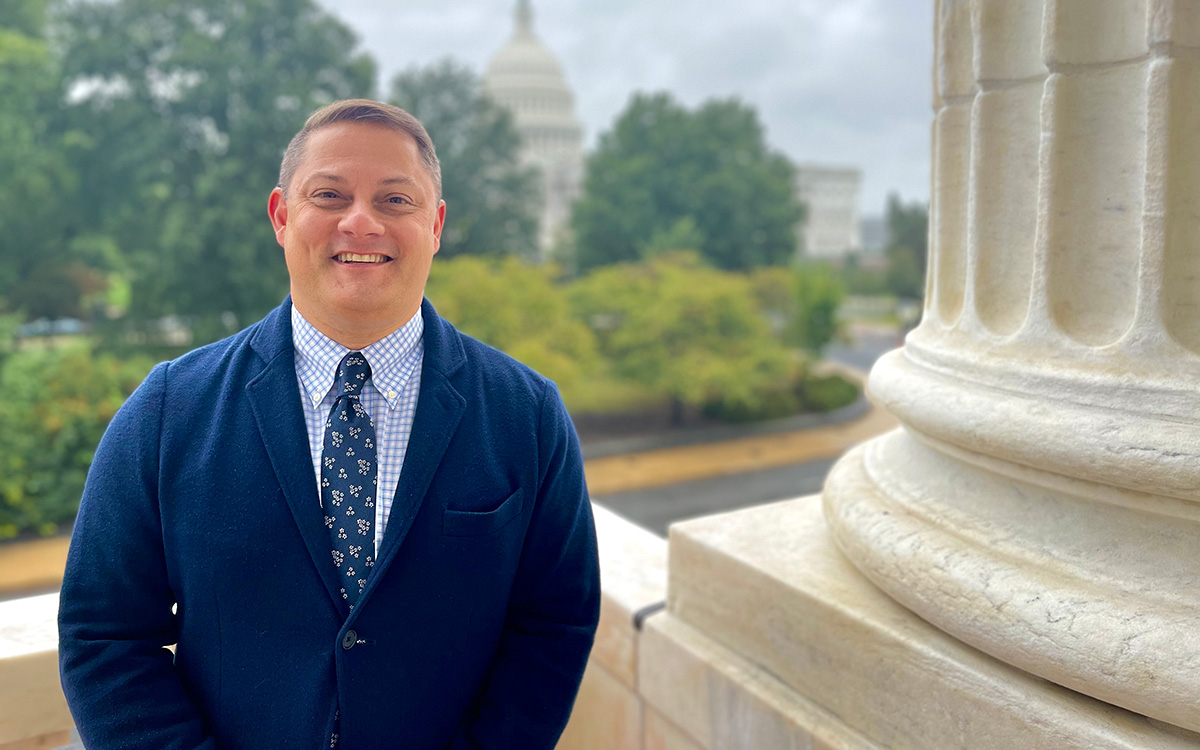 The Comings & Goings column is about sharing the professional successes of our community. We want to recognize those landing new jobs, new clients for their business, joining boards of organizations, and other achievements. Please share your successes with us at: [email protected]. 
Congratulations to Jimmy Alexander who has been hired at WTOP News as a feature reporter. Over the last four years Alexander has been covering stories as varied as the Jan. 6 insurrection to the 17th Street High Heel Race. He has been working as a co-host on the Jack Diamond Morning show on Cumulus Media, Manning Media. On his acceptance of the new position Alexander said, "I'm thrilled that at WTOP News, I will be able to focus on events and people that bring hope to your heart and a smile to your face."
Alexander is a versatile multimedia broadcaster with more than two decades of experience covering both major news events in Washington D.C., and important human-interest stories outside the Beltway. He is an engaging interviewer with a track record of having compelling conversations with the biggest names in government and show business, from presidents to Paul McCartney. Prior to this he worked as a freelance feature reporter with WDCW50-DC News Now. He is also with Writer-20, Twenty Country Countdown, United Stations Radio Networks. There he developed a concept for a countdown show featuring country music's weekly top songs on-air and online and prepared weekly scripts for a three-hour show.
Alexander conducted the only Jan. 6, 2021 interview with "The QAnon Shaman" Jacob Chansley. Since 2016, he has served by request of the D.C. mayor as official host of the 17th Street High Heel Race, the city's second largest LGBTQ event of the year. He is featured in the documentary "Joan Rivers: A Piece of Work," and is a frequent guest on CNN's Morning Show "New Day." He covered White House visits by Queen Elizabeth, the Pope, and the yearly Easter Egg Roll. He also won $10,000 on the game show "Pyramid."
LGBTQ University of Maryland students prepare to celebrate Hanukkah
Eight-day festival to begin Thursday night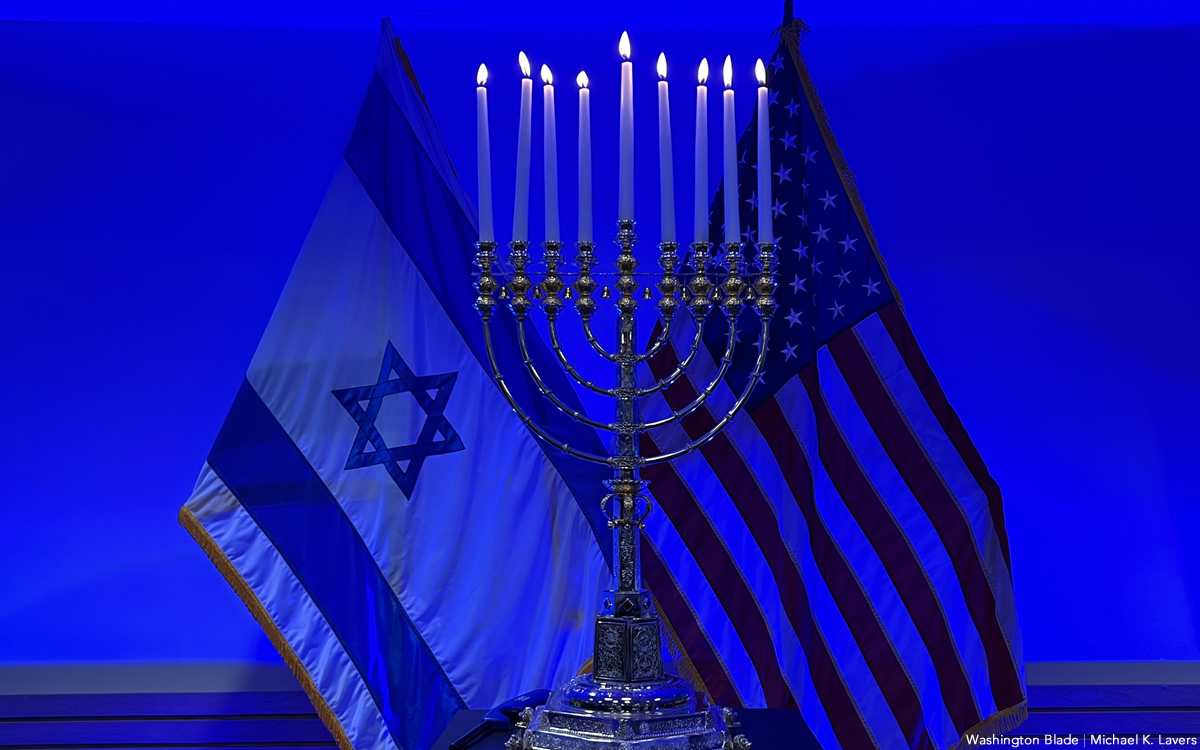 A number of Hanukkah events for LGBTQ students will take place at the University of Maryland this week.
Queer Jewish students and allies are welcome to attend Crazy Cozy Chill Chanukah Celebration on Sunday at the University of Maryland Hillel. Hamsa, home to queer Jewish life on campus, hosted a study break with hot drinks, snacks and games and a chance to welcome Hanukkah early. 
The first night of Hanukkah is Thursday.
Chabad UMD is hosting a menorah lighting on Thursday in front of McKeldin Library and plans to mention the war between Israel and Hamas, according to Rabbi Eli Backman of Chabad UMD. The event is going to be a focus on the positivity and the message of the Hanukkah story.  
"We've been around for thousands of years and all those who've tried to make sure that we didn't live to see the next generation (is) no longer here," Backman said. "That message will really resonate at home for the holiday."
The story of the Maccabees is one of the few stories where Jewish people fought, Backman said. In Jewish history, people don't see a military response in many of the other holiday moments.
"It should give us a boost of energy," Backman said. "A boost of strength (and) a boost of hope."
Part of the Hanukkah story's message is that Jewish people were in a position that they needed to form a military to secure their borders, Backman said. And they succeeded. 
For some, celebrating Hanukkah depends on the people they're around, Florence Miller, a sophomore English and Women, Gender and Sexuality Studies who is Hamsa's president, said.
Miller is agnostic and does not find themself to be a religious person, but the thing that has kept their Jewish faith is the people about whom they care are Jewish and the sense of community that comes from being Jewish.
"I just wanted to do a Hanukkah event," Miller said. "It's been a good refresher with how the semester has been."
Miller last year attended a Hanukkah party and played a game of dreidel, a spinning top with four sides marked with a Hebrew letter. The people who were in attendance wanted to bet something, but the only thing they could find were pinto beans.
"When I took them out of my pocket one got stuck in there," Miller said. "I still have that bean."
For some Jewish students it's important to go to Hanukkah events like Hamsa's celebration to be around like-minded Jewish people, Yarden Shestopal, a sophomore American Studies major, said.
"Which is why I like Hamsa," Shestopal said. "Since we're all queer people or allies we kind of share that mentality of acceptance."
Being part of the Jewish community at the University of Maryland has opened Shestopal up to how diverse the LGBTQ and Jewish communities are. Shestopal this year, however, debated whether or not to put his menorah up on the windowsill of his apartment because of the rise in anti-Semitism due to the war in Israel.  
"I'm pretty sure I am going to put the menorah in my window," Shestopal said. "The only way to combat anti-Semitism is to stay visible." 
Several University of Maryland students lived in Israel before or during their time at the university.
Elisheva Greene, a junior animal science major, went to seminary, a school for women to learn about Torah, during the pandemic. Greene said celebrating Hanukkah while a war is happening is going to be a similar feeling. 
"I'm able to do what I can from over here by supporting my family and friends," Greene said. "The biggest thing I can be doing is living my life as a Jewish person and showing that I express my Judaism and I'm not afraid."
Greene recalled they could not go more than 1,000 feet from home for two months and Hanukkah took place during that time. While it was difficult, Greene said people still put their menorahs on their windowsill.
"Knowing the resilience the Israelis have and the fact people like to show their Jewishness (is not) gonna stop me," Greene said. "Like there's a war going on but you're gonna be a Jew and you're gonna flaunt that."