Former CAMP Rehoboth director launches Sussex Pride
Non-profit to focus on 'the folks who really need help the most'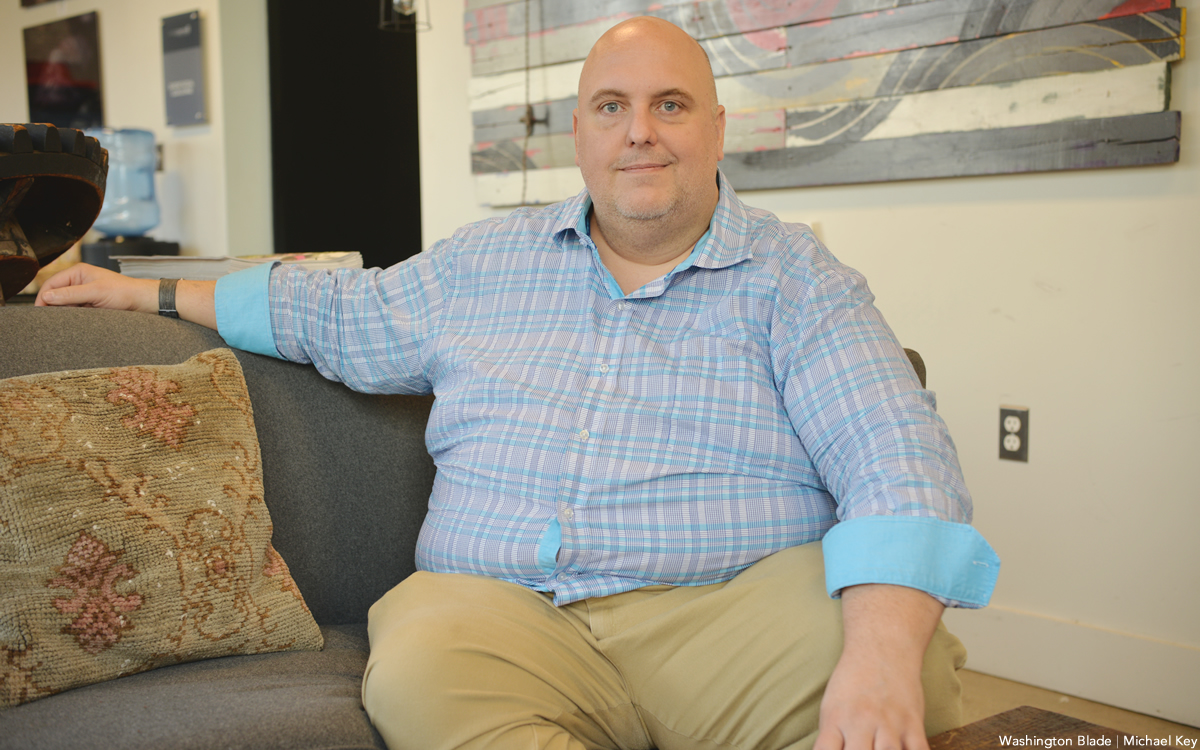 Sussex Pride, a new LGBTQ organization based in southern Delaware, announced its official launch last Friday in a press release from its founding board of directors. The nonprofit looks to serve Sussex County and the state as a whole through yearlong LGBTQ programming and advocacy.
David Mariner, Sussex Pride founder and director, began to conceptualize the organization after noticing disparities in access to LGBTQ resources among different communities in Sussex County.
While Rehoboth Beach already has resources for LGBTQ community members, that is not the case for the entire county, he said. Many areas surrounding the beachside hub experience the "greatest need" for advocacy and resources, yet face the largest accessibility barriers.
"What I wanted to do is connect with some amazing activists from across the county, and really see: Is there a way we could create a new organization that centers the needs of those folks," he said.
The organization's board of directors includes members from different backgrounds who can help contextualize the diverse experiences of LGBTQ community members across the county, he added.
For Sussex Pride, recognizing and addressing the needs of underrepresented communities also means speaking with individuals from those communities directly. The organization will conduct a county-wide assessment to determine areas of community need, paying particular focus to the needs of "LGBTQ youth, transgender and nonbinary individuals, LGBTQ People of Color, LGBTQ seniors, and those living in more rural areas of our state," the press release read.
Mariner launched Sussex Pride shortly after stepping down from his role as executive director of nearby LGBTQ nonprofit CAMP Rehoboth on May 31 — a position he began in 2019. According to Mariner, Sussex Pride is interested in working with CAMP Rehoboth in the future.
"I enjoyed my time at CAMP Rehoboth," he noted. "I certainly hope there's opportunities for us to collaborate."
Wesley Combs, president of CAMP Rehoboth, echoed Mariner's sentiments, noting that he hopes the two organizations will have a collaborative relationship.
"We welcome more support for the LGBTQ community in Delaware and look forward to learning more about what Sussex Pride will be doing," he said. "We are always interested in partnering with other organizations who share our values and are committed to creating a more positive Rehoboth as well as a more positive Sussex County and beyond."
Jamie McKenna, a Sussex Pride board member, noted that bringing a new LGBTQ organization to Sussex County is not an indictment against those already in place, but instead a way to expand resources and make them more accessible. "I don't think any one organization can adequately represent our entire community," she said.
Kathy Carpenter Brown, another Sussex Pride board member, noted that there is currently a lack of trans-specific resources among local LGBTQ organizations, which the new nonprofit hopes to remedy.
In 2017, Carpenter Brown founded Rehoboth TransLiance, a social group for transgender and gender diverse individuals in the Rehoboth Beach area. Through social events and educational resources, the organization has worked to create space for gender diverse Delawareans in areas where, previously, it might not have existed.
Carpenter Brown noted that her involvement with the organization led Mariner to invite her to get involved with Sussex Pride. When asked to join the organization, "I brought a few friends along with me," she added, referring to other trans women on the board of directors.
Rehoboth TransLiance will now find a home as a subgroup of Sussex Pride, working on the forefront of its trans-specific programming, Carpenter Brown said. The organization will continue to create events and resources for the Sussex County trans community, and has secured an office and meeting space in a local church, she added.
When it comes to Sussex Pride's motivations for creating trans-specific resources, "I don't think it's useful to look at it as [doing] what CAMP Rehoboth doesn't do," McKenna added. "Almost nobody does it anywhere, and we're trying to bring something new or, at least, something relatively rare."
For Carpenter Brown, the top priority in supporting local trans community members is clear: creating a local trans-inclusive and gender-affirming healthcare facility. She pointed to the attention TransLiance's table at Delaware Pride received as evidence of a deep community need for trans-specific education and healthcare resources.
"There are so many people out there with questions, so many people looking for support, and they just don't know where to find it," she explained. "I know this area is known as a liberal area … but we really have no resources."
"We don't have the healthcare that we need. We don't have the education that we need," she added. "We don't have the doctors, therapists and psychologists and all the things that the state and federal government requires us to have in order to get the healthcare we need."
McKenna echoed Carpenter Brown's sentiments, noting that the barriers she experiences accessing healthcare might outright prevent other trans individuals from accessing important medical services.
"I go up to Philadelphia to get my hormones, my basic medical care. There's really nowhere around here that people can go," she explained. "I'm lucky enough to have the resources where I can get up there, but a lot of people around here don't. If you're some 19-year-old trans kid just coming out, you might as well be on the moon trying to get care out here."
Nicholas Lee, another Sussex Pride board member, noted that living in Lewes, Del., has made accessing LGBTQ resources in Rehoboth Beach more challenging, even though the two towns are in the same county. "We don't have the best transportation system," and "we don't have a particular central location," he explained.
Carpenter Brown said that she would like to create the healthcare facility as well as a trans community center in Georgetown, Del. — a location central to the county and more accessible to those from rural areas than coastal towns.
"When the opportunity came to set up a nonprofit that can help all Sussex County, I got excited," Lee said. He noted that the name 'Sussex Pride' demonstrates the organization's underlying goal to help "the whole entire community," which requires "broadening" current LGBTQ resources to more directly consider the needs of local rural communities.
"I think in the big picture, it's important to have an organization that people feel welcome in, in terms of the whole community," he added.
While the nonprofit is still in the early stages of development, it has a "wonderful group of people who are now donating monthly to sustain its work," Mariner said. The organization will also be "looking at a wide variety of funding sources in the near future."
Mariner pointed to the experiences of a young woman he met last year as further evidence of a deep need for LGBTQ resources in rural communities across Sussex County.
"Her family discovered that she was a lesbian and kicked her out of their home. For a couple months, they didn't talk to her," he explained. "I'm not familiar with that happening in Rehoboth Beach, but I know it happens in other parts of the county on a regular basis."
For Mariner, it is stories like those that affirm the importance of Sussex Pride — an organization that will focus on "the folks who really need help the most."
Sussex Pride will host its first in-person event, a bus trip to the New York City Pride Parade, on June 26. For more information, visit sussexpride.org.
Sarah McBride re-elected in Del.
Democrat is first openly trans woman elected to a state senate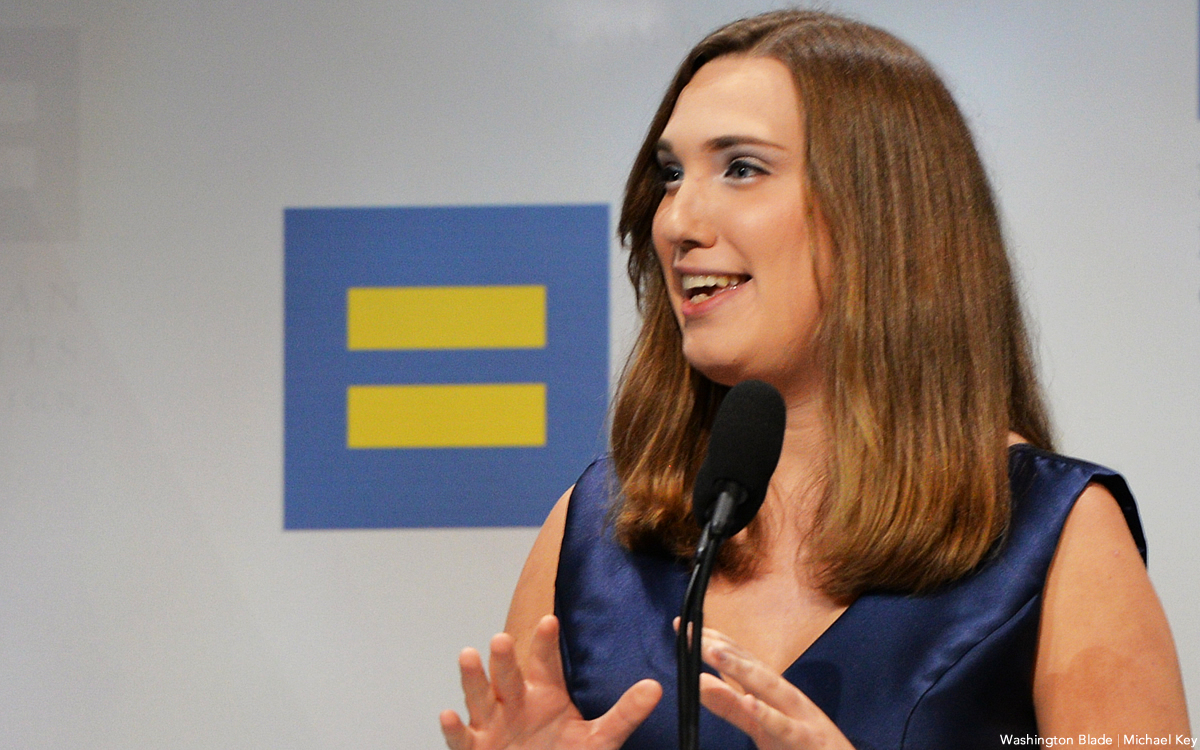 Delaware state Sen. Sarah McBride on Tuesday won re-election.
McBride, who represents District 2 in the Delaware Senate, in 2020 became the first openly transgender woman elected to a state senate.
Delaware ACLU creates guide for LGBTQ students
'Youth are coming out younger and younger and they need support'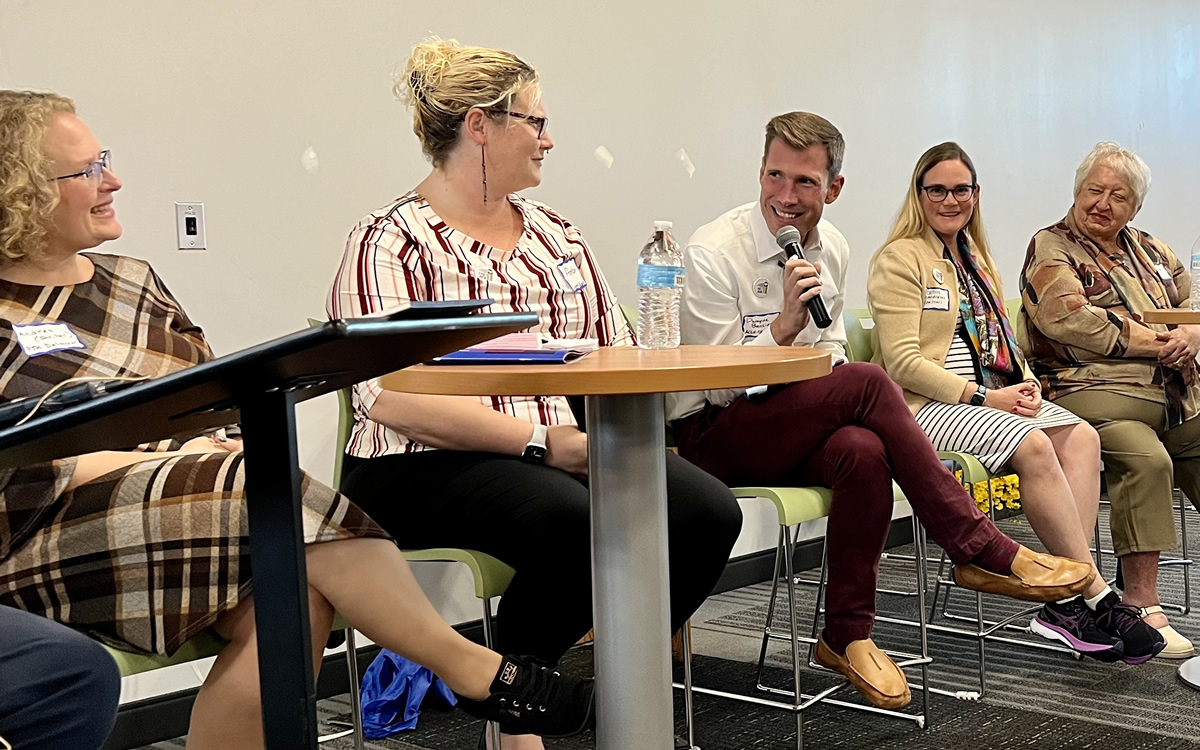 The American Civil Liberties Union of Delaware released an updated guide to First Amendment rights for LGBTQ students in public schools Nov. 1.
The "Know Your Rights!: A Guide to the First Amendment for LGBTQ+ Youth in Delaware" outlines federal and state laws with the goal of helping students and their families advocate for themselves, Delaware ACLU executive director Mike Brickner told the Washington Blade.
"We really want to make sure that the young person is informed about their rights, that their families are informed as well," Brickner said. "But also, that educators are informed and that's for those educators who want to be allies and advocates, but also for educators who may just not know the rules and not know what they're required to do."
The ACLU national office released a similar guide in 2021, though Brickner said the new guide localizes the information by including Delaware laws and resources. The guide is available as a hard copy and online as an interactive learning experience.
The organization held a kickoff event for the guide Nov. 1 at the Lewes Public Library. A panel of local LGBTQ community advocates and historians spoke to a crowd of more than 100 people virtually and in-person, according to Brickner.
"We can give a lot of information about what legal rights are, but we also want to provide the basic tools for people to become their own best advocate, and to really win over some of the hearts and minds in their local community," Brickner said.
Amber Lee, health and wellness coordinator for LGBTQ youth resource center CAMP Rehoboth, spoke on the panel at the event.
"I was very pleased to be a part of it. It was a great thing," Lee said. "The whole world needs to bring more recognition to youth, and that youth are coming out younger and younger and they need support, and we need to give them that support."
Sarah McBride seeks reelection to Delaware Senate
Incumbent renews commitment to reforming healthcare, education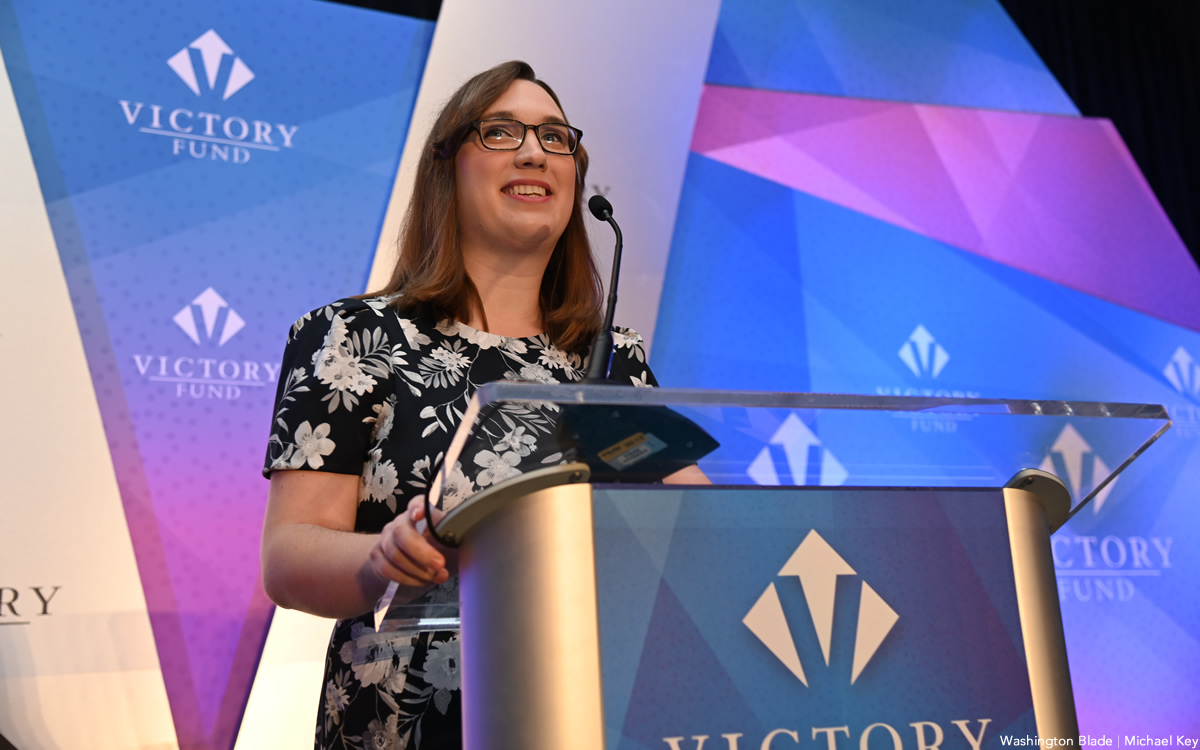 Sarah McBride, who currently represents Delaware's 1st State Senate District, is seeking reelection this fall as her first term comes to a close. McBride made headlines in 2020 when she became the first openly transgender state senator in the nation's history, and for the past two years has worked to reform social services and on healthcare legislation in the Delaware Senate.
When seeking election for the first time in 2020, McBride campaigned on a platform of paid family and medical leave for working Delawareans. Two years later, McBride told the Blade that developing these policies – and, more specifically, passing the Healthy Delaware Families Act earlier this year – has been the highlight of her time in the General Assembly.
As a sponsor of the bill, McBride wanted to "help lead the effort to pass paid family and medical leave" in Delaware, and spearheaded the creation of a statewide program that enabled employees to receive up to 12 weeks of paid leave for various personal, medical, and family events.
"A lot of observers laughed at the possibility of Delaware passing paid leave," McBride recalled, "but we were able to work together to build a coalition … [and pass] the largest expansion of the social safety net in modern Delaware history."
McBride also pointed to the General Assembly's passage of a $15 minimum wage, protection over statewide reproductive healthcare, and creation of "the most significant gun safety package in state history" as successes of her first term. "There's still so much more that we need to do," she emphasized.
More recently, The Digital Citizenship Education Act – a youth media literacy campaign McBride sponsored – was signed into law by Gov. John Carney on Aug. 29. McBride noted that her work on the bill was linked to her experiences being sworn into the Delaware Senate on the heels of the Jan. 6 insurrection in the U.S. Capitol.
"In the days and weeks after the insurrection, some of my colleagues and I began having conversations about what more Delaware needed to do to heal our nation," McBride said. "One of the ideas that my colleagues and I had was to introduce The Digital Citizenship Act to provide young people with the tools necessary to identify fact from fiction, hard reporting from opinion, and news from advertisements online."
The bill will require the Department of Education to uphold standards of evidence-based media literacy in public and charter school classrooms across the state.
"We think of young people as digital natives who are able to seamlessly navigate the internet with an effortlessness that eludes many adults, but the reality is that young people, like all people, struggle with this increasingly complicated world and identifying what is true," she added.
McBride is seated in a firmly blue district, but this year's election still comes with intrigue: the state has recently redrawn its legislative districts, meaning this year McBride will be campaigning to roughly a third of her voters for the very first time.
"I'm talking and reaching those new-to-the-first-Senate-district voters to make sure that they understand that this change is occurring, and that to ensure that they have information," she noted. "Making sure that we're reaching those newer voters in this district is going to be critical over the next few months."
On Aug. 23, LGBTQ Victory Fund, an organization that advocates for the election of LGBTQ leaders in public offices across the country, endorsed McBride for the 2022 election. The District 1 general election is slated to be held Nov. 8, and McBride currently does not face opposition from a Republican nominee.
Reflecting on her time serving Delaware and her plans yet to come, McBride emphasized her responsibility to work against efforts from "far right-wing politicians and judges to roll back the clock on our progress and rescind critical rights for many, many people in this country."
Further, McBride noted that, through reelection, she hopes to continue developing and expanding protections that promote the wellbeing of residents throughout the First State.
"I think more than anything else, seeing what people deem to be impossible not just become possible, but a reality here in Delaware has only motivated me to seek reelection and fight even harder for the remaining issues that Delaware needs to address," McBride said. "I am ending my first term even more hopeful than when I began it.
Voter registration for the general election is open now through Election Day. To find out how to register, visit the state's Department of Elections website.