Schumer: Senate vote on marriage bill to happen 'in the coming weeks'
Idea to include measure in CR appears sidelined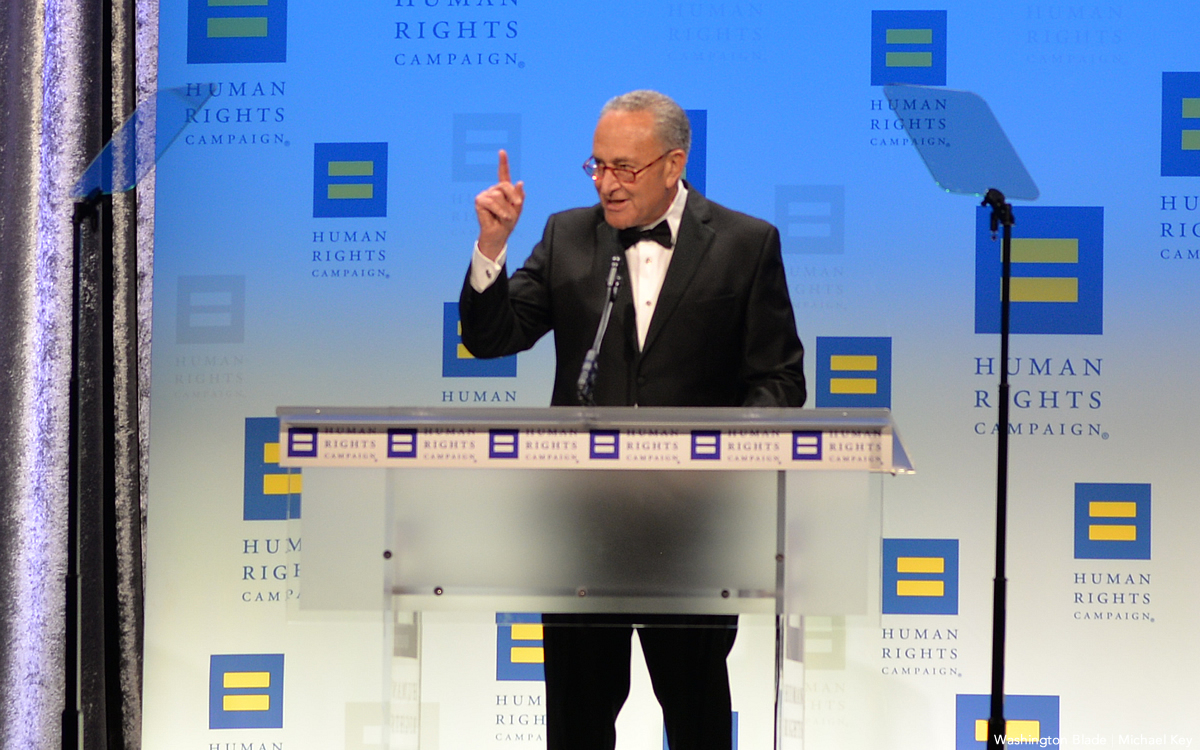 Senate Majority Leader Charles Schumer (D-N.Y.) signaled on Wednesday a vote on legislation to codify same-sex marriage would happen "in the coming weeks" as supporters express increasing confidence they will have sufficient bipartisan support to pass the measure.
Schumer made the comments under questioning from a reporter on the Respect for Marriage Act and whether 10 Republican votes are present to end a filibuster.
"We all want to pass this quickly," Schumer said. "Our two leading members on this issue, Sen. [Tammy] Baldwin and [Kyrtsten] Sinema, are working with Republicans to see if there are enough votes to pass the bill. But let me be clear, a vote will happen. A vote on marriage equality will happen on the Senate floor in the coming weeks and I hope there will be 10 Republicans to support it. Yes."
The measure came up during a meeting for Senate Democrats earlier in the day, said Schumer, who added it was "a very good conversation" about same-sex marriage.
Schumer made a point to say the vote was necessary after the U.S. Supreme Court decision overturning Roe v. Wade, which led many to believe same-sex marriage would be next on the chopping block.
"Let's remember why a vote on the Respect for Marriage is necessary," Schumer said. "Millions upon millions of American women had their right taken away by the extremist MAGA Supreme Court in the Dobbs decision. And in a concurring opinion, Justice Thomas opened the door to the Supreme Court going even further. The MAGA Republicans are taking over the Republican Party and they've made it abundantly clear they're not satisfied with repealing Roe. So when some Republicans say, 'Oh, a vote's unnecessary, it won't happen,' they said the same thing about Roe and here's where we are."
Although Democratic insiders close to Senate leaders had said they were considering including the marriage bill as an amendment to a budget stopgap known as a continuing resolution, Schumer hinted he doesn't think that would be the way to go.
"We would prefer to do it as a separate bill," Schumer said. "We hope there are 10 Republicans to help us with that."
The Respect for Marriage Act wouldn't codify same-sex marriage into law per se, but would lift from the books the anti-gay Defense of Marriage Act and require states to recognize same-sex marriages performed elsewhere. The U.S. House approved the measure in July.
Supporters have expressed optimism 10 Republican votes are present. Four Republicans have signaled they would support the bill, at least in some capacity: Susan Collins (Maine), Rob Portman (Ohio), Thom Tillis (N.C.) and Ron Johnson (Wis.). Johnson, however, has changed his tune recently and said an amendment for religious accommodations is necessary.
Baldwin, the first openly lesbian elected to the Senate, has been championing the legislation and told Axios' Andrew Solender she's confident 10 Republican votes will be there.
"I think the momentum is going in the right direction," Baldwin was quoted as saying.
Asked about specific vote timing, Baldwin reportedly said, "I would hope for next week."
White House Press Secretary Karine Jean-Pierre declined to weigh in on Wednesday when asked whether the marriage legislation should be included in the continuing resolution, although she said President Biden wants Congress to act "swiftly" on the measure.
"I know there's a legislative pathway that's being discussed currently in Congress," Jean-Pierre said. "We'll let leadership decide how to move forward with that. The president is a proud champion of the right for people to marry. They can choose who they love, and he believes it is non-negotiable, and the Senate should act swiftly to get this to the president's desk."
Census Bureau asks White House to test questions on sexual orientation, gender identity
Data would be included in annual American Community Survey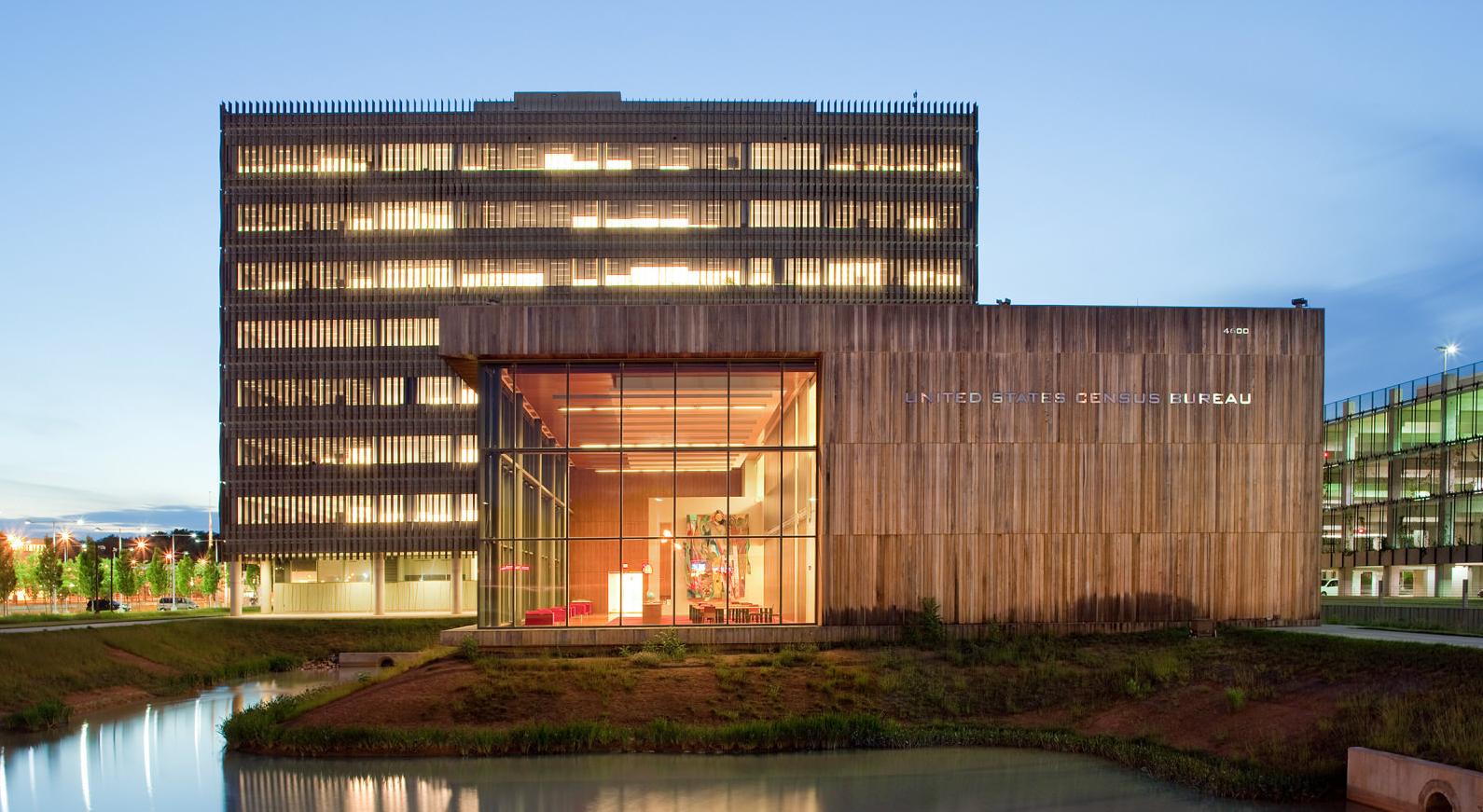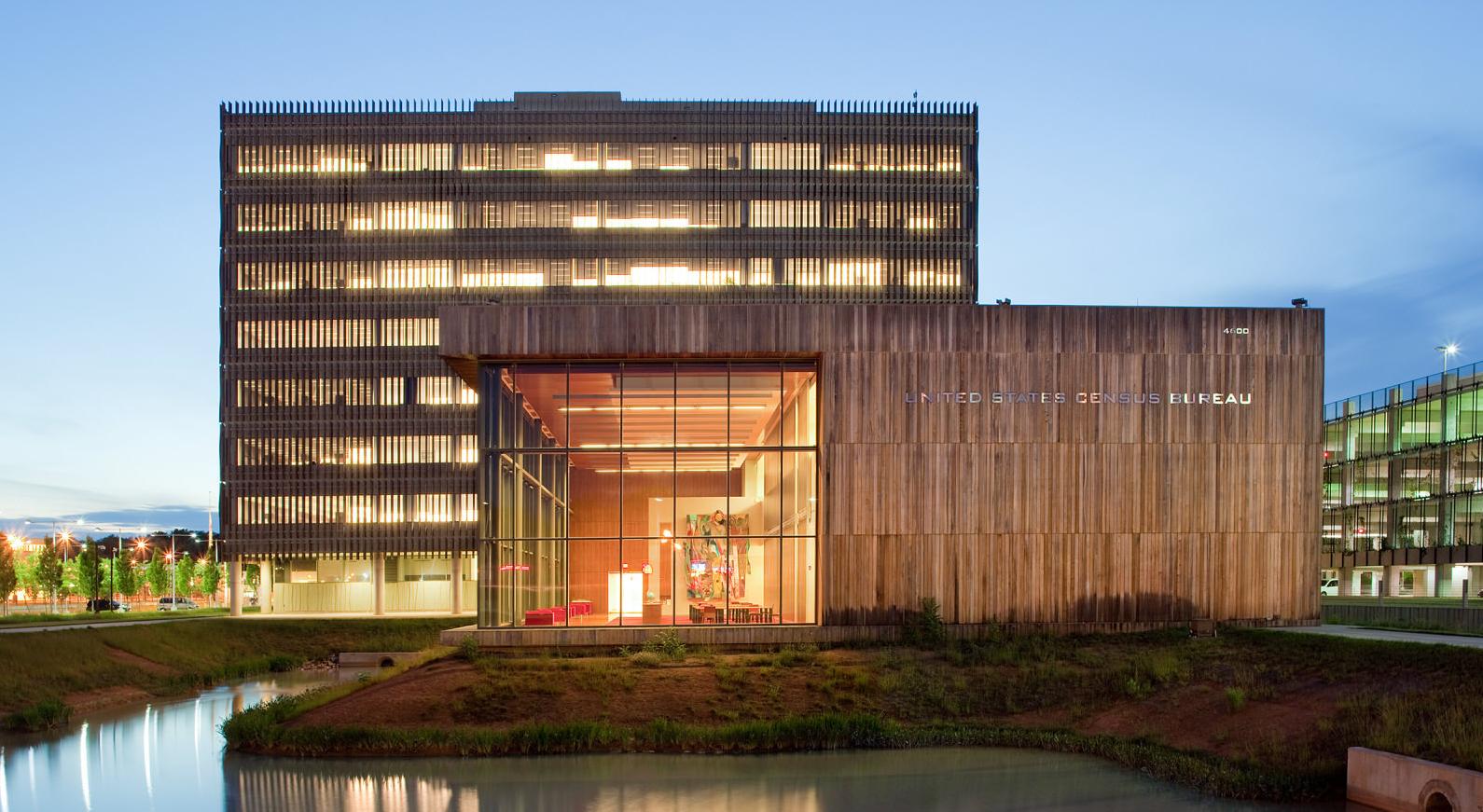 The U.S. Census Bureau on Tuesday asked the Biden administration to sign off on plans to test questions on sexual orientation and gender identity for respondents aged 15 and older on the agency's annual American Community Survey.
Data on these metrics will help inform civil rights and equal employment enforcement, the Census Bureau said in a notice published on the Federal Register.
Testing will help the agency determine wording, response categories and placement of the questions on the survey — its most comprehensive, covering 3.5 million households each year.
A key unknown will be how answers will be provided by proxies such as parents, spouses or others in a household who isn't the person about whom the question is asked.
"Younger LGBT people might not yet be out to their parents or others who are answering these questions as a proxy reporter, so the quality of the data might not be as good for younger people," M. V. Lee Badgett, an economics professor at the University of Massachusetts Amherst, told PBS News.
Currently, the Census Bureau and its annual American Community Survey only ask questions about same-sex couples who are married or cohabitating.
"We anticipate having much more info about the LGBT people than is currently available — including about the demographic and socioeconomic status of LGBT people who aren't in same-sex couple households, including occupational status, industry and wages, and about LGBT people who were born outside the U.S. and LGBT people with disabilities, and their families," Kerith Conron, research director of the Williams Institute at UCLA School of Law, told the Associated Press.
Senate confirms federal judge who fought for marriage equality as a lawyer
Three Republicans voted for Rita Lin's nomination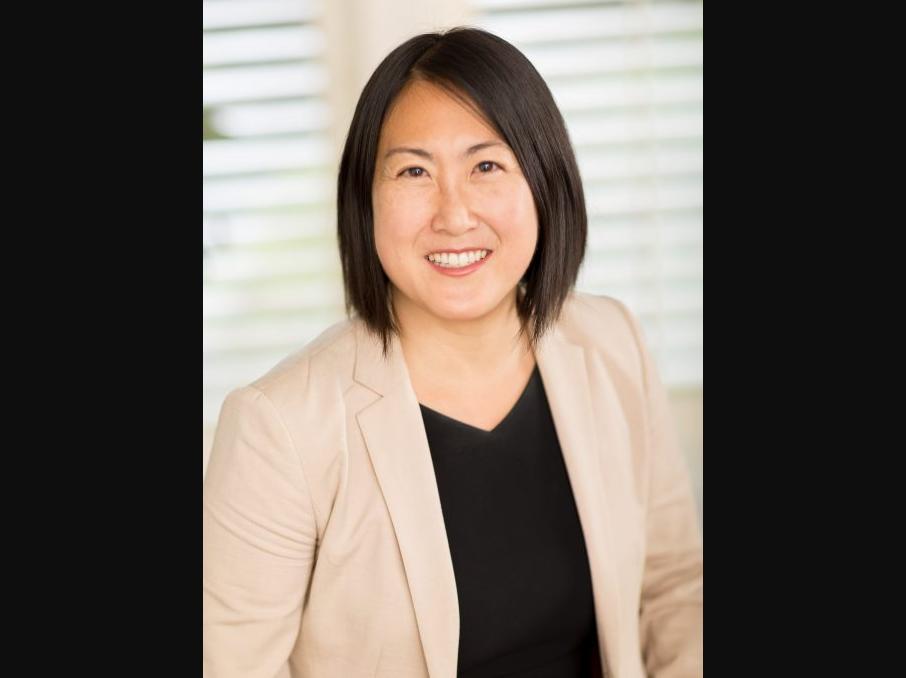 The U.S. Senate on Tuesday voted 52-45 to confirm Rita Lin's nomination by President Joe Biden to serve as a judge on the U.S. District Court for the Northern District of California.
The first Chinese American woman to serve in the role, Lin previously fought for marriage equality as an attorney in private practice with the multinational firm Morrison and Foerster.
As co-counsel in a 2012 case challenging the Defense of Marriage Act in federal court, she secured the first ruling striking down the law, which proscribed marriage as exclusively heterosexual unions, since President Obama announced his administration would no longer defend it.
The Senate's vote to confirm Lin was supported by all present Democratic members and three Republicans: U.S. Sens. Susan Collins (Maine), Lindsey Graham (S.C.) and Lisa Murkowski (Alaska).
Last year, during hearings for her nomination in the U.S. Senate Judiciary Committee, Sen. John Kennedy (R-La.) objected to an article she wrote in 1998 while a junior at Harvard University calling members of the Christian Coalition "bigots."
The Christian Coalition was founded by the late Christian media mogul Pat Robertson, who attracted controversy throughout his life and career for making sexist, homophobic and racist remarks.
Lin was appointed as a judge in the San Francisco Superior Court in 2018, and she currently presides over felony and misdemeanor criminal trials. She previously served as an Assistant United States Attorney in San Francisco.
Pentagon to restore honor to veterans kicked out over their sexual orientation
Legislation seeks accountability for DoD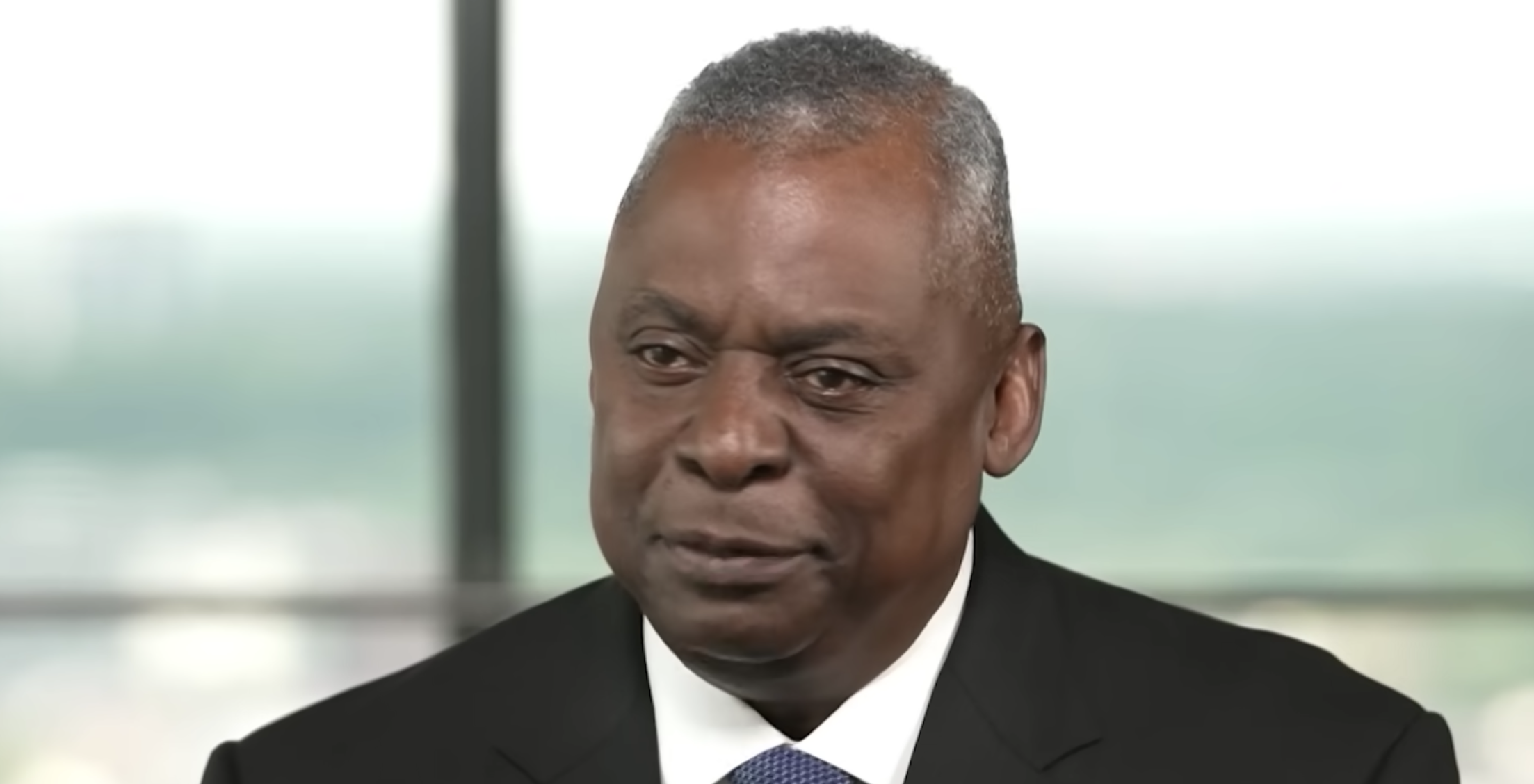 The U.S. Department of Defense announced plans to restore honor to service members who were kicked out of the military over their sexual orientation, the agency announced on Wednesday, the 12th anniversary of the repeal of "Don't Ask, Don't Tell."
"Over the past decade, we've tried to make it easier for service members discharged based on their sexual orientation to obtain corrective relief," U.S. Secretary of Defense Lloyd Austin said in a statement.
"While this process can be difficult to navigate, we are working to make it more accessible and efficient," he said, adding, "in the coming weeks, we will be initiating new outreach campaigns to encourage all service members and veterans who believe they have suffered an error or injustice to seek correction to their military records."
The move follows a class action lawsuit filed last month by LGBTQ veterans against the Pentagon for allegedly failing to remedy "ongoing discrimination," including biased language in the discharge papers of LGBTQ veterans.
CBS News has investigated the Pentagon's handling of service records of veterans who were kicked out of the military because of their sexual orientation, revealing the broad scope of discrimination experienced by these LGBTQ veterans — finding, for instance, that more than 29,000 were denied honorable discharges.
Also on Wednesday, U.S. Reps. Mark Takano (D-Calif.) and Sara Jacobs (D-Calif.), along with U.S. Sen. Richard Blumenthal (D-Conn.) re-introduced a bill that would establish "a commission to investigate the historic and ongoing impacts of discriminatory military policies on LGBTQ service members and veterans."
"This commission would study the impact of these bigoted rules" barring LGBTQ troops from serving "and forge a more welcoming future in the military and at the VA," said Takano, who serves as ranking member of the House Committee on Veterans' Affairs and co-chair of the Congressional Equality Caucus.
"Our country has never made amends for official discriminatory policies like 'Don't Ask, Don't Tell' and the transgender military ban – and that failure still haunts today's service members and veterans," said Jacobs.
"That's why I'm so proud to co-lead this bicameral legislation that will right these historic wrongs, investigate the past and present impact of anti-LGBTQ+ policies, and help us move forward to build and sustain a diverse, inclusive, strong, and welcoming military."
"This commission would be an important step to understand the full scope of the harms caused by policies like Don't Ask, Don't Tell, and to ensure a more equitable future for all who serve our country in uniform," Blumenthal said.