Two candidates could become first out lesbians to win gubernatorial races
Maura Healey secured Democratic nomination on Tuesday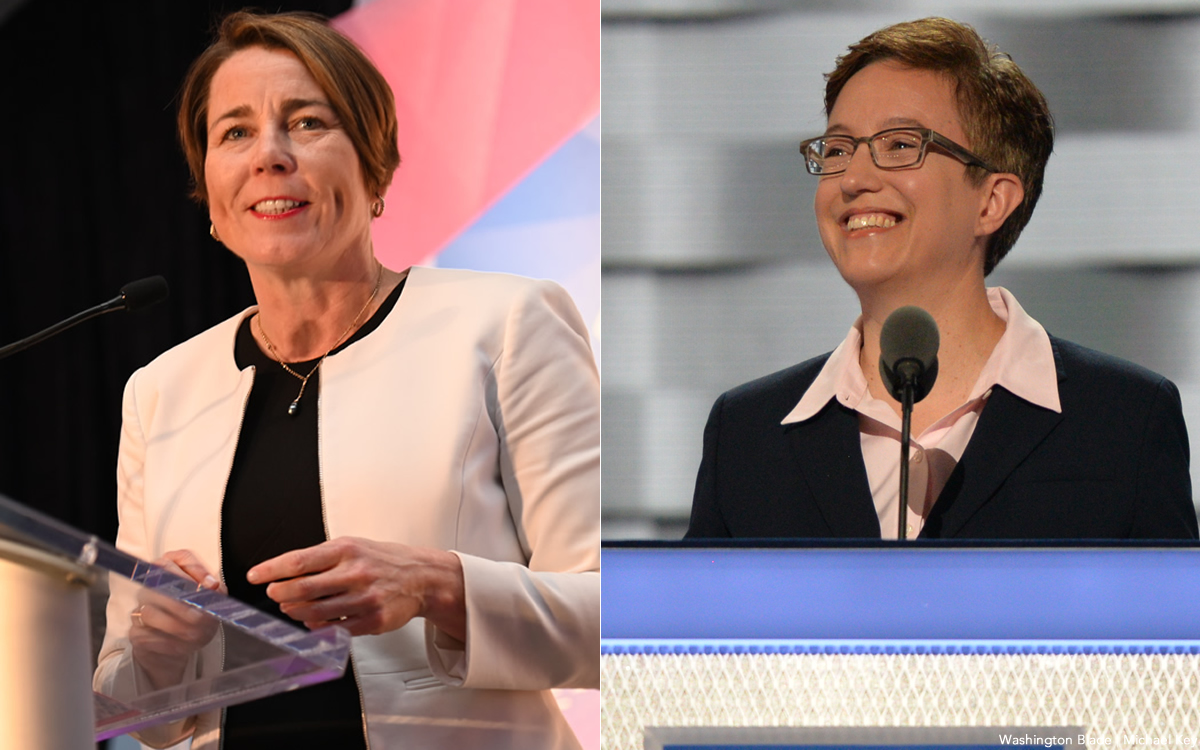 Two candidates who came out on top in the primary season in two gubernatorial elections — Maura Healey in Massachusetts and Tina Kotek in Oregon — could be on track to make history and become the first openly lesbian women elected as governor in the United States.
Healey, currently the Massachusetts attorney general, joined Kotek as a fellow Democratic gubernatorial nominee after winning in the primary Tuesday night in Massachusetts, becoming the overwhelming victor by securing 85.5 percent of the vote against State Sen. Sonia Rosa Chang-Díaz.
Following her primary victory, Healey issued a statement seeking to capitalize on the win and envisioned the way forward into the general election in November, pledging to "run a campaign for everyone."
"I got into this race because I believe in Massachusetts," Healey said. "We have the best people, innovation and know-how in the world. As governor, I want to harness that potential, bring people together and build a state where every person and every business can thrive."
Whether or not both Healey and Kotek win in November remains to be seen. Healey, who's running against Geoff Diehl, a former state lawmaker endorsed by former President Trump, is heavily favored to win in November.
Kotek, on the other hand, faces a more difficult path and is running in a state where outgoing Gov. Kate Brown, a Democrat, is deeply unpopular. Kotek faces a potential three-way race between unaffiliated candidate Betsy Johnson and Republican Christine Drazan, who has recently obtained support from Maryland Gov. Larry Hogan.
Although Healey and Kotek could achieve firsts as out lesbian candidates, other members of LGBTQ community have significant broken barriers in gubernatorial. For example, Brown became the first openly LGBTQ person elected governor in the United States Oregon upon winning election in 2016 as as an openly bisexual candidate.
Other firsts include Colorado Gov. Jared Polis, who's the first openly gay men to win election as governor. The distinction of the first openly LGBTQ person to serve as governor belongs to former New Jersey Gov. Jim McGreevy, who came out as gay amid scandal before he resigned. In 2018, Christine Hallquist of Vermont became the openly transgender to obtain a major party nomination to run for governor, although she came up short in the general election.
The unvaccinated are 14 times more likely to contract monkeypox: health officials
Guidance updated to allow shots in places other than forearm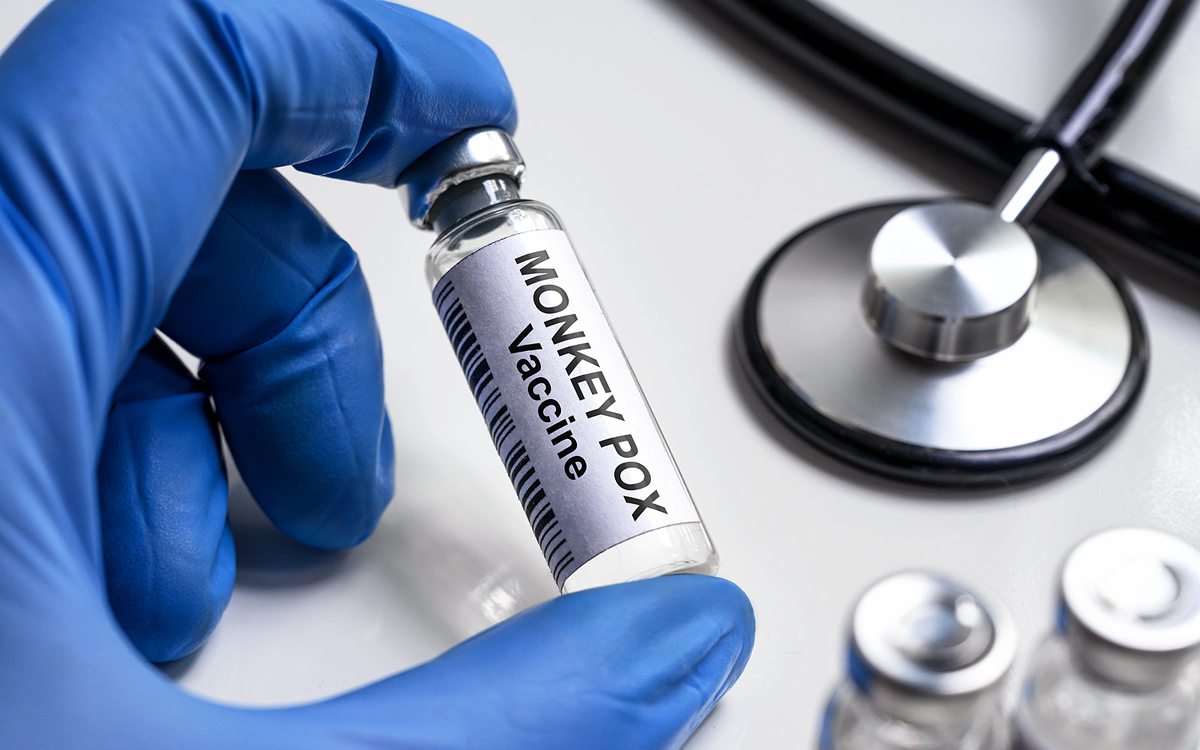 U.S. health officials are celebrating preliminary data on the vaccine used in the monkeypox outbreak, which has led them to conclude eligible persons who didn't get a shot were 14 times more likely to become infected than those who are vaccinated.
The new data, as described by health officials on the White House monkeypox task force during a call with reporters on Wednesday, comes as the overall number of new cases of monkeypox is in sharp decline, although considerable racial disparities persist in the remaining cases as Black and Latino people are overrepresented in the numbers.
Rochelle Walensky, director of the Centers for Disease Control & Prevention, said during the conference call the preliminary data — collected from 32 states between July 2022 and September 2022 — provides an early shapshot of the effectiveness of the vaccine and cause for optimism on the path forward.
"These new data provide us with a level of cautious optimism that the vaccine is working as intended," Walkensky said. "These early findings and similar results from studies and other countries suggest even one dose of the monkeypox vaccine offers at least some initial protection against infection."
Walensky during the conference call admitted the data is incomplete in numerous ways. For example, the data is based on information on individuals who have obtained only the first shot as opposed to both shots in the two-shot vaccination process. (The data showing positive results from individuals who have only one shot contradicts previous warnings from the same U.S. health officials that one shot of the monkeypox vaccine was insufficient.)
The data also makes no distinction between individuals who have obtained a shot through subcutaneous injection, a more traditional approach to vaccine administration, as opposed to intradermal injection, which is a newer approach adopted in the U.S. guidance amid the early vaccine shortage. Skeptics of the new approach have said data is limited to support the idea the intradermal injection is effective, particularly among immunocompromised people with HIV who have been at higher risk of contracting monkeypox.
Not enumerated as part of the data were underlying numbers leading health officials to conclude the unvaccinated were 14 times more likely to contract monkeypox as opposed to those with a shot, as well as any limiting principle on the definition of eligible persons. Also unclear from the data is whether individual practices in sexual behavior had any role in the results.
Despite the positive data on the monkeypox vaccine based on one shot, U.S. health officials warned during the conference call the two-shot approach to vaccine administration is consistent with their guidance and more effective.
Demetre Daskalakis, the Biden administration's face of LGBTQ outreach for monkeypox and deputy coordinator for the White House monkeypox task force, made the case that for individuals at risk obtaining a second dose is "really important."
"So we see some response after the first [shot] in the laboratory, but the really high responses that we want to really get — that you know, level 10 forcefield as opposed to the level five forcefield — doesn't happen until the second dose," Daskalakis said. "So the important message is this just tells us to keep on trucking forward because we need that second dose at arms that people haven't gotten the first should start their series of two vaccines."
Also during the call, health officials said they would be expanding opportunities for vaccines as pre exposure prophylaxis, as opposed to practices in certain regions granting vaccines in their limited supply to individuals who meet certain criteria or have had risk of exposure.
The Centers of Disease Control & Prevention, officials said, is also updating its guidance to allow injection of the vaccines in places other than a patient's arm.
Daskalakis said fear of stigma about getting a noticeable shot in the forearm after obtaining a monkeypox vaccine was a key part of the decision to issue the new guidance on implementation.
"Many jurisdictions and advocates have told us that some people declined vaccine to monkeypox because of the stigma associated with the visible but temporary mark often left on their forearm," Daskalakis said. "New guidance from CDC allows people who don't want to risk a visible mark on their forearm to offer a vaccine on their skin by their shoulder or their upper back. Those are areas more frequently covered by clothes."
Analysis: Nevada Democratic senator faces attacks on LGBTQ record that defy logic
Masto criticized for defending marriage ban, but GOP opponent Laxalt agreed with her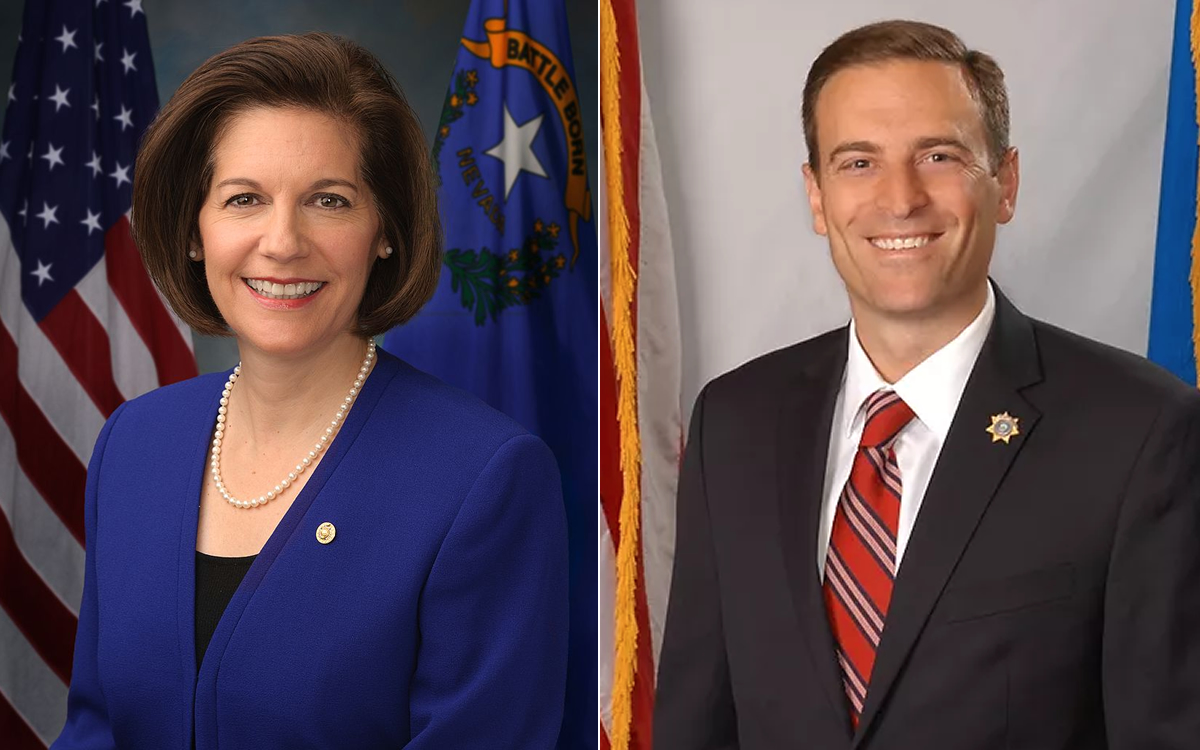 The race for the U.S. Senate seat in Nevada — which may decide control of that chamber of Congress in the upcoming election — is coming down to the wire as polls shows a tight race between Sen. Catherine Cortez Masto (D) and the Republican challenger Adam Laxalt. If Republicans get their way, it will have everything to do with Cortez Masto's defending her state's ban on same-sex marriage as Nevada attorney general — and nothing at all to do with the long record against LGBTQ rights of her Republican opponent.
Cortez Masto, as Republicans want you to remember, made the decision in 2014 as Nevada attorney general initially to defend her state's ban on same-sex marriage against a legal challenge in court. It was after the Supreme Court's ruling against the anti-gay Defense of Marriage Act, which prompted a wave of litigation throughout the country against state bans on same-sex marriage as legal advocates saw a new opportunity to overturn them under the new precedent.
Some other attorneys general at the time came to a different conclusion and determined they didn't need to defend their state bans in court, making legal conclusions the laws were unconstitutional and thus indefensible. Cortez Masto also had some choice words in her initial legal brief comparing the ban on same-sex marriage to bigamy and incest, which Republicans are now able to pounce on largely thanks to the Washington Blade's original reporting at the time drawing attention to the language in the brief.
Matt Wolking, vice president of Axiom Strategies, is among the Republican political strategists invoking Cortez Masto's defense of the marriage ban, rebuking her on Twitter on the basis she opposes gay rights — all while promoting her GOP opponent despite a column he wrote in favor of "Don't Ask, Don't Tell," the military's gay ban.
"Laxalt served in our military. Catherine Cortez Masto did not," Wolking tweeted. "She's been in government her whole life. 4 years after Laxalt's column & 3 years after DADT was repealed, Masto defended Nevada's ban on gay marriage, comparing it to bigamy and incest."
But what Republicans aren't telling voters is that Cortez Masto's legal position on her state's ban on same-sex marriage didn't last long. After issuing a statement the next day signaling she was reconsidering her defense of the law, she later announced after the review she would reverse her position and join legal advocates in seeking to overturn the law.
In 2022, Republican efforts to draw attention to Cortez Masto's record is the latest indication that the issue of same-sex marriage, which years ago was an unpopular idea that sent Democrats running for the hills, has been turned on its head in terms of its political implications. For example, Democrats in the House just this year were eager to bring the floor legislation seeking to codify same-sex marriage after the U.S. Supreme Court decision overturning Roe v. Wade. Support for same-sex marriage is so high that one-fourth of the Republican caucus went along with them.
The Nevada race, however, takes public support for same-sex marriage to a whole new level. Now, Republicans are criticizing a Democratic incumbent up for re-election for defending the ban on same-sex marriage and her choice of words in an initial legal brief when Republicans have largely been responsible for enacting the bans in the first place. The latest Republican Party platform from 2016 continues the party's position in favor of a constitutional amendment that would ban same-sex marriage form coast-to-coast.
As such, it would be hard for Republicans to assert they are bringing up Cortez Masto's record out of a genuine concern for same-sex marriage and not simply as a political ploy to disaffect Democrats and suburban women, whose turnout would be necessary for Democrats to retain control of Congress in a mid-term election with a Democratic president.
Consider the alternative: Laxalt is a conservative who is notorious for having an anti-LGBTQ record. Take, for example, the aforementioned op-ed Laxalt wrote for the National Review in 2010 in favor of "Don't Ask, Don't Tell" when repeal of the ban on openly gay service members was being considered in Congress.
Changing the law, Laxalt wrote, would make "fighting wars harder" on the basis that men "love to have sex" and the military "cannot tolerate the tensions that surround sexual relationships or potential ones" that would come with openly gay service members.
"To those who currently tolerate homosexuals but retain their God‐given right to reject homosexuality as a practiced lifestyle — could you do the above as a leader?" Laxalt wrote. "Even for your country? It is one thing for the military to ask its members to accept
homosexuals, but another for the military to ask its members to accept and live with
homosexuality, the homosexual lifestyle."
That's just one part of Laxalt's longer record, which includes signing a legal brief in favor of allowing a Washington florist to refuse wedding services to same-sex couples based on religious objections and dubbing as "coercive" the Obama administration's guidance on transgender students to use the bathroom consistent with their gender identity.
The real kicker: Laxalt himself said when running for the position of Nevada attorney general he would defend the state's ban on same-sex marriage. During a 2014 interview with the Las Vegas Sentinel, Laxalt emphatically made the case the role of attorney general is to defend state law on the marriage ban.
"As attorney general of Nevada, I would follow and uphold the law as passed by the people of Nevada through our constitutional process, and I would vigorously defend that law when challenged," Laxalt said.
Unlike Cortez Masto, there's nothing in the public record suggesting that Laxalt ever changed his position on same-sex marriage or otherwise embraced LGBTQ rights (save for accepting the endorsement from Log Cabin Republicans and strong support from Richard Grenell). Meanwhile, Cortez Masto has sponsored the Equality Act, legislation that would expand protections against LGBTQ discrimination under civil rights law, and is now a co-sponsor of the Respect for Marriage Act, which supporters say will come up for a vote in lame duck after the election.
If, at the end of the day, Nevada voters decide to oust Cortez Masto and replace her with Laxalt, they would be replacing a supporter of LGBTQ rights measures before Congress with a voice stridently against them. One wonders if Republicans criticizing Cortez Masto for her short-lived defense of her state's ban will come back to criticize Laxalt for voting "no" on those measures based on their newfound standards for political candidates.
Va. students stage mass walkout over anti-LGBTQ policies
Activists from more than 90 schools across state hold rallies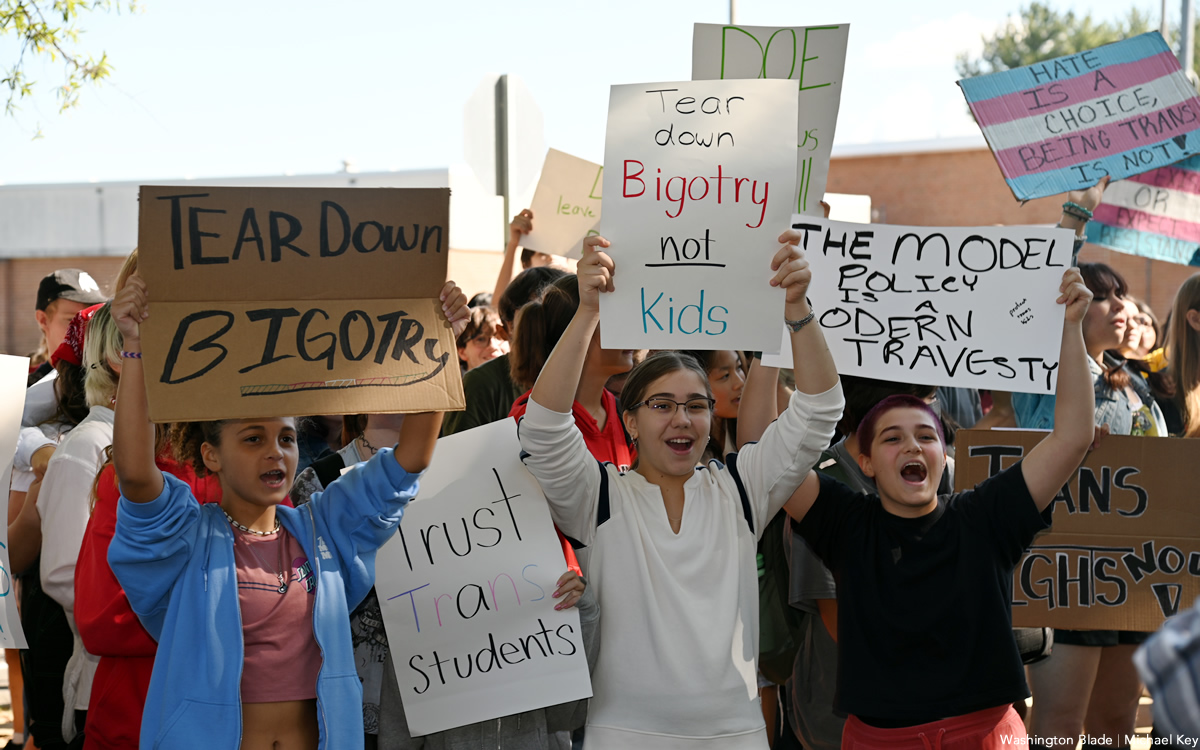 Thousands of students in schools across Virginia participated in walkouts and rallies on Tuesday to oppose the revised "model policies" on transgender students released by the Virginia Department of Education.
VDOE policy revisions were released on Sept. 16 and differ substantially from the policies passed into law in 2020.
The original policies on the treatment of trans students were intended to protect LGBTQ students; but the revised "model policies" have been criticized by activists, educators and legislators for mandating students use school facilities for the sex they were assigned at birth and bars students from changing their names and pronouns without parental permission. Further, the policies direct teachers and staff not to conceal a student's gender identity from parents, even when a student asks to keep that information private.
The student-led Virginia-based Pride Liberation Project responded to these policy changes by organizing mass walkouts and rallies in more than 90 schools from Alexandria to Williamsburg.
"These proposed guidelines are essentially taking that cornerstone and using it to undermine our rights. If these guidelines are implemented, it will be the single biggest loss for queer rights in Virginia in years," Natasha Sanghvi, a student organizer with the Pride Liberation Project, said in a statement.
Openly gay Virginia state Sen. Adam Ebbin (D-Alexandria) in a statement said "these new model policies, which are in flagrant violation of Virginia law, will do serious harm to transgender students. They are not based in science or compassion and will lead to students being outed before they are ready, increased bullying and harassment of marginalized youth, and will require students to jump through legal hoops just to be referred to with their proper name."
Ebbin joined several hundred students at West Potomac High School in Alexandria in a rally opposing the model policies proposed by Republican Gov. Glenn Youngkin.
"The new policy drafts are only going to do more harm to trans students who are already at risk for being outed, harassed and harmed," Jules Lombardi, a Fairfax County high school senior, told the Washington Blade. "These drafts will take schools, which are supposed to be safe environments for students, and make them spaces where students have to hide themselves for fear of their parents finding out about their identities."
"This isn't a matter of 'parental rights,' it's a matter of human rights and we deserve to be treated with the same respect as cis students," Lombardi added.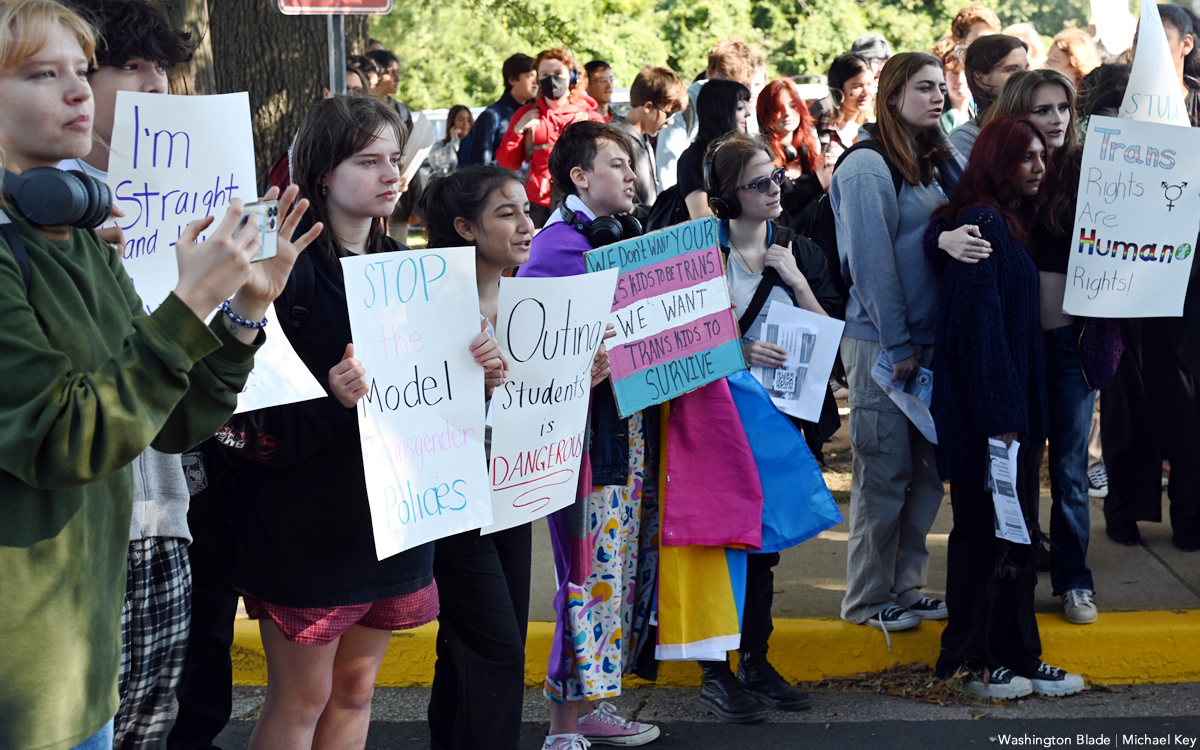 Andrea-Grace Mukuna, a senior at John R. Lewis High School in Springfield, told the Blade that "gender affirmation matters. Something so easily given to cisgender people is a right that our trans and gender non conforming youth deserve. I am walking out because schools will no longer be a safe place for queer students to be in if these policies get passed."
"Requirements for teachers to refer to students by their birth name and pronouns aligning with their sex, rather than trusting our students to know themselves and who they are best, reinforces the idea that we as students have no power, no control and no knowledge over anything in our lives. Gender queer youth exist, and no policy can change that," Mukuna said.
Mukuna continued, "making an attempt at denying them their ability to be who they are is a malicious attack on vulnerable students that could cause deathly harm."
"I walk out for my queer community — there is no erasing us," Mukuna said.
Several hundred students walked out of McLean High School. The walkout was lead by members of the school's GSA and organizers from the Pride Liberation Project including McLean High School senior Casey Calabia.
Calibia asked the crowd, "Do we want Gov. Youngkin to understand that this is not what Virginia looks like?"
The crowd roared, "yes!"
"Virginia stands for trans kids. Trans and queer people are a fact of humanity. We will be accepted one way or another and to see everybody here today is another step toward that change," said Calibia through a bull horn.
Calibia told the Blade in a pre-walkout statement said "to call these policies in favor of respecting trans students' rights and privacy is to call an apple an orange. The 2022 Transgender Model policies, even as a draft, have begun to actively hurt my community's mental health."
"Instead of focusing on academics and our future, we have to sit in class and wonder if we will be safe in school," Calibia concluded. "To not only take away the 2021 policies, a cornerstone in LGBTQIA+ rights for Virginia, but to mock them with these replacements, is a devastating blow to myself, trans students, queer students, and the whole of Virginia's public school student body. How can we be safe, if we can be taken out of school-provided counseling, maliciously misgendered, and denied opportunities given to other students simply because of our gender? Accepting queer students in class does not indoctrinate or brainwash kids. It tells queer students like me that it is okay and safe to be ourselves in school."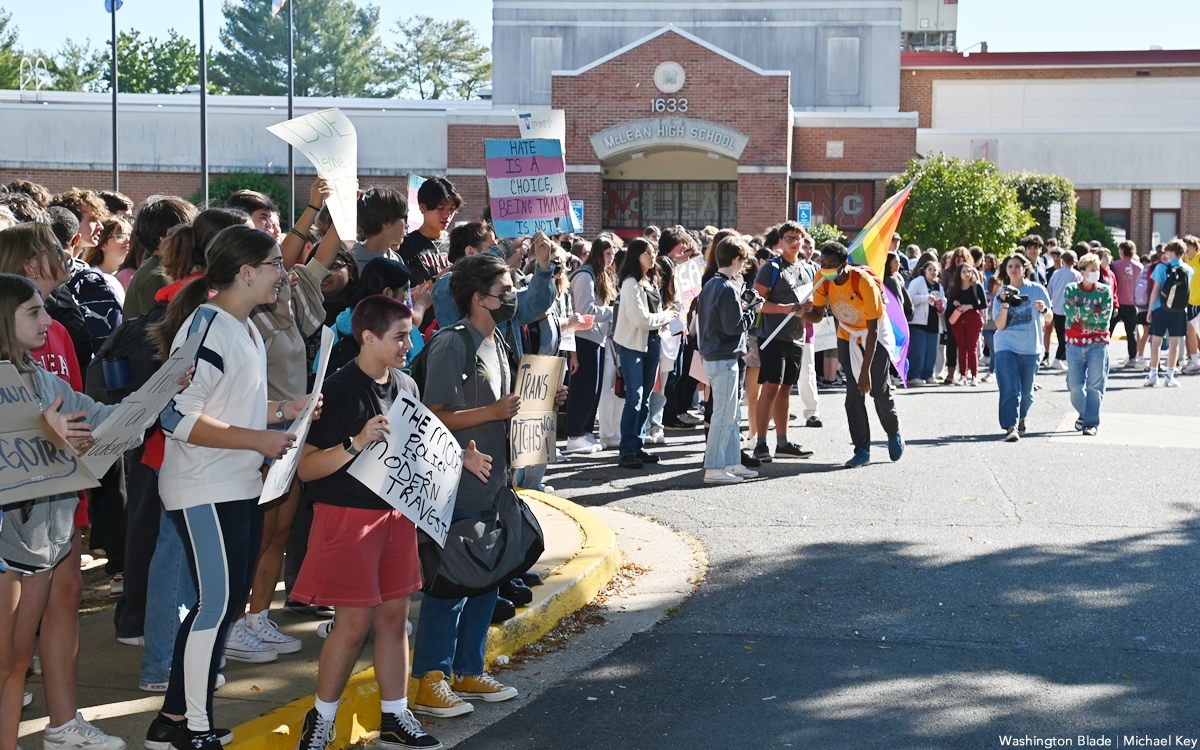 The student protests in Virginia have made national news.
"This is a president who supports the LGBTQI+ community and has been supporting that community for some time now as a vice president, as senator, and certainly as president now," said White House Press Secretary Karine Jean-Pierre in response to a question about the protests during her daily press briefing. "And he . . . always is proud to speak out against the mistreatment of that community … We believe and he believes transgender youth should be allowed to be able to go to school freely, to be able to express themselves freely, to be able to have the protections that they need to be who they are."
"When it comes to this community, he is a partner, and he is a strong ally, as well as the vice president," Jean-Pierre stated.
Walkouts and rallies were held at middle and high schools in Arlington, Bedford, Buchanan, Chesterfield, Culpeper, Fairfax, Fauquier, Frederick, Henrico, James City, Loudoun, Louisa, Montgomery, Powhatan, Prince George's, Prince William, Spotsylvania, Stafford, Warren and York Counties as well as in the cities of Alexandria, Chesapeake, Newport News, Portsmouth, Richmond, Williamsburg and Winchester.
"Every parent wants Virginia's laws to ensure children's safety, freedom, and to encourage a vibrant and engaging learning experience. But the Virginia Department of Education is rejecting those shared values by advancing policies that will target LGBTQ kids for harassment and mistreatment simply because of who they are," said Ebbin.