White House announces new initiatives on homelessness and mental health
LGBTQ youth and adults disproportionately experience struggles with homelessness and mental health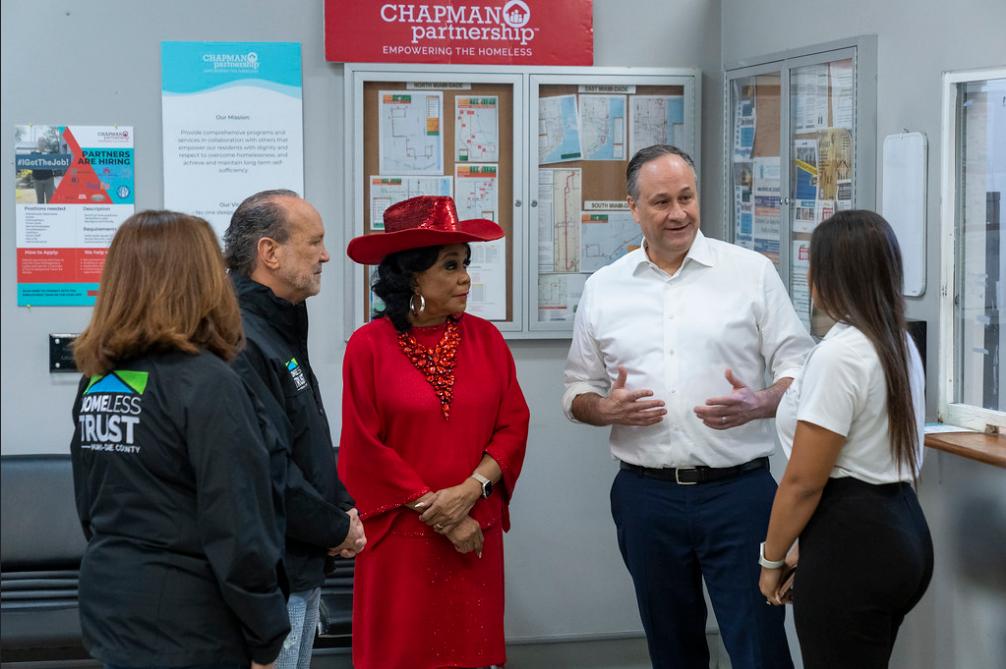 The White House on Thursday issued separate fact sheets outlining the Biden-Harris administration's new initiatives to tackle unsheltered homelessness and America's mental health crisis.
The former, called ALL INside, will augment an existing federal strategic plan whose goal is to reduce homelessness by 25 percent by 2025 through partnerships with state and local governments "to strengthen and accelerate local efforts to get unsheltered people into homes in six places: Chicago, Dallas, Los Angeles, Phoenix Metro, Seattle, and the State of California."
According to data from the University of Chicago's Chapin Hall policy research institution, LGBTQ youth had 2.2 times the risk of reporting homelessness, and among those experiencing homelessness, had higher levels of adversity – for example, exchanging sex for basic needs and being physically harmed by others more frequently than their non-LGBTQ counterparts.
The Williams Institute of the UCLA School of Law reports that "sexual minority adults are twice as likely as the general population to have experienced homelessness in their lifetime," while "a higher proportion of transgender people report recent homelessness than sexual minority and cisgender straight people."
Building on the Biden-Harris administration's work addressing the country's mental health crisis, the White House announced a slate of new initiatives that broadly aim to: "strengthen the mental health workforce and system capacity," "connect more Americans to care," and "create healthy and supportive environments," each with specific goals and strategies.
While large scale studies evaluating mental health benchmarks have not often included the full spectrum of LGBTQ identities, there is strong evidence that "members of this community are at a higher risk for experiencing mental health conditions, especially depression and anxiety disorders," according to the National Alliance on Mental Illness (NAMI).
"LGB youth also experience greater risk for mental health conditions and suicidality," NAMI reports, and "LGB youth are more than twice as likely to report experiencing persistent feelings of sadness or hopelessness than their heterosexual peers."
Trans youth, meanwhile, are twice as likely "to experience depressive symptoms, seriously consider suicide, and attempt suicide compared to cisgender lesbian, gay, bisexual, queer and questioning youth."
Biden's Pride month proclamation: 'Our nation faces another inflection point'
States across the country have passed anti-LGBTQ laws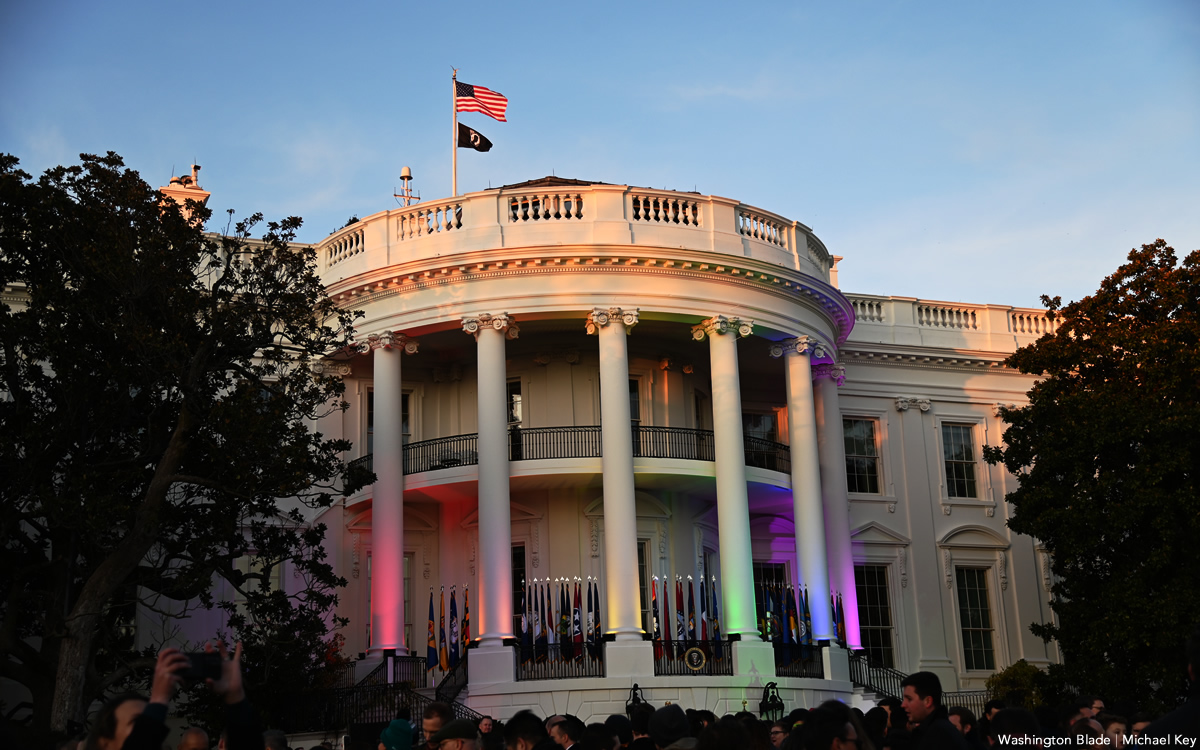 Just as the 1969 Stonewall riots marked a transformational time for LGBTQ civil rights in America, the country now faces another critical inflection point, President Joe Biden said in the White House's proclamation Wednesday honoring Pride month.
This moment is precipitated by the wave of hateful anti-LGBTQ legislation moving through state and local legislatures across the country and amid the escalating violence and threats of violence against the community, the statement notes:
"In 2023 alone, state and local legislatures have already introduced over 600 hateful laws targeting the LGBTQI+ community. Books about LGBTQI+ people are being banned from libraries. Transgender youth in over a dozen states have had their medically necessary health care banned. Homophobic and transphobic vitriol spewed online has spilled over into real life, as armed hate groups intimidate people at Pride marches and drag performances, and threaten doctors' offices and children's hospitals that offer care to the LGBTQI+ community. Our hearts are heavy with grief for the loved ones we have lost to anti-LGBTQI+ violence."
Biden drew parallels between the "LGBTQI+ protestors" who "bravely stood their ground" against the law enforcement dispatched to arrest them more than 50 years ago and the youth organizers leading walkouts in response to discriminatory education laws, along with the "young people and their parents [who] are demonstrating unimaginable courage by testifying in state capitols in defense of their basic rights."
The statement reaffirms the Biden-Harris administration's commitment to standing "proudly with the LGBTQI+ community in the enduring struggle for freedom, justice and equality," chronicling some of the major steps the administration has taken on this front.
Biden highlighted his issuance, on his first day in office, of an executive order prohibiting anti-LGBTQ discrimination, along with his signage last year of the Respect for Marriage Act, which codified protects for the rights of same-sex couples that might otherwise be jeopardized by the U.S. Supreme Court's conservative supermajority.
The statement then noted the administration's moves to protect LGBTQ youth by ordering federal agencies to: Combat conversion therapy, "end the crisis of homelessness among LGBTQI+ youth and adults," and address anti-LGBTQ discrimination in foster care.
Meanwhile, Biden said, the Justice Department is fighting against discriminatory laws targeting transgender youth, while the U.S. Departments of Education and Health and Human Services have drafted rules that would better protect anti-LGBTQ discrimination "in healthcare, at school and in sports" and the White House is developing ways to combat online harassment and abuse that "disproportionately target LGBTQ people."
Finally, the White House noted: Its rollout last year of the Suicide and Crisis Lifeline for LGBTQ youth, who can now reach specially trained counselors by dialing 988 and then three; the administration's appointment of historic numbers of LGBTQ appointees at all levels of the federal government; and its repeal of bans preventing trans people from serving in the U.S. Armed Forces.
From passing federal nondiscrimination protections for LGBTQ Americans via the Equality Act to addressing "the crisis of violence against transgender women and girls of color," Biden acknowledged the work that lies ahead.
"This month and every month," his proclamation concludes, "let us celebrate the pride that powers the movement for LGBTQI+ rights and commit to doing our part to help realize the promise of America, for all Americans."
Biden condemns signing of Uganda's Anti-Homosexuality Act
National Security Council 'to evaluate' law's implications, U.S. engagement with country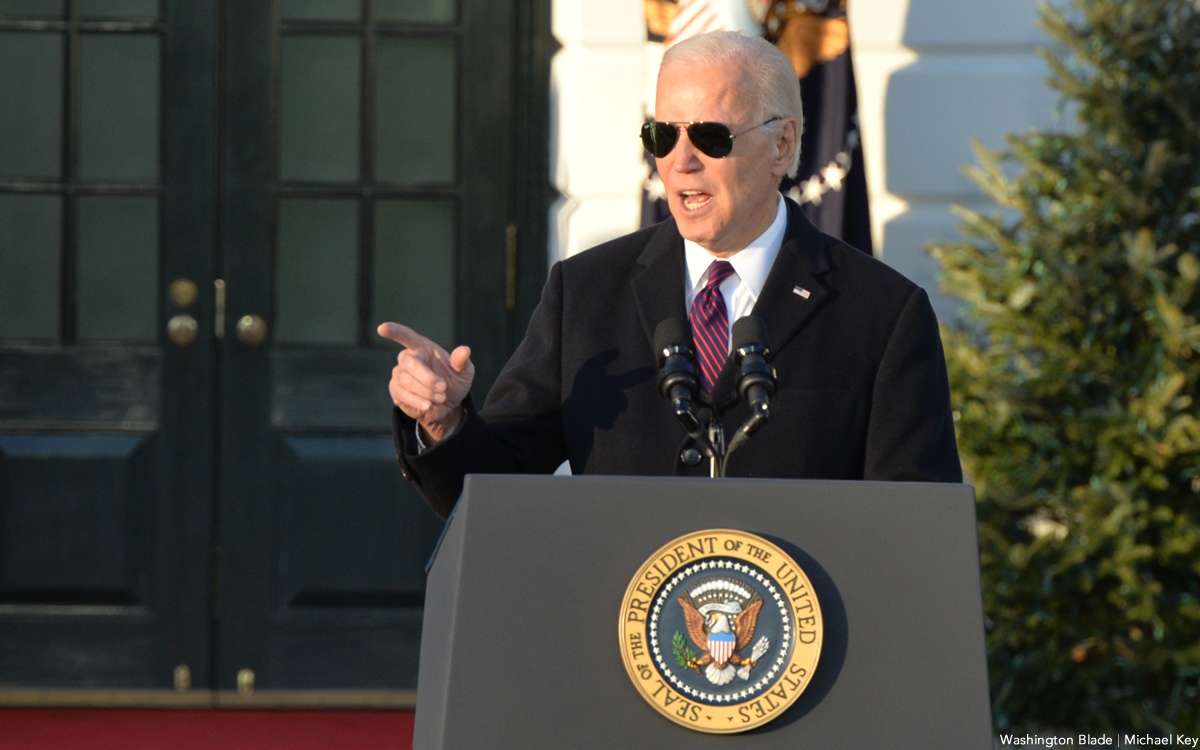 President Joe Biden on Monday condemned Uganda's Anti-Homosexuality Act that the country's president has signed.
"The enactment of Uganda's Anti-Homosexuality Act is a tragic violation of universal human rights — one that is not worthy of the Ugandan people, and one that jeopardizes the prospects of critical economic growth for the entire country," said Biden in his statement. "I join with people around the world — including many in Uganda — in calling for its immediate repeal. No one should have to live in constant fear for their life or being subjected to violence and discrimination. It is wrong."
Biden notes "reports of violence and discrimination targeting Ugandans who are or are perceived to be LGBTQI+ are on the rise," since MPs introduced the Anti-Homosexuality Act.
"Innocent Ugandans now fear going to hospitals, clinics, or other establishments to receive life-saving medical care lest they be targeted by hateful reprisals. Some have been evicted from their homes or fired from their jobs. And the prospect of graver threats — including lengthy prison sentences, violence, abuse — threatens any number of Ugandans who want nothing more than to live their lives in safety and freedom," said Biden.

"This shameful Act is the latest development in an alarming trend of human rights abuses and corruption in Uganda. The dangers posed by this democratic backsliding are a threat to everyone residing in Uganda, including U.S. government personnel, the staff of our implementing partners, tourists, members of the business community and others," added Biden. 
The version of the Anti-Homosexuality Act that President Yoweri Museveni signed contains a death penalty provision for "aggravated homosexuality."
Biden in his statement notes he has "directed my National Security Council to evaluate the implications of this law on all aspects of U.S. engagement with Uganda, including our ability to safely deliver services under the U.S. President's Emergency Plan for AIDS Relief (PEPFAR) and other forms of assistance and investments. My administration will also incorporate the impacts of the law into our review of Uganda's eligibility for the African Growth and Opportunity Act (AGOA)."  
"We are considering additional steps, including the application of sanctions and restriction of entry into the United States against anyone involved in serious human rights abuses or corruption," he said.
Ugandan media reports indicate the U.S. has revoked Parliament Speaker Anita Among's visa.
"The United States shares a deep and committed partnership with the people of Uganda. For more than 60 years, we have worked together to help millions of Ugandans live healthier, more productive lives," said Biden in his statement. "Our programs have boosted economic growth and agricultural productivity, increased investments in Ugandan businesses, and strengthened our trade cooperation. In total, the U.S. government invests nearly $1 billion annually in Uganda's people, business, institutions, and military to advance our common agenda. The scale of our commitments speaks to the value we place on this partnership — and our faith in the people of Uganda to build for themselves a better future. It is my sincere hope that we can continue to build on this progress, together and strengthen protections for the human rights of people everywhere."
 
Biden administration unveils new actions to protect youth online
Measures will seek to reduce harm from online platforms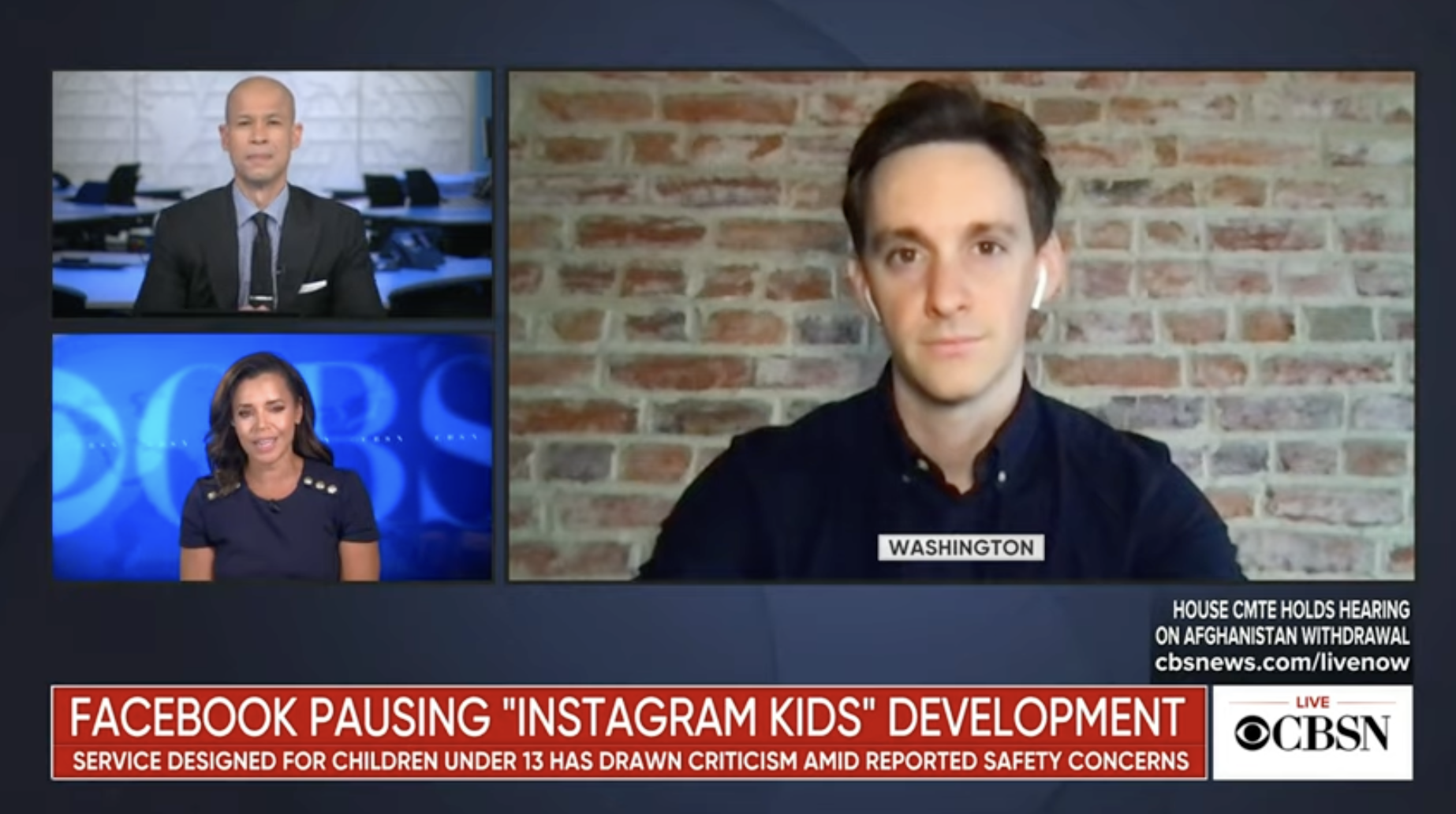 The Biden-Harris administration announced a slate of new actions on Tuesday that are designed to better protect youth on social media and online platforms by applying a whole-of-government approach to address issues concerning mental health, safety and privacy.
The White House noted that "undeniable" evidence links these technologies to the country's "unprecedented youth mental health crisis," with rates of depression and anxiety rising sharply among young people, including LGBTQ students, 69 percent of whom report having persistent feelings of sadness.
New actions previewed by the administration's fact sheet include the creation of an interagency Task Force on Kids Online Health and Safety, which will be administered by the U.S. Department of Health and Human Services' Substance Abuse and Mental Health Services Administration in coordination with the U.S. Department of Commerce.
The task force will develop a blueprint for new research on the harms and health benefits to minors caused by online platforms, "recommend measures and methods for assessing, preventing, and mitigating" the harms, and "recommend best practices and technical standards for transparency reports and audits related to online harms to the privacy, health, and safety of children and teenagers."
Work product from the task force will include resources for parents and legal guardians to better protect their children's mental health, safety and privacy online, as well as "voluntary guidance, policy recommendations and a toolkit on safety, health and privacy-by-design" for industry, with the latter expected by spring 2024.
Other initiatives highlighted in the administration's fact sheet include rulemaking by the U.S. Department of Education to protect the privacy of minor students' data and address concerns with its monetization. The agency will also be tasked with drafting "model policies and voluntary best practices for school districts on the use of internet-enabled devices."
Additionally, the White House announced, the Commerce Department will work to curb the online harassment and abuse of minors by "promoting awareness of services and support for youth victims," while the U.S. Department of Homeland Security will coordinate efforts with the U.S. Department of Justice on new approaches to "detect and investigate offenses involving child sexual abuse material."