BREAKING: Obama drops defense of DOMA
Controversial Clinton-era law deemed unconstitutional

The Justice Department on Wednesday announced it will no longer defend the controversial Defense of Marriage Act in two court cases.
In a statement, U.S. Attorney General Eric Holder said Obama that based on a number of factors, including "a documented history of discrimination," that classifications based on sexual orientation should be subject to a more heightened scrutiny in court.
"The President has also concluded that Section 3 of DOMA, as applied to legally married same-sex couples, fails to meet that standard and is therefore unconstitutional," Holder said. "Given that conclusion, the President has instructed the Department not to defend the statute in such cases. I fully concur with the President's determination."
The Obama administration made the decision as it faced two new pending cases against DOMA — Pedersen v. Office of Personnel Management, which was filed by Gay & Lesbian Advocates & Defenders, and Windsor v. United States, which was filed by the American Civil Liberties Union. The administration had deadline of March 11 to respond to the lawsuits.
But in the Second Circuit, where the cases are pending, there is no precedent for how laws concerning sexual orientation should be treated. The situation opened the door for the president to drop defense of DOMA.
LGBT rights groups quickly praised the decision. Many of them were critical on the president to discontinue his defense of DOMA in previous cases.
"The administration today acknowledges that there is no legitimate reason for this discrimination and therefore it cannot be defended under the Constitution," said Evan Wolfson, president of Freedom to Marry. "This a momentous step forward toward Freedom to Marry's goal of ending federal marriage discrimination and fully protecting all loving and committed couples."
But Brian Brown, president of the National Organization for Marriage, which opposes same-sex marriage, said in an e-mail blast to followers that the decision from the Obama administration amounted to "a constitutional outrage."
"Why do we even have courts if the President himself gets to decide which laws are constitutional?" he said.
R. Clarke Cooper, executive director of the National Log Cabin Republicans, criticized the administration for continuing its defense of "Don't Ask, Don't Tell" in court as it ceased to defend DOMA.
"This is just one more example of the Obama administration talking out of both sides of its mouth when it comes to equality for all Americans," Cooper said. "Today Log Cabin Republicans call upon the Department of Justice to also admit that 'Don't Ask, Don't Tell' is indefensible."
The Justice Department reported its decision to Congress; it's now possible that anti-LGBT members of Congress could take up defending DOMA.
Still, Republican leadership in the U.S. House expressed displeasure over the decision. Michael Steel, a spokesperson for House Speaker John Boehner (R-Ohio) criticized the timing of the announcement.
"While Americans want Washington to focus on creating jobs and cutting spending, the President will have to explain why he thinks now is the appropriate time to stir up a controversial issue that sharply divides the nation," he said.
In a statement, House Minority Leader Nancy Pelosi (D-Calif.) called the decision from the Obama administration "a victory for civil rights, fairness, and equality for the LGBT community and all Americans."
"Since its inception, the discriminatory Defense of Marriage Act has long been viewed as a violation of the equal protection clause of the Constitution," she said. "Today, the president made clear that he agrees – and I commend him for taking this bold step forward to ensure the federal government is no longer in the business of defending an indefensible statute."
DOMA, passed in 1996, defines marriage as between a man and woman and allows states to refuse to recognize same-sex marriages performed in other jurisdiction. The federal law denies more than 1,000 benefits of marriage to gay and lesbian couples.
More Americans personally know someone who's transgender, non-binary: survey
42% know a trans person, 26% know someone using gender-neutral pronouns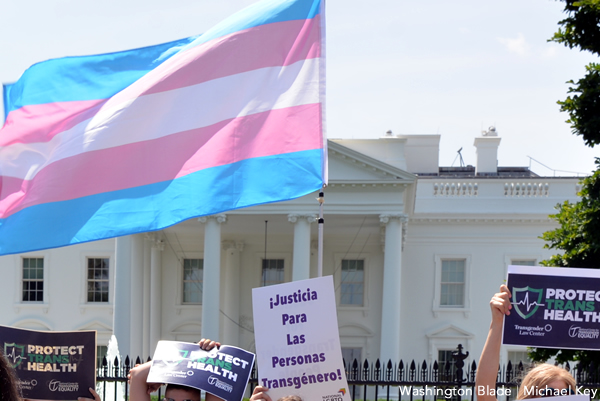 More Americans personally know a transgender person or someone who goes by gender-neutral pronouns, according to new data from the non-partisan Pew Research Center.
A survey found 42 percent of Americans know someone who's transgender, who is up from 37 percent who said so in 2017. Although most Americans, 57 percent, still say they don't know anyone who's transgender, that's down from 63 percent five years ago.
Similarly, 26 percent of Americans say they know someone who uses non-binary gender pronouns compared to the 18 percent in 2018 who said they knew someone uses pronouns such as "they" as opposed to "he" or "she."
At the same time, comfort levels with using gender-neutral pronouns – as well as their opinions on whether someone's gender can differ from the sex they were assigned at birth – has remained about the same. Half of Americans say they would be either very or somewhat comfortable using a gender-neutral pronoun to refer to someone if asked to do so, compared to 48 percent who say they would not be comfortable. The numbers, according to Pew Research, are basically unchanged since 2018.
The survey found profound differences by age, party, and education in knowing a transgender person or someone who goes by gender-neutral pronouns, although in both parties growing shares of Americans report knowing a person who's transgender.
For Americans under age 30, some 53 percent say they know a transgender person, which is up from 44 percent in 2017. In the same age group, 46 percent of younger U.S. adults know someone who goes by gender-neutral pronouns, compared to 32 percent in 2018.
The Pew Research Center conducted the survey of 10,606 U.S. adults between June 14 and June 17. The survey is weighted to reflect the U.S. adult population in terms of gender, race, ethnicity, partisan affiliation, education, and other categories, according to Pew Research.
Louisiana lawmakers fail to overturn Edwards veto of Trans sports bill
Edwards further said that the bill was "mean" because it targets "the most emotionally fragile children in the state of Louisiana."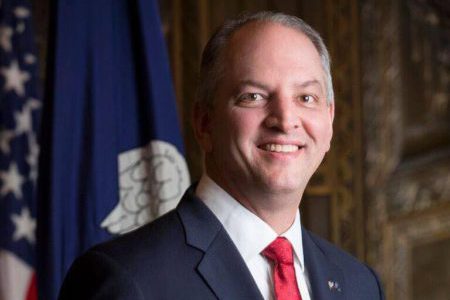 BATON ROUGE – Louisiana lawmakers failed to override Gov. John Bel Edwards' (D) veto last month of a bill that would have barred trans girls and women from participating on athletic teams or in sporting events designated for girls or women at elementary, secondary and postsecondary schools.
The measure, Senate Bill 156 authored by Sen. Beth Mizell titled the 'the Fairness in Women's Sports Act,' in the Governor's eyes, "was a solution in search of a problem that simply does not exist in Louisiana," Edwards said in his veto statement;
"As I have said repeatedly when asked about this bill, discrimination is not a Louisiana value, and this bill was a solution in search of a problem that simply does not exist in Louisiana. Even the author of the bill acknowledged throughout the legislative session that there wasn't a single case where this was an issue.
The Republican majority state House chamber failed to override the Governor's veto after voting 68-30 to override it, according to the state legislature's website.
The vote narrowly missed the 70-vote threshold needed in the lower chamber to override the veto.
Two-thirds of both the House and Senate must vote to override a governor's veto, according to the local Baton Rouge newspaper The Advocate.
The Governor reacted to the news that his veto withstood Republican efforts to overturn it in a press conference Wednesday.
Edwards noted that in his view he had "rejected a play" that had no place in Louisiana.
"I would rather the headlines going out from today be that Louisiana did what was right and best. We rejected a play out of a national playbook that just had no place in Louisiana. That bill wasn't crafted for our state, I mean go read it and look at the arguments that were made. None of that applies here," Edwards said.
He further said that the bill was "mean" because it targets "the most emotionally fragile children in the state of Louisiana."
"We have to be better than that," Edwards said. "We have to be better than that."
Federal court blocks West Virginia Law banning Trans youth sports
"It hurt that the State of West Virginia would try to block me from pursuing my dreams. I just want to play."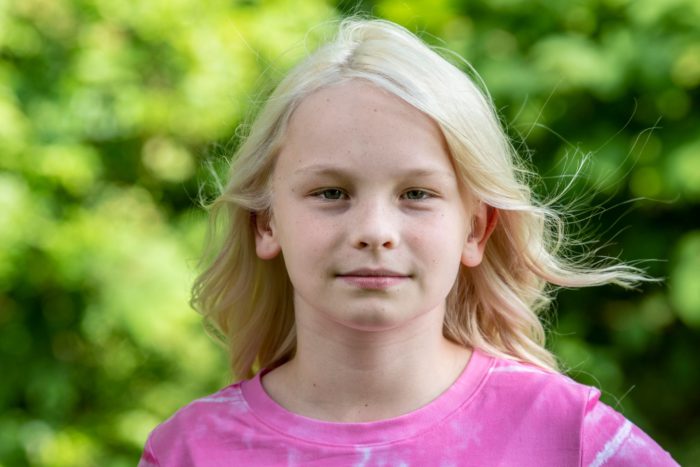 CHARLESTON, W.Va. — A judge of the United States District Court, Southern District of West Virginia ruled Wednesday that 11-year-old Becky Pepper-Jackson must be allowed to try out for the girls' cross-country and track teams at her school, blocking West Virginia from enforcing a law that bans transgender girls and women from participating in school sports.
The ruling came in the lawsuit challenging the ban filed by Lambda Legal, the American Civil Liberties Union, the ACLU of West Virginia, and Cooley LLP.
"I am excited to know that I will be able to try out for the girls' cross-country team and follow in the running shoes of my family," said Becky Pepper-Jackson, the plaintiff in the lawsuit. "It hurt that the State of West Virginia would try to block me from pursuing my dreams. I just want to play."
West Virginia Gov. Jim Justice signed H.B. 3293 into law at the end of April. It was one of hundreds of anti-LGBTQ bills pushed in state legislatures across the country in 2021. During legislative debate, it was not endorsed by any mainstream sporting or health organizations. A similar law in Idaho was blocked by a federal court in 2020, and a federal court in Connecticut recently dismissed a challenge to policies that allow all girls, including girls who are transgender, to participate on girls' sports teams. Legal challenges are underway against similar laws passed in other states.
The Supreme Court recently refused to disturb Gavin Grimm's victory at the U.S. Court of Appeals for the Fourth Circuit, where he prevailed in challenging his school's anti-transgender discrimination against him. This decision — which is binding precedent in West Virginia federal court — said that federal law protects transgender students from discrimination in schools.
"This is great news for Becky, and while our work is not done yet, today's ruling jibes with similar rulings in other courts across the country," said Avatara Smith-Carrington, Tyron Garner Memorial Law Fellow, Lambda Legal. "It is our hope that courts recognize and address discrimination when they see it, and nowhere is it more visible than in these stark attacks against trans youth."
"Becky — like all students — should have the opportunity to try out for a sports team and play with her peers," said Josh Block, senior staff attorney with the ACLU LGBTQ & HIV Project. "We hope this also sends a message to other states to stop demonizing trans kids to score political points and to let these kids live their lives in peace."
"We've said all along this cruel legislation would not survive a legal challenge, and we're encouraged by the court's decision today," said ACLU-WV Legal Director Loree Stark. "We hope trans kids throughout West Virginia who felt attacked and wronged by the passage of this legislation are feeling empowered by today's news."
"We are extremely gratified — for Becky, and for all trans youth — at the court's recognition that the law and the facts clearly support treating people who are transgender fairly and equally. Discrimination has no place in schools or anywhere else," said Kathleen Hartnett of Cooley LLP.