Best of Gay D.C. 2011: DINING
Best Late Night
Annie's Paramount Steak House
After 63 years of proudly serving D.C.'s gay and lesbian community, Annie's Paramount Steak House is still going strong (especially with a little help from a recent makeover).
When Clark Smith, late night manager at Annie's, heard that Annie's was again selected Best Late Night by Blade readers, his response was simple. He shouted, "Score!"
Annie's is a staple in our annual awards and is second only to JR.'s for most wins. This is Annie's 17th win. It won in this category in 2004, 2005, 2006 and 2010.
That enthusiasm explains why people keep coming back. Smith says there are three reasons for the venerable institution's success: "Good food, good service and good friends." Smith adds, "It's home. People come back every week. Customers get surprised when there are staff changes and they demand to know where I was when I take a week off. There's a lot of laughter and a lot of fun"
Smith also notes that Annie's is often the right place at the right time. "It's a place to sober up and see your trick in lights that are a little brighter than the bar at last call." The food also helps. The late night menu emphasizes fried foods ("exactly what you need after a night at the bar") and Smith brags that Annie's has the best burgers in D.C.
Annie's is open every day for lunch and dinner (and drinks), and is open around the clock on weekends and holidays, featuring a decadent midnight brunch. (BTC)
Annie's Paramount Steak House
1609 17th St., N.W.
202-232-0395
annies.dc.com
Best Maryland Restaurant
Bill's Terrace Inn Crabhouse and Sportsbar
When you call Bill's Terrace Inn Crabhouse and Sportsbar, you know you've found the real deal. A gruff voice tells you when the restaurant opens and gives you the price of crabs by the dozen, along with instructions for placing carryout orders and making reservations.
The voice belongs to Steve, who runs the Crabhouse. He doesn't consider the establishment particularly gay-friendly, but does say that he and his staff are friendly to everybody. He also wasn't particularly surprised by being selected Best Maryland Restaurant. He says they have "earned their reputation by being consistent and serving excellent crabs" and emphasizes that they are not an Inner Harbor tourist crab house.
According to satisfied patrons, the emphasis is on hot steamed crabs with spicy seasoning and cold beer (although the menu does include other items). The ambience is appropriately rough and tumble, with sheets of brown paper on the table, buckets on the floor and rolls of paper towels to clean up with.
Steve does reassure newcomers that ordering crabs is easy. "You order by the dozen or half-dozen. If you don't know how to tackle a crab, the staff will show you how. You just pull off the shell and tear all the meat out." He emphasizes that the crabs are served fresh; in fact, he had to cut our conversation short to pay the crabbers who had just delivered that night's dinner. (BTC)
Bill's Terrace Inn Crabhouse and Sportsbar
200 Eastern Boulevard
Essex, MD 21221
416-687-5994
Best Coffee Shop
Caribou Coffee
Located in the Logan Circle neighborhood of D.C., on the corner of Rhode Island and 14th Street, Caribou Coffee wins the title of Best Coffee Shop.
Filled with students and young professionals drowning in paper work, the coffee shop offers an excellent array of hot beverages, smoothies, teas and baked goods. The ample seating provides for a great atmosphere, and the service is, without question, a reason customers return.
Like most coffee shops, Caribou Coffee offers free Wi-Fi. With the fall and coming winter season, Caribou Coffee makes for a great place to work on your laptop or just relax and order a warm drink. (JB)
Caribou Coffee
1400 14th St., N.W.
(and other D.C. locations)
202-232-4552
Best Dessert (tie)
TangySweet and Melting Pot
TangySweet customers come for what manager Tracy D. Wilson calls its "California-style frozen yogurt," that she describes as "tangy, light and refreshing, almost citrus-y with a clean finish."
But customers return for the experience. TangySweet loves producing smiles as much as delicious desserts, with six fat-free flavors of yogurt, all made in-house, and the unlimited toppings bar for only $1.50. The Penn Quarter shop is open seven days a week from noon to 11 p.m.
TangySweet is known for its modern decor, with an emphasis on clean lines and bright atmosphere. The light cubes acting as standing tables change colors, and catch the eye, especially when it's dark out. Though the Dupont Circle location is gone, customers can still get their favorite yogurt experience at the Penn Quarter location. (PR)
TangySweet
501 7th St., N.W.
[email protected]
tangysweet.com
202-347-7893
"The Melting Pot is truly the best desert a gay man could ask for," says gay server and bartender, Steve Coblentz, who considers his coworkers at Melting Pot his "family."
"There are very few full restaurants dedicated to fondue," said general manager Megan Fricker. "The average guest spends one-and-a-half to two hours [on the four courses]."
Fricker calls the experience fun and interactive.
After cheese fondue and salad, the customer takes the reigns, cooking the third course meat entree themselves. This is followed by the famous fourth course: decadent chocolate fondue with choice of mix-ins.
The Dupont-adjacent hot spot can satisfy any diet, including vegan and gluten free.
Melting Pot accommodates groups of all sizes from the intimate — at an off-the-beaten-path section of tables called lovers lane, which consists of cozy low-lit booths for two where both lovers sit next to one another — to a party room that can hold 45.
Fricker believes that LGBT D.C. enjoys the eatery because of its wide appeal.
"We cater to everyone," Fricker says. "We just have fun. The guests see that, and that's why they come back." (PR)
Melting Pot
1220 19th St., N.W.
202-857-0777
Best Virginia Restaurant
Rangoli's
Owner Kumar Iyer knows why his restaurant won the Best of Gay DC poll (along with awards from several other local magazines and newspapers). He simply says, "We have the best Indian food in Northern Virginia."
The restaurant is named for the traditional decorative folk art of India. During Hindu festivals, colorful designs are painted on the floors of homes to attract prosperity and ward off evil spirits. In this spirit, Iyer welcomes everyone to celebrate authentic Indian food and a great neighborhood.
A native of Bombay, Iyer says he learned to cook by watching the street hawkers in his hometown make street snacks from scratch. Their influence can be tasted in the Small Bites section of his menu. For example, the Bombay Burgers (or Vada Pav) are traditional spicy potato patties served in a bun. "They're like sliders — small, tasty and filling."
With 22 years of experience in the restaurant business, Iyer boasts that his staff is always willing to "go the extra mile to achieve greatness" and credits his success to the best chef in the area and a staff who love what they do. The most popular dish in this gay-friendly restaurant is the Chicken Makhani ("everyone makes it but ours is the best"), but he says the standout dish is the Kholhapuri Chicken Curry, an authentic Indian dish made with spicy peppers. (BTC)
Rangoli's
24995 Riding Plaza, #120
South Riding, VA 20152
703-957-4900
rangolirestaurant.com
Best Date Restaurant
Floriana
The verdict is in. Everyone (gay and straight) agrees Floriana is the perfect date restaurant. The ambience is light and romantic; the service is attentive yet discreet; the food is delicious and reasonably priced; the extensive wine list covers the gamut from Champagne to European and domestic favorites; and, the desserts are the perfect size to share. This is Floriana's second consecutive win in this category.
Owner Dino Tapper says he wanted to create a "wonderful little intimate restaurant" where everyone feels welcome and secure, a place where "everybody is happy together." The restaurant, located in a renovated townhouse near Dupont Circle, offers a traditional family setting with modern and elegant touches and combines "a bit of the past and the future."
In addition to the gay-friendly ambience, Tapper emphasizes the quality of the food. Everything is made completely from scratch in the restaurant's kitchen, and all of the pasta is hand-made every day. The dinner and brunch menus are changed seasonally and feature fresh, locally sourced ingredients.
The menu emphasizes classic Italian dishes in a homemade style, and Tapper says their most popular dish is the lasagna. He encourages patrons, however, to try some of their more adventurous offerings, including the sweetbreads and the Muscovy Duck Breast.
The ultimate date restaurant, Floriana welcomes couples and families of all kinds and features appropriately dim lighting. (BTC)
Floriana
1602 17th St., N.W.
202-667-5937
florianarestaurant.com
Best Hotel Bar
P.O.V. at the W Hotel
It's easy to see why Blade readers chose P.O.V. as the best hotel bar in D.C. for the third consecutive year: the view is spectacular. From the rooftop terrace of the W Hotel in downtown D.C., diners can see the White House, the Mall, the national monuments and beyond. You can even watch planes land and take off at Reagan National Airport.
The menu features "small plates" produced by Culinary Concepts by Jean-Georges and an extensive (and expensive) list of wines and specialty cocktails. The gay-friendly restaurant serves lunch, dinner and cocktails, as well as an infamous Sunday hangover brunch. There's a DJ who entertains on Thursday, Friday and Saturday evenings and at the Sunday brunch.
P.O.V. patrons appreciate the indoor and outdoor bars (each with its own cocktail menu) and the casually elegant ambience (quite a transformation from the bar's previous life as the rooftop lounge for the staid Hotel Washington).
The staff of P.O.V. prides itself on creating a gay-friendly atmosphere where everyone feels welcome. In fact, they even answer the phone with the intriguing catch line, "whatever, whenever." (BTC)
P.O.V. at the W Hotel
515 15th St., N.W.
202-661-2478
Best Wine Bar
Cork
Cork Wine Bar began as a dream. Logan Circle residents Diane Gross and Khalid Pitts wanted to create an inviting space where neighbors could come with their friends and family to try outstanding wines, often from unexplored regions of the world, paired with good, simple, local food. They wanted to create a comfortable space where everyone felt welcome.
Judging from the response of Blade readers, they have succeeded, and the gay-friendly staff at Cork was thrilled to be honored by Blade readers. This is Cork's fourth Blade prize. It won this category the past two years and was "best new restaurant" in 2008.
Khalid and Pitts try to demystify the world of wine by offering real descriptions of what you are drinking, by serving wines from a variety of different regions and varietals, and by pairing the wines with small plates that can be shared around the table. Cork offers at least 50 wines by the glass and 160 bottles from small producers around the world.
Cork also offers bi-monthly wine tastings and a number of classes at the Cork Market and Tasting Room. Market Events include free tastings of daily featured wines and a variety of special events highlighting specific winemakers. Market Classes include four levels of "fundamentals of wine," a series of sessions to enhance the customers' dining experience and to increase their knowledge of food and wine pairings. (BTC)
Cork
1720 14th St., N.W.
202-265-2675
Best Chef
Allan Javery, Level One
Originally from Connecticut, Allan Javery has worked at a bevy of D.C. restaurants including Ten Pehn, Adour and J&G Steakhouse, before joining the staff at Level one as the executive chef in 2009. He won this award last year, too.
Recruiting Javery away from his job as sous chef at W Hotel, was one of the first things Mark Rutstein, general manager of Cobalt, did after taking over the property.
Javery oversees everything about the kitchen, including creating a schedule, purchasing equipment and creating the restaurant's menu.
He's been working in kitchens since he was a teenager, his lessons in cooking starting at home and he worked the line for several years before attending the French Culinary Institute in New York. (JE)
Best Brunch
Level One
Located just below Cobalt, Level One has a full menu, but its Disco Brunch has become a big draw on Saturdays and Sundays, with its choices priced from $8 to $16.
"Level One was essentially a stigmatized property after taking the space of the despised Food Bar," general manager Mark Rutstein says. "Immediately, we changed chefs and management to show that we know what 17th Street wants."
The menu describes items with disco-themed names like Benny & the Jets Crab Cake, Dancing Queen Caesar B.L.T. Wrap or Stayin' Alive Bagel and Lox.
One of the challenges Rutstein and his staff faced was making Level One its own distinct place.
"Who really wants to eat at the club [they] were at the night before?" Rutstein says. "Nobody." (JE)
Level One
1639 R St., N.W.
202-745-0025
levelonedc.com
Best New Restaurant
El Centro, D.F. Taquileria and Taqueria
El Centro, D.F. Tequileria and Taqueria, which opened in May, is a Richard Sandoval restaurant that serves authentic Mexican comfort food and fine tequilas throughout three spaces.
There's the open kitchen backdrop of the Taqueria with casual dining and tacos to go, the underground Tequileria with 200 tequilas and mezcals and then there's the rooftop with two open-air bars.
"El Centro D.F. captures the energy of some of my favorite eateries in Mexico City," says Sandoval in a press release. "The restaurant's menu is based on traditional dishes."
Visitors can get guacamole prepared tableside, chipotle shrimp and chicken tinga tamales.
El D.F. also offers various tequila tasting menus with options such as tasting three different aged tequilas from one family or three high-end tequilas from different families. (JE)
El Centro D.F.
1819 14th St., N.W.
202-328-3131
richardsandoval.com/elcentrodf
Best Ethnic Restaurant
Etete
Etete, the Ethiopian-inspired restaurant, is a little taste of heaven.
Some call it "Little Ethiopia." Its distinctive décor and plasma TVs set it apart. The restaurant is a family-owned business under the operation of Yared Tesfaye. The name Etete is the nickname of his mother, who has been a chef in the D.C. area for 15 years. Yared says cooking was not a job to his mother but more of a passion and for that reason he dedicated the restaurant to her, a place where she can express her craft.
Etete has been successfully running now since 2005. Yared credits the nearby Nellie's Sports Bar as the reason for an abundance of patrons from the gay community. Nellie's Sports Bar was voted Best Neighborhood bar in 2010's Best of Gay D.C. reader's poll. When asked how it feels to have won, Yared says, "We are very blessed, we do it from the heart. Throughout the past seven years we have been voted best in various newspapers, it feels good to know that our hard work has paid off." (JN)
Etete
1942 9th St., N.W.
202-232-7600
eteterestaurant.com
Best Vegetarian Restaurant
Busboys & Poets
Last year's winners for "Best Place for Food and Free WiFi," Busboys and Poets now operates three successful locations. This is the business's third Blade prize.
Busboys and Poets prides itself on being a gathering place for artists, activists, writers, thinkers and dreamers. The late American poet Langston Hughes, who worked as a busboy in the 1920s at the Wardman Park Hotel, inspired the restaurant's name. "Winning this year for Best Vegetarian Restaurant definitely speaks for our diverse appeal," said a restaurant spokesperson. "It's for the old and the young, the dietary restricted, even meat lovers would enjoy our menu."
Busboys and Poets has been in business for six years now with its newest location on 5th and K open since 2008. There's also a location in Arlington.
The spinach and wheat berry salad is a favorite among vegan customers. The restaurant strives to maintain an inviting and open atmosphere. Busboys and Poets hosts weekly Open Mic Nights, readings, viewings and live music. (JN)
Busboys & Poets
2021 14th St, N.W.
202-387-7638
Best Rehoboth Restaurant
Blue Moon
Most visitors to Rehoboth think of the Blue Moon for its popular bar area and the regular entertainers who perform there like Pamala Stanley and Mona Lotts. But what locals know is that the Moon's restaurant is arguably the best in town, and Blade readers agree.
In stark contrast to the lively, noisy bar, the Moon's restaurant side is quiet and romantic, especially the front tables that look out onto Baltimore Avenue. You can't go wrong on the menu, but the braised veal short ribs and golden tilefish are standouts. If you're lucky, the chef will send out a plate of bacon-wrapped figs stuffed with blue cheese as a starter. Divine.
It's definitely a special occasion sort of place, with entrees around $25, but watch for specials. "Tasting Tuesday" offers terrific value — held 5:30-9:30 p.m. on Tuesdays, diners get three courses, each paired with a glass of wine, for just $35. Reservations strongly recommended. Blue Moon serves dinner seven days a week beginning at 5:30 p.m. and remains open through New Year's. The entire complex closes for a few weeks in January but reopens in February. Check the website for updates on the off-season schedule. (KN)
Blue Moon
35 Baltimore Ave.
Rehoboth Beach, DE 19971
302-227-6515
bluemoonrehoboth.com
LGBTQ people: Canaries in a violent coal mine
We continue to be targets We continue to be targets of politically inspired attacks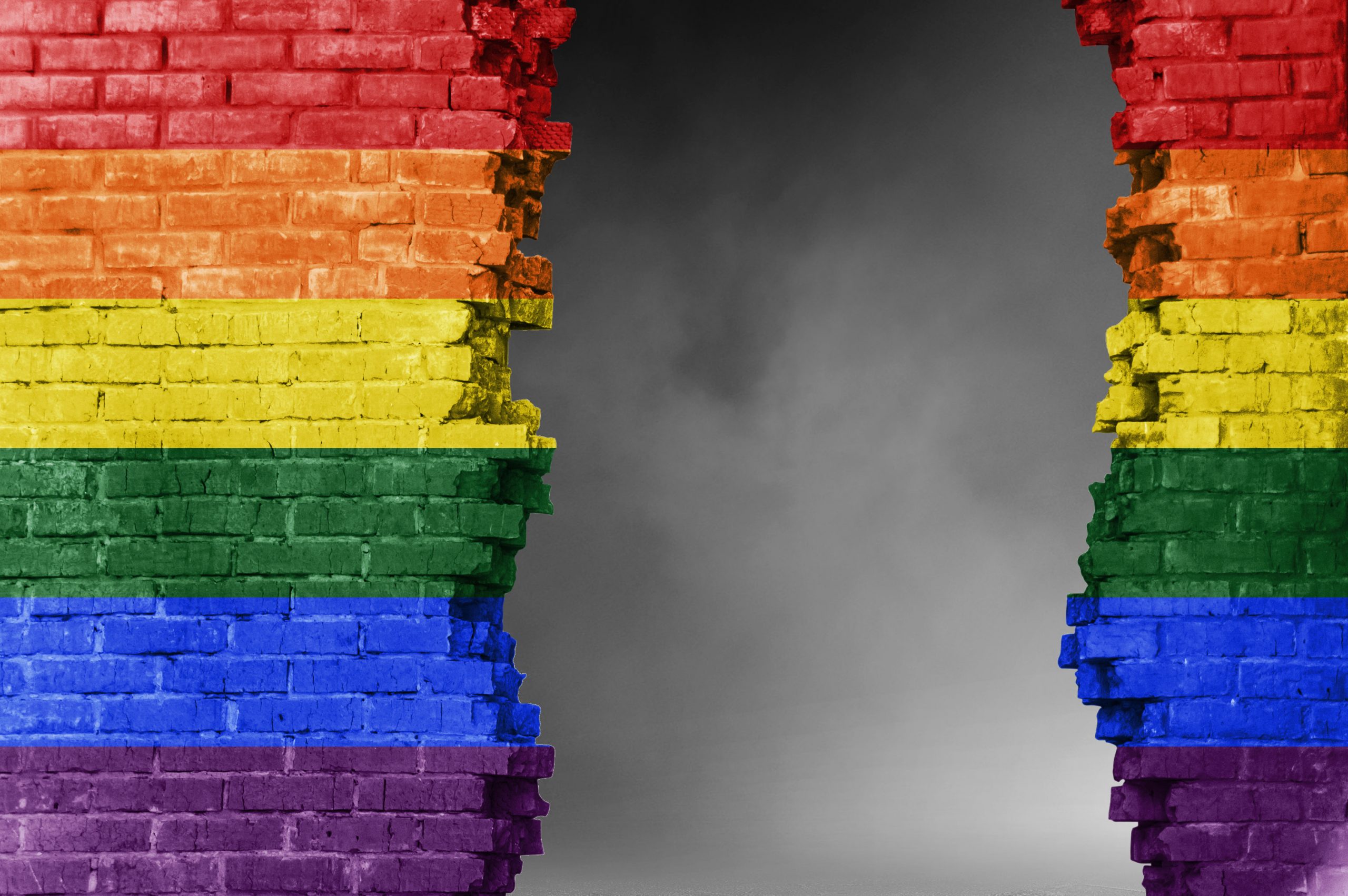 Did you read about the group of staid U.S. historians who just met privately with President Biden to warn him that U.S. democracy is teetering? They told him we're closer to civil war and authoritarian rule than at any point in history since the 1860s.
Guess who knew that already? Queer people. Black people. Immigrants. Women. Politicians on the right are using us as punching bags, and violence is breaking out everywhere.
It's not in our imaginations, and I'll show you the data in just a minute to back that up. Then I'll explain what that has to do with the breakdown of democracy.
But first, let's meet some canaries.
Chuck Johnson and J.P. Singh recently told the Washington Blade a group of young men spotted them holding hands steps away from their D.C. home. As the couple was returning from an evening out, the group shouted that they were "faggots" and punched them both. The couple ran, but the men chased them down. They knocked Chuck to the ground, punching and kicking him.
Responding to J.P.'s 911 call, EMS rushed Chuck to the hospital where he was treated for a broken thumb and underwent surgery for a jaw broken in two places.
According to the Blade, another gay couple was attacked in D.C. under similar unprovoked circumstances on Aug. 7, chased down by random strangers who objected to them holding hands, then called them "monkeypox faggots," knocking them to the ground, brutally punching and kicking them.
Jacob and Christian are also canaries.
They're a gay couple who were attacked while standing at the end of Christian's driveway in a suburb of Salt Lake City, Utah in July. A group of young men in a car spotted them hugging. They jumped out, yelling, "We don't like gay people in our street."
Christian tried to defend Jacob from violence by stepping in front of him. He ended up on the ground, beaten so badly he landed in the hospital diagnosed with brain swelling.
I interviewed Christian and his family earlier this month and learned that he often puts up with anti-gay slurs shouted at him in the street by random strangers.
Over the past week, nurses and doctors in Boston have received a barrage of hateful phone calls and text messages, including at least one bomb threat, inspired by anti-LGBTQ extremist Chaya Raichik of Brooklyn who tweets as Libs of Tiktok. Raichik objects to parents choosing gender-affirming care for transgender teens, and she objects to medical providers delivering that care. She used Twitter to unleash an army of Proud Boys and other haters.
Slate reporter and Harvard Law instructor Alejandra Caraballo tweeted this: "In the last 5 days, Libs of Tiktok has tweeted and retweeted 14 posts about Boston Children's Hospital. As a result, BCH providers are being inundated in death threats and harassing calls and emails. It's now affecting their services. This is stochastic terrorism, full stop."
When I saw the tweet, I called a friend of mine who practices internal medicine at a different Boston hospital. As I asked him for a comment, he reminded me that we watched the 2016 election returns together at a bar in Detroit.
"I won't say I told you so," he said. "But I told you so."
I remembered how fearful he became the night Donald Trump was elected. "I'm from Lebanon," he reminded me, "and my last name broadcasts 'Arab' loud and clear. Trump is going to make my life hell, and since you're a gay man, you'd better be as worried as I am."
Libs of Tiktok is the tip of the iceberg on Twitter, where attacks against LGBTQ people are constant background noise, and where community standards meant to prohibit slurs and attacks are rarely enforced. Caraballo asks in her tweet thread, "When will Twitter do something about [Libs of TikTok] and their ability to rile up massive harassment campaigns against their targets? Last time it was Nazis at pride and drag events. This time it's threatening pediatricians."
According to a new study released on Aug. 10 by the Human Rights Campaign and the Center for Countering Digital Hate, "discriminatory and inflammatory "grooming" content surge by over 400% across social media platforms" in response to Florida's Don't Say Gay law.
According to Christopher Kane writing in the Los Angeles Blade, major social media platforms including Facebook and Twitter are doing almost nothing to counter growing waves of anti-LGBTQ hate speech on their platforms. Both platforms claim their rules prohibit users from calling LGBTQ people pedophiles or groomers, but neither platform routinely removes such slurs, not even when users report the slurs.
According to Alexandra Martinez writing in Prism, anti-LGBTQ arson and frequent street attacks in New York City have left queer people this summer living with a gnawing feeling of unease.
It's not just New York City. She notes that 2021 was the deadliest year on record for LGBTQ people in the U.S., and that violence rates are surging higher in 2022.
Remember Ricky Shiffer who was shot and killed after he tried to shoot up an Ohio FBI office? He was outraged that the FBI searched Donald Trump's Mar-a-Lago resort. He urged people to arm themselves and join him.
Did you know hatred of LGBTQ people is one of the reasons he supported Trump? Read this tweet, in an account deleted after his attack:
"We need to be ready for war against the communists who chemically nueter [sic] prebuscent [sic] children and call it gender transitioning, not bellyache about the arguments of 30 years ago. Save ammunition."
Large majorities of Americans say they support LGBTQ equality. Large majorities of Americans say they believe our nation should stand for freedom and liberty for all, including for marginalized people. Large majorities of Americans support women's reproductive freedom, support taking steps to lift up Black people, and support immigrant rights.
Large majorities of Americans want to live in a diverse, pluralistic society where everyone is free to pursue happiness and live in peace.
I wrote this column from the perspective of a queer person, but my Lebanese-American doctor friend could have written something similar from his immigrant perspective. My writer friend Allison Gaines could have written from the perspective of a Black woman.
We share a common fear: that politically and religiously conservative white men are working as hard as they can to sow fear of the Other for personal power and privilege. Men like Donald Trump, Florida Gov. Ron DeSantis, Texas Gov. Greg Abbott, and many more are plying the demagogue's trade.
Leaders are spouting hate, seeking to establish or maintain minority rule, and historians are warning President Biden that they may very well succeed.
Chuck Johnson, J.P. Singh, Chad Sanford, Jacob Metcalf, Christian Peacock, and a score of nurses and doctors at Boston Children's Hospital already know. They've been the targets of extreme violence in the past few weeks, directed by people using hatred of the Other to prop up their own privilege and power.
I opened this article by writing about the historians who told President Biden that we're at a place we haven't been since the 1860s. In the same meeting, they made a more frightening comparison.
They warned the president we're at a very similar place to where Germany found itself in the 1930s when a demagogue took power by demonizing the Jews. They say a war like the one that destroyed Europe could repeat itself soon, only with the U.S. in the driver's seat.
We worry the rest of you don't see and hear the hatred directed against us. We worry that you're too complacent. We don't think you appreciate the gravity of the crisis facing our nation. We fear apathy will let the the Republican Party seize Congress and state governments this November, unleashing a process that could cement minority rule for generations.
Extremists in the Republican Party are already quietly taking over state election offices, something the Washington Post warned about last November.
Will Democratic voter turnout this November be overwhelming? Will it be enough to stop the assault on our teetering Democracy?
Only you can help make that happen. Will you?
(The preceding article was previously published by Prism & Pen– Amplifying LGBTQ voices through the art of storytelling and is republished by permission.)
James Finn is a columnist for the Los Angeles Blade, a former Air Force intelligence analyst, and alumnus of Queer Nation and ACT UP. Reach him at [email protected].
Anne Heche dies after removal from life support
Actress dated Ellen DeGeneres in late 1990s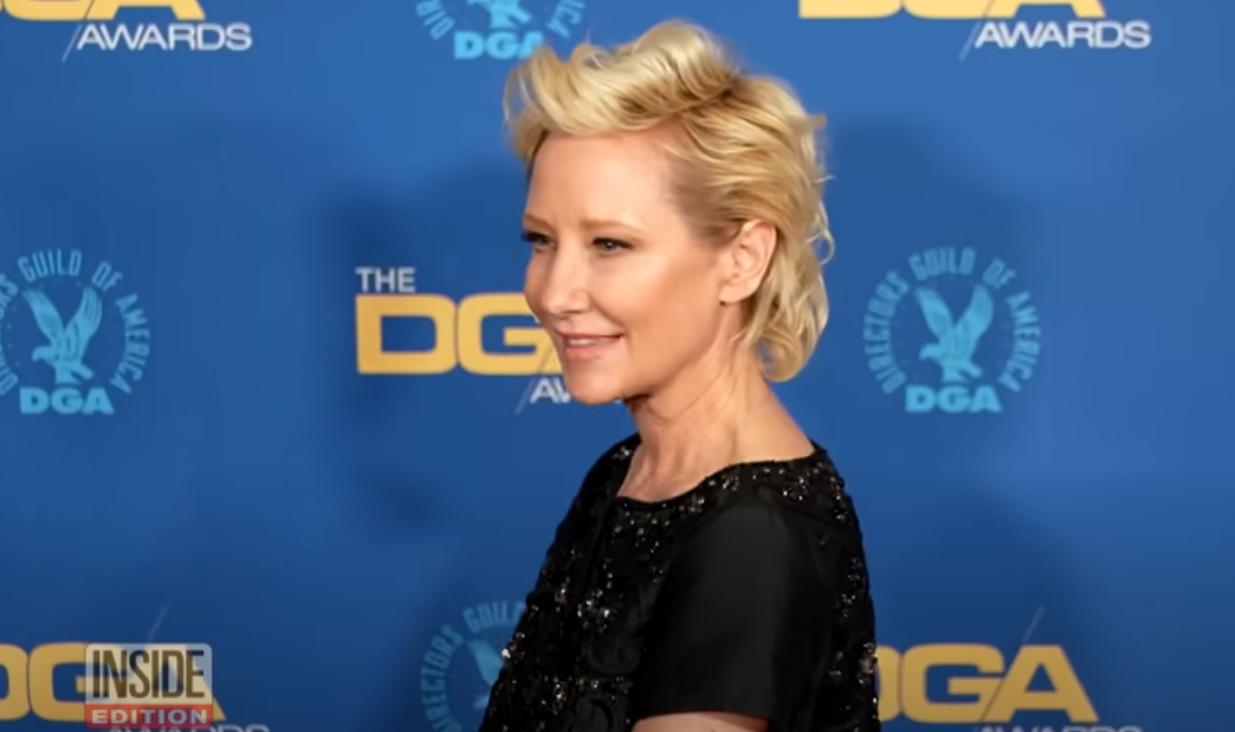 Actress Anne Heche died after she was removed from life support on Sunday, nearly two weeks after her Mini-Cooper crashed through a two-story house in Los Angeles' Mar Vista neighborhood. Investigators with the Los Angeles Police Department believe she was intoxicated at the time.
She sustained a severe anoxic brain injury along with severe burns and was being treated at the Grossman Burn Center at West Hills Hospital, near Chatsworth in the San Fernando Valley.
The 53-year-old actress who was a star of films like "Donnie Brasco," the political satire "Wag the Dog" and the 1998 remake of "Psycho," had been declared legally dead under California law on Friday, however, her family kept her alive long enough to be an organ donor.
In a statement Friday, the LAPD announced that: "As of today, there will be no further investigative efforts made in this case. Any information or records that have been requested prior to this turn of events will still be collected as they arrive as a matter of formalities and included in the overall case. When a person suspected of a crime expires, we do not present for filing consideration." LAPD detectives had previously made public that investigators into the crash found narcotics in a blood sample taken from Heche.
The actress's family released a statement on Friday:
"Today we lost a bright light, a kind and most joyful soul, a loving mother, and a loyal friend. Anne will be deeply missed but she lives on through her beautiful sons, her iconic body of work, and her passionate advocacy. Her bravery for always standing in her truth, spreading her message of love and acceptance, will continue to have a lasting impact," the statement added.
Heche was married to camera operator Coleman Laffoon from 2001 to 2009. The two had a son, Homer, together. She had another son, named Atlas, during a relationship with actor James Tupper, her co-star on the TV series "Men In Trees."
Laffoon left a moving tribute on an Instagram reel in which he also gave an update on how their 20-year-old son Homer Laffoon is coping with the loss of his mother.
"I loved her and I miss her, and I'm always going to," he said adding: "Homer is okay. He's grieving, of course, and it's rough. It's really rough, as probably anybody can imagine. But he's surrounded by family and he's strong, and he's gonna be okay."
"Rest In Peace, Mom, I love you, Homer," the actor's 20-year-old son, Homer, said in a statement after Heche was declared legally dead on Friday." My brother Atlas and I lost our Mom," read the statement. "After six days of almost unbelievable emotional swings, I am left with a deep, wordless sadness. Hopefully, my mom is free from pain and beginning to explore what I like to imagine as her eternal freedom. Over those six days, thousands of friends, family, and fans made their hearts known to me. I am grateful for their love, as I am for the support of my Dad, Coley, and my stepmom Alexi who continue to be my rock during this time. Rest In Peace Mom, I love you, Homer."
Tupper, a Canadian actor who starred alongside Heche in "Men in Trees," had a 13-year-old son, Atlas, with her. "Love you forever," Tupper, 57, wrote on his Instagram post's caption with a broken heart emoji, which shared an image of the actress from Men in Trees.
Between 1997 and 2000, Heche was also in a relationship with talk show host Ellen DeGeneres.
"This is a sad day," DeGeneres posted on Twitter. "I'm sending Anne's children, family and friends all of my love." The year after her break-up with the comedian, in September 2001, Heche recounted in her memoir "Call Me Crazy," about her lifelong struggles with mental health and a childhood of abuse.
KTLA's entertainment reporter Sam Rubin noted that over the past two decades, Heche's career pivoted several times. In 2017, she hosted a weekly radio show on SiriusXM with Jason Ellis called "Love and Heche."
In 2020, Heche made her way into the podcast world. She launched "Better Together" which she cohosted alongside Heather Duffy Boylston. The show was described as a way to celebrate friendship.
She also worked in smaller films, on Broadway, and on TV shows. She recently had recurring roles on the network series "Chicago P.D.," and "All Rise" and was a contestant on "Dancing with the Stars."
People magazine reported that several of Heche's acting projects are expected to be released posthumously.
These include "Girl in Room 13," expected to be released on Lifetime in September, "What Remains," scheduled to be released in 2023, and HBO Max TV series "The Idol," created by Abel Tesfaye (The Weeknd) and Euphoria creator Sam Levinson.
In her Instagram post from earlier this year Heche stands between her sons Atlas, 13 and Homer, 20.
From KTLA:
'Star Trek' actress Nichelle Nichols dies at 89
George Takei tweets 'we lived long and prospered together'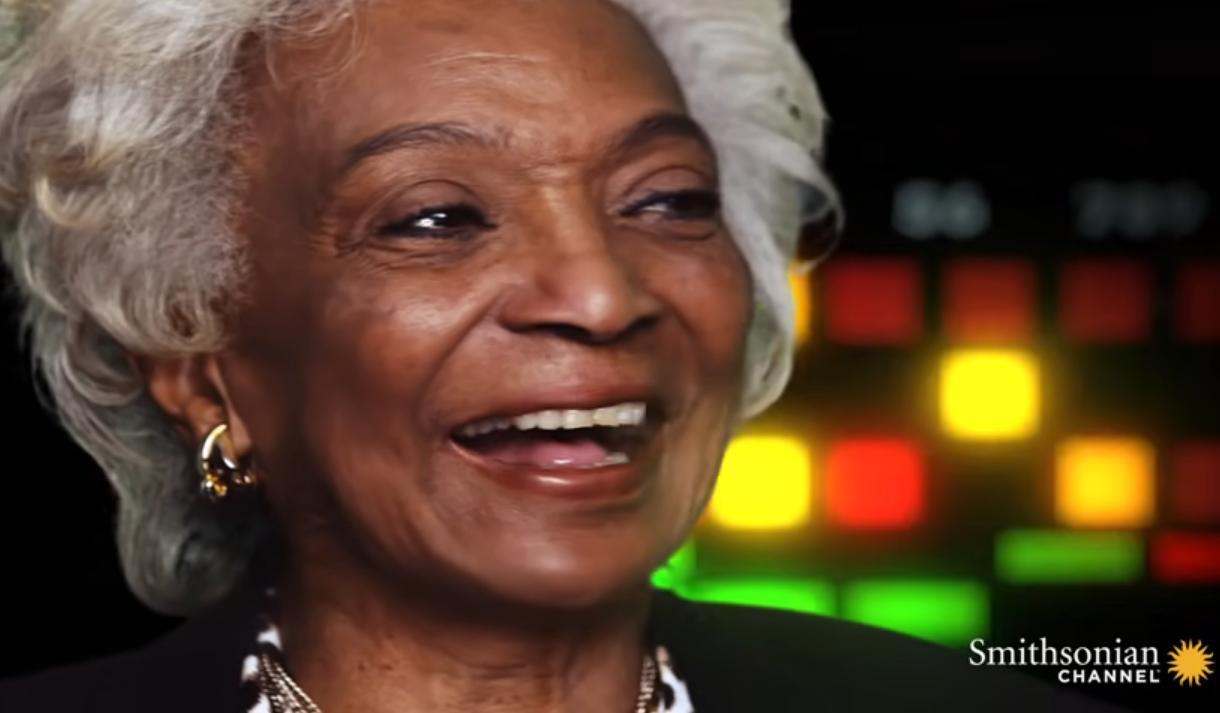 She was a groundbreaking cultural icon who broke barriers in a time of societal upheaval and battling for the civil rights of Black Americans. An actress, a mother and thoroughly devoted to the legions of fans of "Star Trek," Nichelle Nichols, Star Trek's Lt. Nyota Uhura, has died at 89.
The announcement on her Facebook page by her son read:
Sunday, July 31, 2022
Friends, Fans, Colleagues, World
I regret to inform you that a great light in the firmament no longer shines for us as it has for so many years.
Last night, my mother, Nichelle Nichols, succumbed to natural causes and passed away. Her light however, like the ancient galaxies now being seen for the first time, will remain for us and future generations to enjoy, learn from, and draw inspiration.
Hers was a life well lived and as such a model for us all.
I, and the rest of our family, would appreciate your patience and forbearance as we grieve her loss until we can recover sufficiently to speak further. Her services will be for family members and the closest of her friends and we request that her and our privacy be respected.
Live Long and Prosper,
Kyle Johnson
Nichols was born in Robbins, Ill., in 1932, according to her IMDb page. Legendary composer Duke Ellington "discovered" Nichols and helped her become a singer and dancer. She later turned to acting, and joined Gene Roddenberry's "Star Trek," where she played Uhura from 1966 to 1969.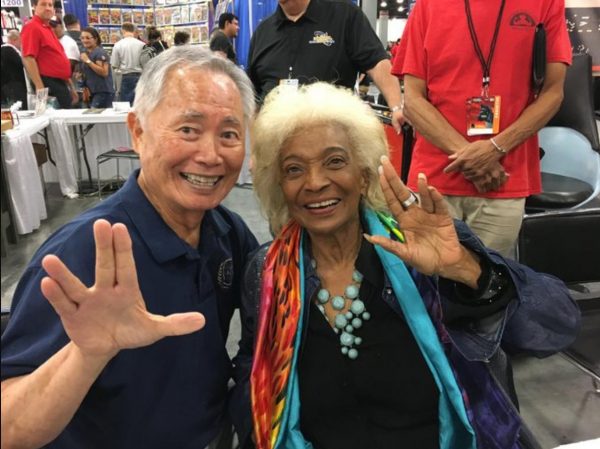 It was in that role of Uhura that Nichols not only broke barriers between races, most famously her onscreen kiss, the first between a Black person and a white person, with castmate William Shatner, who played Capt. James T. Kirk, but she also became a role model for young Black women and men inspiring them to seek out their own places in science, technology, and other human endeavors.
In numerous interviews over the years Nichols often recalled how the Rev. Martin Luther King, Jr., was a fan of the show and praised her role and personally encouraged her to stay with the series.
When the first series ended Nichols went on to become a spokesperson for NASA, where she "helped recruit and inspire a new generation of fearless astronauts." She later reprised her role in several successful "Star Trek" films and continued to advocate for the advancement of Black Americans especially in the areas of science and technology.
We celebrate the life of Nichelle Nichols, Star Trek actor, trailblazer, and role model, who symbolized to so many what was possible. She partnered with us to recruit some of the first women and minority astronauts, and inspired generations to reach for the stars. pic.twitter.com/pmQaKDb5zw

— NASA (@NASA) July 31, 2022
Formerly a NASA deputy administrator, Frederick Gregory, now 81, told the Associated Press he once saw an advertisement in which Nichols said "I want you to apply for the NASA program."
"She was talking to me," he recounted. The U.S. Air Force pilot would apply and later become the first African American shuttle pilot.
President Joe Biden weighed in Sunday afternoon on her passing in a statement issued by the White House:
"In Nichelle Nichols, our nation has lost a trailblazer of stage and screen who redefined what is possible for Black Americans and women.

A daughter of a working-class family from Illinois, she first honed her craft as an actor and singer in Chicago before touring the country and the world performing with the likes of Duke Ellington and giving life to the words of James Baldwin.

During the height of the Civil Rights Movement, she shattered stereotypes to become the first Black woman to act in a major role on a primetime television show with her groundbreaking portrayal of Lt. Uhura in the original Star Trek. With a defining dignity and authority, she helped tell a central story that reimagined scientific pursuits and discoveries. And she continued this legacy by going on to work with NASA to empower generations of Americans from every background to reach for the stars and beyond.

Our nation is forever indebted to inspiring artists like Nichelle Nichols, who show us a future where unity, dignity, and respect are cornerstones of every society."
Nichols son said that services will be private for family members and her closest friends.
In 2008 the actress at a news conference, coordinated by the filmmakers of the motion picture "TRU LOVED," in honor of the more than 900 students at Los Angeles' Miguel Contreras Learning Complex's School of Social Justice who participated in the GLSEN Day of Silence.
Nichelle Nichols speaks on LGBTQ rights:
Her fellow castmate and life long friend, openly Out actor George Takei shared his sadness on hearing of Nichols' passing on Twitter:
We lived long and prospered together. pic.twitter.com/MgLjOeZ98X

— George Takei (@GeorgeTakei) July 31, 2022
From the September 2016 edition of the Smithsonian Channel: "Star Trek's decision to cast Nichelle Nichols, an African American woman, as major character on the show was an almost unheard-of move in 1966. But for black women all over the country, it redefined the notions of what was possible."
Star Trek's Nichelle Nichols on Uhura's Radical Impact: