Calendar: Dec. 2
Parties, events, concerts and more through Dec. 8

TODAY (Friday) 
The D.C. Center (1318 U St., N.W.) is holding its monthly open mic night tonight from 8 to 10 p.m., featuring guest J.T. Bullock, a poet, writer and aspiring teller of stories. Bullock's been featured at Sparkle and Capturing Fire and is working on a one-man show which debuted as a work in progress at the Wooly Mammoth Theater. The event is hosted by Mike Brazell.
"The A List Show" is tonight at Remingtons (639 Pennslyvania Ave.) at 11:30 p.m. hosted by Miss Remingtons Brandonna DuPri with special guest Stasha Sanchez and MC Tony "And I Thank You" Nelson.
LezGetTogether.com presents "Lez Have a Gay 'Ol Time" tonight from 7:30 to 10:30 p.m. at Science Club (1136 19th St., N.W.) featuring trivia, an ugly holiday sweater contest, raffles and more. There's a $4 cover with a $2 discount for wearing an ugly holiday sweater and entering the contest and a $1 discount for wearing a Santa hat, Rudolph nose, antlers or mustache.
Red Fridays presents Will Eastman's birthday party with Cosmo Baker, Sam Burns, Chris Nitti and Lxsx Frxnk tonight at U Street Music Hall (1115 U St., N.W.) at 10 p.m. This event is free for attendees 21 and older. Attendees from 18 to 20 must purchase tickets in advance for $10 at ustreetmusichall.com.
Baltimore filmmaker Matt Porterfield presents Andy Warhol's "Chelsea Girls" tonight at the Patterson (3134 Eastern Ave.) in Baltimore at 7 p.m. Presented in split screen with alternating soundtracks and alternation between black and white and color photography, the film follows the lives of several young women who lived at the Hotel Chelsea. Tickets are $12 for general admission and $7 for Creative Alliance members. For more information and to purchase tickets, visit creativelliance.org.
Touchstone Gallery (901 New York Ave., N.W.) is having an opening reception tonight from 6 to 8:30 p.m. for its newest exhibits "Eclipsed by the Cloud: the Detritus of Obsolescent Technology" featuring totems created with obsolete technology by Rima Schulkind and "Small Treasures" featuring artworks small in size and price by a wide array of artists. For more information on either exhibit, visit touchstonegallery.com.
Saturday, Dec. 3
The D.C. Trans Coalition is having its annual community forum today at 12:30 p.m. at the Columbia Heights Community Center (1480 Girard St., N.W.). There will be food, drink and a limited number of transportation vouchers and door prizes. For more information, visitdctranscoalition.org.
Black Cat (1811 14th St., N.W.) presents Hellmouth Happy Hour where every week an episode of "Buffy the Vampire Slayer" will be screened and drink specials will be offered. This week the episode is "Homecoming."
It's the last day to view the exhibit "Above the Radar II" at The Fridge (516 1/2 8th St., S.E.) featuring 100 pieces from more than 40 artists. The Fridge is open from noon to 8 p.m. For more information, visit thefridgedc.com.
The Baltimore Symphony Orchestra will be performing Handel's "Messiah" tonight at the Music Center at Strathmore (5301 Tuckerman Lane) in North Bethesda at 8 p.m. Tickets range from $28 to $88 and can be purchased online at bsomusic.org.
Lambda Squares, D.C.'s LGBT square dancing group, is having a community dance tonight at the Francis Scott Key Middle School (910 Schindler Dr.) in Silver Spring from 7 to 10 p.m. with caller Butch Adams. There's a $10 entrance fee. The theme this year is Proud Mary. For more information, visit dclambdasquares.org.
Crack presents "Crack High: A School-Themed Variety Show" tonight at Town (2009 8th St., N.W.) at 10 p.m. Tickets are $10 and doors open at 9 p.m. All attendees must be 21 or older. There will also be a matinee performance on Sunday at 6 p.m. Tickets to this show are $8.
Sunday, Dec. 4
Creative Alliance presents "Merry Mart" hosted by Jen Menkhaus and Allison Fomich today from 11 a.m. to 5 p.m. at the Patterson (3134 Eastern Ave.) in Baltimore. The show will feature clothing, handbags, felt accessories, ceramics and more by crafters from Charm City Craft Mafia, the Baltimore Etsy Street Team and more. This is a free event. For more information visit the Merry Mart blog and merrymartbaltimore.blogspot.com.
The Logan Circle Community Association is having its 33rd annual Logan Circle Holiday House Tour today from 1 p.m. to 5 p.m. with more than a dozen properties opened for self guided tours. Check-in at Studio Theatre (1501 14th St., N.W.) to get a tour guide. There will also be a reception from 3 to 5:30 at the theater. Advance tickets are $25 and can be purchased online at logancircle.org. Same day tickets are $30 and can be purchased at Studio Theatre.
Monday, Dec. 5
The D.C. Center (1318 U St., N.W.) is having its monthly volunteer night tonight from 6:30 to 8:30 p.m. Tonight's activities could range from sorting through book donations, cleaning up around the center and taking inventory for Fuk!ts, as well as socializing. Pizza will provided.
WEAVE, a support group for LGBT survivors of intimate partner violence/abuse, meets from 7 to 8 p.m. tonight at the Lighthouse Center for Healing (5321 First Place, N.E.). For more information and to register, call 202-280-6391.
Tuesday, Dec. 6
Gays and Lesbians Opposing Violence (GLOV) is celebrating the end of the year with a happy hour and appreciation tonight from 6:30 to 8:30 p.m. at Duplex Diner (2004 18th St., N.W.). Proceeds from drink sales will benefit the organization. For more information, visitglovdc.org.
Nellie's (900 U St., N.W.) presents its "Glee" watch party tonight at 8 p.m. on the deck in the pub room.
Wednesday, Dec. 7
Find our Foursquare list "This Week" here
The Kennedy Center (2700 F St., N.W.) presents the 38th annual "Merry TubaChristmas!" today at 6 p.m. Founded by Harvey Phillips, the concert features tuba, sousaphone and euphonium players from around D.C. playing traditional Christmas music. This is a free performance.
Riot Act Comedy Theater's (801 E St., N.W.) monthly gay and gay-friendly comedy show "Gay-larious" returns tonight at 8:30 p.m. with Adam Lehman and co-founders Chris Doucette and Zach Toczynski. Tickets are $15 and can be purchased online atriotactcomedy.com.
The Tom Davoren Social Bridge Club is meeting tonight at 7:30 p.m. at the Dignity Center (721 8th St., S.E.), across from the Marine barracks, for social bridge.  No partner is needed. For more information, visit lambdabridge.com and click on "Social Bridge in Washington."
Thursday, Dec. 8
The American Ballet Theatre performs "The Nutcracker" tonight at the Kennedy Center (2700 F St., N.W.) at 7:30 p.m. Tickets range from $45 to $150 and can be purchased online atkennedy-center.org.
Nellie's (900 U St., N.W.) is hosting a fundraiser for Jack Evans, Councilmember for Ward 2, to be reelected in 2012 tonight at 7 p.m. Also a Nellie's is the Washington Wetskins Water Polo Happy Hour from 5 to 8 p.m., during which $1 from every Nellie beer sold goes toward the team.
2021 Best of LGBTQ DC Readers' Choice Award Finalist Voting
Vote for your favorite finalist in our 2021 Best of LGBTQ DC categories through October 3rd.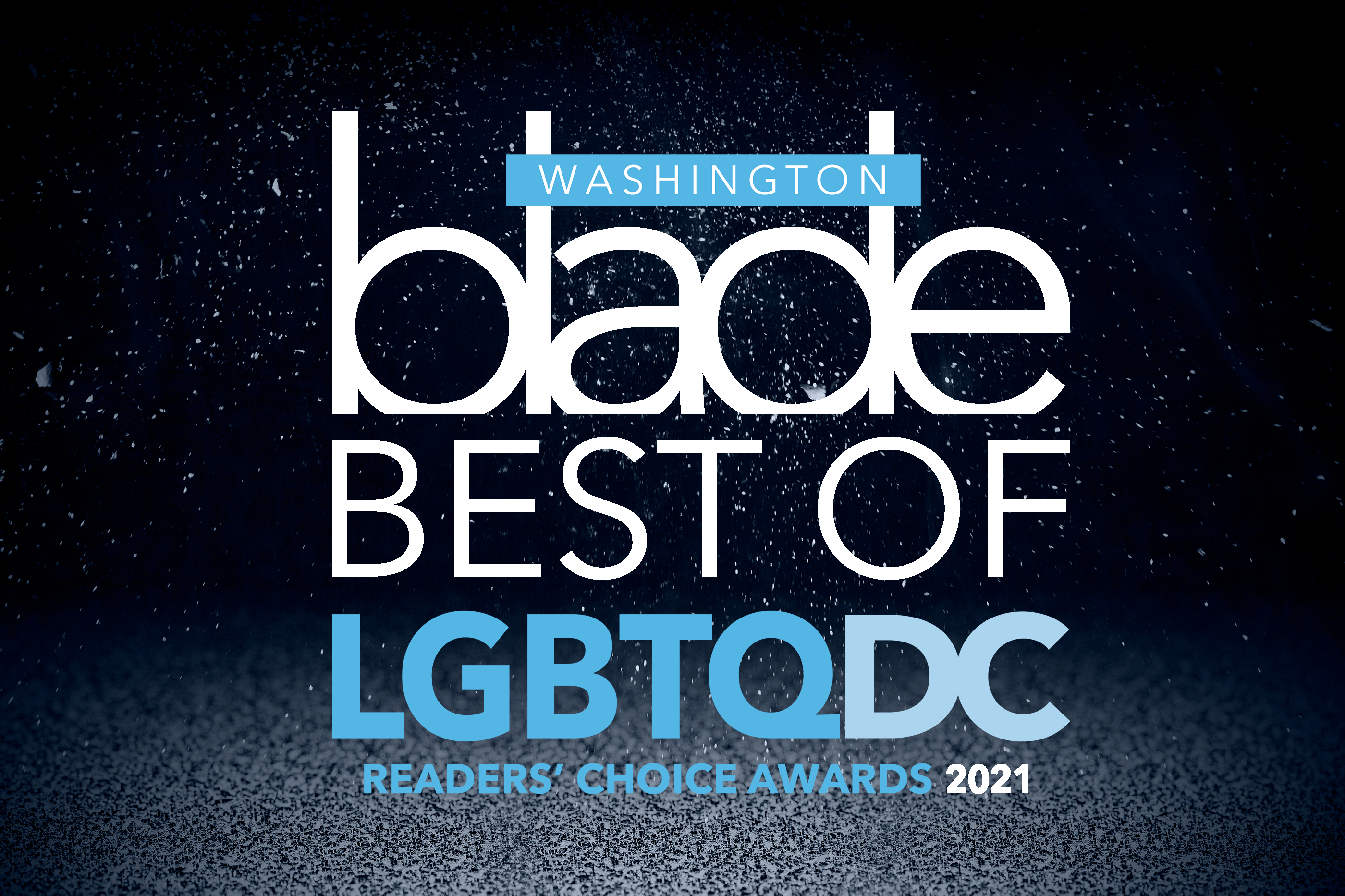 It is Decision 2021! You nominated and now we have our Top 5 finalists. Vote for your favorites in our 2021 Best of LGBTQ DC categories through October 3rd. Our 2021 Best of LGBTQ DC will be announced at the Best of LGBTQ DC Awards Party on October 21st and our special issue will come out on Friday, October 22nd.
Thank you to our sponsors: ABSOLUT, PEPCO, Washington Regional Transplant Community.
Vote below or by clicking HERE.
PHOTOS: Pride Night OUT
Team DC joins NFL for pro-LGBTQ event at FedEx Field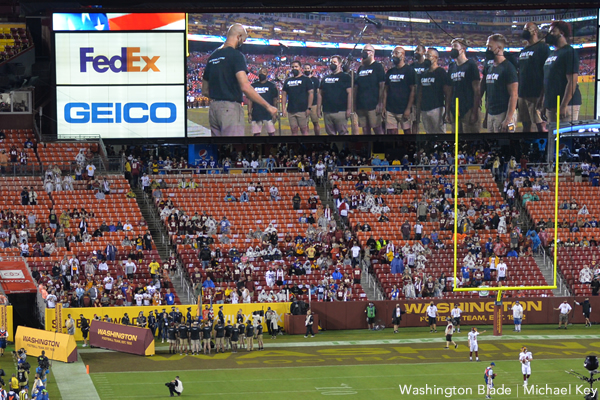 The LGBTQ sports organization Team DC partnered with the National Football League for Pride Night OUT at FedEx Field on Sept. 16. The Gay Men's Chorus of Washington sang on the field and the D.C. Different Drummers performed in a pre-game show for attendees. Washington Football Team edged out the New York Giants 30-29.
(Washington Blade photos by Michael Key)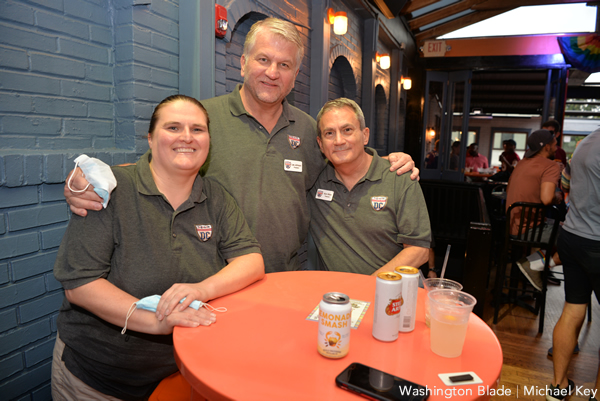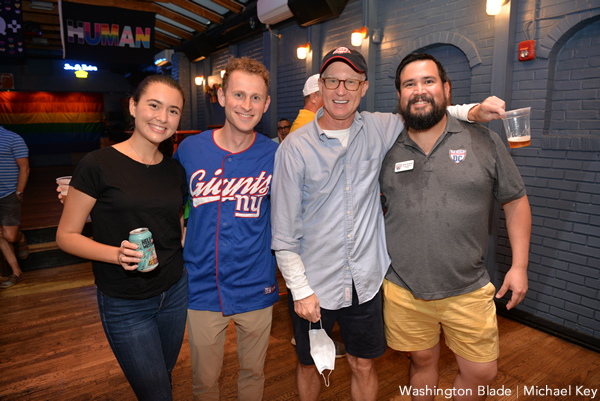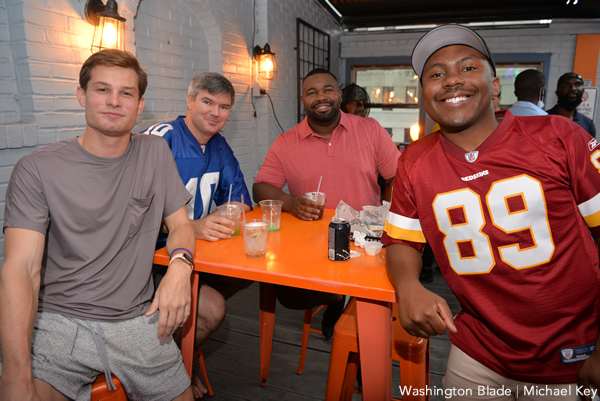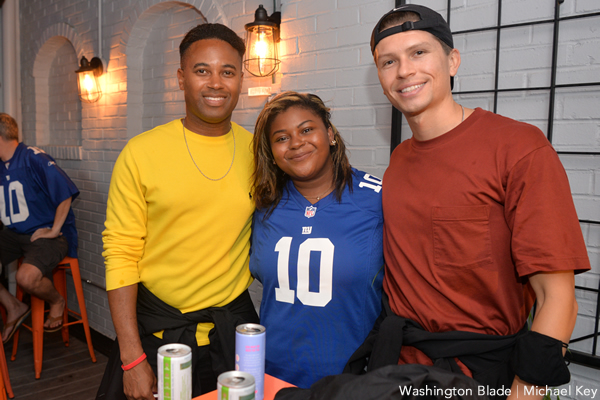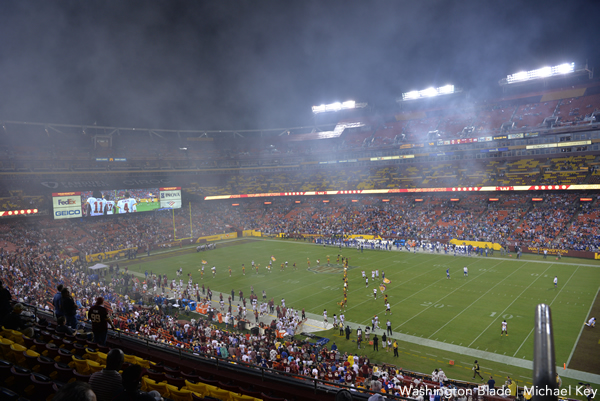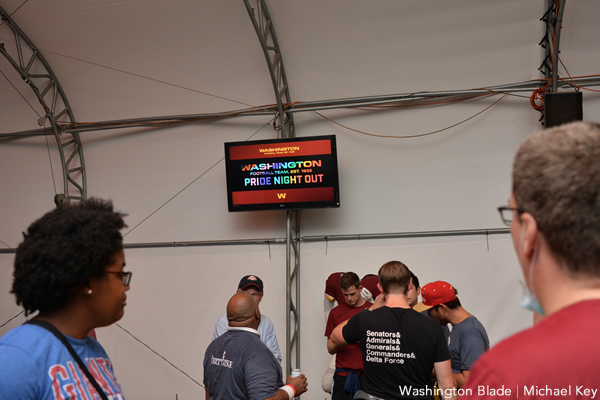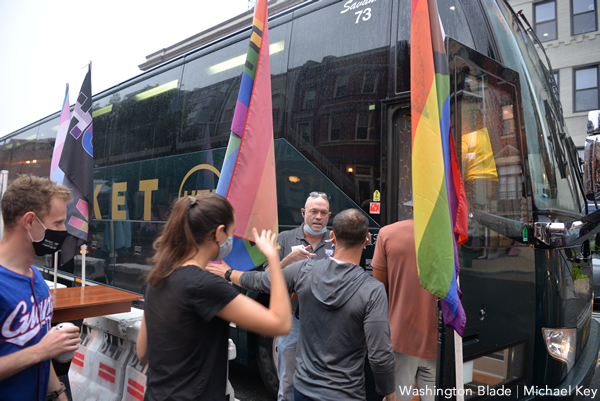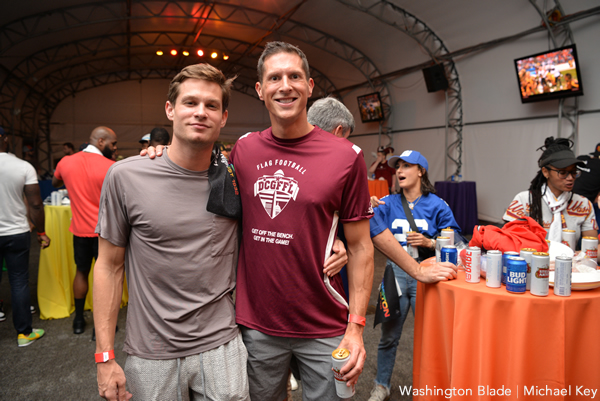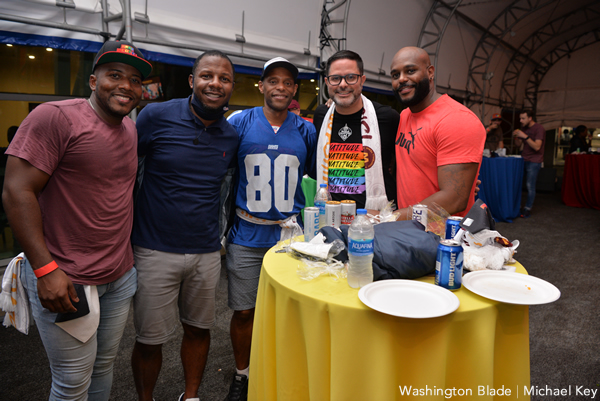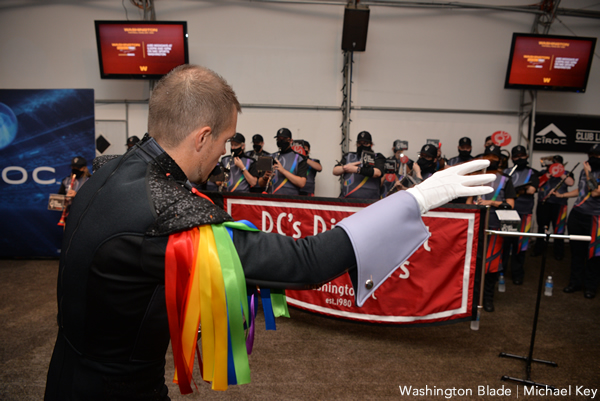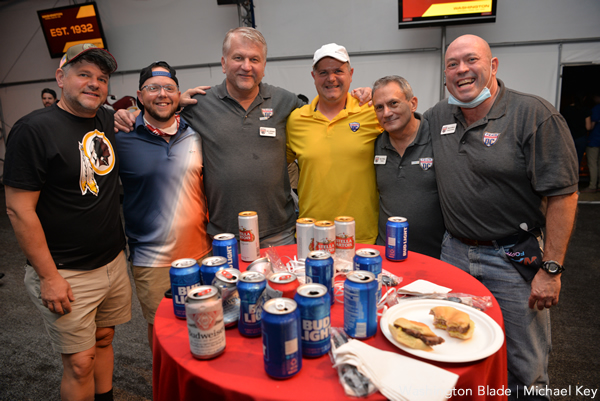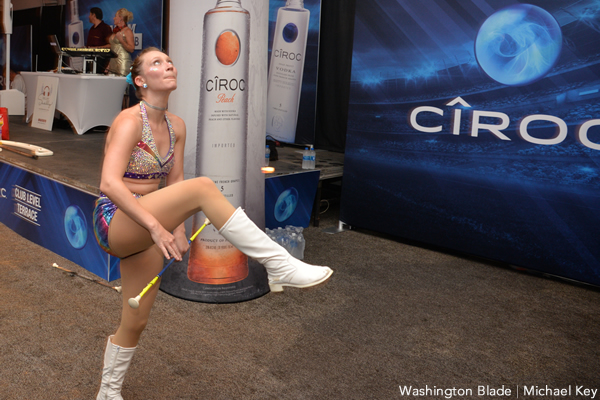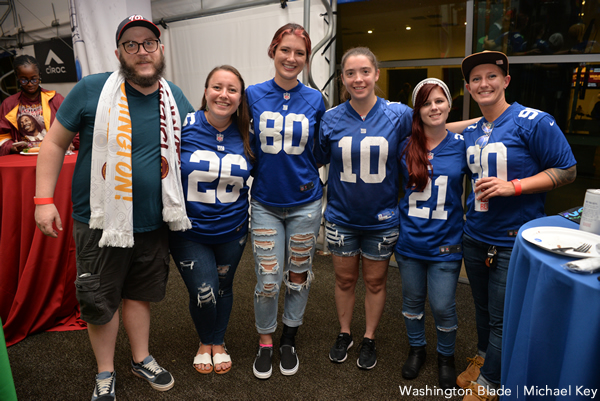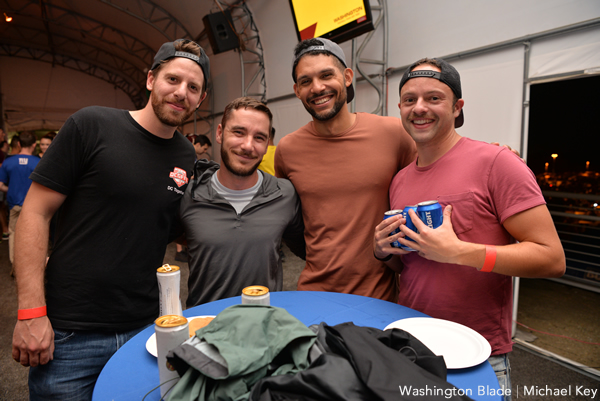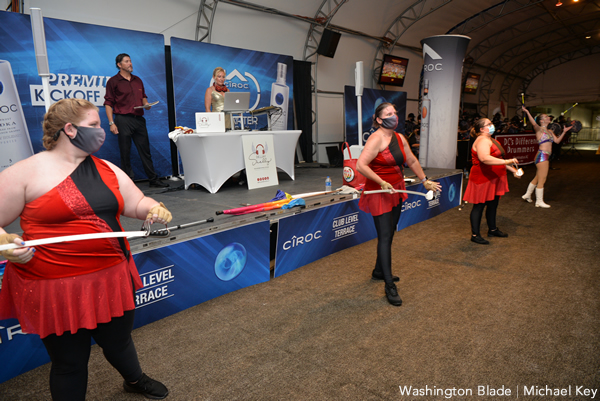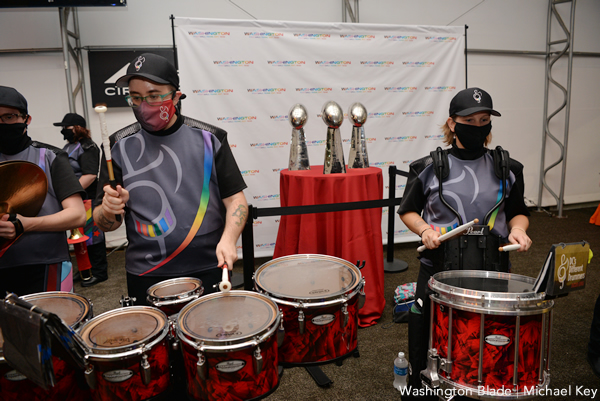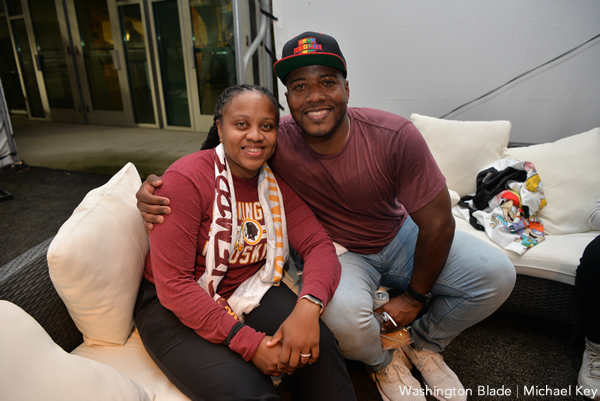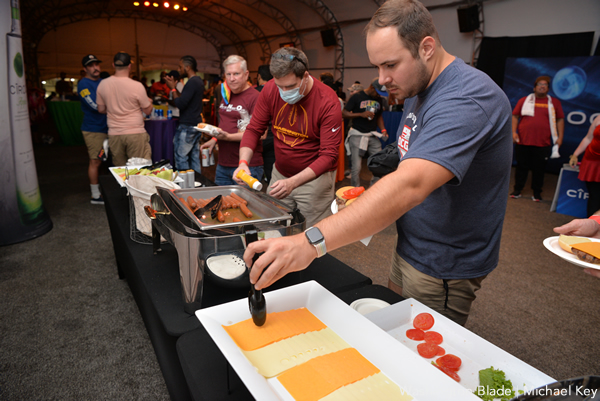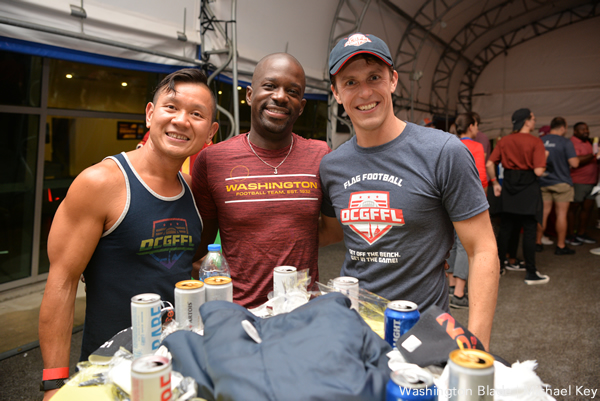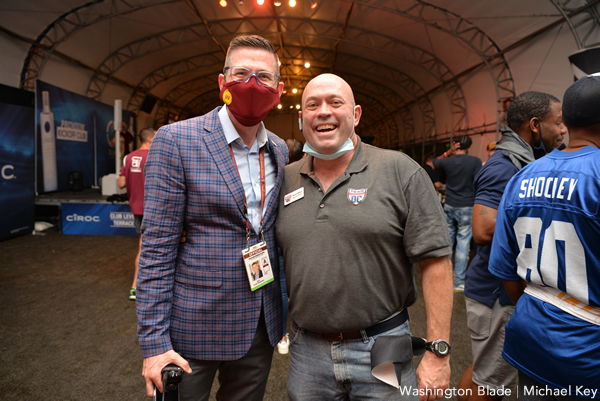 RuPaul makes Emmy history with 11 wins, most ever for a Black artist
Ru did not make mention of the history-making win- instead thanking the Academy, Viacom and CBS and "all of you gorgeous people here tonight"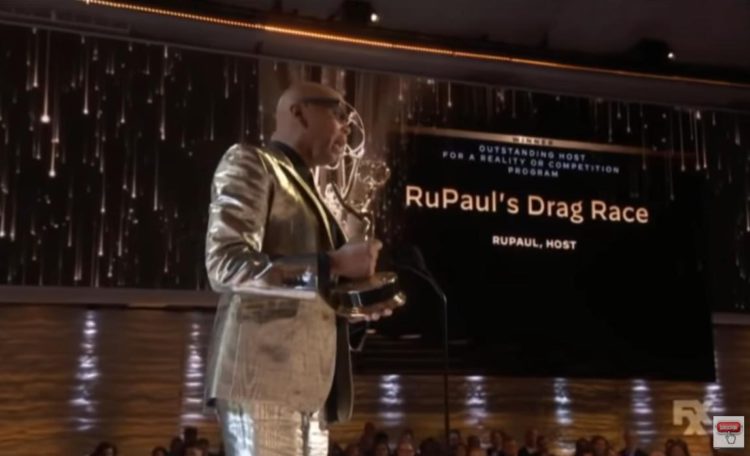 LOS ANGELES – In a first for the Academy of Television Arts & Sciences since it began the Primetime Emmy Awards January 25, 1949, the iconic drag performer and host of RuPaul's Drag Race, RuPaul broke the record for the most wins by a Black entertainer with 11 wins at the 73rd annual awards ceremony Sunday night.
RuPaul bested the previous record holder, cinematographer Donald A. Morgan, who was also nominated but did not win in his category for his work on sitcoms "The Upshaws," "The Conners" and "Last Man Standing."
RuPaul is now the most-decorated Black artist since the #Emmys began in 1949.

166 queens on Drag Race over 12 years. 11 personal awards. That's herstory. pic.twitter.com/12UMaTnyID

— Joey Nolfi (@joeynolfi) September 20, 2021
🚨Historic moment🚨 @rupaul is the most-decorated Black artist at the #Emmys – EVER! Congrats to @RuPaulsDragRace on your win for Outstanding Competition Program! pic.twitter.com/BOVhZj1u7C

— Human Rights Campaign (@HRC) September 20, 2021
The Hollywood Reporter noted, "VH1's RuPaul's Drag Race won a trophy for outstanding competition program at tonight's telecast, a victory that gives RuPaul an 11th Emmy and solidifies his place as the most decorated Black artist in Emmy Awards history.
During the show's acceptance speech, Ru did not make mention of the history-making win. Instead, he thanked the Academy, Viacom and CBS and "all of you gorgeous people here tonight."
"Really thanks to all of our lovely children on our show from around the world," he continued. "You know, they are so gracious to tell their stories of courage and how to navigate this difficult life [that was more difficult this year]. This is for you and for you kids out there watching. Come to Mama Ru."