February 16, 2012 at 8:48 am EST | by Brian T. Carney
Another side of a legend
'Frida Kahlo: Her Photos'
Artisphere
1101 Wilson Blvd.
Arlington, VA
Feb. 23-March 25
Fans of Frida Kahlo and students of photography in the D.C. area have a rare opportunity to see a collection of photographs that document and explore the fascinating life and rich legacy of this influential queer artist.
From Feb. 23 through March 25, Artisphere will be the only venue in the United States to show "Frida Kahlo: Her Photos," an exhibition of personal photographs that have been hidden from public view since Kahlo's death in 1954.
The extraordinary work of bisexual Mexican artist Frida Kahlo (1907-1954) is celebrated by a diverse group of dedicated fans. Best known for a series of stunning self-portraits that use costume and color to great effect, Kahlo is now seen as an important member of the surrealist movement. Artist André Breton hailed her work as a "ribbon around a bomb" and it's admired in Mexico as an exploration of national and indigenous traditions. Feminists celebrate her painting as an uncompromising depiction of female bodies and lives and a powerful testament to her incredible strength in facing a life of chronic pain.
Writing in the online encyclopedia glbtq, queer cultural critic Tamsin Wilton also underscores the importance of Kahlo as a queer artist. During her long tempestuous marriage to famous activist and artist Diego Rivera, Kahlo had several affairs with both men and women. More artistically significant, however, is her bold use of costume to challenge traditional notions of female sexuality. Just as her depictions of ornate Mexican costumes were used to celebrate indigenous Amerindian culture, Wilton writes that Kahlo was often pictured in male attire to "make a statement about her own independence from feminine norms. She was a masterly and magical exponent of cross-dressing, deliberately using male 'drag' to project power and independence."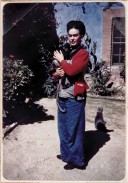 During her life, Kahlo created and collected more than 2,500 photographs from her international travels and from visitors to the house that she and Rivera shared. After Rivera's death, in accordance with his will, this collection of snapshots was sealed and put in storage. In 2007, on the 50th anniversary of Rivera's death, the collection was opened and cataloged by Mexican photographer and curator Pablo Ortiz Monasterio.
Monasterio has assembled 259 of these photographs into "Frida Kahlo: Her Photos," which opens next week in Arlington. He has arranged the photographs into six thematic areas that align with the periods in Kahlo's life. Each area was displayed in a separate room of the Blue House, a display that is recreated at Artisphere.
The first room, called Origins, documents the profound influence that Kahlo's family had on her work. Her father Guillermo Kahlo, a German émigré, was a portrait photographer. He taught Frida the art of photography and trained her in the darkroom. Her mother, Matilde Calderón y Gonzalez, was a Roman Catholic with mixed Spanish and Amerindian heritage. The second room, The Blue House, explores Casa Azul, the Kahlo family home in Coyoacán Mexico, a sister city of Arlington, Va., where Frida was born, lived most of her life and died.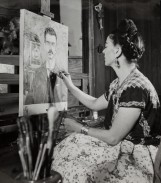 The third room, The Broken Body, displays photographs examining a central theme in Kahlo's life and work, her serious physical injuries and her struggles with intense chronic pain. Kahlo contracted polio at age 6. As a result, her right leg was significantly thinner than her left. She often disguised this by wearing long skirts. In 1925, while she was a student in medical school, Kahlo was in a serious bus accident that left her with significant injuries, including multiple broken bones and internal injuries. These injuries made it impossible for her to bear children, a fact that haunted her for life. Over the course of 29 years, Kahlo endured 35 operations and suffered three miscarriages. She was frequently in intense pain and had to be bedridden or confined to a hospital for long periods.
Kahlo began her career as an artist when she was in a body cast after her accident. Her mother designed a special easel for her and her father lent her paint and brushes. In addition to themes of national and sexual identity, her work often drew on images of bodily pain and expressed feelings of pain.
The fourth room of the exhibition is called Love and includes images of Kahlo's family and friends, including her husband Diego and two of her male lovers. (The exhibition does not include any pictures of her known female lovers.) Cynthia Connelly, Artisphere's Visual Arts Curator, is amazed by the incredible relationships Kahlo developed during her life.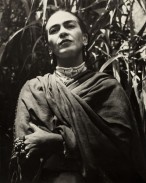 "When you walk through this room — and the entire exhibition — you get a sense of a really strong woman who surrounded herself with creative and challenging people," Connelly says. "She lived a wonderful life and opened herself up to all kinds of ideas and experiences. She and Diego lived through so much history, but they were also creating history."
The fifth room, Photography, looks at the connection between Kahlo's painting and her snapshot collection. Curator Ortiz traces several images, including a black cat and a dead baby, from Kahlo's canvases back to their photographic origins. The sixth room, Diego's Eyes, presents a series of photographs that directly and indirectly influenced Rivera's huge political murals.
Connolly says those visiting the exhibition should be sure to read the photos' descriptions, which contain a bounty of back story.
Each of the pictures is displayed with detailed information on the subject and artist (where they are known), date and media. In addition, Kahlo has left handwritten notes on the back of many of the snapshots, and in one case even left a lipstick print over an image of her husband Diego. Connolly also points out that the exhibit is a little like a mystery. "Each of the photographs fills in a little bit of her story," she says, "but many of them bring up further questions and we can't answer all of them for you. Pay attention to the details."
These pictures also document an important moment in art history — the emergence of photography as a public art form. "In a time where almost everyone has a camera phone, we take photographs for granted," Connolly says. "This was a time when photography was just coming into mass consumption. Snapshots were becoming less formal. Think about the kind of cameras being used and who processed the film."
Given her skills in the darkroom, Kahlo may have developed many of them herself, though the photos shown at Artisphere are copies. Under the terms of Rivera's will, the artifacts from Casa Azul are not allowed to leave Mexico. The local exhibition has been arranged in the same layout used by Monasterio in the original exhibition.
In addition to the historic photographs, the celebration of Frida Kahlo at Artisphere includes a variety of related events. There are two film series, one on women filmmakers (including Julie Taymor's biopic "Frida" with Selma Hayek as the famous artist) and one featuring Robert Rodriguez; performances by flamenco artists, female salsa artists and the Mexican Institute of Sound; and hands-on workshops on surrealism.
Artisphere has produced this exhibition in collaboration with the Frida Kahlo Museum (Coyoacán, Mexico), Museo Diego Rivera Anahuacalli (Coyoacán, Mexico), the Embassy of Mexico, the Mexican Cultural Institute and Arlington County, with additional support from the Rosslyn Business Improvement District. This international collaboration was initially facilitated by the Arlington Sister City Association.