Stein Club won't endorse in at-large D.C. Council race
None of four candidates able to fetch requisite 60% support from members

The Gertrude Stein Democratic Club, the city's largest LGBT political group, was unable to endorse a candidate in the at-large D.C. City Council race on March 1 when none of the four candidates running received a required 60 percent vote from club members.
In a unanimous vote, club members endorsed D.C. Council member Jack Evans (D-Ward 2), who is running for re-election unopposed.
Evans and the four at-large candidates are running in the city's April 3 Democratic primary. In a city where registered Democrats outnumber Republicans by more than an eight to one margin, winners in the primary are considered the odds-on favorite to win in the general election in November.
In the at-large race, challenger Sekou Biddle received 45 percent of the Stein Club members' vote, with incumbent Council member Vincent Orange receiving 37 percent and challenger Peter Shapiro receiving 19 percent. The fourth candidate in the race, E. Gale Holness, didn't receive any votes.
In a second ballot runoff vote between Biddle and Orange, Biddle received 55 percent, falling five points short of the 60 percent threshold needed for an endorsement. Orange received 39 percent of the runoff vote.
"We had club members speaking on behalf of all four candidates," said Stein Club President Lateefah Williams.
Williams said the four at-large candidates spoke at the March 1 endorsement meeting and urged club members to support them, saying they each were in support of LGBT rights. Biddle, Orange, and Shapiro said in a club candidate questionnaire that they support the city's same-sex marriage law. Holness said in her questionnaire response that she favors placing the D.C. gay marriage law before voters in a referendum, an action strongly opposed by the Stein Club and LGBT advocates.
The meeting was held at the Democratic National Committee headquarters on Capitol Hill.
The club endorsed Biddle over Orange in the city's April 2011 special election in which Orange won the race for the at-large seat. The seat became vacant as a result of the 2010 election, when then At-Large Council member Kwame Brown won election as Council chairman.
Williams said the club will hold an endorsement meeting sometime next month for the May 15 special election to fill the Ward 5 Council seat. The Ward 5 seat became vacant earlier this year when incumbent Council member Harry Thomas resigned after being indicted on an embezzlement charge.
22 ways to celebrate Pride month in Delaware
From Wilmington to Rehoboth, there's something for everyone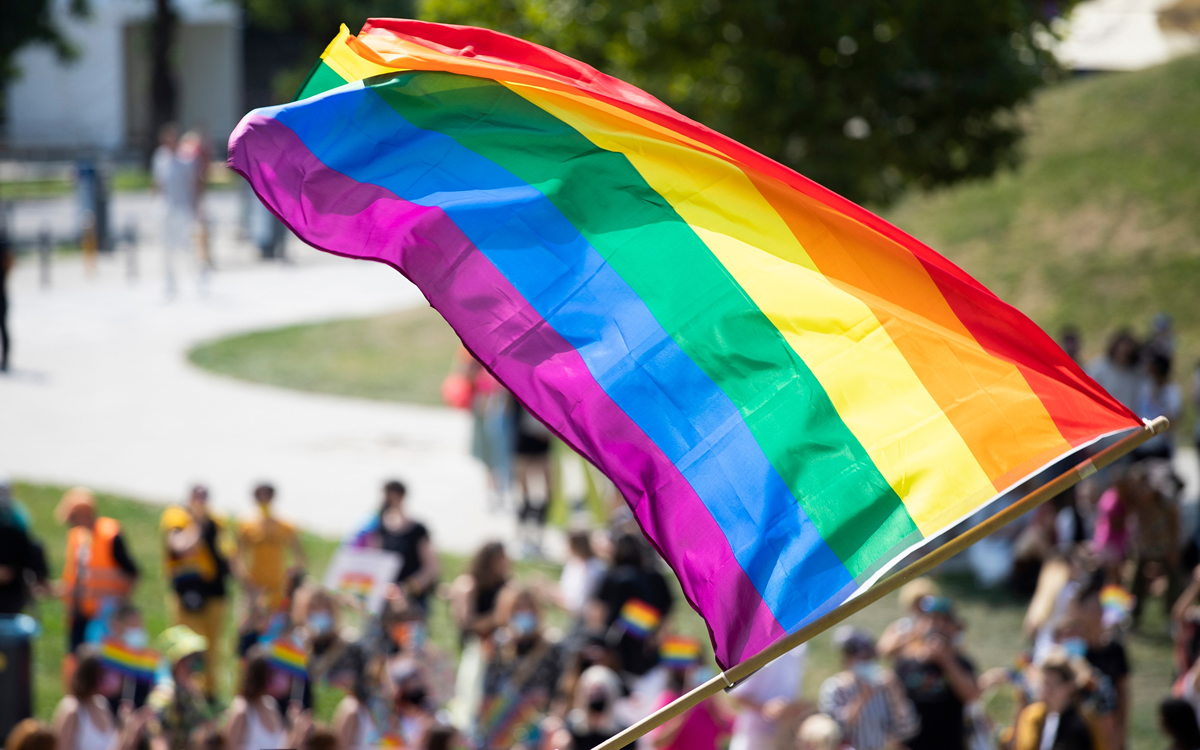 FRIDAY, JUNE 9
QUEER FILM: The Rehoboth Beach Film Society and CAMP Rehoboth kick off the three-day Pride Film Festival featuring 12 movies, ranging from "The Rocky Horror Picture Show" to "Going to Mars: The Nikki Giovanni Project," which explores author Giovanni's life and six decades of work. The schedule has not been announced yet as of publication of this guide. The films will be shown at Cinema Art Theatre at 17701 Dartmouth Rd. #2 in Lewes. $12 per film.
A HISTORY LESSON: Delaware LGBTQ history researcher Carolanne Deal explores the queer history of Sussex County and a new exhibition with parts of Delaware's queer history in the Zwannendael Park by the museum with the same name. 5 p.m. at 102 Kings Highway in Lewes. Free.
SATURDAY, JUNE 10
PRIDE FESTIVAL: Delaware Pride is putting on its annual Pride festival, with more than 100 vendors and many entertainers making up the single largest LGBTA gathering in Delaware, the organization says. Seventeen entertainers are listed on Delaware Pride's Facebook page, including "American Idol" contestant Alisabeth Von Presley – "Lady Gaga meets Pat Benatar with a dash of Michael Jackson," Little Village Magazine writes; Aunt Mary Pat, the drag queen and singer; Jenna Tall, who's won five Miss titles; The Manhattan Prairie Dogs, a dance group that's legal to watch despite prairie dogs being illegal to keep as a pet in New York; and Ryan Cassata, a singer and public speaker on trans issues. That's not even mentioning 83 vendors that are scheduled to attend. 10 a.m.-5 p.m. at 411 Legislative Ave. in Dover. Free.
PRIDE AFTER-PARTY: Double D's Taphouse is hosting an after-party throughout Saturday night for adults 21 and over, hosted by Scarlett Masters (who's also hosting the drag bingo above). 6-10 p.m. at 137 Jerome Drive in Dover. $15.
COUNTRY DANCING: Get yir boots on and saddle up, gays! Atlantic Sands Hotel & Conference Center is hosting a country dance party for gay men and women in Rehoboth. 7 p.m. at 1 Baltimore Ave. on the Boardwalk in Rehoboth. $10.
BRING YOUR GAY ASS OVER HERE: Flash your colors at Wilmington's Crimson Moon bar. Brush up on your gay history to understand why: When it was illegal to be gay, LGBTQ people put a colored handkerchief in their back pocket to signal their queerness to other community members. Community leaders periodically changed that color so they would not reveal their sexuality to undercover cops. Over time, it evolved into what it is today – a way to show who you are and what you're looking for. 9 p.m. at 1909 W. 6th St. in Wilmington. No cover.
SUNDAY, JUNE 11
RUN FOR FUN AT THE FUN RUN: Fun for run, no, run for fun in Rehoboth, organized by a Delaware shoe store, Charm City Run. 8-9 a.m. at 200 Rehoboth Ave. in Rehoboth. Free.
MIDDLETOWN PRIDE: Middletown is hosting its second annual Pride Walk and Festival – with vendors this time. 12-5 p.m. in Middletown. Free.
BINGO FOR A CAUSE: AIDS Delaware is hosting a spring bingo with The Rainbow Chorale in the Mill Creek Fire Company's Chambers, with all proceeds benefitting the two organizations. It's hosted by drag queens Scarlet Masters and Aura Buboyz and organizers encourage guests to dress in Pride attire or your "best ally" attire. Doors open at 5 p.m., games begin at 6 p.m. at 3900 Kirkwood Hwy in Wilmington. $15 for admission and one game board.
SUPPORT AGING LGBTQ+ PEOPLE: Learn about the challenges facing older LGBTQ adults and resources for them in a roundtable discussion hosted by Sussex Pride at the Unitarian Universalists of Southern Delaware's building in Lewes. 6-7:45 p.m. at 30486 Lewes Georgetown Hwy. Free.
THURSDAY, JUNE 15
A NIGHT OUT: Bring your friends and (queer) family to this LGBTQ social event at Constitution Yards Beer Garden. It had a record turnout of about 300 last year, and organizers are hoping to crack 400 this year. 6-9 p.m. at 308 Justison St. in Wilmington. Free.
GAME NIGHT: If going out isn't your thing and you'd prefer a more chill night, fear not: Sussex Pride is hosting a game night in the Epworth United Methodist Church. 6:30-8:15 p.m. at 19285 Holland Glade Rd. in Rehoboth. Free.
FRIDAY, JUNE 16
GET INTO THE HOMO SPIRIT: Listen to CAMP Rehoboth's Chorus singing all-time favorites like Chad & Jeremy's "A Summer Song," Chicago's "Saturday in the Park," and, of course, a Beach Boys medley at Epworth United Methodist Church. Friday and Saturday 7 p.m., and Monday 3 p.m. at 19285 Holland Glade Road in Rehoboth. $25.
GAYEST SONGS EVER: Celebrate the super gay pop hits of yesteryear (and this year) with performer Todd Alsup. 8:30-10:30 p.m. at The Pines, 56 Baltimore Ave. in Rehoboth. $25-150.
SATURDAY, JUNE 17
DRAG BRUNCH: Miss Troy, who is also performing at the Pride Festival, is hosting a drag brunch at The Queen in its Crown Room. The Queen is normally a live music venue but has a history of hosting all kinds of events. 12 p.m. at 500 N. Market St. in Wilmington. $39-61.50
POOL PARTY: If you want to take a splash in the pool while being a little tipsy this is the place to do it. Bring your own booze if desired, and bring food if you wish. 3-9 p.m. at 128 Honey Brook Lane in Felton. Free.
PLAY DUNGEONS & DRAGONS: Take a break from celebrating with a round of Dungeons & Dragons hosted by Sussex Pride at the Groome Church. 6:30-8 p.m. at 601 Savannah Rd. in Lewes. Free.
SUNDAY, JUNE 18
QUEER STORY TIME: Bring your little (or not so little) kids to the Woodlawn Library and read picture books with LGBTQ characters. You must register for the event beforehand here. Masks are strongly encouraged at the event. 11 a.m.-12 p.m. at 2020 W. 9th St. in Wilmington. Free.
BRING YOUR DADDY TO BRUNCH: Goolee's Grill encourages you to bring your dad (or daddy) to this family-friendly drag brunch because it's Father's Day. The event is hosted by the runner up for Rehoboth's Best Drag Queen in the 2019 Blade awards, Regina Cox. 12-2 p.m. at 11 South 1st St. $15.
SATURDAY, JUNE 24
ZOO VISIT: The Brandywine Zoo is holding its annual Pride Day – only the third – with educational programming, a scavenger hunt, and story time. 10 a.m.-3:30 p.m. at 1001 N. Park Dr. in Wilmington. $7 for seniors and youth, $9 for adults.
SUNDAY, JUNE 25
STONEWALL RELIVED: Listen to four actors recreate the 1969 Stonewall Uprising at CAMP Rehoboth with the words of those that were there – reporters, drag queens, trans youth, gay people, and homeless kids that confronted the police, letting out their anger. It wasn't the first LGBTQ uprising of the era, but the most consequential. 4 p.m. & 7 p.m. at 37 Baltimore Ave. in Rehoboth. $25.
FRIDAY, JUNE 30
GAY COMEDY: Standup comedian Jen Kober, an out lesbian from Louisiana, is touring the country and stopping in Rehoboth Beach at The Pines along with Jeff D. She won NPR's Snap Judgment of Comedic Performance of the Year and went viral for her standup about Girl Scout cookies. 7 p.m. at The Pines in Rehoboth.
Did we miss anything? Let the author know at [email protected]
People of Pride: A look at Maryland's LGBTQ community
Prominent activists, leaders spoke with the Baltimore Banner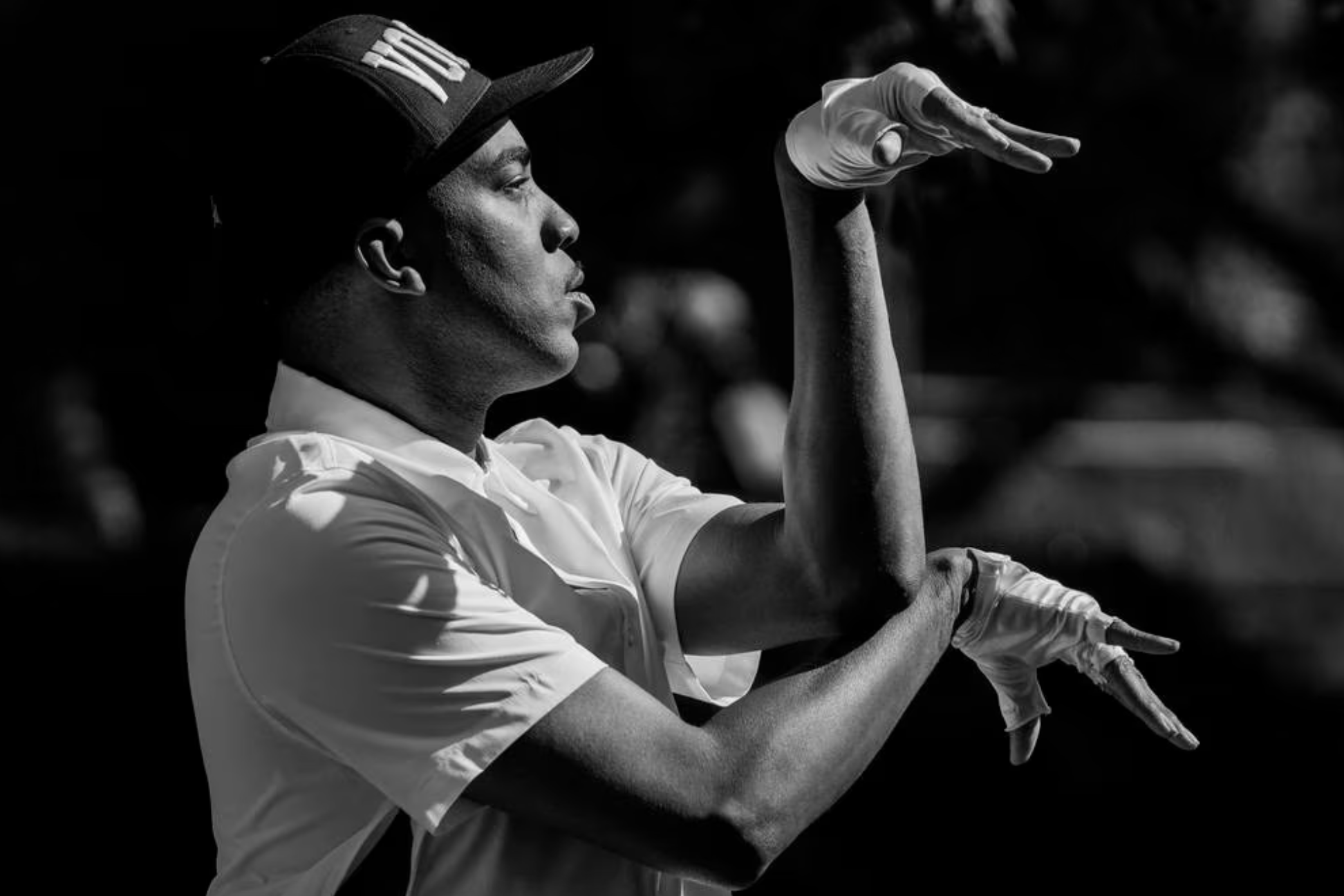 By John-John Williams IV | With the LGBTQ community under assault in many states, LGBTQ Marylanders say Pride month has taken on added meaning this year.
There are an estimated 11 million LGBTQ adults in the United States, with 151,000 in the state of Maryland, according to the Williams Institute on Sexual Orientation and Gender Identity Law and Public Policy at UCLA School of Law. The community covers a diverse spectrum of genders, identities, races and cultures.
The Baltimore Banner spoke and emailed with members of the community about the meaning of pride and the greatest challenges facing the LGBTQ community. Here are their answers, some of which have been edited for length and clarity.
The rest of this article can be found on the Baltimore Banner website.
Anti-LGBTQ activists protest Fairfax City Pride event
Stacy Langton organized demonstration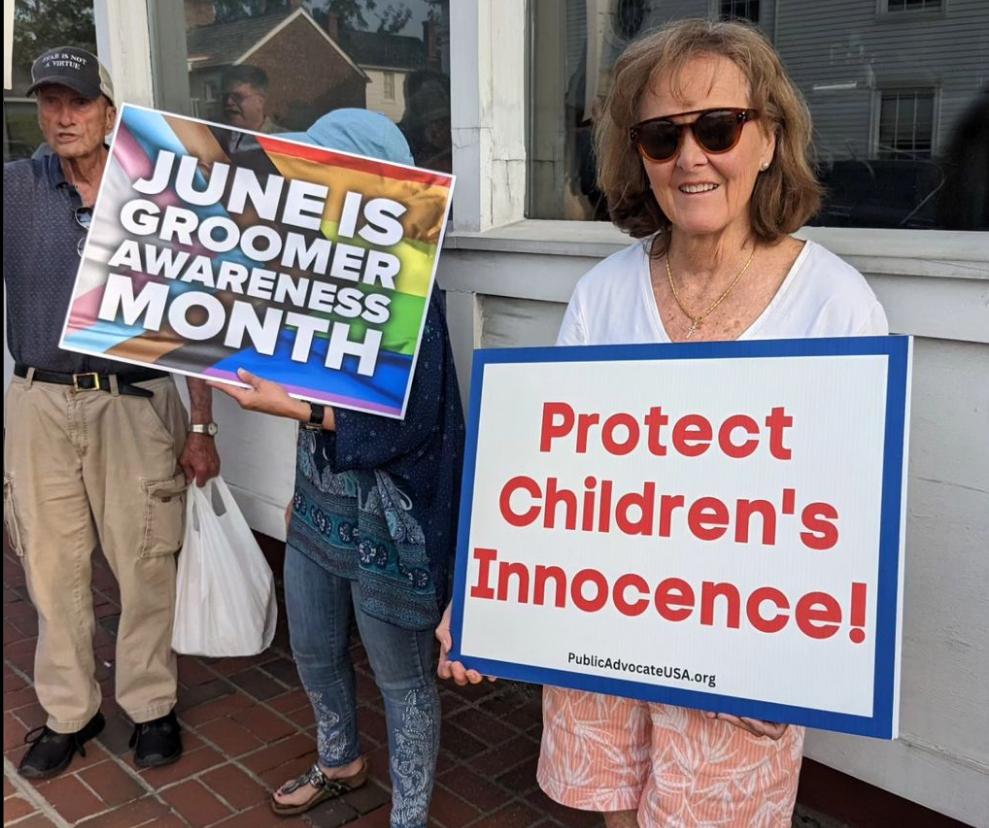 The Fairfax City Council declared June as LGBTQ Pride Month, with a celebration planned at Old Town Hall on Saturday to include a drag queen performance. Outside of the event in front of the building roughly two dozen people gathered in protest of the city's Pride event.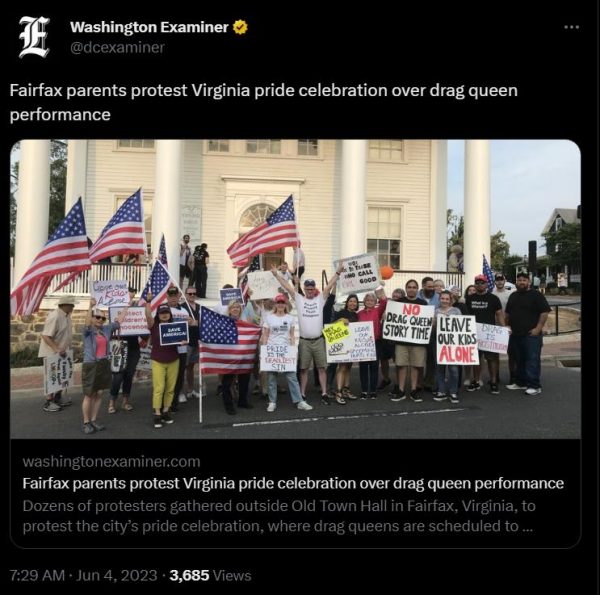 According to the local conservative right publication the Washington Examiner, the protest was coordinated by Stacy Langton, a Fairfax County resident who gained notoriety for leading a group of parents protesting two controversial LGBTQ-themed books available in high school libraries in September 2021 that Langton falsely claimed promoted pedophilia. 
The Fairfax County School Board, and officials with Fairfax County Public Schools announced they had removed the books from the school libraries to reassess their suitability for high school students.
At the time the Washington Blade reported: "I'm not one of those activist moms or disgruntled moms," Langton stated in an interview with Fox News. "This is not about being anti-gay, anti-trans or whatever. I would have been there and said every single word I said if this had been the depiction of a heterosexual couple with heterosexual acts — pornography is pornography and I don't care what the gender is."
Langton also appeared in several ads for now Republican Gov. Glenn Youngkin during his 2021 gubernatorial election.
Also appearing at the protest were members of the Southern Poverty Law Center-listed hate group, Public Advocate of the United States, and its leader, Eugene Delgaudio.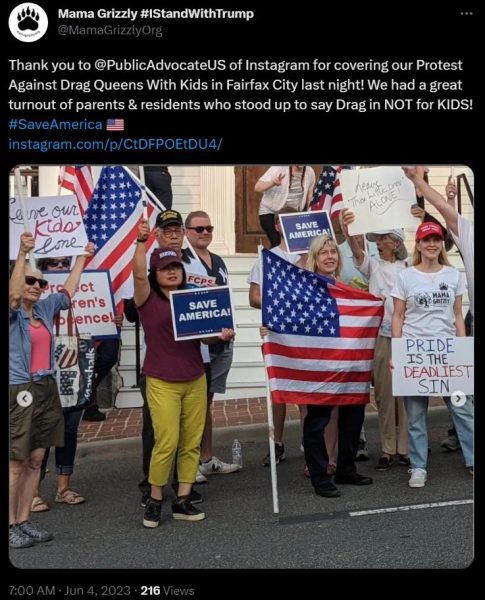 The Examiner reported that Fairfax Mayor Catherine Read, who was attending the event, told the tabloid that the city is paying for the event. Other sponsors of the event include George Mason University and Fairfax Ace Hardware.
The announcement from the city published online stated:
FAIRFAX PRIDE
Saturday, June 3rd
5PM – 10PM
Old Town Hall
3999 University Drive, Fairfax
The city of Fairfax and Mason are thrilled to host its inaugural "Fairfax Pride" event on June 3rd, 2023!
While Pride is celebrated 365 days of the year, it's most recognized during the month of June. Pride Month evolved out of the 1969 Stonewall Riots and has since become a time to reflect and celebrate both the progress and the people of the LGBTQIA+ community.
This collaborative event will kick off In Old Town Hall with informational vendors from both Mason campus and the NOVA area, as well as children's activities, such as face-painting, Fairy Hair, crafts and more! Later in the evening, a warm welcome will be given by representatives from both the city of Fairfax and Mason, to commemorate this exciting new event. The event will conclude with a dance party featuring several drag queen performances throughout the evening.
All are invited and welcome to attend!