Will Log Cabin endorse Romney?
Likely GOP nominee hires gay adviser but can't outrun hostile primary rhetoric

Mitt Romney swept a series of GOP presidential primaries this week as news surfaced that Newt Gingrich will suspend his campaign on Tuesday.
With Romney poised to wrap up the Republican nomination — and ready to pivot to the general election contest — his campaign announced the appointment of a gay man, Richard Grenell, to serve as national security and foreign policy spokesman.
The developments this week raise questions about whether the Log Cabin Republicans will endorse Romney for president, despite his promise to pursue a federal amendment banning same-sex marriage, among other anti-gay positions he's articulated during the primary season.
The debate over whether to endorse Romney could prove thorny for Log Cabin. On one hand, the organization is likely to feel pressure from its Republican base to throw its support behind the party's standard-bearer in the general election. On the other, Romney has backed anti-gay positions during the primary season, including support for a U.S. constitutional amendment banning same-sex marriage throughout the country and a pledge to defend the Defense of Marriage Act in court.
Christian Berle, Log Cabin's deputy executive director, said the board will make the endorsement decision in advance of the Republican National Convention in Tampa Bay, Fla., this August.
"The endorsement of any candidate is something Log Cabin Republicans takes very seriously, particularly when it comes to a presidential nominee," Berle said. "Staff and the board of directors will take the next several months to review Gov. Romney's record and his vision for leading the country. Log Cabin Republicans will maintain its battle focus on building a stronger, more inclusive GOP."
If history is any guide, then Log Cabin may withhold support for Romney because of his support for the federal amendment. Log Cabin endorsed George W. Bush in 2000. But in 2004, the group created a national stir when it withheld its endorsement of Bush's re-election due to the president's support for a constitutional amendment banning same-sex marriage. In a 22-2 vote, the Log Cabin board decided to withhold the endorsement.
Log Cabin's then-president Patrick Guerriero explained the decision not to endorse Bush in an op-ed piece published in the Los Angeles Times.
"This year, despite our loyalty to the party of Ronald Reagan and Abraham Lincoln, we have decided, after significant discussion, to withhold our endorsement of President Bush," Guerriero wrote. "It was a difficult choice, but our integrity requires it, and the Republican Party's future will be stronger because of it."
Although other concerns were cited, the primary reason for withholding support for Bush was his call for Congress to pass a Federal Marriage Amendment to send to the states for ratification.
"The constitutional amendment would not only ban gay marriage, it would also jeopardize civil unions and domestic partnerships," Guerriero said. "The president's support of an unnecessary and discriminatory constitutional amendment ignores the party's belief in state autonomy and disregards the nation's reliance on federalism. Using the Constitution as a campaign tool weakens our nation's founding document and erodes our party's proud tradition of equality and liberty."
In many ways, Romney's views mirror those of Bush in 2004. Romney signed a pledge from the National Organization for Marriage to back a Federal Marriage Amendment, defend the Defense of Marriage Act in court and establish a commission on "religious liberty" to investigate the alleged harassment of same-sex marriage opponents. NOM has endorsed Romney, whose Free & Strong America political action committee donated $10,000 to the organization as it sought passage of California's Proposition 8.
Log Cabin has an awkward history with Romney. In 2007, Log Cabin ran an ad against Romney in Iowa attacking him for not being conservative enough. It included footage of Romney running for U.S. Senate and expressing pro-choice views and distancing himself from former Presidents Reagan and George H.W. Bush. A message at the end of the ad says it came from Log Cabin, but the Blade reported in 2008 that it was financed by Gill Action Fund.
"For years, he's fought conservatives and religious extremists," a female voice in the ad states. "Mitt Romney opposed the gun lobby, even Ronald Reagan. … A record fighting the religious right, a pro-choice record, Massachusetts values: Mitt Romney."
But despite his support for a federal amendment, Romney's anti-gay positions aren't as extreme as other GOP candidates who competed against him for the Republican nomination. In a December interview with the editorial board of the Des Moines Register, Romney said he's "not planning" on working to reinstate "Don't Ask, Don't Tell," unlike the other candidates such as former U.S. Sen. Rick Santorum. Additionally, Romney said that although he backs a Federal Marriage Amendment, he doubts the political wherewithal exists to pass it.
Meanwhile, Romney's decision to hire Grenell, who's gay and a former Bush administration official, as his national security and foreign policy spokesman, was viewed as a pivot to the political center now that the primary season is ending. Grenell has come under fire for speaking out on Twitter against women, Democratic officials and the Gingriches. Around 800 tweets were reportedly deleted from his account.
Log Cabin threw its support behind Republican presidential nominee John McCain in 2008. In a 2008 Q&A with the Washington Blade, McCain said he'd establish a national AIDS strategy and would welcome a review of a "Don't Ask, Don't Tell" — although the lawmaker was the primary opponent of repeal during the 2010 legislative effort. As a U.S. senator, McCain voted against the Federal Marriage Amendment and didn't run for president supporting the measure.
Many gay Republicans and Log Cabin chapter leaders declined to comment when contacted by the Washington Blade about whether Log Cabin should endorse Romney. In a leaked email dated April 13 obtained by the Blade, Log Cabin's national staff told its chapter leaders not to speak to the Blade about the endorsement.
"We have been informed that Chris Johnson of the Washington Blade is reaching out to our chapter leaders with questions regarding the potential for Log Cabin Republicans to endorse Mitt Romney," the email reads. "Please redirect Mr. Johnson to the national staff on this issue. No endorsement decision has been made, and it is in the best interest of our organization to refrain from comment at this time."
Still, a handful of gay Republicans voiced support for the idea of a Romney endorsement when contacted by the Blade.
Bob Kabel, who's gay and chair of the D.C. Republican Party, responded favorably when asked if he believes the national gay organization should throw its support behind Romney.
"I do think Log Cabin should endorse Romney," Kabel said. "Romney has a good track record as governor of Massachusetts on gay issues, including appointing a number of openly gay officials in important positions. Other than on marriage, which we have a strong disagreement about, he is actually quite good on gay issues and, in addition, I think Log Cabin would support him because of his background and proven ability to understand the economy and create jobs. That what's important to so many people, including gay people."
Although Kabel touts Romney's work on gay issues in Massachusetts, many LGBT advocates have criticized him for working to block legalization of same-sex marriage in Massachusetts and resurrecting a 1913 law preventing non-residents from marrying in the Bay State. According to MassEquality, Romney abolished the Governor's Commission on GLBT Youth and rescinded an executive order prohibiting sexual orientation discrimination in the state workforce. Another Republican, former Gov. William Weld, had put those measures in place.
Jim Driscoll, a gay Nevada-based activist who served on the Presidential Advisory Council on HIV/AIDS during the Bush administration, also called on Log Cabin to endorse Romney. Driscoll is a Romney supporter who donated to his campaign — both in 2008 and 2012 — and supported him during the Nevada caucuses.
"I think they should endorse him," Driscoll said. "It looks to me as if the only issue there is the marriage amendment. This isn't something that I've followed closely, but it seems to me that there's very little chance that that marriage amendment can pass. It's kind of a dead issue. I don't see that it has any momentum. And I suspect that while [Romney] formally favors it, he's not going to lift his little finger to do anything to see that it passes."
Outside groups on the right and left had their own views on whether Log Cabin should get behind Romney.
Jimmy LaSalvia, executive director of the gay conservative group GOProud, refrained from directly saying whether Log Cabin should endorse Romney.
"It's not for me to opine on whether Log Cabin Republicans should or should not endorse Gov. Romney," LaSalvia said. "It should be noted, however, that in 2004 they emphatically stated that they could not endorse a candidate who supported a Federal Marriage Amendment, and in 2008 they spent more than $100,000 to run television and radio ads attacking Mitt Romney."
Jerame Davis, executive director of the National Stonewall Democrats, said "any credible organization" working for the LGBT community "cannot and should not endorse Mitt Romney," but noted the question of an endorsement will likely be a difficult one for the organization.
"Log Cabin is in a very precarious situation when it comes to endorsing Mitt Romney," Davis said. "On the one hand, if they do endorse Romney, they are sending a clear signal to the rest of the LGBT community that being partisan hacks is more important than standing up for LGBT equality. On the other hand, if they don't endorse Romney they become largely irrelevant in the debate about who will be the next president. Not only would this give their rivals, GOProud, an opening to out flank them on the right, but it would also be problematic for their executive director, who happens to sit on the RNC finance committee."
Former Log Cabin leaders were reluctant to weigh in on whether the organization should endorse Romney. Guerriero, who after leaving Log Cabin served as head of Gill Action Fund, didn't respond to multiple requests for comment. He's now a partner at Civitas Public Affairs Group.
Patrick Sammon, who headed Log Cabin during its decision to endorse McCain and is now a filmmaker, declined to comment.
But Rich Tafel, who founded the organization and led it from 1993 to 2003, said in an email to the Blade that the organization, "will probably endorse Mitt Romney."
"Mitt is a moderate, which is [why] he's had a tough time this primary," Tafel said. "He has a history of supporting gays and appointing them, which makes him unique among the GOP candidates. He has a 45 percent chance of winning so LCR has a responsibility to ensure it has a role with him should he win. He'll need to move back to the middle to win this."
U.S. orders 2.5 million more monkeypox vaccine doses
CDC has reported roughly 350 cases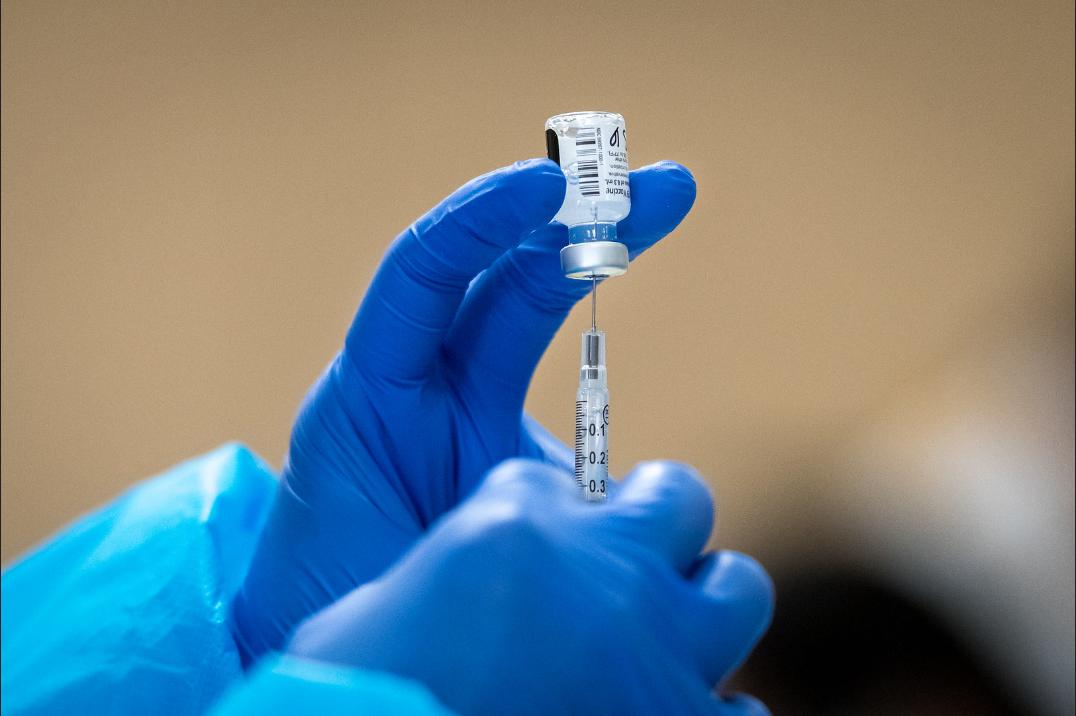 The U.S. Department of Health and Human Services announced Friday that it has ordered an additional 2.5 million doses of Bavarian Nordic's JYNNEOS, an FDA-licensed vaccine indicated for prevention of smallpox and monkeypox, for use in responding to current or future monkeypox outbreaks and as part of U.S. smallpox preparedness.
Deliveries from this latest order of the Bavarian Nordic's Jynneos vaccine will begin arriving at the Strategic National Stockpile (SNS) later this year and will continue through early 2023 HHS said in a statement.
"We are working around-the-clock with public health officials in states and large metro areas to provide them with vaccines and treatments to respond to the current monkeypox outbreak," said HHS Secretary Xavier Becerra. "This order of additional JYNNEOS vaccine will help us push out more vaccine quickly, knowing that we have more doses on the way in the coming months — and is only possible because of our longstanding investment in smallpox and monkeypox preparedness."
The order announced today is in addition to the 500,000 doses of government-owned vaccine the company is producing in 2022 for use in the current response to monkeypox in the U.S and brings the total vaccine doses to be delivered in 2022 and 2023 to more than 4 million.
The company will produce these doses in liquid frozen form using vaccine already manufactured in bulk under an existing 10-year contract with the Biomedical Advanced Research and Development Authority, within the HHS Office of the Assistant Secretary for Preparedness and Response; that contract was part of ongoing national preparedness efforts against smallpox.
"The medical countermeasures available to help respond to the current outbreak are the result of years of investment and planning made possible through the ongoing work between HHS and private industry," said Gary Disbrow, director of the Biomedical Advanced Research and Development Authority. "We are pleased that we have been able to work with our partners at Bavarian Nordic to accelerate delivery of vaccines that can help keep people safe and stem the spread of the virus."
BARDA supported the development of JYNNEOS, which is approved by the FDA to prevent smallpox and monkeypox. The U.S. government owns enough smallpox vaccine — JYNNEOS and ACAM2000 — to vaccinate millions of Americans, if needed.
As of June 24, ASPR's SNS held approximately 65,000 doses of JYNNEOS in immediate inventory with delivery of an additional 300,000 doses in the coming days. On June 28, HHS announced that it would immediately make available 56,000 doses and soon after would make available 240,000 additional doses. The SNS also has more than 100 million doses of ACAM2000 which was developed with SNS support and is approved by FDA for use in preventing smallpox. The Centers for Disease Control and Prevention currently has an expanded access Investigational New Drug protocol which allows use of ACAM2000 for monkeypox.
In addition, the SNS has over 1.7 million treatment courses of the smallpox antiviral drug TPOXX, which was developed with BARDA support and can be used to treat individuals with monkeypox under an appropriate regulatory mechanism. CDC currently has an expanded access Investigational New Drug protocol which allows its use for monkeypox.

As of June 29, the CDC has received reports of approximately 350 cases of monkeypox in the U.S., primarily among men who have sex with men.
To learn more about monkeypox, visit cdc.gov/monkeypox.
Florida 'Don't Say Gay' law goes into effect, impact already felt
LGBTQ youth, already at higher risk of depression, anxiety, & suicide than their peers, report their mental health being negatively impacted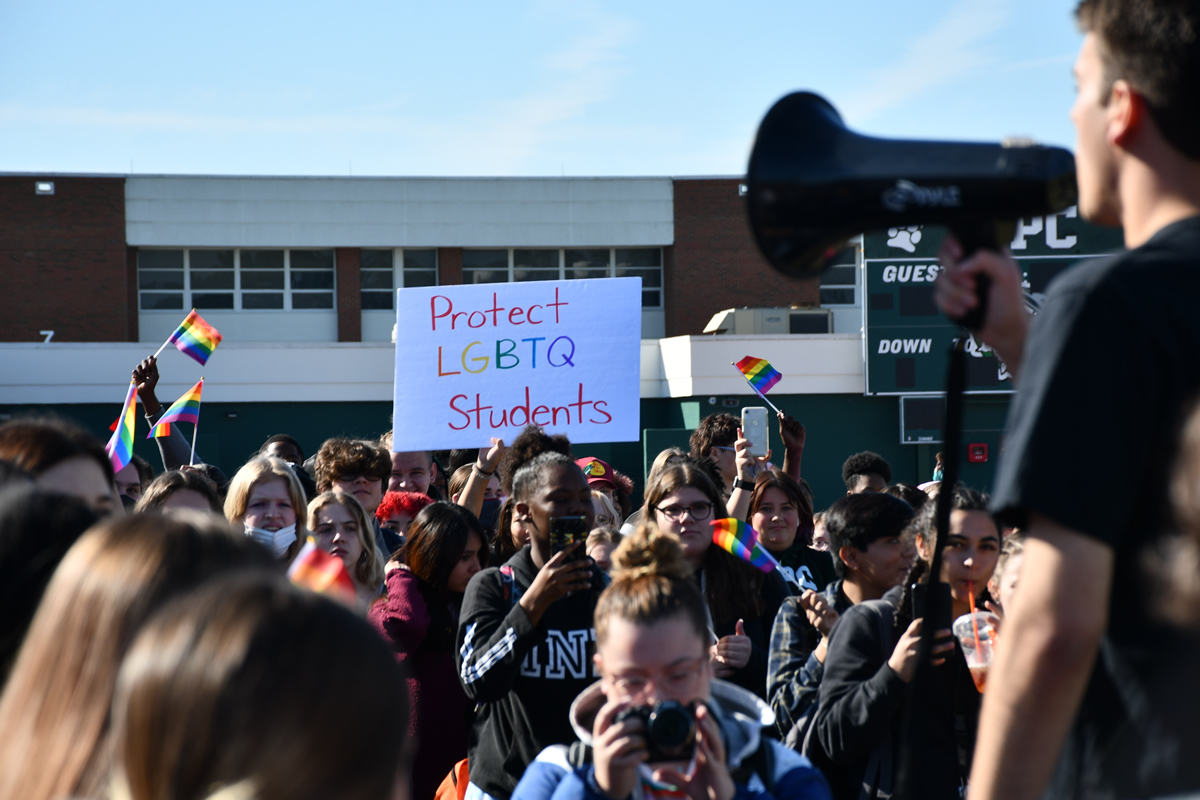 Florida's HB 1557, known as the Don't Say LGBTQ law, took effect today. The law, which bans classroom instruction on sexual orientation and gender identity in grades K-3 and restricts that instruction in grades 4-12, will immediately begin impacting efforts to make Florida classrooms more inclusive.
But its impacts have already been felt for months. Educators and school staff have shared the chilling effects they are experiencing across the state. Books with LGBTQ characters are being pulled from shelves. Rainbow "safe space" stickers are being peeled from classroom windows. LGBTQ educators are being asked to avoid speaking about their families. As the law officially goes into effect, these impacts will escalate.
In the same district, teachers in queer relationships are being advised to remove any family portraits. Staff can't even wear rainbow clothing.

We always knew what this was about, silencing LGBTQ+ people.

— Jack Petocz (@Jack_Petocz) June 28, 2022
"Since the inception of this hateful policy, lawmakers have assured the public that it would not lead to censorship or erasure of LGBTQ people," said Joe Saunders, Equality Florida Senior Political Director. "But our community has always known the truth. The Don't Say LGBTQ law has always been fueled by anti-LGBTQ animus and designed to further stigmatize the LGBTQ community, ban books about us, erase us from classrooms, and force us back into the closet. It is a bigoted and dangerous law that is making Florida less safe for students and families, and we will work tirelessly to see it repealed."
Throughout the legislative process, lawmakers scoffed at the suggestion that HB 1557 would have negative impacts on the LGBTQ community, even as they refused to clarify its dangerously vague language and prevent the eventual law from doing harm.
A bipartisan contingent of lawmakers offered up dozens of amendments to the bill, attempting to narrow its overly-broad scope and clarify the most vague components. These amendments came after assertions from their colleagues that the bill's intent was narrow. However, those reasonable amendments were rejected by bill sponsors Representative Joe Harding, Senator Dennis Baxley, and their allies, leaving its language broad and discriminatory.
As a result, the chilling effects were swift and sweeping. Across the state, censorship of LGBTQ lives began in earnest and has continued until today. In Palm Beach County, School Superintendent Mike Burke began by circumventing the district's material review process to remove multiple books featuring LGBTQ characters, citing concern about the implications of the Don't Say LGBTQ law. He followed the move in recent weeks by issuing guidance to educators across the district for them to remove books currently being challenged and place them "in a classroom closet" and scour their shelves for other titles that may include LGBTQ characters or mention topics like racism or oppression.
Growing up, I spent countless nights trying to change who I am. Praying to God I could wake up different, what I had preconceived as "normal."

Today, "Don't Say Gay" goes into effect, but I'll keep proudly expressing my identity, so no child feels lesser than or not worthy. ❤️ pic.twitter.com/3LzAIAjg1i

— Jack Petocz (@Jack_Petocz) July 1, 2022
Districts statewide have taken drastic steps in response to the Don't Say Gay law. Graduation speeches have been scrubbed of references to LGBTQ advocacy. Yearbook pages have had images of Don't Say LGBTQ walkouts blacked out. Conservative religious activists have successfully initiated challenges to dozens of books in multiple school districts. Rainbow-colored COEXIST banners and Pride flags have been stripped from school walls.
In total, LGBTQ+ equality rights advocacy group Equality Florida has received over 50 complaints of censorship aimed at the LGBTQ community since the bill was signed into law in March.
I wrote an OP ED for @nytopinion about my experience growing up gay and non-binary and how the #DontSayGay bill would effect people like me. https://t.co/UPjmtExjnu

— Will Larkins☮️ (@ProudTwinkie) March 12, 2022
Most recently, Orange County Public Schools garnered national attention after reports emerged that during seminars designed to discuss the potential implementation of the Don't Say LGBTQ law, school administrators were advised to begin removing rainbow "safe space" stickers from classroom windows, ask LGBTQ educators to remove family photos from their desks, and avoid talking about their loved ones at work for fear of running afoul of the new law. While exactly what advocates for equality had warned of, the revelation shocked educators across the district, who took to the next board meeting to express their deep concerns and demand written clarification.
All of these chilling effects come as LGBTQ youth, those already at higher risk of depression, anxiety, and suicidal ideation than their peers, report their mental health being negatively impacted by anti-LGBTQ policies and the debates that surround them. And they come amidst a surge in online harassment against LGBTQ people nationwide and threats of violence against LGBTQ spaces and Pride celebrations fueled by the dehumanizing anti-LGBTQ+ rhetoric launched by the DeSantis Administration in defense of the Don't Say LGBTQ bill.
In March, the governor's spokeswoman Christina Pushaw took to Twitter to traffic in age-old, anti-LGBTQ tropes to rescue the mired legislation, tropes that have since been parroted by Fox News hosts, right-wing influencers, and have exploded into the digital harassment and threats of violence running rampant across the country.
Equality Florida hosted a virtual press conference with lawmakers and those directly impacted on Friday morning. Those who have been impacted by the Don't Say LGBTQ law can share their stories at freetosaygay.org.
White House Press Secretary Karine Jean-Pierre released a statement as Florida's "Don't Say Gay" Law took effect Friday:
Today, some of Florida's most vulnerable students and families are more fearful and less free. As the state's shameful "Don't Say Gay" law takes effect, state officials who claim to champion liberty are limiting the freedom of their fellow Americans simply to be themselves. Already, there have been reports that "Safe Space" stickers are being taken down from classrooms. Teachers are being instructed not to wear rainbow clothing. LGBTQI+ teachers are being told to take down family photos of their husbands and wives—cherished family photos like the ones on my own desk.

This is not an issue of "parents' rights." This is discrimination, plain and simple. It's part of a disturbing and dangerous nationwide trend of right-wing politicians cynically targeting LGBTQI+ students, educators, and individuals to score political points. It encourages bullying and threatens students' mental health, physical safety, and well-being. It censors dedicated teachers and educators who want to do the right thing and support their students. And it must stop.

President Biden has been very clear that every student deserves to feel safe and welcome in the classroom. The Department of Education will be monitoring this law, and any student or parent who believes they are experiencing discrimination is encouraged to file a complaint with the Department's Office for Civil Rights. Our Administration will continue to fight for dignity and opportunity for every student and family—in Florida and around the country.
U.S. Supreme Court ruling allows Biden administration to end MPP
Trump-era policy placed LGBTQ asylum seekers at increased risk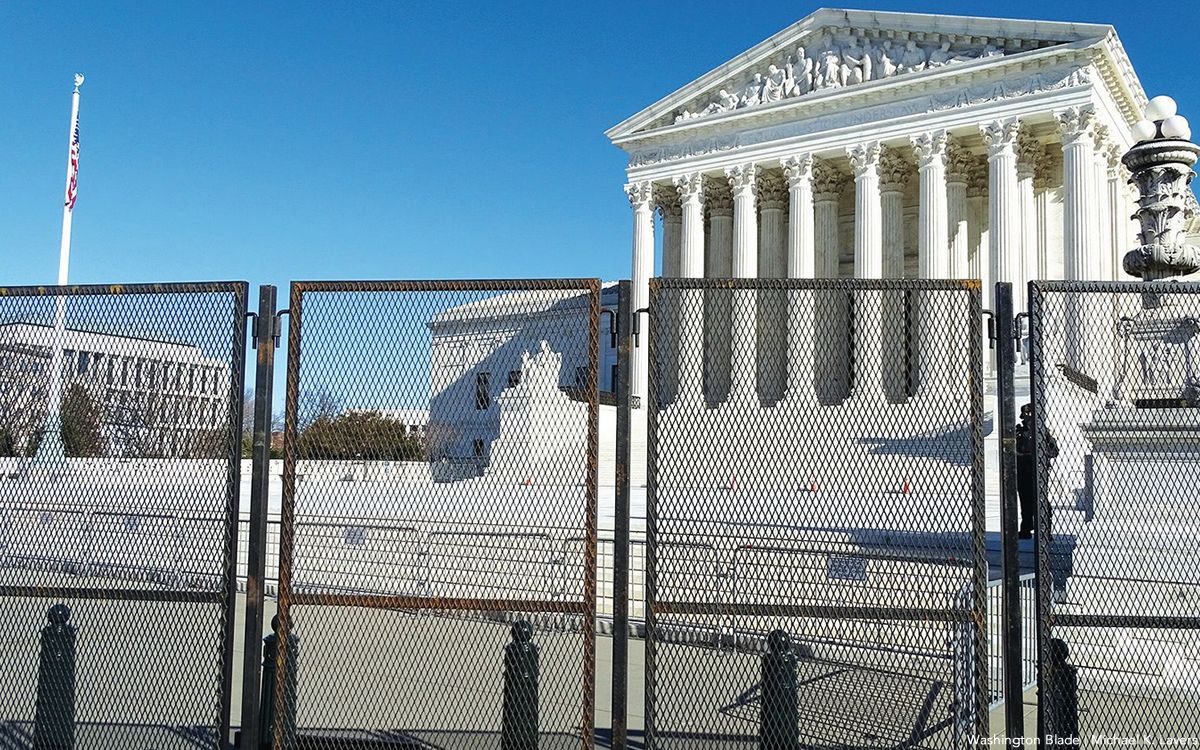 The U.S. Supreme Court on Thursday in a 5-4 ruling said the Biden administration can end a policy that forced asylum seekers to pursue their cases in Mexico.
The previous White House's Migrant Protection Protocols program, which became known as the "Remain in Mexico" policy, took effect in 2019.
The Biden administration suspended MPP enrollment shortly after it took office in January 2021. The program was to have ended six months later, but a federal judge in Texas ordered MPP's reinstatement after the state and Missouri filed suit against the Biden administration.
Thursday's ruling sends the Texas and Missouri case back to lower courts.
"As Secretary Mayorkas concluded in October 2021 after a thorough review, the prior administration's Migrant Protection Protocols (MPP) has endemic flaws, imposes unjustifiable human costs and pulls resources and personnel away from other priority efforts to secure our border," said the Department of Homeland Security in a statement. "We welcome the Supreme Court's decision affirming that the Secretary has the discretionary authority to terminate the program, and we will continue our efforts to terminate the program as soon as legally permissible."
U.S. Sen. Alex Padilla (D-Calif.) also welcomed the ruling.
"Today's Supreme Court decision correctly acknowledges the Biden administration's authority to end the unlawful and cruel 'Remain in Mexico' program," he said in a statement. "For more than three years, this horrifying policy has denied asylum seekers their right to due process and subjected them to crimes like rape, kidnapping and torture in northern Mexican border cities while they await their court hearings."
Advocates sharply criticized MPP, in part, because it made LGBTQ and intersex asylum seekers who were forced to live in Tijuana, Ciudad Juárez, Reynosa, Matamoros and other Mexican border cities even more vulnerable to violence and persecution based on their sexual orientation and gender identity.
[email protected] Coalition President Bamby Salcedo on Thursday told the Washington Blade the Supreme Court ruling "will certainly impact our community in a positive way."
"We know that people who have to remain in Mexico to wait continue to be victims of violence," said Salcedo. "This is definitely a step in the right direction and we're grateful that this happened in this way."
Emilio Vicente, communications and policy director of Familia: TQLM, an organization that advocates on behalf of transgender and gender non-conforming immigrants, echoed Salcedo.
"We're glad to finally have some good news from the Supreme Court after horrible rulings on abortions, climate change, Native American rights," said Vicente. "Ending 'Remain in Mexico' will allow LGBTQ+ asylum seekers who face increased discrimination and abuse during the journey to the U.S., to be able to seek asylum here."
Abdiel Echevarría-Cabán is a South Texas-based immigration attorney and human rights law and policy expert who the LGBTQ+ Bar in 2021 recognized as one of its 40 best LGBTQ lawyers who are under 40.
He told the Blade on Thursday the Supreme Court ruling is "a victory we must celebrate." Echevarría-Cabán also said MPP placed LGBTQ and intersex asylum seekers at increased risk.
"Refugees in general, but especially LGBT refugees, are extremely vulnerable to other type of harms such as kidnappings by cartel members, extortion, physical and psychological abuses from Mexican law enforcement authorities and third parties given the high levels of discrimination for LGBT refugees in Mexico," said Echevarría-Cabán.
The Supreme Court issued its ruling a day after the Justice Department filed charges against four people in connection with the deaths of 53 migrants who were found in the back of a tractor trailer truck in San Antonio.
The Biden administration in April announced its plans to terminate Title 42, a Centers for Disease Control and Prevention rule that closed the Southern border to most asylum seekers and migrants because of the pandemic. Title 42 was to have ended on May 23, but a federal judge ruled against the White House.
"This decision isn't the end of the fight for ensuring that people seeking asylum get asylum but it's an important step in protecting vulnerable people," Vicente told the Blade after Thursday's ruling. "President Biden must follow through on his commitment to end MPP and protect all asylum seekers."
Salcedo noted to the Blade the "system, as it is, particularly when it comes to trans women, needs to be completely changed so that we can be at a better place as a community." Padilla in his statement urged the Biden administration "to do everything in its power to swiftly end 'Remain in Mexico' once and for all."
"Misguided and inhumane Trump-era policies like 'Remain in Mexico' and Title 42 have only decimated an already broken immigration system," he said. "We must keep working to restore the lawful processing of asylum seekers at the border, in keeping with America's most deeply held values as a nation of immigrants."
The Department of Homeland Security in its statement notes Title 42 remains in place.
"The department also continues to enforce our immigration laws at the border and administer consequences for those who enter unlawfully, and will continue the court-mandated enforcement of the Centers for Disease Control and Prevention's Title 42 public health order," it reads.