Heat of the moment
Heady 'Awakening' explores teen lust in coming-of-age hit musical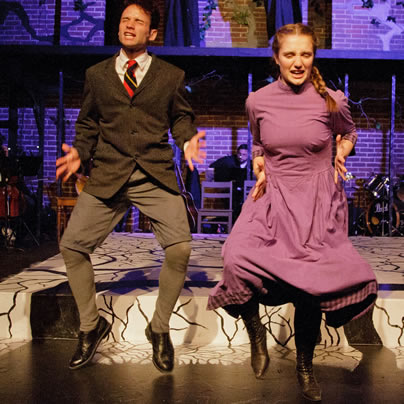 'Spring Awakening'
Keegan Theatre
Church Street Theatre
1742 Church Street, NW
Through July 8
$40, $35 students/seniors
Surprisingly, it's a plaintive ballad that haunts both acts of "Spring Awakening," the explosive trail-breaking rock musical now onstage in an excellent production by the Keegan Theatre. "The Word of Your Body" is sung by two pairs of young lovers who are about to dive into the dangerous and mysterious world of sex. With a fascinating blend of naiveté and awareness, they sing, "O, I'm gonna be wounded. O, I'm gonna be your wound."
In Act One, it's sung by Melchior and Wendla; in Act Two it's sung by Hanschen and Ernst. In an unusual twist, it's the straight couple and not the gay couple who come to a tragic end.
"Spring Awakening" is based on a controversial play by the remarkable German playwright Frank Wedekind. Although written in 1891, the play was not performed until 1906 and has since had a long history of censorship as it deals frankly with complex issues of sexual and intellectual awakening, adolescent rebellion, sadomasochism, political and intellectual repression, suicide, abortion, sexual abuse, gender and homosexuality.
The plot centers on Melchior Gabor (Vincent Kempski), a charismatic and intelligent teen rebel, his innocent but curious girlfriend Wendla (Ali Hoxie) and his tormented best friend Mortiz Steifel (Paul Scanlan). While Melchior and his classmates (including Hanschen and Ernst) deal with oppressive schoolmasters and uncontrolled sexual yearnings, Wendla and her friends deal with parental abuse and neglect.
Indie musicians Steven Sater (book and lyrics) and Duncan Sheik (music) have turned this 1891 German drama into a contemporary rock musical with exceptional ingenuity and creativity. Sheik and Sater wisely keep most of the plot intact and keep the action in its original time period. However, as the teenagers express their inner feelings, their inner rock stars erupt, electric guitars serving as a timeless expression of teen angst. The concept works really well and the show deservedly swept the 2007 Tony Awards.
Directors Mark A. Rhea and Susan Marie Rhea handle this challenging material with great finesses and sensitivity, guiding the talented cast through their scenes with an effective blend of comedy and tragedy. The musical staging is generally fluid and eye-catching as the cast moves from the relative still of the book scenes to the explosive outbursts of the songs. Musical Director Jake Null gets great instrumental performances from a superb 10-piece band and outstanding vocal performances from powerhouse singers with exceptional range and diction.
The cast is uniformly strong, with outstanding performances from Nora Palka as Ilsa and Charlotte Akin as the Adult Women. Palka's rich voice brings great poignancy to songs where she tells about horrible sexual abuse ("The Dark I Know Well") and where she tries to save the suicidal Moritz ("Blue Wind"), but she also shines when she leads the cast in the moving finale ("The Song of Purple Summer"). Akin is delightful in several small roles, showing great comic flair as a busty piano teacher and a mean schoolmistress, severe earnestness as Wendla's mother and deeply moving sensitivity as Melchior's sympathetic mother.
There are, unfortunately, a few missteps (quite literally) in this otherwise fine production. The choreography by Kurt Boehm sometimes undermines the delicate balance between the period setting and the contemporary rock score; fluttery hand gestures, cartwheels and moves from Michael Jackson videos feel out of place. The direction of the three-member ensemble is also rather awkward. The switch from teenagers to angels of death clutters the final scene and their costuming and blocking is frequently distracting.
While most cultural venues have already slipped into more escapist summer fare, Keegan Theatre deserves a round of applause for ending their season with more challenging material. LGBT audiences will find "Spring Awakening," with its positive portrayal of homosexuality and complex depictions of sexual politics, especially rewarding.
Meet the 'CEO of Everything Gay' who just bought the Abbey
Tristan Schukraft, who owns Mistr, takes over iconic LA nightclub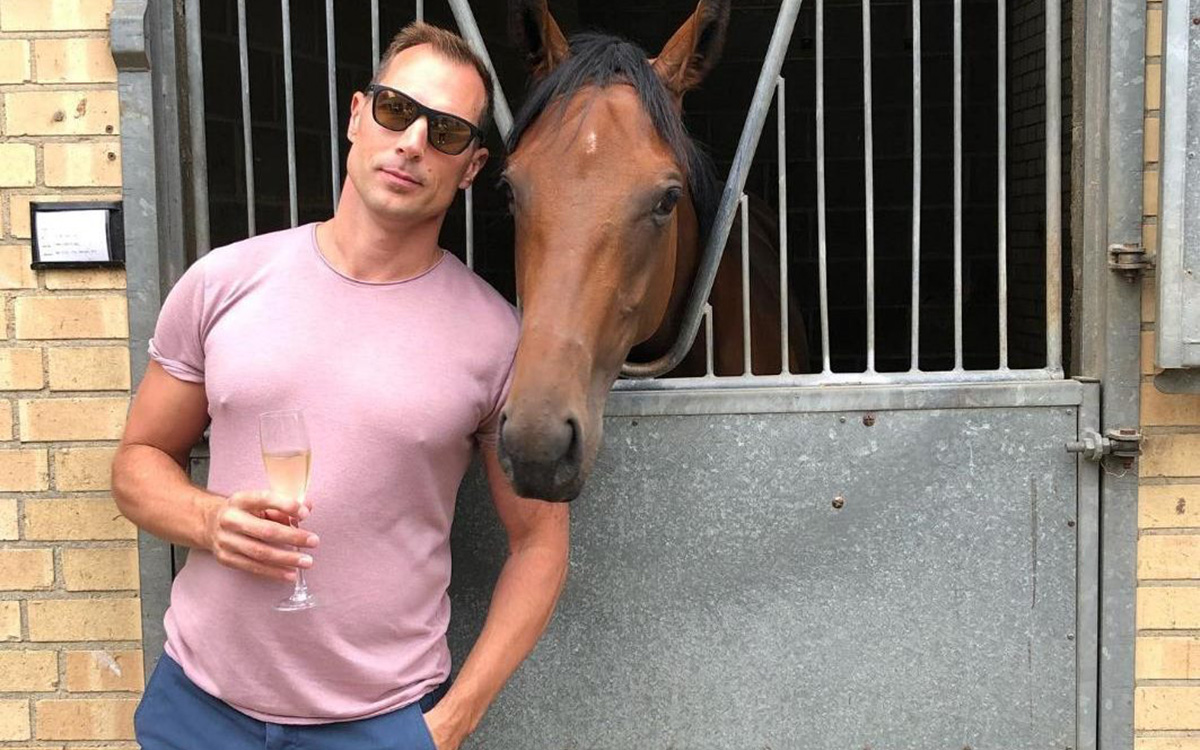 WEST HOLLYWOOD, Calif. — Tristan Schukraft laughs when I suggest he's building a gay empire, but he doesn't deny it. 
When it was announced last month that the owner of the iconic Abbey and Chapel nightclubs in Los Angeles had entered into an agreement to sell the business to Schukraft, it seemed like a strange move for the jet-setting tech CEO.
But the portfolio he's building – founder and owner of the telemedicine app for gay men Mistr, owner of the queer nightclub Circo and Tryst Hotel in Puerto Rico – appears to be bent toward Hoovering up more pink dollars by getting involved in an ever wider section of queer life.
The Los Angeles Blade spoke to Schukraft at The Abbey during its annual tree-lighting fundraiser for the Elizabeth Taylor AIDS Foundation about what he plans to do with the storied nightclub, and how he became one of America's most visible gay moguls.
This interview has been edited for length and clarity.
BLADE: Why the Abbey?
SCHUKRAFT: Well, I wanted to make sure it stayed in the hands of the gay community. You know, it's an institution. It's a cornerstone of West Hollywood gay life, but more importantly, it's I think it's a cornerstone of the gay community far beyond West Hollywood, right?
BLADE: Looking at your background in tech companies, your recent shift into the nightclub and hospitality industry seems like a bit of a left turn.
SCHUKRAFT: You know, I've been drinking here for a long time. So now, after all that investment, I'm actually gonna start getting money back. I basically bought it so I can get free drinks.
You know, at the end of the day, I'm an operations guy. I'm a technology guy. I own hotels. With hotels, you have bars and restaurants, so it's not too far off the track. It's a little off track. Why not? Right?
You know, after watching "The Birdcage," I always wanted my own hotel [like Robin Williams's character in the 1996 film] and somebody shattered my dreams the other day by telling me it was a nightclub. I'm like, what? It was a nightclub? And then I watched it, and it's true, it was a nightclub. So, now I have a nightclub. Yeah, so it all started with "The Birdcage."
BLADE: You're known for being a disrupter of the things that you invest in. Is there a disruption plan for the Abbey, or for Weho? Are you planning to change things here?
SCHUKRAFT: Not a major disruption here at The Abbey. I'm gonna put my touches on it. But yeah, it's a pretty well-oiled machine. We're definitely going to focus on our values of being LGBTQ. I got some ideas for new nights and I definitely want to make it an epicenter of the gay community. And I think there's opportunities to take it beyond West Hollywood.
BLADE: Can you give any kind of sneak peek at what you're thinking?
SCHUKRAFT: East Coast. That's your sneak peek right now. East Coast.
I think you'll see in a couple months what I'm gonna do with the Abbey. But you know as far as taking it outside of West Hollywood, I see there's opportunities on the East Coast right now.
I think that's where David [Cooley, the founder and current owner of The Abbey] and I really we both appreciate the value of The Abbey brand. I think it's world famous, right? It's the biggest gay bar. It's one of the longest lasting. Obviously you have the Stonewalls of the world. But this is like a bar where people go on a regular night versus a tourist attraction. Maybe for some it's a tourist attraction, but I mean, it really is an institution. It's a community gathering point. It's a name that people recognize that we can bring into other communities.
BLADE: Do you have any plans to put a hotel somewhere here?
SCHUKRAFT: [Laughs] People are like, "Are you gonna paint it blue for Mistr?" Or, "You're gonna make it a hotel?" But no, we're not building a hotel here. That would be terrible to build. I mean build a hotel and Abbey would be out. I don't think the Abbey's ever closed in 33 years, besides COVID. Minus that, it's never closed for construction. You know, when David did his expansion, it was always open.
I was looking at those old photos and I'm like, oh my God, I remember the wall of candles. I've been coming here a very long time.
So you're more or less like keeping the same sort of operation going here, keeping the team in place?
The team, I mean, I think that's what kind of really makes The Abbey unique. It's like a place where everybody knows your name.
When I bought the hotel in Puerto Rico, obviously I don't know anyone. Buying here. I'm like, oh, yeah. I know Todd. I know everybody, right? Not everybody, but a majority of people. And I think that's why people come here. Because it's their staple. They go every Sunday. They know they have their favorite bartender. So, you know, everybody will be kept in place, no changes to personnel.
BLADE: You gave an interview to Authority Magazine where you said you promised your partner that you wouldn't be starting up any new businesses. How did you get him on board with jumping into becoming a WeHo nightlife impresario?
SCHUKRAFT: I broke that promise two or three times since I said that. I mean, no, I just buy him gifts to make him happy.
I work long hours, right? And he's like, I don't know why.
BLADE: You've created and run several tech companies. How did you get started in that business? Where did that money come from?
SCHUKRAFT: I started my very first company at 21 with a $10,000 loan. I was living in Hong Kong at the time. I think my father really wanted me to come back [to California]. My dad's a corporate guy, not a big risk taker, but he's like, 'I'll give you $10,000 to start your company.' It wasn't enough to start the company, so I imported 437 Razor scooters and I thought I was gonna sell out in two weeks. It was very popular at the time – this is like 23 years ago. It took me six and a half weeks. I was selling them out of my truck. I went to every swap meet in Southern California. Sold the last six on Christmas Eve and learned a couple lessons in business from that. But with the money I made from selling those scooters combined with the loan, I started my first company, which was like an Expedia for airline personnel.
And then I got into e-ticketing, and at that time, I didn't know how to turn on the computer. So, I really surround myself with people that know what they're doing, that are experts. So, do I know how to run a bar? No, but I'm an operations guy and I hire the talent to make it happen. That's how I got started and I built that company and others along the way.
BLADE: Other than that first $10,000 loan from your parents, you're basically self-made then?
SCHUKRAFT: Yeah. You know, I looked for investment. I did end up raising $18 million for my second company, but I put in a lot of money. I mean at 25, my first company was going really well, and there was this e-ticketing mandate and I said, oh there's a real opportunity here. And I had a home and was doing good for a 25-year-old, and I kind of leveraged it all. And I thought, "Oh my God, what did I do? I just fucked up my whole life. Why did I do this?" Anyways, I got that first investor, got that first client, and it just kind of took off from there.
BLADE: And now with Mistr, The Abbey, your Puerto Rico clubs, are you starting a gay empire?
SCHUKRAFT: The CEO of Everything Gay, yes. I have a few more things. You know, all the businesses are very complementary, right? So, you come to The Abbey, then you go to the Tryst Hotel or Circo in Puerto Rico, and obviously all of the people that come here or the Tryst, they're all perfect candidates for Mistr. So yeah, so it looks a little weird. But it is very complementary to our various business units
Film about queer icon to premiere in Virginia
'Slayed: The Untold Story' playing at Arlington Cinema and Drafthouse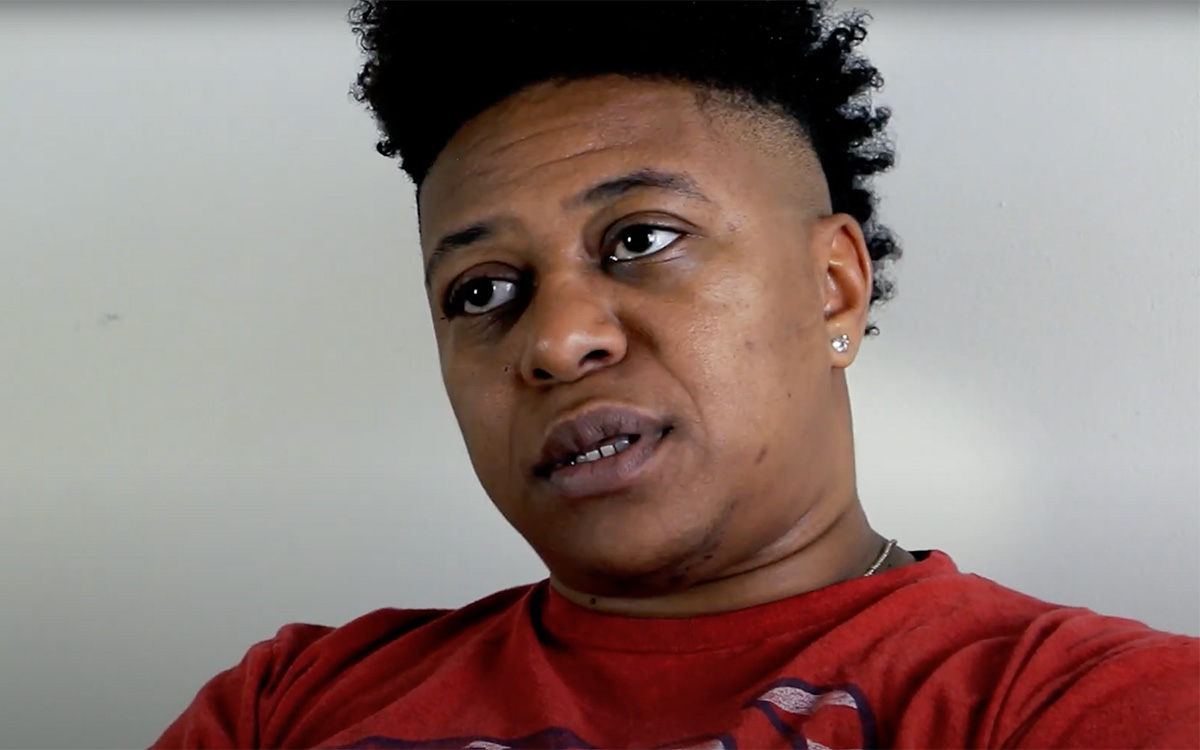 The film premiere of "Slayed: The Untold Story" will be on Tuesday, Dec. 12 at 6 p.m. at Arlington Cinema and Drafthouse.
The film is a riveting documentary that charts the audacious journey of Kai 'Stud Slayer' Brown, a fearless queer icon who shattered taboos about Black masculine women in an unforgiving era.
Following the screening there will be a discussion panel and question and answer session. Tickets are $15 and can be purchased on Eventbrite. 
Gay Men's Chorus is here with Christmas cheer
Holiday singalong held at Hotel Zena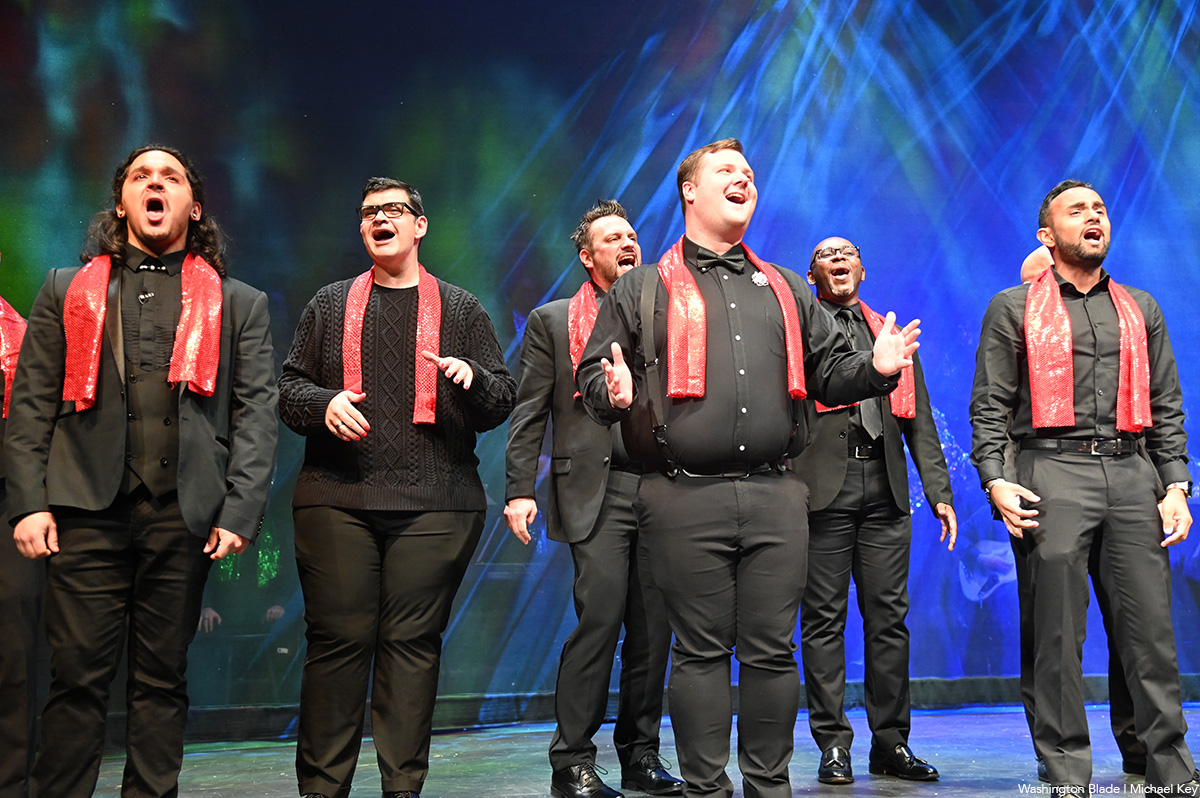 The Gay Men's Chorus of Washington will host a holiday singalong on Tuesday, Dec. 12 at 5 p.m. at Hotel Zena.
The event will begin with drinks in the Hotel Zena bar followed by the singalong. Tickets start at $10 and can be purchased on Eventbrite.