Celebration meets politics at Baltimore Pride
"I feel that Baltimore Pride 2012 was a huge success," said Donald Young, Pride Parade coordinator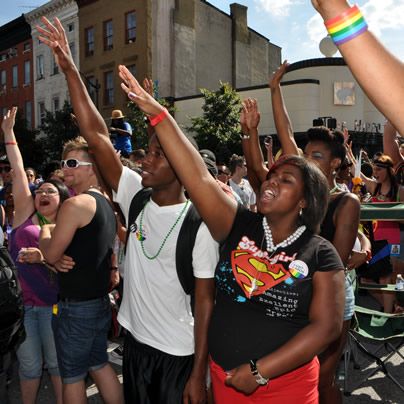 With sun-splashed, comfortably warm temperatures adding to an already festive atmosphere, the organizers of Baltimore's 37th annual Pride could not have ordered up a more perfect weekend for June 16-17. In the past, Pride-goers typically had to endure steamy, sticky conditions.
Following the traditional high-heel race, the parade traveled up Charles Street through Mount Vernon with its array of floats, marchers and vehicles. Colorful confetti, beads, candy and a host of other items were tossed to onlookers that were at least five deep on both sides of the street at certain points along the route.
A total of 76 units participated—a new record, according to Donald Young, Pride Parade coordinator. Young also co-emceed the event with Shawnna Alexander. Taking part were representatives from most of Baltimore's bars and clubs, including The Lodge in Boonsboro, Md., a large assortment of LGBT and LGBT-friendly organizations and businesses, health organizations and political groups.
The parade's Grand Marshal, June Horner, 75, a PFLAG Mom, marched with her gay son Mark. Horner eschewed a closed vehicle and opted to walk the route.
Three judges evaluated the entries. The Best Car/Motorcycle entry was awarded to C.O.M.M.A.N.D., a leather organization. Euforia—Latina night from the Club Hippo—won the Best Marching Group category. And AIDS Action Baltimore took the Best Float prize.
"I feel that Baltimore Pride 2012 was a huge success," said Young. "I had a great team to work with, especially Trevor Ankeny and Gary Wolnitzek (president and director of programs, respectively of the Gay and Lesbian Community Center of Baltimore that produces Pride)."
"These two individuals made my work at running the parade and high heel race so easy and I am proud and honored to have served on the same team with them."
At the conclusion of the parade, the merriment transitioned to the Baltimore Pride Block Party that attracted thousands of LGBT folks, allies and neighborhood residents. The throng spread beyond the normal confines of Eager and Charles Streets to nearby parking lots where tailgating parties, complete with DJ-led beat-thumping music, ensued. Food and beverage vendors as well as those offering LGBT-related clothing and accessories were available. A couple of "adult" performers, Max Ryder and Pierre Fitch, courtesy of TLA/Gay.com, were in a new Adult Zone to pose for photos.
A series of entertainers, headlined by British-born and New York-based Neon Hitch, rocked the party.
On Sunday, the venue shifted to Druid Hill Park. An estimated crowd of more than 5,000 attended the slightly less frenetic festival where some 80 vendors from LGBT organizations and friendly businesses lined the paths to offer their services or wares.
The 2012 edition of Baltimore Pride had a stronger political feel than usual given the looming referendum on the Civil Marriage Protection Act and the presidential election in November. More than a dozen volunteers and paid staff of Marylanders for Marriage Equality combed the area handing out stickers, canvassing attendees and urging them to sign pledge forms that signify their intent to vote for marriage equality. Obama campaign representatives sought donations, sold T-shirts and enlisted volunteers. The Human Rights Campaign also staffed a booth at the festival.
Carrie Evans, executive director of Equality Maryland and Karess Taylor-Hughes from the Marylanders for Marriage Equality campaign delivered brief speeches.
Baltimore Pride is the principal fundraiser for the GLCCB.
Virginia Beach high school students stage walkouts to support transgender rights
City's school board approved policy to out trans students to parents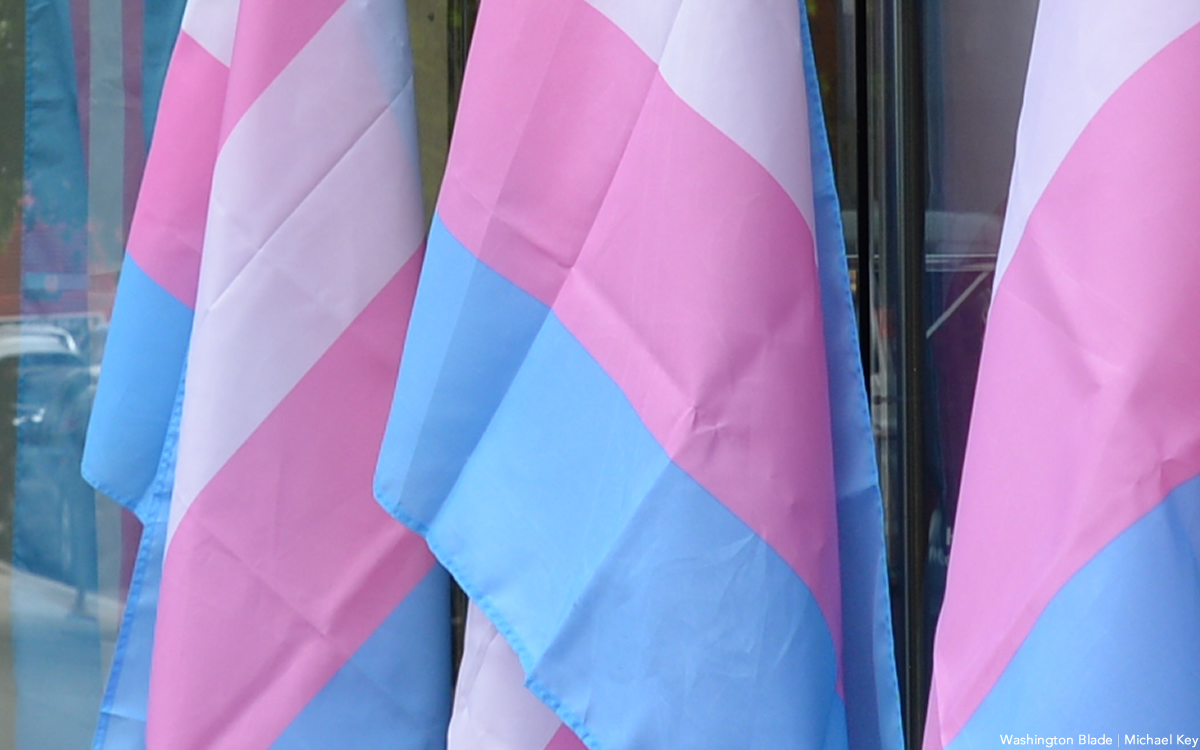 Students at five Virginia Beach high schools on Friday staged walkouts in support of transgender rights.
The walkout is in response to the Virginia Beach School Board approving policy 5-31, which the Pride Liberation Project says will require schools to out trans students to their parents.
Students have been organizing walkouts across the state since Republican Gov. Glenn Youngkin earlier this year announced new guidelines for trans and nonbinary students.
"Students like me aren't going to be able to talk to our teachers if we're constantly worried about our school officials calling home to forcibly out us," AJ, a trans Kellam High School Student, told the Pride Liberation Project.
Pepco, Exelon announce $2.7 million in funding for four minority-owned businesses
'It's good business sense to bring more people to the table'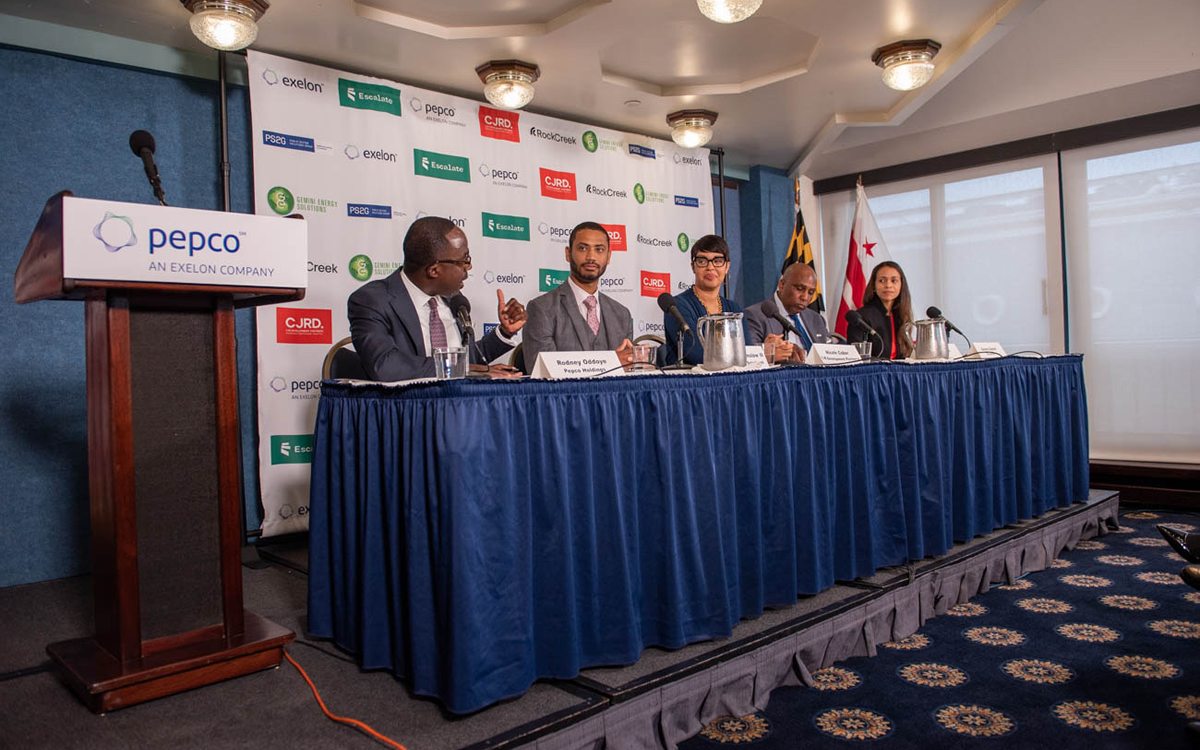 Pepco and Exelon announced a $2.7 million investment in four minority-owned businesses on Friday.
"Today's been a long time coming," said Pepco Vice President of Governmental and External Affairs Valencia McClure.
Pepco's parent company, Exelon, launched the Racial Equity Capital Fund (RECF) in 2022 to expand capital access to diverse businesses. This latest $2.7 million investment is just a portion of RECF's $36 million in funding.
At the announcement, D.C. Mayor Muriel E. Bowser spoke about the other ways Pepco and Exelon have "put their money where their mouth is" through their partnership with the D.C. Infrastructure Academy. She reported that all 22 of the residents that graduated from the program last week have a job offer from Pepco.
"We know that is not just a job, but a career," she said to the crowd's applause. "We know that working together, we can invest in D.C. residents, provide opportunity, and ensure that our D.C. businesses are a part of D.C.'s growing prosperity."
The four minority businesses that received funding were Gemini Energy Solutions, Public Sector Solutions Group, CJR Development Partners, and Escalate.
"It's good business sense to bring more people to the table," said fund recipient Nicole Cober, CJR Development's Principle Managing Partner.
Gemini Energy Solutions, which is Black owned, received $1 million, the most of the four companies. Its mission is to equitably scale energy efficiency to marginalized communities. For the founder and CEO Anthony Kinslow II, this investment means that he is able to get paid and advance the work of his organization.
"We are now able to accelerate the work in our software and technology development," he said. "What we were going to do in two years, we are now going to do in six months."
For Escalate, a workforce development platform focused on frontline worker retention, the funding means that it will be able to double the pay for frontline workers.
Public Sector Solutions Group CEO Darryl Wiggins emphasized that this investment was not just 'charity' work, but mission-driven work.
"The principle and the intent is greater than the money we receive," he said. Public Sector Solutions is Black owned.
Public Sector Solutions Group received a $600,000 debt investment; CJR Development, a minority and woman-owned small business, received a $600,000 debt investment; and Escalate, a majority Black and woman-owned company, received a $500,000 equity investment.
Exelon launched the RECF in partnership with RockCreek, one of the world's largest diverse-owned global investment firms, in 2022. The RECF expands capital access to diverse businesses so they can create more jobs, grow their companies and reinvest in their neighborhoods and communities, according to a statement from Exelon.
New RECF applications are accepted on a rolling basis. Interested businesses may apply online or contact RockCreek at [email protected] for more information.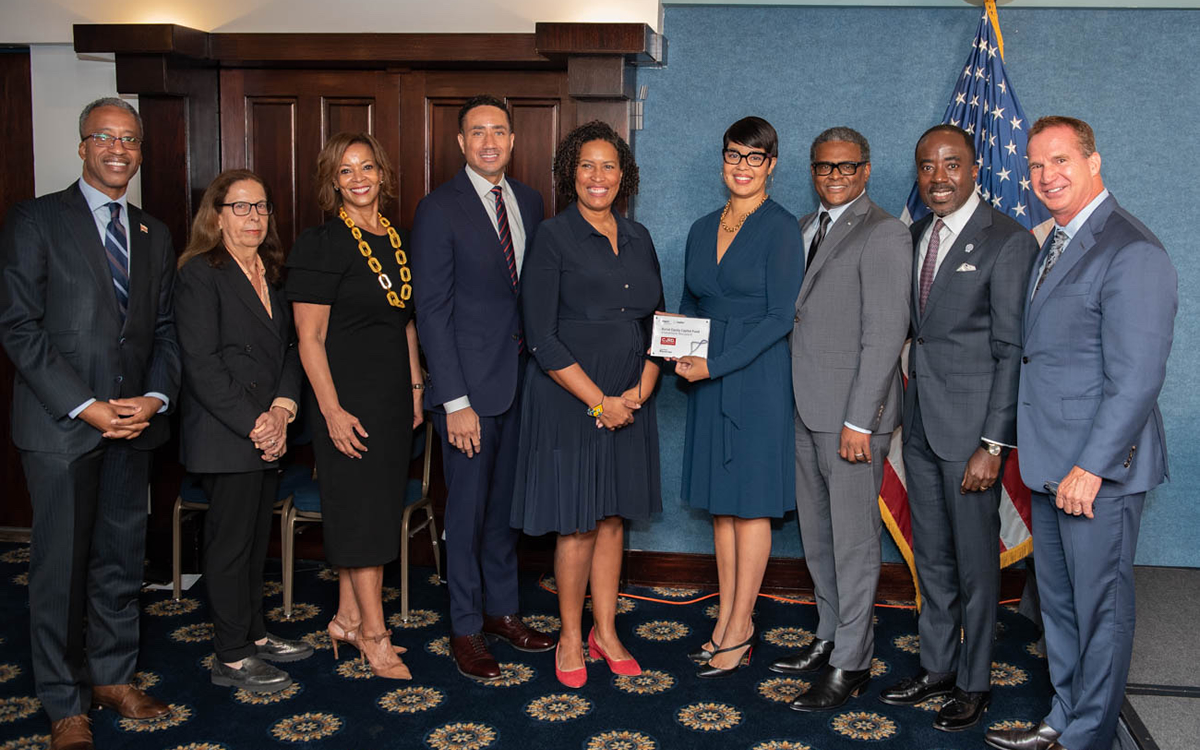 Comings & Goings
Armstrong recognized with Lifetime Achievement Award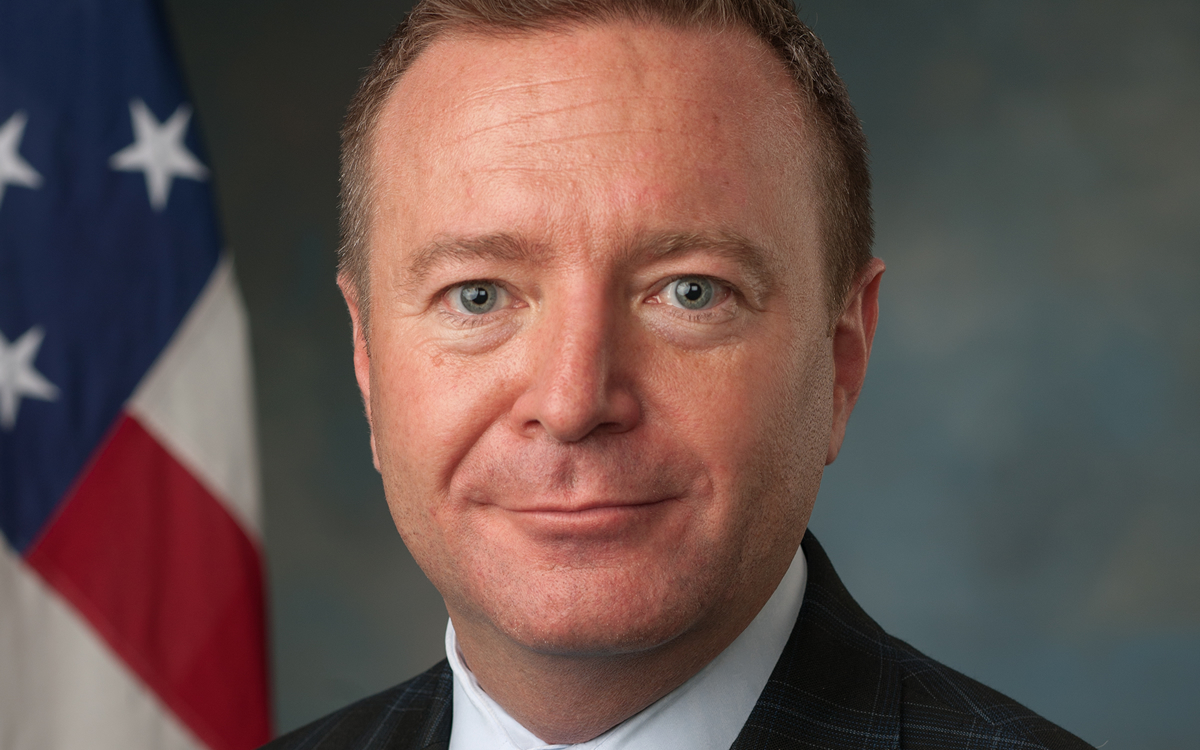 The Comings & Goings column is about sharing the professional successes of our community. We want to recognize those landing new jobs, new clients for their business, joining boards of organizations and other achievements. Please share your successes with us at: [email protected].
Congratulations to Lynden C. Armstrong on his Lifetime Achievement award from the Congressional Management Foundation in recognition of his exemplary public service in Congress.
Upon receiving the award Armstrong said, "This recognition is not just a personal achievement, but a testament to the unwavering dedication and hard work of colleagues and mentors who have been with me on this journey. I've dedicated my entire career to public service within the Senate, where recognition isn't the primary motivation for our work, making this recognition even more humbling." He is currently Deputy Assistant Senate Sergeant at Arms and Chief Information Officer.
Armstrong started his career with Sen. Pete Domenici (R-N.M.), where he rose to Deputy Chief of Staff in his more than 13-year stint. In 2004, during his tenure with Domenici, amid a debate on the Federal Marriage Amendment, Armstrong became a co-founder of the Gay, Lesbian and Allies Senate Staff (GLASS) Caucus. In 2014, he moved to the Sergeant at Arms CIO organization, where he established a new department within the CIO that was crafted to engage Senate offices in comprehending and harnessing technologies provided by the SAA.
Lynden has previously served as Chief Clerk on the U.S. Senate, Committee on Rules and Administration, and with the U.S. Senate, Joint Congressional Committee on Inaugural Ceremonies, as Deputy Inaugural Coordinator, 2012–2013. In that role among other responsibilities, he served as civilian liaison to the National Special Security Event Executive Steering Committee and subcommittees, including the Capitol, USCP, Crowd Management, Public Relations, Transportation, and credentialing, and as liaison to the Joint Task Force – National Capital Region.