Polyak discusses marriage referendum, future activism
Former Equality Maryland board chair spoke to the Blade less than a month after she stepped down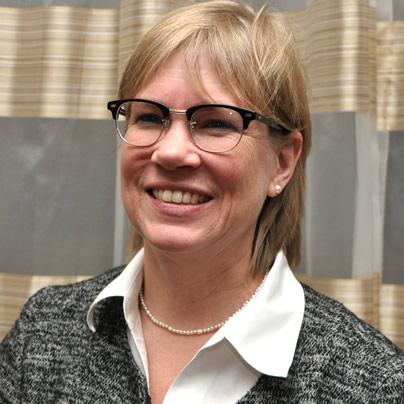 The former chair of Equality Maryland's Board of Directors stressed on Monday she remains optimistic that voters will uphold the state's same-sex marriage law in November.
"The polling trend is definitely way more positive than it has been in the last couple of years, but we continue to see evidence of people feeling strongly in another way," said Lisa Polyak, referring to the controversy over Chick-fil-A President Dan Cathy's comments against marriage rights for gays and lesbians. She also described Josh Levin of Marylanders for Marriage Equality as a "very effective campaign manager" who has begun to receive the resources she said he needs to defend the same-sex marriage law at the ballot. Polyak added she feels that both President Obama's support of nuptials for gays and lesbians and the National Association for the Advancement of Colored People's resolution in support of the issue provided the campaign with additional momentum.
"If we win in November, it will be in large measure because of those two events," she said. "The campaign, rightly, is coming in under that and doing their job efficiently and well."
Polyak and her partner of more than 30 years, Gita Deane, have remained two of the most prominent figures in the fight for nuptials for gays and lesbians in Maryland since they became the lead plaintiffs in the same-sex marriage lawsuit that Equality Maryland and the American Civil Liberties Union filed in 2004. The Maryland Court of Appeals in 2007 ultimately upheld the constitutionality of the state's ban on nuptials for gays and lesbians, but Polyak stressed to the Blade that she and Deane simply wanted to protect their children.
"The reason we got involved in the first place was because we've had all of these sorts of unexpected experiences trying to take care of our kids," she said, pointing to obtaining health care and passports for the couple's two daughters and entering the country with them were among the difficulties they faced. "Starry eyed, we thought well we'll get involved with the marriage litigation because you know if we were married we wouldn't have these problems, although of course we had no idea what was ahead."
Polyak said that the children of she and her wife Deane, Maya, who is 16, and Devi, who is 13, "were fairly renascent" about their decision to challenge Maryland's same-sex marriage ban.
"For the older one, we told her that we were going to be in the litigation and we told her why in terms that we thought were appropriate for her… [what] it boiled down to is that we wanted to be married and that we couldn't be married right now because of the way that the law was and just that she was shocked. And she told us so," she recalled. "She goes; what do you mean you're not married? I thought you were my parents and why aren't you married? So it began sort of not just being the public face, but also like having this conversation in an ongoing way with our kids every year of their growth about what they could understand."
Court of Appeals decision was "awful"
"Ultimately, for me especially it was important for them to see that even when things don't go the way you want the first time, you don't give up," said Polyak as she stressed the need for her and Deane to "hold ourselves together for our girls so that they didn't think bad things were going to happen to them or to our family."
More than four years after Maryland's highest court ruled against them in Deane and Polyak v. Conway, state lawmakers approved a same-sex marriage bill. Governor Martin O'Malley signed it into law in March. "Of course happiness," said Polyak when asked about her reaction. "More than that just relief at not having to visit it again next year, hopefully, with the referendum not withstanding because I think everybody who has worked on this, truthfully, is exhausted."
The looming likelihood of a referendum on the same-sex marriage law once the governor signed it factored heavily into their decision to marry in D.C. last year. Attorney General Douglas Gansler said in Feb. 2010 that the state could recognize same-sex marriages that were legally performed in other jurisdictions. O'Malley subsequently ordered state agencies to recognize such unions.
"My partner Gita felt very strongly about us getting older, about our kids getting older and you know what would happen if we could've got married and we didn't get married, what might that bring if something happened to one of us, and that has to do with our family situation basically," said Polyak. "Again, looking again through the eyes of our girls, they knew that marriage was available in D.C. and of course Gita and I wanted to be married. For them it didn't make sense about why weren't we getting married, so we were very aware of our personal needs and then also the fact that we didn't want people in Maryland to think that we were giving up. We weren't telegraphing of course any kind of negativity about the ongoing legislation. We literally went down to D.C. on the down low and we got married with a very small group of people — like eight people who were close to us."
Polyak spoke to the Blade less than a month after she stepped down.
She was appointed acting chair of Equality Maryland's Board of Directors in June 2011 after attorney Chuck Butler resigned in the wake of former executive director Morgan Meneses-Sheets' April 2011 departure from the organization. The board voted to appoint Polyak chair during Equality Maryland's annual meeting in January.
"I don't know about lessons learned, but I know for Patrick Wojahn, who was the other board chair, and myself, both he and I were plaintiffs in the marriage litigation, and then just through serendipity found ourselves as the board chairs of the respective boards at the time when Equality Maryland went through all those difficulties," she said. "I think somehow for both of us we weren't going to let it to fall apart. What Equality Maryland aspires to, which is the legal and the policy health of LGBT citizens I think is something both Patrick and I feel strongly in. And without really having a road map about how we were going to sort of keep things from falling completely apart, we just decided that we weren't going to let it happen and we had three of the residual board members who worked with us all last summer. In retrospect I can't believe that we did it, but i think it's just like anything — if you really believe in something, you find a way."
In spite of her departure from Equality Maryland, Polyak said she plans to continue to advocate on behalf of LGBT families and children. She remains the online moderator of Families with Pride, a group for LGBT parents in Baltimore. And it plans to hold a reunion in the coming weeks.
"Both my girls are getting ready to think about college. And so that's always time consuming and lots of planning and I want to share in that time with them," said Polyak. "I have to say both for Gita and for myself, our focus has always been about what is the lack of law, what the lack of protections do to children and so I'm fairly certain that ending Equality Maryland won't be the end of my sort of advocacy for equality for our community."
Virginia Beach high school students stage walkouts to support transgender rights
City's school board approved policy to out trans students to parents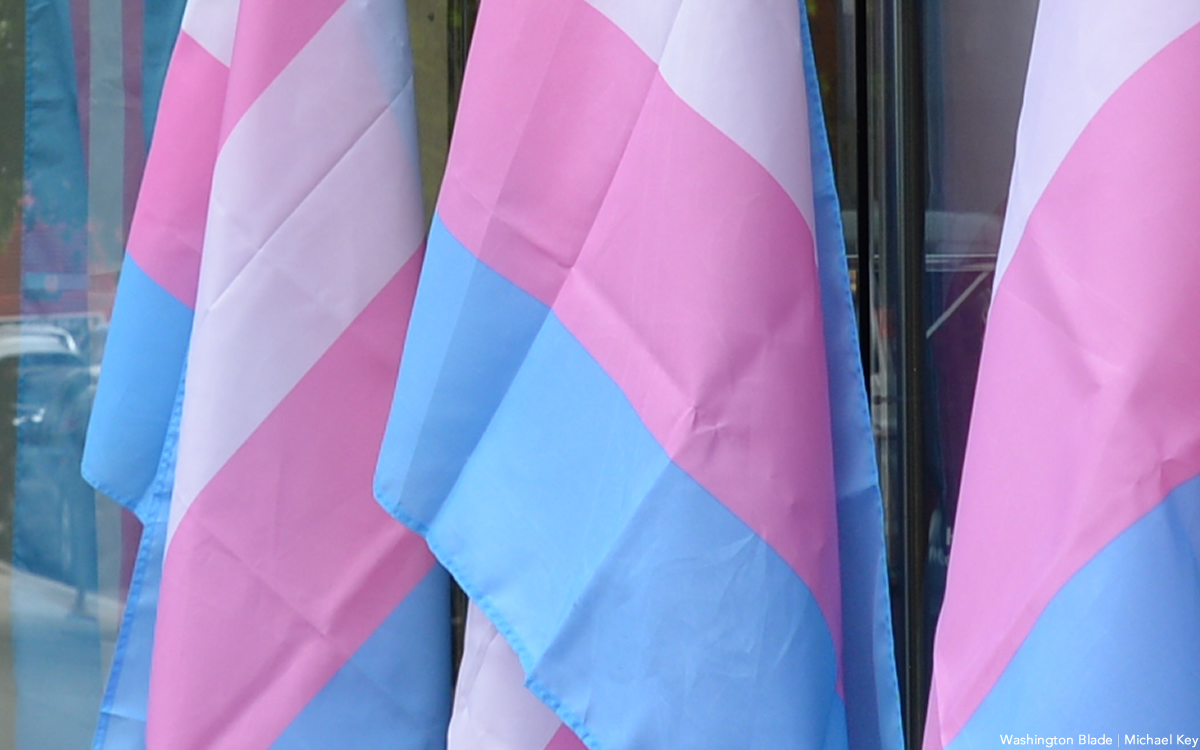 Students at five Virginia Beach high schools on Friday staged walkouts in support of transgender rights.
The walkout is in response to the Virginia Beach School Board approving policy 5-31, which the Pride Liberation Project says will require schools to out trans students to their parents.
Students have been organizing walkouts across the state since Republican Gov. Glenn Youngkin earlier this year announced new guidelines for trans and nonbinary students.
"Students like me aren't going to be able to talk to our teachers if we're constantly worried about our school officials calling home to forcibly out us," AJ, a trans Kellam High School Student, told the Pride Liberation Project.
Pepco, Exelon announce $2.7 million in funding for four minority-owned businesses
'It's good business sense to bring more people to the table'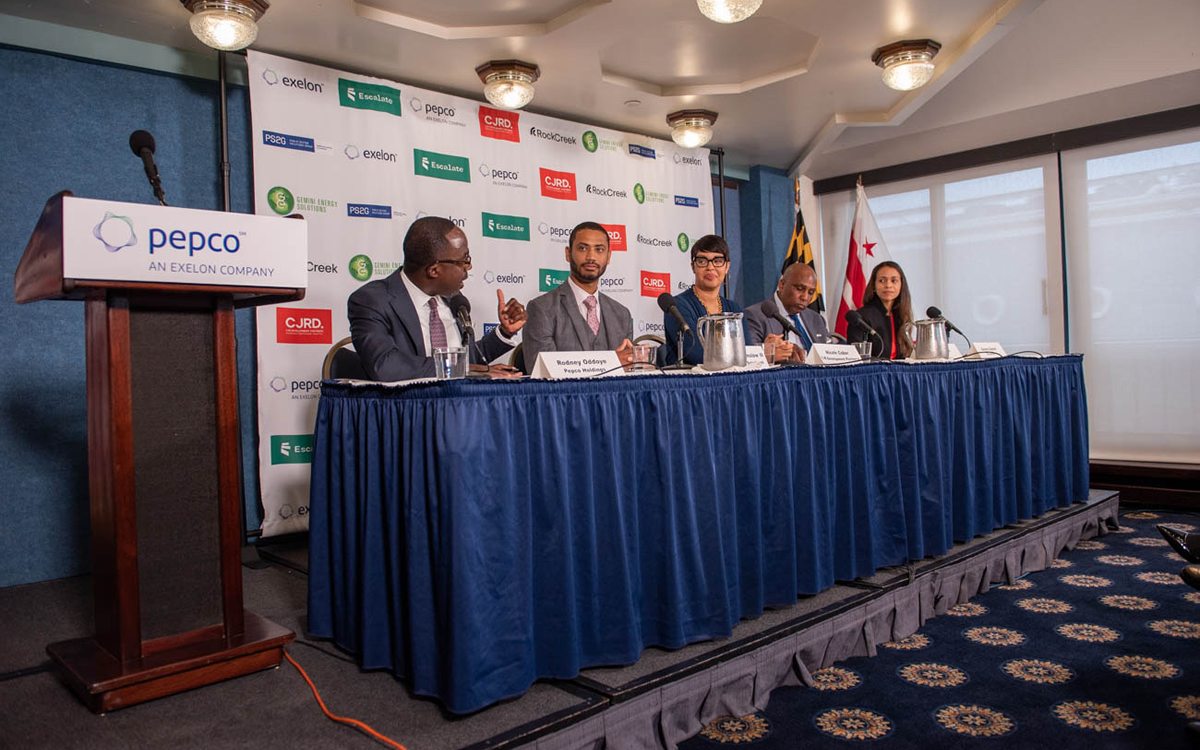 Pepco and Exelon announced a $2.7 million investment in four minority-owned businesses on Friday.
"Today's been a long time coming," said Pepco Vice President of Governmental and External Affairs Valencia McClure.
Pepco's parent company, Exelon, launched the Racial Equity Capital Fund (RECF) in 2022 to expand capital access to diverse businesses. This latest $2.7 million investment is just a portion of RECF's $36 million in funding.
At the announcement, D.C. Mayor Muriel E. Bowser spoke about the other ways Pepco and Exelon have "put their money where their mouth is" through their partnership with the D.C. Infrastructure Academy. She reported that all 22 of the residents that graduated from the program last week have a job offer from Pepco.
"We know that is not just a job, but a career," she said to the crowd's applause. "We know that working together, we can invest in D.C. residents, provide opportunity, and ensure that our D.C. businesses are a part of D.C.'s growing prosperity."
The four minority businesses that received funding were Gemini Energy Solutions, Public Sector Solutions Group, CJR Development Partners, and Escalate.
"It's good business sense to bring more people to the table," said fund recipient Nicole Cober, CJR Development's Principle Managing Partner.
Gemini Energy Solutions, which is Black owned, received $1 million, the most of the four companies. Its mission is to equitably scale energy efficiency to marginalized communities. For the founder and CEO Anthony Kinslow II, this investment means that he is able to get paid and advance the work of his organization.
"We are now able to accelerate the work in our software and technology development," he said. "What we were going to do in two years, we are now going to do in six months."
For Escalate, a workforce development platform focused on frontline worker retention, the funding means that it will be able to double the pay for frontline workers.
Public Sector Solutions Group CEO Darryl Wiggins emphasized that this investment was not just 'charity' work, but mission-driven work.
"The principle and the intent is greater than the money we receive," he said. Public Sector Solutions is Black owned.
Public Sector Solutions Group received a $600,000 debt investment; CJR Development, a minority and woman-owned small business, received a $600,000 debt investment; and Escalate, a majority Black and woman-owned company, received a $500,000 equity investment.
Exelon launched the RECF in partnership with RockCreek, one of the world's largest diverse-owned global investment firms, in 2022. The RECF expands capital access to diverse businesses so they can create more jobs, grow their companies and reinvest in their neighborhoods and communities, according to a statement from Exelon.
New RECF applications are accepted on a rolling basis. Interested businesses may apply online or contact RockCreek at [email protected] for more information.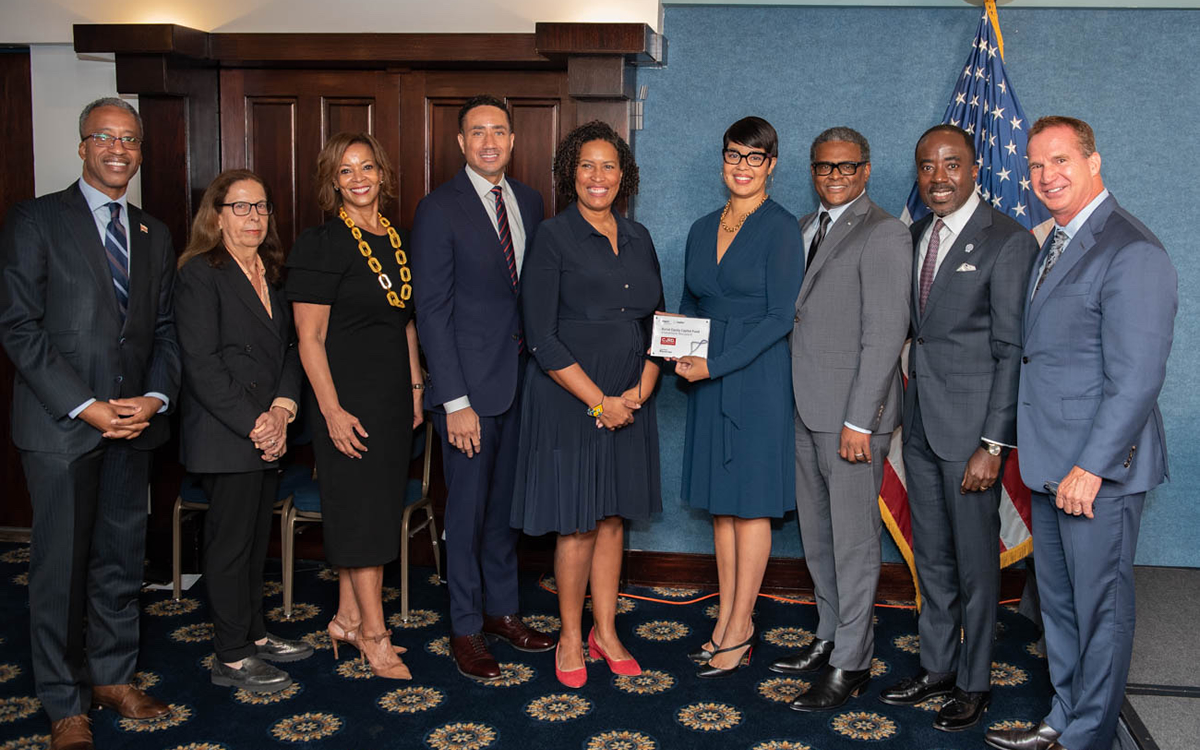 Comings & Goings
Armstrong recognized with Lifetime Achievement Award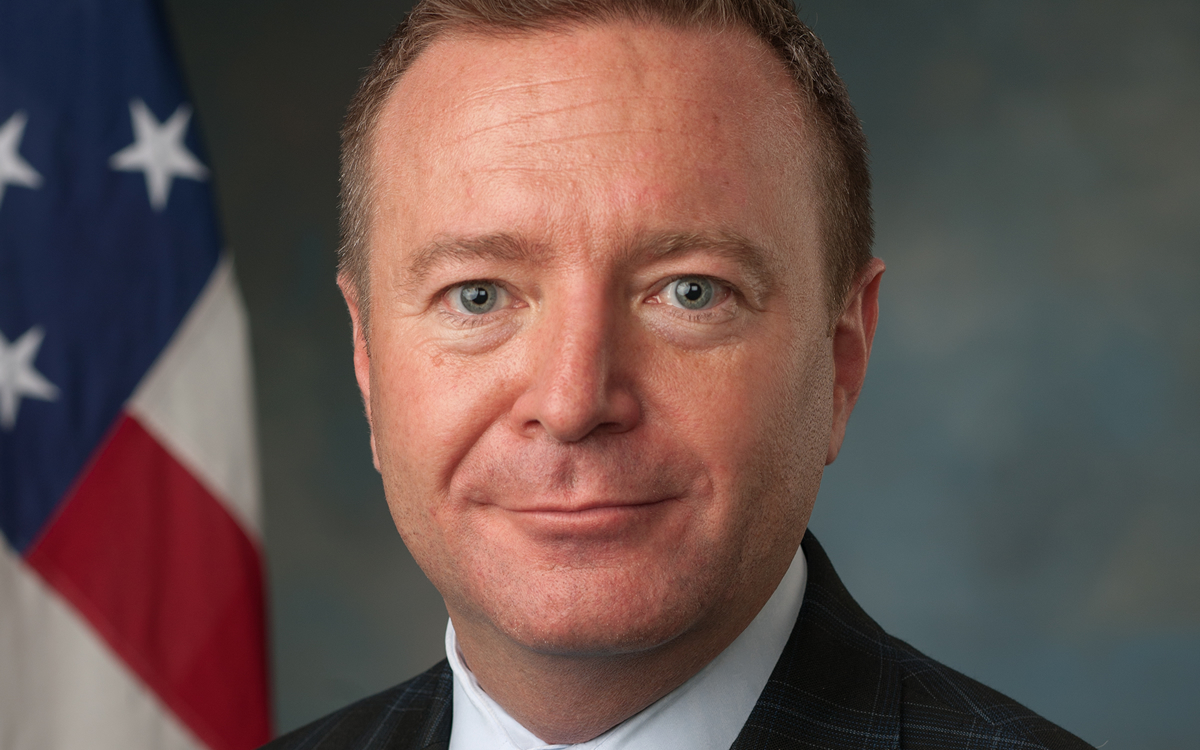 The Comings & Goings column is about sharing the professional successes of our community. We want to recognize those landing new jobs, new clients for their business, joining boards of organizations and other achievements. Please share your successes with us at: [email protected].
Congratulations to Lynden C. Armstrong on his Lifetime Achievement award from the Congressional Management Foundation in recognition of his exemplary public service in Congress.
Upon receiving the award Armstrong said, "This recognition is not just a personal achievement, but a testament to the unwavering dedication and hard work of colleagues and mentors who have been with me on this journey. I've dedicated my entire career to public service within the Senate, where recognition isn't the primary motivation for our work, making this recognition even more humbling." He is currently Deputy Assistant Senate Sergeant at Arms and Chief Information Officer.
Armstrong started his career with Sen. Pete Domenici (R-N.M.), where he rose to Deputy Chief of Staff in his more than 13-year stint. In 2004, during his tenure with Domenici, amid a debate on the Federal Marriage Amendment, Armstrong became a co-founder of the Gay, Lesbian and Allies Senate Staff (GLASS) Caucus. In 2014, he moved to the Sergeant at Arms CIO organization, where he established a new department within the CIO that was crafted to engage Senate offices in comprehending and harnessing technologies provided by the SAA.
Lynden has previously served as Chief Clerk on the U.S. Senate, Committee on Rules and Administration, and with the U.S. Senate, Joint Congressional Committee on Inaugural Ceremonies, as Deputy Inaugural Coordinator, 2012–2013. In that role among other responsibilities, he served as civilian liaison to the National Special Security Event Executive Steering Committee and subcommittees, including the Capitol, USCP, Crowd Management, Public Relations, Transportation, and credentialing, and as liaison to the Joint Task Force – National Capital Region.