N.J. gay couple celebrates 51st anniversary
Vince Grimm and Will Kratz met at a downtown Reading, Pa., gay bar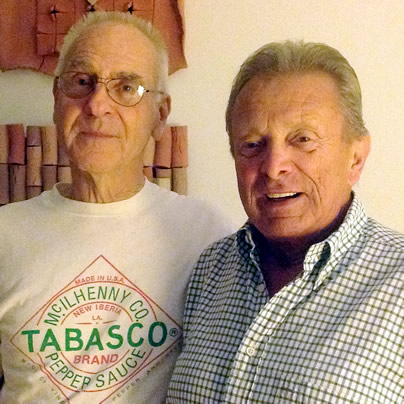 VILLAS, N.J.—Vince Grimm had just left the U.S. Army Security Agency after a two-year deployment in Korea when he returned to the Reading, Pa., gay bar scene in 1961. A 20-year-old farm boy quickly caught his eye at the Big Apple Bar.
"We saw each other on and off at the bar," said Grimm. "He was cute, blonde and kind of flamboyant — just my type."
More than five decades later, Will Kratz pointed out with a hearty chuckle during an interview at their home that overlooks Delaware Bay a few miles north of New Jersey's southernmost point that they consummated their relationship in the back of a 1957 Cadillac. "There was plenty of room," added Grimm.
Kratz, who joked he was 13 when asked his age (he turns 73 later this year,) noted that Reading crime boss Abe Minker essentially allowed the gay bars to flourish because they provided a steady stream of revenue to what Grimm described as the "most corrupt city on the East Coast." He said this pre-Stonewall scenario was a far cry from nearby Philadelphia where undercover officers regularly shook down the city's gay bars.
"That didn't really happen in Reading because there was income coming in from everywhere," said Grimm. "There was a price to pay for people that had businesses and everything like that, but he kind of controlled everything. The bars were basically a safe place to go."
"So were the streets," added Kratz. "Nothing bad ever happened on the streets."
The couple, who celebrated their 51st anniversary the day before the Blade interviewed them on Aug. 9, stressed that they never experienced any sort of harassment or discrimination outside of Kratz's much older brother who never accepted his homosexuality. Their sexual orientation was never a secret to their parents and classmates. "Everybody knew us," said Grimm, 75. "We were sexually active in school; never had any problems."
"We had no idea we were setting a precedent"

Kratz began to perform in drag on stage in the backroom of the Zanzibar, another downtown Reading gay bar, in 1959. Grimm quickly noted that Kratz was underage at the time, but management overlooked this fact.
"They didn't give a shit at the bar, as long as you behaved, as long as you weren't too small to get over the bar," added Kratz.
Kratz decided a couple of years later that he wanted to make the shows bigger. He approached the owner of the Big Apple Bar whose relatives owned a picnic grove outside Reading with buildings and a pavilion. They agreed to rent the space to him.
"Then we decided, well we've got to have money for these drag shows and where are we going to get it? Well let's have barbecue chicken parties, so we had three a summer at that location," said Kratz.
Nearly 300 people paid $5 to attend the first party that took place in 1961, but they quickly grew in popularity. Up to 1,500 revelers who came from as far away as northern New Jersey, Baltimore and even D.C. on themed buses that included those dressed as Vatican officials and the Pope attended the parties. A lesbian once arrived on an elephant with two tigers she borrowed from a local circus.
Grimm noted that they were the Reading Brewery's largest single customer — the company delivered beer to the parties in tractor trailer trucks. Organizers also hired local firefighters, police officers and justices of the peace to work in the parking lot to thwart underage people who wanted to sneak into the gatherings.
"There was no other place for them to go, so that was like our first line of defense," said Grimm. "Plus it made us kind of look legitimate."
They soon, however, began to draw the attention of the Pennsylvania State Police because they created traffic jams on the local roads. Grimm noted that some of the troopers who investigated them were homophobic.
"We had some stand offs when they would come in and just kind of sit there in a car and try to intimate people," said Grimm, who was the president of the group that organized the party. Kratz was its treasurer. "One time I think I must have stood out — stood there just staring at 'em for like an hour, not making a move: well, when you're ready to ask me questions I'll be happy to answer."
Grimm recalled one incident in which the state police claimed that underage people had attended the party. Troopers called the state Liquor Control Board that subsequently confiscated the tractor trailer that had delivered beer.
"We got on the phone with the Reading Brewery and said we have a problem," recalled Grimm. "They said you don't have any problem. We're going to be there with another tractor-trailer of beer within the hour. Don't worry about the Liquor Control Board; we'll take care of them. Another tractor-trailer full of kegs of beer showed up within the hour."
The only other incident that the couple said they had was a rumored police raid. The couple sought advice from another local District Justice about what to do if authorities arrested them, but she was initially confused about the entire situation.
"'Oh my God you're having these huge parties and all you guys are queer,'" said the judge, according to Grimm. "I said, 'Yeah.' She said, 'Well … the law is the law and I'll abide by the law. If you've not done anything, if everything is in place you don't have anything to worry about.'"
Grimm then reached out to a Reading lawyer who worked for the American Civil Liberties Union to "cover my bases." He also didn't understand the potential problem that the couple faced.
"I tried to explain everything to him and he said the ACLU doesn't have anything to do with a group like yours," said Grimm. "They haven't even gotten involved yet in gay groups. This was something totally new."
In addition to the three parties they organized each year, Grimm and Kratz also staged drag shows that featured choreographers and up to 10 performers on stage at any given time. Judy Garland and Barbra Streisand proved popular muses, but some participants wrote entire operettas and made their costumes.
"The fire police people and the local JPs kind of found out that we were having these shows and they said, well how come you never ask us to come to these shows. We said you can come," said Grimm. "They started to come to the Sunday matinees; they would come in suits. Their wives would come in their furs. It was totally unbelievable. This was their theater. We were their theater and they were actually the best audience that we had. We got standing ovations. They would go crazy. They couldn't wait for us."
A combination of Philadelphia's burgeoning drag scene and a lack of interest among younger people prompted the couple to end their parties in 1979.
"It sounds like we were doing great things only in retrospect now because back then, we knew what we were doing, but we had no idea what we were doing," said Kratz, who designed displays for the Strawbridge and Clothier department store at the time. "We knew our drag. We knew how to sew costume. We had no idea we were setting a precedent, for anybody. We just wanted to provide a safe place for the 1,500 or so people who ended up coming and the 500-600 who came to our shows in four weekends. We had no idea we were pre-anything else like Stonewall. We weren't out on the streets looking for freedom. We already had it."
Couple's activism, generosity expands beyond Pa.
Grimm, a former engineer, joined a Bucks County group that supported people with AIDS at the beginning of the epidemic in the early 1980s that became the template for Pennsylvania's statewide service organization for those with the virus. He also volunteered for the South Jersey AIDS Alliance and became a board member after he and Kratz retired to Cape May in 1996.
They also joined GABLES Cape May, an LGBT community and support group with more than 200 members from across the county that formed in the mid-1990s in response to homophobic commentaries about the area's growing gay population that began to appear in the local newspaper. The organization has raised nearly $150,000 for the local Red Cross chapter and other community organizations. Both Grimm and Kratz are also on the Lower Cape May Regional High School's advisory board.
"We know that the gays that are going to the high school over here are being harassed and are being harassed by their classmates," said Grimm, who said this bullying does not occur at a nearby technical school where the students are more accepting of their LGBT classmates. "The kids are basically walking around hand-in-hand and nobody cares."
The group also played a role in efforts to secure passage of both New Jersey's domestic partnership registry and civil unions law — the couple entered into one two days after the state's civil unions law took effect in 2007. Grimm, who is also a minister, continues to officiate these ceremonies throughout the Cape May area.
"The biggest reason for us to do it immediately was death things," said Kratz. "When you die, the tax rate is astronomical. Now that's going to be somewhat less. Domestic partnership is not marriage, but it's close. We've heard stories and meet people that one lover died and they had to sell the house and the business to pay the tax."
He added that he does not think that he and Grimm will live to see the day when gays and lesbians can legally tie the knot in New Jersey. Gov. Chris Christie in February vetoed a same-sex marriage bill, but Kratz stressed he expects gay weddings will eventually happen in the Garden State.
"I thought if marriage passes, am I going to have yet another dress because we had to do two ceremonies," he joked.
When asked about the most romantic thing the couple had done for each other, Kratz immediately said travel. He and Grimm went to India and Egypt in the 1970s and have traveled around the world twice. They established the Nguyen Zian Quynh-Vince Will Education Foundation to help fatherless Vietnamese children attend school after they visited the Southeast Asian country in 2006 and befriended a guide after whom they named it.
"That's probably one of the best, rewarding things we do," said Grimm.
Both men stressed they remain in love with each other after 51 years.
"I've never had a day in my life that I wanted to kill him," said Kratz, although he joked he came close last month after Grimm left his passport in his suitcase when they boarded a cruise ship in Copenhagen. "Never, never have I had a moment where I said I didn't want to be here."
Grimm added that Kratz has "backed me all of the way."
"If I had one wish it would be that everyone could have a supporting partner like he is," he said.
Preserving D.C.'s historic neighborhoods
Some districts are well known and others may come as a surprise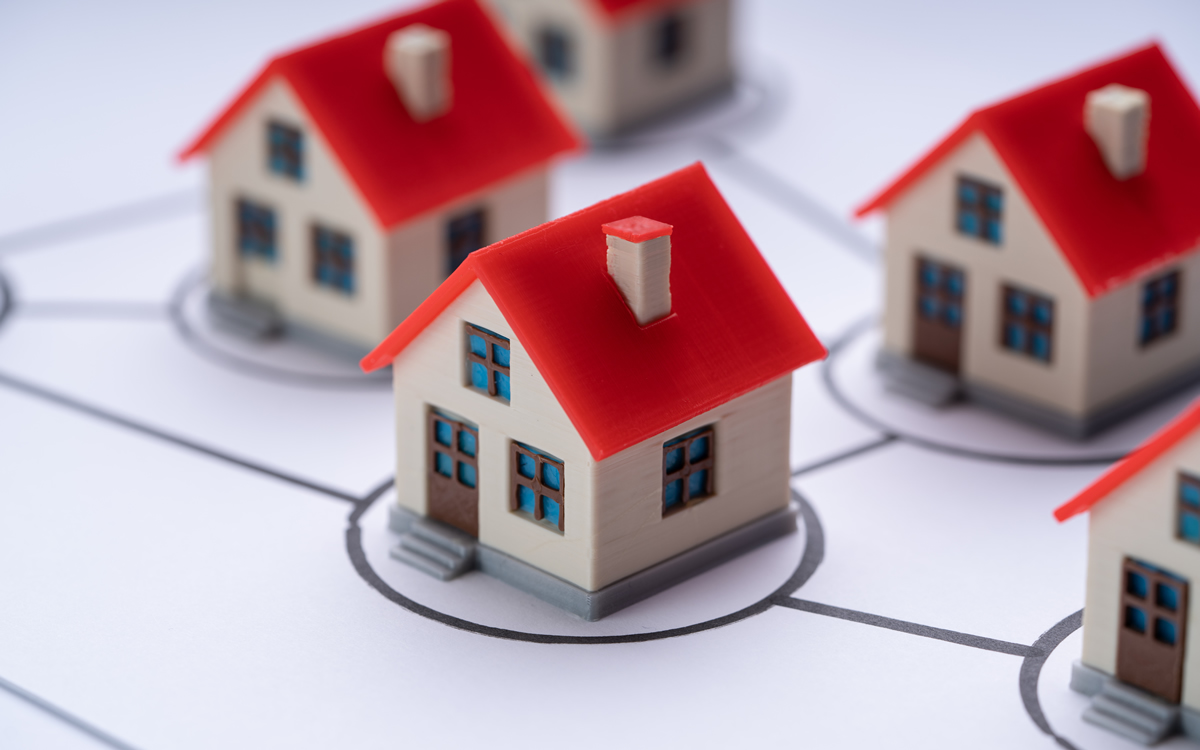 Homeowners Associations (HOAs) often get a bad rap.
Perhaps you can't park in a particular area, your door must be a certain color, your mailbox has a specific height requirement, or your potential deck must be approved by an Architectural Committee that doesn't include an architect.
Association rules may also dictate whether your neighbor can have his car up on blocks in the front yard, limit the hours of your cocaine orgies, or specify who will be allowed to picket your home within a gated community.
Sometimes, HOAs can delay settlement on the transfer of property, since the association generally must sign off on any changes made to the exterior that fall within their purview.
If there have been unauthorized changes to the property, then the seller may be forced to take corrective measures before settlement can proceed. Examples I have seen include lack of architectural committee approval, work done without permits, deteriorating fences, and roofs that are due for replacement.
Whether you find them intrusive or think they help to protect your property values, today's HOAs are far better than the restrictive covenants found in many parts of early 20th century America. Those covenants were designed to prohibit racial or religious minorities from purchasing a home in a particular neighborhood.
In April 1948, the Supreme Court ruled that such covenants violated the Civil Rights Act of 1866, but that didn't end the practice abruptly. These covenants were finally outlawed by the federal Fair Housing Act of 1968 and, while in some areas of the country you may still see them on a deed, they are unenforceable.
HOAs are not prevalent in D.C. and only within the last few decades have we seen them spring up in a few developments within our neighborhoods. Instead, you may find your property encumbered by historic preservation standards.
The National Historic Preservation Act, codified in 1966, outlines laws and regulations that are applicable nationwide. The Historic Landmark and Historic District Protection Act of 1978 contains laws and regulations specific to the District of Columbia. As you can imagine, there is a common goal with a significant amount of overlap between them.
In D.C., the State Historic Preservation Office (SHPO) conducts preservation planning, identifies historic properties, reviews government projects for compliance, and promotes tax credits and incentives for ensuring the preservation of our buildings, monuments, and districts.
Those of us who live in the DMV know that D.C. has a plethora of historic monuments and buildings. It is the Historic Preservation Review Board (HPRB) that determines which landmarks and districts will be included in the DC Inventory of Historic Sites, which is available to the public here. 
Some of our historic districts are well known and others may come as a surprise. For example, when discussing historic districts, most people think first of Georgetown, Capitol Hill, Dupont Circle, or Anacostia, but did you know that Emerald Street and Kingman Park in Northeast D.C. have been designated historic?
In fact, more than 30 local neighborhoods are now deemed historic, including some that I had never heard of, such as Colony Hill, added on March 21, 2021 (north of Reservoir Road NW and west of Glover Archbold Park), Strivers' Section (bordered primarily by Florida and New Hampshire Avenues NW), and Washington Heights (north of Florida Avenue, east of Columbia Road and west to 18th Street NW). Several proposed historic residential districts also have applications pending, including Park View and Barney Circle.
Sometimes the boundaries of historic districts aren't clear. For example, when I lived near Union Station years ago, the south side of the street was considered historic and the properties on the north side were not. You can find out whether a particular property is located in a historic district by searching the address at propertyquest.dc.gov. 
If you already live in a historic area, you need to be aware of what you can and cannot do with the front elevation and roofline of your home. The preference is for repairing a historic element rather than replacing it, and the design of an element as well as the material used must be compatible with the original structure. Guidelines for specific items can be found here. 
If your area is not designated as historic and you would like it to be, you or your organization can file an application with the HPRB. Review the criteria necessary for approval here. 
Be prepared to do a lot of community outreach and attend hearings to support your position, for as much as we want to preserve the beauty of our surroundings, there are likely to be as many people opposed to the idea as there are in favor.
Valerie M. Blake is a licensed Associate Broker in D.C., Maryland, and Virginia with RLAH Real Estate/@properties. Call or text her at 202-246-8602, email her via DCHomeQuest.com, or follow her on Facebook at TheRealst8ofAffairs.
Rides in all sizes
With sky-high gas prices, how much car do you really need?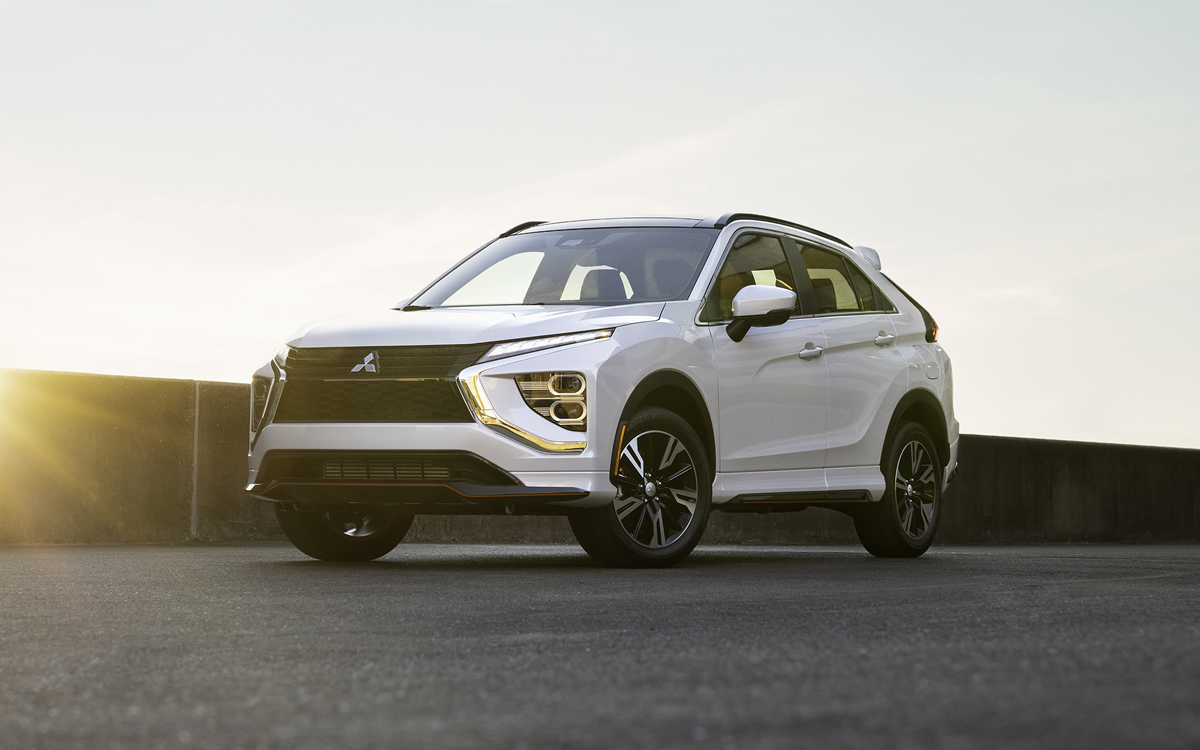 With the current surge in gas prices, many potential buyers are taking a hard look at just how much vehicle they really need. Here's a look at three choice rides in various sizes: small, medium, and large.
SMALL: MITSUBISHI ECLIPSE CROSS
$24,000
Mpg: 26 city/29 highway
0 to 60 mph: 8.6 seconds 
Introduced in 2018, the Mitsubishi Eclipse Cross channels plenty of excitement for those of us still pining for the sporty Eclipse coupe produced between 1989 and 2011. This affordable compact crossover offers similar cocky styling, including a futuristic fascia and tony Lexus-like tush.
But despite the rakish good looks, the acceleration from the four-cylinder turbo is more practical than powerful. And the composed suspension is more amiable than arousing. But the nimble steering and taut cornering are perfect for quick maneuvers during rush-hour congestion and for squeezing into tight parking spaces. The straightforward cabin design comes with faux-aluminum trim and fairly comfortable cloth seats—though the lack of an adjustable lumbar support to cushion my back was a bummer. Some of the many standard features include 7-inch touchscreen, four-speaker stereo, Bluetooth and lots of safety gear: automatic emergency braking, forward collision warning, pedestrian detection, lane-departure warning and rearview camera.
Step up to any of the three other trim levels to add heated seats, smartphone integration, synthetic suede upholstery, power panoramic sunroof, head-up display, additional safety gizmos and more. In other words, despite its budget-pleasing price, the Eclipse Cross boasts plenty of amenities.
MEDIUM: JEEP GRAND CHEROKEE
$41,000
Mpg: 19 city/26 highway
0 to 60 mph: 7.4 seconds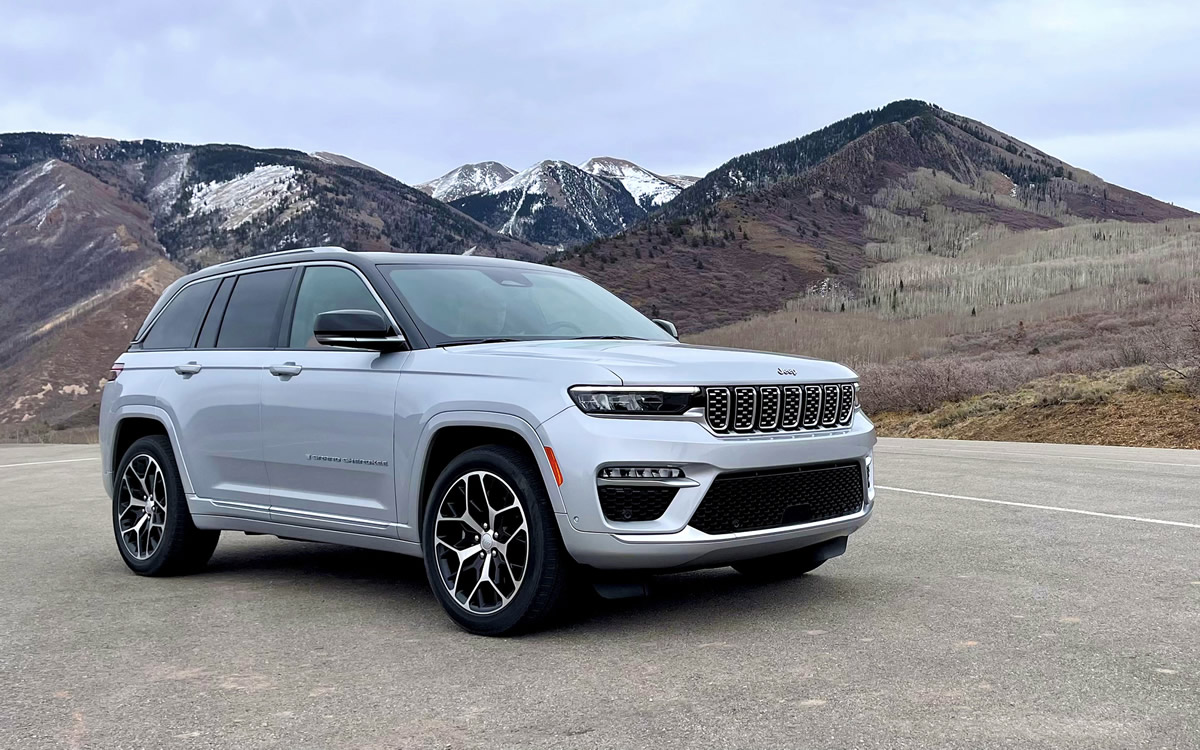 Completely redesigned this year, the Jeep Grand Cherokee now looks more luxe-like than rugged. This could have been a disaster, considering the automaker's reputation for churning out rough-and-tumble rides. Yet despite what is essentially a nod to Land Rover's boxy yet soft-edged styling, this midsizer still retains its true Jeep DNA.
This is evident in the seamless mix of smooth on-road handling with stellar off-road capability. There are more than a dozen trim levels, from the $41,000 base-model Laredo all the way up to the Summit Reserve 4xe PHEV at $77,000. While that's quite a price difference, it shows Jeep's commitment to offering a Grand Cherokee for every buyer personality. Sure, offering so many configurations can be confusing, but it gives drivers the chance to really customize their rides. This includes choice of three powertrains: standard V6, robust Hemi V8 and the fuel-friendly 4xe plug-in hybrid that can travel up to 25 miles on battery power alone.
Inside, there's so much glam you might think this was a high-end Mercedes. Depending on trim level, you can deck out the interior with quilted upholstery, open-pore wood, dual-pane panoramic sunroof, quad-zone climate control, second-row shades and other goodies. For techies, there's a Wi-Fi hot spot, various USB ports, smartphone integration, 10.10-inch infotainment touchscreen and 10.25-inch digital gauge cluster. Call me a hedonist, but I especially liked the massaging seats, premium 19-speaker McIntosh stereo and a rear-seat entertainment system that adds dual hi-def screens with built-in Amazon Fire TV.
LARGE: CADILLAC ESCALADE
$78,000
Mpg: 14 city/19 highway
0 to 60 mph: 5.9 seconds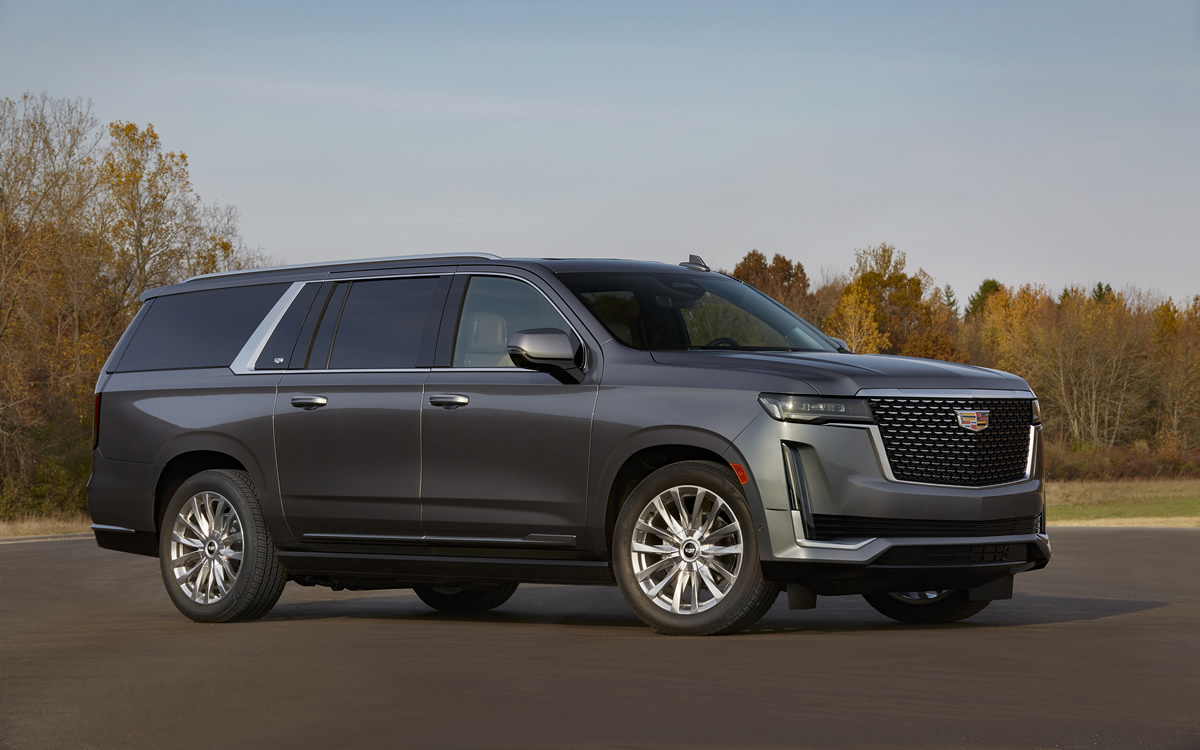 Introduced in 1999, the Cadillac Escalade received a complete makeover last year. The head-turning styling is daring and dramatic, with a massive prow-like hood, severely creased sheet metal, and bold, vertical lighting treatments that would make Thor proud. This colossus is 6 feet, 4 inches tall and tips the scale at a hulking 5,700 pounds—twice the weight of a Mini Cooper.
Yet it's surprisingly spry, outpacing the Mini Cooper by 0.3 seconds when accelerating from 0 to 60 mph. While power comes from a thirsty V8, half of the cylinders are automatically deactivated at cruising speed to reduce gas consumption. A more eco-friendly option is the diesel engine, which gets 50% better fuel economy. (And earlier this month, Cadillac announced its all-electric Escalade is expected by 2024.) I test drove one of the top-of-the-line Platinum models, with a hefty price tag of $105,000. To say this large SUV was oozing luxury is an understatement, with high-end finishes everywhere, adjustable ambient lighting, center console refrigerator, night-vision camera, 36-speaker stereo and rear-seat captain's chairs. Perhaps even more impressive: The front dash has a staggering 38 inches of curved OLED screens, combining the digital gauge cluster, infotainment display and surround-view camera.
Consider buying a beach house with a group of friends 
A lawyer can ensure everyone's rights are protected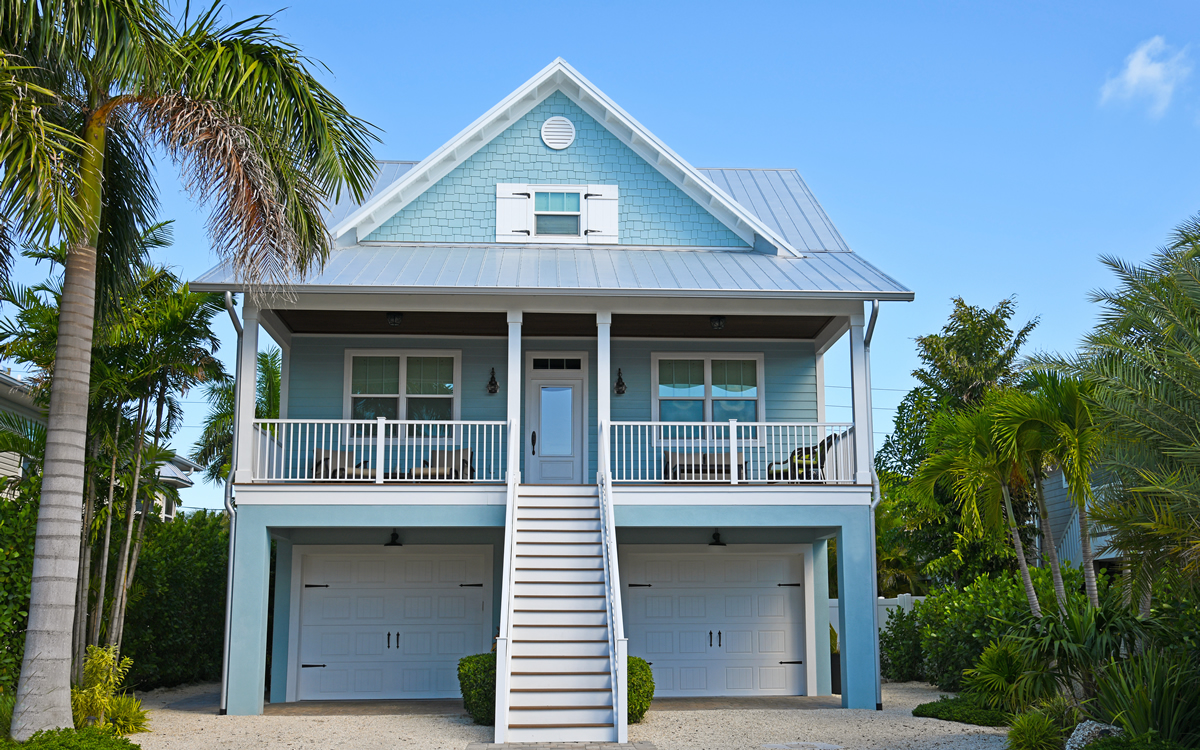 A trend that we are seeing across the boards (get it…like boardwalk) as we head into summer, aside from the swimsuits getting smaller and smaller, is friends buying homes together. Buying a property with another individual is not only an option for those in a relationship, marriage, domestic partnership, business etc. but also friendships.
With the pandemic and the increase of people wanting to move out of their small spaces in the city and leave for the more bucolic settings, the trend has been to ask your roomie, kiki partner or other friend to go halfsies on your primary residence. Why pay rent when you can have an investment and build equity in your home, right? Well why not take that approach for a second home at the beach? You will likely have the beach house to entertain and have friends over for weekends or weeks during the summer so let's get them on the hook for more than just a few bottles of vodka or boxed wine. Let's get their names on that mortgage.
With the rising market prices your borrowing power is stronger as a collective. Think of your group that you head to the beach with. How many of those folks would love to have a space at the beach? Likely all of them. If you can only afford $200k but three of your best friends can also only afford $200k then collectively you can afford $800k. Using simple terms and numbers here, but I trust you are tracking.
Now that you have found those select few that you implicitly, or mostly implicitly trust and are financially stable let's now consider the actual items that matter in practice such as (1) how you will split up days, weeks etc., (2) how and who handles/coordinates repairs to the property, (3) what happens if you no longer enjoy this person or someone wants out of the house and they're on the mortgage? This is where a lawyer comes into place and can advise on creating an operating agreement similar to what a business or corporation would have in place to ensure that all parties in the home are protected and each has their own rights as well as common rights for the home.
I know what you're thinking, this sounds a little dicey, but I know if you're reading this, that you have likely been in dicier situations, and for those who really want a beach house to enjoy but might not have the capital to do so, this is a great option. Instead of renting a beach house for the season and paying high season beaucoup bucks, why not get a few friends together to buy a beach house together?
Justin Noble is a Realtor with Sotheby's international Realty licensed in D.C., Maryland, and Delaware for your DMV and Delaware Beach needs. Specializing in first-time homebuyers, development and new construction as well as estate sales, Justin is a well-versed agent, highly regarded, and provides white glove service at every price point. Reach him at 202-503-4243, [email protected] or BurnsandNoble.com.