Gay N.H. lawmaker seeks to become first out candidate elected to state Senate
David Pierce in 2009 testified in support of New Hampshire's same-sex marriage bill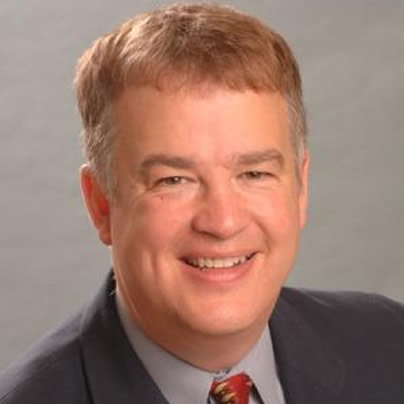 HANOVER, N.H.—A New Hampshire lawmaker seeking to become the first gay state senator who ran as an out candidate said education, the economy and health care remain the top issues going into Election Day.
"I talk about the hypothetical student who works like hell to do the best she can: straight As, extracurricular activities, really good SAT scores or whatever, but then [colleges] see that she's from a place that doesn't have accreditation [from the] College Admissions Council and they can't give her full consideration," state Rep. David Pierce told the Washington Blade during an interview earlier this month as he referenced the possibility that Claremont's struggling Stevens High School could lose its accreditation. "That's just criminal. And so that's got to change."
Pierce, who has represented House District 9 that includes Dartmouth College since 2006, would represent the newly redistricted 5th Senate District that includes the cities of Lebanon and Claremont and Hanover and six other towns along the Connecticut River and in the state's Upper Valley region if elected on Nov. 6.
He criticized the state's Republican-controlled legislature for cutting the University of New Hampshire's budget by nearly 50 percent last year.
"UNH students graduate with the highest debt load of in-state students of any students in the country," he said. "UNH students pay the highest in-state tuition rate of any students in the country. And you're destabilizing the family — middle class families — if they can't send their kids to schools. If they can get them to school, it's a huge chunk of their monthly income towards education. If they can't send them to [get an] education, I talk about how we're dooming our kids to be the ones to sell cigarettes and alcohol to Massachusetts because that's how we're going to raise revenue. And you can't attract businesses to New Hampshire unless you have an educated and skilled workforce."
Pierce further criticized GOP lawmakers for cutting the state's budget by 11 percent in 201.
"Whether you agree or disagree that government should be spending money in a state's economy is a philosophical argument that we can have, but the point is that it does happen and the state does contribute X percent to the state's [Gross Domestic Product] GDP," he said. "When you cut 11 percent of that contribution, you're not expanding the economy. You're shrinking it. This legislature came in with the promise to focus like a laser on rebuilding the economy and creating jobs. And the major policy they've passed in the budget shrinks the economy. That's why you've seen the unemployment rate ticking up in New Hampshire."
Pierce also accused New Hampshire Republicans of falling "right in line with the national Republican party about declaring a war on women's health." He criticized House Speaker Bill O'Brien and other GOP leaders for attaching an anti-choice bill that previously failed to a measure that would have given tax credits to high tech companies. Pierce also criticized GOP lawmakers for spearheading the passage of a bill in May that repealed a law mandating insurance coverage of contraceptives.
"What that means of course is fewer women, fewer families have access to contraception," he said.
Pierce spoke to the Blade on the same day he and his partner of 20 years, Dr. Robert Duff, celebrated their 20th anniversary. The couple who live in Etna with their two young daughters Emma and Grace had their first date at the now closed Au Pied de Cochon restaurant in Georgetown on Oct. 5, 1992.
Pierce highlighted the couple's children during in his 2009 speech in support of New Hampshire's same-sex marriage bill just before the House narrowly approved it. He also spoke about his own struggle to come to terms with his sexual orientation as a child growing up in a religious family in Texas.
"I remember being that scared 12-year-old little boy coming to grips with the fact that I'm different than everybody else," said Pierce, pointing out that he had even thought about potentially taking his own life. "Fortunately I didn't do that, but I grew up very scared of who I was and what it meant for my life. And then to see myself giving the floor speech — the anchor floor speech — for marriage equality and seeing it pass was one of the most significant moments of my life. I would love for me to be able to go back and talk to that 12-year-old scared little kid and say 'It's going to be okay. You're going to come through this in fact you're going to do great things with this.'"
Pierce conceded he was nervous as he drove to Concord, the state capital, in March for the debate on the bill that sought to repeal the same-sex marriage law that took effect in 2010. The House rejected the proposal by a 211-119 margin with more than 100 Republicans opposing it.
"I had such an overbearing headache because everything was so clinched because I thought I knew what was coming," he said, recalling how he felt as he entered the chamber. "I thought that the floor speeches were going to be disgusting and immoral and acidic and so I was prepared for it, but scared to death as to what was going to happen. And then it slowly — we were taking one procedural vote after another — and it just became clear. There was one vote in particular that was the tipping point. It was a vote on the prime sponsor's amendment to his own bill. If that had passed then the entire measure would have passed. If it failed, then the whole measure would have failed and the interim measure failed by 22 votes. They continued trying to resurrect it and all this other stuff, but every vote was getting further and further and further and further away from the repeal."
Pierce's opponent, state Rep. Joe Osgood, has pointed out the fact the Gay and Lesbian Victory Fund has endorsed his campaign in e-mails to supporters and during interviews with local media outlets.
"I want to talk about the economy and jobs, how we get the economy going again, how we can guarantee the fundamental right to an education and recognize that health care is a right and ensure access to preventative services, non-discrimination for women, equal pay for equal work," said Pierce as he pointed to his response to a reporter's question about Osgood highlighting the Victory Fund's endorsement and his sexual orientation. "The things that the voters care about are the same things that I care about."
Beyond politics, however, Pierce stressed his state Senate candidacy remains personal.
"It's just an incredible journey; I feel incredibly blessed to have had these opportunities," he said. "Another part of that that really impacts me spiritually is that that scared little 12-year-old kid who is today living in Durham, N.H., or Windham, N.H., can see that it's okay. And that's a big part of why I do it because I don't want kids today going through what I had to go through."
He added his election to the state Senate as an openly gay man would say "a lot about New Hampshire."
"It says a lot about the live free or die attitude of New Hampshire," said Pierce. "It's nobody business. And where is it written that we should be able to control how people live their lives and make the most personal choices in their lives? And so to the extent that my candidacy and my service in the Senate will represent that, I think that's wonderful."
Biden recognizes 10th anniversary of end to 'Don't Ask, Don't Tell'
Pete Buttigieg, Gina Ortiz Jones named in White House statement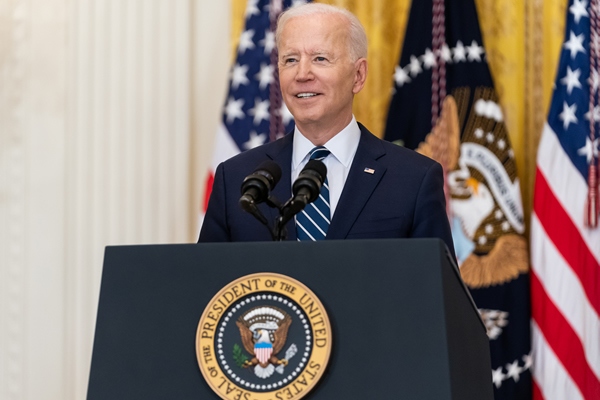 President Biden recognized in a statement on Monday the tenth anniversary of the end to "Don't Ask, Don't Tell," a law that once discharged service members from the military for being openly gay or bisexual.
"Ten years ago today, a great injustice was remedied and a tremendous weight was finally lifted off the shoulders of tens of thousands of dedicated American service members," Biden said. "The repeal of 'Don't Ask, Don't Tell,' which formally barred gay, lesbian, and bisexual service members from openly serving, helped move our nation closer to its foundational promise of equality, dignity, and opportunity for all."
Biden recognized high-profile openly gay appointees in his administrations who are also veterans, naming Air Force Under Secretary Gina Ortiz Jones and Transportation Secretary Pete Buttigieg. Biden also names Shawn Skelly, assistant secretary of defense for readiness, who would have been discharged from the military under President Trump's transgender military ban.
"On this day and every day, I am thankful for all of the LGBTQ+ service members and veterans who strengthen our military and our nation," Biden said. "We must honor their sacrifice by continuing the fight for full equality for LGBTQ+ people, including by finally passing the Equality Act and living up to our highest values of justice and equality for all."
Technically speaking, the anniversary of Obama signing repeal legislation was in December. Today is the anniversary of defense officials certifying the military is ready, which put an end to the policy.
Read Biden's full statement below:
Statement by President Joe Biden on the Tenth Anniversary of the Repeal of Don't Ask, Don't Tell
Ten years ago today, a great injustice was remedied and a tremendous weight was finally lifted off the shoulders of tens of thousands of dedicated American service members. The repeal of Don't Ask, Don't Tell, which formally barred gay, lesbian, and bisexual service members from openly serving, helped move our nation closer to its foundational promise of equality, dignity, and opportunity for all. It was the right thing to do. And, it showed once again that America is at its best when we lead not by the example of our power, but by the power of our example.

Despite serving with extraordinary honor and courage throughout our history, more than 100,000 American service members have been discharged because of their sexual orientation or gender identity—including some 14,000 under Don't Ask, Don't Tell. Many of these veterans received what are known as "other than honorable" discharges, excluding them and their families from the vitally important services and benefits they had sacrificed so much to earn.

As a U.S. Senator, I supported allowing service members to serve openly, and as Vice President, I was proud to champion the repeal of this policy and to stand beside President Obama as he signed the Don't Ask, Don't Tell Repeal Act into law. As President, I am honored to be Commander-in-Chief of the strongest and most inclusive military in our nation's history. Today, our military doesn't just welcome LGBTQ+ service members—it is led at the highest levels by brave LGBTQ+ veterans, including Under Secretary of the Air Force Gina Ortiz Jones and Assistant Secretary of Defense for Readiness Shawn Skelly, who served under Don't Ask, Don't Tell. I was gratified to appoint the first openly gay Senate-confirmed Cabinet member, Secretary Pete Buttigieg, a lieutenant in the U.S. Navy Reserve and Afghanistan veteran who joined the military under the Don't Ask, Don't Tell policy. And during my first week in office, I proudly delivered on my pledge to repeal the discriminatory ban on open service by patriotic transgender service members.

On this day and every day, I am thankful for all of the LGBTQ+ service members and veterans who strengthen our military and our nation. We must honor their sacrifice by continuing the fight for full equality for LGBTQ+ people, including by finally passing the Equality Act and living up to our highest values of justice and equality for all.
HHS awards more than $48 million to HRSA centers in effort to beat HIV/AIDS
Biden campaigned on beating epidemic by 2025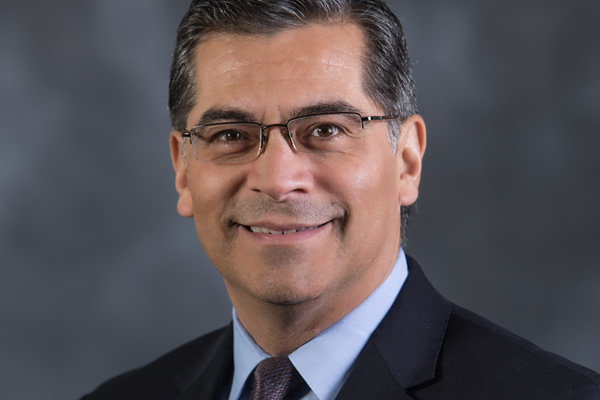 The Biden administration has awarded more than $48 million to medical centers under Health Resources & Services Administration in localities with high incidents of HIV infection as part of the initiative to beat the disease, the Washington Blade has learned exclusively.
Xavier Becerra, secretary of health and human services, said in a statement the contributions are key component of the initiative, which is called "Ending the HIV Epidemic in the U.S." and seeks to reduce new infections by 90 percent by 2030.
"HHS-supported community health centers are often a key point of entry to HIV prevention and treatment services, especially for underserved populations," Becerra said in a statement. "I am proud of the role they play in providing critical services to 1.2 million Americans living with HIV. Today's awards will ensure equitable access to services free from stigma and discrimination, while advancing the Biden-Harris administration's efforts to ending the HIV/AIDS epidemic by 2025."
The $48 million contribution went to HRSA centers 271 HRSA-supported health centers across 26 states, Puerto Rico and D.C. — areas identified with the highest rates of HIV infections — to expand HIV prevention and treatment services, including access to pre-exposure prophylaxis (PrEP) as well as outreach and care coordination, according to HHS.
The Ending the HIV Epidemic was set up under the Trump administration, which made PrEP a generic drug after an accelerated effort and set a goal of beating HIV by 2030. Biden has continued the project, after campaigning on beating HIV a full five years earlier in 2025. Observers, however, are skeptical he can meet that goal.
Diana Espinosa, acting HRSA administrator, said in a statement the $48 million will go a long way in reaching goals to beat HIV/AIDS.
"We know our Health Center Program award recipients are well-positioned to advance the Ending the HIV Epidemic in the U.S. initiative, with a particular focus on facilitating access to PrEP, because of their integrated service delivery model," Espinosa said. "By integrating HIV services into primary care, and providing essential enabling services like language access or case management, HRSA-supported health centers increase access to care and improve health outcomes for patients living with HIV."
Melania Trump announced as guest for Log Cabin Republicans' annual dinner
Former first lady Melania Trump is set to be a special guest at the annual "Spirit of Lincoln" dinner hosted by Log Cabin Republicans.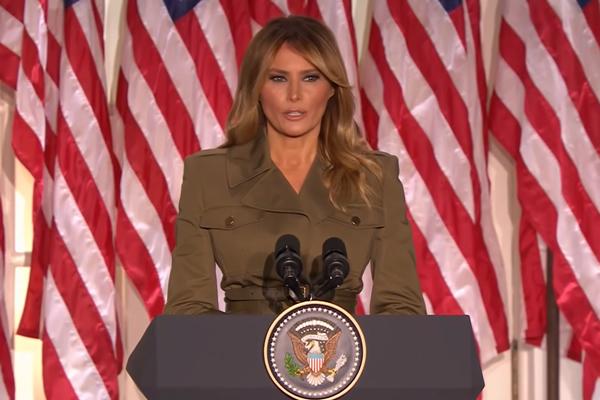 Former first lady Melania Trump is set to be a special guest at the annual "Spirit of Lincoln" dinner hosted by Log Cabin Republicans, the organization announced on Tuesday.
The event — which will take place Nov. 6 at Mar-a-Lago in Palm Beach, Fla., marking a change of tradition in holding the dinner in D.C. — will likely mark an attempt for Melania Trump to develop her image as an LGBTQ ally and tamp down the reputation the Trump administration was hostile to LGBTQ people.
Charles Moran, managing director for Log Cabin Republicans, hailed Melania Trump in a statement for her work as first lady and breaking barriers for the Republican Party.
"Melania Trump's work as First Lady, from helping children reach their full potential to championing a more inclusive Republican Party, has been historic," Moran said. "Her vocal support of Log Cabin Republicans has been a signal to Republicans everywhere that it is possible to simultaneously be conservative and support equality under the law for all Americans."
According to the Log Cabin Republicans, Melania Trump at the dinner will be awarded with the 2021 Spirit of Lincoln Award. Other high-profile Republicans in the past who have appeared at the annual event are Carly Fiorina, Newt Gingrich, Massachusetts Gov. Charlie Baker and Mary Cheney.
Moran, in response to an email inquiry from the Washington Blade, said Melania Trump will not only be an award recipient, but is set to deliver remarks at the event.
It won't be the first time Melania Trump has collaborated with Log Cabin. During the 2020 election, she appeared in a video for Outspoken, the media arm for Log Cabin Republicans, saying "nothing could be further from the truth" her husband, former President Trump, is against LGBTQ people.
Among the anti-LGBTQ policies under Trump were a transgender military ban, religious freedom carve-out seen to enable anti-LGBTQ discrimination and the U.S. Justice Department arguing against LGBTQ inclusion under civil rights law when the issue was before the U.S. Supreme Court. Nonetheless, Trump connected with a certain faction of LGBTQ people and his administration included high-profile LGBTQ appointees, such as Richard Grenell as the first openly gay person to serve in a Cabinet role.
As first reported by the Washington Blade, Melania Trump said in 2020 she wanted to light up the White House in rainbow colors similar to the display during the Obama years after the U.S. Supreme Court ruled for same-sex marriage nationwide. However, the vision never came to pass at a time when White House Chief of Staff Mark Meadows had a role in quashing an symbolic support for LGBTQ people in Pride Month.
The Log Cabin announcement comes at a time when Melania Trump is facing new scrutiny over her response to the Jan. 6 insurrection at the U.S. Capitol and whether she erroneously believes, like her husband, he was the winner of the 2020 election.
According to a preview in Politico, former White House press secretary and Melania Trump aide Stephanie Grisham says in her upcoming book she texted the former first lady on Jan. 6 to ask: "Do you want to tweet that peaceful protests are the right of every American, but there is no place for lawlessness and violence?"
A minute later, Melania replied with a one-word answer: "No," Grisham reportedly writes of her account. At that moment, Grisham writes she was at the White House preparing for a photo shoot of a rug she had selected, according to Politico.
The Blade has placed a request in with the office of former President Donald Trump to confirm her appearance at the dinner and comment on what went into the Melania Trump's decision to appear at the event.