Life-long 'Fan'
Gay writer explores, Aretha, gays in black gospel and more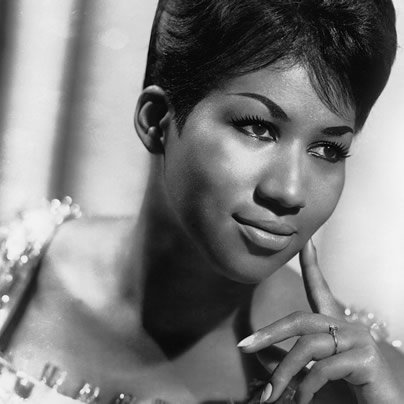 'The Fan Who Knew Too Much'
By Anthony Heilbut
Knopf
$30
354 pages
anthonyheilbut.com

Aretha Franklin concert
Saturday, Nov. 17
7:30 p.m.
DAR Constitution Hall
1776 D Street, NW
$59.50-115.50
ticketmaster.com
In a roundabout way, there'd be no rock music without gays and lesbians.
That's the assertion of gay New York-based writer/historian Anthony Heilbut. In a sprawling, juicy tome that's as gossipy and anecdotal as it is academic, he writes in "The Fan Who Knew Too Much" that there would have been no golden age of black gospel music (roughly1945-1960) without gays. He, and other rock historians also assert there'd be no mainstream rock and roll without classic black gospel influence.
"It means a lot to me that gay people know about this," Heilbut says during a lengthy phone chat last week. "Gospel is really the most essential American music. Everyone sort of understands that black church singing, it's really been the center of American singing since the 19th century. It follows through in jazz as well. It's a great gay contribution."
Though white and an atheist, as a teen, Heilbut went to hear the great R&B and soul acts of the day at the Apollo in New York. He was often the only white person in the room. He got a heads up from the ushers.
"I think they kind of took pity on this lone white boy," he says. "They said, if you dig this, you ain't heard nothin' yet, the gospel shows are so much better. The showmanship, the vocalism. I came to know almost all the singers and became absolutely enthralled. They were so much more dynamic than their secular counterparts. You just cannot imagine rock and roll and R&B without the influence of these singers."
Heilbut's book, out earlier this year, is a collection of lengthy essays. Subtitled "Aretha Franklin, the Rise of the Soap Opera, Children of the Gospel Church and Other Meditations," it includes a lengthy essay on how many black gospel legends — figures like James Cleveland, Clara Ward and others were either gay, lesbian or bi. In the essay "Aretha: How She Got Over" he explores how the soul legend — in town this weekend for a concert at DAR Constitution Hall — integrated the styles of the gospel legends she admired as a teen into the hit secular records she later recorded at Columbia and Atlantic. Though Franklin's gospel roots are well known, Heilbut extrapolates the richness of those influences in unprecedented ways.
Other essays explore writer Thomas Mann ("The Magic Mountain"), the phenomenon of the male soprano and late soap opera maven Irna Phillips.
One senses, however, that despite Heilbut's many interests and decades — he's 71 — of following the careers of many, his heart is most deeply rooted in the gospel music of his youth. He eventually produced records for some of his favorites and writes and shares movingly of not only their great talent, but the hypocrisy with which the church has dealt with — often with scorn and outright condemnation — the contributions of its gay musicians.
Typical of many of the "old school" black gospel establishment, Heilbut quotes the legendary Shirley Caesar as "beseeching the 'sissies and bull daggers' to 'come up and be saved,' and warning that homosexuals were 'stealing our children.'"
More analysis than biography, though, Heilbut illustrates how a lifetime of following a singer or musical phenomenon can result in an uncanny insight that the subjects themselves are often loathe to discuss — Franklin, as journalists and long-time fans know, is famously prickly and evasive on many topics.
For the record, Heilbut says Franklin and her legendary father, Rev. C.L. Franklin who became a mid-century legend as pastor of Detroit's New Bethel Baptist Church — were way more accepting of gays than many others in the era.
Heilbut says Franklin, though not as vocal as some, has made her gay support known in several ways — from singing at a recent same-sex wedding to inviting gay-welcoming clergy (Bishop Carlton Pearson) to comment during a Whitney Houston tribute she hosted during a concert at Radio City Music Hall while Houston's mother, Cissy, stuck with old school, anti-gay leaders (TD Jakes, Donnie McClurkin) at her daughter's funeral.
"Aretha does these little things without really saying a word," Heilbut says.
PHOTOS: Taste of Point
'Spring Garden Party' fundraiser for LGBTQ youth scholarships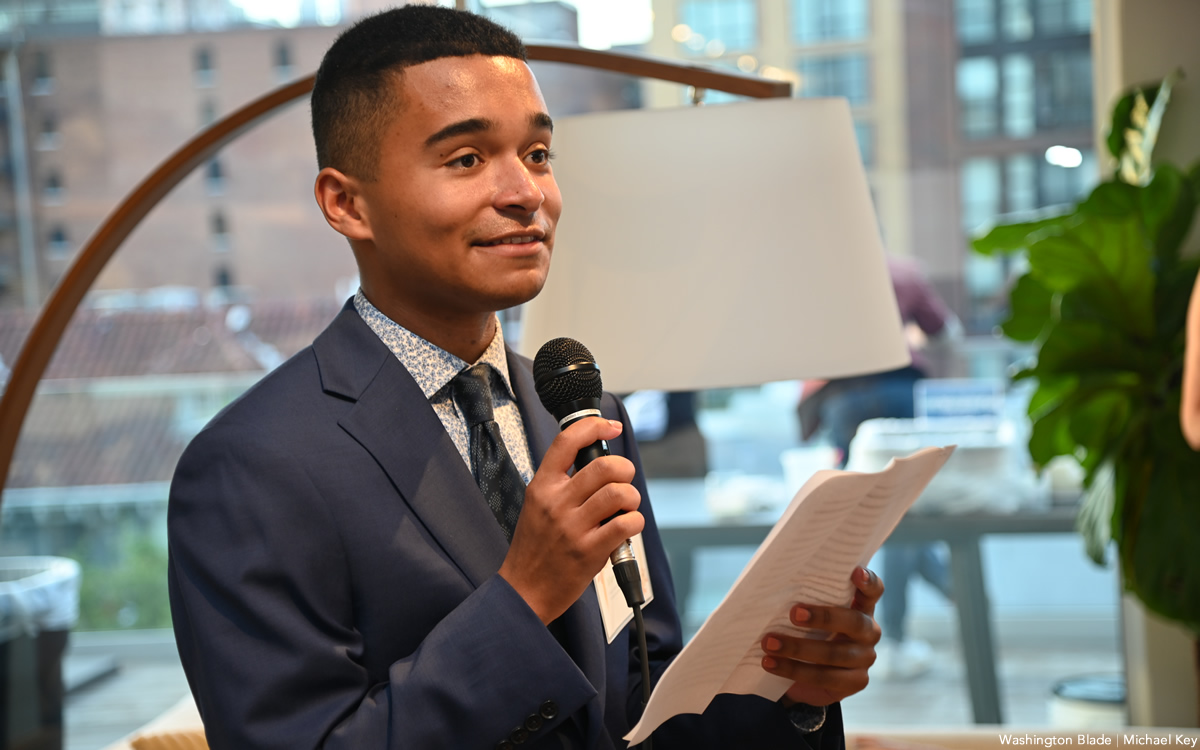 The Point Foundation held "Taste of Point: Spring Garden Party" at the rooftop of Room & Board on Thursday, May 19.
Point Foundation scholar Warren Small of Howard University, currently working as an intern for Rep. Ritchie Torres (D-N.Y.), spoke to attendees about his experiences in the Point scholarship and mentorship program. Local restaurants and bars Amparo, Barkada, Compass Rose Bar & Kitchen, Hank's Oyster Bar, Republic Restoratives, Serenata and Ten Eyck Brewing provided gourmet food and craft cocktails. Drag performer Kitti Chanel Fairfield and DJ Tezrah provided entertainment.
Activist, businesswoman and Point Foundation booster Sharon Brackett was honored posthumously in a ceremony at the event.
(Washington Blade photos by Michael Key)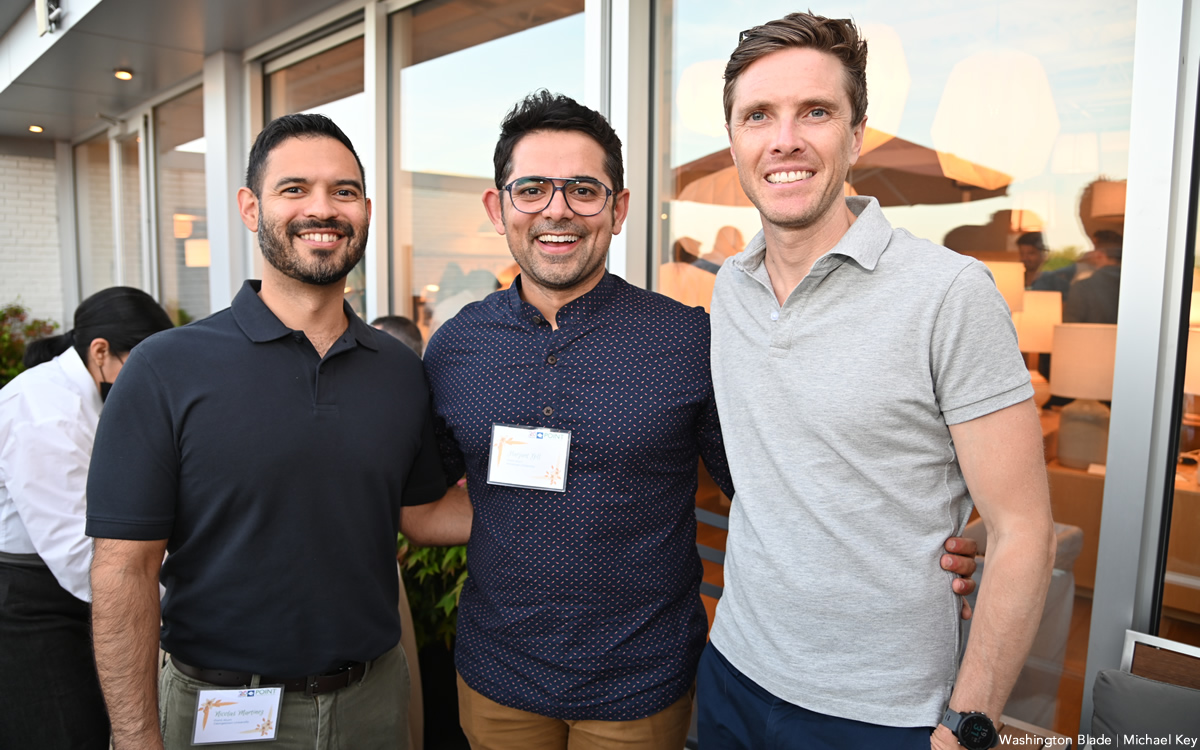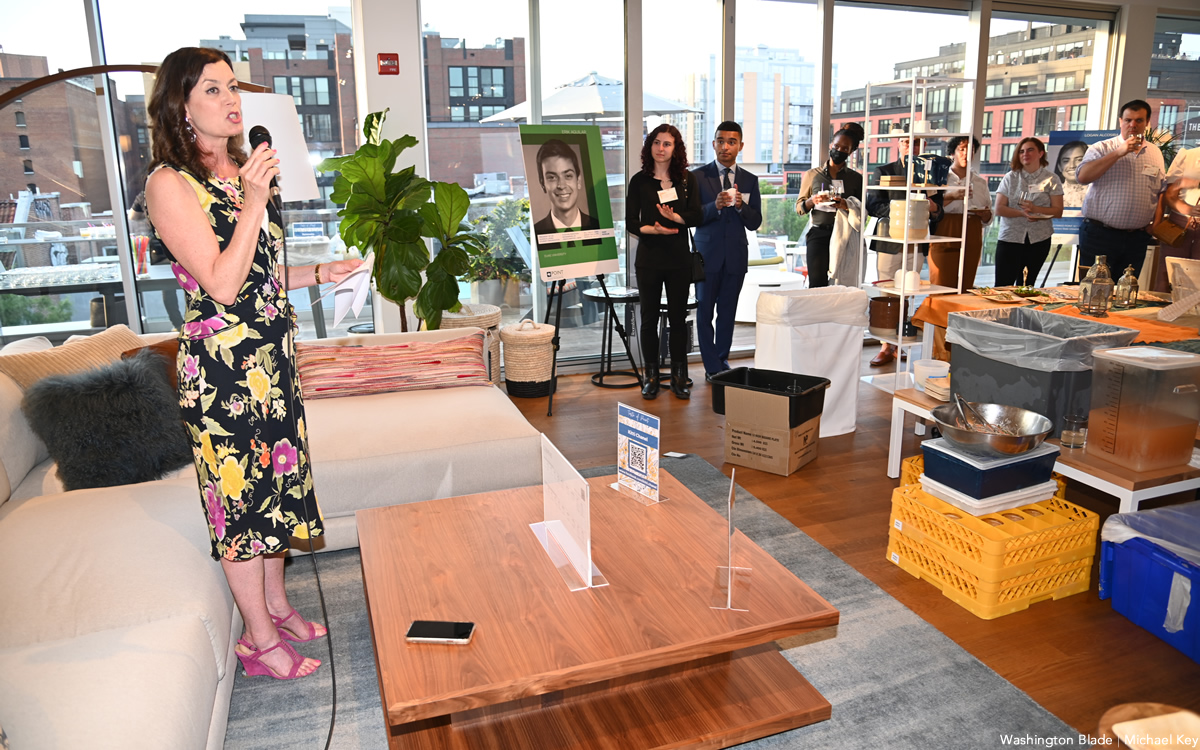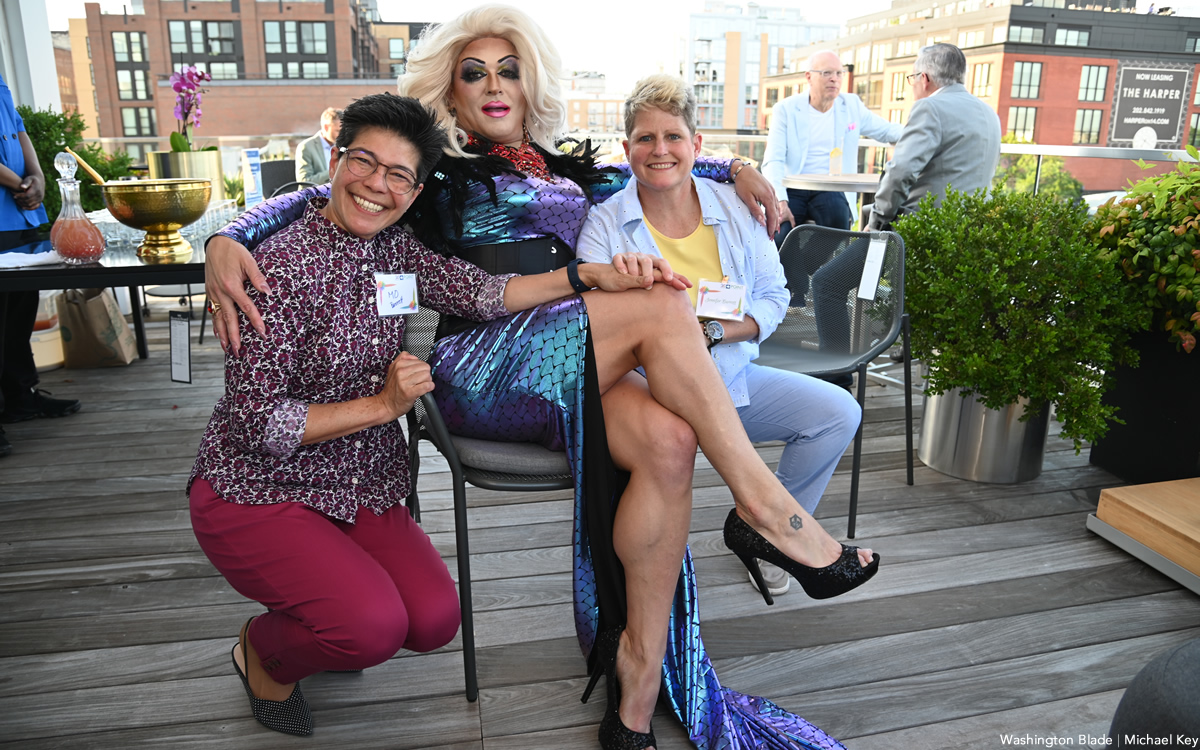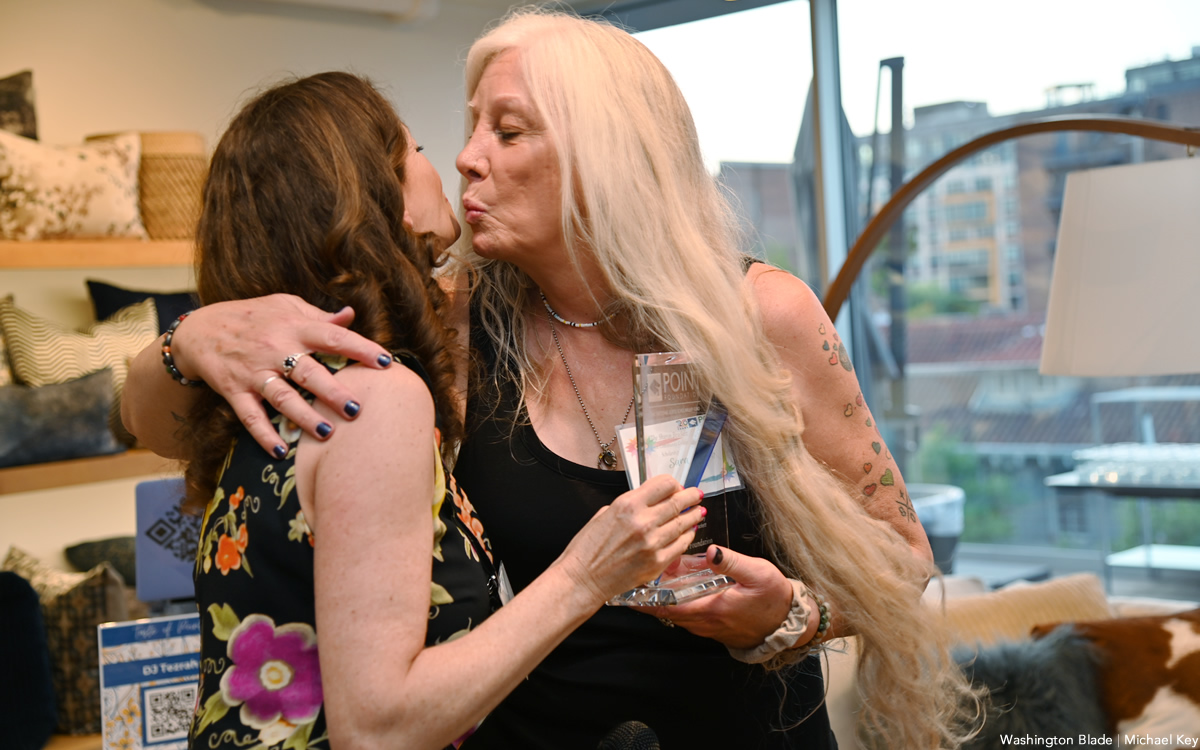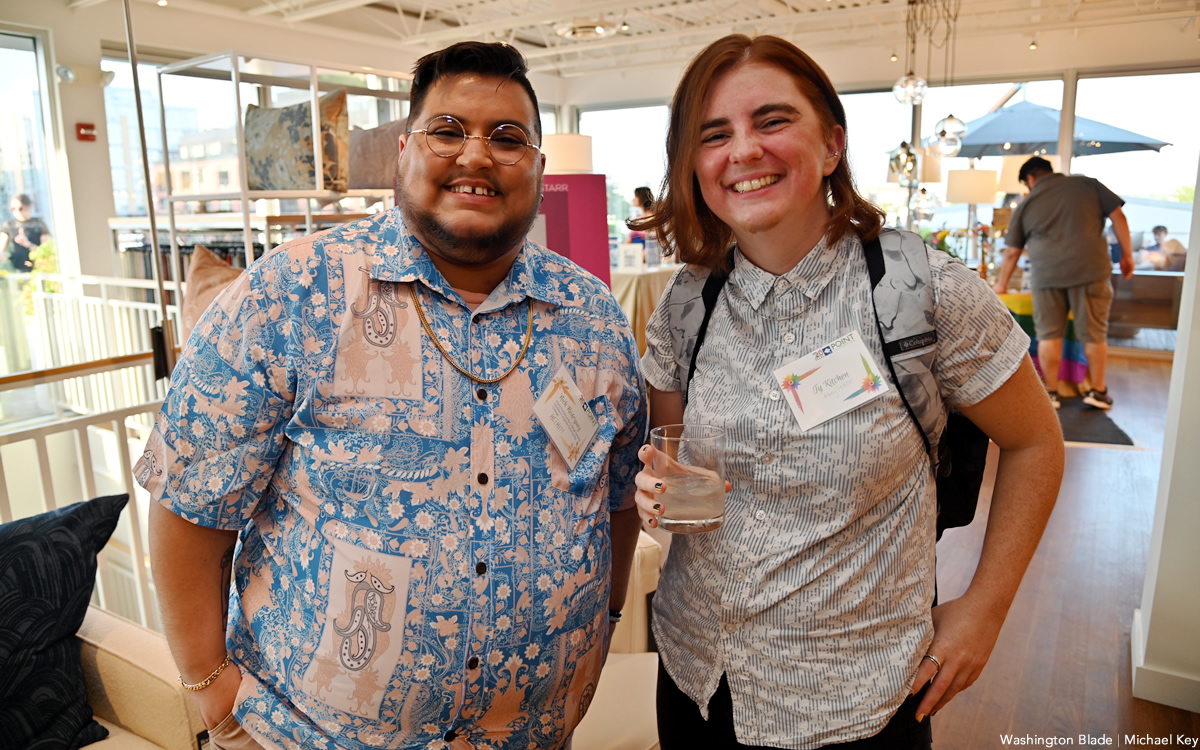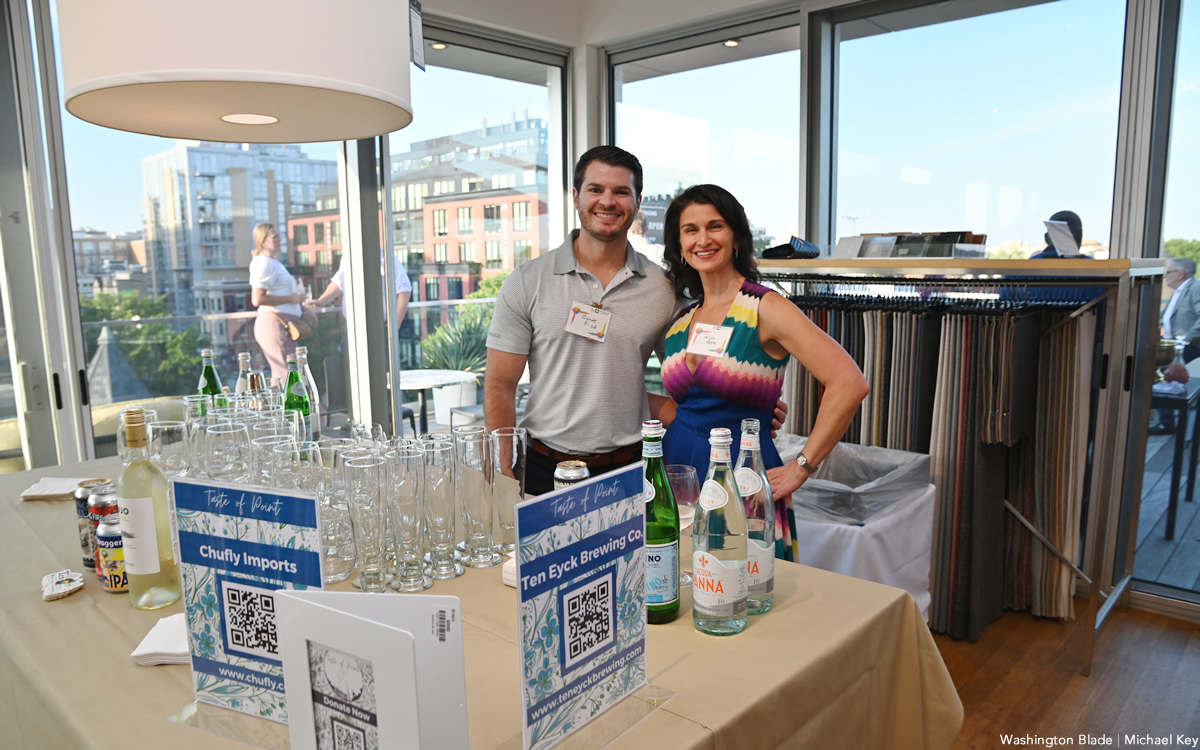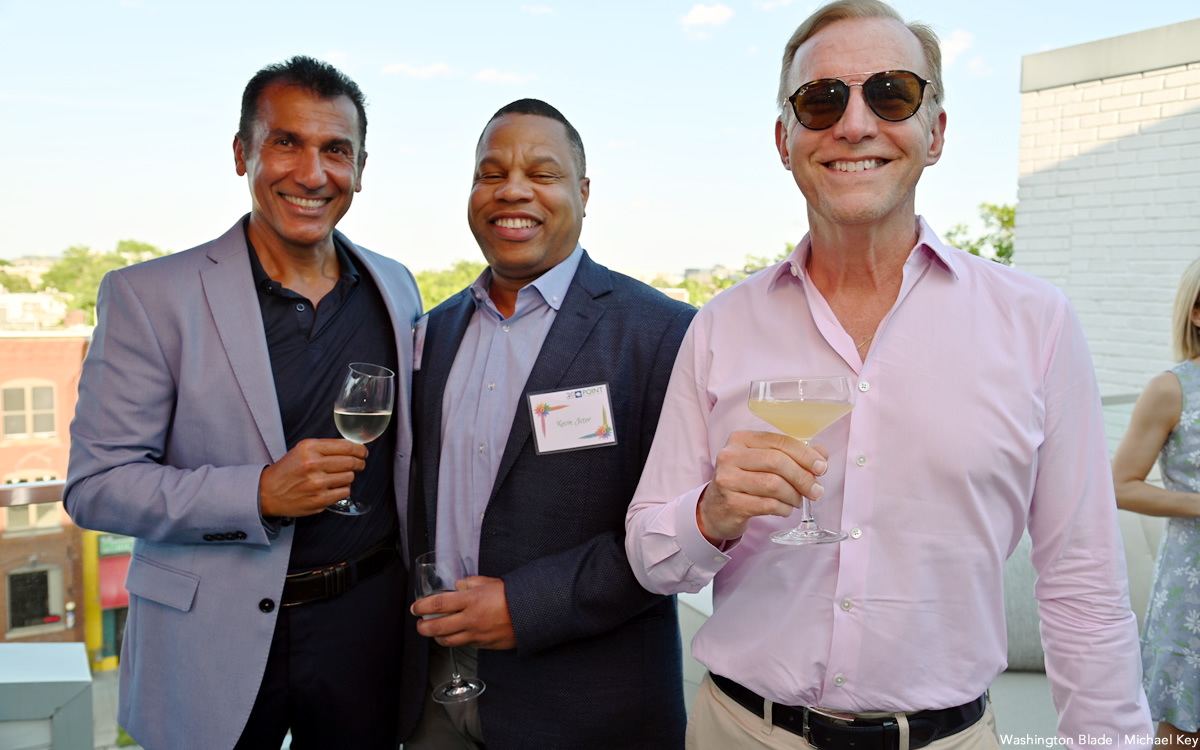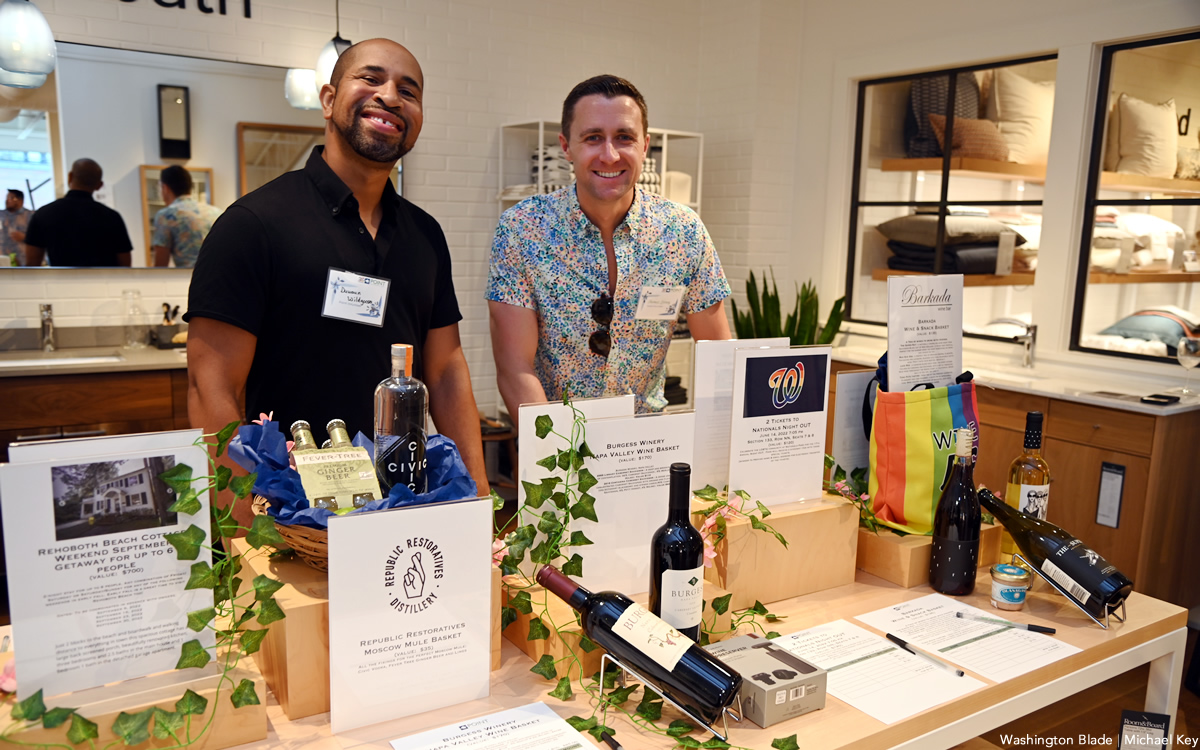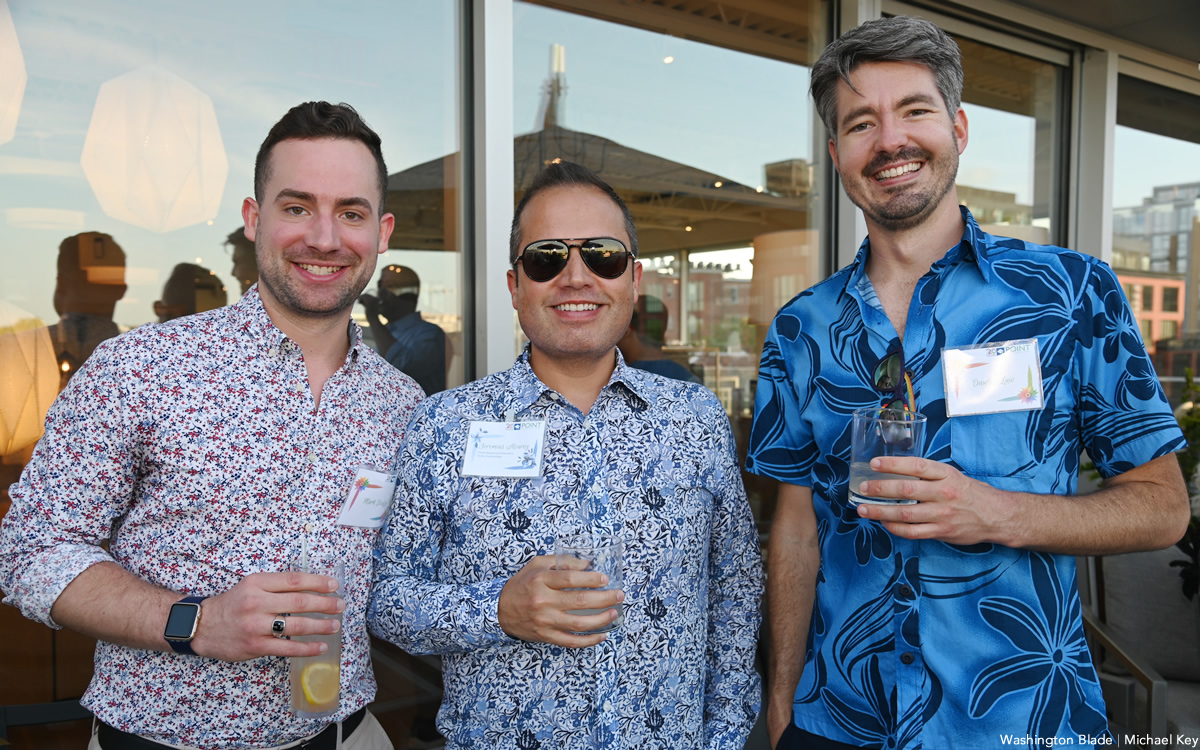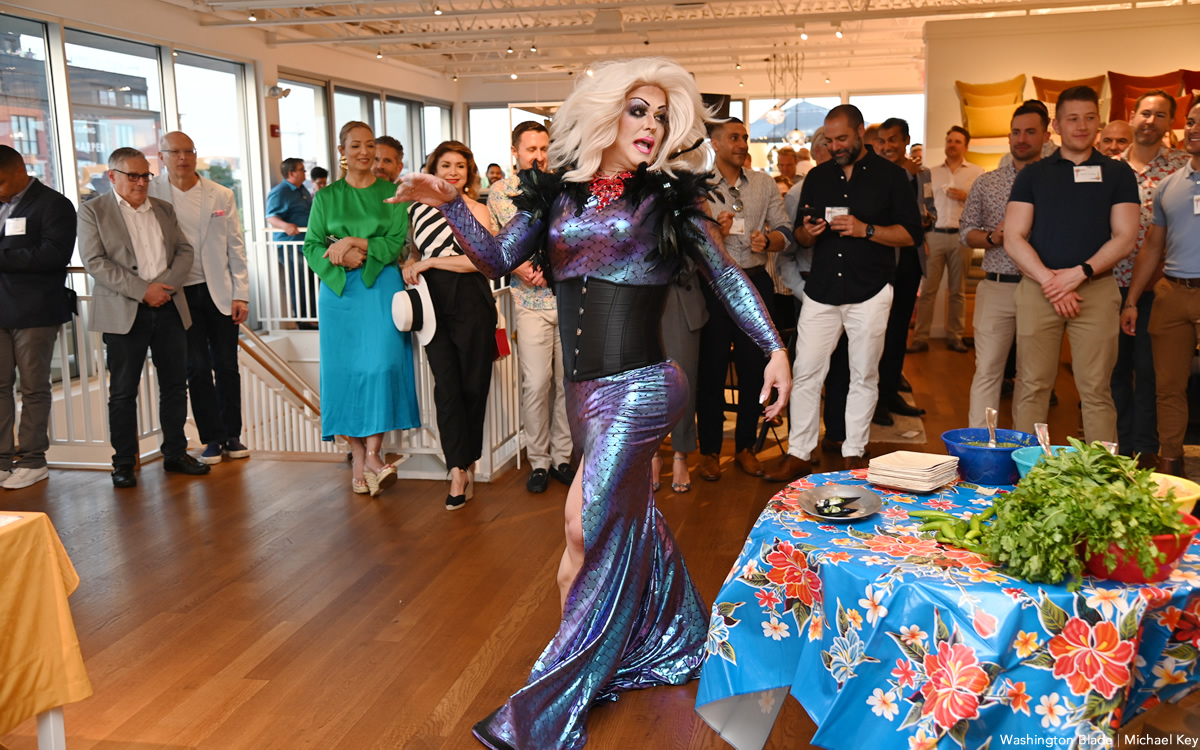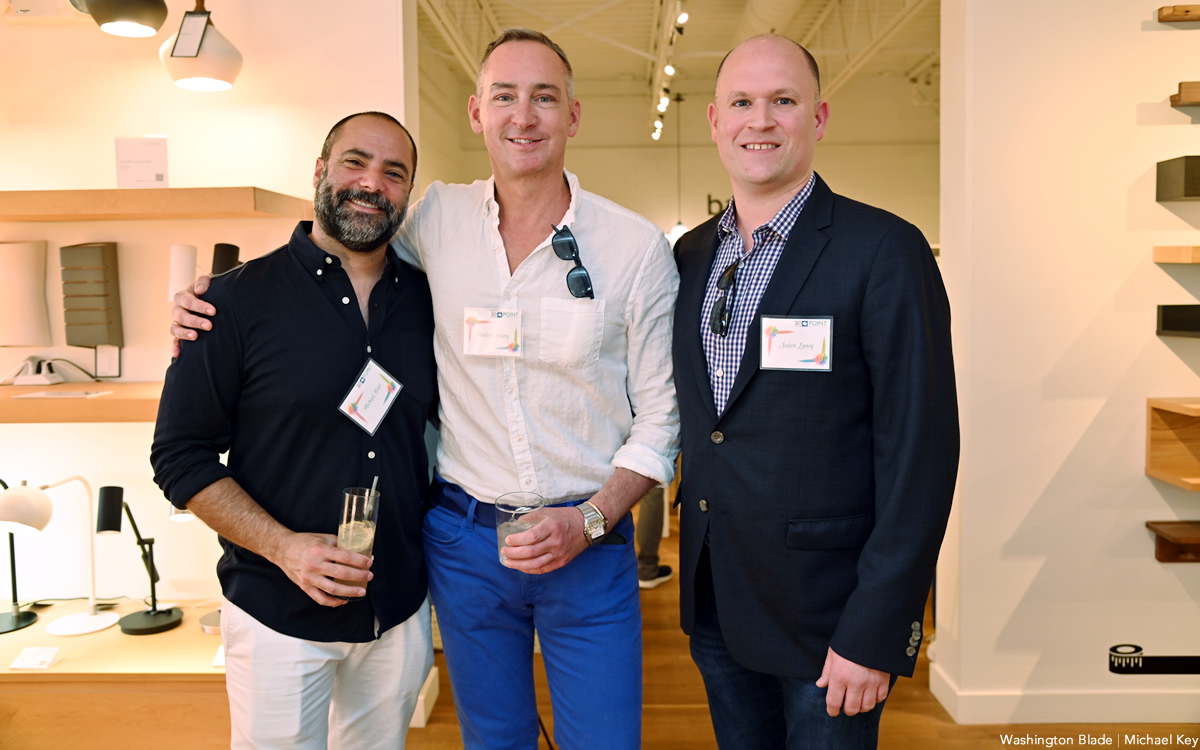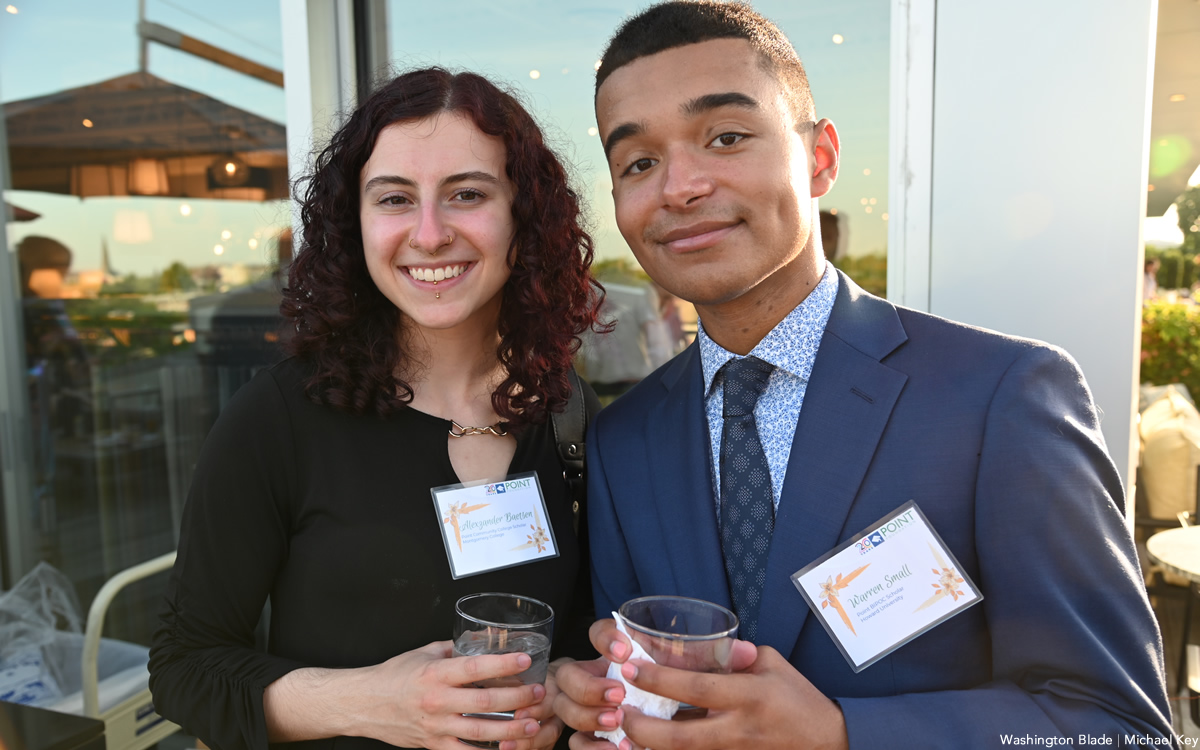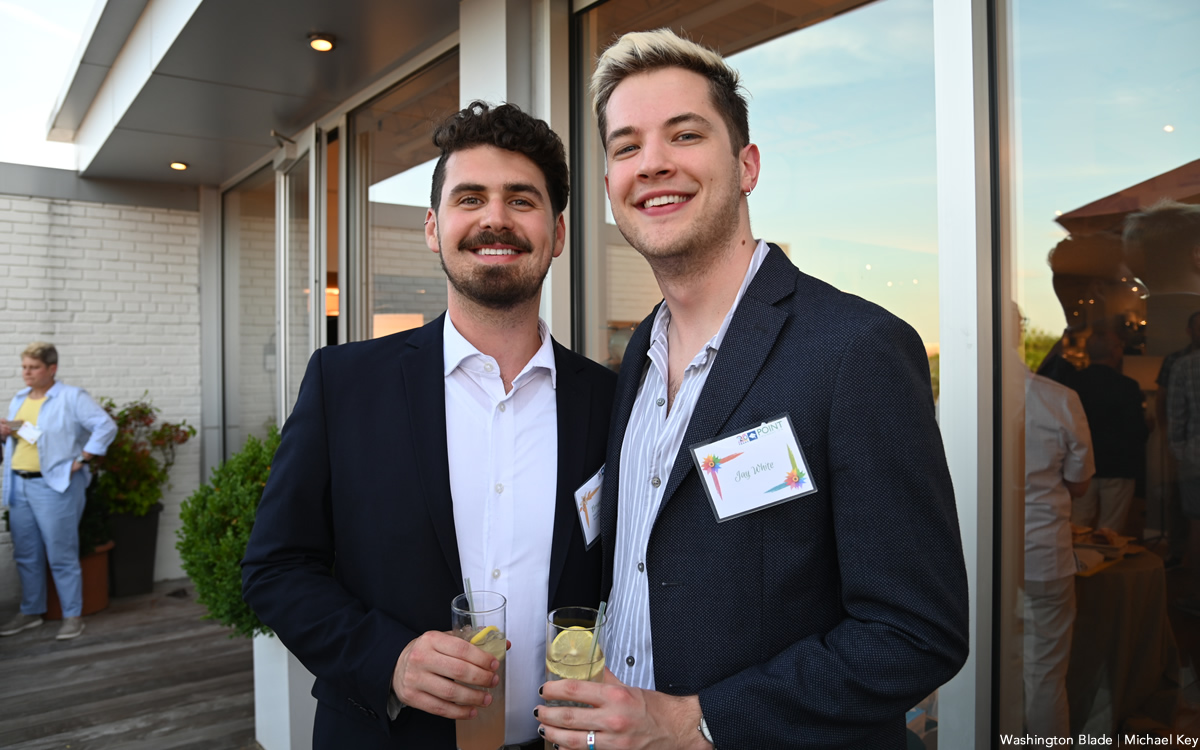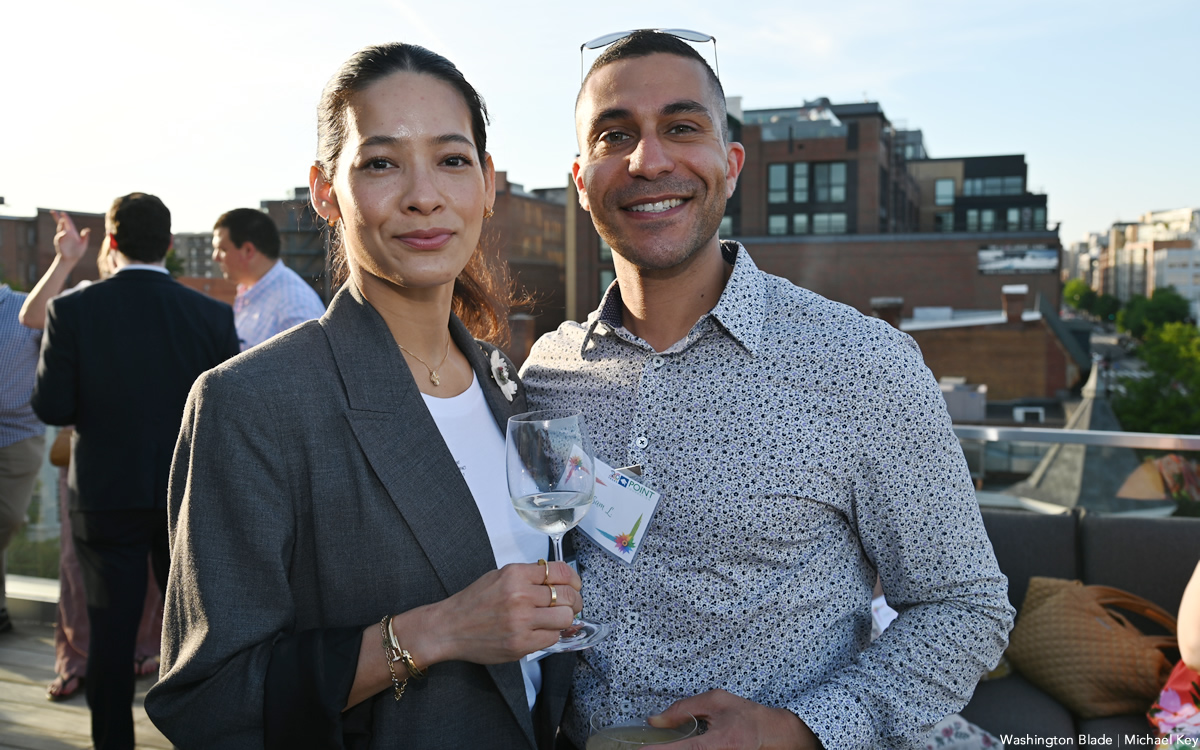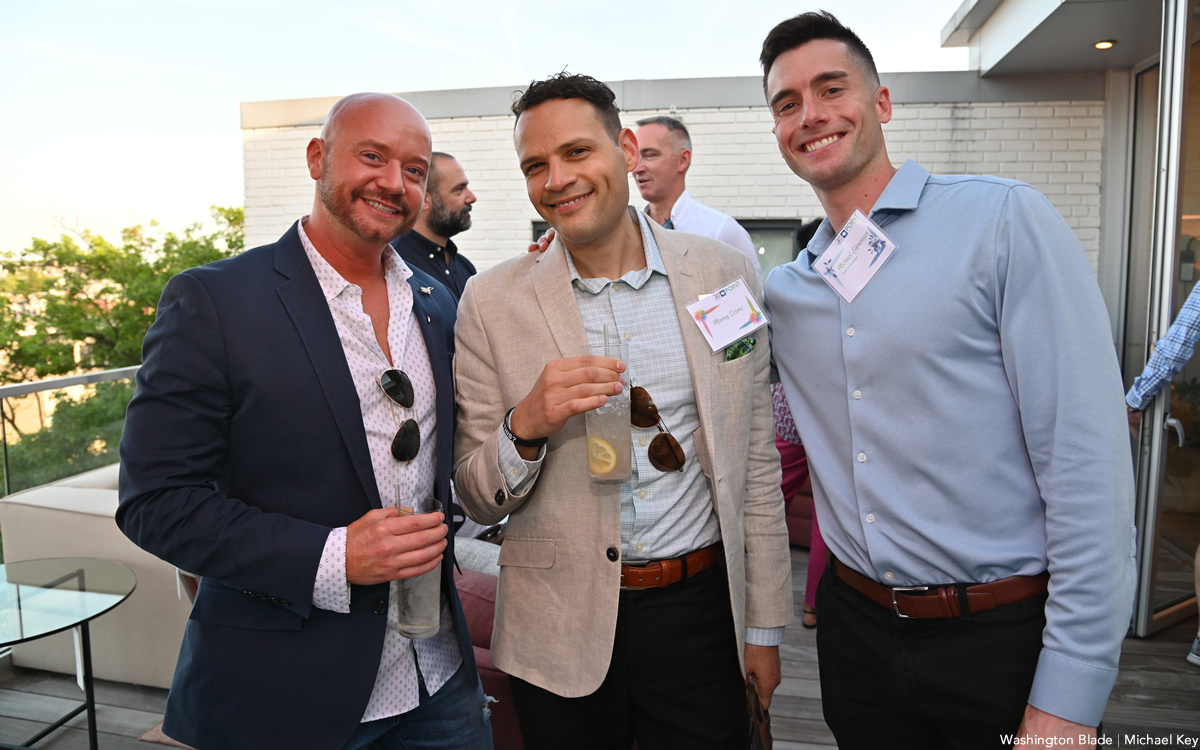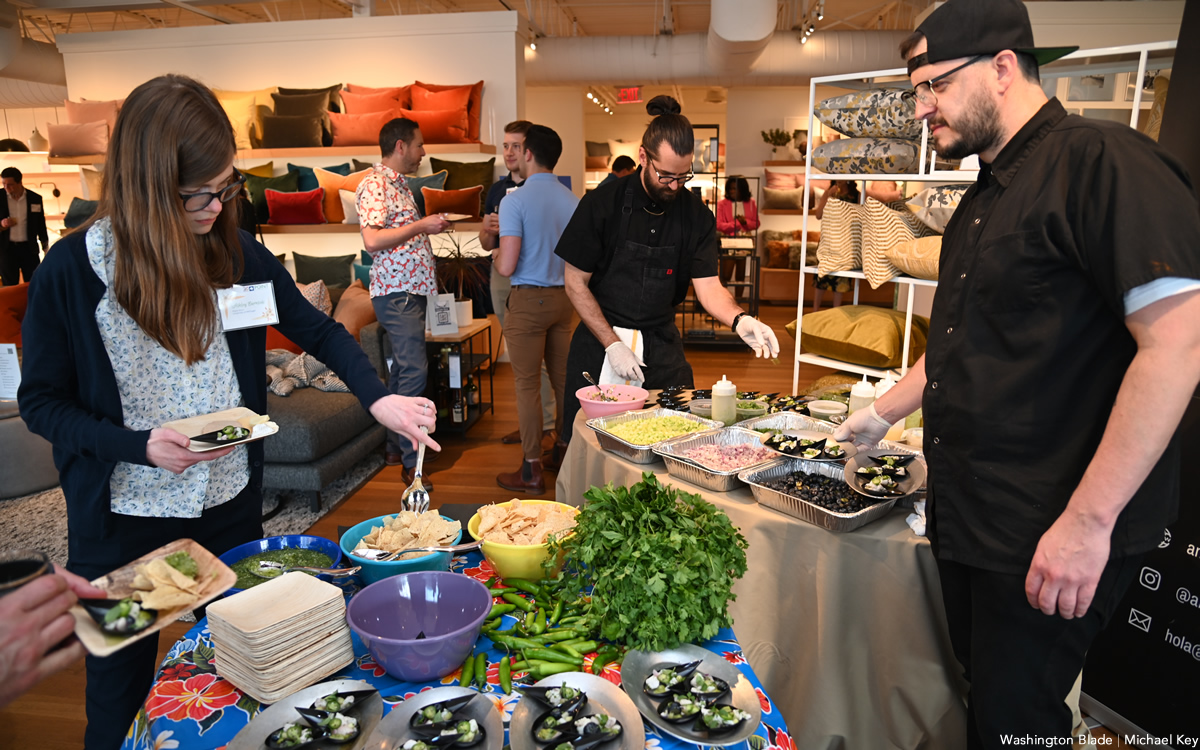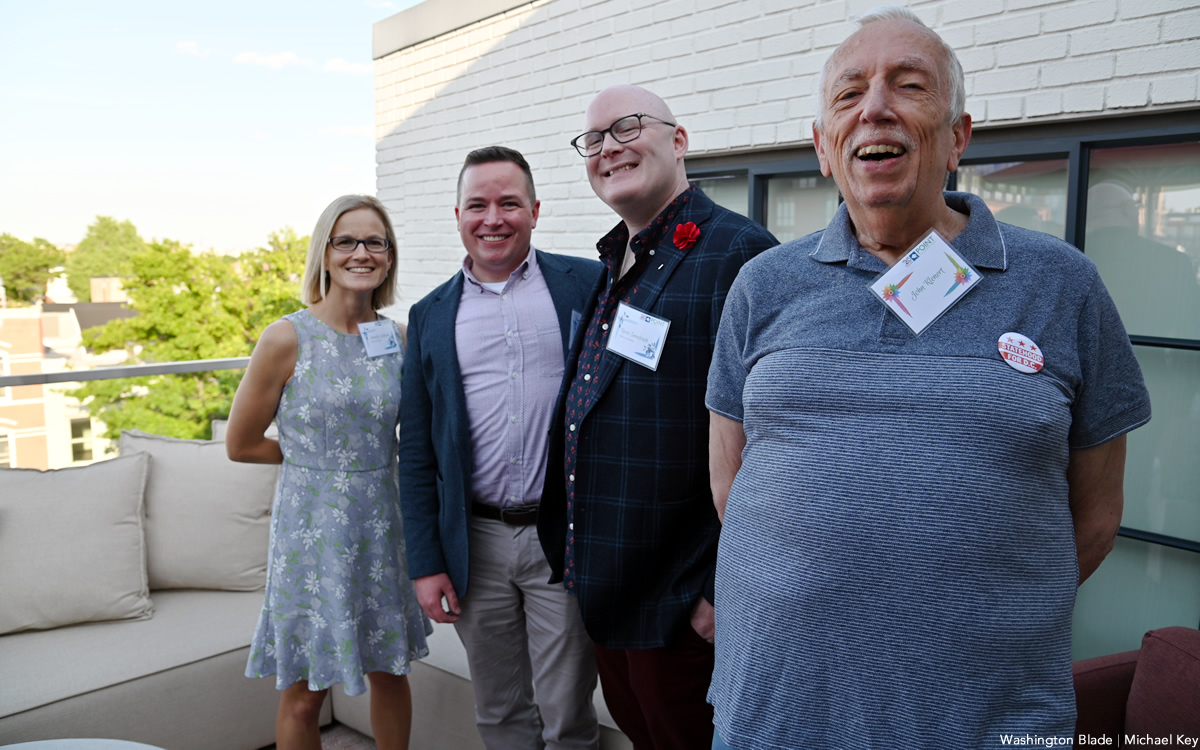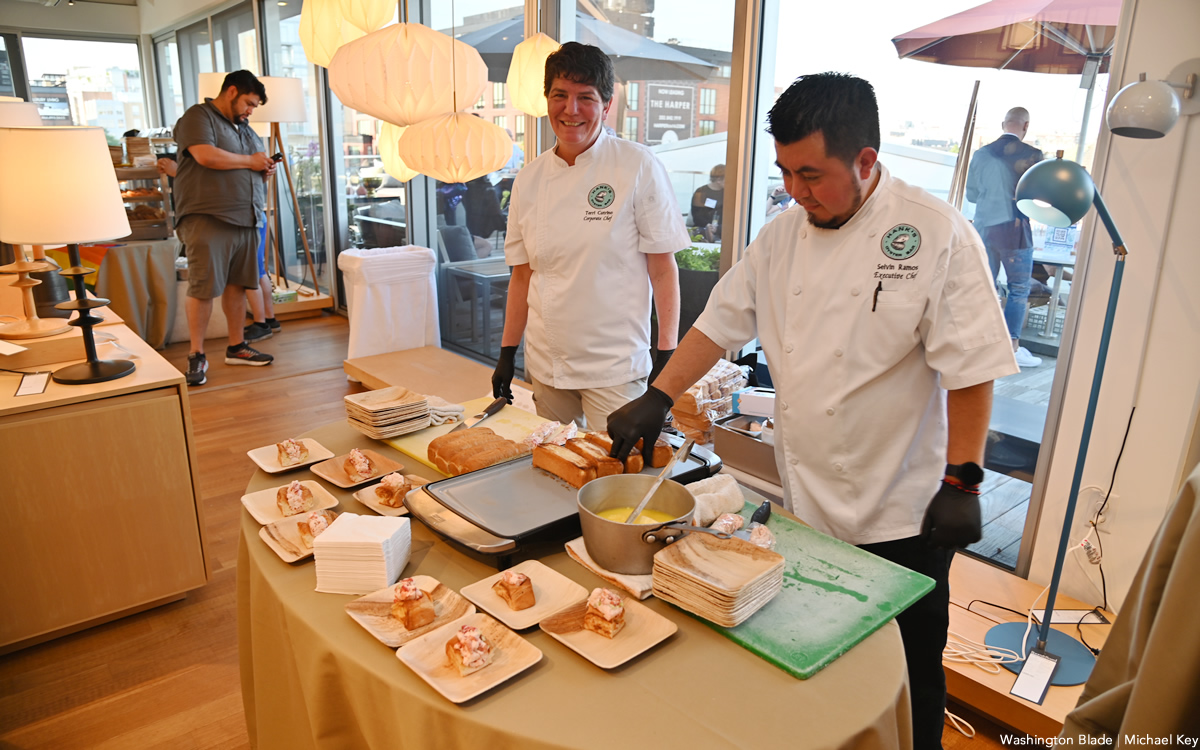 'A piece of heaven' awaits in Easton, Md.
Historic charm, culture, and fine dining just 90 minutes from D.C.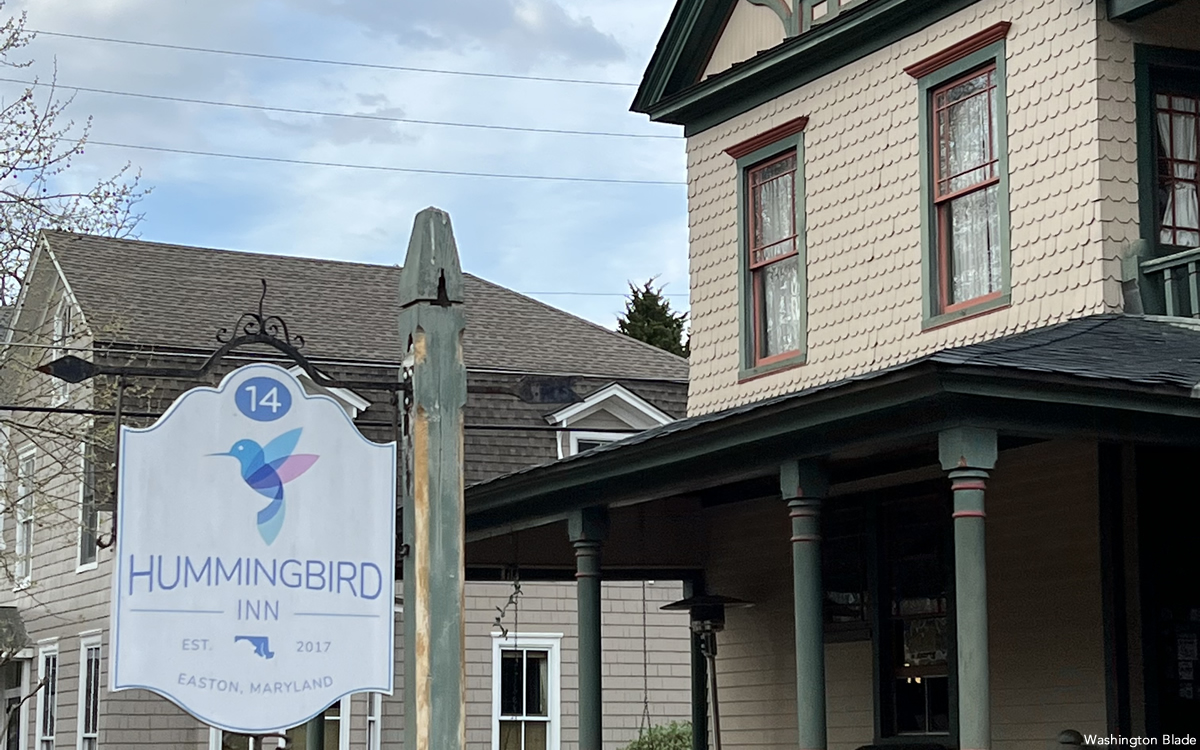 If you've always zoomed past Easton, Md., on your rush to Rehoboth Beach, then you're missing out.
Historic and charming Easton offers stylish and friendly accommodations, an array of eclectic shops and galleries, award-winning restaurants, and more in a welcoming environment for LGBTQ visitors.
Indeed, some of the town's most prominent and successful businesses are gay owned and Easton aims to attract more LGBTQ visitors this year, in part by hosting its first-ever Pride celebration in June.
"This is a welcoming and safe place where people can be who they are and it's a prime location for a more developed gay community," said Eric Levinson, owner of the Hummingbird Inn. Levinson is among the organizers of Easton Pride, scheduled for June 17-19.
Levinson moved to Easton in 2017 and opened the Inn. He says he was anxious about being openly gay because there weren't many gay-identified businesses. When someone stole his Pride flag that year from the Inn's front porch, Levinson blogged about it and says he had a supportive response from the town. Owners of a nearby bed-and-breakfast bought him a new Pride flag and there haven't been any issues since.
In fact, on a recent Blade visit to Easton, Maryland gubernatorial candidate Tom Perez was in town for a campaign stop and one of the first questions he faced from the community was about his platform on LGBTQ issues.
"When I talk about jobs, justice, and opportunity, LGBTQ inclusion has been a huge part of it," Perez said. "One of the privileges of my lifetime has been to work on those issues."
Easton is home to about 15,000 residents in Talbot County, and was incorporated in 1790, though its founding dates to the early 1700s when the Assembly of the Province of Maryland selected it as the site for a courthouse to serve the pre-Revolution population of sea merchants and farmers, according to Discover Easton. It's a mere 90-minute drive from Washington, D.C., and about the same from Rehoboth Beach.
Start your visit by checking into the Hummingbird Inn (14 N. Aurora St.), just a short walk from town, which offers six en suite rooms each named for Eastern Shore towns. The Queen Anne Victorian Inn is fully updated with modern baths. Try the newly renovated and spacious Crisfield Room with its contemporary style and multiple seating areas on the third floor. The Inn is dog friendly and in the mornings, Levinson capably assumes the role of chef, wowing guests with an unrivaled, multi-course breakfast cooked to order. He says his experience traveling to 70 countries around the world informs his approach to hospitality.
"I pride myself on our attention to detail," he says. "I modeled the inn on my travel experience. If I'm going somewhere this is what I'm expecting — I need great products, towels, pillows. That's where I got the experience to know what's expected as a traveler."
And his approach is working — he says at least six former guests have since bought homes in Easton.
Levinson even accommodates those with dietary restrictions at his famed breakfast, noting, "Just because you have a restricted diet doesn't mean you shouldn't have a good time."
Talking with locals, everyone seems to have enjoyed Levinson's breakfast feast; it truly is something to behold, starting with a selection of homemade breads. On a recent visit, there was a baked egg dish and a delicious French toast course. Be sure to indulge — you won't need lunch.
As for Pride, Levinson says he was approached by Delmarva Pride about planning an event. The 2020 plans were scrapped due to COVID. But this year's inaugural event will be a three-day celebration with a drag show, a Pride dance at the Inn, along with a street fair and Sunday brunch. Call the Inn for reservations as special ticket packages will be offered (410-822-0605). The Inn celebrates its five-year anniversary on Aug. 6 with food, drinks, and a band. And if you're planning a wedding, Levinson is ordained and has officiated at numerous same-sex ceremonies.
"I want people to know it's not just a B&B and more than just a place to sleep because we do so many events here," Levinson says.
One of the largest such events is Easton's 18th annual Plein Air festival set for July 15-24, the largest such festival in the country. According to the event site, "Plein air painters produce art from life (as opposed to in the studio)" and this year 58 artists will be juried into the competition. The artwork is for sale and the 2021 event brought nearly $500,000 in sales. Visit pleinaireaston.com for details.
In addition to the Hummingbird, you'll find all sorts of accommodations from quaint B&Bs to the grand dame of Easton, the Tidewater Inn, a large hotel and conference facility that dates to 1947. Its restaurant, Hunters' Tavern, is known for the snapper soup, and the bar is cozy with friendly staff.
Once you're checked in, explore the vibrant scene of shops and galleries. Rediscover the lost pleasure of browsing a bookstore at Vintage Books & Fine Art (4 N. Washington St., vintagebooksmd.com). You'll discover all sorts of fascinating local history and maritime-themed tomes.
Among the local galleries, Studio B Art Gallery stands out. Owner Betty Huang, herself an accomplished artist, represents many esteemed painters and the gallery will host a plein air workshop with Master Jove Wang on July 11. Visit studiobartgallery.com for details.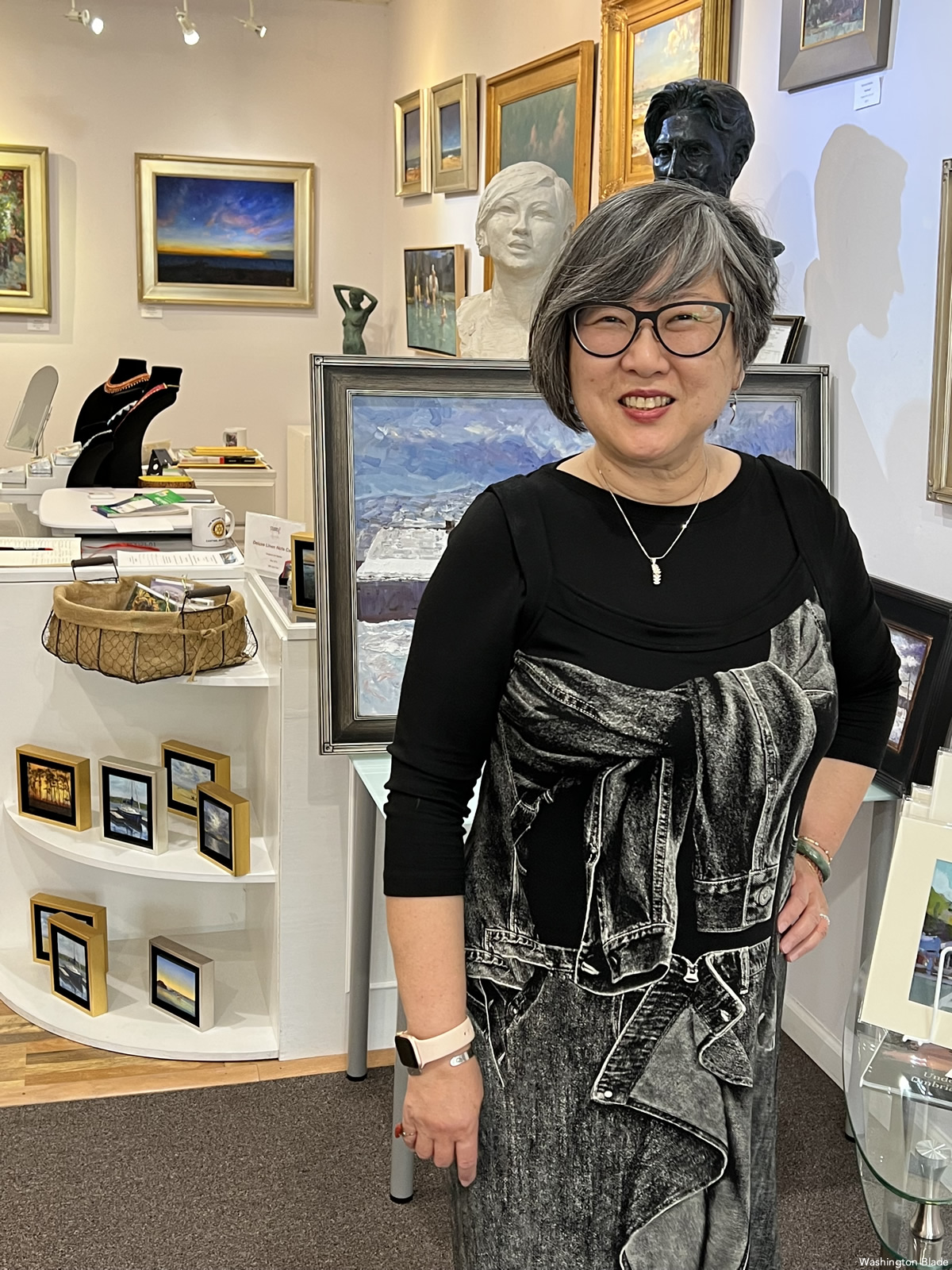 Shopping for clothing? Don't miss Marc Randall boutique (3 E. Dover St., marc-randall.com), offering a mix of classic and edgy women's clothing with a smaller selection of men's wear.
Marc Del Pino owns the boutique and sits on the board of Discover Easton. Over drinks at happy hour, he also seems like the town's unofficial mayor as everyone who enters stops by to say hello. Originally from Trinidad, Del Pino moved to New York and then to Easton. He's been in business in Easton for 29 years.
"I thought I would have a problem moving here but never did," he says. "I never felt like an outsider or out of place; I felt like I came home when I came here for the first time. … I was tired of New York City, it reminds me of Trinidad here being smaller with a charming downtown."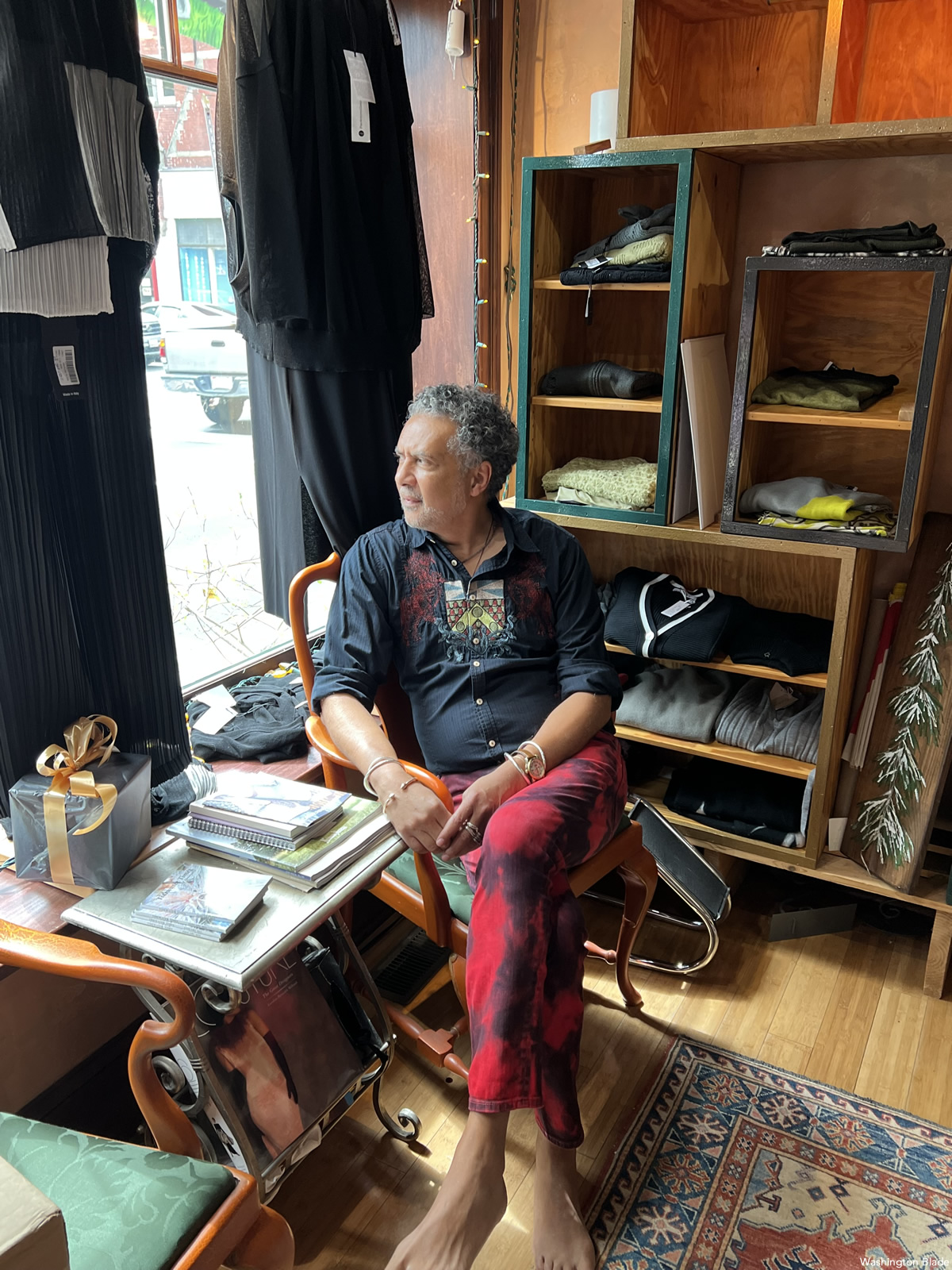 All that shopping will leave you hungry and there's no shortage of restaurants to try. Among the best is Scossa (8 N. Washington St.), owned by Chef Giancarlo Tondin who was born in Italy and began his career at Harry's Bar in Venice. He later worked for the Cipriani family's many New York City restaurants, including the Rainbow Room before relocating to Easton. He specializes in Northern Italian cuisine.
Another standout is Out of the Fire (22 Goldsborough St.), a farm-to-table bistro featuring globally inspired dishes and an open kitchen. Try the warm confit salad of chicken and roasted apples or browse an extensive pizza menu, including everything from duck sausage to a vegan option.
The Wardroom (108 N. Washington St., thewardroom.com) offers a market along with lunch and dinner fare like homemade pastas and enticing selections of charcuterie, cheeses, and wines.
After dinner, head to the historic Avalon Theatre. The building dates to the early 1920s but has been renovated and reinvented through the years. Today the Avalon presents musical and dramatic theater, symphony orchestras, national musical acts along with local talent, according to its site. This summer brings a wide array of programming, from "Hamlet" to a free community talk on parenting. Visit avalonfoundation.org for more information.
For a laid back, welcoming getaway without the summer beach crowds, Easton is a relaxing destination full of history, culture, premier dining, and high-end shopping in an LGBTQ affirming town convenient to D.C.
As Del Pino put it, "I could go anywhere in the world, but I go across the Bay Bridge and I'm home — a piece of heaven."
New Philly production explores AIDS through three characters
Ain Gordon's 'These Don't Easily Scatter' more than a static memorial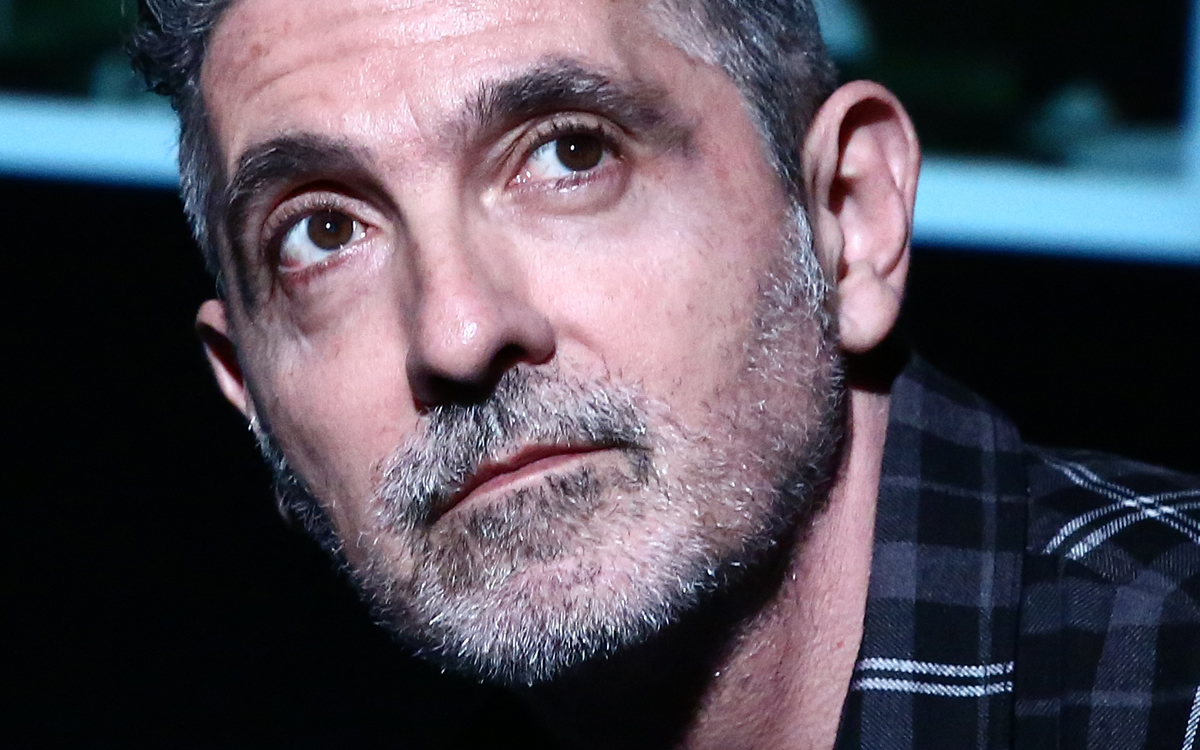 'These Don't Easily Scatter'
May 20-22
William Way LGBT Community Center
1315 Spruce St, Philadelphia 19107
$20
Waygay.org
Plaques fail. And a memorial doesn't need to be an immoveable piece of stone.
It's this line of thought that formulated "Remembrance," an alternative multidisciplinary memorial to Philadelphia's AIDS crisis and its under-mourned deaths, made up of activities throughout May and June in the City of Brotherly Love.
Included is Ain Gordon's new play "These Don't Easily Scatter" to be performed in the William Way LGBT Community Center's freshly renovated ballroom for just four performances (May 20-22). Both written and directed by the three-time Obie Award winning playwright, the work takes inspiration from interviews and stories gathered from individuals affected by HIV/AIDS and follows three imagined characters navigating the early days of the AIDS epidemic in Philadelphia.
Gordon, who is gay, has woven aspects of AIDS into previous plays ("217 Boxes of Dr. Henry Anonymous," "Radicals in Miniature"), but this time he's focused closely on the crisis. Set during 1982-1987, the play covers five intense years remembered vividly by the playwright, a lifelong New Yorker who was young, sexually active, and on the scene at the time.
Through interviews, he's unearthed stories of Philadelphia-area community members who passed unnoticed with very little support. Gordon also chronicles accounts of those who selflessly assisted including a Philadelphia funeral director who offered proper burials to the dead when others were too frightened.
"The process was difficult because all interviewing had to be remote, and that's the antithesis of what I like to do," he explains. "I prefer to go to the place and talk in person. When you're on site, meandering can happen and you find out things you hadn't planned to ask. But it was the reality, so I dealt with it."
With so many theatrical and film works surrounding HIV/AIDS and the '80s, Gordon sought a unique angle. His interviews included faith leaders and family, but he zeroed in on health care workers who administered to early AIDS patients, primarily nurses. Their stories were both illuminating and timely in context of the current pandemic.
He says, "Infectious disease doctors who were mostly men were the stars of the show. I'm often interested in the supporting players who stand behind the stars and those were the nurses."
But how do interviews become a cast of characters?
"To be brutally frank, the budget allowed for three actors," Gordon explains. "Didn't know who those characters were for a long time. But I knew that I had a collection of things that needed to get in and I needed to find a container that could hold them."
An especially revelatory interview with a nurse resulted in a character. An early interview with a faith leader who mentioned a woman who'd been in the choir and volunteered to sing at funerals when no one else would, conjured another. The third was a gay man, because gay men featured predominantly in all of the interviews.
"At that point," he says, "you stop talking, get rid of your notes, and start writing. And hopefully it all comes together."
Gordon is grateful to have assembled an A-list cast including Cherene Snow as the nurse, out actor Bill Kux is the gay guy, and the brilliant Kathleen Chalfant best known on Broadway for her part in the original production of Tony Kushner's seminal "Angels in America," plays the chorister.
The work's conceit is monologues resembling interviews. The unnamed gay character, a young man finding his way sexually and having a great time, brings the names he wants to remember – mostly casual sex partners. Some stories are short: He recalls a guy he had sex with in a train station bathroom. He'd forgotten all about him until he saw his obituary photo in the paper.
For the playwright, "These Don't Easily Scatter" is more than a static memorial.
"I'm interested in how history tends to be promoted in physically inactive objects. I think it can come in other forms and if they're more fluid history can actively live on."
A lot of his work is place-based plays – typically he gets a commission to travel to a location and write something specific to the place. And that's what he's done in Philadelphia.
"It's important that the work is freestanding enough so it can be presented as a piece of theater someplace else where nobody knows about the story," he adds. "It's also important to give something back to the generous people involved in the process, and to commemorate those who have died, if not by name, then by remembrance."