Exxon Mobil faces lawsuit over alleged anti-gay bias
Advocacy group sends fake resumes to shed light on hiring practices
Exxon Mobil is facing an employment discrimination lawsuit based on a legal strategy of resume audit testing that revealed an apparent anti-gay bias in hiring practices.
On Wednesday, the LGBT group Freedom to Work filed a complaint with the Illinois Human Rights Commission contending Exxon Mobil violated a 2005 law in the state prohibiting discrimination against LGBT people.
The case, Freedom to Work v. Exxon Mobil Corp., is novel because the employment discrimination alleged is the result of resume audit testing. Under the strategy, fictitious resumes are sent for the same job opening in an attempt to reveal a candidate belonging to a minority group is unable to land a position.
Tico Almeida, president of Freedom to Work, said black and disability civil rights groups have employed the strategy with great success for decades, but his group's lawsuit marks the first time an LGBT group has tried it.
"Although they went to the same high school, the LGBT candidate has a higher GPA," Almeida said. "Although they went to the same college, the LGBT candidate has a higher GPA. Although they do the same kind of work, the LGBT person has longer work experience and better work experience. And then you see who they call back."
In the test for anti-LGBT bias at Exxon Mobil — which has no non-discrimination policy protecting LGBT workers and has long been criticized by LGBT groups for alleged discrimination in hiring — Freedom to Work sent two applications in December from applicants for an administrative assistant position in Pataka, Ill.
One resume, written for "Jennifer Priston," demonstrated a candidate who was well-qualified for the position, but outed her as LGBT because she had volunteer experience working for the Gay & Lesbian Victory Fund. The other resume, written for "Michelle Caland" was less qualified in terms of work experience and education, but offered no indication she was LGBT.
Even though Caland was less qualified, she received multiple call backs in response to her application. Priston never received a call back in response to her application even after Caland didn't respond.
The results of the testing and the pending lawsuit, Almeida said, will force Exxon Mobil to  explain why the company "so desperately" wanted the less qualified non-LGBT candidate over the more qualified LGBT applicant.
"We know that they cannot credibly claim that they didn't receive the LGBT resume and application because when they were submitted, they sent back to both applicants a receipt acknowledgement saying, 'Thank you for your application from Exxon Mobil,'" Almeida said. "They can't claim they didn't see it."
Further, Almeida said Exxon Mobil can't say it didn't want an employee who had activist experience because the non-LGBT candidate said she worked for a local feminist organization, nor can the organization purport to have engaged in political bias because the candidates have left-leaning resumes.
The result of the testing uncovering apparent anti-gay basis is consistent with a 2011 study at Harvard University that found LGBT applicants were 40 percent less likely to be granted an interview than a straight applicant.
The lawsuit was filed a week before the shareholders at Exxon Mobil are set to consider a resolution from New York State Comptroller Thomas DiNapoli, whose state owns considerable shares in the company, to put in place an LGBT non-discrimination policy. The resolution has come up repeatedly over the years and each time has failed, including last year, when it won support from only 20.6 percent of shareholders.
To reach a settlement in the case, Almeida said he's asking Exxon Mobil to adopt a company-wide LGBT non-discrimination policy and train its workers across the country on implementation.
"We hope that we will shame them into settling this very quickly," Almeida said. "If they agree to adopting and training HR people on it, we will settle the case as quickly as we can."
But if Exxon Mobil chooses to fight the lawsuit, Almeida said the case will go into discovery, which means Freedom to Work will subpoena internal documents from the company and depose staffers to expose anti-gay bias in hiring practices.
"No one has ever gotten an inside look as to what their HR professionals think and why they were taught these policies and why they're existing," Almeida said. "As the litigation proceeds, we will get to subpoena those internal documents, and we will get to depose the HR professionals and ask them all these questions."
Charlie Engelmann, an Exxon Mobil spokesperson, said in response to the complaint from Freedom to Work that the company already has policies protecting LGBT workers.
"Exxon Mobil's global policies and processes prohibit all forms of discrimination, including those based on sexual orientation and gender identity, in any company workplace, anywhere in the world," Engelmann said. "In fact, our policies go well beyond the law and prohibit any form of discrimination. We are reviewing the complaint filed with the Illinois Department of Human Rights by Freedom to Work, a non-profit organization."
Despite the response, Almeida pointed out the company made the same assertion last year prior to the failed vote on the non-discrimination policy — only to have it rejected by the U.S. Securities & Exchange Commission.
"Prior to the vote on the resolution, Exxon asked the U.S. Securities & Exchange Commission for permission to stop shareholders from voting on the resolution, based on Exxon's view that it had already complied with the proposal," Almeida said. "However, the SEC rejected Exxon's request, explaining that 'it appears that ExxonMobil's policies, practices, and procedures do not compare favorably with the guidelines of the proposal and that ExxonMobil has not, therefore, substantially implemented the proposal.'"
Illinois was one of two states in which Freedom to Work uncovered apparent anti-gay bias in hiring practices. Almeida did the same paired resume testing in Texas and uncovered similar results at Exxon Mobil.
But Texas doesn't have a statewide LGBT workplace non-discrimination law on which to base a lawsuit, and no federal non-discrimination protections are in place to help LGBT people. The Employment Non-Discrimination Act isn't law, nor is an executive order in place prohibiting anti-LGBT bias among federal contractors.
Over the past 10 years, Exxon Mobil received more than $1 billion in federal contracts. If President Obama issued a much-sought executive order prohibiting anti-LGBT job bias among federal contractors, Freedom of Work could have asked the Labor Department to take action against the company.
Almeida emphasized that executive order would have provided Freedom to Work the opportunity to take action against the oil company in Texas as well as Illinois.
"If the president had signed the order, we would have filed the testing results from Texas with the Department of Labor and asked them to do an investigation, and asked them to order Exxon-Mobil to adopt an LGBT non-discrimination policy," Almeida said. "This is an example of how the president's delay is slowing down civil rights."
The White House has said it prefers a legislative approach to addressing LGBT workplace discrimination. Shin Inouye, a White House spokesperson, reiterated in response to the lawsuit on Wednesday that he has nothing to say about the executive order.
"Regarding a hypothetical Executive Order on LGBT non-discrimination for federal contractors, I have no updates for you on that issue," Inouye said.
The lawsuit is novel in another way because with no real persons suffering discrimination, the named plaintiff in the lawsuit is Freedom to Work itself. Most LGBT legal groups, like Lambda Legal, file complaints that name LGBT people who've faced discrimination as the plaintiff.
Almeida said organizational plaintiffs are acceptable under Illinois state law as well as alleged discrimination in response to paired resume testing. In the 2000 decision of Kyles v. J.K. Guardian Security Services, the U.S. Seventh Circuit Court of Appeals in Illinois upheld the right of testers to bring these claims after two black testers brought a race discrimination action to federal court. They were allowed to proceed to a trial and later settled their claims with the employer.
Additionally, the U.S. Supreme Court has previously validated lawsuits on the basis of paired resume audit testing in its decisions on earlier litigation. In the 1982 case of Havens Realty Corp. v. Coleman, the court held testers can sue to challenge housing discrimination and that groups conducting the testing can also file a lawsuit to remedy discrimination.
Also working with Freedom to Work on the testing was the Equal Rights Center, a D.C.-based advocacy organization, which has experience with resume testing for minority groups.
Donald Kahl, executive director of the Equal Rights Center, explained in a statement the validity of filing employment discrimination lawsuits based on testing and their applicability to LGBT people.
"Based on the Equal Rights Center's 30 years of testing experience, and nearly 2,000 tests conducted in the last year, our testing methodologies are recognized and accepted by the civil rights community, government agencies, and the courts," Kahl said. "The type of testing we conducted with Freedom to Work is a critical part of objectively demonstrating why our LGBT community needs and deserves anti-discrimination protections."
The legal team representing Freedom to Work in the lawsuit is Cohen Milstein Sellers & Toll PLLC, a group that has experience representing women who alleged gender discrimination in employment at the retail giant Walmart Stores, Inc.
As the lawsuit proceeds, Almeida said Freedom to Work will continue testing for anti-LGBT workplace bias at other companies and take action as necessary.
"Our work is not completed," Almeida said. "We're going to test other companies, and if we find out about discrimination, we're going to file additional lawsuits."
Fred Sainz, vice president of communications for the Human Rights Campaign, said the nation's largest LGBT group also supports the lawsuit.
"HRC supports efforts to ensure that all LGBT Americans are judged at work based on how they perform, not on who they are," Sainz said. "Those efforts include advocating for corporate policies, seeking recourse under state and local laws, and of course working to pass ENDA and a federal executive order."
Florida House committee passes "Don't Say Gay" bill
Equality Florida quickly condemned the measure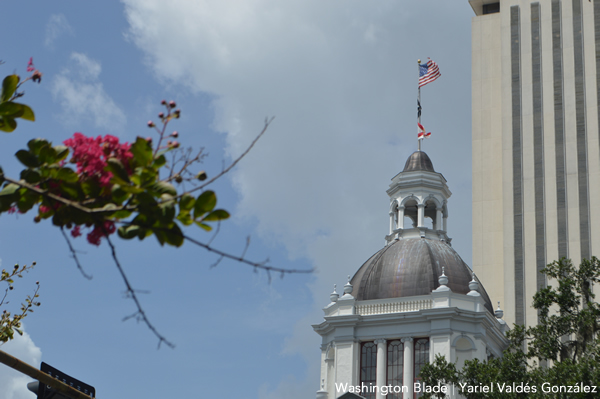 The Republican majority Florida House Education and Employment Committee on Thursday passed House Bill 1557, the Parental Rights in Education bill, colloquially referred to as the "Don't Say Gay" bill advancing the measure to the full House.
HB 1557 and its companion bill, Senate Bill 1834, would ban classroom discussions about sexual orientation and gender identity in schools, erasing LGBTQ identity, history, and culture — as well as LGBTQ students themselves.
The bill also has provisions that appear to undermine LGBTQ support in schools and include vague parental notification requirements which could effectively "out" LGBTQ-identifying students to their parents without their consent.
"The Trevor Project's research has found that LGBTQ youth who learned about LGBTQ issues or people in classes at school had 23 percent lower odds of reporting a suicide attempt in the past year. This bill will erase young LGBTQ students across Florida, forcing many back into the closet by policing their identity and silencing important discussions about the issues they face," said Sam Ames, director of advocacy and government affairs at the Trevor Project. "LGBTQ students deserve their history and experiences to be reflected in their education, just like their peers."
In an email to the Los Angeles Blade, Brandon J. Wolf, the press secretary for Equality Florida noted; "Governor DeSantis' march toward his own personal surveillance state continues. Today, the Don't Say Gay bill, a piece of legislation to erase discussion of LGBTQ people from schools in Florida, passed its first committee and became another component of an agenda designed to police us in our classrooms, doctor's offices, and workplaces. Make no mistake — LGBTQ people are your neighbors, family members, and friends. We are a normal, healthy part of society and we will not be erased."
This will kill kids, @RonDeSantisFL. You are purposefully making your state a harder place for LGBTQ kids to survive in. In a national survey (@TrevorProject), 42% of LGBTQ youth seriously considered attempting suicide last year. Now they can't talk to their teachers? https://t.co/VtfFLPlsn3

— Chasten Buttigieg (@Chasten) January 20, 2022
The Trevor Project's 2021 National Survey on LGBTQ Youth Mental Health found that more than 42 percent of LGBTQ youth seriously considered attempting suicide in the past year, including more than half of transgender and non-binary youth.
According to a recent poll conducted by Morning Consult on behalf of The Trevor Project, 85 percent of transgender and non-binary youth — and two-thirds of all LGBTQ youth (66 percent) — say recent debates about state laws restricting the rights of transgender people have negatively impacted their mental health.
When asked about proposed legislation that would require schools to tell a student's parent or guardian if they request to use a different name/pronoun or if they identify as LGBTQ at school, 56 percent of transgender and non-binary youth said it made them feel angry, 47 percent felt nervous and/or scared, 45 percent felt stressed, and more than 1 in 3 felt sad.
If you or someone you know needs help or support, the Trevor Project's trained crisis counselors are available 24/7 at 1-866-488-7386, via chat at TheTrevorProject.org/Get-Help, or by texting START to 678678.
NCAA adopts new policy amid fervor over transgender athletes
Sport-by-sport approach requires certain levels of testosterone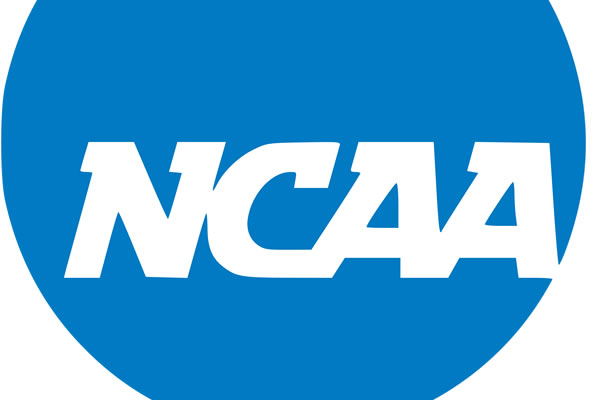 The National Collegiate Athletic Association has announced it has adopted new procedures on competition of transgender athletes, creating a "sport-by-sport" approach that also requires documentation of testosterone levels across the board amid a fervor of recently transitioned swimmers breaking records in women's athletics.
The NCAA said in a statement its board of governors voted on Wednesday in support of the "sport-by-sport" approach, which the organization says "preserves opportunity for transgender student-athletes while balancing fairness, inclusion and safety for all who compete."
Although the policy defers to the national governing bodies for individual sports, it also requires transgender athletes to document sport-specific testosterone levels beginning four weeks before their sport's championship selections. The new policy, which consistent with rules for the U.S. Olympics, is effective 2022, although implementation is set to begin with the 2023-24 academic year, the organization says.
John DeGioia, chair of the NCAA board and Georgetown president, said in a statement the organization is "steadfast in our support of transgender student-athletes and the fostering of fairness across college sports."
"It is important that NCAA member schools, conferences and college athletes compete in an inclusive, fair, safe and respectful environment and can move forward with a clear understanding of the new policy," DeGioia said.
More specifically, starting with the 2022-23 academic year, transgender athletes will need to document sport-specific testosterone levels beginning four weeks before their sport's championship selections, the organizational. These athletes, according to the NCAA, are also required to document testosterone levels four weeks before championship selections.
In terms of jurisdiction, the national governing bodies for individual sports are charged determines policies, which would be under ongoing review and recommendation by the NCAA, the organizational says. If there is no policy for a sport, that sport's international federation policy or previously established International Olympics Committee policy criteria would be followed.
The NCAA adopts the policy amid controversy over University of Pennsylvania swimmer Lia Thomas smashing records in women's swimming. Thomas, which once competed as a man, smashed two national records and in the 1,650-yard freestyle placed 38 seconds ahead of closest competition. The new NCAA policy appears effectively to sideline Thomas, who has recently transitioned and unable to show consistent levels of testosterone.
Prior to the NCAA announcement, a coalition of 16 LGBTQ groups, including the Human Rights Campaign and Athlete Ally, this week sent to a letter to the collegiate organization, urging the organizations strengthen non-discrimination protections as opposed to weakening them. The new policy, however, appears to head in other direction, which the LGBTQ groups rejected in the letter.
"While decentralizing the NCAA and giving power to conferences and schools has its benefits, we are concerned that leaving the enforcement of non-discrimination protections to schools will create a patchwork of protections rather than a comprehensive policy that would protect all athletes, no matter where they play," the letter says. "This would be similar to the patchwork of non-discrimination policies in states, where marginalized groups in some states or cities are protected while others are left behind by localities that opt not to enact inclusive policies."
JoDee Winterhof, vice president of policy and political affairs for the Human Rights Campaign, said in a statement after the NCAA announcement the new policy was effectively passing the buck.
"If the NCAA is committed to ensuring an environment of competition that is safe, healthy, and free from discrimination, they cannot dodge the question of how to ensure transgender athletes can participate safely," Winterhof said. "That is precisely why we and a number of organizations across a wide spectrum of advocates are urging them to readopt and strengthen non-discrimination language in their constitution to ensure the Association is committed to enforcing the level playing field and inclusive policies they say their values require. Any policy language is only as effective as it is enforceable, and with states passing anti-transgender sports bans, any inclusive policy is under immediate threat. We are still reviewing the NCAA's new policy on transgender inclusion and how it will impact each and every transgender athlete."
Transgender rights group's Los Angeles office receives bomb threat
[email protected] Coalition evacuated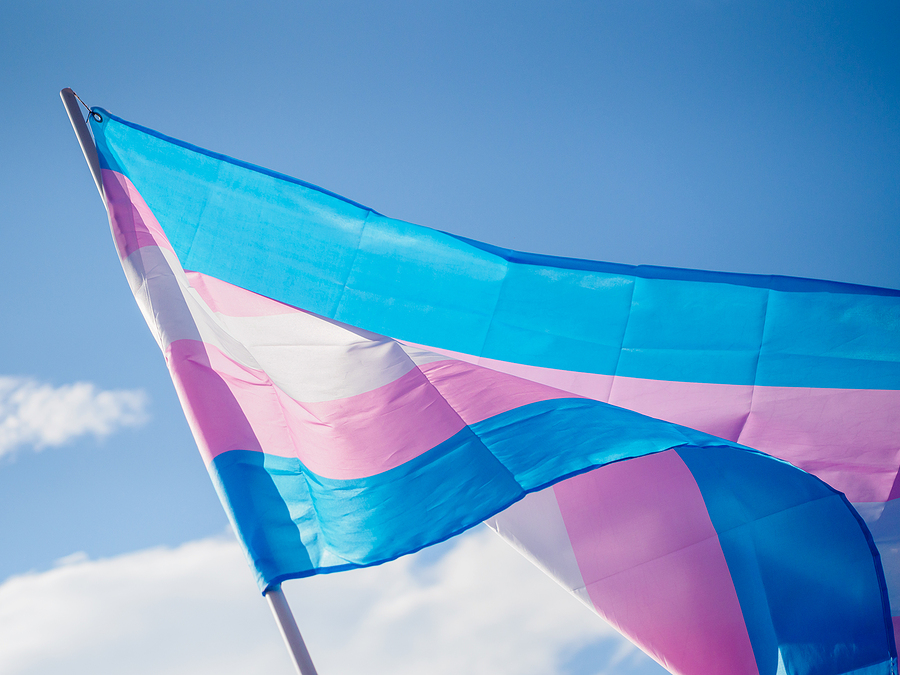 A bomb threat was phoned in Wednesday afternoon to the Wilshire Boulevard Koreatown offices of the [email protected] Coalition, Bamby Salcedo, the president and CEO of the non-profit organization told the Los Angeles Blade.
According to Salcedo, an unidentified male caller told the staff person who answered at approximately 3 p.m., while delivering the threat said; "You're all going to die." The staff immediately evacuated everyone from their offices and then contacted the Los Angeles Police Department for assistance.
Officers, specialists and detectives from the Rampart Division of the LAPD responded and swept the building. A spokesperson for the LAPD confirmed that the incident is under active investigation but would make no further comment.
On a Facebook post immediately after the incident the non-profit wrote; "To ensure the safety of our clients and staff members, we ask that you please NOT come to our office."
In a follow-up post, Salcedo notified the organization and its clientele that the LAPD had given the all-clear and that their offices would resume normal operations Thursday at 9:00 a.m. PT.
"Thank you for your messages and concern for our staff and community," Salcedo said.
"No amount of threats can stop us from our commitment to the TGI community," she added.
The [email protected] Coalition was founded in 2009 by a group of transgender and gender non-conforming and intersex (TGI) immigrant women in Los Angeles as a grassroots response to address the specific needs of TGI Latino immigrants who live in the U.S.
Since then, the agency has become a nationally recognized organization with representation in 10 different states across the U.S. and provides direct services to TGI individuals in Los Angeles.
In 2015, the [email protected] Coalition identified the urgent need to provide direct services to empower TGI people in response to structural, institutional, and interpersonal violence, and the Center for Violence Prevention and Transgender Wellness was born.
Since then, the organization has secured funding from the state and local government sources as well as several private foundations and organizations to provide direct services to all TGI individuals in Los Angeles County.
The [email protected] Coalition's primary focus is to change the landscape of access to services for TGI people and provide access to comprehensive resource and services that will improve the quality of life of TGI people.