Exxon Mobil faces lawsuit over alleged anti-gay bias
Advocacy group sends fake resumes to shed light on hiring practices
Exxon Mobil is facing an employment discrimination lawsuit based on a legal strategy of resume audit testing that revealed an apparent anti-gay bias in hiring practices.
On Wednesday, the LGBT group Freedom to Work filed a complaint with the Illinois Human Rights Commission contending Exxon Mobil violated a 2005 law in the state prohibiting discrimination against LGBT people.
The case, Freedom to Work v. Exxon Mobil Corp., is novel because the employment discrimination alleged is the result of resume audit testing. Under the strategy, fictitious resumes are sent for the same job opening in an attempt to reveal a candidate belonging to a minority group is unable to land a position.
Tico Almeida, president of Freedom to Work, said black and disability civil rights groups have employed the strategy with great success for decades, but his group's lawsuit marks the first time an LGBT group has tried it.
"Although they went to the same high school, the LGBT candidate has a higher GPA," Almeida said. "Although they went to the same college, the LGBT candidate has a higher GPA. Although they do the same kind of work, the LGBT person has longer work experience and better work experience. And then you see who they call back."
In the test for anti-LGBT bias at Exxon Mobil — which has no non-discrimination policy protecting LGBT workers and has long been criticized by LGBT groups for alleged discrimination in hiring — Freedom to Work sent two applications in December from applicants for an administrative assistant position in Pataka, Ill.
One resume, written for "Jennifer Priston," demonstrated a candidate who was well-qualified for the position, but outed her as LGBT because she had volunteer experience working for the Gay & Lesbian Victory Fund. The other resume, written for "Michelle Caland" was less qualified in terms of work experience and education, but offered no indication she was LGBT.
Even though Caland was less qualified, she received multiple call backs in response to her application. Priston never received a call back in response to her application even after Caland didn't respond.
The results of the testing and the pending lawsuit, Almeida said, will force Exxon Mobil to  explain why the company "so desperately" wanted the less qualified non-LGBT candidate over the more qualified LGBT applicant.
"We know that they cannot credibly claim that they didn't receive the LGBT resume and application because when they were submitted, they sent back to both applicants a receipt acknowledgement saying, 'Thank you for your application from Exxon Mobil,'" Almeida said. "They can't claim they didn't see it."
Further, Almeida said Exxon Mobil can't say it didn't want an employee who had activist experience because the non-LGBT candidate said she worked for a local feminist organization, nor can the organization purport to have engaged in political bias because the candidates have left-leaning resumes.
The result of the testing uncovering apparent anti-gay basis is consistent with a 2011 study at Harvard University that found LGBT applicants were 40 percent less likely to be granted an interview than a straight applicant.
The lawsuit was filed a week before the shareholders at Exxon Mobil are set to consider a resolution from New York State Comptroller Thomas DiNapoli, whose state owns considerable shares in the company, to put in place an LGBT non-discrimination policy. The resolution has come up repeatedly over the years and each time has failed, including last year, when it won support from only 20.6 percent of shareholders.
To reach a settlement in the case, Almeida said he's asking Exxon Mobil to adopt a company-wide LGBT non-discrimination policy and train its workers across the country on implementation.
"We hope that we will shame them into settling this very quickly," Almeida said. "If they agree to adopting and training HR people on it, we will settle the case as quickly as we can."
But if Exxon Mobil chooses to fight the lawsuit, Almeida said the case will go into discovery, which means Freedom to Work will subpoena internal documents from the company and depose staffers to expose anti-gay bias in hiring practices.
"No one has ever gotten an inside look as to what their HR professionals think and why they were taught these policies and why they're existing," Almeida said. "As the litigation proceeds, we will get to subpoena those internal documents, and we will get to depose the HR professionals and ask them all these questions."
Charlie Engelmann, an Exxon Mobil spokesperson, said in response to the complaint from Freedom to Work that the company already has policies protecting LGBT workers.
"Exxon Mobil's global policies and processes prohibit all forms of discrimination, including those based on sexual orientation and gender identity, in any company workplace, anywhere in the world," Engelmann said. "In fact, our policies go well beyond the law and prohibit any form of discrimination. We are reviewing the complaint filed with the Illinois Department of Human Rights by Freedom to Work, a non-profit organization."
Despite the response, Almeida pointed out the company made the same assertion last year prior to the failed vote on the non-discrimination policy — only to have it rejected by the U.S. Securities & Exchange Commission.
"Prior to the vote on the resolution, Exxon asked the U.S. Securities & Exchange Commission for permission to stop shareholders from voting on the resolution, based on Exxon's view that it had already complied with the proposal," Almeida said. "However, the SEC rejected Exxon's request, explaining that 'it appears that ExxonMobil's policies, practices, and procedures do not compare favorably with the guidelines of the proposal and that ExxonMobil has not, therefore, substantially implemented the proposal.'"
Illinois was one of two states in which Freedom to Work uncovered apparent anti-gay bias in hiring practices. Almeida did the same paired resume testing in Texas and uncovered similar results at Exxon Mobil.
But Texas doesn't have a statewide LGBT workplace non-discrimination law on which to base a lawsuit, and no federal non-discrimination protections are in place to help LGBT people. The Employment Non-Discrimination Act isn't law, nor is an executive order in place prohibiting anti-LGBT bias among federal contractors.
Over the past 10 years, Exxon Mobil received more than $1 billion in federal contracts. If President Obama issued a much-sought executive order prohibiting anti-LGBT job bias among federal contractors, Freedom of Work could have asked the Labor Department to take action against the company.
Almeida emphasized that executive order would have provided Freedom to Work the opportunity to take action against the oil company in Texas as well as Illinois.
"If the president had signed the order, we would have filed the testing results from Texas with the Department of Labor and asked them to do an investigation, and asked them to order Exxon-Mobil to adopt an LGBT non-discrimination policy," Almeida said. "This is an example of how the president's delay is slowing down civil rights."
The White House has said it prefers a legislative approach to addressing LGBT workplace discrimination. Shin Inouye, a White House spokesperson, reiterated in response to the lawsuit on Wednesday that he has nothing to say about the executive order.
"Regarding a hypothetical Executive Order on LGBT non-discrimination for federal contractors, I have no updates for you on that issue," Inouye said.
The lawsuit is novel in another way because with no real persons suffering discrimination, the named plaintiff in the lawsuit is Freedom to Work itself. Most LGBT legal groups, like Lambda Legal, file complaints that name LGBT people who've faced discrimination as the plaintiff.
Almeida said organizational plaintiffs are acceptable under Illinois state law as well as alleged discrimination in response to paired resume testing. In the 2000 decision of Kyles v. J.K. Guardian Security Services, the U.S. Seventh Circuit Court of Appeals in Illinois upheld the right of testers to bring these claims after two black testers brought a race discrimination action to federal court. They were allowed to proceed to a trial and later settled their claims with the employer.
Additionally, the U.S. Supreme Court has previously validated lawsuits on the basis of paired resume audit testing in its decisions on earlier litigation. In the 1982 case of Havens Realty Corp. v. Coleman, the court held testers can sue to challenge housing discrimination and that groups conducting the testing can also file a lawsuit to remedy discrimination.
Also working with Freedom to Work on the testing was the Equal Rights Center, a D.C.-based advocacy organization, which has experience with resume testing for minority groups.
Donald Kahl, executive director of the Equal Rights Center, explained in a statement the validity of filing employment discrimination lawsuits based on testing and their applicability to LGBT people.
"Based on the Equal Rights Center's 30 years of testing experience, and nearly 2,000 tests conducted in the last year, our testing methodologies are recognized and accepted by the civil rights community, government agencies, and the courts," Kahl said. "The type of testing we conducted with Freedom to Work is a critical part of objectively demonstrating why our LGBT community needs and deserves anti-discrimination protections."
The legal team representing Freedom to Work in the lawsuit is Cohen Milstein Sellers & Toll PLLC, a group that has experience representing women who alleged gender discrimination in employment at the retail giant Walmart Stores, Inc.
As the lawsuit proceeds, Almeida said Freedom to Work will continue testing for anti-LGBT workplace bias at other companies and take action as necessary.
"Our work is not completed," Almeida said. "We're going to test other companies, and if we find out about discrimination, we're going to file additional lawsuits."
Fred Sainz, vice president of communications for the Human Rights Campaign, said the nation's largest LGBT group also supports the lawsuit.
"HRC supports efforts to ensure that all LGBT Americans are judged at work based on how they perform, not on who they are," Sainz said. "Those efforts include advocating for corporate policies, seeking recourse under state and local laws, and of course working to pass ENDA and a federal executive order."
Mixed views among U.S. adults on trans issues: Pew
Most back non-discrimination, but divided on other issues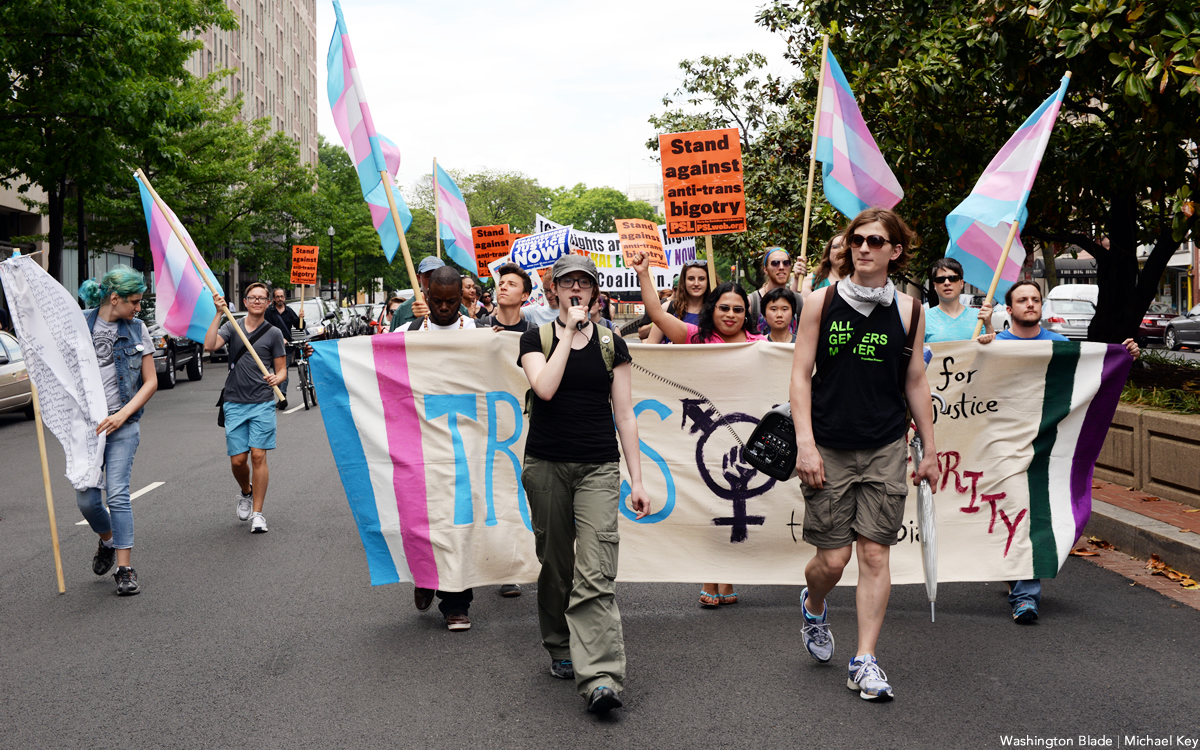 A new survey from a leading non-partisan research center reveals Americans have mixed views on transgender issues at a time when states are moving forward with measures against transgender youth, with strong majorities favoring non-discrimination protections but weaker support for access to transition-related care among minors and participation in school sports.
The Pew Research Center issued the findings on Tuesday as part of the results of its ongoing study to better understand Americans' views about gender identity and people who are transgender or non-binary. The findings are based on a survey of 10,188 U.S. adults from data collected as part of a larger survey conducted May 16-22.
A majority of respondents by wide margins favor non-discrimination protections for transgender people. A full 64 percent back laws or policies that would protect transgender people from discrimination in jobs, housing, and public spaces, while roughly 8-in-10 acknowledge transgender people face at least some discrimination in our society.
Additionally, nearly one half of Americans say it's extremely important to use a transgender person's new name after they undergo a transition, while an additional 22 percent say that is somewhat important. A smaller percentage, 34 percent, say using a transgender person's pronouns is extremely important, and 21 percent say it is somewhat important.
But other findings were less supportive:
60 percent say a person's gender is determined by sex assigned at birth, reflecting an increase from 56 percent in 2021 and 54 percent in 2017, compared to 38 percent who say gender can be different from sex assigned at birth.
54 percent say society has either gone too far or been about right in terms of acceptance, underscoring an ambivalence around transgender issues even among those who see at least some discrimination against transgender people.
About six-in-ten adults, or 58 precent, favor proposals that would require transgender athletes to compete on teams that match the sex they were assigned at birth as opposed to teams consistent with their gender identity, compared to 17 percent who oppose that and 24 percent neither favor nor oppose it.
46 percent favor making it illegal for health care professionals to provide transition-related care, such as hormones or gender reassignment surgery, to someone younger than 18, compared to 31 percent who oppose it.
Americans are more evenly split when it comes to making it illegal for public school districts to teach about gender identity in elementary schools (which is favored by 41 percent, and opposed by 38 percent) and investigating parents for child abuse if they help someone younger than 18 obtain transition-related care (37 percent are in favor and 36 percent oppose it).
Young adults took the lead in terms of supporting change and acceptance. Half of adults ages 18 to 29 say someone can be a man or a woman even if that differs from the sex they were assigned at birth, compared to about four-in-10 of those ages 30 to 49 and about one-third of respondents 50 and older.
Predictably, stark differences could be found along party lines. Democrats by 59 precent say society hasn't gone far enough in accepting people who are transgender, while 15 percent say it has gone too far and 24 percent say it's been about right. For Republicans, 10 percent say society hasn't gone far enough, while 66 percent say it's gone too far and 22 percent say it's been about right.
Read the full report here.
House passes resolution that calls for Brittney Griner's immediate release
Detained WNBA star's trial to begin on July 1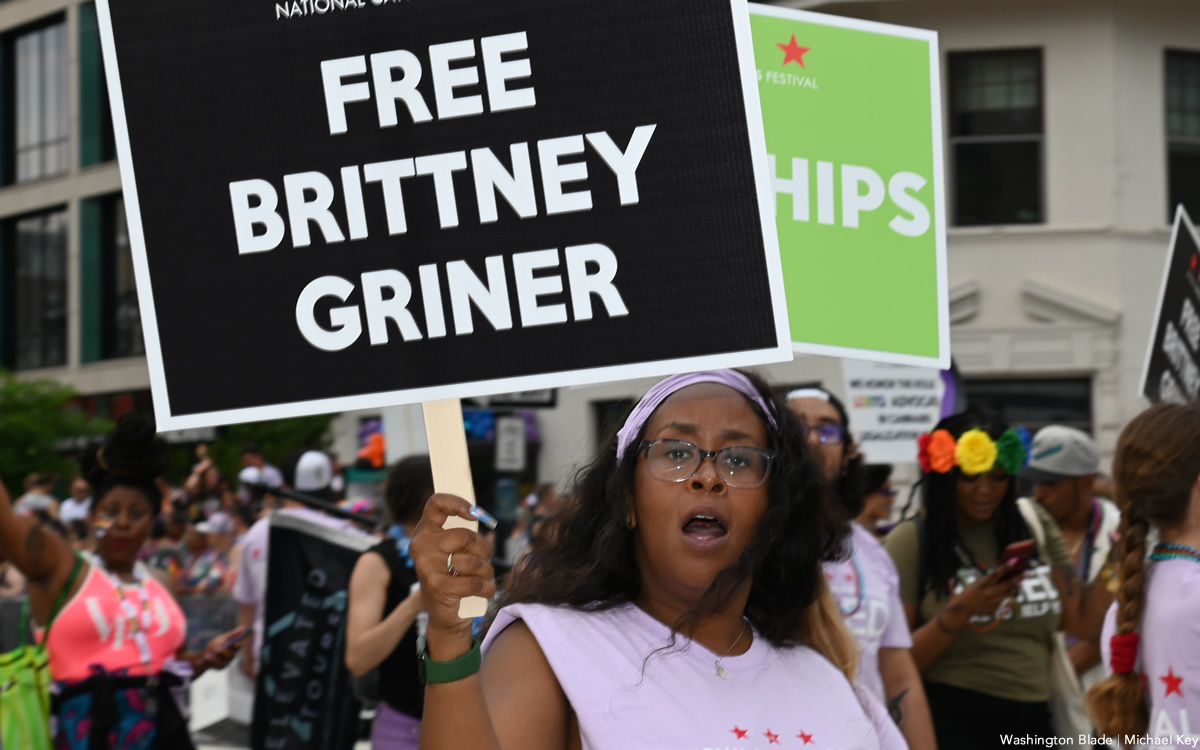 In a resolution passed on June 24 by the U.S. House of Representatives, lawmakers called on Russia to immediately release detained WNBA star Brittney Griner. 
Griner was first arrested in Russia in the days leading up to its invasion in Ukraine. Authorities have charged her with drug trafficking after claiming that she attempted to pass through Moscow's Sheremetyevo Airport while in possession of cannabis oil.
The House's resolution, introduced in May by U.S. Reps. Greg Stanton (D-Ariz.), Sheila Jackson Lee (D-Tex.) and Colin Allred (D-Texas), made multiple demands of Russia, including that the country "immediately release Brittney Griner," provide her with consular access and humane treatment and that the U.S. "raise the case of Brittney Griner and to press for her release" in all its dealings with the Russian government.
"This legislation insists on our embassy personnel having access to Ms. Griner and restates our commitment to freeing her now," Lee said in a statement after introducing the resolution. "We continue to pray for her family and we will continue to work together as three members of Congress, along with others, to spread the message that she is held wrongfully and must be freed now."
The resolution also expressed support for both Griner's family and for "all prisoners unjustly imprisoned in the Russian Federation."
Allred, a member of the House Foreign Affairs Committee, took to Twitter following the passage of the resolution.
"I'm proud the House has spoken in passing our resolution and calling for Brittney Griner's swift release," Allred wrote. "Every day an American is held abroad is a lifetime, and I will keep working with @POTUS to do all we can to bring home every American detained abroad."
Griner's WNBA team, the Phoenix Mercury, welcomed the House's passage of the resolution this past weekend.
"[Rep.] Stanton and many others are continuing to work with the White House, State Department and Brittney's family to secure her safe return home," the team wrote on Twitter.
The resolution comes after reporting revealed missteps on the part of the U.S. government in handling communication related to Griner's detention.
According to past reporting, the U.S. Embassy in Moscow failed to connect Griner with outside phone calls permitted by the Russian government when Griner's wife, Cherelle Griner, attempted to call her. Cherelle Griner reportedly called 11 times on June 18 on the couple's fourth anniversary but was unable to reach her wife due to what the State Department claimed to be a "logistical error."
While the resolution is being heralded by its supporters, it contains no provisions intended to enforce the House's demands for the release and humane treatment of Griner and others held by Russia. With less than one percent of criminal defendants in Russia being acquitted, it is unclear whether the resolution will do anything to persuade the country's courts to permit Griner's release.
Griner appeared in Russian court on Monday for a preliminary hearing prior to her trial that has now been scheduled to begin on July 1. It was also confirmed by Griner's attorney on Monday that her detention had been extended for six months pending her trial. 
If convicted, she could face up to 10 years in prison.
"We must keep Brittney's case on the forefront and make clear to the White House that her release should be one of the highest priorities for our government," Cherelle Griner said in May.
Protests, revelry mark NYC Pride
Tens of thousands protested Roe ruling on Friday night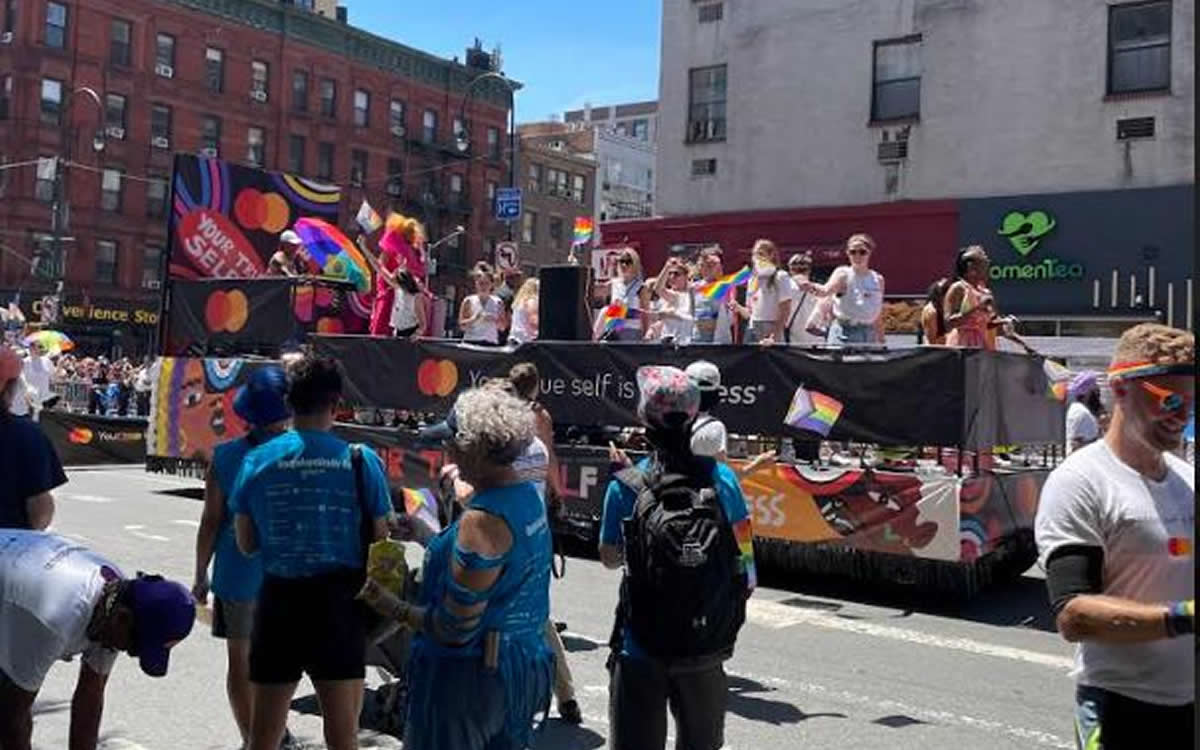 New York City Pride, one of the largest Pride celebrations in the world, rang in the weekend with equal parts celebration and protest.
Although the annual Pride march was on Sunday, the entire weekend was filled with an outpouring of public anger in the wake of the U.S. Supreme Court's decision to overturn Roe v. Wade. 
Protesters took to the streets of Manhattan on Friday with an estimated 17,000 people gathering to protest the ruling, which made abortion imminently illegal in roughly half of states. At least 25 people were arrested at the Friday night protests, which spread from Washington Square Park through Midtown to Bryant Park. 
In light of the Supreme Court's landmark decision — which advocates say will harm members of the LGBTQ community — NYC Pride announced that Planned Parenthood would kick off Sunday's Pride march as the first group to walk. In their statement, NYC Pride said that "[The Supreme Court's] dangerous decision puts millions in harm's way, gives government control over our individual freedom to choose, and sets a disturbing precedent that puts many other constitutional rights and freedoms in jeopardy." 
"As millions gather for LGBTQIA+ Pride this weekend in New York City and cities across the country, our voices will be heard — for the LGBTQ people impacted and the millions with whom we stand in solidarity," read the statement. "Pride was born of protest and will always be a space to fight injustice and discrimination. Join us as we advocate for bodily autonomy at this year's NYC Pride March."
In addition to the march; NYC Pride had a full slate of Pride programming during the week leading up to it, including Pride Island at Governor's Island, Youth Pride and a human rights conference. Queer clubs and bars throughout the city hosted various Pride-themed events throughout the weekend.
NYC Pride was not the only organization mobilizing this weekend.
Reclaim Pride NYC hosted a "Queer Liberation March for Trans and BIPOC Freedom, Reproductive Justice, and Bodily Autonomy," in partnership with pro-choice groups and community organizations.
"The [Queer Liberation March] is the annual people's protest march without corporate funding; corporate floats; politicians' grandstanding; or police control or involvement," said the Reclaim Pride Coalition.
Although Pride originated from a moment of violent tension between police and LGBTQ people at the Stonewall Inn, officers on Sunday carefully patrolled the entire NYC Pride march route. When the apparent sound of gunshots nearly sparked a stampede in Washington Square Park during the parade, the New York Police Department said there were "no shots fired," later confirming that the sounds were due to fireworks being set off at the park. 
The Washington Post noted fears of violence against the queer community circulated at Pride celebrations across the country.
Police also responded to reports of a shooting at San Francisco Pride, although no suspects or witnesses were found. In light of the epidemic of gun violence — from last month's elementary school shooting in Uvalde, Texas, to the massacre at the Pulse nightclub in Orlando, Fla., in 2016 that left 49 people dead — a fear of active shooters and widespread public anger at the prospect of less rights characterized Pride's usually jubilant atmosphere.