D.C. must have representation in Congress
As we work to that goal, local gov't has more power than many realize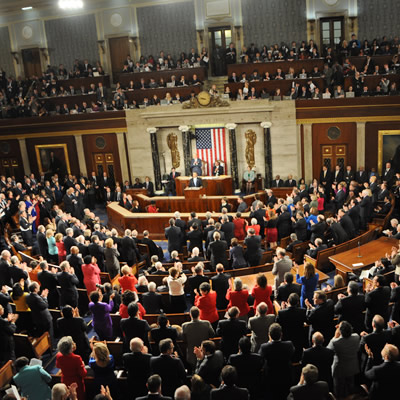 I serve on one of the most powerful elected legislative bodies in the nation. I am a member of the D.C. Council.
Whoa, hold on, I hear you say, how can that be when every law passed by the Council must go to, and may be changed by, Congress at will? And by a Congress where D.C. lacks any voting representation.
To be sure, D.C. statehood is one of the last remaining great human rights violations in the USA. Our city is entitled to full voting representation in the House and Senate and for that there can be no substitute.
Yet, in direct consequence of the congressional role, there is a widely held view that the D.C. government has little power.
On closer examination, that is far from the case.
D.C. may be the most unique political jurisdiction in the U.S. And since Home Rule was established on Dec. 24, 1973 — a 40th anniversary that went largely unnoticed — the D.C. government incorporates city, county and state functions. Thus, for example, motor vehicles, transportation and public works — functions that usually are not within the power of city/county government — are under our government.
Moreover, except for Nebraska, D.C. is the only unicameral state legislature in the U.S. And Nebraska's single house has 49 members in contrast to D.C.'s 13. In our unicameral legislature, a law can be passed with the support of only seven votes and the signature of the mayor.
But what about this congressional review, where a D.C. law must lay over for 30 legislative days?
True enough. But how often do D.C. laws simply lay over in Congress without action or interference by them?
Almost always is the answer. Even though the heavy boot of a Congress where we have no vote is constantly hanging over the heads of District residents, Congress has used this authority only on rare occasions over the last 40 years — indeed only three times over the last 40 years — and not since 1991. In recent times, Congress has taken no action to disturb what in earlier times would have been viewed as enticing political targets — smoke-free workplaces and marriage equality come immediately to mind.
And D.C.'s congressional review is nothing like what many cities and counties must go through in order to take certain actions. In Virginia or New York, operating under what is known as the "Dillon Rule," local government may only pass certain laws as expressly allowed by the state legislature. For example, in order for Mayor Bloomberg in New York City to gain control over the NYC public schools laws had to be introduced and passed in Albany in both houses and then signed by the governor. Mayor Fenty needed but seven Council members in D.C. to do about the same thing.
Congress also has the authority to impose restrictions on the District's ability to raise funds, such as the congressional prohibition of a commuter tax, and override initiatives approved by District residents through referendum. But here again, the authority is increasingly not used. For example, prohibition on needle exchange and medical marijuana funding — both imposed in FY1998 — were lifted in recent years. Only the restriction on spending on abortions remains.
So too, Congress may use the District as a "laboratory" for its own initiatives that they think would be "popular back home." Federal funding for opportunity scholarships for private schools and various actions related to charter schools are examples.
Forty years into the history of this relatively young government and we have accomplished a lot. The District's legislature — among the most progressive in social policy in the country — also oversees one of the strongest economies in the country today. We must have our votes in Congress. But as we all work to that goal, our local government has more power than many realize.
A second Trump administration would be disastrous for LGBTQ people
We cannot afford to go backward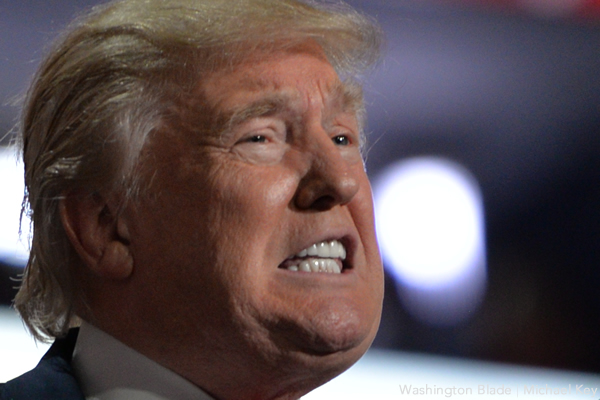 The morning after the 2016 presidential election, GLAAD's leadership team gathered in my office to assess the results of the night before and begin to process the reality that Donald J. Trump would be America's next president. Though emotions were running high, we quickly agreed that the LGBTQ community would be in grave danger for the next four years, and that GLAAD must pivot its priorities and its resources to react and respond to the new administration.
Trump had spent the better part of his campaign having it both ways. He professed to be a friend of our community to the point of literally wrapping himself in the Pride flag at an event, while surrounding himself with some of the most virulent anti-LGBTQ activists and politicians of our era — led by the incoming Vice President Mike Pence. The message was clear — LGBTQ people and our hard won progress would be in the Trump administration crosshairs at every level and in every way possible.
Our charge was not an easy one. The cable news cycle was well into its around-the-clock, obsessive, and incessant 24-hour coverage of Trump and his followers, so we couldn't depend on them to research, dig up and bring to light the nefarious actions that were inevitable. On top of that, we would need to ensure that the LGBTQ community was on high alert and that we were ready to fight back with every weapon in our movement's arsenal.
So on that morning of Nov. 9, 2016, GLAAD's Trump Accountability Project was conceived and launched. For the next four years, we tracked more than 200 attacks in policy and rhetoric coming from the Trump administration. Some of the most egregious include the complete removal of all LGBTQ references from the White House web site on the day of his inauguration; the shameful ban of qualified transgender Americans from military service; the support for businesses to legally discriminate sanctioned by the Justice Department and argued before the U.S. Supreme Court; removal of LGBTQ identifiers from the 2020 U.S. Census; the stripping of protections for transgender people in schools and in healthcare; and a slew of extreme judicial nominees to the federal bench whose anti-LGBTQ views will have a decades-long impact. The list is extensive, and it is sobering now, even in retrospect.
I invite you to fast forward five years and juxtapose that record against that of President Joe Biden as he crosses the one-year mark of his presidency. Just as we did with Donald Trump, it was important for GLAAD to track the actions of President Biden in order to hold him and his administration accountable for delivering on the campaign promises he made to the LGBTQ community.
The results are undeniable and unparalleled by any president in the history of this country. In his first 365 days in office, GLAAD's Biden Accountability Tracker has just documented its 100th item in a quickly growing list of appointments, policies, and statements that advance equality.
These include:
Nominating the first out lesbians to the federal bench — Alison Nathan, Beth Robinson and Charlotte Sweeney — among a record 40 first-year judicial confirmations.
Nominating the first out Cabinet member confirmed by the Senate, Transportation Secretary Pete Buttigieg; first out transgender person confirmed as Assistant Secretary for Health and first female four-star admiral of the U.S. Public Health Service Commissioned Corps, Dr. Rachel Levine.
Issuing the first U.S. passport with a gender-neutral 'X' marker, an option offered to all routine passport applicants in early 2022.
Reinstating of transgender military personnel, as well as expanding coverage for transgender vets' healthcare.
Reversing rollbacks and expanding protections against discrimination based on sexual orientation and gender identity in healthcare, adoption services, and employment.
In a single year, with so many competing priorities, President Biden and his administration have opened doors for LGBTQ Americans and demonstrated unprecedented commitment to ending discrimination and pushing toward full equality in every area of society. Indeed, it's a 180 degree turnaround from the previous administration's attacks on LGBTQ Americans.
There's a good deal of speculation that Donald Trump may once again run for president, and one thing could not be clearer — a second Trump Administration would be disastrous for LGBTQ people. We cannot afford to go backward. Democracy is on the line. Our equality is on the line. And it's not hyperbole to say — our lives are on the line.
This is not a partisan political fight. It's an American imperative. LGBTQ and our allies must not be complacent in 2022. Our work to ensure pro-equality leaders are elected to office — and remain in office — begins now. We cannot skip the midterm elections. We cannot stop paying attention and holding our elected leaders and candidates accountable.
We learned in 2016 and for four years afterward that the train of progress can be reversed, and there are anti-LGBTQ extremists working day and night to do it again. The power is in our hands to not let that happen again.
Sarah Kate Ellis is the president and CEO of GLAAD.
Trans ban repeal anniversary meaningless without fed'l voter protection
We all deserve to have an equal voice in our government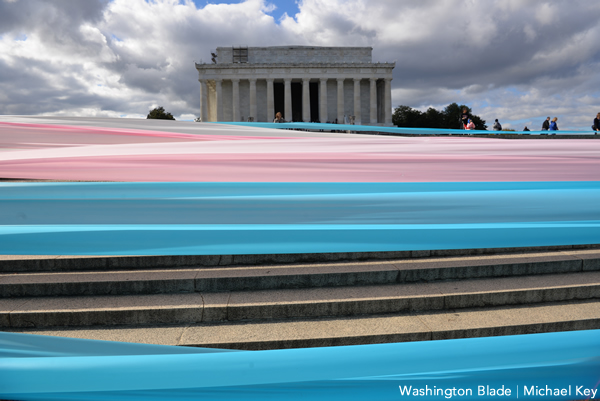 It has been a year since President Biden repealed the Trans Ban. Now, everyone who is qualified to serve their country in the armed forces is able to, openly and authentically. As transgender veterans ourselves, this is an action that we welcome and celebrate.
Since the ban was repealed, the Biden administration has taken initiative to expand Veterans Affairs (VA) benefits to transgender military members and veterans. In June, the secretary of VA, Dennis McDonough, announced a lift on a 20-year ban for gender confirmation surgeries, allowing the procedure to be covered under VA benefits. In September, nearing the 10th anniversary of the repeal of Don't Ask, Don't Tell (DADT), the VA disseminated a plan that allows LGBT veterans with other-than-honorable discharges to receive VA benefits. Already in 2022, the VA has announced that trans and nonbinary veterans can update their offical health records with the correct gender identification. While there has been a lot of forward movement in military and veterans spaces for inclusivity, our country is still fighting for a fair and inclusive democracy.
Just as it's important to recognize transgender veterans' rights to be openly trans and to receive healthcare through the VA, it is also important to pursue a robust voting rights agenda to eliminate racialized or politicized restrictions on the constitutionally protected right to vote. Right now, it is critical to pass federal voting rights protections. With safeguards in place in our democracy, we can elect leaders that truly care about us. No matter someone's gender identity, race, ethnicity, or disability status, we all deserve to have an equal voice in our government. As transgender veterans, we want to share our stories and the impact that the decisions made at the federal and state level have on us.
Lene Mees de Tricht (she/her)
I am a transgender US Navy and Coast Guard veteran. Since I left the military, many things have changed, and mostly for the better. Or rather, we're currently trending positive. And we should on no account be satisfied with our progress; trans people still face a lot of discrimination and trans veterans still face compounding difficulties, but I would like to reflect on how far we've come.
I served from 2002-2012, when I was discharged for being transgender. I was unprepared to be very suddenly cast into the civilian world, and I've spent the intervening decade trying to recover financially, emotionally, and mentally. I had to do things I'm not proud of to survive, and I've been dealing with the trauma of that while also trying to find a job with no marketable skills (an intelligence analyst's most valuable asset is their clearance, and without it, you have very little to offer) in a society that felt like they were free to hate. The previous administration's reversal of the incremental gains of the Obama administration set back transgender rights in service of empowering a small demographic of hateful people who would prefer we have no voice and no presence in their military or their society.
So while the VA's decision to repeal the ban on gender confirmation surgery and recognize veterans as transgender is objectively an improvement, it's also not enough. As a society, I think we acknowledge the hardships and difficulties of transgender people broadly, and the unique challenges that being a transgender veteran can impose. And I think we as a people acknowledge that being transgender is not the only axis of discrimination and hardship facing Americans even today. Trans veterans stand with our fellow Americans of color in recognizing the ongoing threats to democracy present in our society.
Albi Brunzell (they/them)
I am a nonbinary US Navy veteran who served from 2002-2005 during DADT. I was discharged before it was overturned, so I was never given the right to serve openly as a nonbinary sailor. I served as a straight female because if I didn't, my country deemed me less worthy to fight for freedom and democracy – something that still sounds absurd to me. Liberty and Justice for all is still not a reality for so many Americans, myself included. Without equal rights, we will never have true liberty or democracy in America. The overturning of DADT made huge steps for the LGB community while transgender rights were still on the line. Up until last year, Trans service members were stuck in a political limbo, and thankfully President Biden ended that.
In the same way, we have made some progress on voting rights in the last few years. States like Michigan have leaders like Secretary of State Jocelyn Benson, who set out to improve access to ballots for veterans after her husband had issues receiving his ballot while deployed overseas.. Our country needs to pass a federal voting rights bill. It's unconstitutional for millions of Americans to not have equal access to their ballots. Democracy only works when everyone participates.
Esti Lamonaca (they/them)
I am a trans nonbinary US Army 2014 to 2020, OEF (Operation Enduring Freedom) combat veteran. I served during Trump's Trans Ban implementation. While I had to hide my authentic self, I continued to fulfill the responsibilities of my oath. My gender identity never meant I was unfit to serve. The Commander-in-Chief at the time endangered me in the very country I was risking my life to protect. Trump's ban has a lasting transphobic footprint within the US military. In combat zones, gender does not matter; what matters is if you can do the job you volunteered to do.
The Biden administration repeal of the Trans Ban humanized the trans community in a space we once were considered a "burden." Now we need protected human rights as part of our entire democracy. Our democracy isn't for one group of people, it is for all people. Every single human being deserves to be able to participate in democracy, especially in casting their vote, and it is up to our elected officials to ensure that this is possible.
There's nothing more patriotic than participating in democracy while being under attack by your own country, whether that is serving your country while hiding your authentic self or battling voter suppression to cast your ballot. You may not know why someone needs access to vote by mail, early vote, or who may even be scared to vote because of voter intimidation, just like you may not know someone's gender identity who is in full combat gear deployed beside you. While something may not directly affect you, it doesn't mean someone you love or know isn't affected. Not everything or everyone is what they appear to be, but that doesn't mean they should be treated less than.
Even with all of the forward movement, there is still a lot of work needed to ensure true democracy is achieved. As transgender veterans, we know what it looks like to watch democracy crumble, we know what it looks like to be restricted of our rights, and we will not be silent as the attacks on our democracy persist. We swore an oath to protect our democracy, and that oath didn't expire. Our nation's leaders have to represent all of us, otherwise our democracy will collapse. It is imperative that federal anti-discriminatory legislation is passed to protect all people, especially when it comes to participating in our democracy.
Members of Congress claim they support veterans every opportunity they get, but they do not support all of us when they are voting against some of our rights. It is vital that the federal government pass federal voting legislation. It is crucial to provide an equal voice in our democracy to all members of society, not just a select group. It is essential that democratic progress never reverses course again, and as veterans we will continue to fulfill our oaths and fight for progress to guarantee liberty and justice is truly for all.
Lene (she/her) is a US Navy and US Coast Guard veteran from Iowa. She served for 10 years in support of counterterrorist, counternarcotics, and humanitarian aid/disaster relief operations. She is the Veterans Organizing Institute Program Associate at the grassroots veterans organization Common Defense.
Albi (they/them) short for Amanda Le'Anne Brunzell, is a US Navy veteran from Grand Rapids, Mich. They are the first non-binary person to openly run for federal office in the United States. Currently, they are pursuing a dual degree in International Relations and Public Policy with a focus on National Security. They are an active member of Common Defense.
Esti Lamonaca (they/them) is a US Army combat veteran from New York City. They served in Afghanistan as part of a Special Forces Joint Task Force team component of NATO. They currently are the National Membership Manager of the grassroots veterans organization, Common Defense.
Words create worlds, so what kind of world do we want to live in?
Free speech comes with incredible responsibility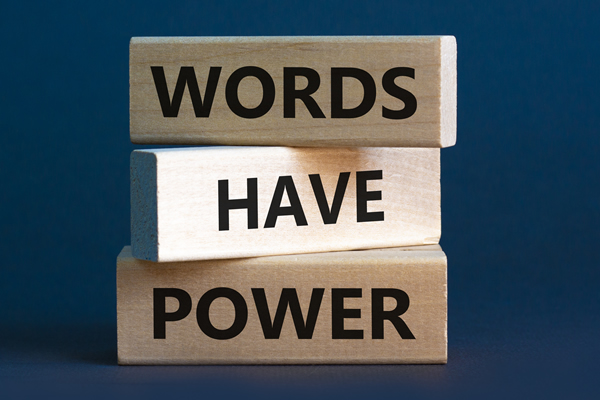 It seems that each new day brings a fresh debate around speech and the weight of impact that speech holds. Back in October hundreds of Netflix employees staged a walkout protesting their company's controversial Dave Chappelle stand-up special. At issue were a number of jokes aimed at the transgender community. The protest happened in response to Netflix CEO Ted Sarandos' defense of the special, saying that "content doesn't directly translate to real-world harm." This statement could not be further from the truth. Not only do words carry impact and directly translate to real-world harm, words form our conception of the world and oftentimes what is seen as truth. The language we use and condone shapes how everything around us is perceived, which is why there is great responsibility in considering the words we use before we put them out into the world.
We think about this every day at Reading Partners, an organization that places community volunteers in Title I elementary schools to support students in mastering reading skills. Because many of our volunteers do not share racial identity or a similar lived experience of the students we partner with, it is incredibly important to us that they understand that their role is to empower students who need a little extra support rather than coming to "help" or "save" them. The white-savior narrative has historically run rampant in spaces looking to mobilize volunteers for a cause and it is our responsibility to dismantle this narrative. This dismantling starts with the language we use and the stories we share about the communities we have the great privilege to partner with. Given that structural racism and oppression have created the current conditions facing under-resourced students, it is incumbent upon us that we recognize our role within the community and understand that we are here to act as a partner with students and their families whom have already created plans to address gaps in learning.
Because of the impact words yield, it is essential to carefully consider language choice, especially if it could affect marginalized and oppressed groups. Even those who have good intent, like journalists and public figures, often use outdated language and phrases that stigmatize communities or frame them through an othering lens. Some common examples of misguided language often used include phrases like "low-income students," and "learning loss." Both of these phrases place responsibility on students for the situation they are in despite the fact that students do not receive income, or have intentionally chosen to miss out on learning opportunities particularly with the disruptions that COVID-19 created. This type of framing has a direct corollary on how these students might be treated by teachers, administrators, and tutors, as well as how they are viewed by leaders, politicians and other people who hold power. It is therefore important that we use terms that accurately describe the situation, which may need to include political or historical context—so instead of "low-income students" we say, "historically under-resourced communities," while a more accurate substitute for "learning loss" is actually "unfinished learning." While these are subtle shifts in language, it completely reframes the situation, elucidating who shares responsibility for the current state of things and who does not.
It is also of note that the positive or negative connotations inherent in the language we use are hugely important to how we see those who may have different lived experiences than our own. At Reading Partners, we know that our students are not in fact "struggling" or "suffering from a lack of" something. We highlight our students as they are: "working hard," "enduring," "skill builders," etc. despite growing up in a world where they have been denied access to high-quality literacy education.
It is a fallacy that words cannot do harm. Language has served to dehumanize and subjugate people for as long as it has existed and it is often those in power who have the loudest voice. We as people, institutions, corporations, media, and otherwise must think through what we say and how it might impact others. Let's be clear—this is not about censorship or 'cancelling' anyone. Language changes all of the time and it can be hard to keep up with. We are simply making the appeal that those in power, and with platforms, continue learning from and listening to those who have been harmed for centuries by systemic injustice. Free speech is a privilege, and with that privilege, there is incredible responsibility to utilize language that truly aligns with and demonstrates the user's values.
Shukurat Adamoh-Faniyan is executive director of Reading Partners DC, a nonprofit that for more than 20 years has helped empower local students to succeed in reading and in life by engaging community volunteers to provide one-on-one tutoring. If you're interested in learning more and becoming a volunteer visit readingpartners.org/volunteer-washington-dc.