White House silent on judicial nominee with anti-gay record
Boggs voted against marriage equality as Georgia state legislator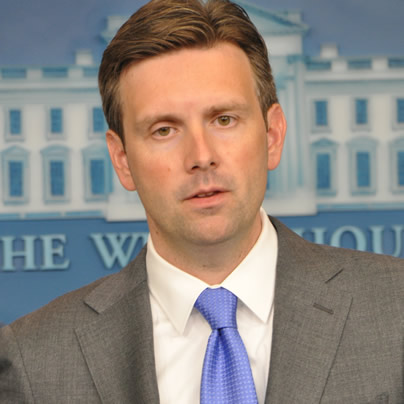 White House Principal Deputy Press Secretary Josh Earnest had no comment on Thursday regarding a controversial judicial nominee with an anti-gay record — despite calls from progressive groups on President Obama to take back the selection.
Under questioning from The Huffington Post's Jennifer Bendery, Earnest professed to have no knowledge of calls to remove Michael Boggs, whom President Obama tapped in December for a seat on the U.S. District Court for the Northern District of Georgia.
"I haven't seen the statements from the groups that you mentioned," Earnest said. "I'll see if we can collect some more information and get back to you with a specific reaction."
Earnest declined comment during the briefing after the White House for more than a week hasn't responded to the Washington Blade's request to comment on calls to remove Boggs.
Progressive groups say they're troubled by Boggs because of his record as a state legislator in Georgia. Among his votes were against removing the Confederate emblem from Georgia's state flag; in favor of a "Choose Life" license plate that helped fund anti-abortion groups; and in favor of strengthening parental consent laws to require a photo ID and for parents to accompany daughters under the age of 18 to abortion clinics — with no exception for rape or incest.
More relevant to the LGBT rights movement, Boggs in 2004 voted for legislation authorizing the referendum on the constitutional amendment to ban same-sex marriage in Georgia. It's unclear whether he still holds that position, or, like many other lawmakers, he has since evolved to support marriage equality.
On Thursday, a group of 27 progressive groups — including a trio of LGBT groups, the Human Rights Campaign, GetEQUAL Action, and the National Gay & Lesbian Task Force — wrote to members of the Senate Judiciary Committee to urge them to reject Boggs.
"We believe that Boggs's record on reproductive rights, civil rights, and LGBT rights is especially troubling in a nominee to the federal bench," the letter states. "Litigants in Georgia, and the nation as a whole, deserve a judge whose commitment to equal justice is clear."
A Senate aide said the committee doesn't have all of the paperwork in for Boggs and hasn't yet scheduled a confirmation hearing.
Boggs, who received his law degree in 1990 from Mercer University's Walter F. George School of Law, has since 2012 served as a judge on the Georgia Court of Appeals.
In 2000, Boggs was elected as a Democrat to the Georgia State House, where he held office until 2004. From 2004 to 2012, he was a Superior Court Judge of the Waycross Judicial Circuit of the First Judicial Administrative District of Georgia of the Georgia Superior Court, where he established and presided over the court's felony drug court program.
Although the Task Force has already called on Obama to recall the nomination, the presence of HRC on the letter is notable because the organization had previously said it was awaiting Boggs' hearing before making a judgment on the nominee.
Fred Sainz, vice president of communications for the Human Rights Campaign, said he had no comment Thursday on the White House's continued silence and deferred questions about HRC's change in position to the letter.
According to The Huffington Post, Obama's choice of Boggs is part of a package deal struck between the president and Georgia's two Republican senators, Saxby Chambliss and Johnny Isakson. Four of the six nominees are GOP picks, and just one is black, but the trade-off is that other Georgia nominees in the package will now move forward after years of going nowhere.
Obama faces requests to remove Boggs as he met with black civil rights leaders on Tuesday to discuss issues including criminal justice reform and income inequality.
Asked whether Boggs came up during these discussions, Earnest referred to a White House blog posting on the event without mentioning in the controversial judicial nominee.
"I think there's a blog post available at whitehouse.gov about the conversations that the president had with those leaders," Earnest said. "They talked about the Affordable Care Act, and work in communicating to the American public, and particularly to individuals in the African-American community, the potential benefits that are available to them at healthcare.gov, and some of the protections that were put in place for consumers because of the Affordable Care Act. I know they had conversations about some of the ideas to criminal justice reform that the president and the attorney general both discussed. In terms of specifics, I can't go beyond that, in terms of whether or not a specific judicial nominee came up."
Va. bill would restrict transgender students access to school bathrooms
State Del. John Avioli (R-Stanton) introduced House Bill 1126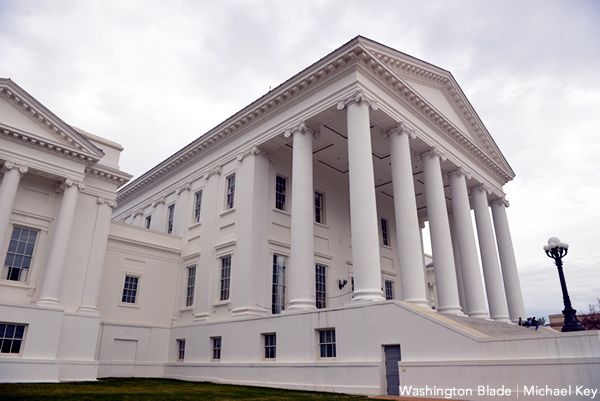 A Virginia lawmaker has introduced a bill that would restrict the ability of transgender students and school board employees to use bathrooms and other facilities in public schools that are consistent with their gender identity.
House Bill 1126, which state Del. John Avoli (R-Stanton) introduced, would require "each school board to adopt policies to require each student and school board employee to have access to restrooms, locker rooms and other changing facilities in public school buildings that are shared only by members of the same biological sex; lodging accommodations during school-sponsored trips that are shared only by members of the same biological sex; and a single-user restroom, locker room, or other changing facility in a public school building, upon request, if the school can reasonably accommodate such a request."
Avoli introduced HB 1126 on Jan. 12 on the same day the Virginia General Assembly's 2022 legislative session began with Republicans in control of the House of Delegates. Republican Gov. Glenn Youngkin took office on Jan. 15.
State Sen. Travis Hackworth (R-Tazewell County) last month introduced Senate Bill 20, which would eliminate the requirement that school districts must implement the Department of Education's trans and non-binary student guidelines. State Del. Danica Roem (D-Manassas), who in 2018 became the first openly trans person seated in any state legislature in the U.S., told the Washington Blade last week that she expects SB 20 "would be dead on arrival" in committee.
Equality Virginia, a statewide LGBTQ rights group, on its website notes HB 1126 is among the bills that it opposes.
Democrats still have a 21-19 majority in the state Senate, and they have signaled they will oppose any effort to curtail LGBTQ rights in Virginia. Outgoing Equality Virginia Executive Director Vee Lamneck last week said their organization "will work with the Senate's pro-equality majority to act as a crucial back stop against harmful legislation and efforts to roll back our hard-earned wins passed during the last two years."
Una 'besada' inesperada en La Habana: El activismo LGBTQ independiente sale en defensa del Código de las Familias
Proyecto de ley debe garantizar igualdad matrimonial en Cuba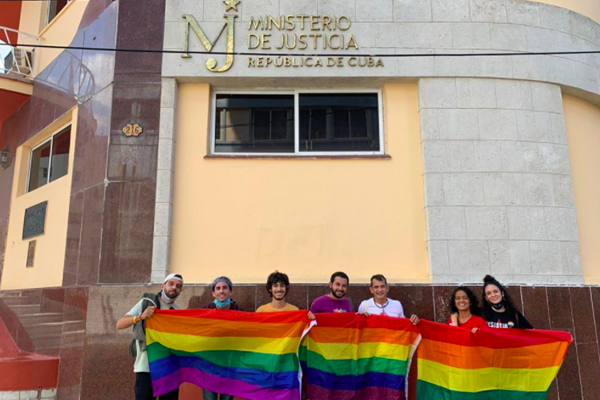 Tremenda Nota es el socio mediático del Washington Blade en Cuba. Esta nota salió en su sitio web el 15 de enero.
LA HABANA — Activistas independientes de la comunidad LGBTIQ+ salieron a las calles del Vedado, en el centro moderno de La Habana, para realizar en una besada pública en respaldo al Código de las Familias, el proyecto de ley que debe legalizar las uniones entre personas del mismo sexo en Cuba, además de otros derechos.
El recorrido de los activistas comenzó en 23 y Malecón y tuvo escalas en el Hotel Nacional, el cine Yara y el Ministerio de Justicia.
La abogada Lidia Romero Moreno, el influencer Jancel Moreno y el pastor Adiel González Maimó estuvieron entre los participantes.
Romero Moreno, activista de la plataforma 11M, comentó a Tremenda Nota que se sumaba a la iniciativa porque "es una acción para comenzar a mover los activismos, y decir que estamos aquí y queremos todos los derechos para todas las personas".
Por su parte, Adiel González Maimó explicó que "es importante todo lo que en materia de activismo se logre hacer con vistas al debate popular del Código de las Familias, para visibilizar las realidades y derechos de la comunidad LGBTIQ+".
El proyecto de ley del Código de las Familias fue publicado en la Gaceta Oficial este 12 de enero y se someterá a consulta popular en el período comprendido entre el 1 de febrero y el 30 de abril del año 2022.
De ser aprobada finalmente en un referendo, la nueva ley resolverá muchas de las demandas de la sociedad civil cubana, entre ellas el matrimonio igualitario, la posibilidad de adopción sin que importe el género de los progenitores y la prohibición del matrimonio infantil.
Las besadas públicas han sido una opción del activismo LGBTIQ+ para visibilizarse. Cuba no es la excepción.
En 2012 tuvo lugar la "Primera besada por la diversidad e igualdad" convocada por el Proyecto Arcoíris, una organización que se definía como "anticapitalista", en un sitio cercano a la Plaza de la Revolución, en La Habana.
Dos años después, se repitió esta iniciativa en La Habana Vieja. Ambas ocurrieron el 28 de junio, Día del Orgullo LGBTIQ+ en recuerdo de los disturbios del bar Stonewall, en Nueva York, incidente que ha sido considerado un hito del activismo estadounidense y mundial.
Otra besada LGBTIQ+ fue convocada el 29 de septiembre de 2015 por el Proyecto Arcoíris y la Red Observatorio Crítico.
En 2020, durante la epidemia de covid-19, el activismo realizó también un evento denominado #BesadaOnLineCuba2020 en la víspera el Día del Orgullo LGBTIQ+. La iniciativa abogaba por un Código de las Familias inclusivo y logró sumar colectivos y activistas de todo el país.
Equality Virginia announces new executive director
Narissa Rahaman will succeed Vee Lamneck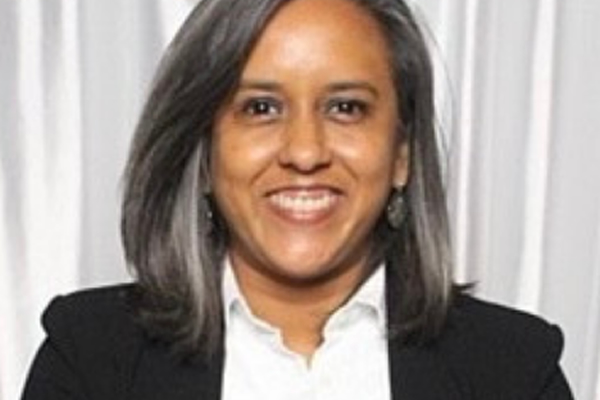 Equality Virginia on Saturday announced Narissa Rahaman will be the organization's new executive director.
Rahaman, who was previously the Human Rights Campaign's Associate Regional Campaign Director, will succeed outgoing Executive Director Vee Lamneck on Feb. 2. Rahaman was born in Barbados and raised in Florida.
"Narissa also has 10+ years of experience in long-term strategic planning, multi-state organizing efforts, coalition management, and staff development, which make her an exceptional individual for the role of executive director," said Equality Virginia in its announcement. "We are confident that under her leadership, the organization's success and impact will continue to flourish as will our commitment to racial justice."
Equality Virginia announced Rahaman will succeed Lamneck on the same day that Republican Gov. Glenn Youngkin took office amid concerns he will seek to curtail LGBTQ rights in Virginia.
Equality Virginia's annual lobby day will take place virtually on Jan. 25. The organization's annual Commonwealth Dinner is scheduled to take place in Richmond on March 26.