December 2, 2015 at 2:55 pm EST | by Lou Chibbaro Jr.
'Sexual orientation,' missing from Metro job ads
The Washington Metropolitan Area Transit Authority plans to make changes in job recruitment posters currently displayed on Metro trains that don't mention that sexual orientation and gender identity are among the categories of job applicants protected from discrimination under Metro's employment policies, a Metro spokesperson told the Washington Blade.
A series of posters on Metro trains advertising job openings for bus drivers and train operators states, "All qualified applicants will receive consideration for employment without regard to race, color, religion, gender, national origin, disability, or protected veteran status."
Metro spokesperson Morgan Dye told the Blade on Tuesday that WMATA's personnel policy includes sexual orientation and gender identity among the categories of employees that are protected from discrimination in the transit agency's official Equal Employment Opportunity Commission statement.
"An abbreviated statement was used and will be corrected to include our full EEOC language in all future recruitment ads," she said.
"Specifically, our EEOC statement is: 'WMATA is an equal opportunity/affirmative action employer. All qualified applicants receive consideration for employment without regard to race, color, creed, religion, national origin, sex, gender, gender identity, age, sexual orientation, genetic information, physical or mental disability, veteran status, or any other status protected by applicable federal law. WMATA seeks to employ and advance in employment qualified individuals with disabilities and veterans,'" according to Dye.
She said she couldn't immediately determine whether Metro officials will leave the current series of posters in place until the job openings are filled or whether they would be replaced with "corrected" posters at an earlier time. She said she would make inquires and get back with an updated response.
Elliot Imse, a spokesperson for the D.C. Office of Human Rights, said that because Metro is an inter-jurisdictional agency it is exempt from the D.C. Human Rights Act, which bans discrimination based on sexual orientation and gender identity along with other categories like race, ethnicity and religion.
Metro is governed by a board of directors appointed by officials in D.C., Maryland and Virginia, which are served by the Metro rail and bus system. Maryland, like D.C., has a human rights law that covers gays and transgender people. Virginia doesn't have such a law.
Lou Chibbaro Jr. has reported on the LGBT civil rights movement and the LGBT community for more than 30 years, beginning as a freelance writer and later as a staff reporter and currently as Senior News Reporter for the Washington Blade. He has chronicled LGBT-related developments as they have touched on a wide range of social, religious, and governmental institutions, including the White House, Congress, the U.S. Supreme Court, the military, local and national law enforcement agencies and the Catholic Church. Chibbaro has reported on LGBT issues and LGBT participation in local and national elections since 1976. He has covered the AIDS epidemic since it first surfaced in the early 1980s. Follow Lou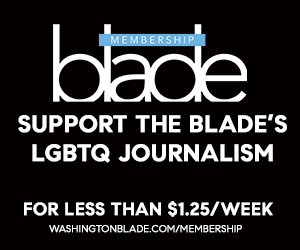 Sign Up for Blade eBlasts