April 13, 2016 at 6:38 pm EDT | by Chris Johnson
Social Security lifts penalty on overpayment for same-sex couples
GLBTQ Legal Advocates & Defenders, one of the organizations behind the lawsuit, announced the change in a statement Wednesday, crediting members of Congress led by Rep. Mark Takano (D-Calif.) and Sen. Elizabeth Warren (D-Mass.) for pushing the change.
"This was a crisis for people, many of whom had tried in vain to tell Social Security of their marriages, and who have no objection to being paid the correct amount going forward," GLAD's civil rights project director Mary Bonauto said. "We thank Sen. Warren and Rep. Takano for their leadership in engaging SSA and securing the support of so many of their Congressional colleagues, all of which helped move this to a successful resolution."
A spokesperson for the Social Security Administration confirmed to the Washington Blade on Wednesday the change was made on March 18 in emergency policy instructions for employees.
The change affects individuals in same-sex marriages who received Supplemental Security Income benefits at a higher rate with DOMA in place because they were counted as single. If these individuals continued to receive those benefits erroneously at the same higher level after the 2013 ruling against the law, they won't be forced to return the overpayment.
Same-sex couples who received overpayment as a result of the error are now be able to receive a waiver, or forgiveness of those overpayments between March 16, 2016 through March 16, 2018, even without having to formally apply for relief in most cases. Local offices no longer have authority to deny a waiver and denials must first be reviewed by the Social Security Administration's Central Office.
The class-action lawsuit seeking the change, Held v. Colvin, was filed last year by GLAD, Justice in Aging and the D.C.-based law firm Foley Hoag LLP against the Social Security Administration on behalf of same-sex couples forced to repay Social Security benefits — or those who will be forced to repay them.
The lead plaintiff in the case, Hugh Held, had been receiving supplemental Social Security income since 2008 and lives with his spouse Orion Masters in Los Angeles. The couple has been together since 1993 and married in 2008.
In June 2014, one year after DOMA was struck down, Held's monthly benefit went down dramatically to $308.10 from $877.40 without explanation. Held also received a bill for overpayment of $6,205. Not until three months later in September 2014 did Held obtain an explanation for the change.
In a phone interview with the Blade at the time the lawsuit was filed, Held said he found the Social Security Administration's decisions on his annuities "all very confusing."
"My benefits were cut by almost two-thirds for several months before I ever knew what was going on," Held said. "Six-thousand dollars isn't a great deal of money, but it is a lot to me. The late payments they're asking me to make will definitely cut into my expenses."
In August, a federal judge tossed the lawsuit on the basis that plaintiffs hadn't yet exhausted administrative remedies to reverse their forced repayments. The case was pending before the U.S. Ninth Circuit Court of Appeals at the time the Social Security Administration announced the policy change.
Marco Quina, an attorney with Foley Hoag, insisted in a statement announcing the policy change the couples who received overpayment and forced to repay were not to blame for the mistake.
"These individuals, some of the most vulnerable people in our country, were not to blame for the agency's failure to recognize their marriages after Windsor, and the government's actions were clearly unjust," Hoag said. "Our lawsuit was meant to correct that."
In October, Takano and Warren led a group of 121 Democrats — 82 House members and 39 senators — in an open letter calling on the Social Security Administration to forgive the overpayments call and administer benefits "fairly to all individuals."
Gerald McIntyre, special counsel with Justice in Aging, commended the Social Security Administration for making the change and predicted remaining issues in the lawsuit would be resolved.
"We commend the Social Security Administration and Commissioner Colvin for taking this important step to correct an injustice," McIntyre said. "We are optimistic that the few remaining issues will be satisfactorily resolved."
Chris Johnson is Chief Political & White House Reporter for the Washington Blade. Johnson is a member of the White House Correspondents' Association. Follow Chris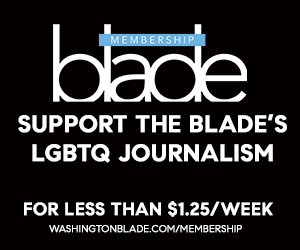 Sign Up for Blade eBlasts