Eat like a tourist
Treat yourself to a week of dining out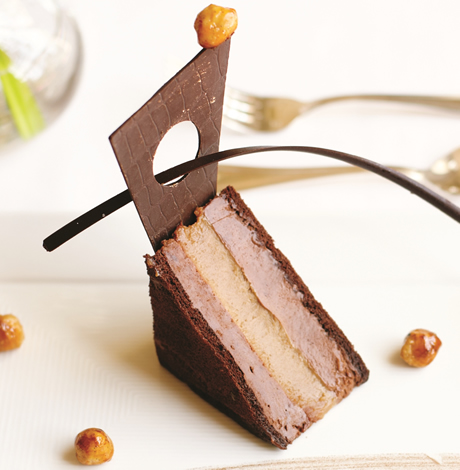 Let's face it: nobody really wants a staycation. However, sometimes getting away to a seaside cottage or plush Parisian pied-à-terre is just not in the cards. But if you're going to stay home, then it's worth making the most of it.
One way to make a staycation feel special is to give food a central focus, just as you would on a normal vacation. While D.C. is certainly in the midst of a culinary awakening, try heading off the beaten path to hotel restaurants — where you can also pretend you're a guest — or unexpected hideaways, where you probably won't run into your neighbors. Here's a seven-day plan that will allow you to taste the good life without ever leaving the city limits.
Sunday: Brunch at Via Umbria (1525 Wisconsin Ave., N.W.). There's a serious surprise behind the doors of Georgetown newcomer Via Umbria, an Italian market that boasts a wide array of specialty cheese, charcuterie and curated wines. Head upstairs for brunch in the sun-filled kitchen; for just $35, you'll sit around the center island with other guests and sip on bottomless mimosas and Bloody Marys, while watching the resident chef whip up Italian specialties like cornetti alla crema, sfogliatelli, cacio e pepe, grilled vegetables and fresh fruit granita — depending on whatever's fresh that day. The adjacent roof deck is also a nice place to steal away any other day of the week with a bottle of bubbly and a good book.
Monday: Afternoon snack at Blue Duck Tavern & Lounge (24th and M streets, N.W.). Voted one of the top 10 hotel restaurants in the United States by USA Today readers, this gem in the Park Hyatt feels like an escape from the everyday the moment you step into the lush lobby. Stop in for a snack or an early happy hour to try out its new line-up of matcha green tea-based beverages, with or without alcohol, from a refreshing iced matcha to an earthy twist on the gin and tonic that features housemade matcha tonic, made with grapefruit zest, yuzu juice and chinchona bark. Hint: ask about the homemade ice cream treats — you are on vacation, after all.
Tuesday: Pub lunch at the Alibi (237 2nd St., N.W. ). Hidden away in the shadow of the Department of Labor building, the Alibi is a charmingly renovated English pub that was delayed from getting a liquor license for nearly a year, but it was worth the wait. Luckily, they put that time to good use in crafting an authentic menu of steak pie, tikka masala, scotch eggs and perfectly crisped triple-cooked English chips — all of which is the right match for a wide range of draft beer and other libations to quaff your thirst. Even better, the Alibi offers a full vegan and vegetarian menu in addition to the traditional one, including vegetarian fish and chips and mushroom barbecue with a tart apple slaw. Don't miss out on the banoffee pie for dessert.
Wednesday: Dinner at the Hay-Adams (800 16th St., N.W.). Mid-week during any vacation is a nice time for a special dinner, and the Hay-Adams offers absolute elegance in the Lafayette, its signature restaurant. You'll be treated to superb service, with each plate showing off particular attention to detail, from Maine lobster salad with lemon curd sauce and trout roe to beef tenderloin with Madeira sauce and foie gras. Be sure to put in an order for pastry chef Josh Short's vanilla soufflé, a light-as-air confection accompanied by a lightly tart blueberry sorbet that is, quite simply, summer on a plate. Insider's advice: ask for Eli as your server.
Thursday: Picnic at Yards Park (355 Water St., S.E.). Weekends at this sunny spot along the Anacostia River can get pretty crowded, so plan a picnic for either lunch or dinner to get a prime spot with a view of both kayakers and herons. Another reason to head that way on a weekday is to grab exceptional sandwiches from Cornercopia (1000 3rd St., S.E.) a favorite of locals that is mostly only open on weekdays. Try the Green Line, made with homemade pesto, avocado, smoked gouda, tomato, onio, and dried cranberries, or the Capitol, a ciabatta roll filled with black forest ham, brie and sliced pears. Stop at the bottle shop at Bluejacket (300 Tingey St., S.E.) for bottles of beer to go, and snag a seat on the comfortable wooden lounge chairs under the trees at the end of 4th Street.
Friday: Poolside drinks at the Liaison (415 New Jersey Ave., N.W.) What's a vacation without spending a day by the pool — and maybe a cabana boy bearing frosty drinks? The Liaison Hotel on Capitol Hill has a rooftop pool that offers day passes for just $35, so you can float all day while sipping on plenty of rum cocktails and noshing on pressed cheese toasties on fresh focaccia, hummus and veggies, and giant cookies stuffed with chocolate chips and pecans. Swimming ends at 5 p.m., but that's when happy hour starts, so it's a reasonable trade-off. If you really want to get the full vacation experience, considering renting an actual cabana for the day.
Saturday: Guilty pleasures at Esencias Panameñas (3322 Georgia Ave., N.W.). End your week by exploring the vibrant food of Panama at chef Yadira Stamp's restaurant. In just its first year, Esencias Panameñas has developed a loyal following among Caribbean ex-pats from across the region, who line up around the block to sink their teeth into her  Sábados de Fritangas ("guilty pleasures") brunch, which is served all day on Saturdays and from 11 a.m.-3 p.m. on Sundays. It's a decadent assortment of traditional goodies, from crispy corn fritters and twice-fried green plantains stuffed with ceviche to whole snapper in escobeche sauce — but the real draw is the homemade ice cream in flavors like grape nut, rum raisin and soursop, and chicheme frío, a delectation made of hominy corn, condensed milk and coconut milk. You won't regret a mouthful.
Kristen Hartke is a D.C.-based food and beverage writer. Follow her kitchen adventures on Instagram.
Dine All Night to showcase excellence of all things food and beverage
11-day event to highlight more than 60 participating local restaurants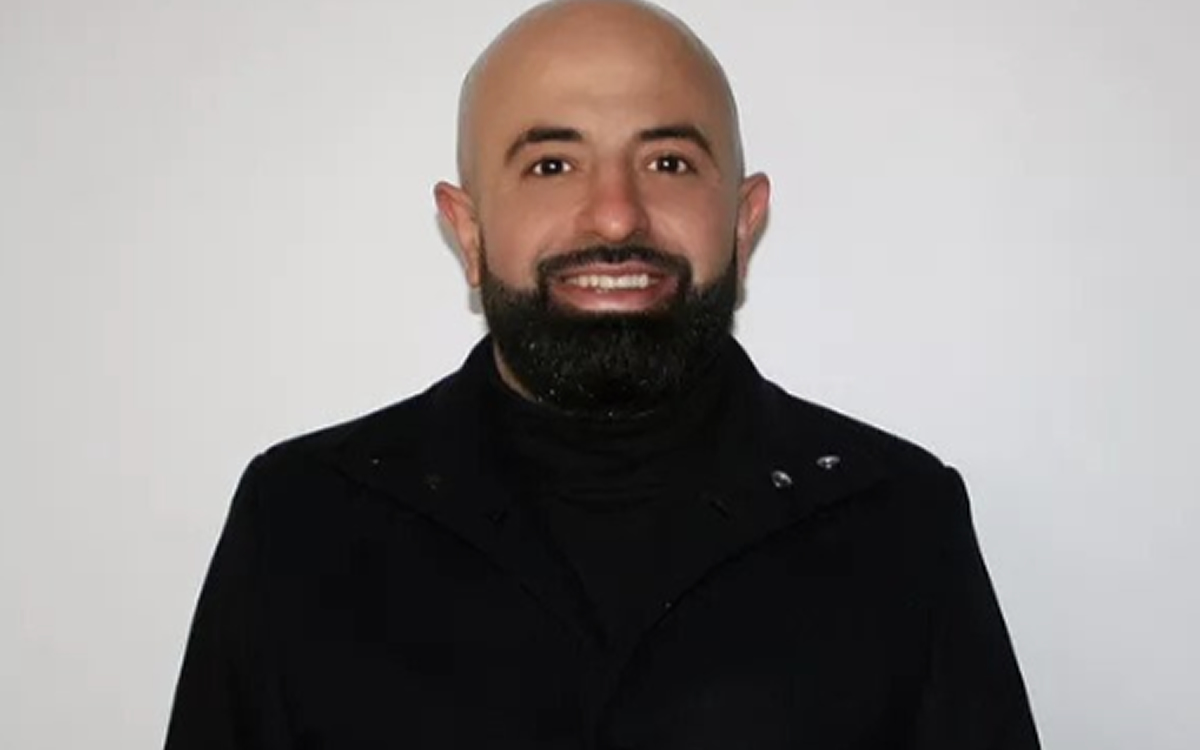 When Art All Night meets the culinary arts: The longstanding late-evening tradition in D.C. is adding another ingredient to its cultural recipe this year with the addition of Dine All Night, a complementary event to showcase the DMV's excellence in all things food and beverage.
Art All Night returns this year on Sept. 29 and 30, from 7 p.m.-3 a.m. both evenings. Taking place across all eight wards, it features more than 100 artists and a host of business improvement districts and "main streets" that support local establishments.
Art All Night kicked off more than 10 years ago in 2011, when Shaw Main Streets created the evening event as a unique way to highlight the bustling Shaw neighborhood and its link to art and culture.
Leading up to Art All Night weekend, the new Dine All Night begins Sept. 21 and continues through Oct. 1. The 11-day event will highlight over 60 participating local restaurants that took on the "creative challenge to create culinary artistry through food with limited-time-only menus and offerings," according to the organizer, Department of Small and Local Business Development. The limited-run menus "showcase food as a genuine art form."
Participating restaurants were asked to create a menu and cocktail that expressed their creativity. For example, the pop-up Taco Dirty to Me menu all has music-related references.
Participating neighborhoods in Dine All night include Columbia Heights/Mt. Pleasant, Eastern Market, Georgetown, Glover Park, H Street, North Capitol, Pennsylvania Avenue East, Rhode Island Avenue, Shaw, Tenleytown, The Parks, Upper Bladensburg, and Uptown.
Some restaurant highlights: Mr. Henrys, Beuchert's Saloon, Bronze, The Pursuit, Uncaged Mimosas, DCity Smokehouse, Ghostburger, El Techo, Quattro Osteria, Electric Cool-Aid, Seoulspice, and Guapo's.
Urban Roast is one of the restaurants that has a special menu. "It means a lot to us to be a part of this citywide effort," says owner Kamal Azzouz. "We opened in the middle of the pandemic, in June 2020, so having the support of the city behind us with this important event is a great feeling. I'm very thankful for it."
During Dine All Night, Urban Roast will offer a prix-fixe three-course meal with items like dynamite shrimp and flank steak. The restaurant will also have a Night Owl cocktail served only on September 29 and 30 during Art All Night events.
A full list of participating restaurants, bars, and food trucks is available at dcartallnight.org/dineallnight. 
"DC Art All Night and Dine All Night spotlight the District's rich cultural and culinary offerings. These events showcase our local artists' and chefs' incredible talents and diverse creations while emphasizing their significance in creating an atmosphere that supports the small business community," said Director Kristi Whitfield of the D.C. Department of Small and Local Business Development.
The Art All Night website further notes that, "Dine All Night is a tribute to the boundless creativity and artistic skills of our talented local chefs and mixologists based in the District. Through a series of unique culinary experiences, special menu items, carefully curated dining itineraries, and hidden gems, Dine All Night will provide you with a fresh perspective on the artistry of food."
On the newly updated website, dcartallnight.org, visitors can map out their experience for the evening using their desktop computer or mobile phone. The feature, integrated with Google Maps, highlights each of the activations, provides the opportunity to plan routes, and suggests ideal routes based on an attendee's interest. Categories include live music, family friendly, and late night vibes.
Art All Night is officially a collaboration between the D.C. Department of Small and Local Business Development (DSLBD), DSLBD's Main Streets programs, D.C. Commission on the Arts and Humanities, D.C. Public Library, and Business Improvement Districts (BIDs).
D.C.'s dining scene ready for a busy fall
Restaurant openings, culinary events abound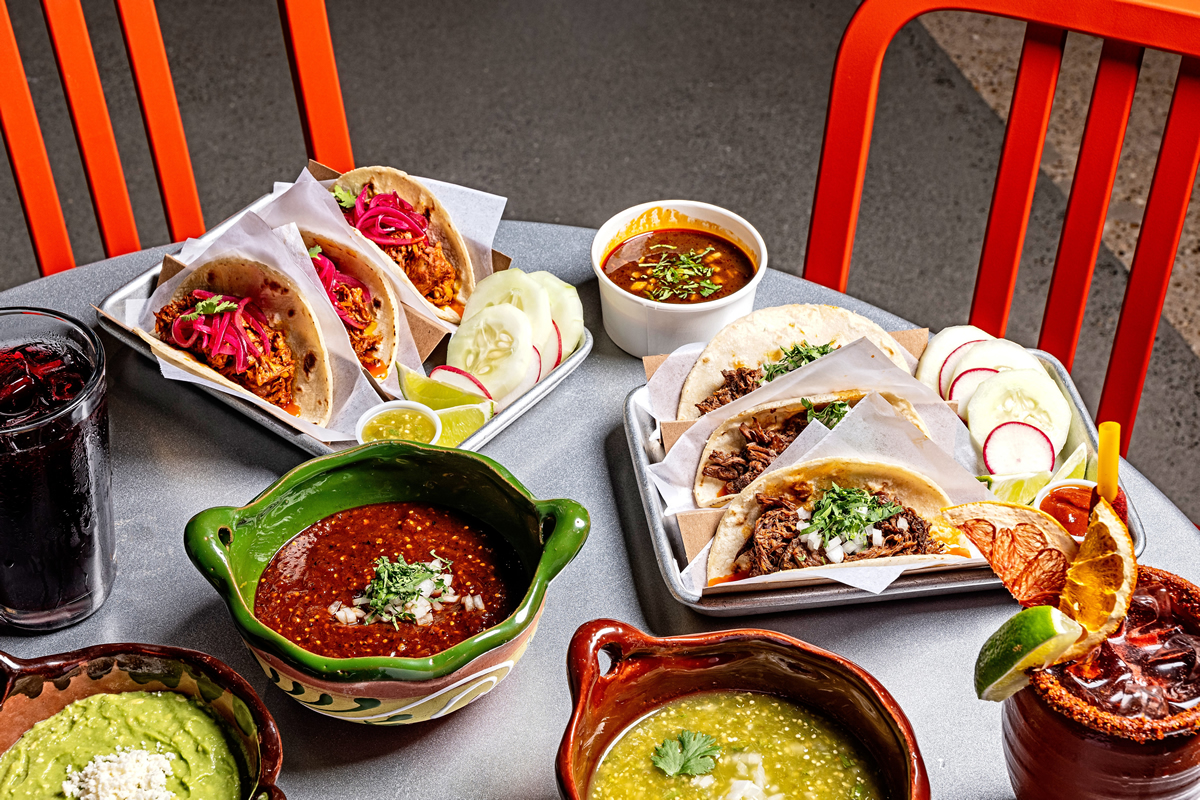 Fresh off a hot summer of restaurant openings, fall shows no sign of slowing down for bar and restaurant openings and culinary events. Below is a taste of those openings, an exciting day-to-night festival and one fabulous fundraiser taking place this fall and winter.
The Square (1850 K St.). Debuting last week, The Square is D.C.'s newest food market opening within International Square. Although the first phase has just a handful of vendors, when fully operational, the food hall will feature a collection of more than 15 vendors, a full-service restaurant and bar, an expansive bar in the central atrium, and outdoor dining seating and retail. Opening right next door and from the same owner (Ruben Garcia) will be Casa Teresa, a family-style Spanish/Catalan restaurant.
Bistro Du Jour Capitol Hill (20 Massachusetts Ave., N.W.) is opening this month. Gay-owned KNEAD Hospitality + Design announced yet another jewel in its growing crown of a restaurant empire with the upcoming Bistro Capitol Hill. Building on their existing ventures in the D.C. market, Bistro Capitol Hill is for locals, Hill staff, and tourists, according to the owners. The upscale restaurant will expand upon the Wharf location of the same name, with a much bigger space featuring 200 seats, a full bar, and the addition of a lounge. It will open for happy hour, breakfast, brunch, lunch, and dinner. The upscale bistro will also expand its offerings beyond what they are known for at the Wharf, with a must more expansive menu.
The Atlas Alexandria Brewery & Tap Room (2501 Mandeville Lane) is slated to open later this year in the Carlyle Crossing development. The 6,000-square-foot space will include a brewery with a production capacity of 2,000 barrels. The adjoining tap room has 16 draft lines and a full kitchen facility, plus a huge outdoor patio. The brewery and tap room, not far from the King Street Metro stop, slices up pies from Andy's Pizza. The brewery's six core beers include Silent Neighbor, which recently won a gold medal at the 2023 World Beer Cup.
Cleveland Park is getting a flip when big-name restaurateur Ashok Bajaj of Knightsbridge Restaurant Group opens Little Black Bird (3309 Connecticut Ave.), replacing his Indian spot, Bindaas. Located next to Israeli resto Sababa (also by Bajaj), the name Little Black Bird is a nod to the French word for blackbird, merle, which is also related to the wine name, Merlot. This wine list, with 100 wines by the bottle and 12 by the glass, will be global in nature, alongside a big menu wth Mediterranean inspiration.
Restaurateur Stephen Starr, of Le Diplomate fame, opened El Presidente (1255 Union St., N.E.) last week in Union Market. This 6,000-square-foot space "artfully mirrors the essence of Mexico City's gastronomy," according to the restaurant. The menu, though, draws from across the country, serving oysters from the Pacific coast, al pastor tacos, and a handful of guac variations, including one topped with king crab. A raw bar anchors one corner of the vibrantly lit series of dining rooms, pairing well with several mezcal- and tequila-centric cocktails. Not far from Starr's other property, St. Anselm, El Presidente fits in appropriately alongside nearby La Cosecha, the Latin food hall also in the Union Market district.
On 14th Street, Bar Japonais (1520 14th St., N.W.) slides into the former Estadio space in early 2024. Similar to its sister restaurant Bar Chinois in Mount Vernon Square, Bar Japonais will blend French and Japanese flavors in an energetic atmosphere, much like Bar Chinois. Developed in the izakaya style, the restaurant will have Japanese-leaning food and French-leaning cocktails.
And over in National Landing by HQ2 will be Surreal (2117 Crystal Dr. in Arlington, Va.), from Seven Reasons owner Michelin-starred Venezuelan chef Enrique Limardo and Ezequiel Vázquez-Ger. The Latin-inspired bistro has an eclectic menu, with dishes like queso fundido shakshuka, swordfish carpaccio, and "Flaming Hot Totopos." The restaurant will have grab-and-go items and bakery for office workers, plus expansive beverage program to drink onsite – and possibly be able to take with them to have the park right outside the restaurant.
After the first Art All Night lit up Shaw in 2011, the 2023 Art All Night is reaching all eight wards, Sept. 29-30. The festival's activations differ each night, bringing visual and performing arts, including painting, photography, sculpture, crafts, fashion, music, literary arts, dance, theater, film, and poetry, to indoor and outdoor public and private spaces. This year, Dine All Night is joining the mix, with dozens of restaurants participating to offer special menus Sept.21-Oct. 1.
We would be remiss not to mention a signature fundraising culinary event for LGBTQ rights, Chefs for Equality. After a two-year hiatus due to the pandemic, the Human Rights Campaign Foundation and prominent food writer David Hagedorn are celebrating the return of Chefs for Equality on Monday, October 30, 2023, at the National Building Museum. Now in its 10th year, the evening of food, drink, entertainment, and live and silent auctions, supports the Human Rights Campaign Foundation's nationwide educational work and its fight for LGBTQ+ equality. This year's theme, Plate of Emergency, calls attention to the state of emergency that the Human Rights Campaign has officially declared because of intensified attacks on the LGBTQ+ community, particularly transgender and non-binary people, says Hagedorn. The expansive event features 55 savory tasting stations and 30 cocktail bars helmed by chefs and mixologists from around the city and the region. There are also 13 personal chef tables serving five-course meals with chefs themselves.
Cuisine and culture come together at The Square
D.C.'s newest food hall highlights Spanish flavors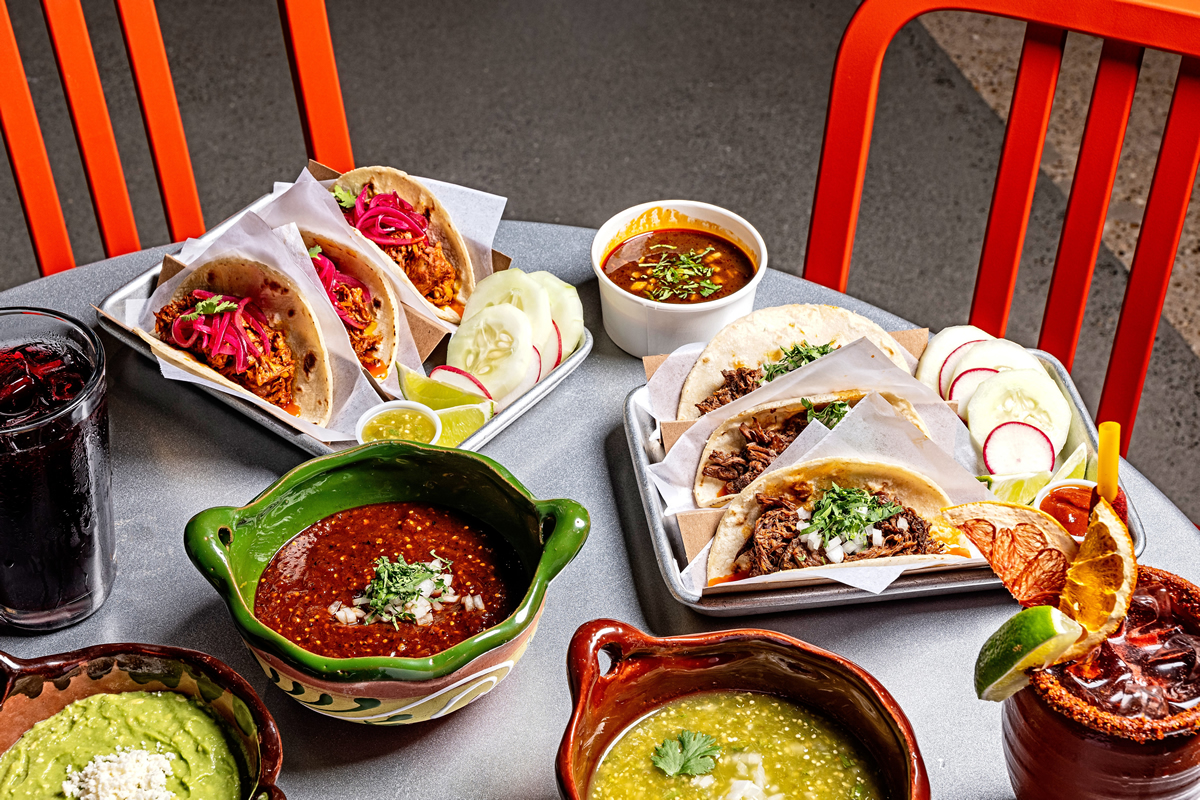 Downtown got a bit tastier when "the next generation of food halls" opened its doors on Tuesday near the Farragut West Metro stop. Dubbed The Square, its half-dozen debut stalls are a Spanish-flecked mix of D.C. favorites, new concepts, and vendor-collaborative spirit.
After two years of planning – and teasing some big-name chefs – the market is, according to the owners, "where cuisine, culture, and community are woven together."
Behind this ambitious project with lofty aims are Richie Brandenburg, who had a hand in creating Union Market and Rubén García, a creative director of the José Andrés Group who also was part of the team of Mercado Little Spain, the fairly new Spanish-themed Andres food hall in Hudson Yards.
Food halls have come a long way since the new Union Market awakened the concept a decade ago. Instead of simply rows of vendors in parallel lines, The Square has a new business model and perspective. This food hall shares revenue between the owners and its chef partners. Vendors are encouraged to collaborate, using one software system, and purchasing raw materials and liquor at scale together.
"Our goal was two-fold: to create a best-in-class hospitality offering with delicious foods for our guests; and behind the scenes, create the strong, complex infrastructure needed to nurture both young chefs and seasoned professionals, startups, and innovation within our industry," says Brandenburg.
The Square has embraced a more chef-forward methodology, given that the founders/owners themselves are chefs. They're bringing together a diverse mix of new talent and longtime favorites to connect, offer guidance to each other, and make the market into a destination.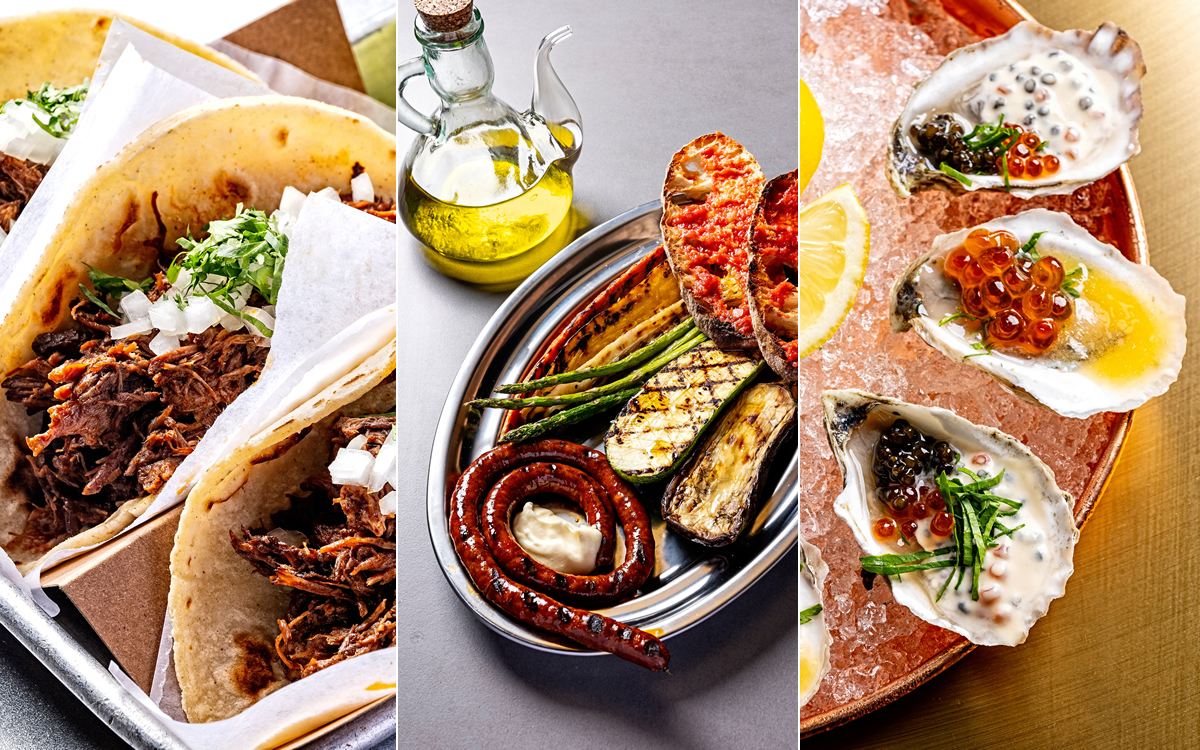 The first phase of The Square premiered this week. This phase encapsulates a selection of original concepts from well-known local chefs and business owners, and includes:
• Cashion's Rendezvous – Oysters, crab cakes, and cocktails, from the owners of D.C. institutions and now-closed Cashion's Eat Place and Johnny's Half-Shell (Ann Cashion and John Fulchino).
• Jamón Jamón – Flamenco-forward food with hand-cut jamón Iberico, queso, and croquetas, sourced by García himself.
• Brasa – Grilled sausages and veggies are the stars here. Chef García oversees this Spanish street-food stall as well.
• Taqueria Xochi – Birria, guisado, and other street tacos, plus margs. Named after the ruins of Xochitecatl in Central Mexico, and from a Jose Andres alum.
• Yaocho – Fried chicken, juices, sweets, and libations.
• Junge's – Churros and soft serve ice cream. Brandenburg and García both have a hand in this stall.
• Atrium Bar – The central watering hole for drinks. Atrium Bar serves cocktails, wine, and beer curated by The Square's Beverage Director Owen Thompson.
"Having been part of Jose Andres's restaurant group and getting to know Ruben and Richie, it's amazing to see how their values align with ours at Taqueria Xochi. Seeing all these incredible chefs heading into Square feels like a full-circle moment," said Geraldine Mendoza of Taqueria Xochi.
Slated for fall 2023, the next round of openings includes Flora Pizzeria, Cebicheria Chalaca, KIYOMI Sushi by Uchi, Shoals Market (a retail hub), and more. Additionally, chef Rubén García's Spanish restaurant, Casa Teresa, will soon open next door to The Square.
The Square is just one of a handful of new food halls blossoming in and around D.C. Up in Brentwood, Md., miXt Food Hall is an art-adjacent space with tacos, a year-round fresh market, coffee, and beer. Across from Union Market is La Cosecha, a Latin marketplace with everything from street food to a Michelin starred restaurant and a festive vibe. Closer to The Square is Western Market by GW University, which opened in late 2021 with a buzzy, relaxed style.
For now, the Square is open Monday through Friday, 11 a.m. to 3 p.m. The Square plans to open on weekends and extend hours to offer dinner service in the coming months. A few alfresco seats will accompany the hall.