August 22, 2016 at 11:25 am EDT | by Ted Smith
Should I sell or hold onto my rental property?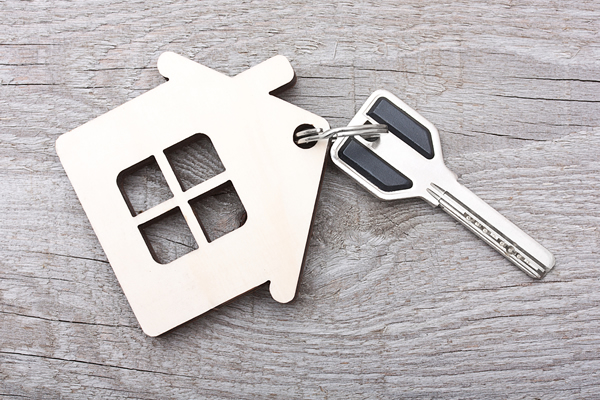 Earlier this year, I wrote about the question of renting vs. buying a home in D.C. In this column, I'll address the other side of that equation—leasing out vs. selling a property.
Washington is a city with many small real estate investors holding one or two properties. Imagine that you've owned a rental town home for a while that has suffered from deferred maintenance, and that now needs an overall facelift to continue being rentable. You're trying to decide whether to spend $100,000 on renovations or to sell the property as-is for its market value of $600,000. What should you do?
There is no absolute right or wrong answer to this question. Your decision will be informed by a number of factors:
• Your current financial situation—how much do you need the full amount right now? Are you using the property for current cash flow? Do you have all the money for renovation or will you refinance with a conventional loan to get a $100,000 cash out or will you wrap your existing loan into a 203k loan (with the renovation cost built in)?
• Your long-term financial situation—are you planning to use the property as part of your retirement, whether for cash flow or for a nest egg to sell?
• Your tax situation—Do you need the property as a tax shelter? If you sell now, will you do a 1031 exchange or will you have to pay capital gains?
• Your patience—Do you have the energy to manage a construction project (if only as the client of the general contractor) and all the many renovation design choices you will have to make?
From a purely financial aspect, the numbers are clear that you will do better to lease and hold rather than to sell and invest (unless it's in another rental property). Let's take a look at the numbers for a 15-year comparison, based on the chart here.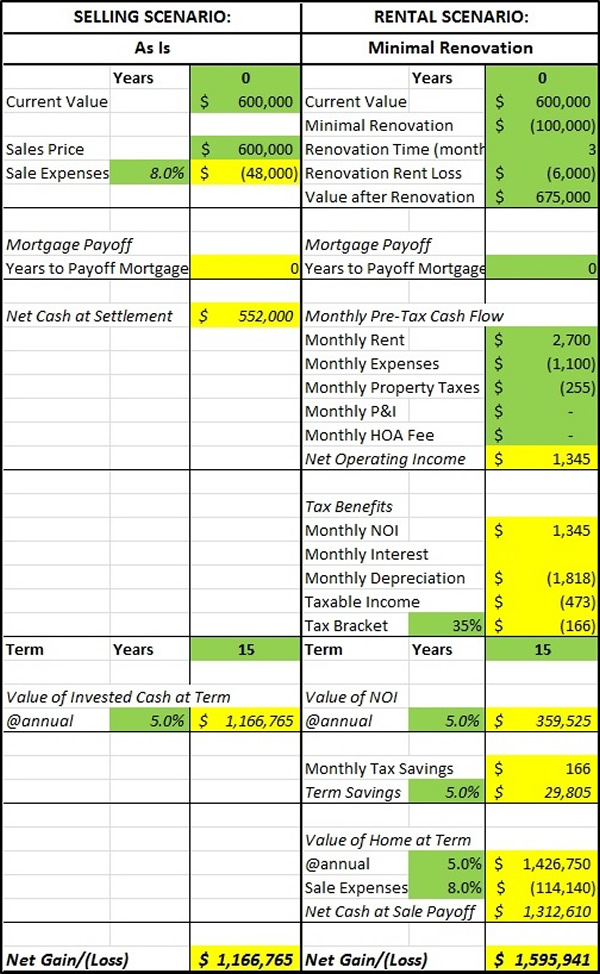 First, let's consider the sales scenario, which is quite simple: Let's say you sell the town home for the current market value of $600,000. With 8 percent selling costs (6 percent for brokerage fees and 2 percent for other fees, including the city transfer tax), that would leave you with net cash at settlement of $552,000. If you invested that cash in a fund paying 5 percent, after 15 years you would have $1,166,765.
Next, the rental scenario: For the sake of simplicity, let's say you already own the town home outright and you have the ($100,000) cash needed for renovation. Doing the renovation will take three months, so that means (3 x $2000=$6000) in lost rental income, but your renovated town home will be worth $675,000, so let's assume that you can now command $2700 in monthly rent for the renovated space. With monthly expenses and property taxes costing around ($1355), your monthly net operating income (NOI) is $1345. Let's say that your monthly depreciation on your property is ($1818), which subtracted from your NOI gives ($473) in monthly taxable income. For a 35 percent tax bracket, that translates into ($166) tax savings per month.
If you invest your $1345 monthly NOI (net income after operating expenses and property taxes) at a 5 percent rate of return, in 15 years you will have $359,525. Over the same period, you will have saved $29,805 in income tax. At that point, your rental property should have appreciated in market value to $1,426,750, assuming an average 5 percent increase per year. (For Washington as a whole, average sale prices have appreciated 6.4 percent over the last six years from December 2009 to December 2015.) In order to end up with a cash-to-cash comparison, let's say you sell the town home for market value at this 15-year point. With 8 percent selling expenses, that would leave you with $1,312,610. Adding together the 15-year value of the net operating income, tax savings, and net cash from the town home sale—and then subtracting the renovation cost and lost rental income during renovation—you would realize a net gain of $1,595,941.
In this comparison, leasing and holding yields a 36.7 percent improvement over selling and investing. But remember, your circumstances may not be the same as those assumed in these scenarios. Your best option is to consult your tax adviser, as well as a Realtor knowledgeable in investment properties.
Happy hunting!
Ted Smith is a licensed Realtor with Real Living | at Home specializing in mid-city D.C. Reach him at TedSmithSellsDC@rlathome.com and follow him on Facebook, YouTube or @TedSmithSellsDC. You can also join him on monthly tours of mid-city neighborhood open houses, as well as monthly seminars geared toward first-time homebuyers. Sign up at meetup.com.
Sorry. No data so far.
Sign Up for Blade eBlasts