'Brokeback Mountain' opera coming to NYC in 2018
the opera is based on the 2005 film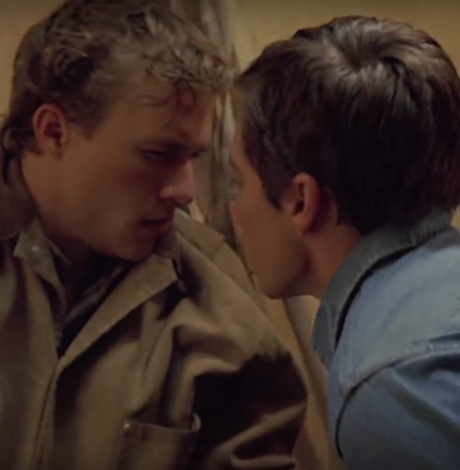 "Brokeback Mountain" will go from screen to stage in an opera adaptation premiering at the Lincoln Center in New York City in 2018.
According to Broadway.com, the New York City Opera will present the production which will run from May 31-June 4, 2018. Out composer Charles Wuorinen and author Annie Proulx are on board. It will be conducted by Kazem Abdullah.
Ang Lee's 2005 film starred Jake Gyllenhaal, Heath Ledger, Michelle Williams and Anne Hathaway.  It earned three Academy Awards including Best Director, Best Adapted Screenplay and Best Original Score.
Wuorinen was originally commissioned by New York City Opera to write an opera based on the film in 2008. The company went bankrupt in 2013 and the production opened at Madrid's Teatro Real in 2014 instead.
Cast details have yet to be announced.
10 LGBTQ events this week
Howard hosts first Pride Night, GMCW performs 'Judy' among highlights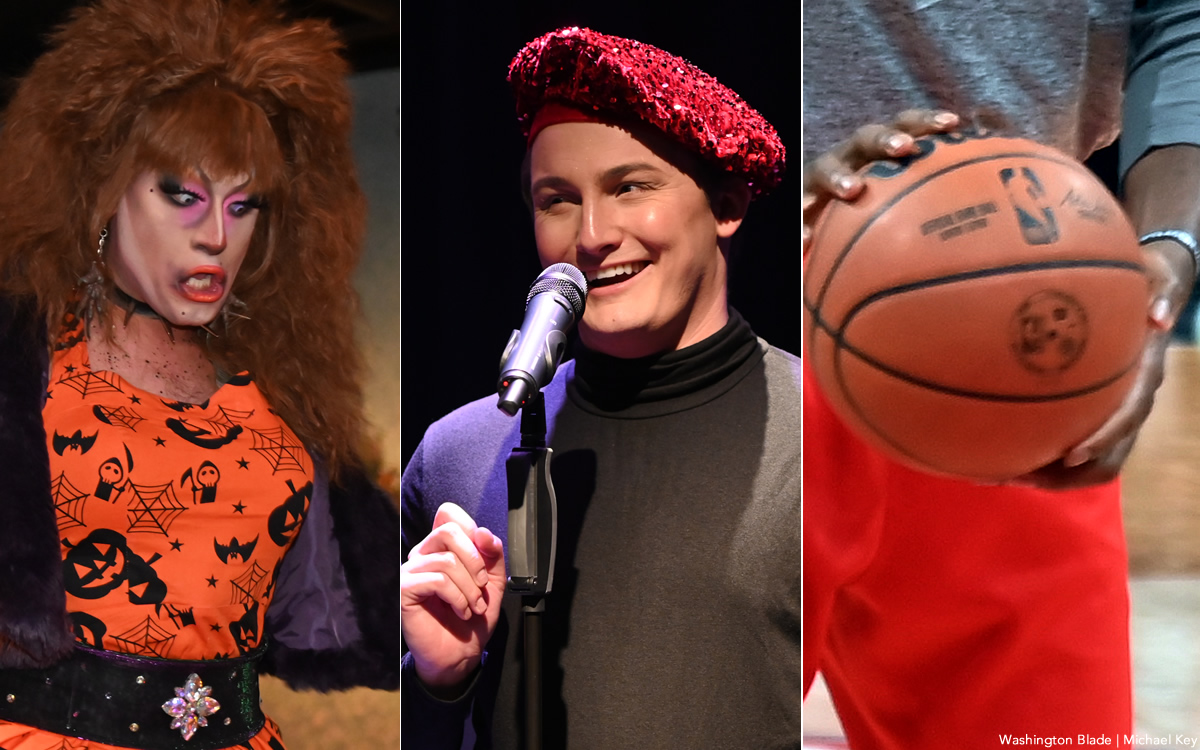 Below are our picks for some of the most fun and creative things to do this week in the DMV that are of special interest to the LGBTQ community.
---
Howard University Basketball Pride Night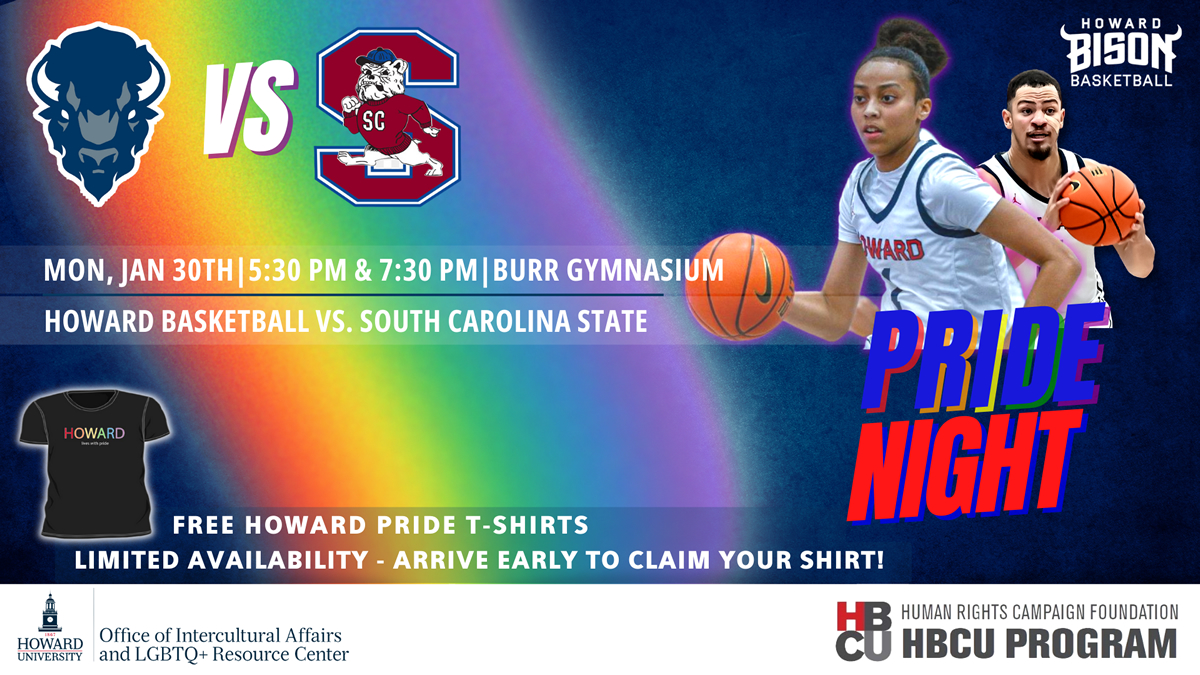 Monday, January 30
5:30 p.m. and 7:30 p.m.
Burr Gymnasium
Howard University
$25
Tickets
The Bison hold their first Pride Night game on Monday as they face off against South Carolina State University.
---
JR.'s Showtunes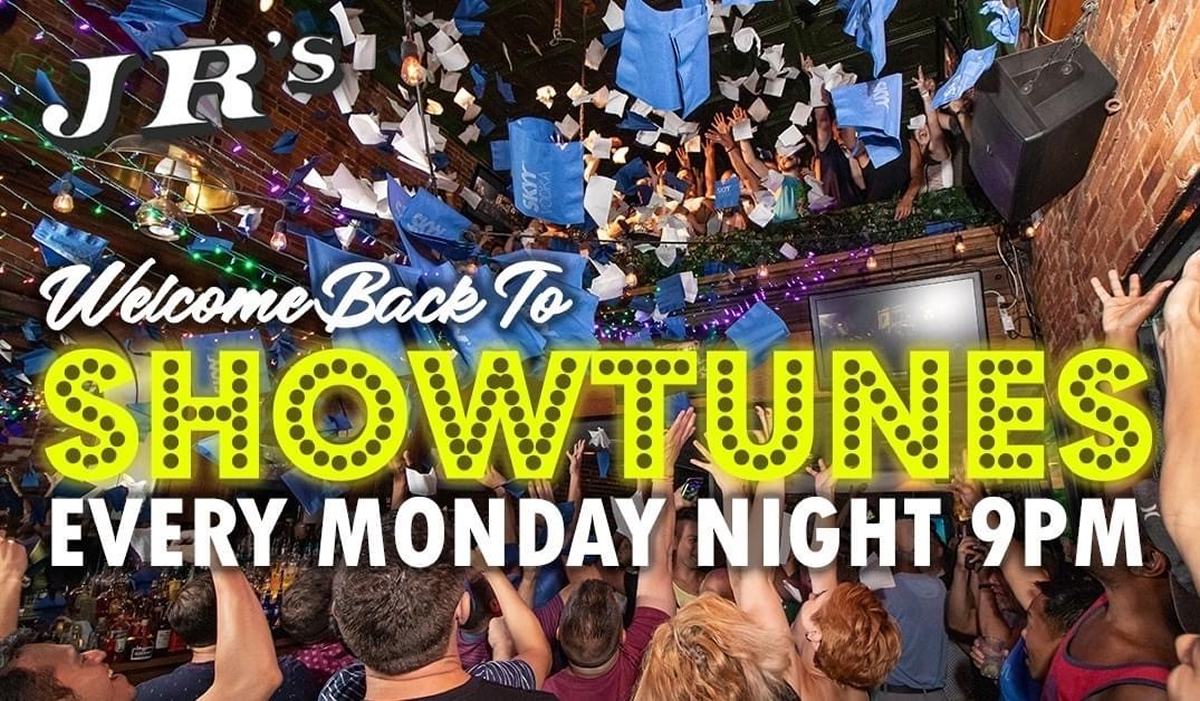 Monday, January 30
9 p.m.
JR.'s Bar
1519 17th Street, N.W.
Facebook
JR.'s holds its weekly Monday Night Showtunes event, so dust off those pipes and sing along.
---
Meaningful Networking for LGBTQ Professionals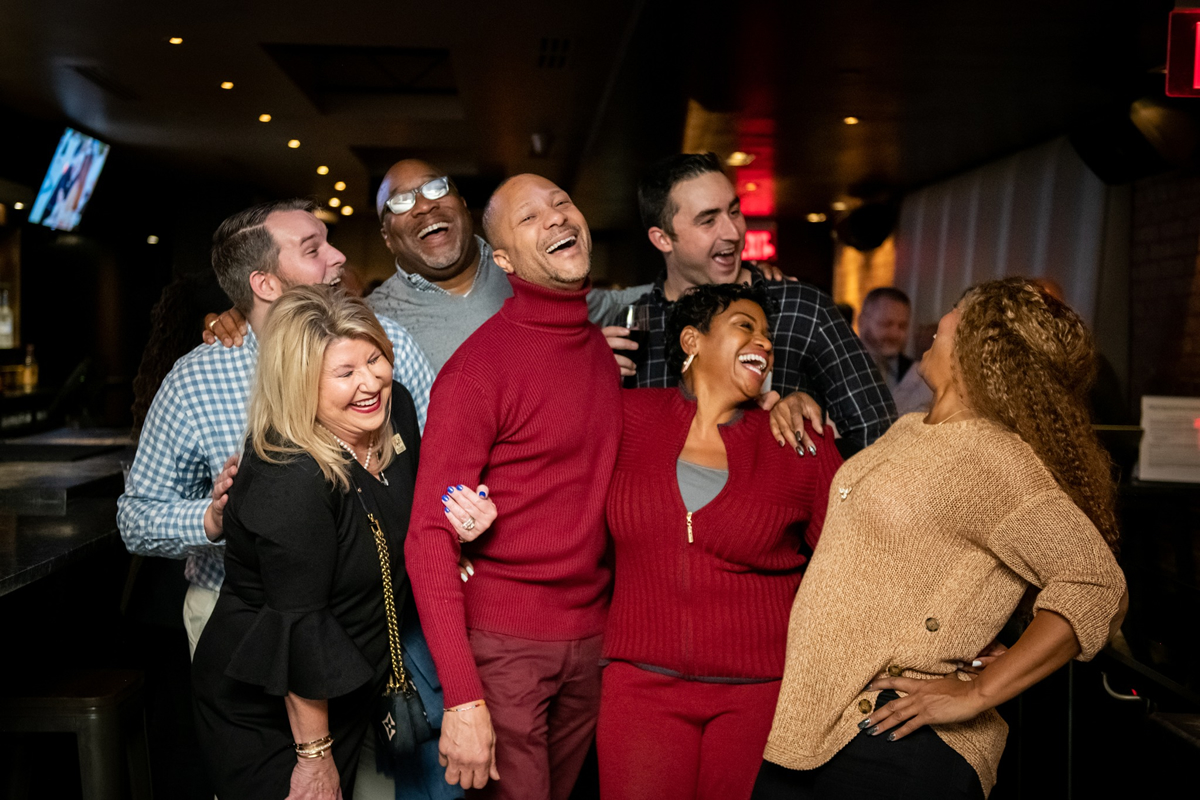 Tuesday, January 31
6 p.m.
Number Nine
1435 P Street, N.W.
$0-$85
Facebook | Eventbrite
Out Professionals holds a networking event at Number Nine on Tuesday. Come by to make business and social connections with fellow LGBTQ professionals.
---
Sleaze: Poundhog Day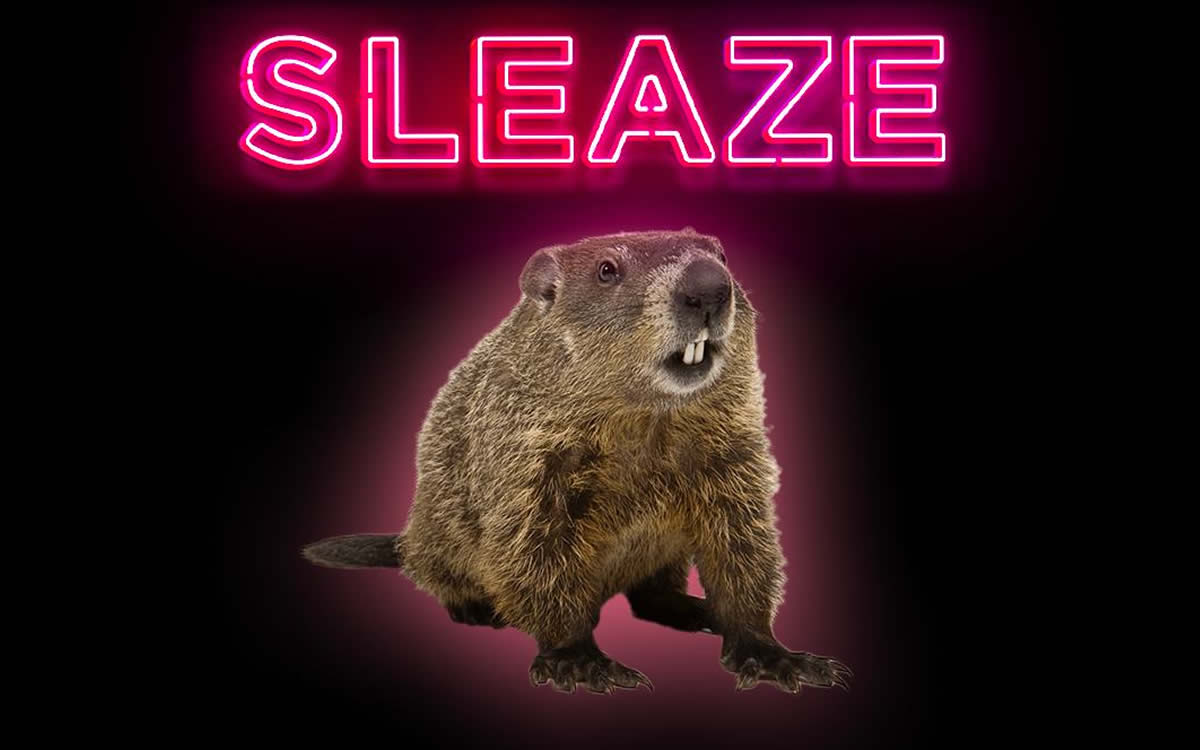 Thursday, February 2
Doors 9 p.m.
DC9 Nightclub
1940 9th Street, N.W.
$10
Facebook | Eventbrite
Whether Phil sees his shadow or not, dance the night away at the monthly LGBTQ+ party. Performances by Sirene Noir Sidora Jackson and Jane Saw with DJs THABLACKGOD, Lemz and Kennan Orr.
---
Kinky Bears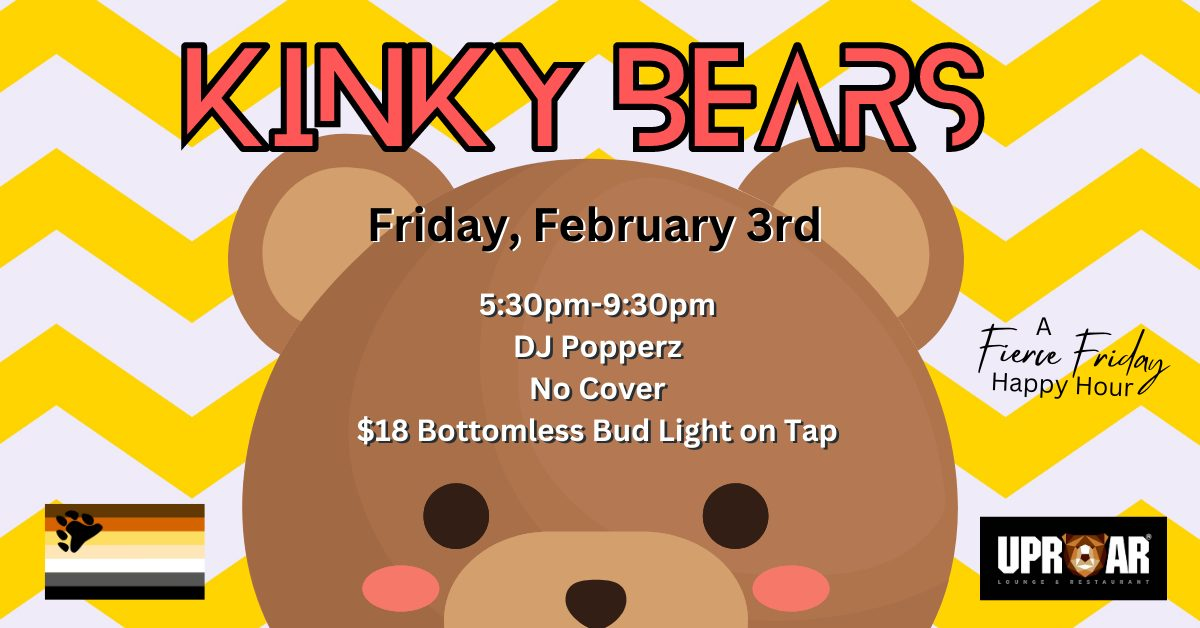 Friday, February 3
5:30 p.m.-9:30 p.m.
UPROAR Lounge & Nightclub
639 Florida Avenue, N.W.
No cover
Facebook
DC Social and UPROAR present Kinky Bears happy hour featuring DJ Popperz.
---
Desiree's Dirty 30!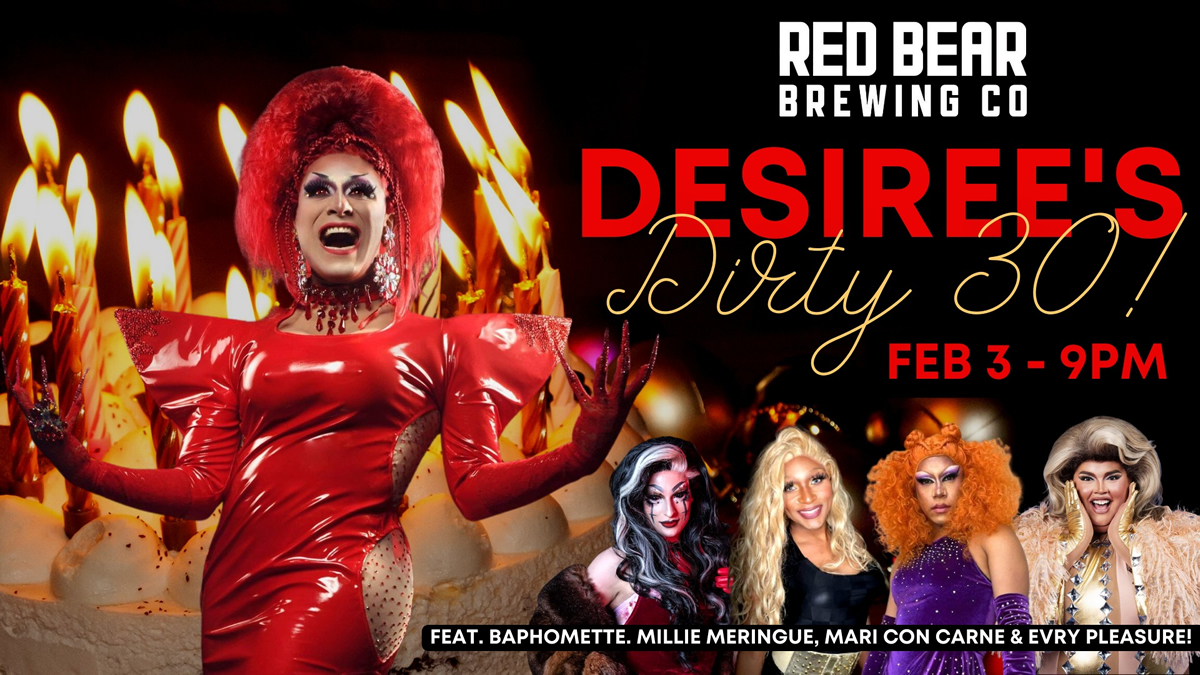 Friday, February 3
9 p.m.
Red Bear Brewing Co.
209 M Street, N.E.
Facebook
Award winning drag queen Desiree Dik celebrates her Dirty 30 with a show on Friday at Red Bear Brewing with Baphomette, Millie Meringue, Mari Con Carne and Evry Pleasure.
---
District 1st Friday: Traffic Light Underwear Party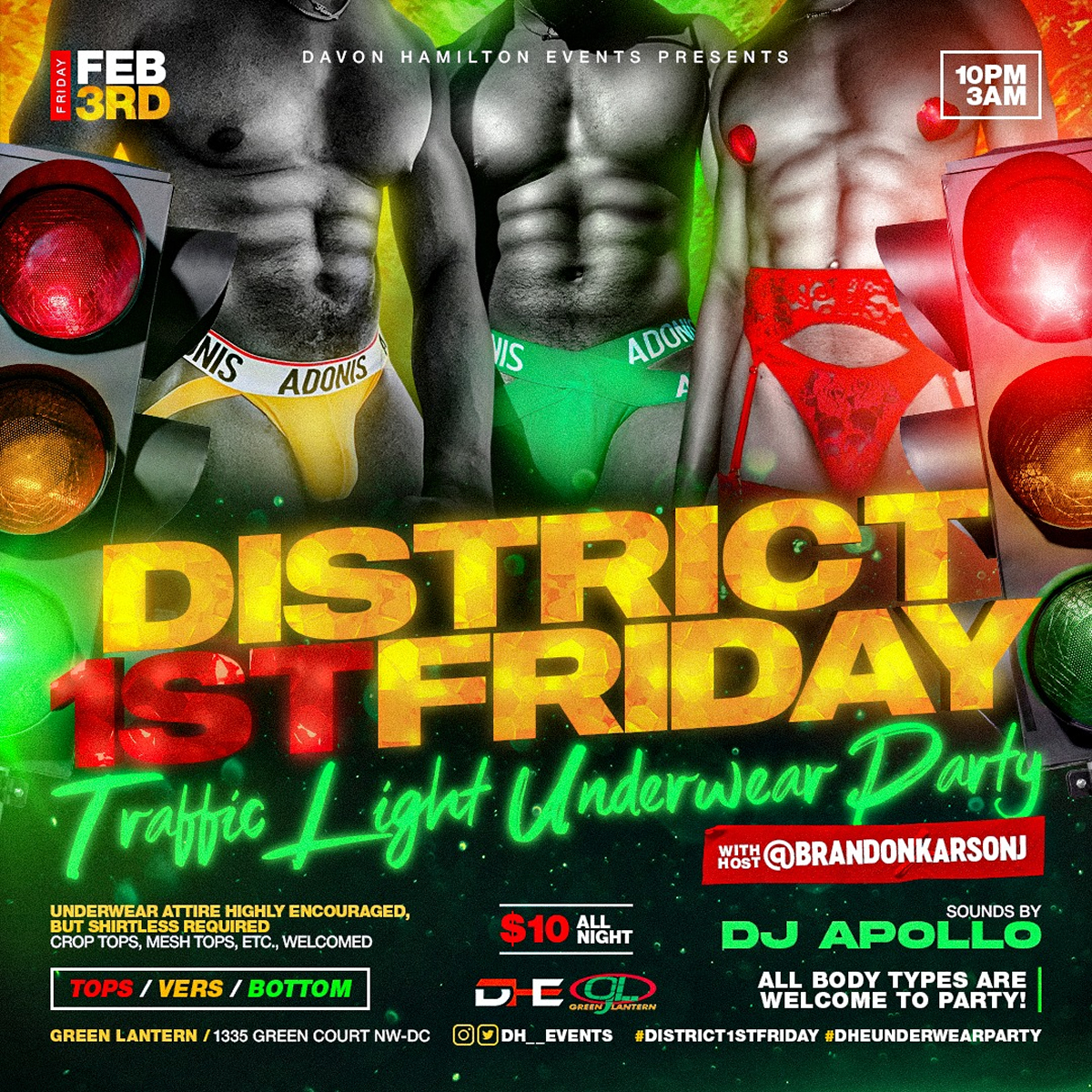 Friday, February 3
10 p.m.
Green Lantern
1335 Green Court, N.W.
$10
Facebook
Be naughty with an all-body-types-welcome underwear attire party.
---
'JUDY' Cabaret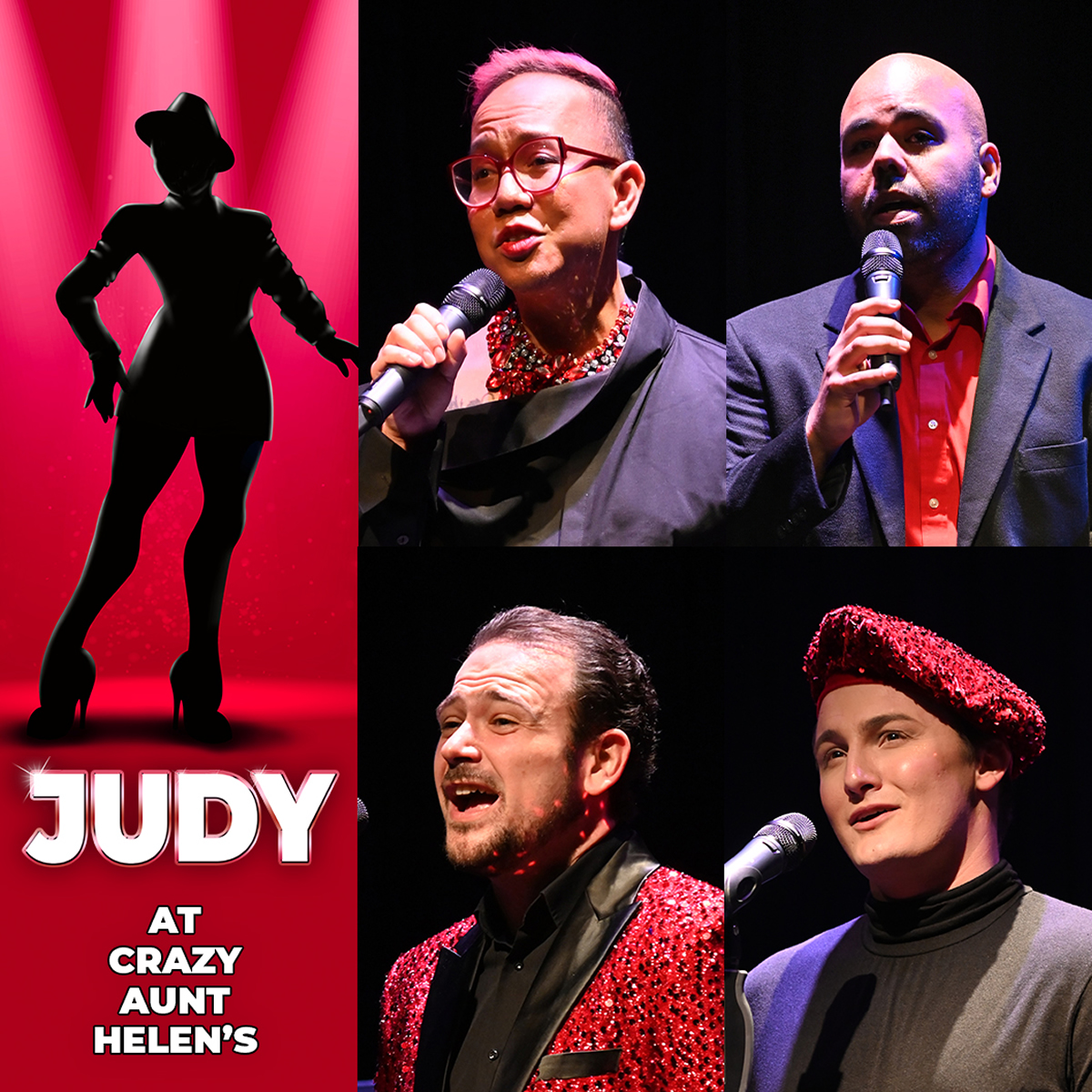 Saturday, February 4
5 p.m. and 7:30 p.m.
Crazy Aunt Helen's
713 8th Street, S.E.
$45
Eventbrite
Members of the Gay Men's Chorus of Washington perform "JUDY" celebrating the music of Judy Garland at Crazy Aunt Helen's with two cabaret shows on Saturday.
---
Avalon Saturdays: ElectroPOP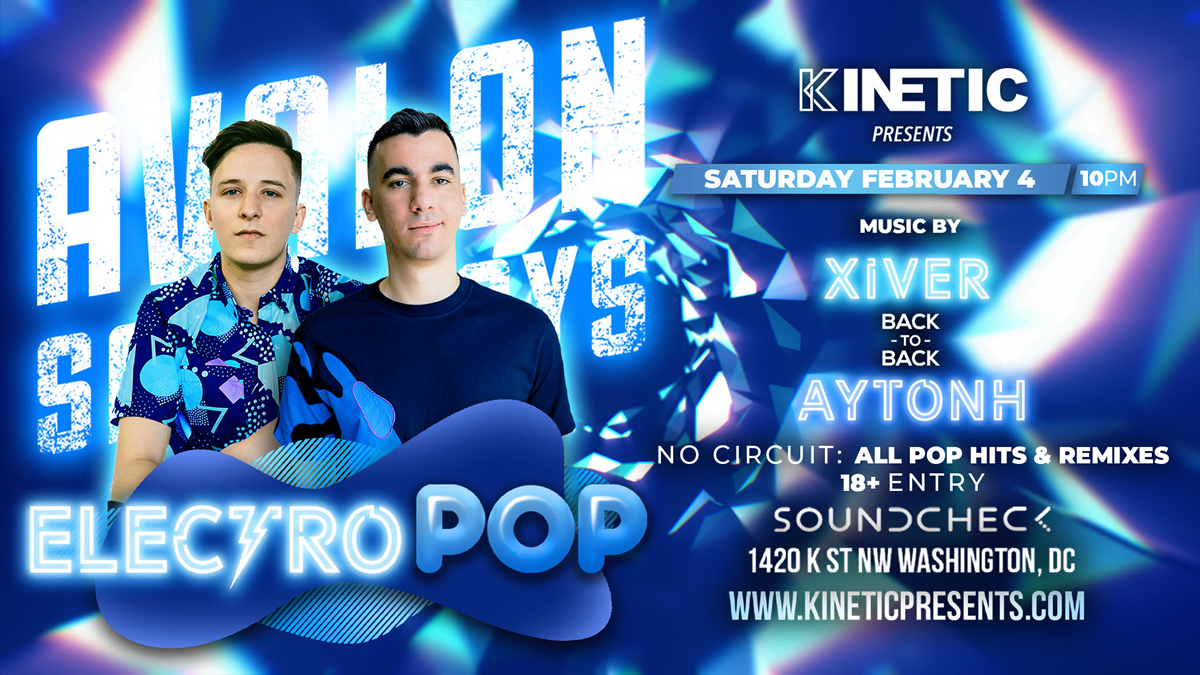 Saturday, February 4
10 p.m.
Soundcheck
1420 K Street, N.W.
$25-$30 / 18+
Facebook | Tickets
DJ Xiver and DJ AytonH spin high energy, pop hits and remixes all night long on Saturday at Soundcheck.
---
Oddball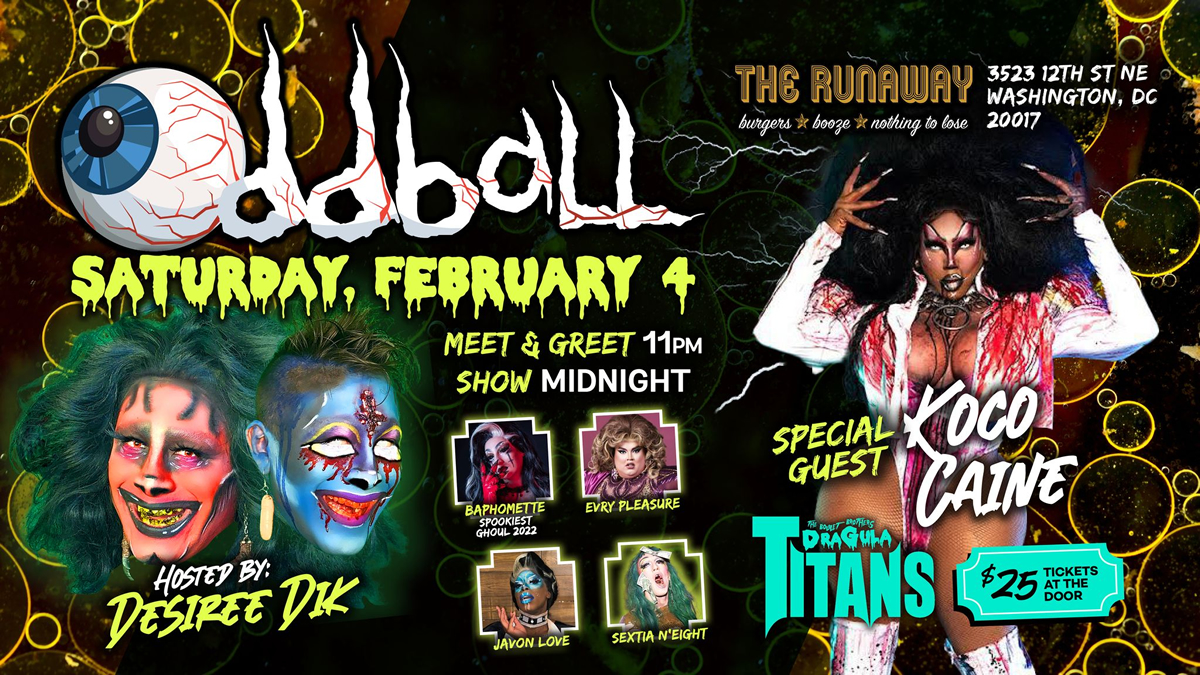 Saturday, February 4
Meet & Greet 11 p.m. / Show at midnight
The Runway DC
3523 12th Street, N.E.
$25
Facebook | Eventbrite
Join special guest Koco Caine for an Oddball show hosted by Desiree Dik. Performers include Baphomette, Evry Pleasure, Javon Love and Sextia N'Eight.
PHOTOS: New Year Still Queer
The Washington Blade holds appreciation happy hour at Pitchers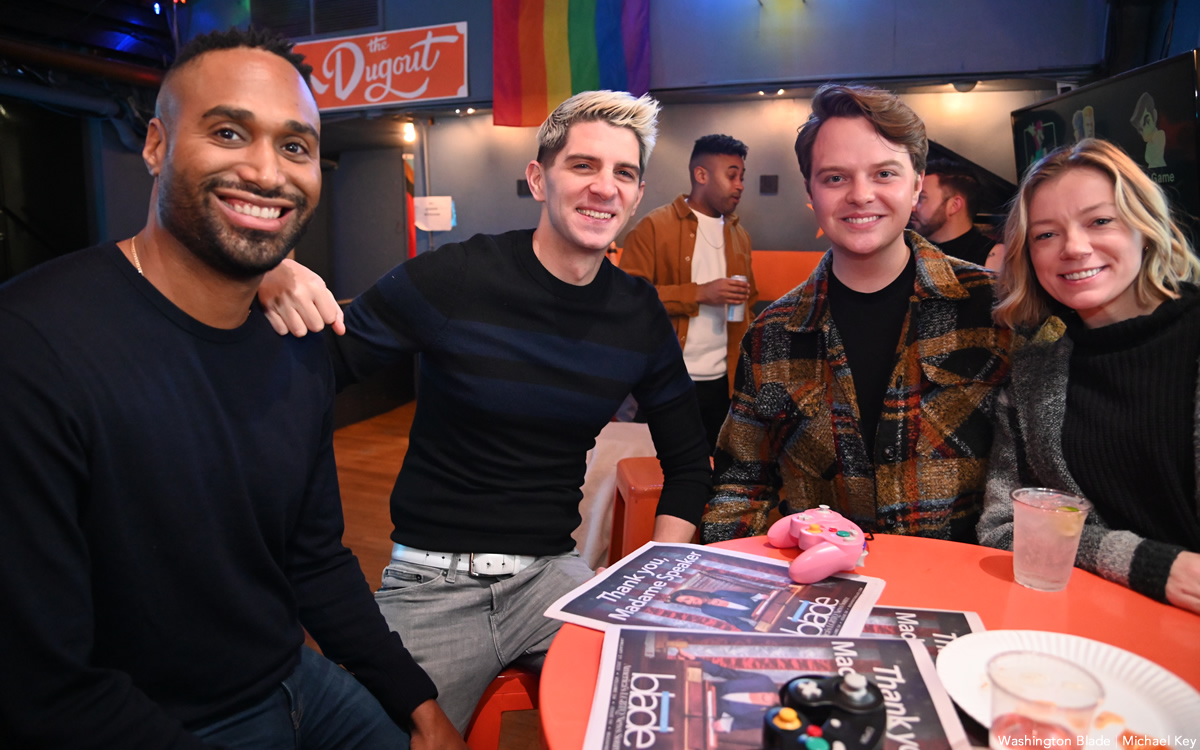 The Washington Blade held a New Year Still Queer appreciation happy hour at Pitchers DC on Friday, January 27.
(Washington Blade photos by Michael Key)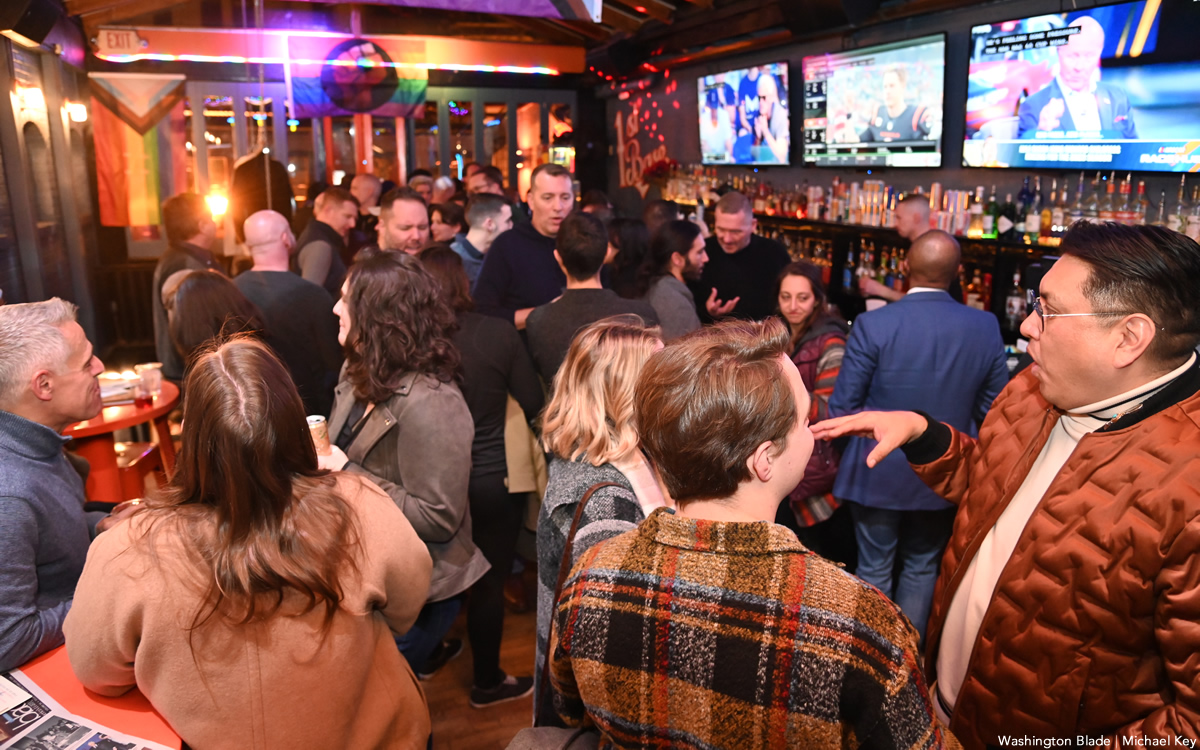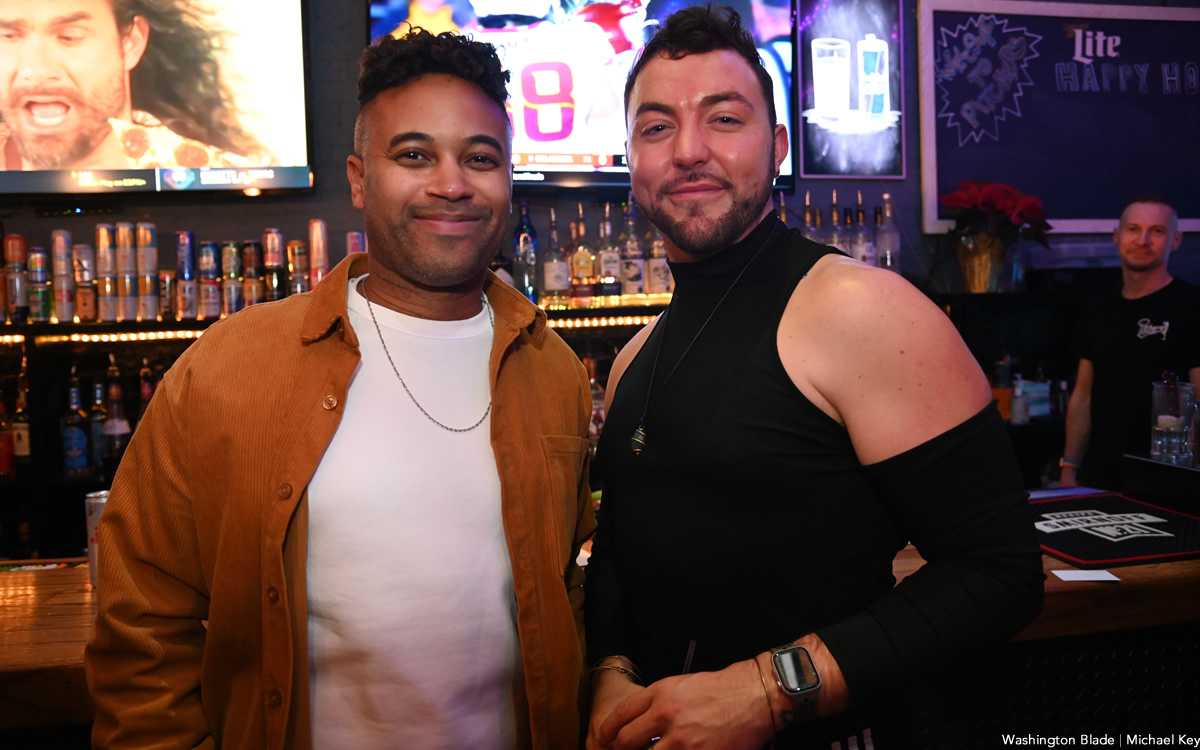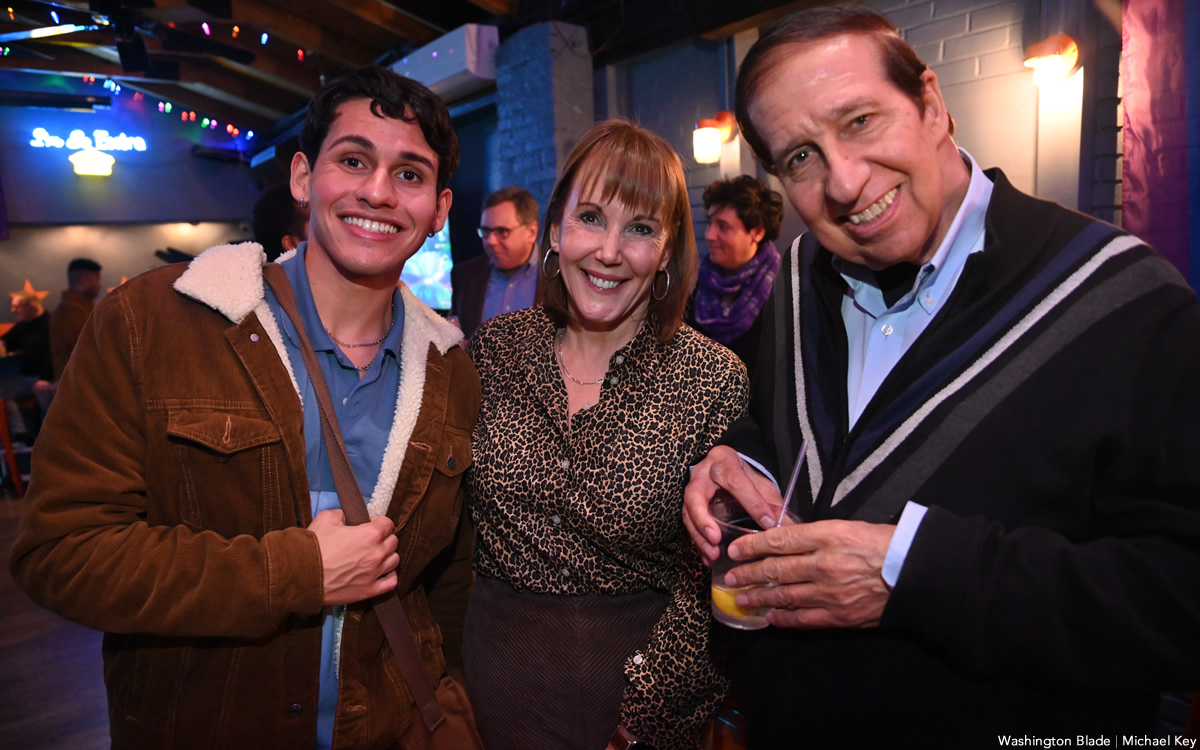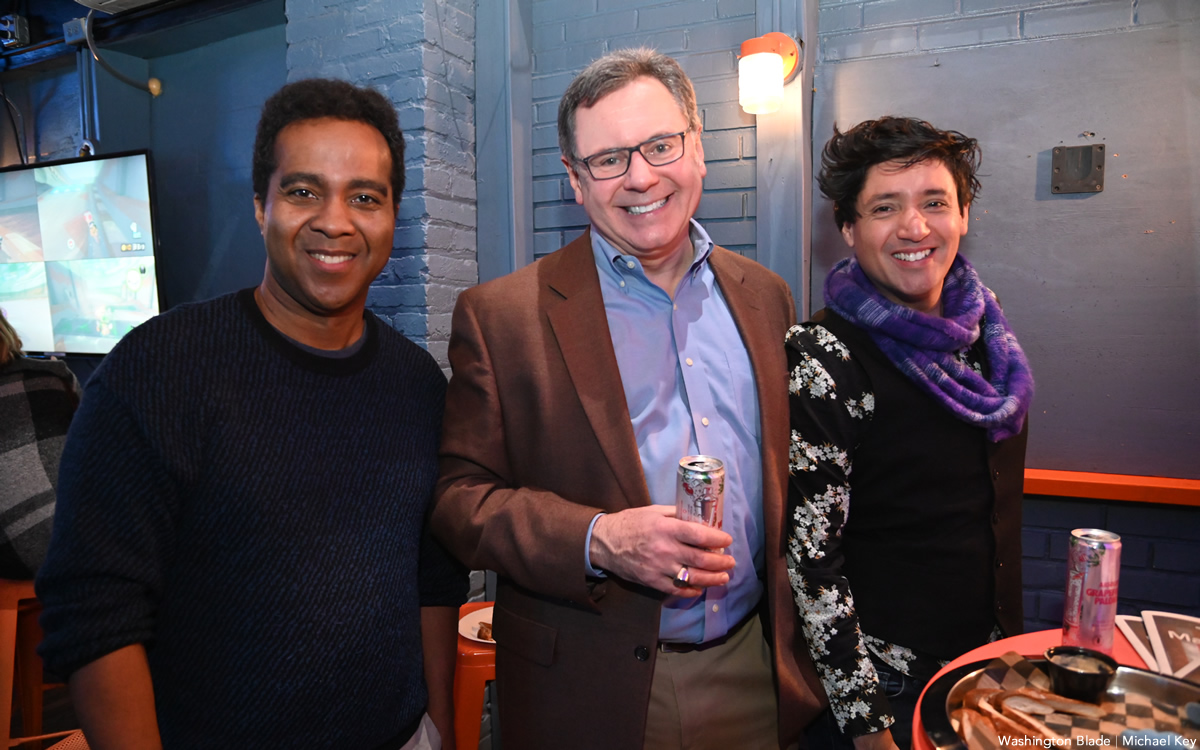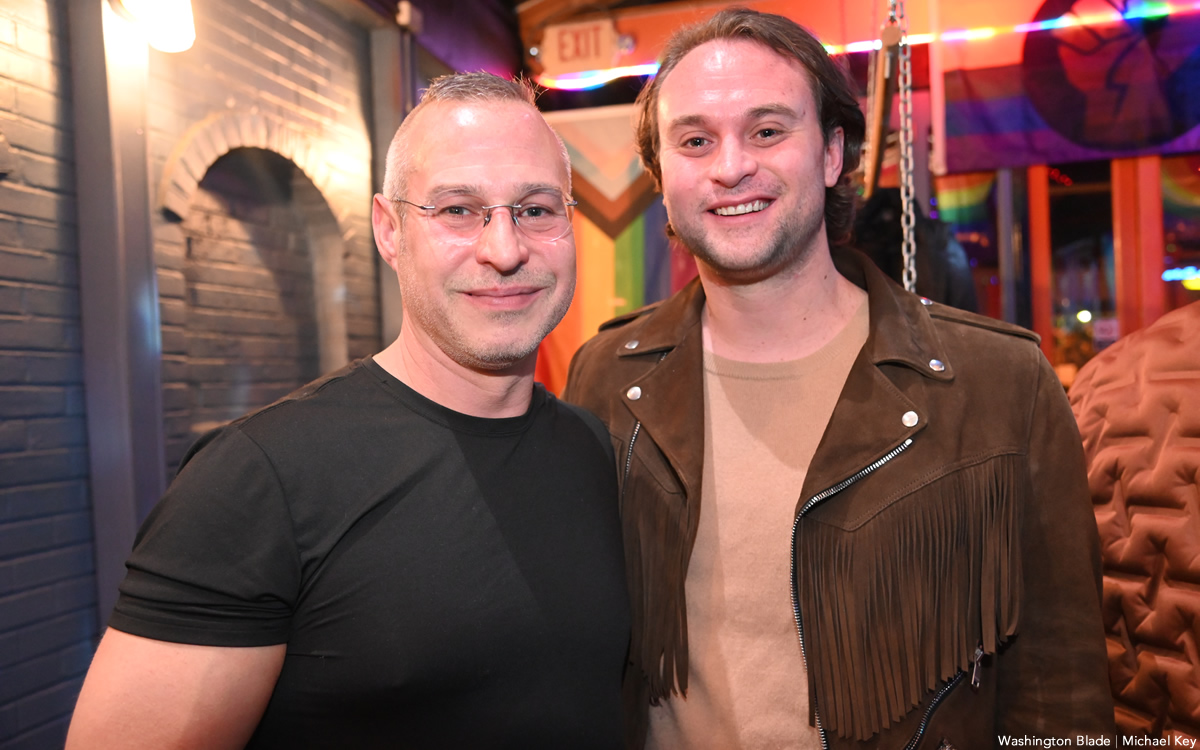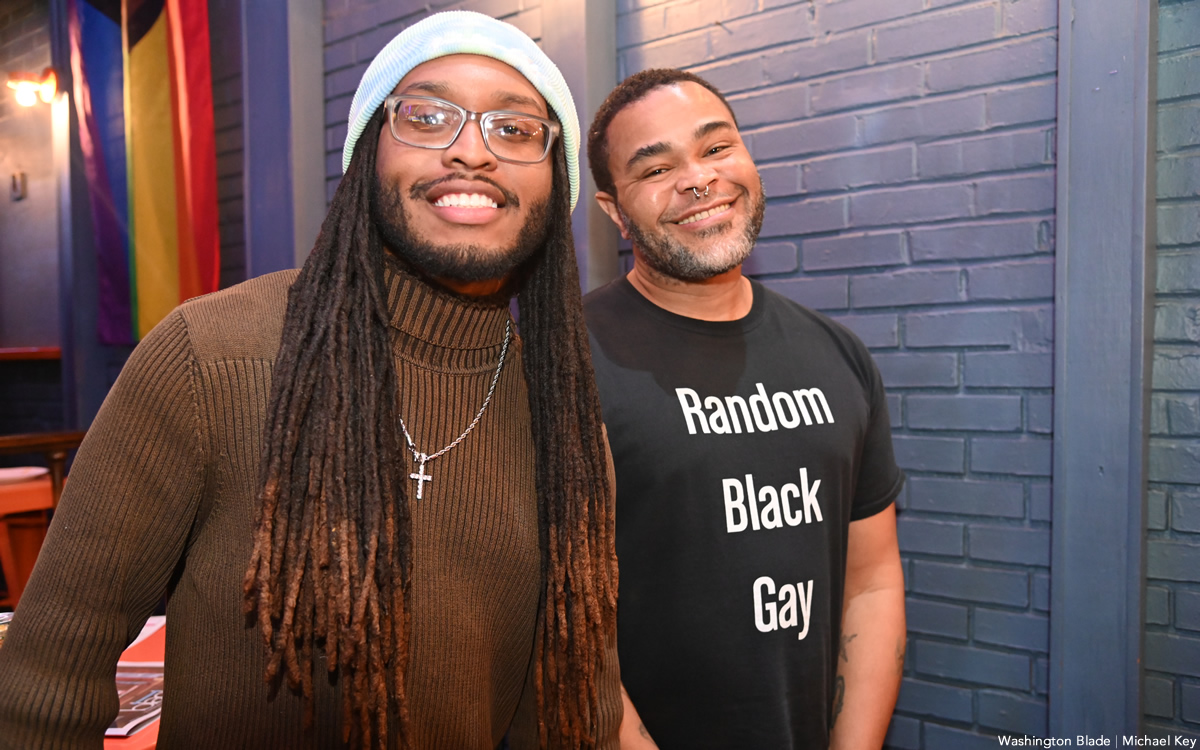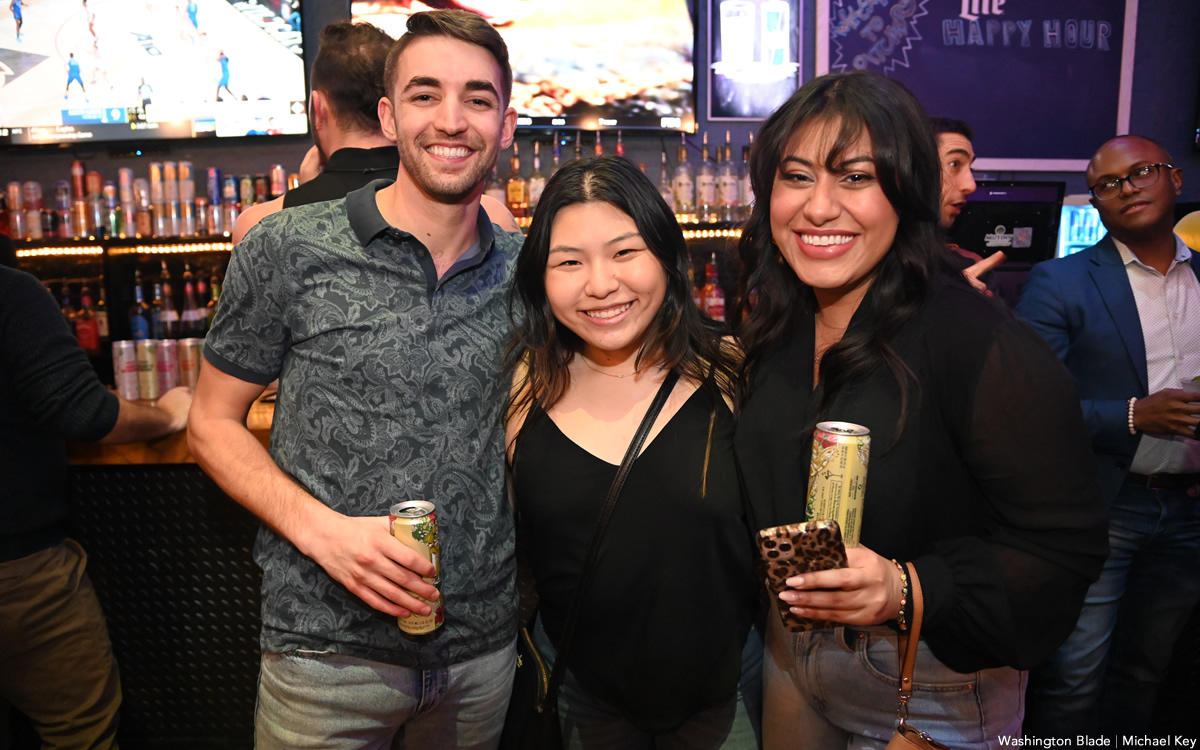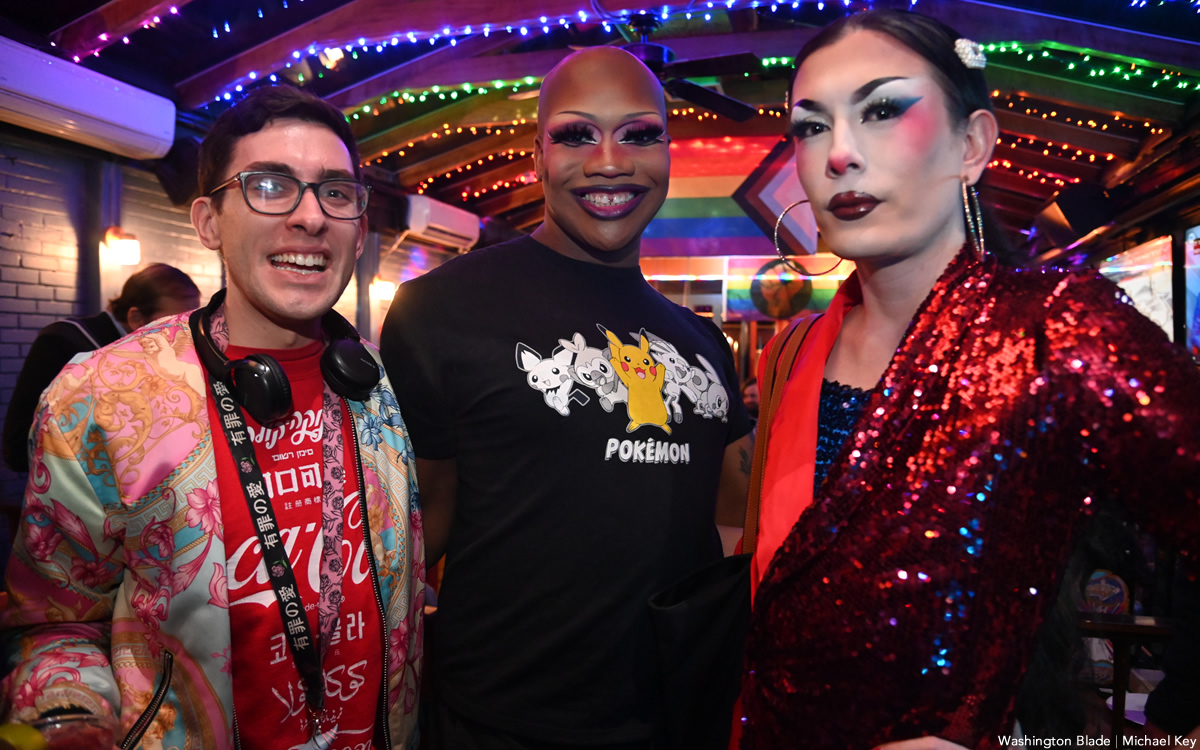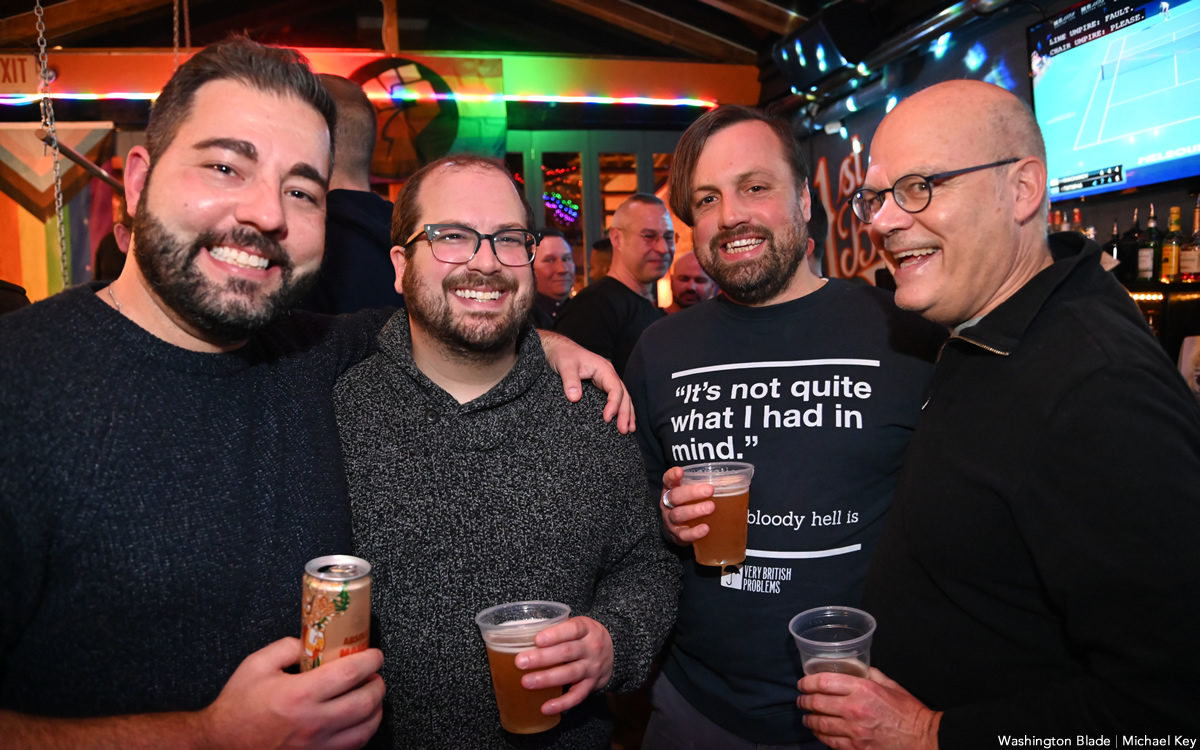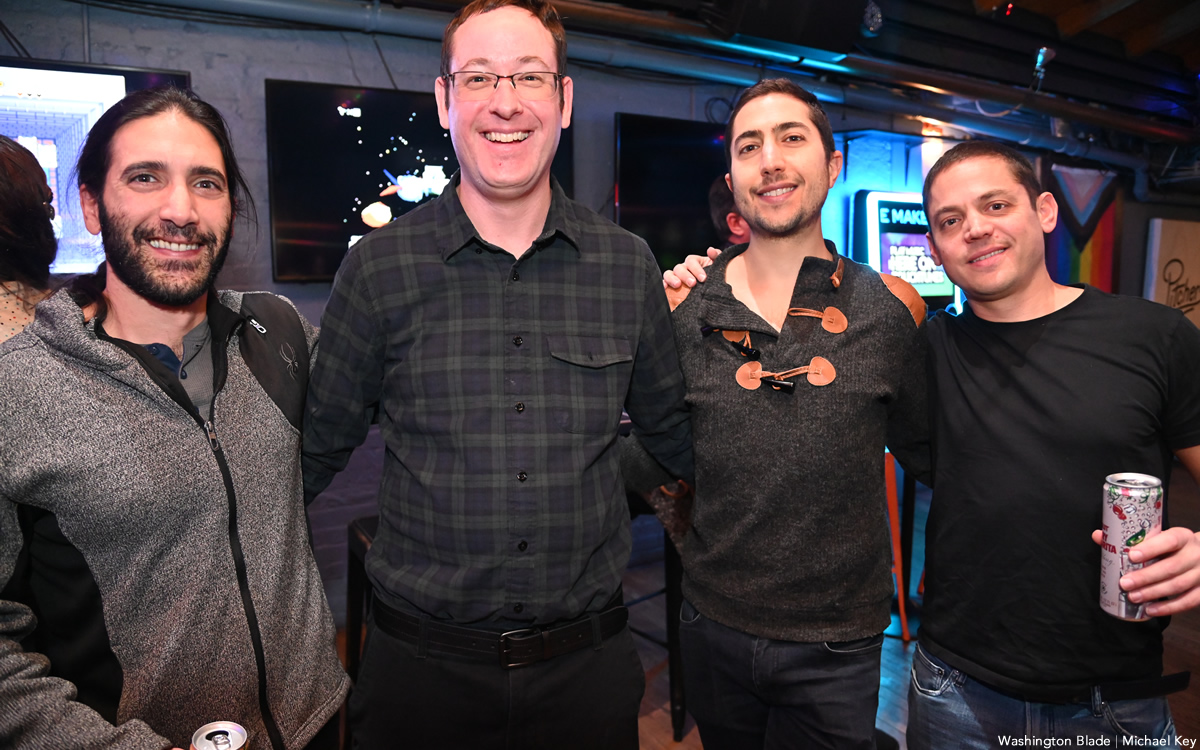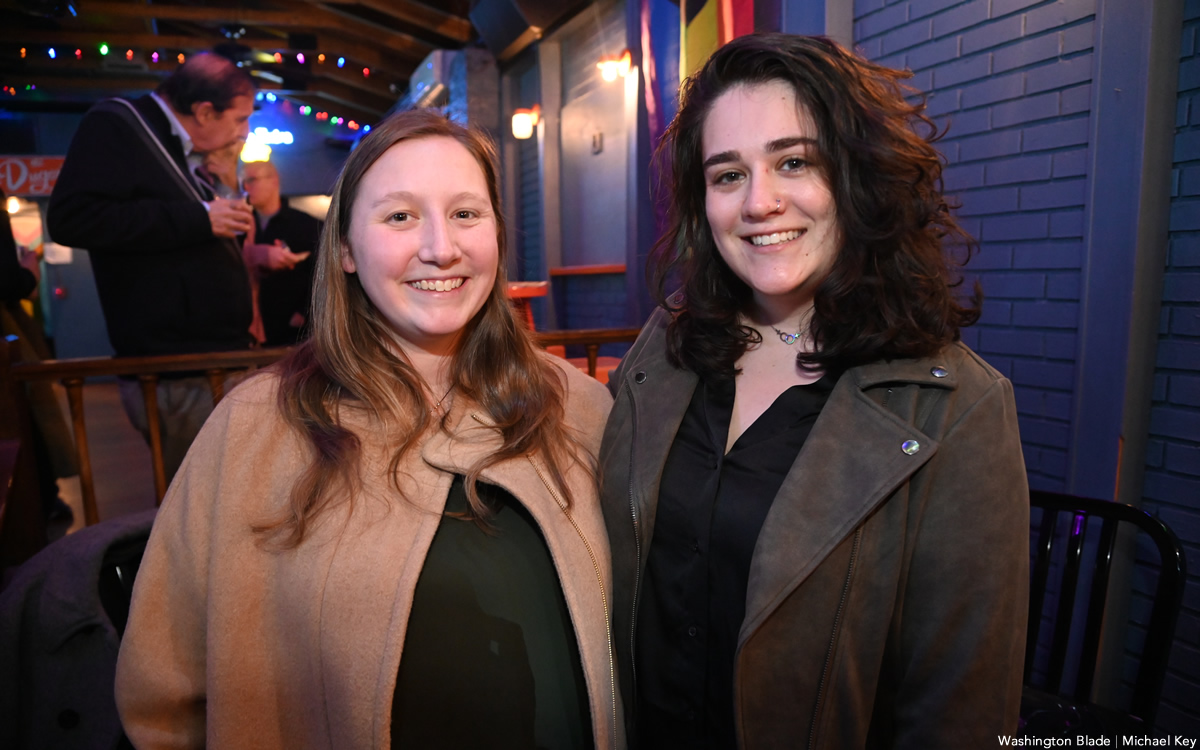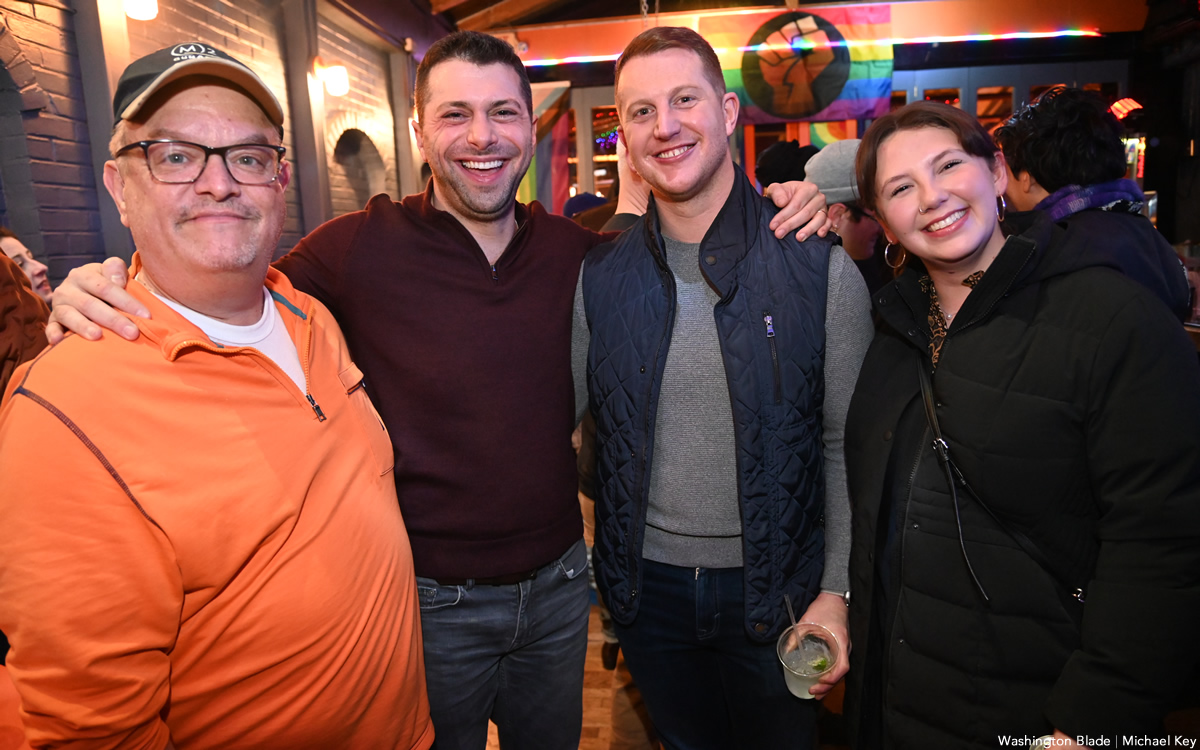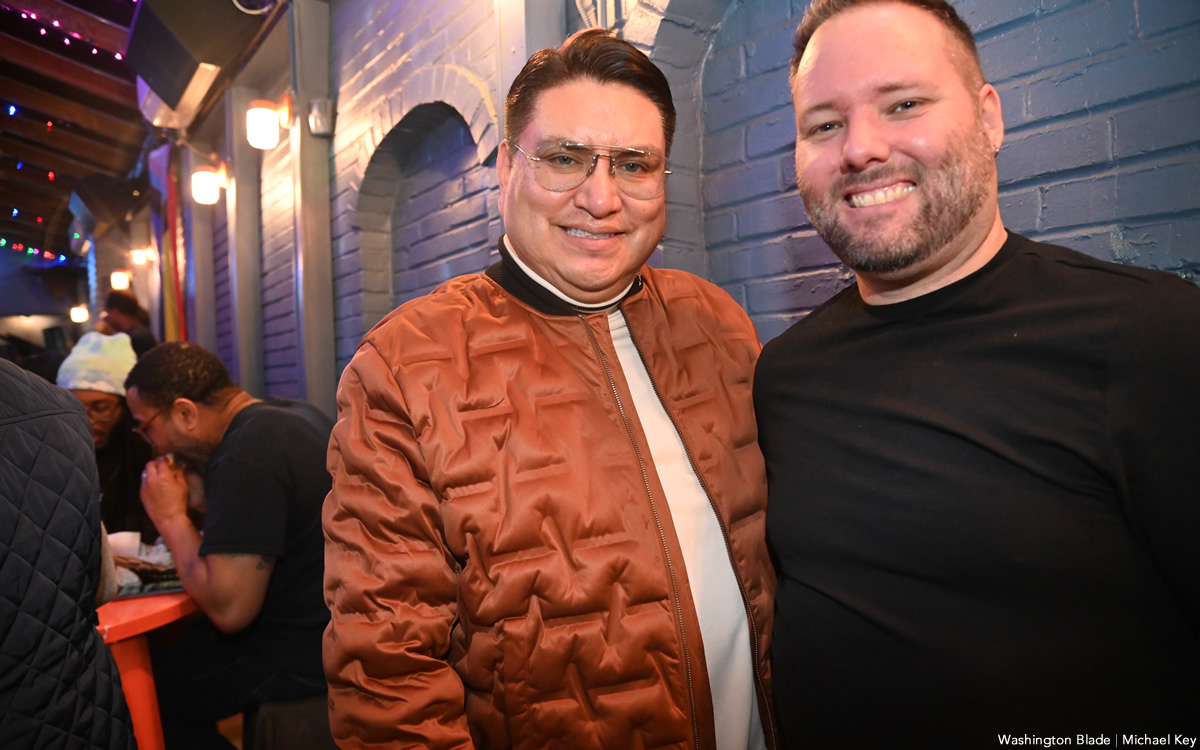 A balanced look at whether to have children
New book, 'So When are You Having Kids?' makes no judgments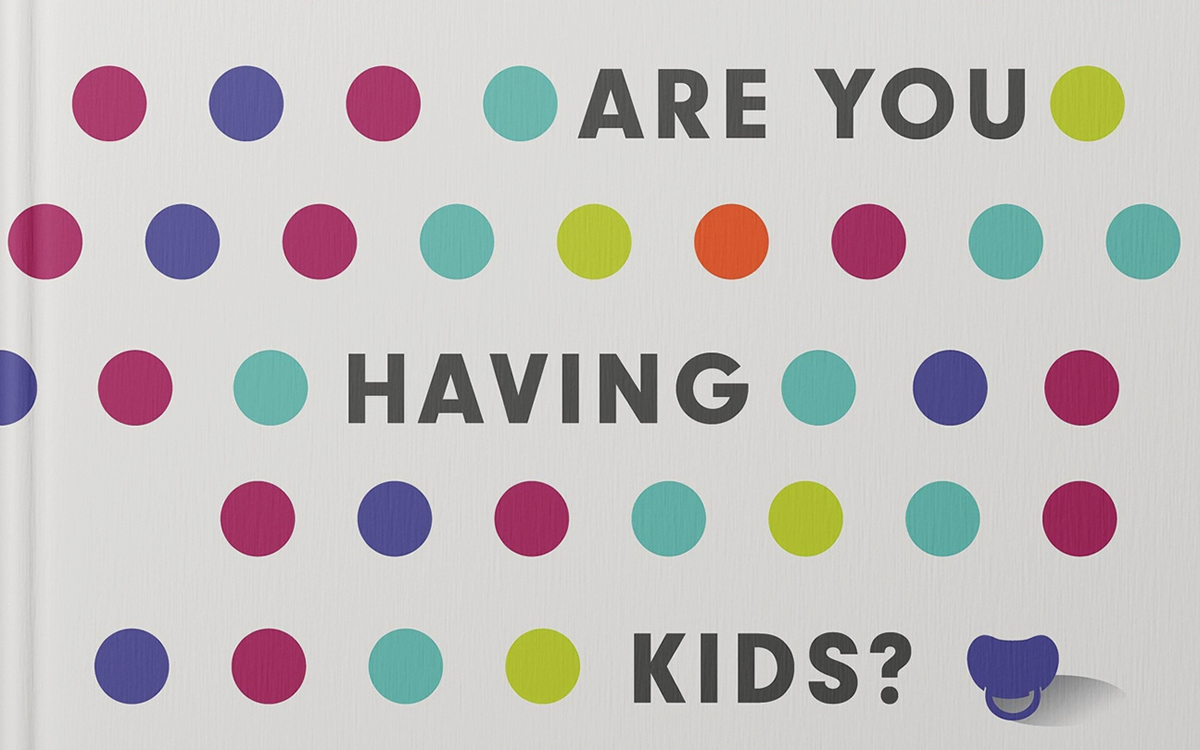 'So When are You Having Kids?'
By Jordan Davidson
c.2022, Sounds True, Macmillan
$28.99/356 pages
Your mother lingers way too long in the children's department.
She sighs over tiny suits and little sneakers, running her fingers along soft blankets, hugging plush animals. You know what she wants but you're not ready; she might be sure but you're not. Maybe baby for you or, with the new book "So When are You Having Kids?" by Jordan Davidson, maybe not.

It's the thorniest of decisions, "one of the biggest you'll ever make." It's personal, but even strangers want to know; the questions start in your 20s and end when you've acquiesced or aged, although having kids is not a given or a thing-by-committee. So how do you quiet the busybodies and make the right decision for yourself?
First, says Davidson, ask yourself if you even want children, and after you've looked inward, "it's worth looking outward" at expectations, culture, and things that "shape our understanding of parenthood." Ask around, to see why others had children but don't be surprised if you get cliches. Throw out the idea that children fulfill you or that they'll take care of you when you're old. Know that genetics, religion, and your parents' parenting styles will affect you; and that if you're queer or Black, there'll be other factors involved in having and raising a child.
Should you decide to the positive, you may still have reservations.
Don't give in to the romance of having kids; it's hard work, and expensive in both money and time. Remember that perceptions of good parenting have "shifted over time" and that having a childhood exactly like yours probably won't be an option for your kids. If you have a partner, communicate your thoughts, hopes, and divisions of household labor and childcare.
Finally, decide how you're going to become a parent. Will you give birth, choose IVF, adopt, foster, or kick the decision down the road?
Says Davidson, the mere ability to ask these questions and decide "is in many ways a privilege."
Chances are that if you hear a screaming baby, you have one of two reactions: you cringe and look for an exit, or you notice and shrug. Either way, "So When are You Having Kids?" is a book for you.
There are many, many parenting books on miles of shelves, and a number of books on being childless, but author Jordan Davidson pulls the two subjects together here with thoughtfulness, candor, inclusiveness, and a refreshing lack of judgment. This is a book that doesn't promise answers, though: it's meant to give readers – whether they want kids, don't, or are ambivalent – an in-one-place, balanced look at myths, truths, pros, cons, and rarely-considered points for an informed decision. It also, perhaps most importantly, offers comforting reminders that there is no right or wrong, no matter what Mom says.
"So When are You Having Kids?" is like having a big sister to bounce ideas with, or a break-out session in your living room. It's like asking Baby Maybe questions you didn't know you had. It's help when you need it in that department.
The Blade may receive commissions from qualifying purchases made via this post.