Rep. Hartzler wants another shot at anti-trans military amendment
Missouri Republican wants inclusion of measure in spending package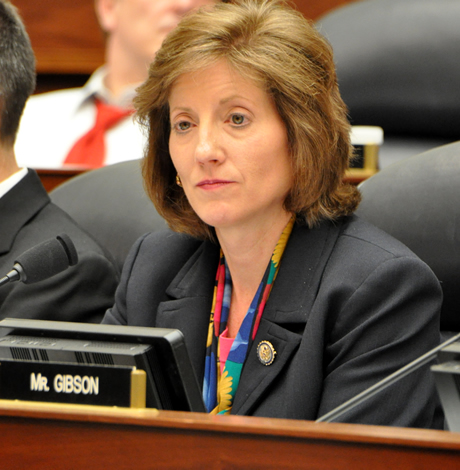 Rep. Vicky Hartzler (R-Mo.) is looking for another shot at her amendment that would have barred the Pentagon from paying for transition-related health care for transgender service members, according to Politico.
In the aftermath of the U.S. House narrowly rejecting the amendment as part of the fiscal year 2008 defense authorization bill, Hartzler is reportedly leading "a mix of GOP defense hawks and conservatives" to include the measure in a different spending bill that will soon arrive on the floor.
"Steps must be taken to address this misuse of our precious defense dollars," Hartzler said in a statement to Politico. "This policy hurts our military's readiness and will take over a billion dollars from the Department of Defense's budget. This is still an important issue that needs to be addressed."
As introduced by Hartzler the last time around, the amendment would prohibit the Pentagon from made expenditures in its health system for transition-related care, including hormone therapy and gender reassignment surgery, for both service members and their dependents.
According Politico, supporters of the amendment are urging House Speaker Paul Ryan (R-Wis.) to use a procedural trick to include the amendment automatically as part of the spending bill. Failing that, they're requesting another floor vote on the amendment as part of consideration for the base bill.
The House last week voted down the Hartler amendment by a 214-209. Twenty-four Republicans and all 190 Democrats present voted against the measure.
According to Politico, most Republicans expected the Hartzler amendment to pass overwhelmingly and were surprised when it failed. (Ryan told the Washington Blade during his news conference he supported the measure and predicted it would pass.) The morning after the defeat of the amendment, Republicans spent a good chuck of a closed-door GOP conference meeting harping about what happened, the Politico reported.
Conceivably, the measure could pass the second time around. Six Republican last time didn't vote or were absent (including House Majority Whip Steve Scalise, who's recovering from a gun shot wound). Rep Brian Mast (R-Fla.), who voted against the provision, has since said his vote was in error and he meant to vote for it.
Caroline Boothe, a House Rules Committee spokesperson, said Hartzler hasn't yet submitted an amendment for potential consideration as part of the defense appropriations bill.
"We have yet to receive the Hartzler amendment again for the bills next week," Boothe said. "But when we do, the Committee will consider it like we do any other amendments."
According to Politico, senior Republican sources predicted leadership would deny the request to add Hartzler amendment's to a House rule because it would circumvent regular order. Whether a separate floor amendment on the proposal would be allowed is unclear.
Openly transgender service has been the rule for the U.S. military for about a year in the aftermath of an Obama-era policy change that lifted the regulatory ban on their service. Transgender people can come out in the military without fear of discharge, but openly transgender people still can't enlist. Defense Secretary James Mattis pushed back the target date for that change until Jan. 1 pending a review of transgender service.
Media outlets reported when Hartzler offered her around last week, Mattis privately contacted her to urge her to withdraw the measure. White House Director of Legislative Affairs Marc Short denied the White House whipped a "no" vote on the measure, although he said there was a question about whether it should be include in the defense authorization bill.
Aaron Belkin, director of the San Francisco-based Palm Center, blasted Hartzler in a statement for not giving up on her amendment, accusing of inventing false data to bolster her case against transgender military service.
"Thousands of transgender troops have been serving for an entire year, and they have been widely praised by Commanders," Belkin said, "and 18 foreign militaries allow transgender personnel to serve. Transgender military service works, and pretending that it does not requires inventing data. This is the same, discredited strategy that opponents used to prop up the failed 'don't ask, don't tell' policy the first time around."
Read more at Politico.
Anti-LGBTQ party leader poised to become next Italy prime minister
Giorgia Meloni is chair of far-right Brothers of Italy party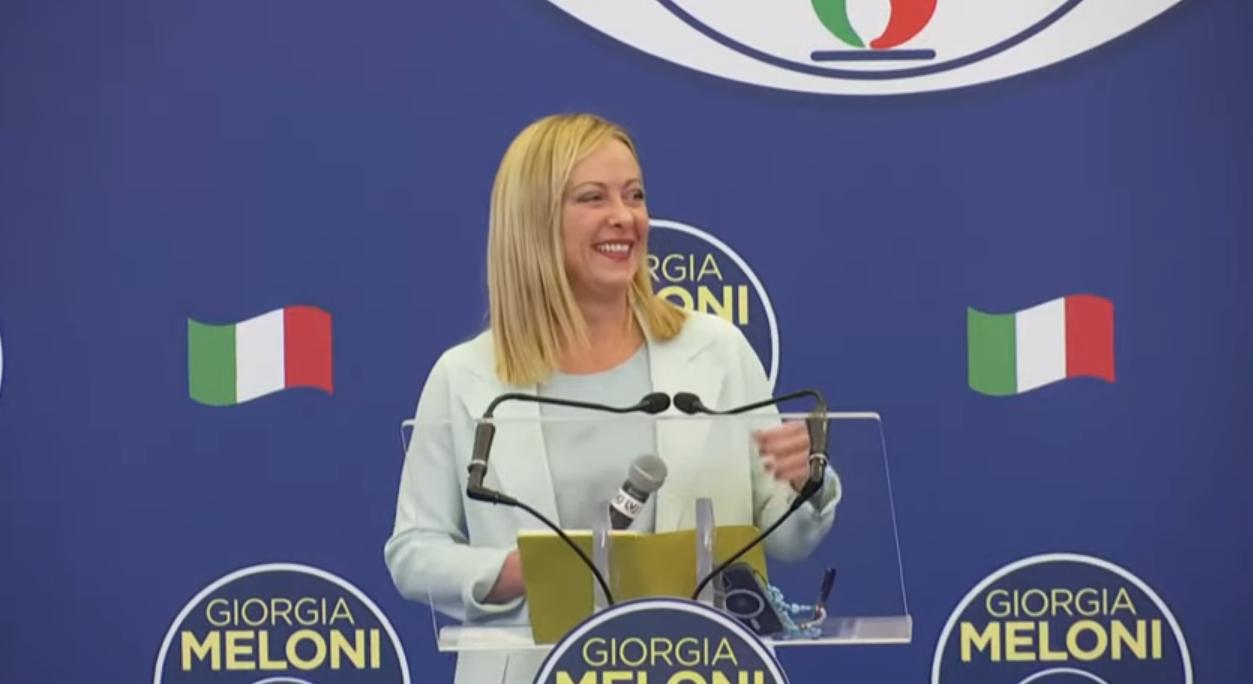 Italy's far-right leader Giorgia Meloni, head of the Brothers of Italy party, appeared to have won in Sunday's snap general elections according to exit polling. In a coalition with other right wing parties, Meloni's right-wing alliance now looks to have control of both houses, with a projected 42.2 percent of the Senate vote.
This will lead to her forming Italy's most right-wing government since World War II and Meloni is now set to be Italy's first female prime minister. However, the final say will rest with Italian President Sergio Mattarella, a decision that is expected to take some time according to political observers in Rome familiar with the inner workings of the Italian government.
Turnout for Sunday's elections was dramatically low — 63.82 percent by the time polls closed — said Italy's interior ministry, almost 10 points down on 2018. Voting levels were especially poor in southern regions including Sicily.
Meloni's Facebook post made after the results had been announced translates to:
History we made today.
This victory is dedicated to all the militants, managers, supporters and every single person who – in these years — has contributed to the realization of our dream, offering soul and heart spontaneously and selflessly.
To those who, despite the difficulties and the most complex moments, have remained in their place, with conviction and generosity. But, above all, it's dedicated to those who believe and have always believed in us.
We won't betray your trust. We are ready to lift Italy up.
THANK YOU !
Meloni is seen as polarizing figure with some of her political stances and rhetoric on the European Union aligning her close to Hungary's nationalist leader Viktor Orban. However, Professor Gianluca Passarrelli of Rome's Sapienza University told the BBC he thought she would avoid rocking the boat on Europe and focus on other policies: "I think we will see more restrictions on civil rights and policies on LGBT and immigrants."
Meloni has long displayed antagonism and intolerance towards the LGBTQ community. She has stated that she perceives sees LGBTQ as menacing and threatening Western civilization.
The BBC noted that earlier this year she outlined her priorities in a raucous speech to Spain's far-right Vox party: "Yes to the natural family, no to the LGBT lobby, yes to sexual identity, no to gender ideology … no to Islamist violence, yes to secure borders, no to mass migration … no to big international finance … no to the bureaucrats of Brussels!"
As LGBTQ equity and equality rights are foundational to the European Union and its governing commission, some see Meloni as combatting the EU over LGBTQ issues in the same vein as Orban.
On other issues Meloni doesn't claim to "oppose" Europe, but rather she outlines a model of integration that may or may not go down well in Brussels, euronews reported.
"If we had an EU more like the one we imagine, we would have developed a more effective defense policy, invested in energy security and maintained short value chains to avoid reliance on third — often untrustworthy — countries for gas, raw materials, commodities, chips and other goods," she stated.
Cubans approve marriage equality-inclusive family code
Referendum took place amid continued government persecution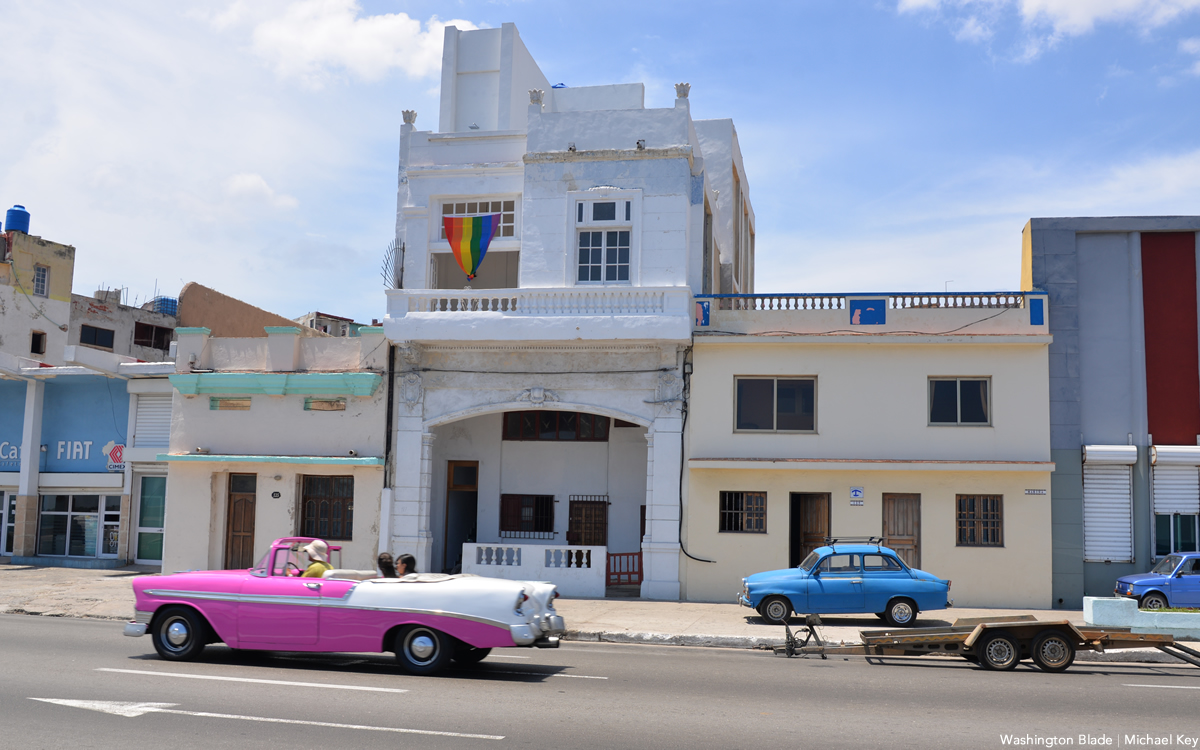 Cubans on Sunday approved a new family code that extends marriage and adoption rights to same-sex couples.
Gramna, the official newspaper of the Cuban Communist Party, on Monday reported 66.9 percent of Cubans who participated in the referendum voted in favor of the new family code.
"Sept. 25, 2022, is already a historic day," said Gramna. "The island has once again demonstrated that the revolution will never stop in its quest for more justice, independent of its adversaries. The road has never been easy, but it is very worthy."
Mariela Castro, the daughter of former President Raúl Castro who spearheads LGBTQ and intersex issues in Cuba as director of the country's National Center for Sexual Education, is among those who support the new family code. Mariela Castro on Sunday posted to her Facebook page a picture of her voting for it in Havana, the Cuban capital.
"I voted yes for Cuban families, for a socialist Cuba, for the world's most revolutionary and humanist family code, for a socialist state built upon rights and social justice that recognizes and protects all families," said Mariela Castro after she voted.
The Cuban government in the years after the 1959 revolution that brought Mariela Castro's uncle, Fidel Castro, to power, sent gay men and others to work camps. Cubans with AIDS were forcibly quarantined in state-run sanitaria until 1993.
Cuba joins Costa Rica, Colombia, Ecuador, Brazil, Argentina, Uruguay, Chile, Mexico City and several Mexican states that have extended marriage rights to same-sex couples. Puerto Rico, the U.S. Virgin Islands, Aruba, Curaçao, Bonaire, French Guiana, Guadeloupe, Martinique, St. Barthélemy, St. Martin, Sint Maarten, Sint Eustatius and Saba also have marriage equality.
Cuban government critics face harassment, arrest
Sunday's referendum took place nearly four years after Cuban voters overwhelmingly approved their country's new constitution. The government's decision to remove a marriage equality amendment that religious groups had publicly criticized sparked outrage among independent LGBTQ and intersex activists.
LGBTQ and intersex Cubans and others who publicly criticize the Cuban government also continue to face harassment, discrimination and arrest.
Maykel González Vivero, editor of Tremenda Nota, the Washington Blade's media partner in Cuba, is among the hundreds of people who were arrested during anti-government protests that took place across the country on July 11, 2021. The U.S. in 2019 granted asylum to Yariel Valdés González, a Blade contributor who suffered persecution in Cuba because he is a journalist.
Yoan de la Cruz, a gay man who used Facebook Live to livestream the first July 11 protest that took place in San Antonio de los Baños in Artemisa province. De La Cruz subsequently received a 6-year prison sentence, but he was released on house arrest in May.
Brenda Díaz, a transgender woman with HIV who participated in a July 11 protest in Güira de Melena in Artemisa province, has been sentenced to 14 years in prison. The State Department has said it is "very concerned" about Díaz's health and well-being and urged the Cuban government to release her.
Arlington candidates greet LGBTQ voters at 'Ice Cream Social'
150 turn out at home of gay bar owner Freddie Lutz
About a dozen elected officials or candidates running for public office this year in Arlington, Va. and surrounding Northern Virginia areas expressed strong support for LGBTQ rights at an event organized by the Arlington Gay & Lesbian Alliance (AGLA) that drew more than 150 LGBTQ and allied residents of Northern Virginia.
The event, billed as an Ice Cream Social, took place on Sunday, Sept. 25 at the Arlington home of Freddie Lutz, the owner of the Arlington gay bar Freddie's Beach Bar and the nearby restaurant Federico's, and Lutz's husband Johnny Cervantes. The two served as hosts for an event that appeared more like a meet-and-greet for local politicians.
Throughout the event attendees had access to unlimited free servings of ice cream from a commercial ice cream vendors truck parked in the driveway of Lutz and Cervante's house.
Among those who spoke at the event was gay Virginia State Sen. Adam Ebbin (D), whose district includes parts of Arlington, Alexandria, and Fairfax County. Ebbin, along with several of the other speakers, expressed strong opposition to Virginia Gov. Glenn Youngkin's recently proposed policy guidelines for transgender students in the state's public schools.
The proposed policy, which Youngkin says will take effect after a 30-day period of public comment, rescinds the trans supportive school policies put in place by former Gov. Ralph Northam's administration that allowed trans students to use the bathrooms, changing rooms and other facilities that match their gender identity.
Under the new policy guidelines released by the state's Department of Education, whose leaders were appointed by Youngkin, the state's 133 school districts must require transgender students to access school facilities and programs that match their biological gender. They also require teachers and school officials to inform parents if their child attempts to present as transgender in school, a development that critics say is the equivalent of "outing" trans kids in a way that could create mental health issues.
"We want to be clear that we value our transgender students," Ebbin told the gathering. "The governor is bullying and endangering students for cheap political points," he said. "And his new guidelines are in violation of not just federal court rulings but of the Virginia Human Rights Act, which explicitly states that there shall be no discrimination against transgender people, including in public schools," Ebbin said.
Others who expressed similar views along with general support for LGBTQ rights, including marriage equality, were State Sen. Barbara Favola (D-Arlington), and Virginia House of Delegates members Alfonso Lopez (D-Arlington/Fairfax Counties), Patrick Hope (D-Arlington), and Elizabeth Bennett-Parker (D-Arlington/Alexandria/Fairfax). 
Bennett-Parker defeated gay House of Delegates member Mark Levine in the June 2021 Democratic primary. Like others who spoke at the AGLA event, Bennett-Parker urged LGBTQ residents of Northern Virginia to do all they can to support state, local, and congressional Democrats in this year's election and in 2023, when the entire Virginia General Assembly is up for election.
"We need your help to make sure we maintain a commonwealth that will be safe and welcoming and inclusive towards all," she said.
Arlington County Board members Matt de Ferranti and Kattie Cristol said they and their colleagues on the Arlington Board, which serves as the county's legislative body, would continue their strong support for the LGBTQ community. De Ferranti noted that the board's recent legislative actions in support of LGBTQ rights prompted the Human Rights Campaign, the nation's largest LGBTQ rights organization, to award Arlington a 100 percent rating among municipalities nationwide on LGBTQ-related issues.
AGLA Treasurer Daniel Hays, who served as moderator for the part of the event in which the candidates or public officials spoke, said the LGBTQ group invited all candidates and elected officials representing Arlington to attend and speak at the event, including Republicans and independents as well as Democrats.
Among those who spoke were Karina Lipsman, the Republican candidate running against incumbent U.S. Rep. Don Beyer (D-Arlington), a longtime supporter of LGBTQ rights.
"I am pro-marriage equality," said Lipsman, who identified herself as "the only Ukrainian born refugee immigrant running for Congress in the entire country."
Also speaking was Matthew Hurtt, communications director for the Arlington County Republican Committee.
The LGBTQ attendees, which local activists say was reflective of the largely Democratic electorate of Arlington and Northern Virginia in general, responded with polite applause for Lipsman and Hurtt as well as for Adam Theo, a candidate for the Arlington County Board who described himself as a progressive libertarian running as an independent.
One of the final speakers was gay D.C. Advisory Neighborhood Commissioner Travis Swanson of ANC 7B03 in Ward 7, who thanked the speakers for their support of the LGBTQ community and called on those attending the event to urge their members of Congress to support D.C. statehood.
"AGLA is not endorsing any of the candidates you heard today," Hays told the gathering in closing remarks, noting that it is a nonpartisan group.
"However, what we strongly endorse is that you go out and make sure you are fully aware of what the individuals who are asking for your vote to be able to have another two years or four years or six years in office, that you know exactly what they've done or what they're going to do," he said.