House Dems: Trump's trans military ban 'unconstitutional on its face'
Lawmakers say policy would single out group for discrimination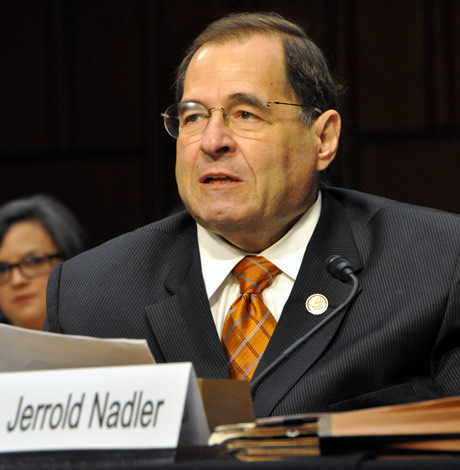 A group of 53 House Democrats is warning the Pentagon that following through with policy to implement President Trump's transgender military ban would be "unconstitutional on its face."
In a letter dated Aug. 4, Democrats on the House Armed Services and Judiciary Committees say prohibiting transgender people in the U.S. armed forces — "in any capacity" as Trump declared — won't hold up under scrutiny before the courts.
"It is abundantly clear that any effort by President Trump to ban military service by transgender individuals would not only constitute poor policy, but would be unconstitutional on its face," the letter says.
The letter was led by Rep. John Conyers, Jr. (D-Mich.), top Democrat on the House Judiciary Committee, and Rep. Adam Smith (D-Wash.), top Democrat on the House Armed Services Committee.
Among the reasons cited in the letter for why the transgender military ban would be unconstitutional is because it "categorically excludes an entire group of people from military service on the basis of a characteristic that has no relevance to their capacity to serve."
The letter also deems the proposed policy unconstitutional because it's derived from "a series of arbitrary and capriciously issued tweets," appears to be "based on a raw political calculation" and was made without consultation of congressional leaders.
Further, the letter asserts concerns about the cost of transition-related care, such as hormone therapy and gender reassignment surgery, are bogus because it accounts for "less than 1/10 of 1% of the military's annual budget."
"We believe any serious or credible review of the law and the facts in the present case make it clear that the President's proposed ban on transgender people serving in the armed forces will weaken, not strengthen our military, and is blatantly unconstitutional," the letter says.
Echoing objections in a similar letter signed by 45 U.S. senators, House Democrats urge Defense Secretary James Mattis and Chair of the Joint Chiefs of Staff Gen. Joseph Dunford to resist Trump on the transgender military ban, strongly suggesting they should defy the president on the issue.
"As the respected leaders of our brave armed service members, you have no obligation to implement a hastily considered tweet designed to serve as a 'wedge' political issue; but rather you should honor your own independent duty to support and defend the Constitution of the United States," the letter says.
Last week, Trump announced via Twitter the U.S. military "will not accept or allow" transgender people to serve "in any capacity," upending a policy change in the Obama administration allowing them to come out in the armed forces without of discharge.
But at this time, the Pentagon has yet implement to reverse the change and bar transgender people from military service. It remains if to be seen if any new policy will allow transgender people who currently in the armed forces to continue their service.
Lt. Col. Paul Haverstick, a Pentagon spokesperson, said he had no updates in response to the letter from House Democrats.
"DOD is awaiting formal guidance from the White House as a follow-up to the Commander-in-Chief's announcement on military service by transgender personnel," Haverstick said.
FBI, SEC launch investigations into alleged George Santos GoFundMe scam
Embattled N.Y. congressman stepped down from committees on Tuesday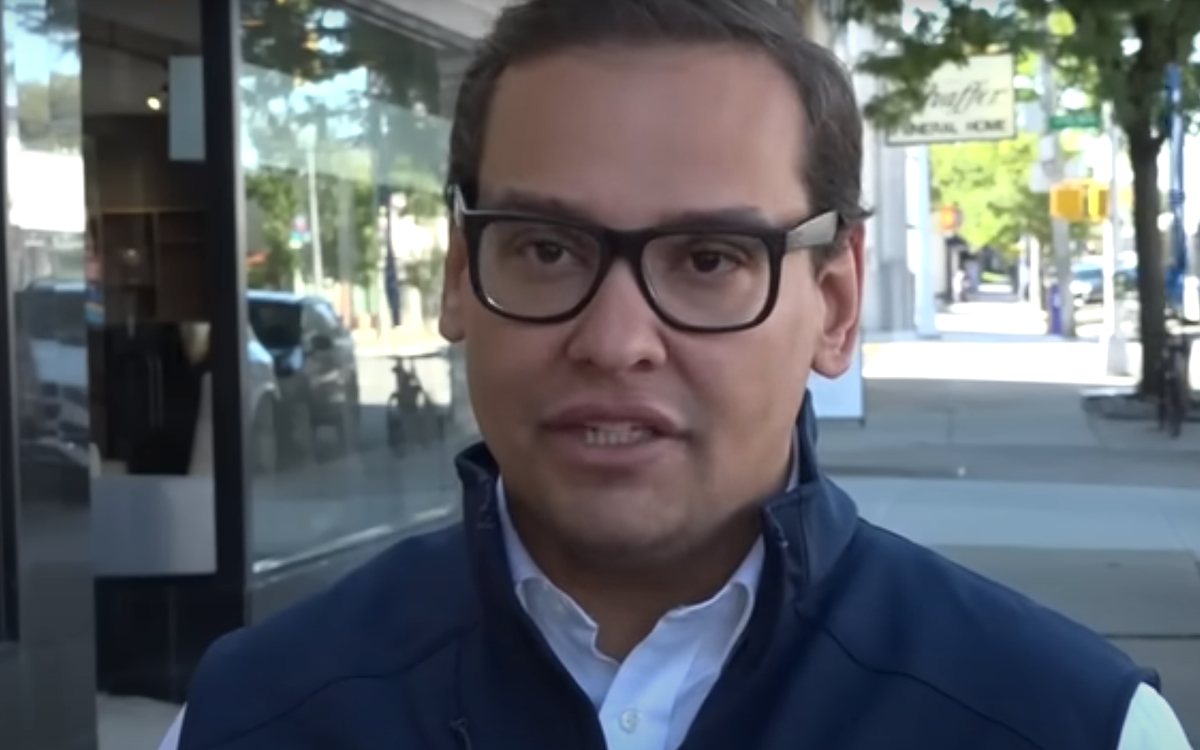 Republican U.S. Rep. George Santos (N.Y.) faces yet another law enforcement probe, this time over allegations the congressman ran a GoFundMe scam in 2016 by crowdsourcing for a U.S. Navy veteran and his cancer-stricken service dog before absconding with the money.
Politico reported on Wednesday that the veteran, Richard Osthoff, furbished text messages to FBI agents who were working on behalf of the U.S. Attorney's Office for the Eastern District of New York, which is reportedly conducting a parallel investigation into Santos' campaign finances.
The news comes a day after Santos resigned from his two committee assignments following a meeting with House Speaker Kevin McCarthy (R-Calif.) on Monday.
Meanwhile, U.S. Rep. Ritchie Torres (D-N.Y.) announced on Twitter Wednesday that he filed a complaint against Santos with the U.S. Securities and Exchange Commission "for violating federal securities law."
Torres wrote that his GOP colleague "illegally operated as a broker without a license, raising funds from unsuspecting investors for Harbor City Capitol, a 17 million dollar Ponzi scheme."
NEW: I just asked the SEC to investigate George Santos for violating federal securities law.

Mr. Santos illegally operated as a broker without a license, raising funds from unsuspecting investors for Harbor City Capitol, a 17 million dollar Ponzi Scheme. pic.twitter.com/2z4YpqhOvm

— Ritchie Torres (@RitchieTorres) February 1, 2023
Last month, Torres and fellow U.S. Rep. Dan Goldman (D-N.Y.) filed an FEC complaint against Santos over his alleged violations of campaign finance laws. And over the weekend, the Justice Department reportedly asked the FEC to yield to federal prosecutors — likely a sign that the campaign finance issues are the subject of a criminal probe.
Santos reportedly faces investigations by the Nassau County District Attorney's Office and the office of New York Attorney General Letitia James. He has been embroiled in controversy since his arrival to Washington following revelations that nearly every part of his biography and identity were complete fabrications.
Trump pledges to weaponize fed'l gov't against trans Americans if reelected
Former president's anti-trans proposals range from healthcare to education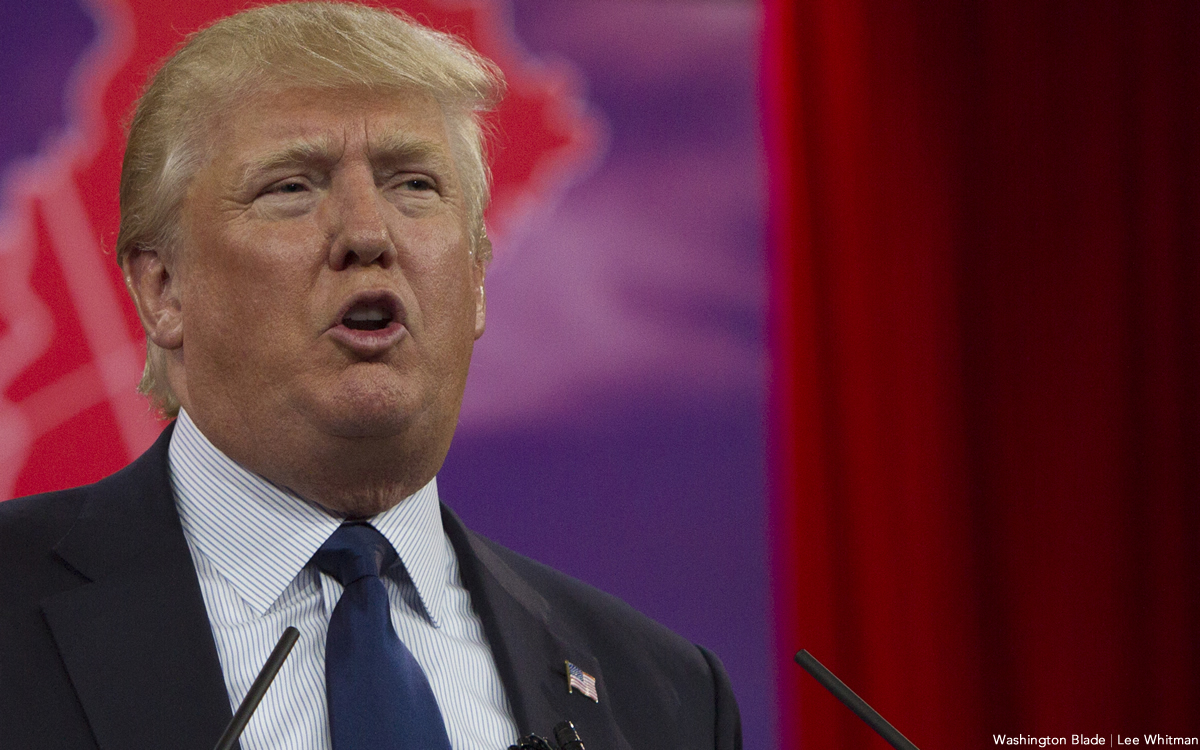 Former President Donald Trump promised to weaponize the might of the federal government against transgender Americans if voters send him back to the White House next year.
He detailed the plans in a video shared on the platform Rumble, which is popular among conservative and far-right users.
Some would restore policies enacted during his administration by executive orders that were overturned by President Joe Biden, while other proposals were more extreme or would face an unclear path to implementation because they would require acts of Congress.
Trump began by inveighing against guideline-directed medical care for the treatment of gender dysphoria in minors — practices that are approved by every major mainstream American and international scientific and medical institution with relevant clinical expertise.
"I will sign a new executive order instructing every federal agency to cease all programs that promote the concept of sex and gender transition at any age," Trump said, promising also to urge Congress to ban certain procedures for minors nationwide.
"I will declare that any hospital or healthcare provider that participates in the chemical or physical mutilation of minor youth will no longer meet federal health and safety standards for Medicaid and Medicare and will be terminated from the program immediately," the former president said, referring again to healthcare interventions whose safety and efficacy has been demonstrated in hundreds of peer reviewed studies in scientific and medical journals.
Trump also said he would create a private right of action allowing for lawsuits against doctors and healthcare providers for administering or facilitating access to treatments for trans and gender non-conforming youth.
Democrats should be studying Nicola Sturgeon and the forceful response she's given to the UK's efforts to hold back trans rights. Dismissing this fight as a distraction will only get you so far–take it head on, put your values up front, and don't hesitate. https://t.co/ZC9W2uKgIT

— Gillian Branstetter (@GBBranstetter) February 1, 2023
"The Department of Justice will investigate big pharma and the big hospital networks to determine whether they have deliberately covered up horrific long term side effects of sex transitions in order to get rich at the expense of vulnerable patients," Trump said.
The former president then looked beyond healthcare, promising to erase trans people from schools and refuse to recognize them by the U.S. government.
"My Department of Education will inform states and school districts that if any teacher or school official suggests to a child that they could be trapped in the wrong body, they will be faced with severe consequences including potential civil rights violations for sex discrimination and the elimination of federal funding," Trump said.
As part of credentialing for America's teachers, messages promoting "the nuclear family" and child-rearing by "mothers and fathers" would be required, Trump said, adding that he would ask Congress to "pass a bill establishing that the only genders recognized by the United States government are male and female and they are assigned at birth."
"The bill will also make clear," Trump said, "that Title IX prohibits men from participating in women's sports and we will protect the rights of parents from being forced to allow their minor child to assume a gender which is new and an identity without the parents' consent."
Trump concluded his message with the false assertion that gender dysphoria "was never heard of in all of human history" until "the radical left invented it just a few years ago."
George Santos to step down from committee assignments
Embattled gay Republican under pressure to resign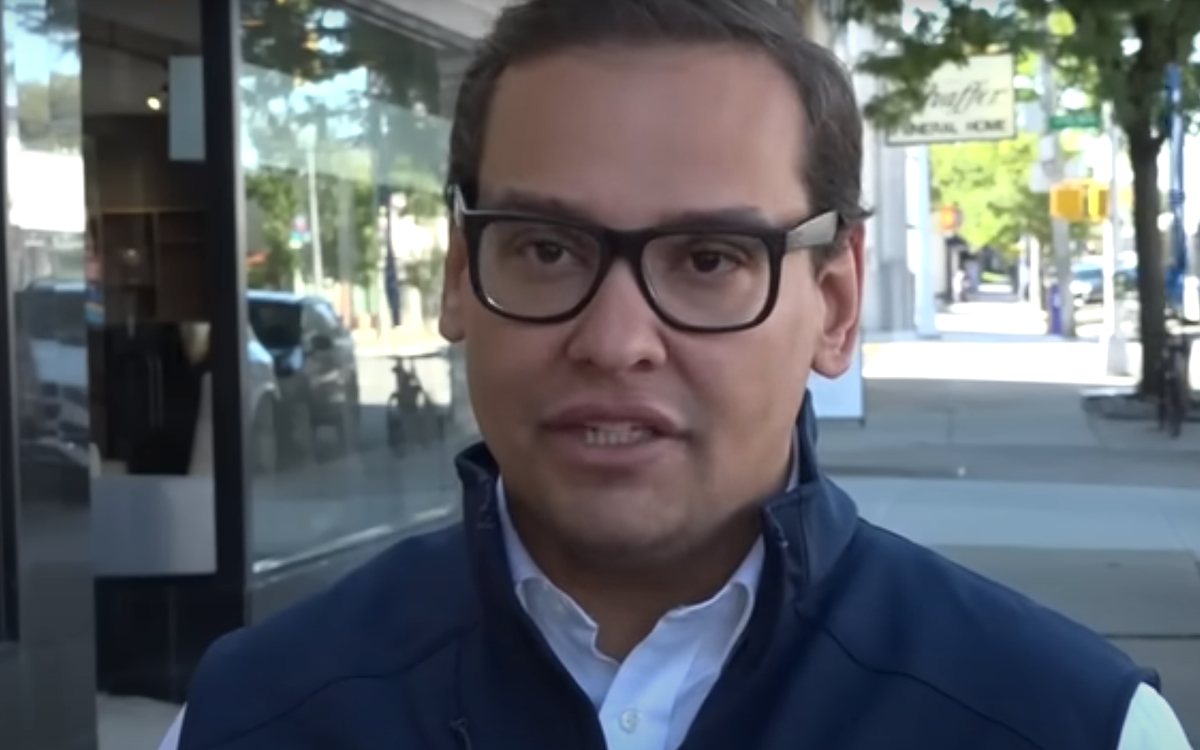 Republican Rep. George Santos (N.Y.) told House GOP colleagues on Tuesday that he will step down from his two committee assignments pending the resolution of investigations and possible law enforcement activity over his alleged financial crimes and violations of campaign finance laws.
Santos, who was appointed to the House Small Business and Science, Space and Technology Committees, neither of which are considered high profile, announced his recusal during a closed-door session following his meeting on Monday with House Speaker Kevin McCarthy (R-Calif.).
Today's news marks the first sign that the many scandals with which Santos has been enveloped since his arrival to Washington may have fractured his relationships with and support from House Republican leadership.
Over the weekend, the Justice Department reportedly asked the Federal Election Commission to yield to the federal prosecutors probing Santos' campaign finance activity, a likely signal that a criminal investigation is underway.
Santos is also the subject of a complaint filed to the House Ethics Committee as well as parallel investigations conducted by the Nassau County District Attorney's Office and the office of New York Attorney General Letitia James.
The congressman has faced calls to resign, including from members of his own party, since it was revealed last month that he had fabricated virtually every part of his identity and biography.