Barbara Cook helped us survive and thrive
Legendary singer inspired legions of LGBT fans
Some deaths make you feel as if the sky that has been there all your life has disappeared.  That's how it's been for many of us since the Tony Award-winning soprano and iconic cabaret performer Barbara Cook died Aug. 8 at age 89 from respiratory failure in Manhattan. Especially, for the LGBTQ community.
To be sure, Cook has many hetero fans. One of my earliest childhood memories is of the night in 1957 when I heard my parents humming "Till There Was You." They'd just seen Barbara Cook, who that year on Broadway originated the role of Marian the librarian in "The Music Man."  (Cook won a Tony for the role.)
As Cook was dying her friends and fellow performers, hetero and LGBTQ, flocked to her bedside to express their love and sing for her.  "We started singing and she lifted her finger up to her mouth," singer Jessica Molaskey told the New York Times, "she tapped her lips twice and I thought she was singing with us."
Yet Cook has a special resonance for the LGBTQ community. In 1985, as more of us were dying from and losing our friends to AIDS, I heard Cook perform, along with many other stars, with the New York Philharmonic in a concert version of Stephen Sondheim's "Follies."  Listening to Cook sing "In Buddy's Eyes" and "Losing My Mind," I felt as if she were singing to, for and with every LGBTQ person in the room and beyond.
Why do so many of us identify with Cook? Because like the queer community, she went through much adversity, yet after much struggle, not only survived but thrived.
Cook's career was dazzling. She received Kennedy Center Honors from president Barack Obama in 2011. Yet her magnificent success took place against a backdrop of adversity.
Cook had a childhood from hell. When she was three, Cook had whooping cough and passed it on to her sister. After her sibling died from the illness, her mother made Cook feel as if she had, as she wrote in her memoir "Then and Now," "killed my sister."
After her early stellar success, Cook's career nearly derailed as she descended into years of alcoholism. She gained huge amounts of weight. "I did a lot of good work in the theater…And then I became a drunk. I was depressed and unemployable," Cook wrote.
Yet, Cook stopped drinking in 1977. Through her professional partnership with the late pianist and arranger, Wally Harper, she staged a comeback.  She performed everywhere from the White House (in 1978) to Broadway (in 2002 in her solo act "Mostly Sondheim") to Carnegie Hall to mark her 85th birthday.
"F. Scott Fitzgerald wrote: 'there are no second acts in American lives," Cook wrote in "Then and Now." "Well, he was wrong.  That's what happened to me."
As with other female stars such as Judy Garland, Cook had a major following in the gay community, longtime Washington, D.C. gay activist Paul Kuntzler emailed the Blade. "On a Thursday evening in April 1976, Barbara did a benefit for me at the Way-Off-Broadway, a cabaret on L Street, S.E.," he wrote. "I was a candidate then for the D.C. Democratic Committee and a delegate candidate for the 1976 Democratic Convention."
Kuntzler and his late partner Stephen Miller saw Cook perform at the Café Carlyle in New York. "Barbara did benefits for the gay community early on," he told me, "she did a benefit during the Anita Bryant era when the religious right was just gearing up."
When he saw Cook's obituary in the Times, Kuntzler felt a profound sense of loss.  Garland was great, he told me in a phone interview, "but unlike Garland, Barbara survived and thrived. I can't think of any performer except Tony Bennett who performed so late into their life."
Thank you, Barbara for helping us survive and thrive. R.I.P.
Kathi Wolfe, a writer and poet, is a regular contributor to the Blade.
Pinto leads Council in working with Bowser to fight crime
We must not coddle young criminals or repeat offenders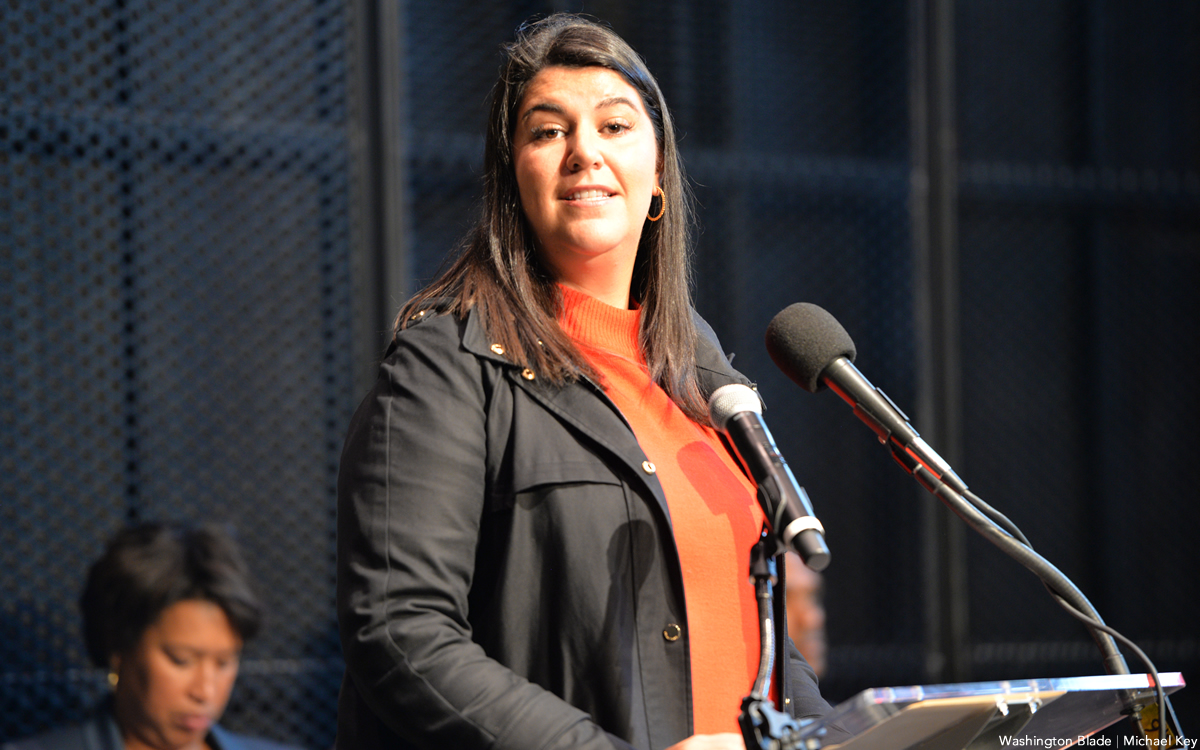 The time has come for the D.C. Council to join with Mayor Bowser and pass her crime bill on a permanent basis. Councilmember Brooke Pinto worked to pass part of it in July as emergency legislation. We must accept residents are scared. Some for good reason; others because of hyped media reporting. But the spike in crime is real, though not evenly spread across the city. Most don't know crime fell from 2021 to 2022. But it is here today, and we must do everything we can to stem it.
We can no longer coddle young criminals or repeat offenders. We can't say if only we could deal with the root causes of crime things would be OK. While we must do that, work to provide better housing, enough food, better education, and family life, let's also recognize most young people in our community, including those who deal with some of the same issues as the criminals, are not turning to crime. How they deal with the hardships they face, manage to go to school, and live productive lives, should be a focus so we learn from them. Recently the D.C. attorney general awarded the eighth annual Right Direction Awards. Thirty young people were saluted for overcoming significant challenges on their road to achievement. We need to share more of their stories.
How do they manage to stay away from guns and drugs? What allows them to succeed? It's time for the media in D.C. — the Washington Post, and TV and radio stations — to report more comprehensively on youth in the city. For every crime story reported, find a positive story to tell. There are clearly more positive stories out there. It requires more work than following the police blotter. Send reporters into schools, recreation centers, libraries, houses of worship, and they will find the good stories.
I have long advocated for working with Congress to set up internships for D.C. students in every congressional office; 535 kids a year would get experience, good connections, and a resume boost. If we are serious about this, and have a focus on our youth beyond those who commit crimes, everyone will benefit.
Council Judiciary Committee Chair Brooke Pinto introduced several bills including the The Active Act. This legislation would further beef up penalties for gun crimes, creating a new offense for illegal disposal of a gun or ammunition while a person is fleeing police. Then increasing penalties for endangerment with a firearm and firing many bullets at once. At the same time, she looks to expand alternatives to incarceration, creating a task force to examine possibilities for diversion programs to avoid jail time for nonviolent misdemeanor offenses such as drug possession. The Active Act also creates more hurdles for pretrial release in cases involving people charged with violent or dangerous offenses. It would require judges to issue written explanations if they decide to release before trial a person charged with committing a violent offense.
In response to the LGBTQ community, Pinto with Council members Christina Henderson, Robert White, Charles Allen, Vincent Gray, Matt Frumin, Janeese Lewis George, and Anita Bonds, introduced the "Transgender and Gender-Diverse Mortality and Fatality Review Committee Establishment Act of 2023." Pinto wrote, "Although data are limited, some studies suggest transgender people are "twice as likely to die as cisgender people" due to "heart disease, lung cancer, HIV-related illness and suicide," with trans women being "two times as likely to die" compared to cis men and "three times as likely" compared to cis women being disproportionately vulnerable to the aforementioned risks, as well as to violence and murder, with one in four trans women likely to be victimized by a hate-related crime." It is anticipated the information from this committee will contribute important data and analysis, and provide important resources, for the National Center for Fatality Review and Prevention and for transgender and gender-diverse people across the country informing future strategies and interventions to drive down the disparate outcomes we are currently seeing.
We must ensure the legal system is not a revolving door. That crimes committed with guns are punished seriously, and young people who commit violent crimes can be held without bail if they are ongoing serious threats to the community. Clearly, going easier on violent criminals is not working the way some hoped it would. Again, simply saying we will deal with it by getting to the root of crime will not deal with the crime we have today. It should happen, and will have an impact, but not right away, and we need to reduce crime today.
Peter Rosenstein is a longtime LGBTQ rights and Democratic Party activist. He writes regularly for the Blade.
Is anyone else sick of Cassidy Hutchinson?
Trump loyalist feted by mainstream media after belated change of heart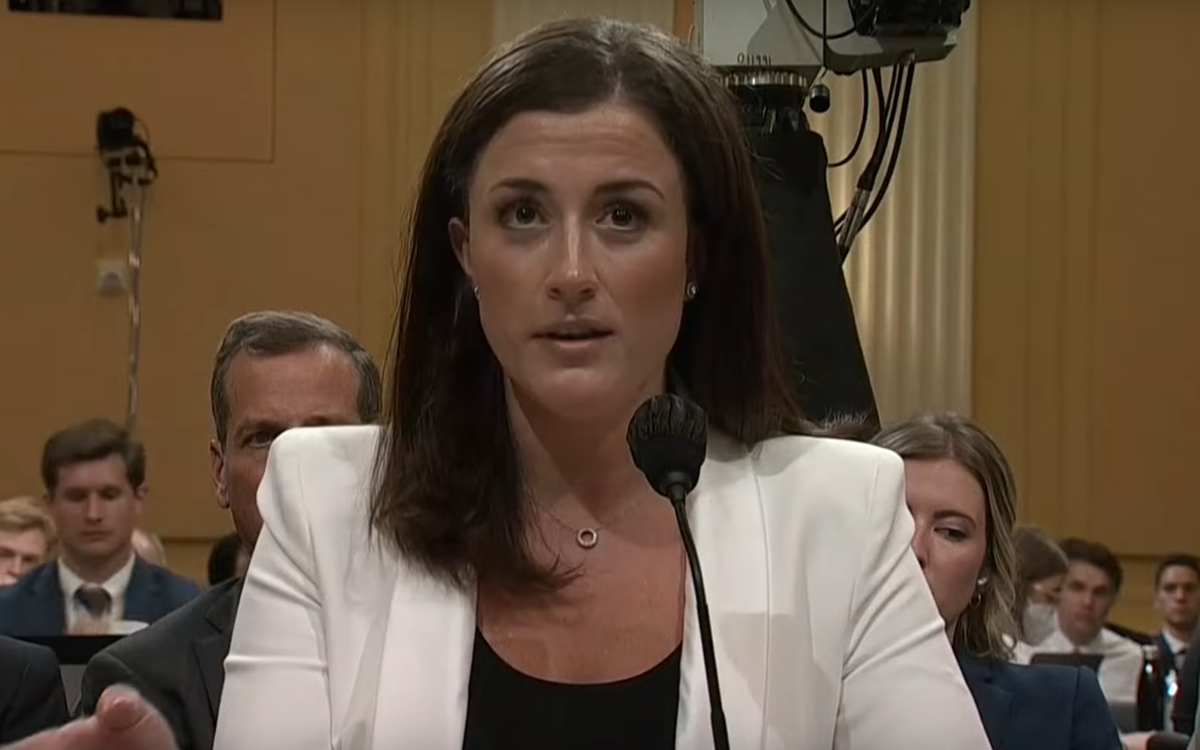 Cassidy Hutchinson, the former Trump loyalist who belatedly turned on her boss, the man she "adored," is this week's mainstream media obsession, turning up multiple times on CNN, MSNBC, NBC, "The View," and seemingly everywhere else. The only person getting more airtime this week is Taylor Swift, after urgent news broke that she's dating an NFL player. (The "Today" show led twice with that very important story this week.)
For sure, Hutchinson's testimony before the Jan. 6 committee in front of 13 million viewers took courage, given how many Trump supporters are inclined to violence against his critics.
But Hutchinson remained loyal to Trump even after the Jan. 6 insurrection and planned to move to Florida for a job with him after he left the White House on Jan. 20. She initially took the advice of Trump's attorneys to claim she didn't recall the events leading up to the attack on the Capitol.
Some of us saw Trump for what he is back in 2015: a racist criminal and pathological liar, an '80s has-been and washed-up reality show host in orange makeup and a bad wig.
Where's our party?
Easily duped people like Hutchinson helped elect Trump and then supported him throughout all the too-numerous-to-mention scandals — mocking the disabled, insulting a Gold Star family, ridiculing war heroes, siding with Neo Nazis in Charlottesville, and on and on. Not to mention a botched response to a pandemic that killed more than one million Americans. Trump refused to wear a mask (we recently learned because it smeared his extensive makeup) and poked fun at Joe Biden for wearing one.
Most of Trump's die hard supporters jumped ship after Jan. 6, but not Cassidy Hutchinson. She even told Mark Meadows that she would "take a bullet" for Trump. She told "The View" that it was a "difficult moment" to watch former White House staffers denounce Trump after Jan. 6, due to her blind loyalty to him. She resisted her own mother's pleas to abandon Trump and not move to Florida with him. She blamed Trump's advisers for his bad decisions.
It all smacks of brainwashing. Anyone who is so weak willed that they are easily manipulated by the "charms" of Donald Trump has no business anywhere near the White House. Hutchinson has demonstrated not just bad judgement, but disastrous judgement.
And now that she has a book to peddle, the mainstream media predictably line up to sing her praises and she spills all sorts of tea, from Rudy Giuliani allegedly sexually assaulting her to Mark Meadows burning White House documents in his office fireplace. She didn't follow the parade of staffers who quit after Jan. 6 and she didn't report Meadows for allegedly destroying government property. And now we're supposed to shell out $30 for her vapid book about finally seeing the light, long after the rest of the world had figured out Trump for the incorrigible threat to democracy that he represents.
Hutchinson deserves our gratitude for her Jan. 6 committee testimony. But nothing more. And the mainstream media have got to stop their practice of reckless revisionist history and praising the undeserving.
Speaker Kevin McUseless calls for Biden impeachment inquiry
Stunt will backfire on Republicans in 2024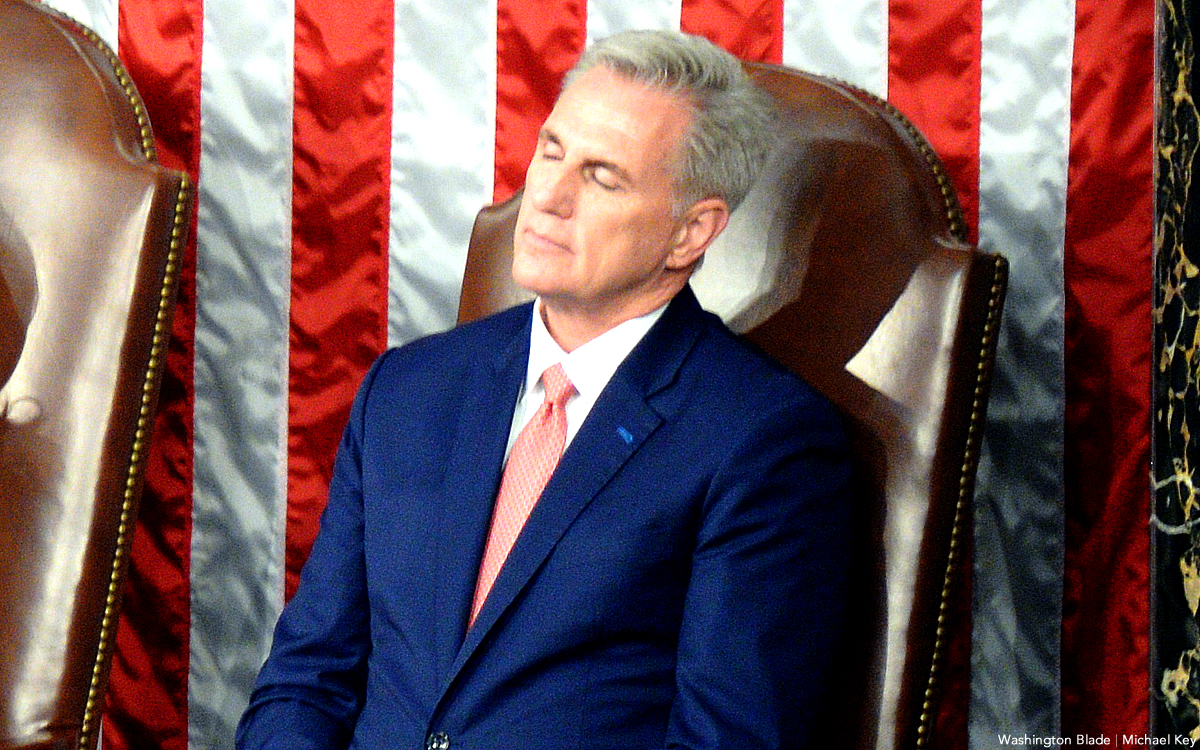 Congress has joined the world of the insane with Republicans calling to impeach any Democrat they disagree with. It is happening in Wisconsin to the new Supreme Court justice, and now lily-livered Kevin McUseless, facing threats from his MAGA members, announced an impeachment inquiry of President Biden.
He could name no reason, and in fact during the nine months of Republicans investigating Biden, they have found none. Two weeks ago, he said he wouldn't do this without a vote of the House, but moderate Republicans rightly figure this will all backfire on them, so wouldn't agree to vote for it. Meanwhile the country is waiting for House Republicans to do their job and pass a budget, which they are unable to do. The result could close the government again. That will also backfire on them, as it will hurt so many people.
So, what better time for Democrats, thinking independents, and any sane Republican left, those willing to put the country above their own party, and in the case of Liz Cheney (R-Wyo.) and Adam Kinzinger (R-Ill.), even their own reelections, to just vote all these Republican clowns out of office?
Oversight and Accountability Committee Chair James Comer (R-Ky.), who will lead the inquiry on Biden, has for the nine previous months come up with zilch — nothing meriting impeachment or even further investigation. The IRS whistleblowers' testimony he touted was contradicted by the FBI in sworn testimony. But then it isn't Comer asking for this impeachment inquiry, it is Marjorie Taylor Greene and Matt Gaetz, and the MAGAs holding McUseless hostage. Those two should be arrested for criminal behavior, charged with being an embarrassment to the country. They are joined by the likes of Lauren Boebert (R-Colo.), recently thrown out of a Denver theater for groping her boyfriend, vaping, taking pictures, and recording a show, Beetlejuice. This is today's Republican Party.
Clearly, most elected Republicans are not willing to stand up to these jokers; all afraid of the Trump cult, aka the Republican Party. They are being threatened with a primary by Trump if they do. They would lose the primary, part of the reason Sen. Mitt Romney (R-Utah) just announced he would not run again. The Trump cult controls roughly 35% of the party and you can't win without them. But Trump-supported primary winners have shown they lose general elections.
I am more confident than some in a Trump/Biden replay, Biden will win by 10 million votes this time, but not get one more electoral vote. It will again be about seven or eight states. If Republicans go ahead with this impeachment Democrats will win in 2024.
As to Hunter Biden, he should be punished for anything he did wrong, like any private citizen; whether it is not paying his taxes or lying on a gun permit application. President Biden should stop inviting Hunter to the White House, and curtail his public embrace of his son. It hasn't helped his son, and is clearly not helping his own campaign, or for that matter any other Democrat. What he does in private is his business. The president has two homes, one in Wilmington, and one in Rehoboth Beach, where he can meet with, and entertain his son. I think the president owes that to the people he is asking to support him. He owes it to the party to not put himself in positions his opponents can take advantage of. 
Joe Biden has been a public servant since he was 28 years old, starting on the New Castle County Council, in Delaware, in 1970. He ran and won his Senate seat in 1972. He has never been accused of any impropriety until the Republicans decided they could make unfounded accusations for political gain. He has shown himself a decent and honest man. A man with empathy for those less fortunate; and a president with one of the most successful administrations in modern times.
So McUseless, do your worst. Bend over for the MAGAs and get screwed. Hope it hurts. You have no balls as depicted in a recent funny meme where Barbie is shown on her knees in front of Ken, saying she finally understood; McUseless was the model for Ken.
The country will survive McUseless and the congressional Trump cult and be stronger for it. The decent people of the country will end up winning and McUseless, Marjorie Taylor Greene, Matt Gaetz, and their cronies, will be relegated to the dustbin of history with nary an asterisk to their names. If there is an asterisk it will read that they were useless, venal, and screwed up.
Peter Rosenstein is a longtime LGBTQ rights and Democratic Party activist. He writes regularly for the Blade.