Kamala Harris emerges as LGBT favorite for 2020 — there's just one thing
Rising Dem star argued against gender reassignment for inmate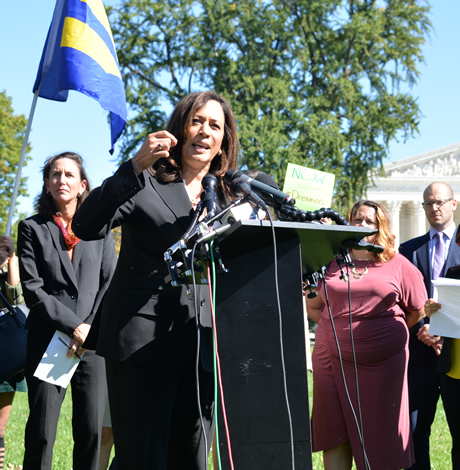 Sen. Kamala Harris (D-Calif.) was likely chosen as a featured speaker at Saturday's Human Rights Campaign National Dinner because she's quickly becoming a favorite in the LGBT community among potential 2020 Democratic presidential contenders.
To recognize her popularity among LGBT people, just find the animated picture of Harris making the rounds on Facebook at the Senate dais brushing her hair back, clasping her hands and blinking her eyes wearily as she's cut off during a Senate Intelligence Committee hearing. Also check out the widely shared video of her exchange with U.S. Attorney General Jeff Sessions about his Russian connections, which left the Trump official muttering he felt "nervous" under questioning from the U.S. Senate's only black female senator.
But a look at her LGBT record reveals one wrinkle on transgender rights that may surprise her followers and that has disappointed some trans people.
To be sure, Harris has a staunchly pro-LGBT record. As California attorney general, she declined to defend California's ban on same-sex marriage Proposition 8 in court. When the U.S. Supreme Court restored marriage equality to California, she officiated at the wedding of Kris Perry and Sandy Stier, the first same-sex wedding after the ruling, and instructed clerks to marry same-sex couples seeking a license with "no exceptions."
Also as attorney general, Harris in 2015 refused to certify a "Kill the Gays" ballot initiative proposed in California that would have (unconstitutionally) instituted the death penalty for homosexual acts. Despite a legal challenge, a federal judge agreed to relieve her of duty to prepare a title and summary for the measure before it advanced to the signature-gathering stage.
Harris also co-sponsored a bill in the California Legislature with former Assembly member Susan Bonilla to eliminate the "gay panic" defense in cases of murder or violent crime against LGBT people. Gov. Jerry Brown signed the legislation in 2014, making California, along with Illinois, one of two states in the country to ban the plea.
Upon beginning her term as a U.S. senator this year, Harris continued to advocate for LGBT rights. A co-sponsor of the Equality Act, Harris also demanded answers from the Trump administration on the decision to omit questions in the U.S. Census allowing responders to identify their sexual orientation or gender identity. The Trump administration never provided a direct response.
Harris has signed friend-of-the-court briefs arguing transgender people should be allowed to use the public restroom consistent with their gender identity. As California attorney general, she filed briefs in favor of Obama administration guidance supporting transgender students and against North Carolina's notoriously anti-LGBT House Bill 2. As a U.S. senator, she signed a brief before the U.S. Supreme Court in favor of transgender student Gavin Grimm's case.
Rick Zbur, executive director of Equality California, said Harris' record on LGBT rights in her capacities as attorney general and a U.S. senator are nothing short of "impeccable."
"We've known her since she was the DA in San Francisco, and then of course, when she as attorney general was more engaged than any attorney general has been with us in the LGBTQ community," Zbur said. "[She] really engaged with us and has a really strong commitment and understanding of our issues."
On transgender issues in particular, Zbur noted Harris as attorney general appointed last year a transgender woman of color, Mariana Marroquin, to the California Racial & Identity Profiling Advisory Board.
Harris will likely tout her record on LGBT rights during her remarks at the 21st annual Human Rights Campaign National Dinner.
But one part of her record she might avoid is her role as California attorney general in 2015 in arguing on behalf of the state to withhold gender reassignment surgery from two transgender inmates who were prescribed the procedure while serving out their sentences. Advocates have made the case that transgender inmates are entitled to receive the taxpayer-funded procedure because denying them medical treatment amounts to cruel and unusual punishment — a clear violation of the Eighth Amendment of the U.S. Constitution.
One case involved Shiloh Quine, who's serving a term of life for first-degree murder, kidnapping and robbery. The other case involved Michelle-Lael Norsworthy, who was serving time in prison in Mule Creek State Prison in Ione, Calif., for second-degree murder. Both were prescribed gender reassignment surgery, but the California Department of Corrections & Rehabilitation refused to provide the procedure.
The process of the Norsworthy case was quite public as it proceeded through litigation. Although U.S. District Judge Jon Tigar ordered California to grant Norsworthy gender reassignment surgery, Harris in her capacity as attorney general appealed the decision to the U.S. Ninth Circuit Court of Appeals and fought to reverse the decision.
One 29-page brief in the case, signed by Harris, urges a stay on the court order for Norsworthy because the hormone treatment the inmate receives is sufficient — at least for the time being.
"The core of Ms. Norsworthy's complaint is that Defendants have not provided the particular treatment she wants sex-reassignment surgery and unspecified 'additional treatment,'" Harris writes. "But the Constitution 'does not guarantee to a prisoner the treatment of his choice.' The Eighth Amendment requires that an inmate be afforded 'reasonable measures to meet a substantial risk of serious harm to her,' not that she be given the specific care she demands. The 'essential test is one of medical necessity and not one simply of desirability.'"
Ultimately, both the Norsworthy and Quine cases resulted in settlements. Norsworthy reached an agreement with the state in which she obtained parole. As a result, she was able to obtain surgery through Medi-Cal, a state health care system in California. In the Quine case, the state agreed to grant her gender reassignment surgery as well as clothing and items consistent with her gender identity. The California Department of Corrections & Rehabilitation also agreed to review and revise its policies writ large for transgender inmates and medical treatment, including gender reassignment surgery.
But Harris' actions in the Norsworthy case have inspired consternation in the transgender community and on Twitter, including from Chelsea Manning, who fought to receive gender reassignment surgery though litigation during her time in prison after the Army initially denied it to her. (A Washington Blade article on Harris' brief against the court order is among the paper's top 10 trafficked stories this year — the only story not from 2017 to hold that distinction.)
Zbur said criticism of Harris' role in the litigation, however, is "really misplaced" because as attorney general she was compelled to represent the position of her client, which in this case was the California Department of Corrections & Rehabilitation.
"As a lawyer for the government, she was constrained in what she could publicly say and do and her client was making decisions, but with us she really working hard to understand the issue, providing information, and I think she was a big part of the resolution, which resulted in the really significant policy changes that were implemented by the Department of Corrections when she was attorney general," Zbur said.
But the argument Harris was compelled to fight the court order granting gender reassignment surgery to an inmate because that was her responsibility as attorney general raises the question on how she got out of similar duties in an effort to uphold LGBT rights. If Harris could get out of defending Proposition 8 or certifying the "Kill the Gays" initiative, why couldn't she also opt out of litigation seeking to bar transition-related care to a transgender inmate?
Zbur said the difference between the transgender inmate litigation and the other two situations was that in the former, Harris had a specific client, namely, the California Department of Corrections & Rehabilitation.
"When you have a client, you basically have ethical duties to represent the client's interest," Zbur said. "You take direction from the client. And so, she did really have constraints in terms of what she could do, but I think the bottom line is that during that period of time, she was working hand-in-hand with us on a process that resulted in changing the policies at the Department of Corrections, and that's a really significant thing."
At the time Harris engaged in the litigation in 2015, Jon Davidson, legal director for Lambda Legal, said the attorney general's actions were her own choice.
"Even where the decision is made to defend an unconstitutional practice, there's nothing that dictates the tactics of that defense, particularly once a court has found there are likely ongoing constitutional violations," Davidson said. "The choice to appeal a preliminary court order and to seek to delay its implementation is just that — a choice. It's also a very unfortunate one, given that what is at stake here is potentially life-saving treatment that is widely recognized as medically necessary for some people suffering from gender dysphoria."
It seems the cases weren't on Harris' radar, even though her name is on each of the legal briefs, until much later in the process of litigation.
Nathan Barankin, who's chief of staff for Harris and served as her deputy attorney general, said around 1,100 attorneys are working on cases like these and Harris wasn't personally aware or involved in the litigation until a later time.
"She did learn about our office's involvement in this case by reading about it in the newspaper," Barankin said. "Her reaction to the way the case was being litigated was to work very closely with all of the parties involved to reach what we consider a successful conclusion, which was a permanent change in state prison policy on the treatment of transgender inmates."
Two years later after the settlements were reached, Lambda Legal struck a different tone on Harris' handling of the lawsuit.
Peter Renn, a senior attorney in the Western Regional Office of Lambda Legal who works on transgender cases, said the situation changed in the lawsuits as Harris became more involved in the litigation.
"The California AG's office shifted its handling of these cases significantly after now-Sen. Harris took over," Renn said. "Initially there was language in briefing for the state that glaringly misunderstood the medical necessity of transition-related medical care and was patently offensive. But then, there was a dramatic change, which seems to have gone along with important policy shifts."
Supporters of Harris point to the settlements that were reached in the cases as evidence that her role was productive for transgender rights. After all, those agreements created precedent in the state and new policy ensuring transgender people in California prisons can receive gender reassignment surgery.
But not everyone agrees with that assessment.
Amanda Goad, a California attorney who works on transgender issues and identifies as queer, said in a personal capacity calling the settlements in the Quine case an LGBT rights achievement for Harris "does not make sense."
"Her client CDCR could have updated its policies and made gender-confirming surgery available to incarcerated folks long before it did so under the pressure of a trial court loss in the Quine case," Goad said. "Harris has done other things that do seem to me to belong under the banner of LGBTQ champion. … Settling a lawsuit that the state was losing — and never should have defended in the first place — just doesn't fit the bill."
In her capacity as staff attorney for the American Civil Liberties Union of Southern California, Goad said the policy changes the California Department of Corrections & Rehabilitation promised aren't being implemented.
"Recent data shows that of the many prisoners who have applied to undergo gender-confirming surgery under the new policy, zero trans women beyond Shiloh Quine herself have actually undergone surgery. (Two men have undergone top surgery.)," Goad said. "Dozens have been denied, and I get letters every week from women extremely upset about their inability to access surgical care."
Goad also complained about the state continuing to fight transgender prisoners' access to clothing consistent with their gender identity as well as harassment, sexual assaults and violence endured by transgender women in prison.
That mistreatment, Goad said, is something Harris could address through encouraging enforcement of the Prison Rape Elimination Act and other actions.
"She has a great platform from which to speak out about the broader issues of violence, discrimination, and harassment endured by transgender women of color both inside and outside prison and propose constructive approaches for addressing those problems and their structural causes," Goad said.
Major transgender rights advocates said the inclusion in Harris' LGBT record of seeking to deny gender reassignment surgery to transgender inmates was unfortunate — but also urged LGBT people to look at the bigger picture.
Jillian Weiss, executive director of the Transgender Legal Defense & Education Fund, said Harris' defense of the state in the litigation contrasts with her otherwise pro-LGBT record.
"Sen. Harris has a positive record as a champion of gay and lesbian rights, and that is commendable," Weiss said. "It is unfortunate that her record also includes having argued that gender confirmation surgery was not a medical necessity for a transgender woman despite a psychological assessment to the contrary. While some public sentiment leans against providing necessary medical services for transgender people who are incarcerated, our Constitution recognizes that denying such vital health care is cruel and unusual punishment. It is our hope that Sen. Harris will learn more about transgender medicine and its importance to trans people."
(Harris isn't the only potential 2020 Democratic presidential candidate with an unfriendly record on gender reassignment surgery for transgender inmates. In a 2012 radio interview, then-U.S. Senate candidate Elizabeth Warren said when asked about granting the procedure to an inmate in Massachusetts, "I have to say, I don't think it's a good use of taxpayer dollars." Warren has never corrected that position even as litigation seeking the procedure for the inmate, Michelle Kosilek, proceeded through the courts. Ultimately, the First Circuit ruled against Kosilek, setting binding precedent in that jurisdiction.)
Mara Keisling, executive director of the National Center for Transgender Equality, took an even more lenient approach to Harris' action on the lawsuit and said her organization would work with her on issues of transition-related care for transgender prisoners.
"Sen. Harris has long been a friend of LGBT people and our causes," Keisling said. "Notwithstanding her one-time defense of an indefensible and unconstitutional state prison position on trans healthcare, she is now a senator and is very likely to continue being a vote and voice for trans people in the U.S. Senate. She has shown this recently in support of Gavin Grimm and trans service members. I am certain when I first meet her, we will discuss her position in the prison case, and she will continue to grow and continue to support us better and better."
Lizzo makes $50K donation to Marsha P. Johnson Institute
Singer is vocal LGBTQ ally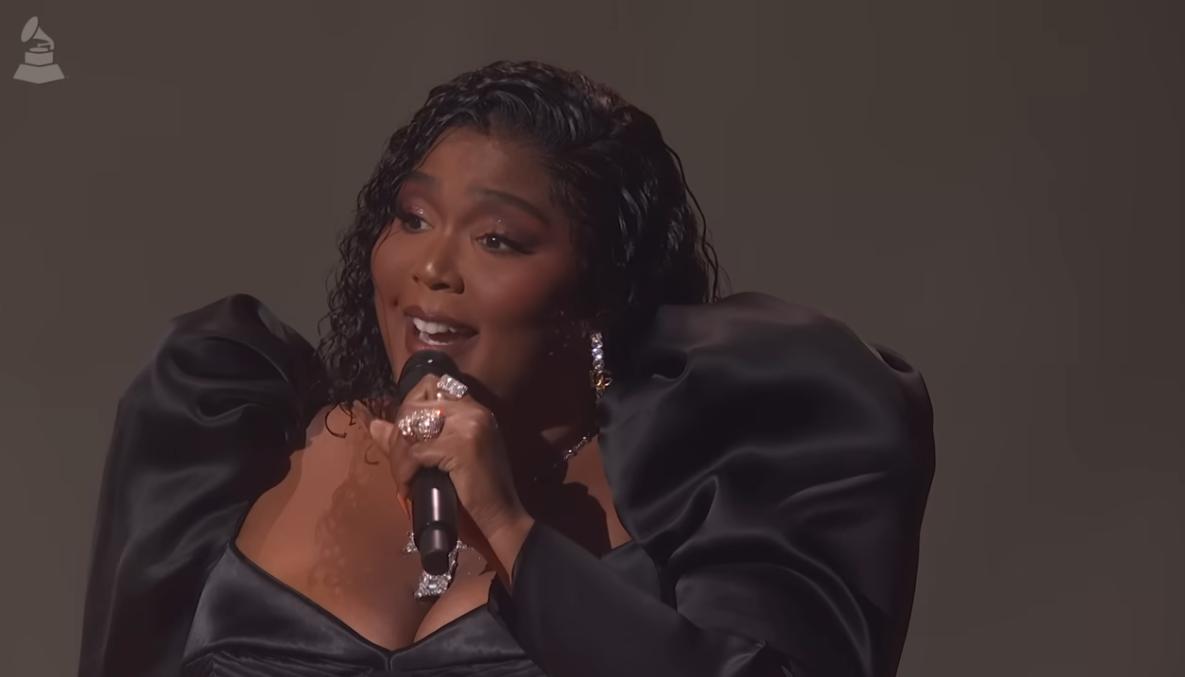 When Lizzo sings "If I'm shinin,' everybody gonna shine," in her hit song, "Juice," she means it. Proof of that came this week on Instagram when the LGBTQ ally announced the first winner of her annual Juneteenth Giveback Campaign is the Marsha P. Johnson Institute, a national nonprofit based in Richmond, Calif., dedicated to the protection and defense of Black transgender people.
And she did so in song: "On the first day of Juneteenth, Lizzo gave to me," she sang in her video, posted Tuesday, as she revealed her $50,000 gift to MPJI.
"That's right, we know who Marsha P. Johnson is. We know what Marsha P. Johnson has done for the LGBTQ, emphasis on that 'T,' Q community," said Lizzo to her 13.5 million followers. "Thank you so much to the people at the Marsha P. Johnson Institute. You deserve this, and I hope this helps you so much as you help protect our Black trans family."
"What the Marsha P. Johnson Institute does is protects and defends the rights of Black transgender people. They do this by organizing community, advocating for the people, and creating an intentional healing community, developing transformative leadership and promoting collective power," she said.
"We are overjoyed for the shoutout from Lizzo today, the generosity of her sharing her platform and the recognition of MPJI and its work," said Elle Moxley, MPJI's executive director. "The resources from this campaign will ensure the protection and defense of Black transgender people continue at a time where it is so vitally needed. We are so grateful for the support of Lizzo and her fans."
As one of Time Magazine's Persons of the Year for 2019 and a 2023 Grammy winner, Lizzo is more than a pop star but an inspiration to millions of fans for her body-positive attitude, her self-confidence on stage and in her videos, her empowering music and her activism. She's also the founder of her own clothing line, Yitty. In 2021, she made headlines when she publicly corrected a paparazzo for using "she/her" pronouns and misgendering Demi Levato.
As part of her campaign, now in its 4th year, Lizzo recognizes Black-led grassroots organizations and businesses and encourages her fans to join her in supporting each of the five organizations she highlights this week. Fans who take action by donating are entered into a drawing for an all-expenses paid trip to see her perform at Fuji Rock in Japan later this year.
This week's other nonprofits receiving gifts are: Black Girls Smile, Sphinx Music, the University of Houston and Save Our Sisters United.
Find out more about Lizzo's 4th annual Juneteenth Giveback Campaign by clicking here.
Anne Heche dies after removal from life support
Actress dated Ellen DeGeneres in late 1990s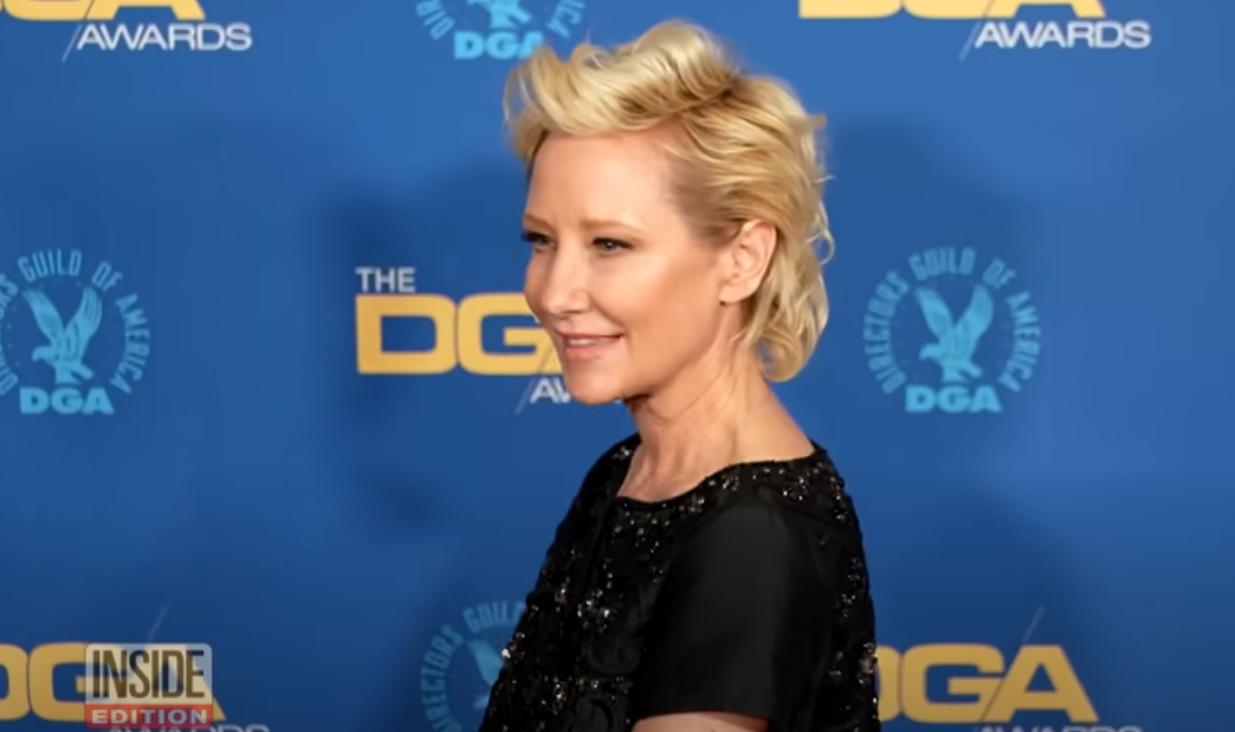 Actress Anne Heche died after she was removed from life support on Sunday, nearly two weeks after her Mini-Cooper crashed through a two-story house in Los Angeles' Mar Vista neighborhood. Investigators with the Los Angeles Police Department believe she was intoxicated at the time.
She sustained a severe anoxic brain injury along with severe burns and was being treated at the Grossman Burn Center at West Hills Hospital, near Chatsworth in the San Fernando Valley.
The 53-year-old actress who was a star of films like "Donnie Brasco," the political satire "Wag the Dog" and the 1998 remake of "Psycho," had been declared legally dead under California law on Friday, however, her family kept her alive long enough to be an organ donor.
In a statement Friday, the LAPD announced that: "As of today, there will be no further investigative efforts made in this case. Any information or records that have been requested prior to this turn of events will still be collected as they arrive as a matter of formalities and included in the overall case. When a person suspected of a crime expires, we do not present for filing consideration." LAPD detectives had previously made public that investigators into the crash found narcotics in a blood sample taken from Heche.
The actress's family released a statement on Friday:
"Today we lost a bright light, a kind and most joyful soul, a loving mother, and a loyal friend. Anne will be deeply missed but she lives on through her beautiful sons, her iconic body of work, and her passionate advocacy. Her bravery for always standing in her truth, spreading her message of love and acceptance, will continue to have a lasting impact," the statement added.
Heche was married to camera operator Coleman Laffoon from 2001 to 2009. The two had a son, Homer, together. She had another son, named Atlas, during a relationship with actor James Tupper, her co-star on the TV series "Men In Trees."
Laffoon left a moving tribute on an Instagram reel in which he also gave an update on how their 20-year-old son Homer Laffoon is coping with the loss of his mother.
"I loved her and I miss her, and I'm always going to," he said adding: "Homer is okay. He's grieving, of course, and it's rough. It's really rough, as probably anybody can imagine. But he's surrounded by family and he's strong, and he's gonna be okay."
"Rest In Peace, Mom, I love you, Homer," the actor's 20-year-old son, Homer, said in a statement after Heche was declared legally dead on Friday." My brother Atlas and I lost our Mom," read the statement. "After six days of almost unbelievable emotional swings, I am left with a deep, wordless sadness. Hopefully, my mom is free from pain and beginning to explore what I like to imagine as her eternal freedom. Over those six days, thousands of friends, family, and fans made their hearts known to me. I am grateful for their love, as I am for the support of my Dad, Coley, and my stepmom Alexi who continue to be my rock during this time. Rest In Peace Mom, I love you, Homer."
Tupper, a Canadian actor who starred alongside Heche in "Men in Trees," had a 13-year-old son, Atlas, with her. "Love you forever," Tupper, 57, wrote on his Instagram post's caption with a broken heart emoji, which shared an image of the actress from Men in Trees.
Between 1997 and 2000, Heche was also in a relationship with talk show host Ellen DeGeneres.
"This is a sad day," DeGeneres posted on Twitter. "I'm sending Anne's children, family and friends all of my love." The year after her break-up with the comedian, in September 2001, Heche recounted in her memoir "Call Me Crazy," about her lifelong struggles with mental health and a childhood of abuse.
KTLA's entertainment reporter Sam Rubin noted that over the past two decades, Heche's career pivoted several times. In 2017, she hosted a weekly radio show on SiriusXM with Jason Ellis called "Love and Heche."
In 2020, Heche made her way into the podcast world. She launched "Better Together" which she cohosted alongside Heather Duffy Boylston. The show was described as a way to celebrate friendship.
She also worked in smaller films, on Broadway, and on TV shows. She recently had recurring roles on the network series "Chicago P.D.," and "All Rise" and was a contestant on "Dancing with the Stars."
People magazine reported that several of Heche's acting projects are expected to be released posthumously.
These include "Girl in Room 13," expected to be released on Lifetime in September, "What Remains," scheduled to be released in 2023, and HBO Max TV series "The Idol," created by Abel Tesfaye (The Weeknd) and Euphoria creator Sam Levinson.
In her Instagram post from earlier this year Heche stands between her sons Atlas, 13 and Homer, 20.
From KTLA:
'Star Trek' actress Nichelle Nichols dies at 89
George Takei tweets 'we lived long and prospered together'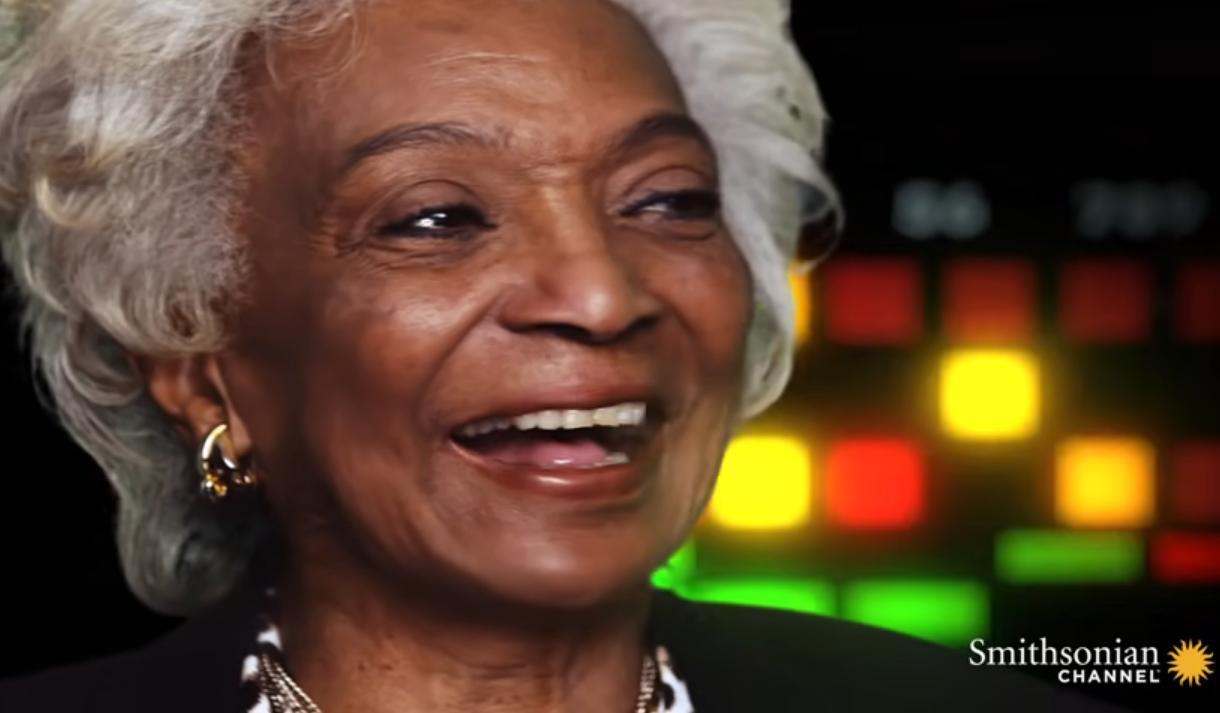 She was a groundbreaking cultural icon who broke barriers in a time of societal upheaval and battling for the civil rights of Black Americans. An actress, a mother and thoroughly devoted to the legions of fans of "Star Trek," Nichelle Nichols, Star Trek's Lt. Nyota Uhura, has died at 89.
The announcement on her Facebook page by her son read:
Sunday, July 31, 2022
Friends, Fans, Colleagues, World
I regret to inform you that a great light in the firmament no longer shines for us as it has for so many years.
Last night, my mother, Nichelle Nichols, succumbed to natural causes and passed away. Her light however, like the ancient galaxies now being seen for the first time, will remain for us and future generations to enjoy, learn from, and draw inspiration.
Hers was a life well lived and as such a model for us all.
I, and the rest of our family, would appreciate your patience and forbearance as we grieve her loss until we can recover sufficiently to speak further. Her services will be for family members and the closest of her friends and we request that her and our privacy be respected.
Live Long and Prosper,
Kyle Johnson
Nichols was born in Robbins, Ill., in 1932, according to her IMDb page. Legendary composer Duke Ellington "discovered" Nichols and helped her become a singer and dancer. She later turned to acting, and joined Gene Roddenberry's "Star Trek," where she played Uhura from 1966 to 1969.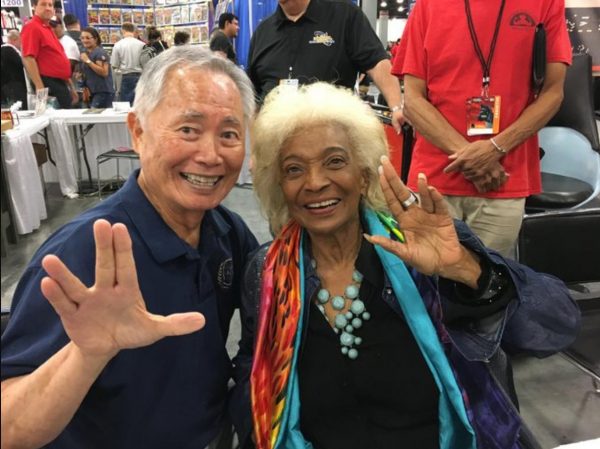 It was in that role of Uhura that Nichols not only broke barriers between races, most famously her onscreen kiss, the first between a Black person and a white person, with castmate William Shatner, who played Capt. James T. Kirk, but she also became a role model for young Black women and men inspiring them to seek out their own places in science, technology, and other human endeavors.
In numerous interviews over the years Nichols often recalled how the Rev. Martin Luther King, Jr., was a fan of the show and praised her role and personally encouraged her to stay with the series.
When the first series ended Nichols went on to become a spokesperson for NASA, where she "helped recruit and inspire a new generation of fearless astronauts." She later reprised her role in several successful "Star Trek" films and continued to advocate for the advancement of Black Americans especially in the areas of science and technology.
We celebrate the life of Nichelle Nichols, Star Trek actor, trailblazer, and role model, who symbolized to so many what was possible. She partnered with us to recruit some of the first women and minority astronauts, and inspired generations to reach for the stars. pic.twitter.com/pmQaKDb5zw

— NASA (@NASA) July 31, 2022
Formerly a NASA deputy administrator, Frederick Gregory, now 81, told the Associated Press he once saw an advertisement in which Nichols said "I want you to apply for the NASA program."
"She was talking to me," he recounted. The U.S. Air Force pilot would apply and later become the first African American shuttle pilot.
President Joe Biden weighed in Sunday afternoon on her passing in a statement issued by the White House:
"In Nichelle Nichols, our nation has lost a trailblazer of stage and screen who redefined what is possible for Black Americans and women.

A daughter of a working-class family from Illinois, she first honed her craft as an actor and singer in Chicago before touring the country and the world performing with the likes of Duke Ellington and giving life to the words of James Baldwin.

During the height of the Civil Rights Movement, she shattered stereotypes to become the first Black woman to act in a major role on a primetime television show with her groundbreaking portrayal of Lt. Uhura in the original Star Trek. With a defining dignity and authority, she helped tell a central story that reimagined scientific pursuits and discoveries. And she continued this legacy by going on to work with NASA to empower generations of Americans from every background to reach for the stars and beyond.

Our nation is forever indebted to inspiring artists like Nichelle Nichols, who show us a future where unity, dignity, and respect are cornerstones of every society."
Nichols son said that services will be private for family members and her closest friends.
In 2008 the actress at a news conference, coordinated by the filmmakers of the motion picture "TRU LOVED," in honor of the more than 900 students at Los Angeles' Miguel Contreras Learning Complex's School of Social Justice who participated in the GLSEN Day of Silence.
Nichelle Nichols speaks on LGBTQ rights:
Her fellow castmate and life long friend, openly Out actor George Takei shared his sadness on hearing of Nichols' passing on Twitter:
We lived long and prospered together. pic.twitter.com/MgLjOeZ98X

— George Takei (@GeorgeTakei) July 31, 2022
From the September 2016 edition of the Smithsonian Channel: "Star Trek's decision to cast Nichelle Nichols, an African American woman, as major character on the show was an almost unheard-of move in 1966. But for black women all over the country, it redefined the notions of what was possible."
Star Trek's Nichelle Nichols on Uhura's Radical Impact: