All Stars spotlight: D.C. Aquatics offers team camaraderie however members ID
Local swimmers say water kept beckoning despite varied life circumstances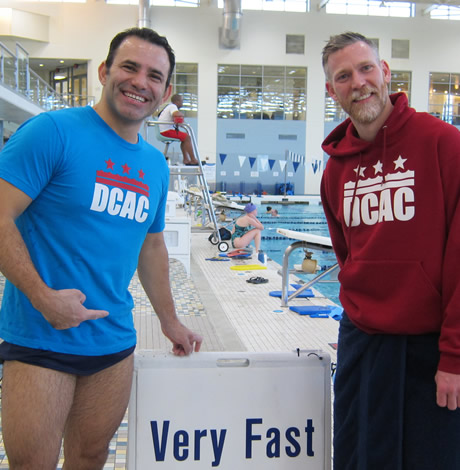 D.C. newbies often don't realize our local LGBT sports leagues are equally welcoming to straight folks and varied skill levels.
D.C. Aquatics members Dana Connors, who's gay, and Julian Caballero, straight, are perfect examples.
Boasting everything from beginning swimmers to Olympians, D.C. Aquatics is a dynamic team that offers structured, coached practices year around, six days a week. The coaching staff guides the swimmers on their path to either fitness or competition in U.S. Masters Swimming.
Team captain Connors describes his childhood in Corkscrew, Fla., as the typical gay kid story. He was not athletic and always felt different from other kids. He found exhilaration from horse training and learning to jump with horses at his grandmother's house in Cape Cod.
At his brother's urging, he joined the cross country team in high school and became addicted to daily running. That led to him completing a few triathlons before he graduated. In the years that followed, his life has taken him all over the world with sports being a constant companion.
"My sports journey was born out of ignorance, propelled by addiction and maintained by a desire for health and fitness," Connors says. "It's not about competition. Sports fuels my spiritual, mental and physical health. One of the things I love about D.C. Aquatics is that we are a mix of people who don't have the same end goals."
Connors spent four years at the University of Florida on the triathlon team where his coach encouraged him to sign up for U.S. Masters Swimming. After college were stints in France and Holland where he completed marathons, continued to swim and went to grad school. The Fulbright Program next took him to Korea.
He eventually landed a job with a biotech company in Annapolis before moving to the Shenandoah Valley where he started a bluegrass band. Connors had been playing all along with orchestras and symphonies, but his proficiencies in violin, fiddle, mandolin and guitar led him to the banjo.
The first thing that he did when he moved to D.C. in 2012 was to join D.C. Aquatics. He now works at the Foundation for the National Institutes of Health where he runs a biomarker and cancer portfolio. He also plays locally in the band the October Sessions.
While he competes a few times a year with D.C. Aquatics, Connors likes to focus on other aspects of what sports mean to him.
"Masters swimming does a great job of getting all types of people into the water together. I have trained in the same lane as Olympians, but also with swimmers who are just getting started," Connors says. "I have very few friends who are not on this team. These swimmers are my teammates, my family and my friends."
Finding out what a sport really means to you happens when work commitments and life in general prevent you from pursuing it. Julian Caballero has stopped and started swimming multiple times and in each instance, was drawn back into the sport.
Growing up in Bogotá, Colombia meant that soccer was the overwhelming sport of choice for most children. Caballero played through his youth and then switched over to karate before swim lessons led to competitive swimming at 13.
Economic reasons ended his competitive swimming, but he picked it up again on the club team while attending the Universidad Nacional de Colombia. After completing his master's degree, he was left with no options for competitive swimming. There were no spaces in Bogotá for adults to swim.
An internship with Inter-American Development Bank brought him to D.C. in 2003. He had studied English but had to start taking night classes to improve his skills. Once again, swimming was put on hold.
Caballero left D.C. to pursue his Ph.D. in economics at University of California, Santa Cruz and found himself in a swimming hotbed.
"I started swimming with a masters team there and it was outdoor training, all year long," Caballero says. "I had been running and going to the gym all along, but swimming is different. I realized how much I was missing it."
He returned to the D.C. area with his wife in 2011 to work as the lead economist for IDB Invest who provide funding to private enterprises in Latin America. His new job and married life in Arlington kept him from finding a team that worked with his schedule. He fit in lap swimming on his own whenever he could and completed a couple triathlons.
In 2017 he experienced a change in his personal life. Divorced and with too much time on his hands, he moved back into D.C. and started looking for a swim team.
"I tried a couple practices with D.C. Aquatics because they had the best schedule and locations for me. I knew they were LGBT-based, but they were very welcoming," Caballero says. "Being on a team is something I really love. It's more fun and a chance to meet people who will motivate me."
Caballero has not competed in eight years but is open to returning. These days his main motivation is fitness and relaxation.
"I find solutions to things while I am swimming and it helps me to disconnect from life," Caballero says. "Everything is better when I am in the pool. Outside of work, the people I see the most in my life are my teammates."
Carl Nassib returns to Tampa
Former Las Vegas Raiders defensive end came out as gay in June 2021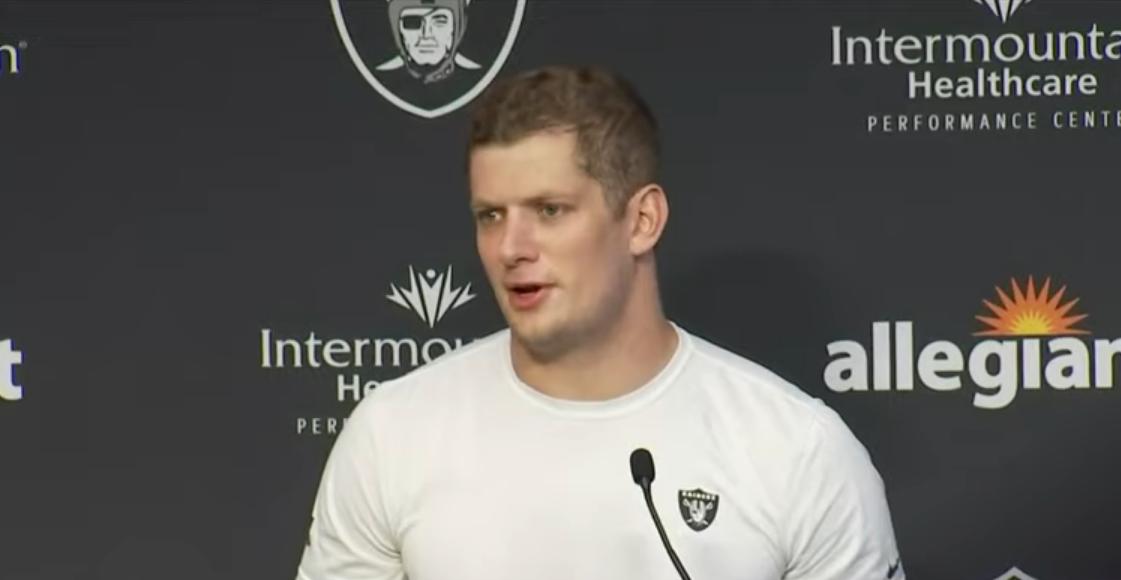 Carl Nassib, who made headlines in June 2021 when he became the NFL's first out gay active player, reportedly has signed a one-year contract with his former team, the Tampa Bay Buccaneers.
The 29-year-old defensive end was released by the Las Vegas Raiders in March, and became a free agent. NFL sources said that was due to his contracted salary amount — $7.75 million — and not any reflection on his sexual orientation.
ESPN's Adam Schefter broke the news with a tweet.
Buccaneers reached agreement on a one-year deal with former Raiders' DE Carl Nassib, per source.

— Adam Schefter (@AdamSchefter) August 15, 2022
When Nassib came out last summer, he announced he was donating $100,000 to the Trevor Project, and for Pride Month this year he made a new pledge to help LGBTQ youth. He promised to match donations to the Trevor Project, dollar for dollar, up to $100,000.
Will Buccaneers quarterback Tom Brady welcome Nassib?
As Outsports reported, he's never made any comments about playing with someone gay. Brady's former New England Patriots teammate Ryan O'Callaghan recalled that before he came out in 2017, following his retirement, there was one time that he missed the team bus and Brady gave him a ride in his car to that day's practice.
O'Callaghan told Outsports he believes Brady would have "absolutely" accepted him if he had come out at that time.
"Being married to a super model I'm sure he's met a few gay people in his life," said O'Callaghan.
Brady wed Brazilian fashion model Gisele Bündchen in 2009.
Legendary Boston sports columnist Steve Buckley of the Athletic came out as gay in 2011 while at the Boston Herald. He told Outsports that Brady has always been friendly and cooperative, even after Buckley came out.
This is the second time around at Raymond James Stadium for Nassib. He played for the Buccaneers for two seasons prior to joining the Raiders in 2020. His NFL career began in 2016 with the Cleveland Browns.
As Jason Owens reported for Yahoo! Sports, Nassib was far more productive in Tampa as a part-time starter, recording 6.5 sacks in 2018 and six sacks in 2019. The NFL's website shows he played just 242 defensive snaps and earned 1.5 sacks last season.
In 86 games including 37 starts, Nassib's recorded 22 career sacks, 164 tackles, 53 quarterback hits and four forced fumbles.
In addition to Brady, Nassib's new teammates are Akiem Hicks and William Gholston at defensive end and outside linebackers Shaquil Barrett and Joe Tryon-Shoyinka. Given that the Buccaneers finished seventh in the NFL in sacks last season with 47, Nassib will be expected to improve Tampa Bay's chances when their season begins on Sept. 11 in Dallas.
Federal judge temporarily blocks anti-trans youth sports law in Indiana
The injunction requires that A.M., a 10 -year-old trans girl, must be allowed to rejoin her school's all-girls softball team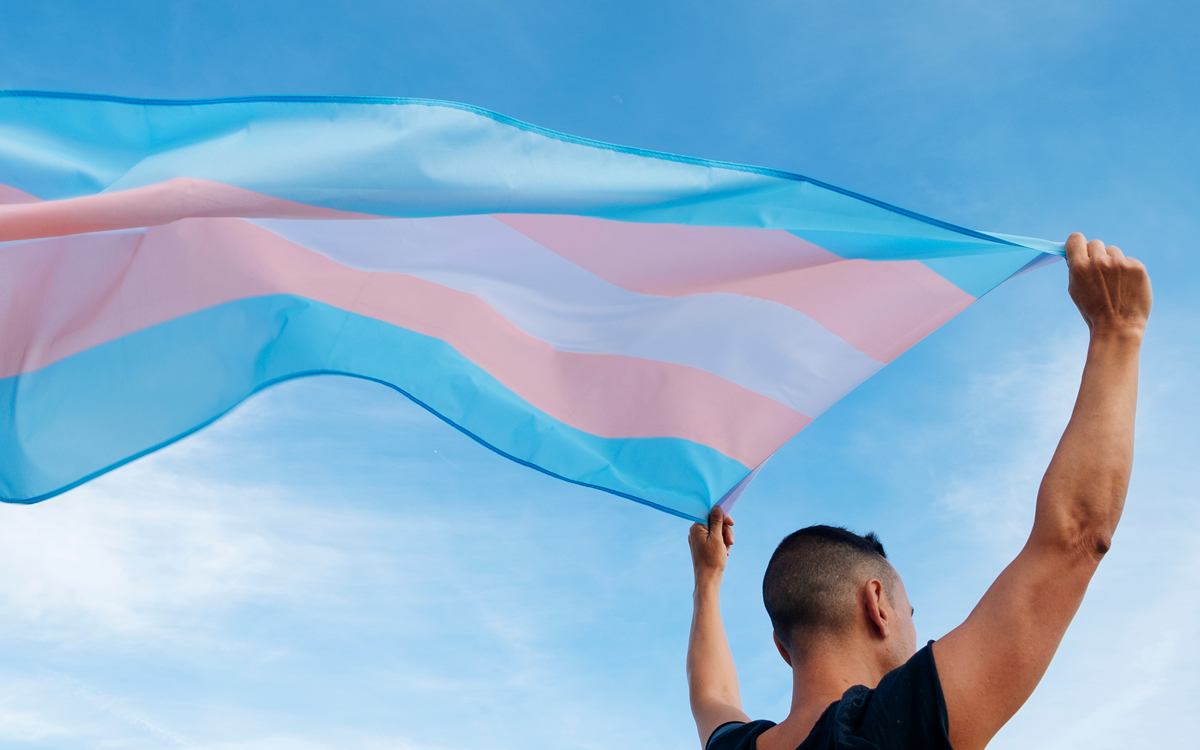 On Tuesday Judge Jane Magnus-Stinson of the United States District Court for the Southern District of Indiana issued an preliminary injunction that blocked an Indiana law that prevents trans youth from playing on sports teams that match their gender identity.
The injunction requires that A.M., a 10 -year-old trans girl, must be allowed to rejoin her school's all-girls softball team while litigation continues.
The American Civil Liberties Union of Indiana filed a lawsuit in April, on behalf of A.M., challenging House Enrolled Act 1041, which bans transgender girls from participating in school sports.
Ken Falk, legal director at the ACLU of Indiana, issued the following statement:
"When misinformation about biology and gender is used to bar transgender girls from school sports it amounts to the same form of sex discrimination that has long been prohibited under Title IX, a law that protects all students – including trans people – on the basis of sex.
"We are pleased that Judge Magnus-Stinson has recognized this and required that A.M. be allowed to play on her school's softball team.
"If other students are being denied the right to join a sports team at their school due to their transgender status, we encourage them to contact the ACLU of Indiana immediately."
This past May, the Indiana Legislature had voted to overturn Republican Governor Eric Holcomb's March veto of HB 1041, a measure that bans transgender girls from competing on girls' K-12 sports teams in the state.
The vote to override the veto means that this law makes Indiana the 8th state to ban trans youth from playing sports in 2022 by legislative action — and the 16th in the country.
In his veto message sent to House Speaker Todd Huston's office, Holcomb said the bill presumed a problem already existed that required the state to intervene and it implied the goals of consistency and fairness in girls' sports were not being met.
"After thorough review, I find no evidence to support either claim even if I support the overall goal," Holcomb wrote.
"Governor Holcomb was the second governor this year to uphold the dignity of transgender and nonbinary youth, and veto an attempt by lawmakers to write them out of existence. While those young people continue to face unrelenting political attacks, the Indiana legislature voted to override his act of courage and compassion, pushing these marginalized youth even further to the sidelines," said Sam Ames, Director of Advocacy and Government Affairs at The Trevor Project.
"This bill claimed to solve a problem of 'fairness' in school sports in Indiana that didn't exist, but its negative impacts on the mental health and well-being of trans and nonbinary youth — young people who already face disproportionate rates of bullying, depression, and suicide — are very real. To the young people in Indiana watching tonight: you are stronger than they know. We are here for you, we will fight for you, and we are not going anywhere."
DC Commanders notch Pride Bowl victory
Local teams 'overcome some difficulties' to score wins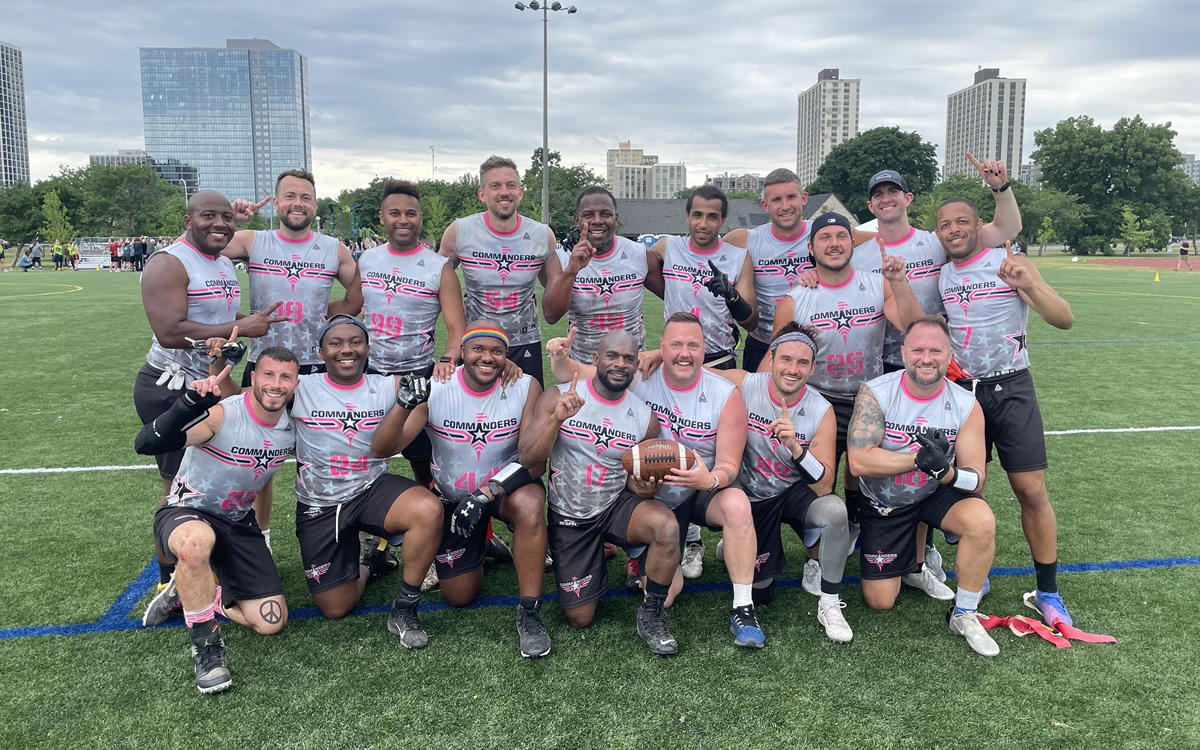 Pride Bowl XIV was contested in Chicago in late June drawing more than 800 players from across the country. The annual tournament featured 32 teams in the Open Division and 12 teams in the Women's Division.
For the DC Gay Flag Football League (DCGFFL) travel teams, it marked their second tournament of the year having previously competed in the Florida Sunshine Cup XI in February.
The DCGFFL sent five travel teams consisting of more than 80 athletes to Chicago – three teams in the Open Division and two teams in the Women's Division.
Each team was guaranteed four games in bracket play with the winners moving on to the semifinals. The DC Admirals, Washington Generals, DC Commanders, and DC Senators Black all advanced to compete in the final four.
The DC Commanders would go on to win their championship game 8-0, defeating the Austin Capitals in the Open B2 Bracket. They scored early in the game and held off their opponent over two 30-minute halves in a tough defensive battle.
Three players from the DCGFFL travel teams were selected to the Pride Bowl All-Tournament Team – Drew Crane of the Washington Generals, Matan Showstack of the DC Commanders, and Derrick Johnson of the Washington Generals.
Clay Arnold has been on the DC Commanders' travel team for six years and has captained since 2018. This year will mark the first full travel season post-COVID for the players who will also be traveling to Honolulu for Gay Bowl XXII in October.
"We have overcome some difficulties to get back to taking the majority of our players to tournaments, including securing enough money to pay for jerseys," says Arnold. "The Commanders brought five players who had never traveled and it's great having new talent."
There was a special meaning for Arnold in the win, as it brought reflections of his teammate, John Boyd, who passed in 2020.
"We played on the same field where John threw his first touchdown pass as a quarterback," Arnold says. "It was a great punctuation mark, and I was joyous for many reasons."
Arnold points to the travel experience as a tight-knit community filled with amazing people, lifelong friends, and an elevated level of competition.
"Several years ago we didn't compete well and ended up skipping the closing events to lick our wounds at a local dive bar in Chicago," Arnold says. "We have returned to that same bar every year and are welcomed with open arms. Sharing that quality time with your teammates and the next generation of players is what keeps me coming back."
Nikki Kasparek founded the DCGFFL's first women's travel team, DC Senators, in 2014 with Gay Bowl XIV being their first tournament.
Pride Bowl marked another first for the players as two DCGFFL women's travel teams competed in the tournament – DC Senators Black and DC Senators Red.
"It was exciting having a second team there and it gave us a built-in cheering section," says Kasparek. "The group of women on our second team energized all of us and everyone put in significant playing time. The Red team was captained by two veterans and the rest of the players were all rookies."
The DCGFFL has experienced significant growth in women's players over the past two seasons with 35 women currently playing in the leagues.
Kasparek, who has a wife and two kids at home, says she is very tied to the Senators and the DCGFFL and is excited about all of the new players.
"I am incredibly competitive and the DCGFFL leagues and travel tournaments allow me to scratch that itch," Kasparek says. "I am going to enjoy all of it – the friendships, the seasons, the tournaments, the moments – until I can't flex that muscle anymore."
Along with the increase in women's players, the DCGFFL has picked up over 100 new players in the past two seasons. Logan Dawson was recently elected as the new commissioner and also played for the Commanders at Pride Bowl.
"Traveling is a great opportunity to bond with your teammates and compete with the best players from all the cities in attendance," says Dawson. "It is a higher level of competition than our league play and offers our players an experience that will improve their skill set."
The DCGFFL has been using the DC Commanders name for many years and have no plans to change it because of the recent name change of the NFL's Washington Commanders.
"We like the connection and for the first time ever, members of the DC Commanders and the DCGFFL marched side-by-side with members of the Washington Commanders' organization in the Capital Pride parade this year," Dawson says. "We will also have interaction with them at their Pride Night this September."
Registration is now open for Season XXIII of the DCGFFL. Coming up for their travel teams are Beach Bowl 2022 and Gay Bowl XXII.