July 26, 2018 at 8:20 am EDT | by Peter Rosenstein
Noose tightens around Trump's White House
The noose around the White House is slowly tightening and President Trump will be left hanging in the wind. It's like two forces are pulling on the ends of the rope. One is Vladimir Putin who clearly has something he is holding over Trump's head; the other is Special Counsel Robert Mueller who is getting closer to a series of indictments that will most likely include at least one of Trump's children, some of his campaign staff, and maybe even Trump himself.
In the meantime the country continues to reel from the actions of this deranged president and his administration, some of whom are enablers and others like Dan Coats, director of National Intelligence (DNI) and James Mattis, secretary of defense, trying desperately to hold on to some form of sanity.
I was never a fan of Coats (R-Ind.) when he was a senator but you had to laugh with, or cry for him, when during a recent interview with Andrea Mitchell he was blindsided by the president. As the highest-ranking member of the nation's intelligence community he was telling Mitchell about not knowing all that Trump was doing but actually making excuses for him. Then the president's communications lackey Sarah Huckabee-Sanders tweeted Trump had asked John Bolton to extend an invitation for Putin to visit the White House. When Mitchell interrupted the interview to tell Coats his response was "Say that again?" and he laughed. "Vladimir Putin, coming to the…" Mitchell reiterated." "Did I hear you, did I hear you?" Coats said. "Yeah, yeah," Mitchell answered. "OK," Coats said, "That's going to be special." This has to be classic.
Now we find Moscow claiming all sorts of agreements were reached in Helsinki by Trump and Putin, some on Syria totally contradicting stated U.S. foreign policy. Any question as to whether the Republican Congress would have the guts to stand up to Trump were quickly answered with a resounding no. It is clear Majority Leader Mitch McConnell (R-Ken.) and Speaker Ryan (R-Wisc.) don't have the stomach or the guts to stand up to the despot in the White House.
Trying to change the topic, McConnell chastised Democrats for wanting to hold up the latest Supreme Court nominee suggesting voters wouldn't stand for that. This from the man who wouldn't hold a hearing on President Obama's nominee to the court. But in fact the voters stood for it then and didn't punish the Senate for that in 2016. In a juxtaposition of interests voters can still hold the Senate responsible for that in 2018 if Democrats and independents come out in record numbers and tell McConnell they will no longer accept his outrageous hypocrisy.
My fear is Democrats will once again fight among ourselves and by their votes for a third party or not voting at all will display a huge lack of understanding of how the Congress works. They will fight over labels like Democratic Socialist, moderate, progressive and liberal. Some have called for a vote against Alexandra Ocasio-Cortez in New York because she labels herself a Democratic Socialist and stands with Bernie Sanders. This would be like cutting off your nose to spite your face. In reality there is only one vote of hers that is crucial and that's her vote for a Democratic Speaker of the House, which she has committed to do. Beyond that as a freshman member of Congress she will have zero impact; similar to the impact Bernie Sanders had when he was in the House.
We need to unite every segment of the broad tent that has always been the Democratic Party. I remember when Rep. Bella Abzug (D-N.Y.) was called a communist and people said she shouldn't be elected. Then she formed an amazing friendship with Speaker Tip O'Neill who named her a whip in her third term in the House.
It is time to educate our electorate on how the Congress works. We must begin that in middle school or before if we are now talking about letting 16 year olds vote. Like it or not there are only two parties with the chance to control the Congress, Democrats or Republicans. The party that controls each house, the Senate and the House of Representatives, gets to name committee chairs and appoint committee members. By having the votes they set the agenda and determine which bills come to the floor. For those who want to see the Congress resume its place as an equal and independent branch of government that means Democrats need at least 51 senators and 218 representatives. That will give them control of both houses of Congress and the ability to stop Trump from inflicting more damage on the nation and the world.
Peter Rosenstein is a longtime LGBT rights and Democratic Party activist. He writes regularly for the Blade.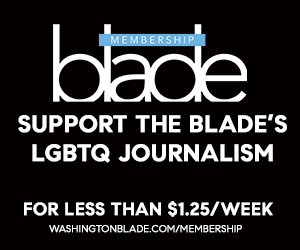 Sign Up for Blade eBlasts