FALL ARTS 2018 BOOKS: rans themes front and center in many fall '18 books
'Black Queer Hoe,' 'Rise of Genderqueer' among anticipated titles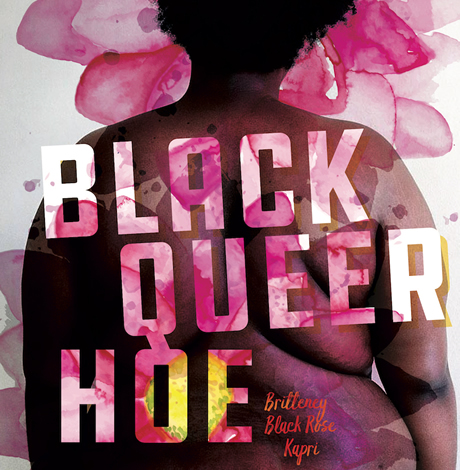 EVENTS
The 23rd annual Baltimore Book Festival takes place at Baltimore's Inner Harbor Sept. 28-30 from 11 a.m.-7 p.m. The festival will feature hundreds of local and national authors speaking on 11 stages throughout the festival, including several LGBT contributors.
On Saturday (Sept. 29) at 3 p.m. at the Radical Bookfair Pavilion, Charlene A. Carruthers, a black queer feminist activist and author, presents her new book "Unapologetic: A Black, Queer and Feminist Mandate for Radical Movements," exploring how (and why) to make the black liberation movement more radical, queer and feminist. Later that day at 5 p.m. at Science Fiction and Fantasy, a panel of LGBT authors will discuss the integration of queer folks in science fiction writing and the role queer voices play in the genre. The festival is free and open to the public. For more information, including a full schedule of events and a map, visit baltimorebookfestival.com.
This year's Fall for the Book festival takes place Oct. 10-13 at George Mason University (10:30 a.m.-7:30 p.m.; 4400 University Dr., Fairfax, Va.). Now in its 20th year, the festival seeks to connect readers with authors and encourage cultural growth through reading.
In addition to nationally renowned politician and civil rights leader John Lewis, there are many noteworthy activists and authors lined up, including several representatives from the LGBT world. Sandy Allen, a non-binary trans writer, speaker and teacher, will participate in a panel on "Writing Through Identity" with three other essayists whose work all focus on exploration of identity (Oct. 12, 6-7:15 p.m.). Eithne Luibhéid, professor of gender and women's studies at the University of Arizona, will also give a talk on "Sexualities, Intimacies and Queer Migration," dissecting the intersection between immigration and queerness (Oct. 10, 4:30 p.m.). The event is free and open to the public. For more details and a full schedule of events, visit fallforthebook2018.org.
RELEASES
In her powerful debut, "Black Queer Hoe" (Haymarket Books, Sept. 4), Chicago performance poet and playwright Britteney Black Rose Kapri wrestles with questions about sexual freedom and sexual exploitation in a world where black queer women are frequently denied basic rights to bodily autonomy. Kapri is refreshingly unapologetic and provides crucial insights and perspective into many conversations currently playing out across the country surrounding race, gender, sexuality and power. 
In his new poetry collection, "The Rise of Genderqueer" (Brain Mill Press, Sept. 4), Wren Hanks challenges  assumptions about gender, dismantling the status quo from every angle. A trans writer from Texas, his poems are raw and authentic and create a space for his extraordinary voice.
Akemi Dawn Bowman's new novel "Summer Bird Blue" (Simon Pulse, Sept. 11) tells the story of Rumi Seto, a mixed race teen suffering from the tragedy of losing her sister while simultaneously attempting to understand her own identity as asexual. A raw story about loss, grief and identity, "Summer Bird Blue" is a powerful read that sheds light on the strength and perseverance of humanity.
If you love graphic novels, Tillie Walden's "On a Sunbeam" (First Second, Oct. 2) is a must read. Set in the deepest reaches of space, "On a Sunbeam" is an epic graphic novel that takes the reader on one girl's journey of falling in love at boarding school then losing everything. A story of love and second chances, Walden beautifully writes and illustrates what one critic has called "her best work yet" in this fall's release.
If you have a young person in your life, "Jack (Not Jackie)" (little bee books, Oct. 9) is a wonderful gift idea. In this moving picture book, Erica Silverman tells the story of a big sister who realizes her little sister Jackie may not in fact be her sister at all. Jackie doesn't like to wear dresses or have long hair and wants to be called Jack instead.
Author of acclaimed fiction "Simon vs. the Homo Sapiens Agenda" Becky Albertalli alongside Adam Silvera release their new young-adult romance "What If It's Us" this October (HarperTeen, Oct. 9). Ben has just broken up with his boyfriend when Arthur moves to New York City for the summer to work on Broadway. Although Ben is heartbroken and not interested in starting a new relationship, when he meets Arthur at the post office, he's forced to reconsider. "What If It's Us" is a story of fate and trying to figure out what exactly the universe has in store for us.
Lambda Award Winner Julia Watts releases her latest young-adult novel, "QUIVER" (Three Rooms Press, Oct. 16), this fall. Set in rural Tennessee, it tells of a friendship between two teenagers on opposite sides of today's culture wars. Libby comes from a strict evangelical family while her new neighbor Zo is a gender fluid feminist, socialist (and of course vegetarian), and yet despite their differences, they are drawn to each other and connect instantly.
Creator of Amazon's "Transparent" Jill Soloway is finally releasing her powerful memoir "She Wants It: Desire, Power and Toppling the Patriarchy" (Crown Archetype, Oct. 16), which reveals her personal journey from a straight, married mother of two to a queer and nonbinary activist. Her memoir deconstructs the harmful dominant narratives still shaping our society, challenging the status quo and encouraging the reader to think critically about issues from consent and #metoo to gender and inclusion.
If you love poetry, Mary Lambert's new collection "Shame Is an Ocean I Swim Across" (Feiwel & Friends, Oct. 23) should definitely be added to your fall reading list. A writer and LGBT activist, Lambert is also a songwriter and collaborated with Macklemore and Ryan Lewis to create the Grammy-nominated queer anthem "Same Love." The poems in her new collection tackle issues of sexual assault, mental illness and body acceptance.
In "The Autobiography of a Transgender Scientist" (Mit Press, Oct. 23) Ben Barres, esteemed neurobiologist at Stanford University, tells the story of his life from his gender transition to his scientific work and finally his advocacy for gender equity in the sciences. This book, completed shortly before his death in 2017, explores his experience as a female student at MIT in the 1970s and his transition from female to male in his 40s alongside fascinating accounts of his scientific accomplishments.
If you enjoyed "Simon vs. the Homo Sapiens Agenda," Kheryn Callender's new book "This is kind of an epic love story" (HarperCollins, Oct. 30) may be up your alley. After losing his father and watching too many relationships in his life fall apart, Nathan Bird no longer believes in happy endings. However all that changes when he realizes his true feelings for his best friend from childhood, Oliver. Can Nathan set aside his anxieties and pursue his own happy ending?
Set in Washington, Robin Talley's "Pulp" (Harlequin Teen, Nov. 13) tells of two queer women across generations, one from the 1950s and another from present day. The first narrative follows 18-year-old Janet as she struggles to keep her queer identity a secret and finds solace in literature during the age of McCarthyism. The second follows Abby Zimet who can't stop thinking about her senior project on 1950s lesbian pulp fiction and her ever-growing connection with the authors and works she's reading. Talley's dual narrative novel weaves the stories of two girls across six decades, connected by words, bravery and their desire to push society forward. 
Trans activist Brynn Tannehill walks readers through transgender issues and dismantles harmful misconceptions in her new book "Everything you every wanted to know about trans* (but were too afraid to ask)" (Jessica Kingsley Publishers, Nov. 21). Her book will open your eyes and leave you prepared to engage in critical conversations around transgender folks and most importantly, be a better ally to the trans community.   
In "Not just a tomboy: a trans masculine memoir" (Jessica Kingsley, Nov. 21), Caspar J. Baldwin recounts his own gender exploration from the 1990s to present day, arguing that even though progress has been made in the last two decades, there is still a lot of work to be done regarding trans activism and acceptance. This book serves as both a support for trans men currently struggling to accept their identities and live with their bodies and an informative glimpse for non-trans folks into one trans man's experience.
Drew Pisarra's 'dangerously funny and queerly inventive brain'
'You're Pretty Gay' shatters expectations and social mores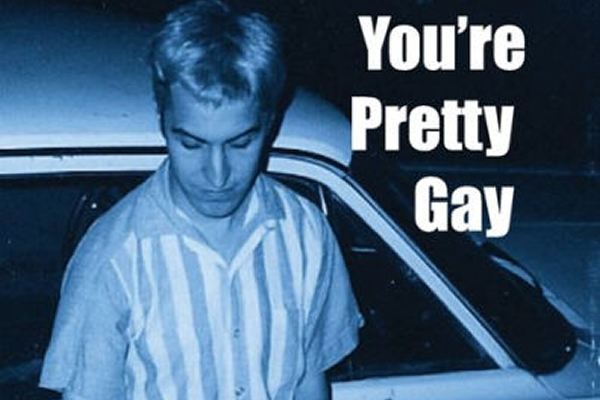 Is there anything more absurd than this, wondered gay poet and writer Drew Pisarra. Pisarra, then, was an assistant to a paralegal at a toothpaste company.
Fiercely protective of the pattern on its toothpaste, they wrote letters to rivals who, they felt, were infringing on their copyright.
Even when their competitors were in countries in the middle of a civil war, "They would write back, 'we can't respond now, we're in a war,'" Pisarra said.
But that didn't soften the heart of the toothpaste company. They'd insist that "this most important matter be dealt with as soon as the war ends," Pisarra said.
If you think that authors don't encounter the absurdity and grit of everyday life or that all writers do is drink coffee (or sip stronger libations) while looking at the sunset, you haven't met Pisarra.
Pisarra, 56, whose new short story collection "You're Pretty Gay" is just out from Chaffinch Press, has worked at everything from ventriloquism to domestic work.
The word "unique" is so hackneyed that it's a cliche to say it's a cliche. But there's no other way to describe "You're Pretty Gay."
This collection "is a prime example of Drew Pisarra's dangerously funny and queerly inventive brain," said Kevin Sampsell, author of "This Is Between Us." "Each story is its own performance, its own shattering of expectations and social mores."
Pisarra, who lives in Manhattan, gives readers a mosaic of wit, surrealism, sex, queerness, memory, mortality and self-discovery.
In "You're Pretty Gay," there are gay bars in New York and New Orleans.
You'll find everything from adolescent bullies fighting over a rare caterpillar to a character taking an AIDS test and, later, meeting up with Mrs. Claus.
"Mrs. Claus I didn't even know you were alive," says the narrator of "Arctic Chill." "I didn't even know you were real. I haven't received a gift from you or your husband in ten years."
Another of Pisarra's tales revolves around a trip to hell. "I love traveling," says the narrator of "The Hat from Hell, "I got this hat when I was in Hell back in 1992."
In "Granny," siblings gather after their mother's death. "All anyone could remember of her was that chair, how she sat in it for the last 40 years," Pisarra writes, "immobile as 'Jeopardy' and the 'Wheel of Fortune' glared at her night after night."
Pisarra's characters yearn to find love, sex, and who they really are.
"In my quest to bed mankind, I tended to avoid perfection's rejection," says the narrator of "Every Man for Myself."
Pisarra, whose first short story collection "Publick Spanking" was published in 1996, was born in Orange, N.J. When he was in the third grade, he moved to Maryland. There, except for living in Oxon Hill for a year, he grew up in Silver Spring.
When Pisarra was growing up, being gay wasn't even remotely on the horizon. "There was such denial in the culture then," Pisarra said.
From early on, he had feelings for men. "I had a crush on a boy in kindergarten," Pisarra said.
He consulted books and a priest, which wasn't helpful. They said he'd grow out of it.
"As a teenager, I recognized that I hadn't outgrown it," Pisarra said.
Pisarra was a college freshman when he came out. "I sobbed the night I came out," he said.
He was out in college, Pisarra said, "but I wasn't getting laid." That changed when he moved to New Orleans after college.
Pisarra graduated from Hofstra University in 1987 with a bachelor's degree in theater.
In college, a professor had the students sit in a circle. Then, the teacher told them how she thought they'd be cast.
"She told me, 'you're a grotesque,'"Pisarra said, "'You won't work until you're in your fifties. Because your face and body don't match.'"
Pisarra was relieved to hear this. His sense of relief was related to being a young gay man in the late 1980s.
"I wasn't interested in being closeted," Pisarra said, "I wrote. I wanted to perform. I wasn't interested in conforming."
Since then, Pisarra has been creating – performing and writing his own material. Some of the stories in "You're Pretty Gay" were originally created for the stage.
"I don't write that often," Pisarra said, "I started writing the stories in 'You're Pretty Gay' 20 years ago."
A prodigious reader, Pisarra has always "written to some degree," he said.
Pisarra got turned on to writing poetry when he went to a meeting of a gay and lesbian writers group.
"There were, like, 10 people in this apartment," Pisarra said, "there was a terrible woman sitting next to me."
He would have dropped out of the group, if he hadn't met writer Mare Davis, now his close friend.
"I said to her, 'I never want to see any of these people again except you,'" Pisarra said, "She inspired me to get into poetry."
Davis wrote the introduction to Pisarra's poetry collection "Infinity Standing Up" (Capturing Fire Press).
Released in 2019, the volume of sexy, playful sonnets received glowing reviews from the Washington Post, the Blade and other outlets.
"Devour me! Think me not some crazy nut!," Pisarra writes in one of his sonnets.
With lines like these, he gives Shakespeare a run for his money.
Pisarra has held a variety of jobs – many of which have involved the arts. He has helped homeless people with mental health issues to find housing.
"I ran a writers group for them," Pisarra said, "I encouraged a super-talented woman to send her work out."
The woman and Pisarra submitted their work to the same magazine. "Her work was accepted. Mine wasn't," he said, "I was thrilled!"
In an unusual career twist, Pisarra, who received a literary grant from the Café Royal Cultural Foundation, toured a ventriloquist act entitled "Singularly Grotesque." He created the act after the Portland Institute for Contemporary Art commissioned him to develop a new solo piece.
"I was wandering around the library aisles and I found two (self-help) pamphlets on talking with 'multiple' selves,'" Pisarra said, "and I thought this is ventriloquism in a nutshell."
Pisarra hadn't watched much TV. But that didn't keep him from interviewing with AMC to be its director of digital media.
"I thought why not," Pisarra said, "it would be a chance to see what else is out there in the world."
He worked on the websites for "Mad Men" and "Breaking Bad." "It was a pleasure to be part of the online team for these cultural phenomena!" Pisarra said.
With Molly Gross, Pisarra co-founded Saint Flashlight. In this project, he and Gross find inventive ways to get poetry into public spaces.
One of the project's most innovative efforts has been putting haiku on movie marquees. It's fun to see people, looking up, counting the syllables, Pisarra said. You sweat when you put the letters up on the marquee, he added.
"It's part of the fun! It makes you feel like you're making something matter," Pisarra said.
He doesn't want poetry to be confined to "The New Yorker." "It should push the envelope," Pisarra said, "It's not just for the upper crust."
'The Guncle' never wanted kids but now has two
Novel is as charming as they come with a surprise ending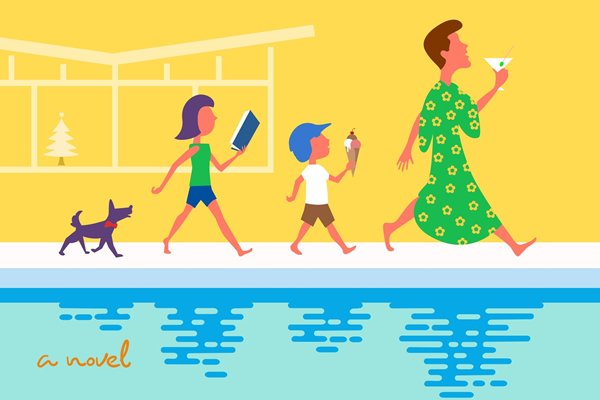 'The Guncle'
By Steven Rowley
c.2021, Putnam
$27/326 pages
The situation you're facing isn't one you wanted.
You had no wish for it; in fact, it's 100 percent the opposite. Not your circus, not your monkeys, as they say. So usually, you'd follow your instincts and run but this time, you surprise yourself by stepping up and taking ownership. Now it is your problem but, as in the new novel, "The Guncle" by Steven Rowley, that's more than OK.
Sara had been his friend first.
Patrick wasn't exactly happy when she married his brother, Greg, but she managed to make it work and he loved her for it. He loved her first, actually, and he never let her forget it.
But now she was gone and Greg had asked the impossible: would Patrick – gay man, former TV star, Palm Springs fixture, no-responsibilities Patrick – take Greg and Sara's kids, nine-year-old Maisie and six-year-old Grant, for the summer so Greg could go to rehab while grieving the death of his wife? Could the kids' GUP (Gay Uncle Patrick) step up?
No. There was no way that Patrick was taking temporary custody of two kids – but then his older sister, Clara, copped an attitude, rolled her eyes, and told him he was "off the hook."
PfftRight.
And so Greg headed to rehab after the funeral and the kids went home with Patrick to Palm Springs. It would be a long 90 days.
Grant was cute but full of questions; Patrick learned to make things up. Maisie was nobody's fool and Patrick learned to hide his passwords. He gave them "Guncle" Rules (gay + uncle = guncle), life lessons, and stories about their mother – but past that, what does a gay man who never wanted kids do when he suddenly has two of them?
He takes them to the museum way too often, that's what. He takes them to five-star restaurants and cringes when they order kid food. He lounges with them in the pool, gets them a dog, lets them put up a Christmas tree in July, hugs them, and throws a party.
And he loves them.
There are four words that best describe "The Guncle": A. Dor. A. Bull.
That's it. This novel is simply as charming as they come and don't be surprised if you can almost hear your favorite actors as any of the characters here. Don't be surprised, either, if you spend your vacation racing to reach the ending you think's coming and you're wrong.
Indeed, author Steven Rowley offers the perfect mix of snorts and sobs here, snarky fun one minute and pathos the next but neither emotion is belabored or forced. That gives readers room to enjoy the tale as it unfolds and grows like an inflating pool toy, and to watch the characters twisting wistfully in irresistible, concentric circles.
Your ticket's in your hand, your suitcase is packed, your destination is close, but you need a book to get you there. If you'd love to immerse yourself inside a sweet novel like "The Guncle," then step right up.
¡Hola Papi! works as memoir, advice column
Laughs and sighs abound in Brammer's new book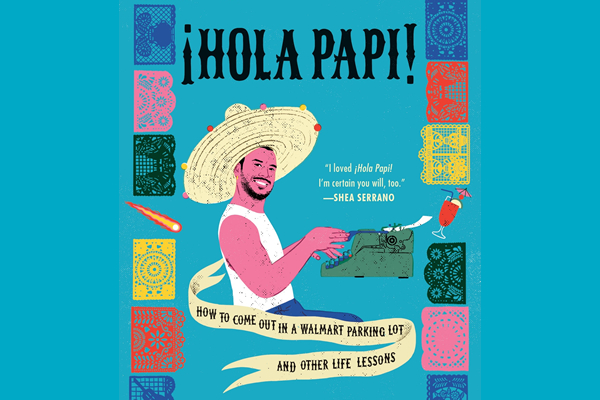 '¡Hola Papi! How to Come Out in a Walmart Parking Lot and Other Life Lessons'
By John Paul Brammer
c.2021, Simon & Schuster
$26.00/224 pages
Your best friend definitely has an opinion.
You need advice and she offers an answer, though it might not be the one you seek. You may get sound counsel but at the wrong time, with sentiments directly opposing what you were thinking. And yet, you have to be grateful. As in the new book "¡Hola Papi!" by John Paul Brammer, the words come from the heart.
Growing up in the small Oklahoma town of Cache, John Paul Brammer knew nothing about being gay. He had little relationship experience, in fact, and he didn't learn about hookup apps until he was a junior in college.
Once he found those apps, though, he was "instantly hooked."
Much to his amusement, "some white guy" said "Hola papi" in greeting on an app one day and Brammer, "a mixed-race Mexican American with noodle arms" never forgot it – because hey, wouldn't that be a great name for an advice column? He pitched it, landed a gig in conjunction with Grindr and it was a landslide hit with users, even though Brammer felt like an imposter sometimes. Was he really qualified to do this? He wondered, then he remembered what he'd want if he needed advice.
When asked what one can do to let go of past hurts, Brammer answers with a tale of his middle-school years, of bullying, inadequacies, and teen angst, and of coming out, growing up, and not letting someone be defined by the worst of the past.
He writes of puppy love with a girl when he was kinda sure he was attracted to boys, and how the experience wasn't a waste. He remembers co-workers at a nearby taco stand who taught him to speak Spanish, to belong, and that "Lo siento" isn't always necessary. He tells readers about releasing the love he thought was "the one"; about the oh-so-awkward night a childhood bully approached him on a dating app; and how to let go of a dream, and a nightmare situation.
You know this: Dear Emmy and Dear Posey can always be relied upon to present some poor schlub with drama worse than yours. You know they'll offer snappy, sometimes snarky, maybe dismissive advice – but that might not be as applicable as what's in "¡Hola Papi!".
Agony Aunties don't normally insert themselves into their answers quite like author John Paul Brammer does; nope, he makes his advice into a memoir that resonates. Each mini-chapter here begins with a question, followed by what feels like a personal answer written specifically to the forlorn rather than to the world — in a story, really, but one that's relatable. It's fun to read but, more importantly, it wraps advice-seekers (and not just the writer) in a comfortable tale that might make them laugh but definitely makes them feel they're not alone.
Another nice thing: this book is by a gay man, but the advice he offers is for anyone, of any age. If you can remember that there are some eyebrow-raisers snuggled amidst laughs and sighs, of "¡Hola Papi!", you'll have a high opinion.