Asexuals, you are not alone
Finding freedom in the aces and aros community

I first realized I might be asexual in early 2011, when I was 18. Later that year, I went to an event hosted by the Asexuals of the Mid-Atlantic. AMA is a meet up group for asexual-spectrum people (aces) who want to meet other people like them. Attending this event introduced me to the concept of aromanticism, and I realized that I might also be aromantic (aro). This forced me to actually think about my potential future relationships in a way I never had before. After my first event with AMA, I didn't go to another one for six months. It freaked me out to actually be surrounded by people who could relate to feelings I had always thought made me an anomaly.
Once I accepted my identity enough to be comfortable around other aces and aros, I not only became a regular at AMA events, I also started hosting events myself. The monthly book club I host is now in its sixth year. About a year ago, a few members of AMA, including myself, started an asexual advocacy organization called The Asexual Awareness Project (TAAP).
Over the past seven years, I've had more than six different jobs, I've completed college, and I've stabilized from suicidal to emotionally healthy. But one of the most significant changes I've experienced is my acceptance of my asexual and aromantic identities. Now most of my social circle is made up of other aces and aros. One question I frequently hear when explaining my group of friends to people who aren't ace or aro is "Why?" Why do you need to have a meet up group for aces? Why do you need an advocacy group? Why is an identity that defines itself by negatives important?
Well, why does a group for any other queer identity exist? Most of them exist for some combination of three reasons: dating, advocacy, and social support. Ace and aro groups exist for the same reasons.
One reason many queer groups exist is to help people find partners who are interested in dating someone of the same gender, or other queer partners in general.. As far as aces go, many are aromantic, but some certainly are not, and they might prefer to date others who also do not want sex. Some aces and aros may want to form strong relationships that fall outside of the traditional partner dynamic, and it may be easier to explain those preferences to other people in your community. While I don't want to form any kind of romantic relationship, it is gratifying to be around people who do not consider friendship to be beneath romance.
Other groups exist for advocacy. Unlike TAAP, those groups did and do fight well-known cultural and legal battles for acceptance. Those advocacy groups have been extremely successful in promoting queer equality, although there is certainly a long way to go. But asexuality and aromanticism aren't illegal, and the social stigmas attached to being ace or aro aren't obvious to many people. In fact, many of us practice a lifestyle that many social conservatives wish all queer people would adopt – to simply refrain from any sex life at all.
However, invisibility is its own struggle, and aces and aros face the difficulty of many people not knowing what those orientations are — most aces and aros themselves go years before they even know that it is a possibility. We must convince our families, friends, acquaintances, and even medical professionals that there isn't anything wrong with us. We constantly have to justify our existence. It is important that aces and aros can find resources that will actually be able to help them without invalidating their identity.
While both of these reasons are important, the principle reason aces and aros come together is to find common ground, and to find other people who make them feel that they aren't alone in this world and that their experiences aren't unique. That is why TAAP's acronym includes the word "awareness": that is what we're fighting for. We simply want to be seen, to be acknowledged as legitimate and deserving of respect.
This is the point many people ignore when they dismiss aces, or say that they are limiting themselves by putting a label on their experiences. The labels I adopt are not stifling, but grant me a sense of freedom. They remind me that I belong to a community, and that I am not alone.
Isabel Nathan is a board member of The Asexual Awareness Project.
Why are gays so terrible at intergenerational friendships?
D.C. should create buddy program for elders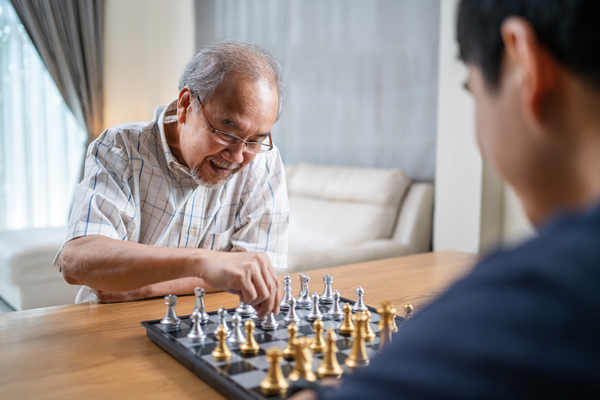 Let me just start with a question. How many friends outside of your generation do you have? I mean honest-to-god friends. In my friend group, as large and fungible as that can be in the District and in the age of social media, it's sort of me and a few other Gen Xers, and then just loads of Millennials. They do look to me to pass down some knowledge, but it's mainly to do with the ins and outs of mortgages and things like that.
But is it me? Or are gays just really, really terrible at having intergenerational friends? It's striking. I've recently developed a friendship with — let's call him — Bill. He's almost 80. Maybe it's the historian in me, but I just love the stories. But more on that later. For now, to ask another question, just why are gays bad at having friends removed from their respective generations?
On social media this week I posted an obituary from a Houston paper dating from 1978. It was obviously from a gay man. You can tell from the coded language, "long time resident of this city despite stays on the West Coast." And if that didn't give it away, it ended with this rather heartbreaking language, "his parents requested that his friends not attend the memorial services!" Bill told me these sorts of obituaries — terribly vague but also cruelly pointed — were quite common in the dark days of AIDS. And this is succinctly why I think gays are so bad at having intergenerational friends, we've simply lost an entire generation of elders. And what was exactly lost with that generation is far more than can be enumerated in this column.
Back to Bill's stories for a second. There is a real value in oral histories, the telling and passing down of shared experiences make our culture certainly more valuable and rich, at the very least far more interesting. And again, this is nothing new, as cultures across the globe seek to capture personal stories and first-hand viewpoints of history unfolding. But it's not just the story itself that's important. It's also the perspective and opinions. These remain nuanced between generations. Again, that's really not saying anything new. But these varied opinions and outlooks, if not shared and debated risk isolating gay men into rigid and unchanging views crafted in echo chambers.
Also, gays place a large premium on youth. And this, again, is nothing new, nor particularly gay. We just like what we like. But as Bill told me, he's rather annoyed that any interest he expresses in a younger man is automatically filed under lecherous behavior. Let me just deal with this right here: We all, no matter the age, display to varying degrees lecherous behavior. Just get us a little dehydrated, a little tipsy, and throw us on the sand of Poodle Beach and watch the unwanted flirting unfold. So. But still we have to do better than mistaking anyone displaying interested in us as a simple sexual advance. That seems rather juvenile.
With contact between our generations low, we are in danger of passing down a culture to future queer Americans that might seem a little lopsided and even a bit, well, shallow. But what's to be done? I've commented in past columns on how we're failing older LGBTQ Americans, especially in the District. To remedy this, we should use what I call the Chicago model and what is being done at the Center on Halsted, the city's LGBTQ community center. The Center offers numerous programs geared to the city's LGBTQ senior population. But one that sticks out is a sort of a buddy program, pairing seniors, even those in care facilities, with younger friends. This would certainly help us here in the District better care for our LGBTQ seniors, and would also of course help with the bridging of our considerable generational divide. So perhaps we could reproduce this here in the District.
For now, I'll continue to buddy up and enjoy my time with Bill. 
Brock Thompson is a D.C.-based writer. He contributes regularly to the Blade.
Texas synagogue attack a reminder to fight anti-Semitism
Supporting Jewish community after latest tragedy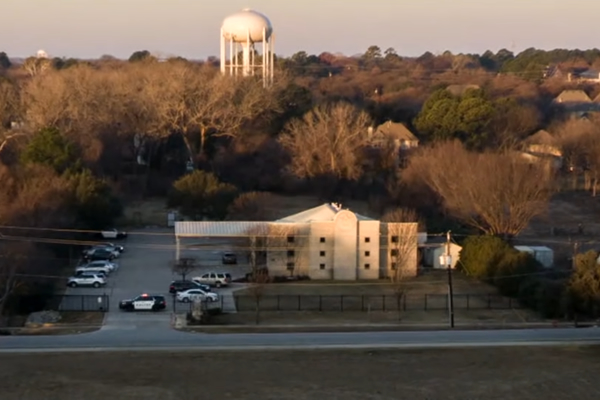 It was an all-too-familiar moment. A relaxed Saturday afternoon. Until an alert flashed on my screen. A gunman had taken hostages at a synagogue, Congregation Beth Israel, in Colleyville, Texas, a suburb of Dallas. He'd gone into the synagogue during Sabbath services.
It was an hours-long ordeal for the rabbi and three members of the congregation who were held hostage. The police intervened. The hostages emerged safely after 11 hours. The gunman, Malik Faisal Akram, died.
Like so many hearing this news, I was horrified, saddened, frightened, and shocked, but not surprised.
The hostage-taking at the Texas synagogue is part of a pattern of rising anti-Semitism. The Anti-Defamation League has tracked a rise in anti-Semitism in the United States in recent years – from the 2017 "Unite the Right" rally in Charlottesville, Va., where marchers threw Nazi salutes to the 2018 Tree of Life synagogue shooting that killed 11 people in Pittsburgh.
I don't want to draw a false equivalency. Homophobia, biphobia and transphobia aren't the same as anti-Semitism. But there are parallels. As I heard about the terrifying attack on the Texas synagogue, I remembered how frightened, enraged and sad we felt in 2016 when 49 LGBTQ people were killed in the Pulse nightclub massacre and how traumatized our community was by this attack.
As I write, much remains unknown about the hostage attack on the Colleyville synagogue. Authorities in the United Kingdom and the FBI are still investigating the situation.
Akram, the attacker at the Texas synagogue, came from Blackburn, England. In 2020, MI5 the U.K.'s counterintelligence and security agency, had investigated Akram, the BBC reported. The agency kept him on a watch list as a "subject of interest," but determined that he wasn't a "threat." The FBI is investigating the hostage-taking at the synagogue as terrorism, the Washington Post reported. The authorities don't know how Akram was allowed to get to Dallas or to buy a gun.
During the attack, Akram referred to Aafia Siddiqui, an American-educated woman known as "Lady al-Qaeda" and convicted of terrorism. Siddiqui is in a federal prison in Fort Worth for trying to kill U.S. soldiers, the Post reported.
Akram's brother, Gulbar Akram, told media outlets and authorities that Akram had a mental illness.
Though the attacker's motive still isn't known, it's clear that the Texas synagogue wasn't randomly targeted, experts say. "It wasn't a government office. It wasn't another house of worship by a different faith community," Holly Huffnagle, the American Jewish Committee's U.S. Director for Combating Antisemitism, told NPR's "Morning Edition." "It was targeting Jews."
Why should the LGBTQ community care about the attack on the Texas synagogue and the rise of anti-Semitism?
First, of course, because of the Jews in our community.
Those of us who are Jewish and LGBTQ know the double-whammy of encountering anti-Semitism along with homophobia, biphobia and/or transphobia. We run up against this prejudice in everything from slurs to stereotypes to violence.
Those of us who aren't Jewish don't know what anti-Semitism is like, though we may have Jewish family members or spouses who have experienced anti-Semitism. But because we're LGBTQ, we have run into bigotry. We've been called names, discriminated against and wounded and killed by anti-queer violence.
Anti-Semitism and anti-queer bigotry aren't identical, but I'd wager that many who are anti-Semitic are anti-queer.
"Then they came for the Jews," wrote Martin Niemoller, a Christian pastor who resisted the Nazis in Hitler's Germany in a poem, "And I did not speak out/Because I was not a Jew/Then they came for me/And there was no one left/To speak out for me."
Our community needs to look within itself. We should work to expunge any anti-Semitism in our midst.
Anti-Semitism has been a scourge for centuries. Combating it isn't easy. But, let's do all we can to support the Jewish community and to fight anti-Semitism.
Kathi Wolfe, a writer and a poet, is a regular contributor to the Blade.
Biden's empty political theater on LGBTQ equality
President is a nice man who lacks the passion to fight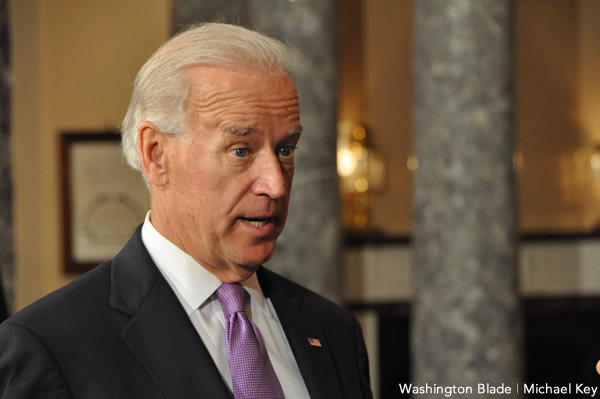 Shortly before Joe Biden was inaugurated, LGBTQ Nation leaked a conference call between mainstream LGBTQ advocates and the president-elect in which he backed off repeated, forcible campaign promises to make passage of the Equality Act a top priority during his administration's first 100 days.
I wrote an article criticizing him for reneging on his pledge. The Los Angeles Blade picked up my piece as an op-ed, and it went viral. I got a tremendous amount of feedback, much of it negative, more of it counseling patience, but now that a year has passed, let's take a look at how things worked out.
In the first days of his presidency, Biden did vital work with pro-LGBTQ executive orders — redirecting the federal bureaucracy, which had become overtly homo/transphobic under Trump, and working to fix transgender military policy — but he never pushed for the Equality Act, which would have finally offered LGBTQ people status as free people in our own nation, protected by law from discrimination in housing, employment, public accommodations, credit, education, etc.
Without the Act, his executive orders won't be worth the paper they're written on when the next Republican president takes office.
Not only did President Biden fail to spend political capital to make the Act a top priority in his first 100 days, he never made it a priority of any kind.
Beltway insiders tell me the president did nothing behind the scenes to honor the pledge he made repeatedly to LGBTQ people in exchange for our votes. He did nothing publicly either. No national speeches. No fireside chats. No appeals to the better angels of the American people. He just stopped talking about the Equality Act, like if he never mentioned it again, we'd forget he promised to prioritize it.
The House passed the Act again this year, but it stalled in the face of Senate filibuster rules, which require 60 out of 100 votes for most legislation to pass. Progressive Democrats have been calling for ending or changing the filibuster since the day Biden took office, but not until last week did he announce support for changes, which brings us to the second half of today's grievance.
In recent days, pressure has been intensifying on President Biden to lead on passing meaningful protections to counter strict new state laws that Republicans have been enacting to make voting more difficult, especially for Black voters.
Two federal laws proposed by Democrats, — the Freedom to Vote Act and the John Lewis Voting Rights Advancement Act — would protect voter rights by (among other things) creating national standards for mail-in voting and restoring stripped-out elements of the Voting Rights Act. Republicans know the only way they can stay in power in many states is to suppress votes, especially the votes of Black people and other people of color. Republican senators fiercely oppose voter protection and will filibuster.
President Biden traveled to Atlanta last week to make a speech about supporting voter protection. Finally, after nearly a year in office, he indicated he might support changing the filibuster custom. The nation yawned. Black voters blinked. LGBTQ voters sighed in dismay.
A number of influential Black political activists in Georgia snubbed Biden's speech, saying in advance they would not bother attending an event they called a "waste of time." Democratic gubernatorial hopeful Stacey Abrams was notably absent, which she and Biden both claimed was due to a scheduling conflict, but Georgia political insiders say she was sending the president a powerful message: Get serious. Take action. Stop with meaningless political theater, especially on my turf, where I've been doing the kind of real work you won't do.
Obviously, the 50/50 Dem/Rep split in the Senate is not the president's fault. Nor is he responsible for the recalcitrance of Democratic Sens. Joe Manchin of West Virginia and Kyrsten Sinema of Arizona. They have each refused to consider filibuster reform, and without their votes it can't happen.
But does Biden even want filibuster change?
He has consistently served up weak tea on the issue, calling himself an "institutionalist" and an "incrementalist," which Democratic leaders have taken to mean he either doesn't support overhauling Senate rules, or that he won't get tough on Democratic senators who vote against overhauls.
If Biden has tried even half-heartedly to strong-arm Manchin and Sinema, he has not done so in public. Beltway insiders say he hasn't done anything, just like he hasn't prioritized the Equality Act.
Meanwhile, while the Democratic Party led by Joe Biden waffles and drifts, the Republicans maintain tight party discipline and look set to take the House back this year. They will continue to push agendas cementing themselves in power, putting democracy itself in grave danger, and making life for minorities increasingly unequal, painful, and difficult.
We don't care about your institutions, Joe. We don't value Senate customs and traditions, which mean nothing to us beyond what they can or can't accomplish. We care about action. We demand results. You promised to deliver, and you're failing us. Now you choose to go to Atlanta and say some pretty words? Nobody wants pretty words, Joe. You can keep them.
Look, we know your heart is in the right place, but we want your muscle to be in the right place. We want you to take charge, to LEAD, to exercise some of the awesome power of your office.
We expect you to play to win, to twist arms, to name and shame, to do whatever it takes to keep the promises you made to us when you needed our votes.
You need to get serious, Mr. President. If you don't start kicking ass and taking names, don't count on us to vote for you again. I mean that. There's a REASON you're dropping precipitously in the polls. It's us, man. It's Democratic members of minorities fed up with your milquetoast, do-nothing, business-as-usual approach to crises we see as EXISTENTIAL. While Republican rank-and-file are telling pollsters they believe armed violence against the government may be desirable, and while they're demonizing Black people, immigrants, and queer people, you're acting like everything is relatively fine.
It's not.
We voted for a champion, but we got you instead, a very nice man who evidently lacks the gonads to fight for us. Please turn that around. Please get real. Please get tough. Please start fighting to win.
Today would be an excellent day to start keeping your promises.
James Finn is a former Air Force intelligence analyst, long-time LGBTQ activist, an alumnus of Queer Nation and Act Up NY, and a frequent columnist for the Blade. Reach him at [email protected].