February 9, 2019 at 6:17 pm EST | by Michael Radkowsky
Three months in, is it crazy to move for love?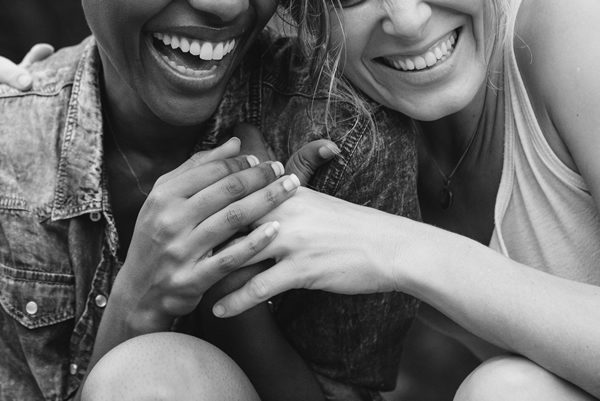 Michael,
How long should I wait before moving in with my girlfriend?
I met Melissa on a business trip to Chicago three months ago. It was a Thursday night and on a whim I went to a lesbian bar where I saw her. Wow! She was stunning. Although I am usually shy I went up to her and we started talking … and then dancing … and more talking.
We had so much to say to each other that we wound up closing the place. It felt like love at first sight. Melissa came back to my hotel and we just talked and made out and cuddled till morning. I was due to fly back to D.C. that Friday afternoon but changed my ticket and spent the weekend with her.
Melissa came to D.C. the following weekend and we've been going back and forth ever since. We also spent the week between Christmas and New Year's together. So I think we're really getting to know each other well in a short amount of time. We feel like we're on the express route.
Two weeks ago my client in Chicago offered me a job and I have decided to take it.
Moving to Chicago to be with Melissa seems like an amazing opportunity to build a relationship with a very special person. Given that we want to be together all the time, we decided to just go for it and move in together. Melissa has a two-bedroom apartment so we figure we won't always be on top of each other.
My friends think I am nuts. I've lived in D.C. for eight years and have an extraordinary group of caring, supportive pals here. All I keep hearing from them is, "How can you leave everyone and everything you have in D.C. and move half-way across the country to live with someone you barely know?"
But this relationship feels like the real thing. I have such a connection with Melissa that I'm sure she is my soul mate. She feels the same way. I've never felt this way about another person in my entire life. A few months back I would have rolled my eyes if someone else said this sort of thing to me, but here I am saying it and totally believing it.
Is it really so bad to move in with someone so quickly? I've heard it can ruin a relationship. But we are crazy about each other so we don't see a reason not to jump in.
Michael replies:
There's no one right answer for how long to wait before moving in together. Certainly it's good to have some practice collaborating on difficult issues, so that you have reason to believe you can get through crises together.
But you've already made your plan to live with each other. So rather than worrying, your task now is to focus on building a strong and vibrant relationship. Here are some points to keep in mind:
The two of you aren't going to continue to feel this blissful, indefinitely. It's just the way relationships go. After some time, the gooeyness starts to fade and we start noticing all those little and big things that we don't love about the other person.
When this happens, aim to stay calm, close and as accepting as you can be, rather than letting yourself get angry or resentful. Having a sense of humor and keeping the perspective that relationships aren't easy, will help.
Remember: You can't change your partner to better suit who you want her to be. You have to find a way to live with each other as you both are.
That said, you each can do your best to be a great significant other. This means being thoughtful and generous whenever possible. It also means taking care not to ask too much of your partner. Yes, we all want emotional support and someone to listen to us. But aim not to wear your partner out. This may be particularly challenging for you as you are moving thousands of miles away from a great support system.
Another key to a vibrant relationship: Strive to be not only a couple, but also two individuals. While you and Melissa are head over heels right now, you are also two different people who aren't always going to think the same or want the same things. Give each other space to diverge. Set a boundary when it's important to say, "no." Accept each other's boundaries even when you're disappointed.
Here's an analogy to keep in mind: A long-term relationship is like a long sea voyage on a boat where the two of you are sharing a very small cabin. The kind of space where the couch is also the bed and you have to step over the suitcase to get to the bathroom. Getting along under these circumstances requires patience, generosity, kindness and humor.
While you can't know in advance how the adventure will proceed, you and Melissa can decide you will do your best to make your relationship a success. Your ongoing effort will go a long way toward your being a happy couple. Wishing you the best!
Michael Radkowsky, Psy.D. is a licensed psychologist who works with LGBT couples and individuals in D.C. He can be found online at michaelradkowsky.com. All identifying information has been changed for reasons of confidentiality. Have a question? Send it to Michael@michaelradkowsky.com.