June 5, 2019 at 9:06 pm EDT | by Lou Chibbaro Jr.
Trans sex worker advocates arrested at Freedom Plaza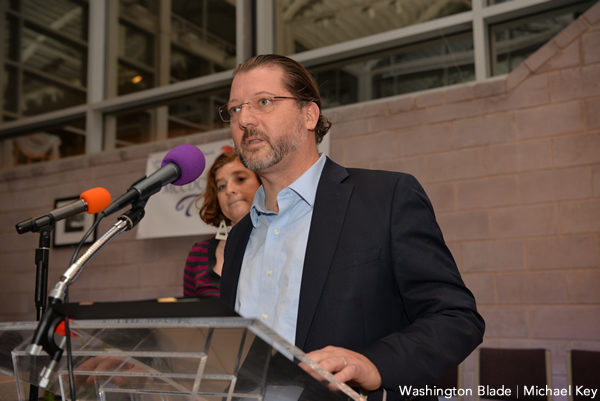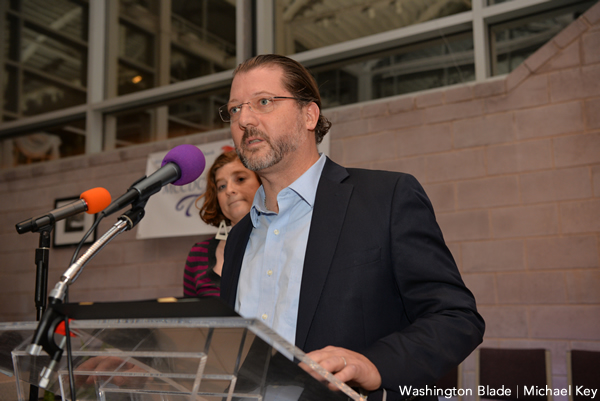 U.S. Park Police officers on Monday arrested two members of the local LGBT protest group No Justice No Pride after they attempted to hang from two flagpoles in Freedom Plaza a large banner calling for decriminalization of sex work in D.C.
The protesters gathered in Freedom Plaza across the street from the John A. Wilson Building and planned to direct the banner's message at the city's elected officials whose offices are in the building.
They assembled shortly after D.C. Council member David Grosso (I-At-Large) held a news conference outside the Wilson Building announcing he would reintroduce the following day a bill calling for decriminalizing prostitution in the District between consenting adults.
Park Police officers made the arrests after two of the No Justice No Pride members climbed two flagpoles and began to suspend the banner, which stated in large pink letters, "DECRIM NOW." The officers pulled down the banner before the protesters could raise it above the plaza, which is a federal park.
Sgt. Edward Delgado, a Park Police spokesperson, identified the arrested protesters as Trevon Gentry and Emm Talarico. He said they were charged with separate misdemeanor offenses of Demonstration/Protest in a National Capital Park without a Permit and Interfering with Agency Function – Disobey a Lawful Order.
Delgado said the two were booked and released from the Park Police station the day of their arrest and given a citation ordering them to appear in court at a later date.
When contacted by the Washington Blade for comment, Grosso issued a statement criticizing the Park Police for arresting the two protesters.
"The demonstrators who attempted to show their support for the fight to bring a human rights focused approach to how the District of Columbia handles commercial sex between consenting adults did not hurt anybody when they tried to hang a banner in Freedom Plaza – an ironic name considering the lack of respect for the freedom of expression demonstrated by their unnecessary arrest," Grosso said in his statement.
In a separate statement released on Monday just before the protest took place, No Justice No Pride said trans activists with the group who are former and current sex workers planned to "drop a banner in front of the Wilson Building calling on City Leaders to take [Grosso's] bill seriously this session, or expect more direct action from No Justice No Pride and the larger community."
One day later on Tuesday, Grosso officially introduced the Community Safety and Health Amendment Act of 2019, which he said was a slightly revised version of the measure he introduced in 2017 called the Reducing Criminalization to Promote Public Safety and Health Amendment Act.
Similar to the first version, the new bill calls for eliminating criminal prohibitions and penalties for consensual sex work in D.C. and the creation of a task force to evaluate the effects of removing criminal penalties for prostitution involving consenting adults.
Grosso has stated that his proposed legislation would leave in place all existing laws that prohibit sex trafficking of juveniles and adults and that make it illegal to force or coerce someone to engage in sex work.
"It is long past time for D.C. to reconsider the framework in which we handle commercial sex – and move from one of criminalization to a new approach that focuses on human rights, health, and safety," Grosso said at the news conference the day before he introduced his bill.
"By removing criminal penalties for those in the sex trade, we can bring people out of the shadows, help connect them to the services they need to live safer and healthier lives, and more easily tackle the complaints we hear from communities about trash and noise," he said.
Council members Robert White Jr. (D-At-Large), Anita Bonds (D-At-Large), and Brianne Nadeau (D-Ward 1) signed on as co-introducers of the bill. Council member Charles Allen (D-Ward 6), who chairs the Council committee where the bill will be sent, signed on as a co-sponsor, raising hopes by supporters that Allen will agree to hold a hearing on the bill.
The earlier version of the bill died in his committee last year
Other LGBT groups have joined No Justice No Pride in pointing out that LGBT people and other groups historically impacted by discrimination and bias are disproportionately harmed by laws criminalizing sex work.
"It is appropriate that we address this issue at the start of LGBTQ Pride month that commemorates the 50th anniversary of the riots at the Stonewall Inn," said Benjamin Brooks, assistant director for policy at Whitman-Walker Health. "We know that lesbian, gay, bisexual, and especially transgender individuals engage in sex work at higher rates, making decriminalization of sex work an LGBTQ issue," he said.
Whitman-Walker Health, No Justice No Pride, and several other LGBT and LGBT supportive groups are members of the Sex Worker Advocates Coalition, which, among other things, is lobbying for passage of Grosso's decriminalization bill.
No Justice No Pride created a stir in 2017 when it blocked the path of D.C.'s Capital Pride Parade as part of a protest against what it called the "domination" of the parade by corporations and corporate sponsored floats. The Capital Pride Alliance, which organizes the annual Pride parade and festival, disputes those claims, saying nonprofit LGBT and LGBT supportive groups make up the majority of the parade's' contingents.
David Thurston, one of No Justice No Pride's organizers, said the group has been focusing much of its efforts in the past two years on advocating for decriminalization of sex work in the District in solidarity with those adversely impacted by anti-prostitution laws, especially transgender women of color.