August 8, 2019 at 6:10 am EDT | by Lou Chibbaro Jr.
Bipartisan LGBT 'working group' holds second meeting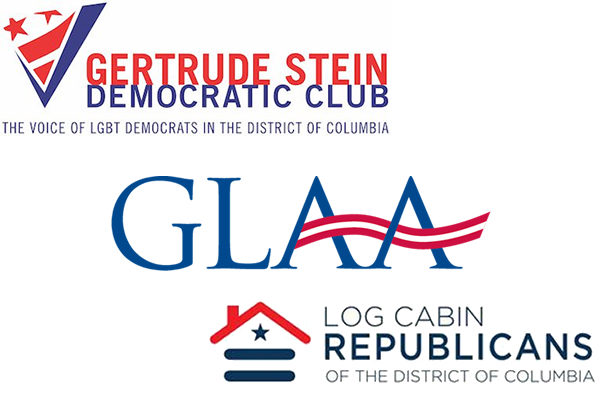 An informal working group consisting of leaders of the Gertrude Stein Democratic Club, Log Cabin Republicans of D.C., and the Gay and Lesbian Activists Alliance held its second meeting on July 30 to discuss plans for promoting an open primary system for D.C.
Veteran D.C. gay activist Paul Kuntzler, who co-founded the Stein Club and GLAA in the 1970s, organized the working group's first meeting in April, saying he hoped to help build a bipartisan coalition of local LGBT rights advocates to push for "common ground" initiatives to strengthen the LGBT community's political clout in the city.
As a follow-up to the main topic of discussion at the April meeting, members of the three LGBT groups on July 30 discussed plans for replacing the city's current closed primary system, in which only members of a political party can vote in primaries, with a primary open to all registered voters.
Although Log Cabin is believed to favor such a change, representatives of the Stein Club and GLAA have said those two groups have yet to discuss such a proposal and it is uncertain whether the groups would support an open primary system.
Those attending the July 30 meeting were Kuntzler, Stein Club President Monika Nemeth, Stein Club treasurer Matthew Abbruzzese, Log Cabin of D.C. president Adam Savit, and Log Cabin D.C.'s two past presidents, Chris Allen and Robert Turner. Turner hosted the meeting at his Adams Morgan home. GLAA President Bobbi Strang, who attended the first meeting, was unable to attend the second one but plans to attend future meetings, the others said she told them.
Nemeth said she believes the current closed primary system in D.C. favors incumbent elected officials and she personally supports some type of open primary system. But she said she was speaking for herself and not the Stein Club. D.C. Democratic Party leaders in the past have expressed opposition to an open primary system, saying Democratic primary elections should be limited to those who choose to register as a Democrat.
During the July 30 meeting, Allen of Log Cabin gave a presentation on the different types of open primaries adopted by cities and states throughout the country. Those attending the meeting agreed that the one best suited for D.C., which is currently in place in California, Nebraska, and Washington State, is known as a "top two" open primary.
Under that system, candidates from all parties or those running as independents compete in one primary operated by the state. The primary is open to all voters regardless of party affiliation. Under this system, the top two vote getters among the candidates go on to a general election.
Allen noted that there would be three ways that advocates could secure approval of this type of primary – a vote by the D.C. Council for legislation putting it in place, a voter initiative placed on the ballot in an upcoming D.C. election, or intervention by Congress to change the city's Home Rule Charter to include the open primary system.
Nemeth of the Stein Club said she would not, nor would the Stein Club, support any effort to have Congress intervene in a local D.C. matter such as this. She said she would prefer an effort to persuade the D.C. Council to approve such a change, which she said should be promoted as a progressive means of expanding voter participation in city elections.
Savit of Log Cabin told the Blade he understands the strong opposition to congressional intervention and agrees with Nemeth that the best course of action would be to seek approval for such a change by the D.C. Council. He said he thinks Nemeth was correct in pointing out that the Council's legislative agenda was most likely full through 2020 and any attempt to push for legislation to create an open primary system would have to be a long range effort over a period of several years.
"I thought it went very well," said Kuntzler in discussing the July 30 meeting. He noted that all of those who attended the first meeting rejected a call by some that the Democrats should drop out of the meetings because of a recent Blade commentary by Savit expressing general support for the Trump administration.
Those participating in the meeting agreed to meet again in October.