August 28, 2019 at 3:40 pm EDT | by Joey DiGuglielmo
QUEERY: Micah Powell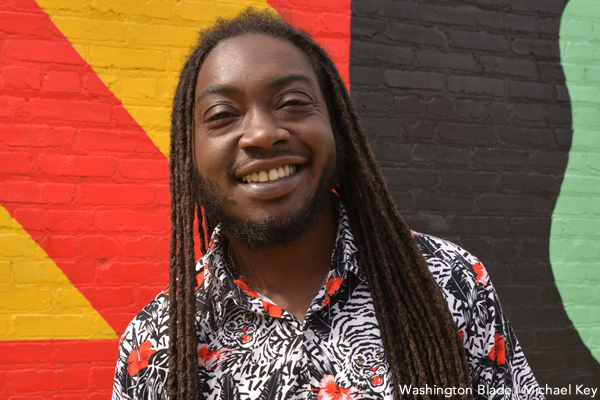 Love, music, peace, chaos, trans and non-binary people, his dog on grooming day — these are just some of the topics of Micah Powell's poetry.
"They're about any- and everything," the 29-year-old Upper Marlboro, Md., native says. "I think about a lot of things, I see and experience a lot of things and I write it all down."
Powell credits his mother for inspiring him.
"She pushed me to really hone my talents and do something with them," he says. "She impressed on me the importance of the gift of being able to be a voice for a generation and the people around you. So I did and people liked it, you know? They were moved and touched. That has always been a blessing to be able to do."
Powell is also a DJ. He works at the D.C. Public Library at his "day job." He was the runner up at this year's annual #AskRayceen Poetry Slam and on Sept. 23, he'll be a featured poet at Rayceen's Reading Room, an annual event to kick off D.C. Public Library's Banned Books Week at Cleveland Park Library. Powell will also make his guest DJ debut at the next "Ask Rayceen Show" on Wednesday, Sept. 4 at 7 p.m. at the HRC Equality Center (1640 Rhode Island Ave., N.W.) for its "variety showcase." The eighth season continues the first Wednesday of each month through November. It's free. Details at askrayceen.com. More about Powell is available at micahthepoet.com.
Powell returned to the D.C. area six years ago to be with family after a hiatus. He got into DJing (he spins "anything and everything, especially oldies") in high school on a small scale inspired by his dad, who was also a DJ. He's done more in the last year and performs as DJ Misfitzz.
Powell is trans, single and lives in Northeast Washington. He enjoys poetry, music, comedy, watching documentaries, video games, sports, food, travel, cars and more in his free time.
How long have you been out and who was the hardest person to tell?
I've never really been "in." I've always just been genuine and honest about who I am and that seems to be enough for people.
Who's your LGBTQ hero?
Probably my house (Prada) family. They've had the most impact on me outside of my blood family.
What LGBTQ stereotype most annoys you?
That all of us have the same narrative. We are people just like everyone else, we are just as complicated and multi faceted as any other human being.
What's your proudest professional achievement?
Doing shows for the Smithsonian. They always make my Mom real proud and she's been with me through a lot so I like to make her proud.
What terrifies you?
Drowning
What's something trashy or vapid you love?
I like to lick the plate if the food is really good.
What's your greatest domestic skill?
I'm really handy. I'm good at building and fixing things.
What's your favorite LGBTQ movie or show?
"Noah's Arc." It was such a sweet show. And definitely "Boys Don't Cry."
What's your social media pet peeve?
When people post other people's quotes as their own or use poor grammar/punctuation.
What would the end of the LGBTQ movement look like to you?
When it's not a movement. When we all can just coexist as people.
What's the most overrated social custom?
Following social customs. Even though I love holidays so much!
What was your religion, if any, as a child and what is it today?
I guess you could say Christian. I'm most comfortable with that religious expression, but I'm more of a spiritual person overall. We're all connected.
What's D.C.'s best hidden gem?
The Postal Museum, but I'm also a fan of the Technicolor Church.
What's been the most memorable pop culture moment of your lifetime?
The Whitney Houston Super Bowl.
What celebrity death hit you hardest?
Toni Morrison
If you could redo one moment from your past, what would it be?
Nothing. Everything that's happened has made me who I am.
What are your obsessions?
(Outside of poetry and music) sweets, video games and technology in general.
Finish this sentence — It's about damn time:
for us to try love.
What do you wish you'd known at 18?
Everything I know now!
Why Washington?
I love the culture and the people. I've traveled a lot in the U.S. and I haven't yet run across another city with this much passion. I enjoy how people are so engaged in their communities and programming for the people. I like to be part of that.