September 28, 2019 at 5:26 am EDT | by Philip Van Slooten
FALL REAL ESTATE 2019: Moving back home?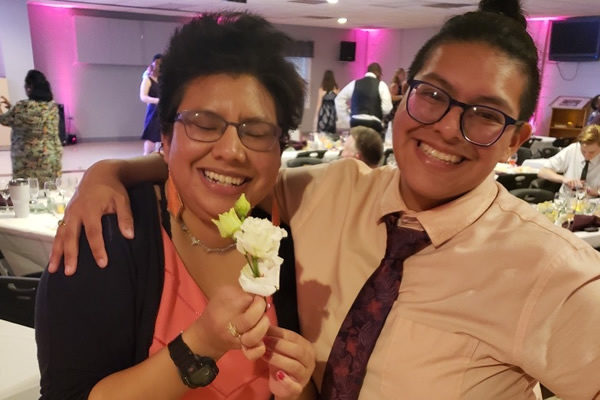 Genderqueer Danny Mendoza, 27, lived briefly with their parents during and after college for cost and convenience, but felt motivated to make the experience a temporary one.
"I definitely felt that I would be able to express myself more after moving out," Mendoza says, now living in a more "trans-inclusive" house with five LGBTQ roommates across the gender spectrum.
This is in contrast to nearly half of the young Millennials (ages 22-28) surveyed in recent studies by TD Ameritrade and Bank of America who planned to move back home and delay homebuying and other major life decisions, some due to student debt. However, Gen Z (ages 15-21) was far more optimistic about saving up and striking out on their own at a young age. (Fifteen percent of Millennials said they would choose less-expensive schools to incur less debt.)
Student loan debt is the key trigger to delay adult milestones, the TD Ameritrade study found. About one in five Millennials say they've delayed milestones because they simply can't afford it with student debt. Among the delays:
• moving out of parents' home (Millennials 31 percent; Gen Z, 20 percent)
• buying a home (Millennials 47 percent, Gen Z 18 percent)
• getting married (Millennials 21 percent, Gen Z 11 percent)
• having children (Millennials 21 percent, Gen Z 10 percent)
• saving for retirement (Millennials 40 percent, Gen Z 10 percent)
Gen Z people are more optimistic they can move out on their own. Millennials, having experienced the process, are returning into their late 20s and even 30s (24 percent), the study found.
Being queer complicates matters for some, but not all, young adults.
Connor Murphy, a cisgender bisexual 19-year-old college student, currently lives with his folks after recently moving up from Virginia. He, too, views his situation as temporary.
"I'm a lucky one," he says of his parents' ability to help him "with paying for school and with a career" later in government. Murphy credits this help with being able to afford a house of his own down the road.
"Despite their young age, this group recognizes that buying a home is not easy and is taking a pragmatic approach," says D. Steve Boland, head of consumer lending at Bank of America in a recent Bloomberg.com interview. He pointed out Gen Z is willing to take on second jobs and move in with parents to further save costs and meet goals.
But for Mendoza, dreams of homeownership are far more personal. While living in the D.C. area, they have seen trans youth in particular living in difficult situations. They say the family they hoped to build was a nontraditional one.
"I know it sounds very 'Blanca Evangelista,' but I would love to be a house 'parent' one day," they says.
In contrast, Murphy looks forward to having a partner and raising children under his own roof like his parents one day. His goal is similar to those expressed in both surveys which did not sample for LGBT populations.
Despite the distance, Mendoza's mom encourages them to invite their LGBT friends over for sopes and margaritas. Though Mendoza doesn't drink, they enjoy maintaining the close connection with family.
"I still love my family," Mendoza says. "And I think that moving away helped me grow."