October 31, 2019 at 8:08 am EDT | by Kevin Majoros
All Stars series finale: Federal Triangles Soccer Club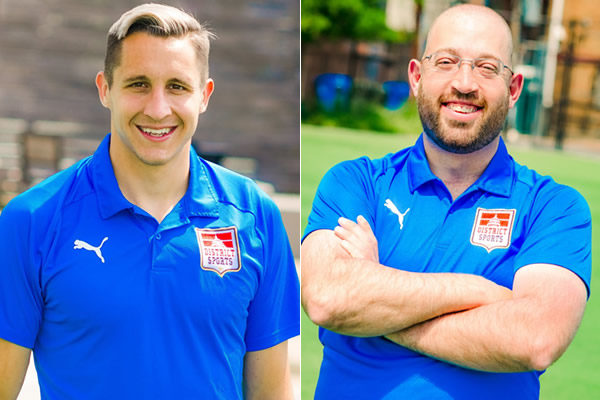 This week we wrap up the Washington Blade All Star series with two Federal Triangles Soccer Club players who are thriving as both players and leaders for their club.
The Feds host the Summer of Freedom League every summer and three tournaments throughout the year. In addition, their athletes travel to out-of-town tournaments and play in a variety of straight leagues in the area.
When Scott Teribury joined the club in 2013, he was touted as one of the best rookies to come along in years. Teribury grew up on military bases mostly in northern Virginia and competed in wrestling and soccer. He also ran cross country and track for his high school. During his collegiate years at Christopher Newport University, he played intramural soccer.
After five years of playing in leagues and tournaments for the Feds, Teribury became captain of the Triangles' Rainbow Unicorns in fall, 2018. The Unicorns play 11v11 full-field soccer in the D.C. Premier League and are a team of gay Feds players competing in a straight league.
"As captain, I am responsible for organizing, scheduling, equipment, recruiting and making sure people show up," Teribury says. "It's important to foster the right atmosphere because this is not a recreational team, it is a competitive team."
The Rainbow Unicorns are also one of the Feds travel teams and many of the players, including Teribury, serve as captains in the Feds' Summer of Freedom League.
Teribury plays soccer four nights per week in a mix of different types of leagues ranging from the Premier League to co-ed to competitive pick-up.
"I have always enjoyed playing soccer, especially the team aspect of it," Teribury says. "I want to continue playing until my body says I can't play anymore."
Along with representing the club at annual tournaments, Teribury has played with the Feds at the Gay Games in Cleveland and Paris. Somewhere in his spare time he has also played Stonewall Dodgeball, D.C. Gay Flag Football and Stonewall Kickball, but the LGBT soccer community is where he feels most at home.
"It really is about a sense of community. I grew up playing soccer with straight people and it is great to be in a space where you can be yourself and play the sport you love," Teribury says. "This is how I met all of my best friends."
Zach Straus grew up in Topeka, Kan., and started playing soccer at age 3 with his parents serving as coaches to him and his two brothers. His childhood and high school years were filled with Olympic Development Program camps, state qualification programs and high level travel teams.
"My parents viewed it as a safer sport than say football," Straus says. "Plus I was always promised a free grape soda after every game. I grew to love the sport honestly though."
While playing high school soccer, he was recruited to a local men's Hispanic league.
"It was culturally different and an invaluable lesson to see a different way of playing and approaching the sport," Straus says. "These were adults who found playing soccer the highlight of their week. It was the most significant thing I have ever been involved in."
Straus played club soccer through his years at the University of Kansas and in 2006, he signed on as a free agent with an Atlanta team to compete in the Chicago Gay Games.
"It was transformative not to have to edit my behavior and I realized my heteronormativity was bullshit," Straus says. "There was a whole world out there and I had to do something about it. I was tired of feeling alone."
He made a list of cities with LGBT soccer teams and landed in D.C. in 2007 to join the Federal Triangles. With no job lined up, he spent all of his savings to travel with the Feds to Argentina for the International Gay and Lesbian Football Association world championships.
His employment path in D.C. led to the straight nonprofit District Sports where he is director of operations for about 7,500 adult soccer participants.
"We attempt to bring a level of consideration in our operations that is more community based," Straus says. "We run our programs so others like youth soccer and pick-up soccer still have a space to play."
His skills from District Sports have led to an organizational role with the Feds' Summer of Freedom League where he creates schedules, recruits referees and obtains permits.
Straus says his soccer career as a player is waning, but he is still playing and occasionally fills in with the Division 1 team. He represented the Feds at the Paris Gay Games last year and points to the 2016 IGLFA World Championships in Portland as a career highlight.
"I scored the game-winning goal for the Federal Triangles in the championship match at Providence Park. To play on a professional pitch in a gay soccer game was so meaningful to me. It was validating," Straus says. "The Federal Triangles have been a big part of my development as a person."
Straus says his human thesis would read: a gay man working in sports but not working completely in gay sports.
"I try to think how we can do better in my sport and not be dominated by straight white athletes. We are looking to include all kinds of people including those who want to participate who have not had access," Straus says. "I feel like as a gay man playing sports, I am more willing to listen."