May 1, 2020 at 1:36 pm EDT | by Lou Chibbaro Jr.
Ziegfeld's-Secrets 'closed for good' at current site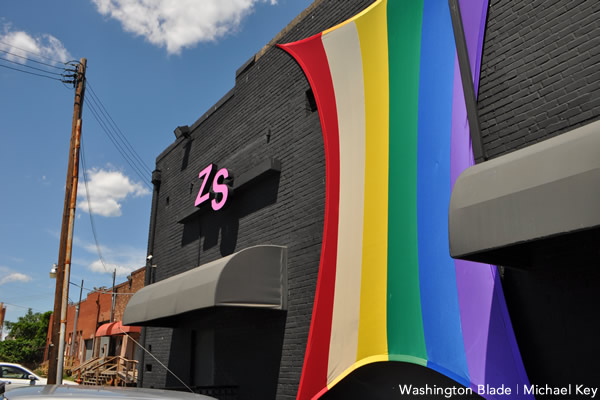 Ziegfeld's-Secrets, the iconic institution of D.C. gay nightlife known for its drag shows and nude male dancers that was forced to temporarily close in March due to the coronavirus emergency, will not reopen at its current site but is weighing options for reopening at a new location, according to its part owner and General Manager Steven Delurba.
Delurba told the Washington Blade that in the midst of the current city-shutdown of all non-essential businesses such as bars and nightclubs, MRP Realty, the real estate development company that owns the Ziegfeld's-Secrets building, has informed the club that it plans to take possession of the building in the next few weeks and the club will have to vacate the premises "much sooner than we expected."
Delurba said MRP Realty has already obtained a permit to demolish the building at 1824 Half Street, S.W. and the four adjoining buildings. The company announced in 2016 that it planned to build a 300,000-square-foot multi-family apartment building with retail businesses on the ground floor at that site, which is in the rapidly redeveloping Buzzard Point section of the city.
A spokesperson for the company couldn't immediately be reached for comment.
"Ziegfeld/Secrets regrettably has been forced to close our doors," the club states in a post on Friday afternoon on its Facebook page. "We all have been honored to bring you the best in entertainment for 40 years; regrettably the option to stay and even have a closing event has been taken from us during this crisis."
"To the many dancers, drag queens, bartenders, DJs, support staff over the years, thank you for making us one of D.C.'s best venues. Stay safe and healthy. Til next time…," the statement concludes.
Ziegfeld's-Secrets principal owner Alan Carroll, who couldn't immediately be reached for comment, said earlier this year he was hopeful the club would have two or three more years to stay at its current location before the developer planned to take possession of the property.
At least two people associated with the club have said they plan to work with Delurba and Carroll to take steps to help the club find a new location to reopen. D.C. nightlife observers have said exiting city regulations make it extremely difficult for nightclubs like Ziegfeld's-Secrets that have a nude dance provision in their liquor license to find a location to open.
Among other things, the D.C. Council passed a law at the time several gay and straight nude dance club were displaced by the Washington Nationals Stadium over 10 years ago that restrict "new" nude dance licenses to just two per ward. Existing clubs were exempted from the new restriction because well beyond two such clubs were already located in Ward 2, which includes the city's downtown area.
Ziegfeld's-Secrets opened in 1980 on the unit block of O Street, S.E. It was among about a half dozen LGBT clubs located on that "gay" block that were displaced by the Nationals Stadium. It took Ziegfeld's-Secrets over two years to secure its reopening at its current location about a half mile from the old location.
Michael Ramirez, a spokesperson for former D.C. Council member Jack Evans, who is running in the city's June Democratic primary for the Ward 2 Council seat from which he resigned last year, told the Washington Blade Evans has pledged to "do everything he can" to help Ziegfeld's-Secrets find a new location to reopen.
Among those posting messages on social media lamenting the forced closing of Ziegfeld's-Secrets is one of its most well-known entertainers, Donnell Robinson, who performs in drag as Ella Fitzgerald.
"I personally would like to thank each and every one of you for your many years of loyalty, support and dedication to Ziegfeld's-Secrets," Robinson wrote on Facebook. "May you always treasure the fun times that we shared for the last 40 years. We hope to see all of you on the other side of this pandemic. May God bless you, your family and friends. Forever yours, Ella Fitzgerald."