'Because of sex' approach to protecting trans people
Many analyses of Bostock decision missed the real history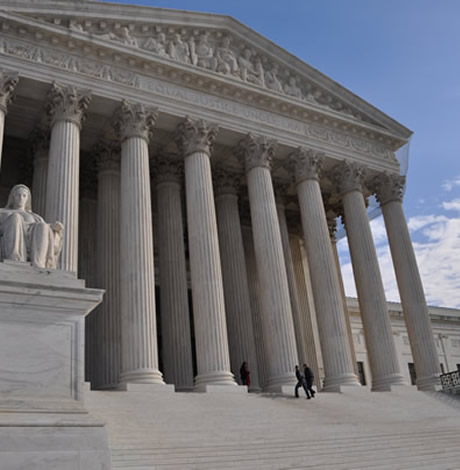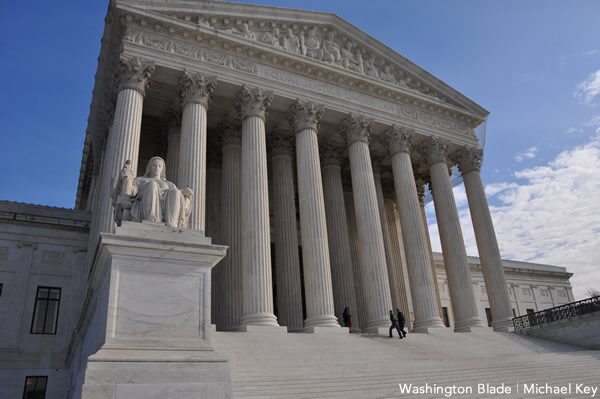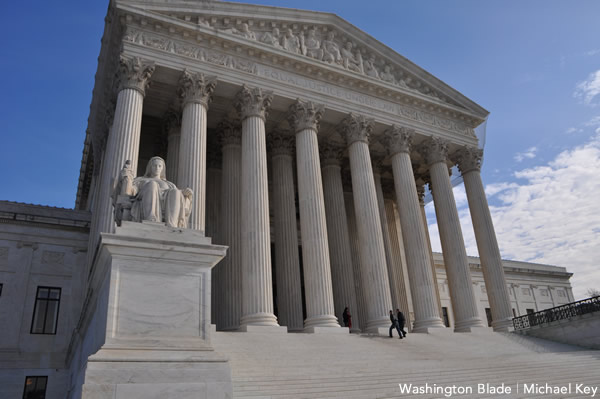 "Here, I thought, looking around me, is where it all changed, because I was still too young to understand that history is not simply made up of moments of triumph strung together like pearls. I didn't know that large changes were made up of many small ones, and of moments of suffering and backsliding and incremental, selective progress; unnecessary sacrifices and the opportunistic, privileged and lucky walking forward over the vulnerable and the dead." —Carmen Maria Machado
The road to LGBTQ equality has been long and winding, made up, legally, of two paths — sex (gender) stereotyping and "because of . . . sex." Until the Bostock decision last month we had a quantum mechanical, "Schrödinger's Cat" causal conundrum — would the decision be based on "sex" as written in Title VII of the 1964 Civil Rights Act, or "sex stereotyping" as developed in the landmark 1989 Price Waterhouse v. Hopkins Supreme Court decision? Many guessed it would be the former, "because of . . . Gorsuch" and his penchant for textualism, but that didn't stop plaintiff Aimee Stephens' lawyer, David Cole, from arguing with the latter. Turns out it was the former, but before I trace the social history of that path, I would like to point out a delicious irony.
It's long been understood that the modern Supreme Court rarely leads, and usually follows, public opinion. That opinion is shaped by the people, and primarily by the people's activist corps. In the case of the gay rights movement, the people universally known through the 1960s as homosexuals became known in the 70s as gay people. Why? Because the "sex" in "homosexual" directed one's gaze to sex acts, which is still what most Americans conjure in their minds when they hear the word "sex." And since many were repelled by the thought of gay sex, it became evident a different, de-sexed, label was necessary.
Similarly with the trans community, which had been universally known as the transsexual community through the 1980s, and which de-sexed "transsexual" to "transgender" in the '90s (the first national trans rights group, founded by Riki Wilchins and Denise Norris in 1993, was called "Transexual Menace," and the second, was the "National Transgender Advocacy Coalition," in 1999), and then finally just the single syllable "trans" in the aughts, to match the single syllable, "gay." Language matters. Just as Americans viewed homosexual people through the lens of their sex acts, they viewed transsexual people the same way, often reduced to sex workers and homicidal maniacs ("Dallas Buyer's Club," 2013 and Hitchcock's classic, "Psycho," 1960).
So, today, gay and trans individuals have their employment rights, and soon full protections with the Equality Act next year, because of a return to the modern source of those rights, the Civil Rights Act of 1964, and "because of . . . sex." Not gender, but sex, and, refreshingly so, but devoid of any implications of sexual activity. Justice Gorsuch, interestingly, returned to using the archaic term "homosexual" throughout his opinion, but did not revert to "transsexual," and treated Ms. Stephens respectfully in his comments.
How did we get here? In the weeks following the decision many of the analyses of the decision missed the real history. That history is written by the victors, but it also very much matters which victors do the writing.
The path of "because of . . ." and "but for" sex began in the 60s, as Justice Gorsuch mentioned: Not long after the law's passage, gay and transgender employees began filing Title VII complaints, so at least some people foresaw this potential application.
Trans persons won some lower court decisions in the '70s, before the religious and feminist backlash began in 1979 with Janice Raymond and then the Reaganites. Trans plaintiffs lost in the late '70s and '80s because transsexualism was not recognized as a form of sex (Holloway v. Arthur Andersen, 1977, Sommers v. Budget Marketing, 1982 and Ulane v. United Airlines, 1984). And then, in 1989, came Price Waterhouse v. Hopkins, and the landscape utterly changed for trans plaintiffs.
The first, and until Bostock, only SCOTUS decision (and victory) for a trans plaintiff occurred in 1994, in a unanimous Eighth Amendment decision written by Justice Souter on behalf of the plaintiff, a black trans woman, Dee Farmer. The next federal appeals court case, and the first in a string of victories leading to Bostock, was Smith v. City of Salem in 2004, won on both sex and sex stereotyping concerns, followed by another Sixth Circuit case, Barnes v. City of Cincinnati in 2005. Philecia Barnes was also a black trans woman and she won "because of sex." The only hiccup in this long chain of victories was Etistty v. Utah Transit Authority in the 10th Circuit in 2007. This was followed in rapid succession by the blockbusters: Schroer v. Billington, 2008; Glenn v. Brumby, 2011; and Macy v. Holder, 2012.
It was the unanimous Macy decision at the EEOC, led by Commissioner Chai Feldblum, that protected trans persons in all 50 states, and cemented the "because of sex" approach to protecting trans persons. Professor Feldblum, a major author of the 1991 Americans with Disabilities Act (ADA), had been living in Takoma Park, Md., in Montgomery County in 2007-08 when I led the campaign for Basic Rights Montgomery to pass and defend the county gender identity law. That law generated the first bathroom bill backlash in the United States, and Professor Feldblum, who had been a believer in the doctrine that trans status was a function of sex and, therefore, covered by Title VII, was further encouraged to pursue it if she ever got her chance in the federal government to make it a reality. Presciently, these were her words 20 years ago: "But a strict textualist approach might work as well (or even better) for those seeking to achieve broad protection for gay people and transgender people. Under such an approach, the intent of the enacting Congress (or state legislature) is not as important as the words the legislature chose to use."
It had been obvious to me, as well, as I had been teaching and lobbying for years on the medical basis of transsexualism being rooted in brain sex. Research begun in 1995 had been making that very plain. But few LGBTQ attorneys, with the notable exception of Katie Eyer, believed in the possibility of progressive textualism, even though the Constitution is the product of the Enlightenment.
So after being nominated by President Obama to the Equal Employment Opportunity Commission (EEOC) and confirmed by the Senate, Professor Feldblum looked for the right case and found it in Mia Macy. She then did the same for David Baldwin in the first national gay rights victory, Baldwin v. Foxx, in 2015.
Just looking at these cases it was clear that the federal courts (and some state courts as well) were beginning to respect trans persons enough, including black trans women, beginning in the '90s to not only not summarily throw them out of court, but to seriously apply the "because of sex" and sex stereotyping arguments to them. All that at a time when fewer than 8% of Americans (in a 2013 poll) admitted to knowing a trans person; when gay people, far better represented in the media and known in their communities, were routinely failing in federal court. Yet there have been post-Bostock analyses by highly respected civil rights lawyers that turn this history on its head. For example, Shannon Minter, the trans attorney for the National Center for Lesbian Rights (NCLR), said: "We've always known that our legal arguments are strong and should be accepted, but the reason it took decades for the courts to accept these arguments was because transgender people were so foreign to the courts."
This is not the first time. After promoting the trans legal case "because of sex" for years, I tried to get the national LGBTQ, and particularly trans, organizations to recognize our success post-Macy. They would have none of it. The lawyers at HRC, the National LGBT Task Force, and even NCTE, the National Center for Transgender Equality on whose board I sat, refused to acknowledge the breakthroughs. To get the word out I had to publish a pamphlet, with attorney Jillian Weiss and activist Riki Wilchins, which was promoted by Masen Davis and the Transgender Law Center, the only nationally oriented trans group willing to get on board. We were also supported by Tico Almeida and Freedom to Work.
Fortunately, thousands of trans persons got the message, and filed claims with the EEOC. Many won, with most settling out of court because, you know, the law matters. Yet others have lived the past eight years in fear and anxiety because our institutions' lawyers repeatedly said that we had no protections without a decision of the Supreme Court. I countered that it would take years, or might never happen because we were winning all our cases, and without a split at the appeals court level the Court might not even take up the issue. Fortunately for us today, SCOTUS rolled us into the Circuit split on the gay rights cases (Bostock and Zarda), and we pulled the gay community along to victory. No gays left behind. We had not lost a Circuit Appeals case since 2007, the only one in the 21st century, so I, for one, was not surprised.
People who are committing themselves to activism need to understand the history so as to most effectively pursue their goals in the future. LGBTQ folks need to understand the bureaucratic resistance within their own movements, from the most well-meaning people. It is, indeed, always a long and winding road to liberty and equality.
Dana Beyer is a longtime D.C.-based advocate for transgender equality.
Even in death we fight to be visible
Mahsa Jina Amini's death sparked protests across Iran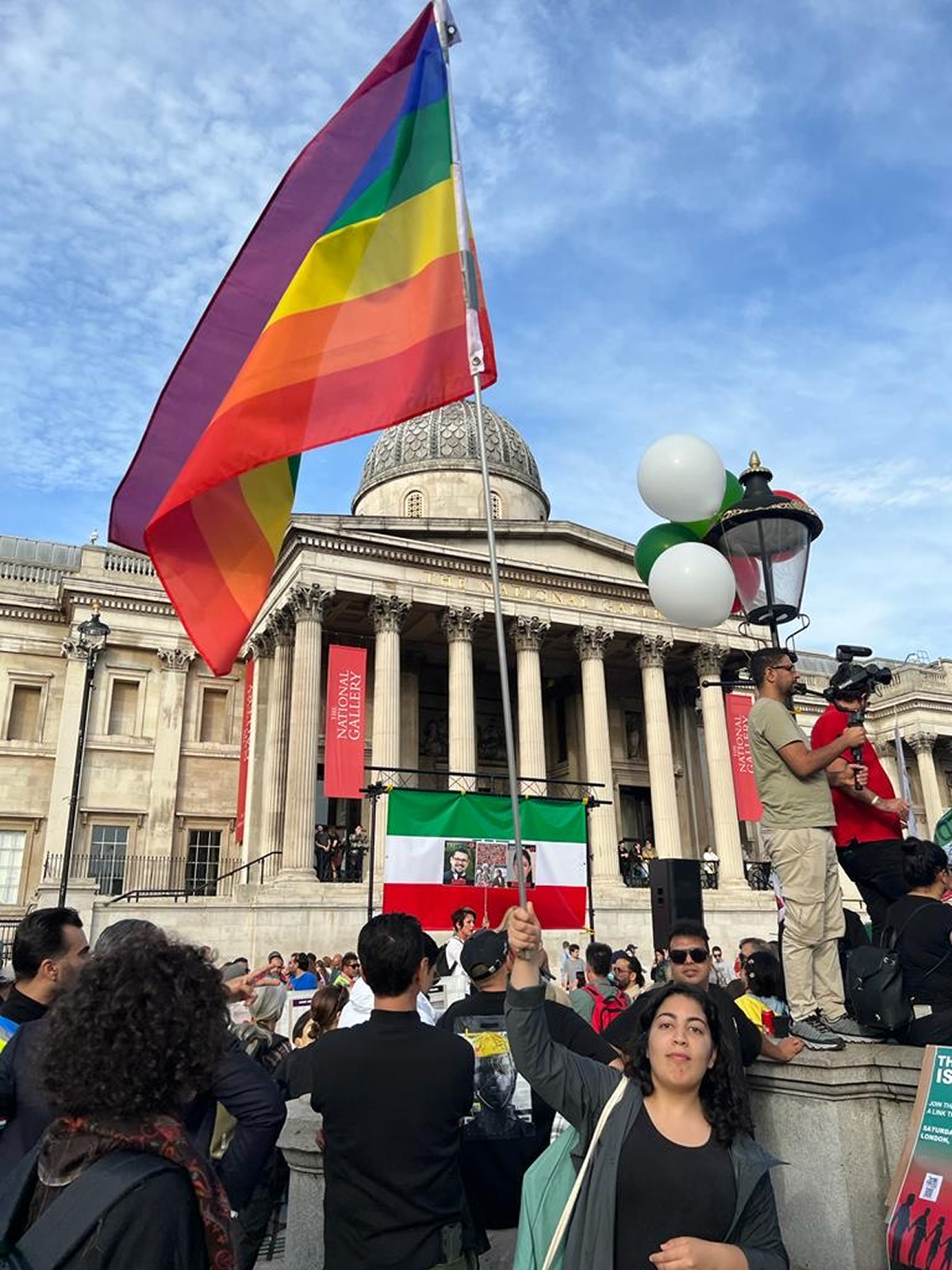 I was a lone soldier of the queer community, waving the rainbow flag in Trafalgar Square in London during one of the many protests organized by the Iranian diaspora. Most of the people shouting "woman, life, freedom," were Iranians who had lived outside Iran for years, even decades. Some were second generation immigrants; some had only just arrived.
My flag soared high among the many iterations of the Iranian flag. It was visible in its singularity. So visible, in fact, that I was stopped several times and asked who my flag represents. To say I was shocked would be an understatement. How could those who had lived in Europe for years be ignorant of such an established symbol? This was London, one of the most queer-friendly cities in the world, the host of one of the biggest Pride parades in Europe. I suddenly found a deeper understanding of the ignorance that drives homophobia and transphobia in my community and home country. If Iranians who live in London, where queer culture is present and visible, are ignorant of its existence, Iranians back home stand no chance.
After Mahsa Jina Amini's death was announced on Sept. 16, 2022, protests began nationwide and are ongoing. The regime has killed many of our young pioneers, seemingly targeting LGBTQ+ people, who are amongst the most repressed minority groups. Iran is one of seven countries that punishes same sex relationships with the death penalty. If not death, LGBTQ+ individuals who are found to have engaged in "unorthodox" relations or gender expressions can expect to be punished by lashes, beating, other forms of torture, and imprisonment. Honor killing, forced marriage and rape are also common experiences of the LGBTQ+ community in Iran.
The queer voice of Iran has been in the forefront of the current protests. From a lesbian couple kissing in public to queer people holding rainbow flags, the LGBTQ+ community has been traying to make itself visible. However, instead of support for a group who is continuously quashed, a large subset of Iranian society has resorted to online attack and hate.
The irony is that one of the symbols and martyrs of the revolution is a young queer person. 16-year-old Nika Shakrami, in her courage to fight oppression, became a household name on the day of her death. Details of her life circulated social media after she died. Her unrealized dream of being a singer brought us to tears. Her love for another 16-year-old girl, Nellie, was also revealed. However, her family has been hell-bent on erasing her identity.
The ugly homophobia of Iranian society reared its head last week on social media after the Lesbian Visibility Award was given to Shadi Amin, a prominent figure in the community and the director of the Iranian Lesbian and Transgender Network (6Rang). Amin had dedicated the award to the young LGBT+ people of Iran who had given their lives for freedom; one of these young martyrs was Nika Shakarami.
The response of the Iranian community was to berate Amin for attaching a 'dirtied' identity to their beloved Nika and offending her family, fuelled by a statement given by Nika's aunt. In the statement, Nika's aunt claimed that Shadi Amin and the LGBTQ+ community were forcing an identity on her niece, that she had not figured out her sexuality before being killed. In the same statement, her aunt insisted that Nika was straight, forcing heterosexuality onto the same niece who had not figured out her identity before dying. Although her intentions may have been to protect her late niece, Nika's aunt released an influx of death threats towards Amin and the LGBTQ+ community.
In unison, Iranian LGBTQ+ people voiced their experiences of harassment and erasure at the hands of their families. It is a tale as old as time for queer people everywhere. They spoke out about how families are not trustworthy sources on their identities, given the violence and abuse they face by being openly queer in such a homophobic society.
The controversy over Nika's identity is now driving many LGBTQ+ protestors to post their last will and testaments on social media, stating that they are not straight, and the claims of their families should not be listened to in case of their deaths. Those who are not openly out are sending their wills to LGBTQ+ organizations like 6Rang. Even in death, the Iranian LGBTQ+ community is in a constant battle for visibility.
The events of last week must have shaken the community. We are seeing more and more brave young queer people walk the streets of Iran, holding the rainbow flag high. Pro-LGBTQ+ graffities are appearing across the walls of university campuses. They risk death and imprisonment, harassment, and torture. Their fight is unjust and endless; their chants are met with batons; their flags bear the holes of bullets.
My LGBTQ+ brothers, sisters and non-conforming siblings in Iran must have had the same realization I had in Trafalgar Square that day. We are less than visible unless we stand proud, clad in our rainbow armor. Without making ourselves known, we stand no chance of having our demands met by any new government. It is fear that keeps us apart and gives the regime the chance to massacre us and our families the opportunity to erase our true selves.
Our message is clear: There is no democracy without freedom for all LGBTQ+ people.
Fight for marriage equality continues
Those who believe in the humanity of all must advocate for LGBTQ rights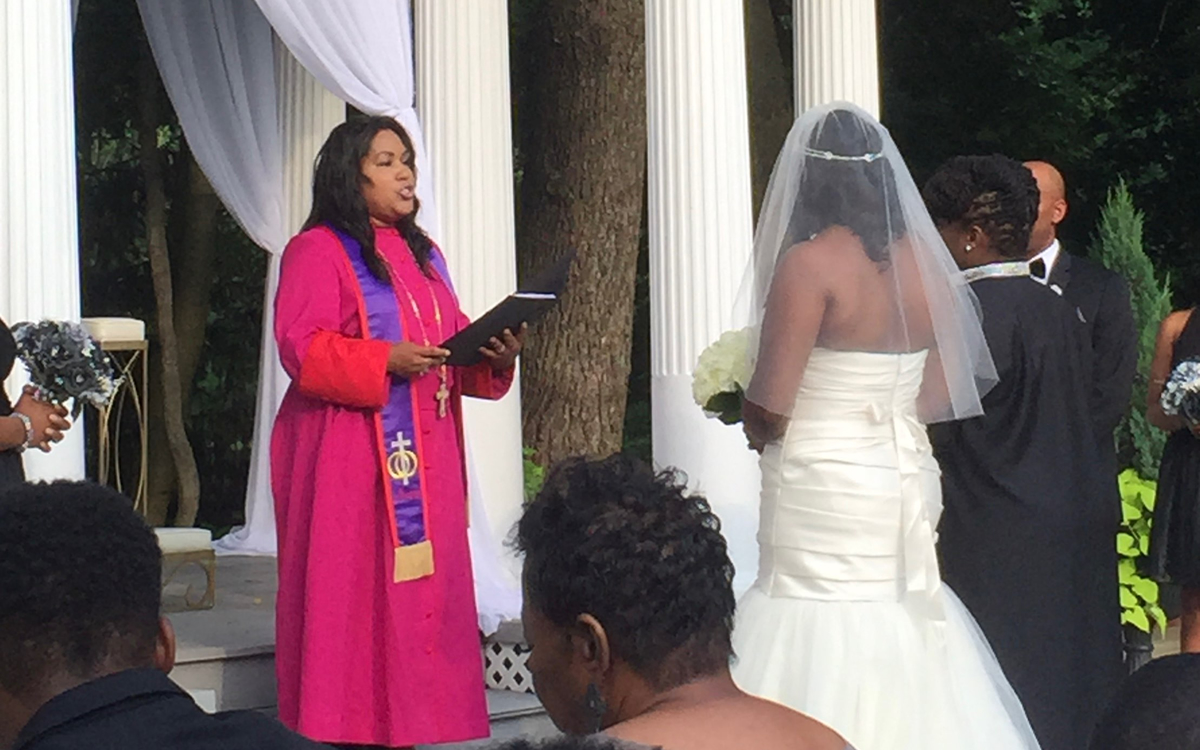 Since DOMA was struck down and we received marriage equality in the LGBTQIA+ community, I have performed numerous same-sex weddings (more than 25). Talking with a member of my congregation recently it came to my attention that many persons, including those in the LGBTQ community, have never had the wonderful privilege to attend a same-sex wedding, especially one in the church.
I remember the day DOMA was struck down and how excited I was about the freedom in the country for ALL persons to have the legal right to marry who they loved. I wrote an article years ago entitled "She deserves to be called my wife" before DOMA was struck down by the U.S. Supreme Court. I still feel very strongly about marriage today, and I don't take our progress in marriage equality for granted.
It has taken blood, sweat, and a lot of tears by campaigning grassroots nonprofits and legislative pushback to attain the human right to wed the person we love and want to spend the rest of our days loving in the DMV area. Same-sex marriage in the District of Columbia has been legal for over a decade now, since 2010, with Maryland and Virginia following in 2013 and 2014 respectively. I am happy to say that many other states were progressive on this issue also and my wife and I were blessed to marry in the State of Iowa before federal marriage equality.
The fight is not over. Many viewed the overturning of Roe vs. Wade as a gateway to further setbacks while far right conservatives continue to deny that LGBTQ rights are not still in jeopardy, but I know otherwise.
There are 13 states that still have not legalized same-sex marriage; therefore, it is imperative that federal laws protect those that are unjustly affected by not overturning what has already been recognized as legal and binding. And like many outdated laws, the 13th Amendment to the U.S. Constitution that allows slavery as a form of penal punishment, so too does the marriage act passed by 12 Republicans and all 50 Democratic senators to protect legalization of interracial marriages, another outdated law.
Does it make any sense for a couple to be turned down by 31 churches before they are allowed to marry with their family and friends present to witness their vow exchange? Well, such was the case with two men in the United Kingdom until finally they were able to marry last month in London.
Those who believe in the humanity of ALL people MUST continue to advocate for LGBTQ rights and laws. We would be best served if we would support our present administration as they continue to make advances with policies that protect LGBTQ persons and those who are marginalized. We too are America!
Bishop Allyson Nelson Abrams, Ph.D., is pastor and founder of Empowerment Liberation Cathedral in Bowie, Md.
Club Q another example of how anti-LGBTQ rhetoric leads to the death of queer, trans folks
The LGBTQ community deserves to feel safe from hate and violence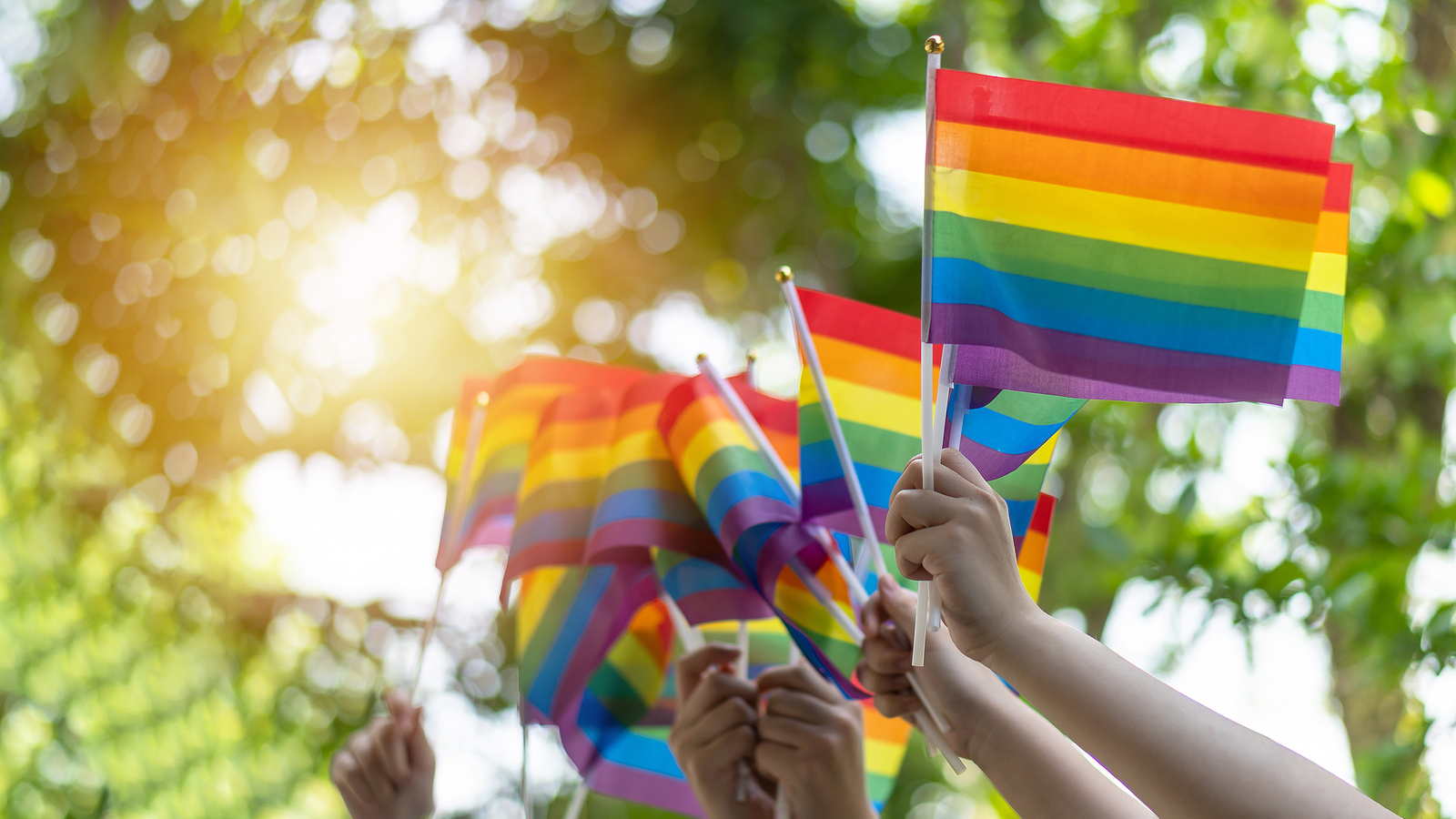 It was 7:15 a.m. and I had just landed after traveling across the country from working with my military unit. My phone started ringing. "Did you see it? and "How are you feeling?" were the messages that started pouring in. Then I saw the news: "Colorado Springs LGBTQ+ Club Q Shooting." I was struck with the same feeling I had seeing the aftermath of the 2016 Pulse nightclub shooting – fear and horror.
In 2016, I was still struggling with finding enough self-love to share my sexual identity. I vividly remember watching my parents' television as the details of the shooting rolled in. I felt like coming out would put me at risk for further hate and unfathomable violence. For those who do not have a strong support system, small online acts of hateful rhetoric can deter someone from their journey to acceptance and happiness. At that moment, I was too young to understand the full extent of these actions but one thing was perfectly clear – the LGBTQ+ community is hated for simply existing.
I'm a soldier in the U.S. Army. I choose to put on the uniform to help protect the people of our country and at times, the hateful actions committed by fellow Americans has made me feel powerless. The idea of a "war zone" should only be familiar to soldiers like myself, not children in a school or people looking to have a fun night with their friends at a bar or club.
A few times over the past 24 hours, I found myself pondering the same question: "How can the sheer existence of queer and trans people be viewed as such a threat to others that they resort to murder?" The simple answer is that our society has allowed for this type of rhetoric to receive attention and sometimes even praise. As a result, five people in Colorado Springs were killed and 25 injured at an LGBTQ nightclub, Club Q. In a heroic attack, two unarmed citizens inside the club stopped the gunman to protect others. These men were not armed with heavy weaponry, but rather a will to live and bravery in their hearts. If these civilians were able to act so quickly here, I wonder why the police had to wait for more than an hour to intervene in Uvalde.
Many Americans are now numb to the news of gun violence. For the past few years, we have watched our lawmakers stand impotently and choose their political party over protecting human beings. Sandy Hook seemed unimaginable and like a bad dream. When we saw that there was little action taken by lawmakers in the wake of six-year-old children being slaughtered in their elementary school classrooms, my heart was shattered. Today, nearly a decade later, there has been little to no movement on legislation to combat horrific gun violence. Instead of Congress taking action, American people have witnessed more than 27 additional mass shootings in schools alone and thousands more injured and/or killed.
From Pulse, to Supreme Court Justice Clarence Thomas' remarks on Obergefell vs. Hodges, to book bans (including one in my hometown), to the "Don't Say Gay" bill being proposed nationally, I am worried that we are being pushed backwards in time. More than 340 anti-LGBTQ bills were introduced this year and there have been more than a dozen attacks on our community. This mass shooting came on the eve of Transgender Day of Remembrance, directly threatening the safety and existence of those who are simply trying to be themselves. In the recent midterm elections, candidates ran on anti-LGBTQ platforms, categorized members of our community as "groomers," and directly invalidated our existence. Although they did not pull the trigger, these politicians have ignited bigotry and homophobia to the point where their words are now weaponized.
These survivors are now going to be faced with mental health struggles, likely including post-traumatic stress, which will directly affect their daily lives. Over the past few years, I have had the opportunity to work with those struggling from traumatic experiences by using sound bytes to counteract feelings of fear and anxiety. Through my work in this field, I know the mental journey that these Club Q survivors are about to endure. I hope that anyone who is struggling knows that there are resources out there to help.
Today, I use my voice as an activist to work with victims of gun violence and those in the LGBTQ+ community who have been affected by hateful actions to remind people that we are human – just like them. The families of gun violence deserve better. The LGBTQ+ community deserves to feel safe from hate and violence. Children's families deserve better. We as humans deserve better. We want effective policy and change over "thoughts and prayers." The louder we resist, the weaker hate and fear become.
Brian Femminella is a Gen-Z LGBTQ+ activist and tech entrepreneur. He is an outspoken voice in the queer and trans community, including through his work in the military as an Army Officer.